Although I've been to the Neon Museum in Las Vegas during the day, their Brilliant! Jackpot experience has been on my list of things to tackle for some time.
For those unfamiliar, the Neon Museum's Brilliant! Jackpot show was created by artist Craig Winslow and brings historic Las Vegas casino signs from yesteryear back to life with projection technology. None of the signs that come to life actually work on their own, but you'd have a tough time discerning that if you didn't know.
The light show is choreographed to a diverse musical playlist and also incorporates historic video footage and narration to tell a story.
As a person who celebrates Las Vegas history, I was excited to finally have the chance to see the show.
Below, I'll share my Brilliant! Jackpot experience, along with plenty of pictures. But first, some housekeeping.
Brilliant! Jackpot Cost & Ticketing
An adult ticket to Brilliant! Jackpot costs $23, and discounts are available for children, members of the military, Nevada residents, seniors, those on food assistance programs, and students.
Notably, that rate is inclusive of taxes and fees, and tickets can only be purchased directly with the Neon Museum, here.
Book in advance, as these shows typically sell out.
I think it's also important to point out that most people in my Brilliant! Jackpot group held "Double the Glow Experience" tickets, which are combo tickets giving them access to both a guided tour of the Main Boneyard and Brilliant! Jackpot.
If you haven't seen the Main Boneyard at the Neon Museum yet, you won't regret buying a combo ticket.
My Brilliant! Jackpot Experience
Before The Show
I held a ticket for 7:00 pm, and arrived about a half hour early. The Neon Museum's parking lot is located directly across the street and is small. I was fortunate to snag the last spot in the lot, although, there was a security guard directing others to an overflow lot.
I checked in with the staff member who was posted up outside the lobby, which is historic in its own right, formerly serving as the hotel lobby for the La Concha motel on the Strip.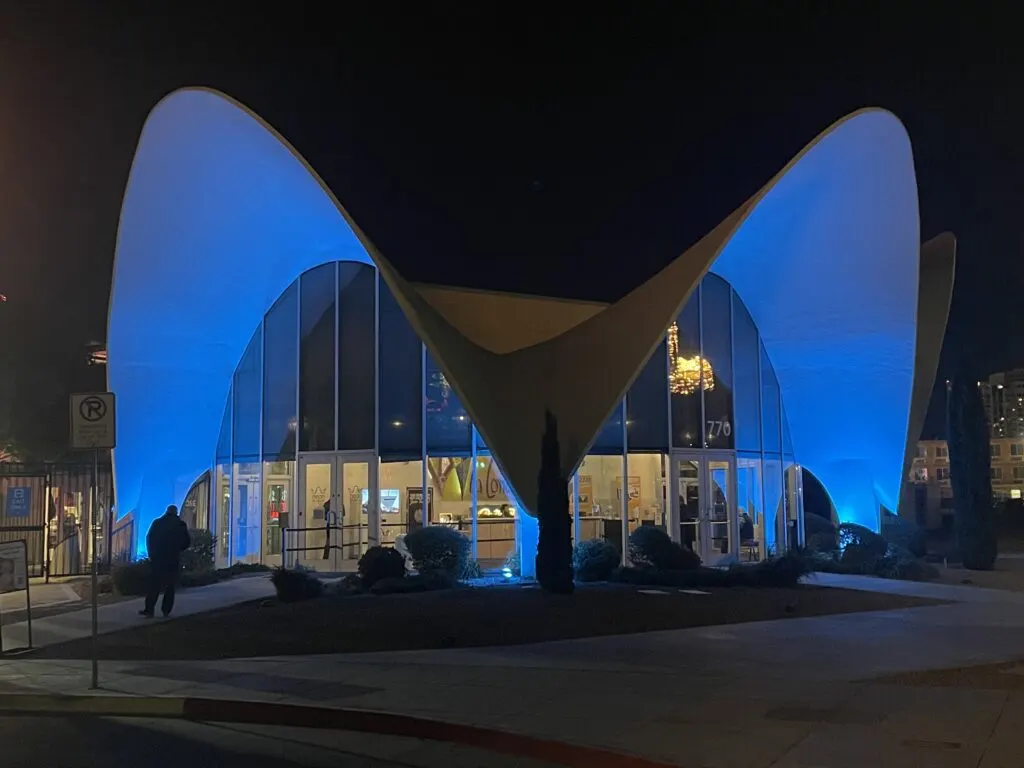 Since I was early, the staff member instructed me to wait in an outdoor park across the street for my group to be summoned by our guide.
One thing I didn't really prepare for was how chilly it would be after dark… I was wearing pants and a sweatshirt but was still pretty darn cold.
If you're seeing Brilliant! Jackpot during the winter, be prepared for cold weather. Don't be deceived by those wintertime high temperatures during the day, as the mercury drops quickly once the sun sets.
A few minutes before 7 pm, our group was called up by a tour guide and we were on our way to the Neon Museum's North Gallery.
Our first stop was at a mural just outside the gallery, where our tour guide shared the history of some of the iconic figures pictured.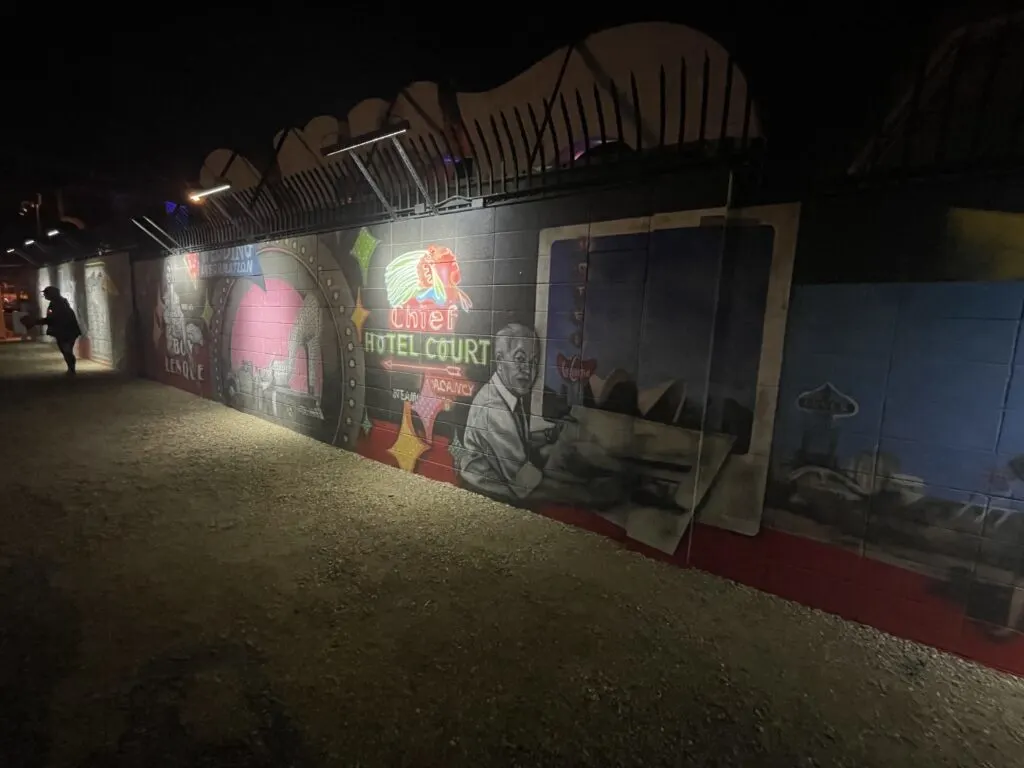 One of those figures was Betty Willis, who was responsible for creating the instantly recognizable "Welcome to Fabulous Las Vegas" sign.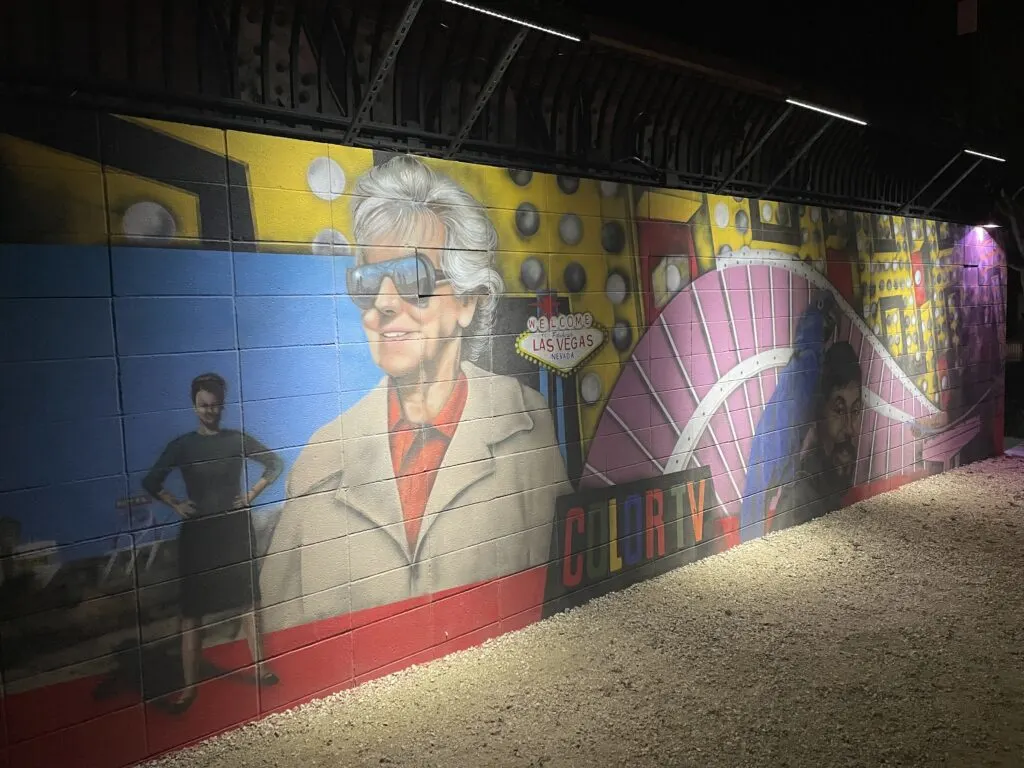 After a brief stop at the mural, we were escorted into a staging area within the North Gallery, where we were surrounded by layers and layers of non-functional neon signage that once graced the facades of casinos like New York New York, Stardust, Fitzgerald's, Sahara, and Palms.
Standing there, at night, surrounded by the shell of old signs just felt historic and a bit eerie.
A video was played in the staging area, giving us a bit more background on the performance that we were about to see.
This stop did a nice job of building excitement around what was to come.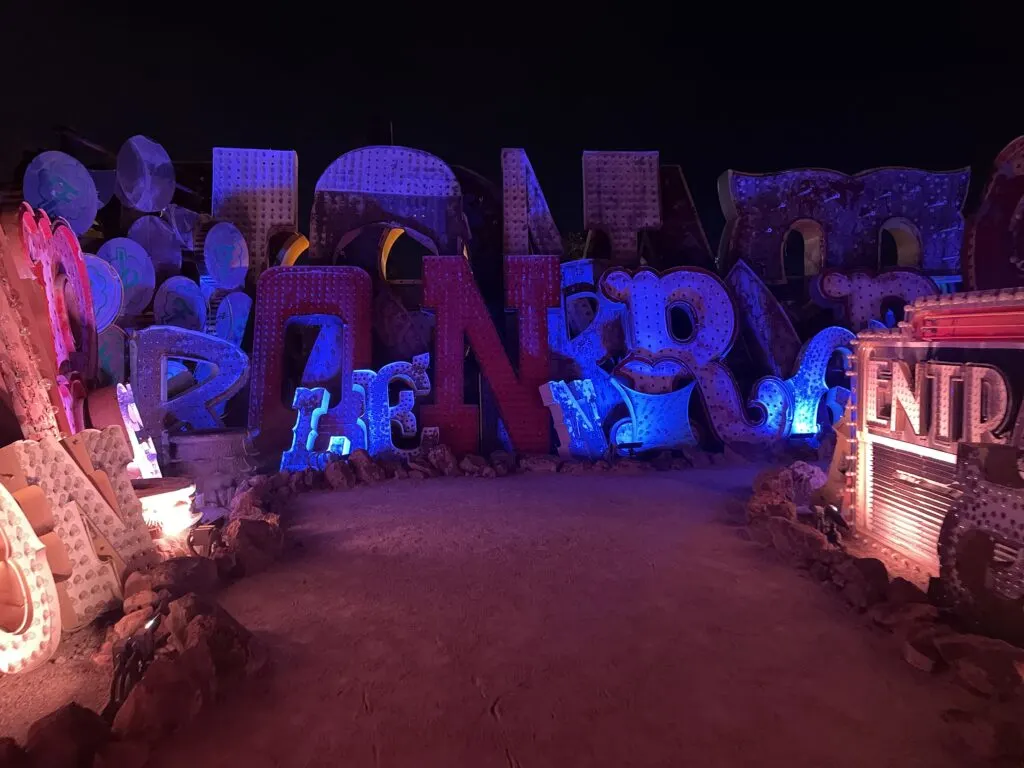 Once the intro video wrapped up, we were led around the corner to where Brilliant! Jackpot would be taking place.
There was limited seating, but most people opted to stand. The space is large, and there are two large towers in the middle of everything that house the projectors that bring the surrounding signs to life.
The Brilliant! Jackpot Show
Unfortunately, no photos or video were allowed during the show, but the display was illuminated afterward to allow for pictures, which you can see below.
In my opinion, Brilliant! Jackpot expertly synchronized the illumination of the signs to music that ranges from new and upbeat (Katy Perry, Panic! At The Disco, Lady Gaga, etc.) to selections from the past (Sammy Davis Jr., Frank Sinatra, Elvis, and Liberace).
Considering my previous daytime visit to the Neon Museum was amazing, I had high expectations for Brilliant! Jackpot, and I wasn't disappointed.
The show frequently changed gears from upbeat and fast to slow and sentimental several times. While I'm not the type to dance in public… or at all for that matter… a surprising number of people in the audience were. They were into it.
There were even a few humorous moments of the show that elicited a chuckle, but I'll save the surprise.
Looking around, it seemed as though Brilliant! Jackpot was a popular activity for couples, with numerous pairings holding hands or exchanging smooches, and I agree that it'd make a solid date night activity.
Throughout the performance, a large TV screen interjects with narrations and footage depicting a bygone era in Las Vegas, which many of the signs in the North Gallery came from.
My favorite video content was of Las Vegas casino demolitions played in reverse, which was projected onto some of the signs. While I'm not an "artsy type" I inferred it to represent of how the show was bringing aspects of Vegas that are lost back to life.
The projection technology was absurdly detailed and believable. I can't imagine the painstaking work that went into planning every lighting element down to the millimeter.
Here are a few pictures I took after the show, as they left the signs illuminated for folks to mingle and snap photos.
Here are a few images I captured in the north gallery of the Neon Museum: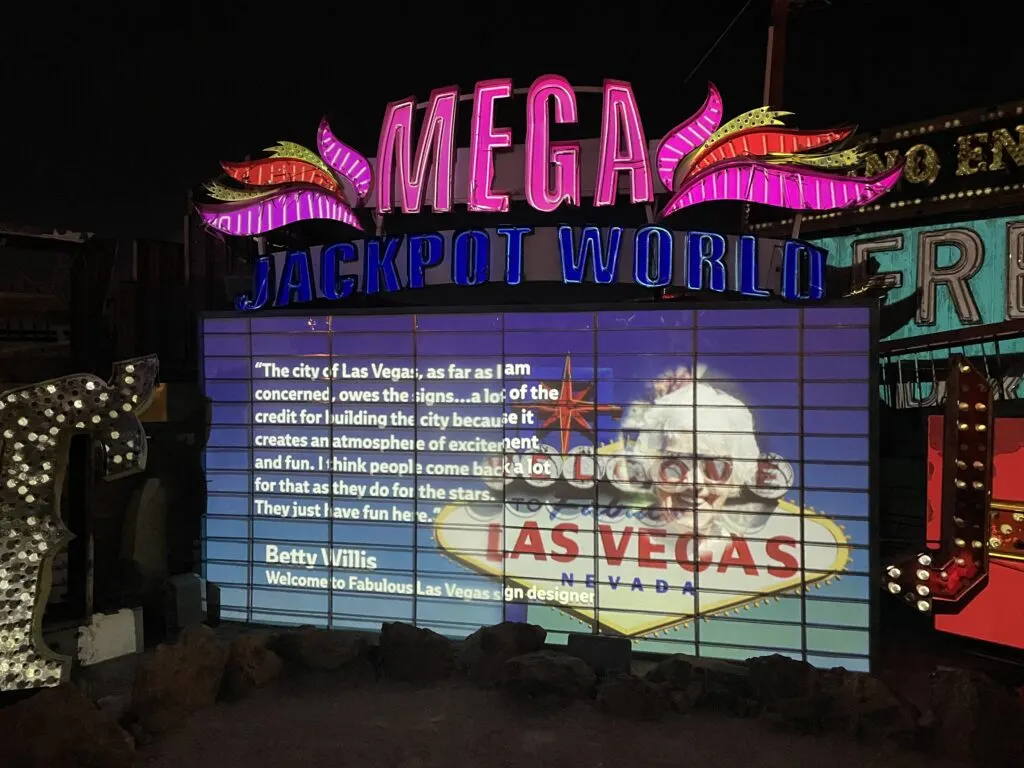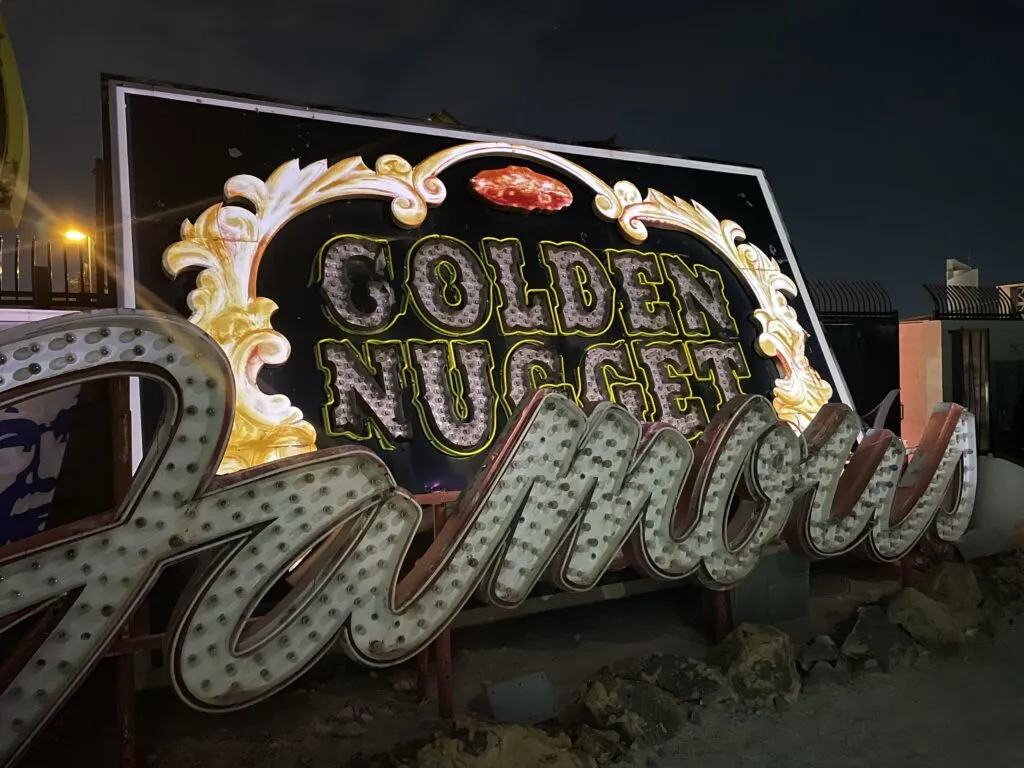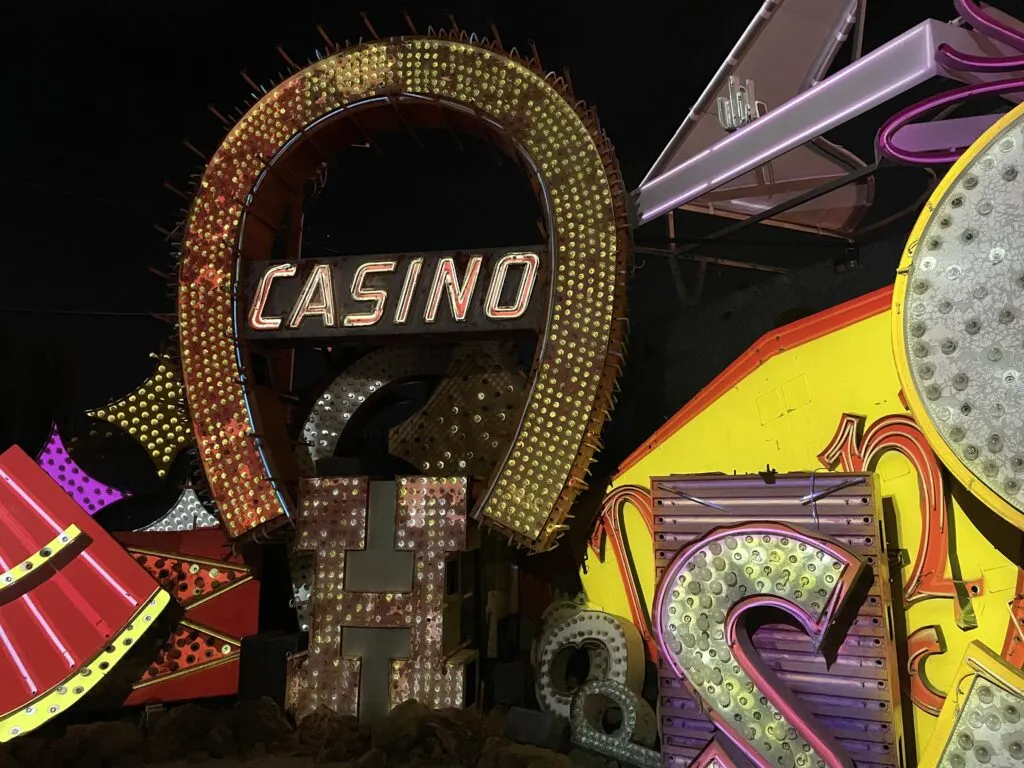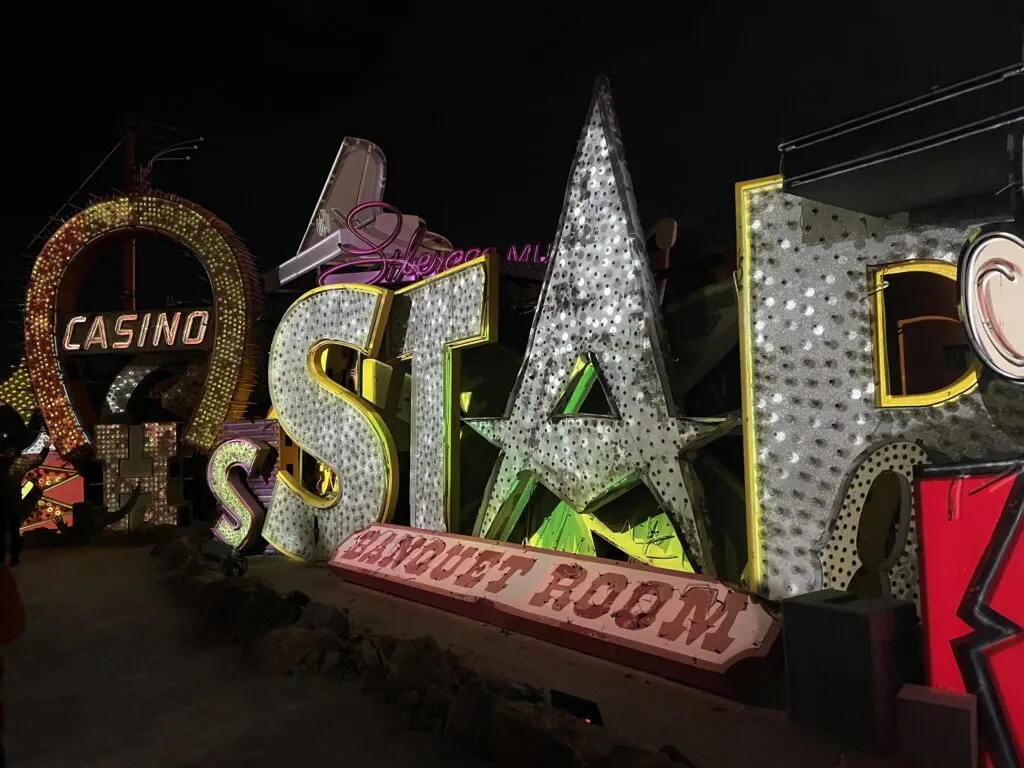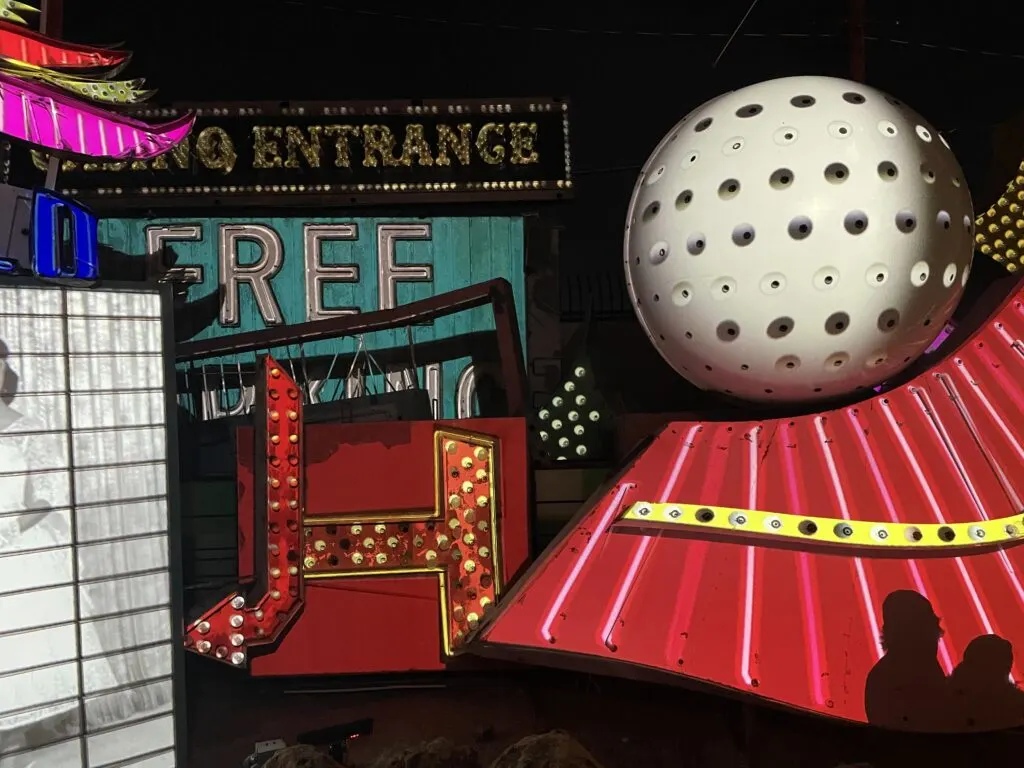 Is Brilliant! Jackpot at the Neon Museum Worth Seeing?
At a mere $23, Brilliant! Jackpot easily ranks as one of my favorite cheap things to do in Vegas.
This show is a "must-do" for anyone that has nostalgia for versions of Las Vegas that have come and gone, or for those that embrace the arts and would like to do something unique.
Brilliant! Jackpot is 25 minutes of expert choreography, stunning visuals, and a celebration of Las Vegas' storied past.
My one suggestion would be to prepare for the weather and get there a bit early to ensure you have time to park.
If you have yet to visit the Neon Museum's Main Gallery, consider a combo ticket that packages the two tours.
This is a winner – Book with confidence.
See Also – Additional Things To in Las Vegas:
I'm a former software salesman turned Vegas aficionado. While the craps table is my preferred habitat, I pull myself away to explore new attractions, shows, restaurants, and outdoor activities around Las Vegas with the intent of sharing my experiences.
Ultimately, I just want to help folks plan a better trip and save a few bucks in the process.