As the Mecca of sports betting in the United States, many visitors are on the hunt for sports bars on the Strip and on Fremont Street to sweat out their wagers.
With that in mind, I wanted to compile a list of notable sports bars in Las Vegas to help visitors identify an option that will work nearby.
While seating at sports bars is usually easy to find for regular games, nearly every establishment below hosts watch parties for major events like the Super Bowl and the opening weekend of March Madness.
Ensure you reserve a seat with the venue in advance if you are hoping to watch a major event, or risk being turned away at the door.
Sports Bars on the Strip
The Book at LINQ: Acting as LINQ's sportsbook, this expansive sports bar is smack dab in the middle of the Strip and is built to impress. The Book wows with screens in all directions, a nearby betting counter, and sectional couches that give your party control over 3 TVs and an X-Box. If you and your crew have multiple games to track, this sports bar is among your best options on the Strip.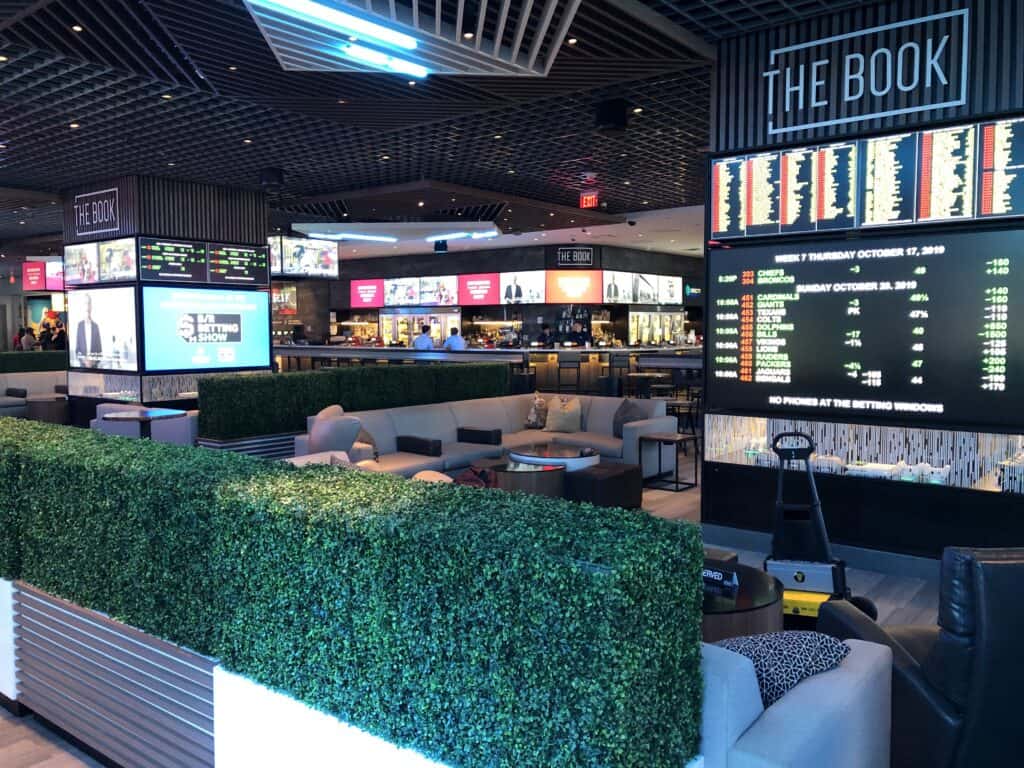 Tilted Kilt at LINQ: Located on the LINQ Promenade, Tilted Kilt offers 30+ beers, a full food menu, and of course a collection of TVs that will be broadcasting the Raiders, Golden Knights, or any other sporting event of the day.
AmeriCAN at LINQ: Uniquely, AmeriCAN is a sports bar on the Strip that specializes in canned beer options. In addition to numerous TVs inside, and on the patio to catch the game, AmeriCAN also serves up 70 beer options from 50 states.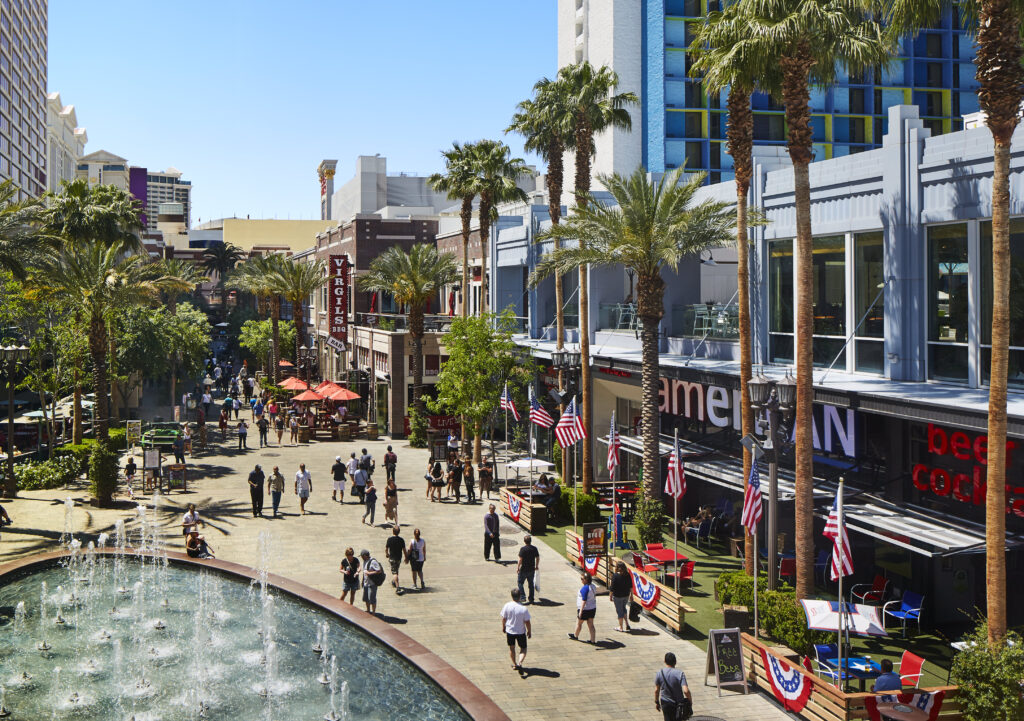 Golden Circle at TI: Serving as TI's new sportsbook housed in the resort's former buffet space, Golden Circle doubles as a sports bar complete with a video wall displaying active games. Deals on food and drink are commonly offered throughout the week and can be viewed on Golden Circle's website here.
Rockhouse at Venetian: In addition to beer pong and shuffleboard, Rockhouse has you covered with an abundance of TVs which will come in handy for catching the game you just placed an oversized bet on.
Blondies at Planet Hollywood: Also located in the Miracle Mile Shops, Blondies ranks among the best sports bars on the Strip if only for their all you can drink deal offered Monday – Friday for $20 which runs from 3 pm – 6 pm and includes domestic drafts/well drinks. In addition to flowing drinks, there are a plethora of TVs ensuring you won't miss any of the action.
Buffalo Wild Wings: You know it, you likely enjoy it, and they have a bajillion TVs making it a solid sports bar option on the Las Vegas Strip. Buffalo Wild Wings can be found in the Miracle Mile Shops at Planet Hollywood.
Beer Park at Paris: Perched atop the rooftop at Paris, Beer Park provides stunning views of the Las Vegas Strip and the Bellagio Fountains across the street. The venue also serves as an outdoor sports bar, with dozens of screens. If the game you came to watch gets out of hand early, take advantage of social games available including foosball, shuffleboard, Jenga, and bubble hockey.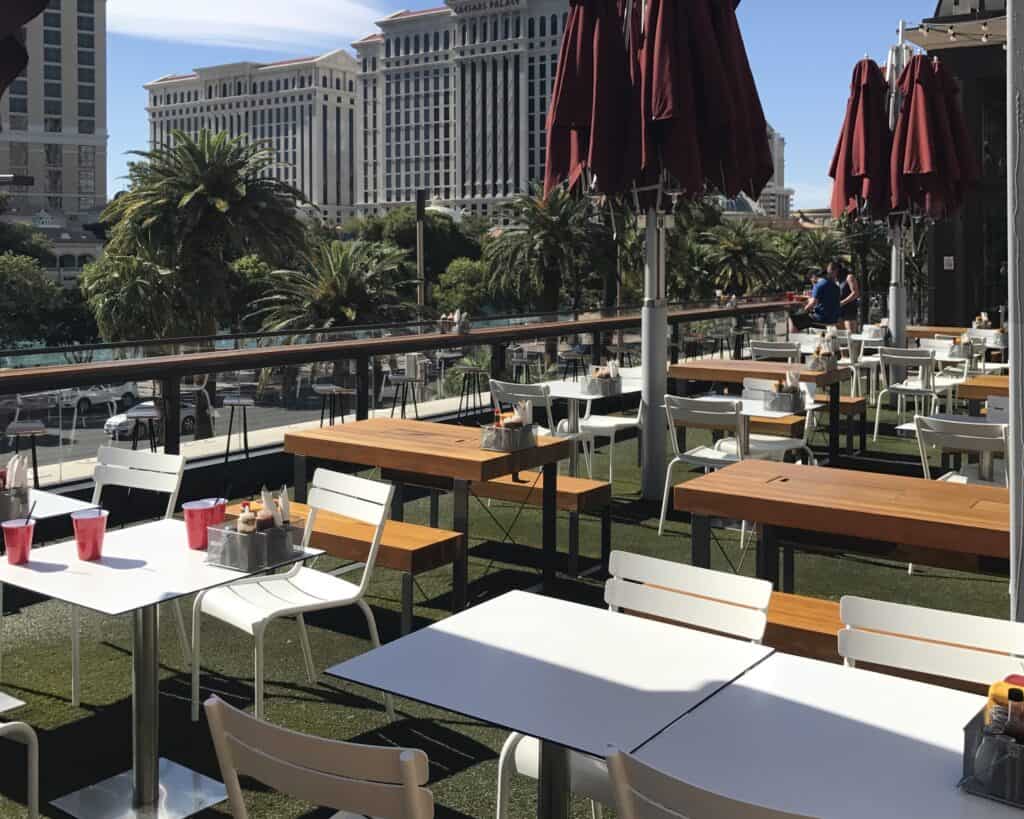 Sully's at Horseshoe: Located on Horseshoe's casino Floor, Sully's offers bartop gaming and TVs in which the bartenders are happy to change to the game of your choice.
The Still at Mirage: A sportsbook on the north end of the Strip, The Still offers 50+ craft beer options, and surrounds guests with 27 TVs playing the games of the day.
Bet MGM Sportsbook & Bar: Nestled within the now smoke-free Park MGM on the south end of the Strip, this sports bar doubles as a sportsbook, streamlining the process of betting and subsequently sweating the bet over a beer.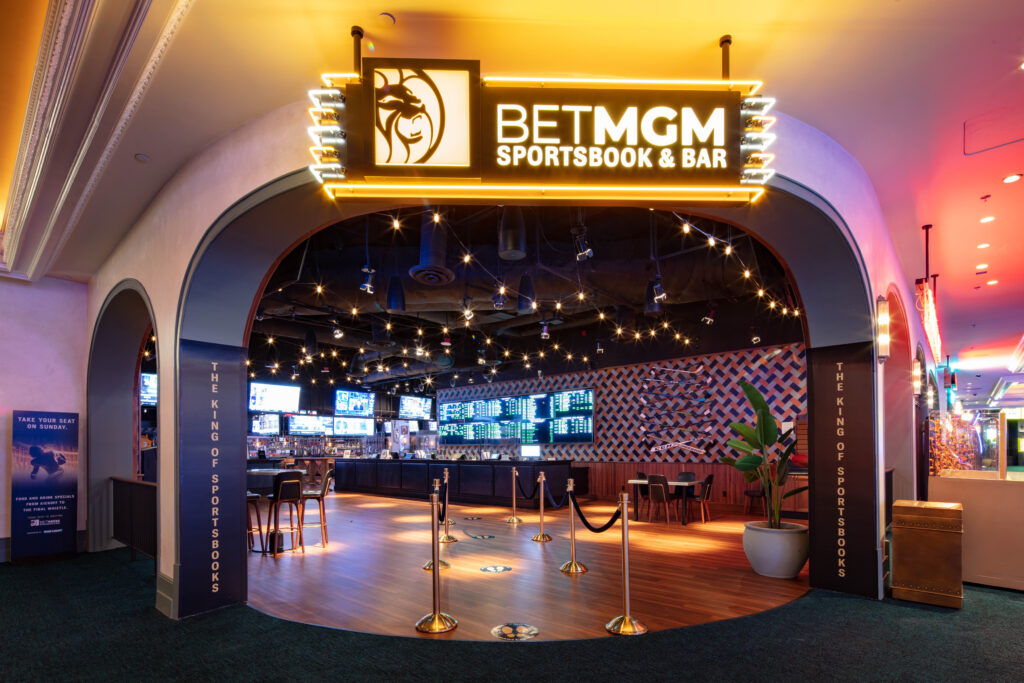 Beerhaus at The Park: Located along The Park between Park MGM and NYNY, Beerhaus serves an expansive selection of beers and is a perfect pre-game spot for events at T-Mobile Arena. With numerous TVs scattered about the dining room, Beerhaus is also a great sports bar to catch a game at. See the menu here.
Chickie's & Pete's at Sahara: In addition to offering 50+ TVs, Chickie's & Pete's serves their "famous Crabfries" which are coated in a unique blend of seasonings and are served with cheese sauce. Of Course, they also have 20+ beers on tap.
PT's at STRAT: Among my favorite things to do at Strat is placing an uncomfortably large bet, and then sweating it out at PT's. With 24 craft beers on tap, relatively inexpensive food options, and no shortage of LED screens, I think you'll agree.
TAP Sports Bar at MGM Grand: Located near MGM Grand's sportsbook, TAP Sports Bar is a solid option to catch the game on the Strip. With 60 HD TVs and sports memorabilia as decor, you'll feel right at home.
Topgolf at MGM Grand: When you think of sports bars on the Las Vegas Strip, it's unlikely that a driving range will be an option, but Topgolf could be the perfect spot to watch the game as hundreds of TVs are spread across the complex. Whether you're playing golf, sitting at one of their bars, or posted up in the TCL Lounge, you legitimately are unable to escape the glow of screens.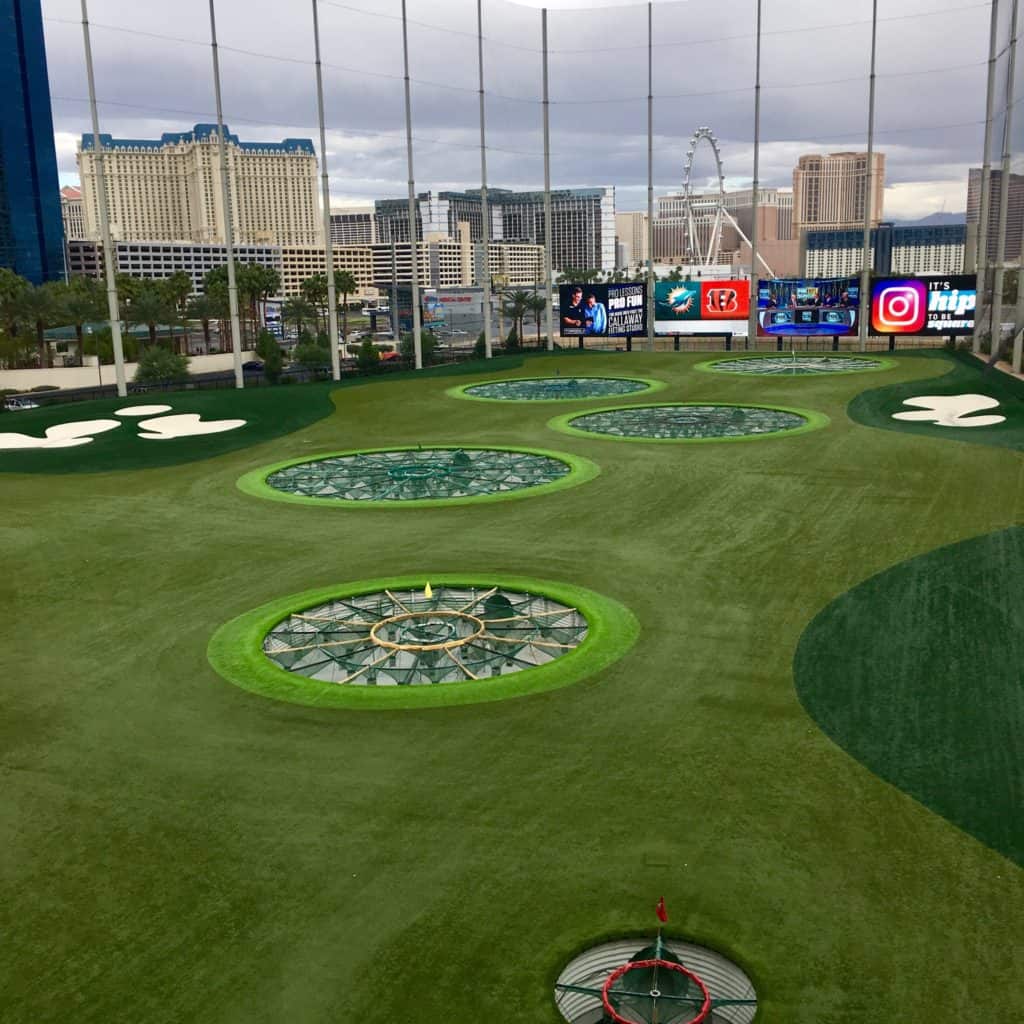 The Lounge at Excalibur: A sports bar at the south end of the Strip, The Lounge offers a selection of bottled/draft beer and cocktails with a view of a number of TVs. Commonly overlooked by sports fans, The Lounge is my go-to under-the-radar spot in which I can commonly find seating when other options are packed.
TAP Sports Bar at Excalibur: Decked out with TV's, TAP Sports Bar at Excalibur could be the perfect destination to catch the big game, or pre-game for events at T-Mobile Arena and Allegiant Stadium.
Charlie's at Wynn: Wynn ranks among the best sportsbooks in Vegas, and Charlie's overlooks it, offering views of both the book's crystal clear wraparound screen as well as smaller screens within the sports bar itself. With a healthy selection of draft beer, Charlie's is among the best spots to catch a game on the Strip.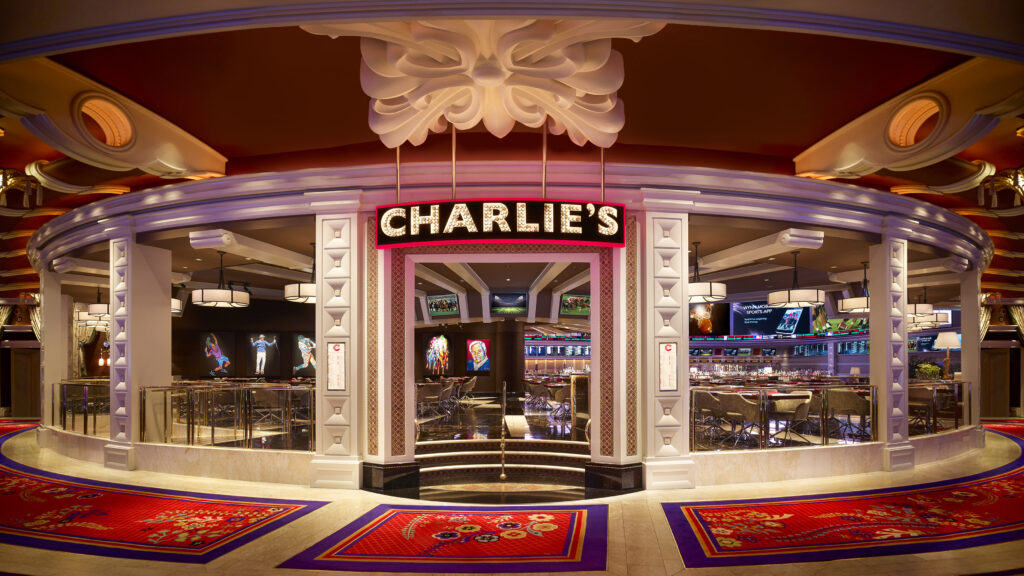 Tom's Urban at New York New York: Found right along the Las Vegas Strip within New York New York, Tom's Urban provides a great vantage point to catch the big game. They are so dedicated to sports, they even publish what games they plan to televise on Tom's website.
Dawg House Saloon at Resorts World: Located inside the newest resort in Las Vegas, Dawg House packs an impressive punch. With multiple bars, a full sportsbook, and even a food truck specializing in gourmet grilled cheese built into the establishment, there's something for every sports fan. In addition to the amenities mentioned, Dawg House has a stage and frequently offers live music.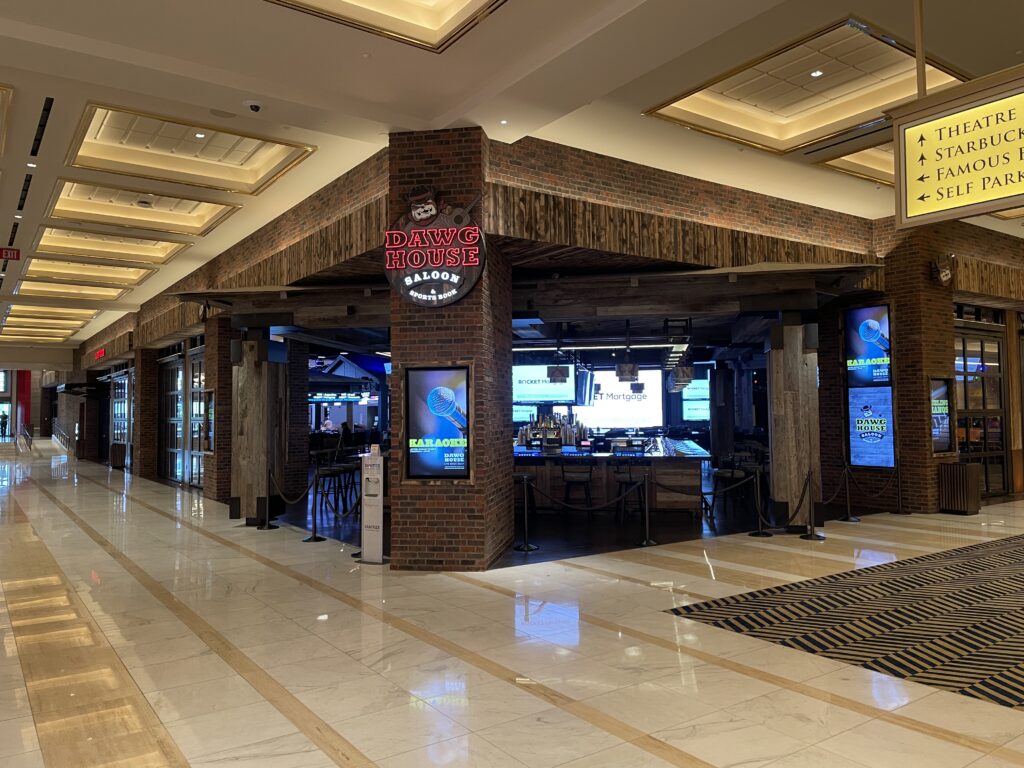 Walk On's Sports Bistreaux at Harrah's: Occupying the former Toby Keith's I Love This Bar and Grill space, Walk On's is a sports bar that boasts Drew Brees as an investor. The menu offers unique items like beignets, gumbo, crawfish, and even alligator. Of course, traditional gameday fare like chicken tenders, wings, and fries are also offered.
Sportsbooks: Of course, most major sportsbooks up and down the Strip offer a bar with a view of their enormous screens. These can be some of the best places to watch sports in Las Vegas as the crowd around you hangs on every shot, pass, and turnover making for a lively atmosphere. I personally love the bar in Caesars Palace's sportsbook which provides a great view and bartop video poker. After all, nothing beats gambling while you're gambling.
Related: All-you-can-drink deals in Vegas? Check out your options!
Sports Bars on Fremont Street
Victory Burger at Circa: As one of the few true sports bars downtown Las Vegas, Victory Burger is built to impress, overlooking Circa's massive sportsbook screen. Of course, Victory has numerous screens of its own surrounding the tables and bar area so you won't miss a minute of the action.
Longbar at The D: Deriving its name from the length of its bar top, sports are front and center at Longbar, which offers a double-stacked row of TVs the length of the 100-foot long bar. A common hangout for owner Derek Stevens, make sure you say hi if he's around!
Bar Canada at The D: Located upstairs at The D, this sports bar is all Canadian, right down to the decor and beer selection. While you can bet your bottom dollar that the hockey game will be broadcast, Bar Canada also plays major "non-Canadian sports" as well. Grab a Labatt Blue, or Molson Canadian, and kick back!
MegaBar at Circa: The recently opened sister property of The D one-upped Longbar with its own MegaBar. MegaBar is the longest in Nevada at 165-feet, and offers 92 total TVs lining the entire back wall in addition to 120 beers on tap.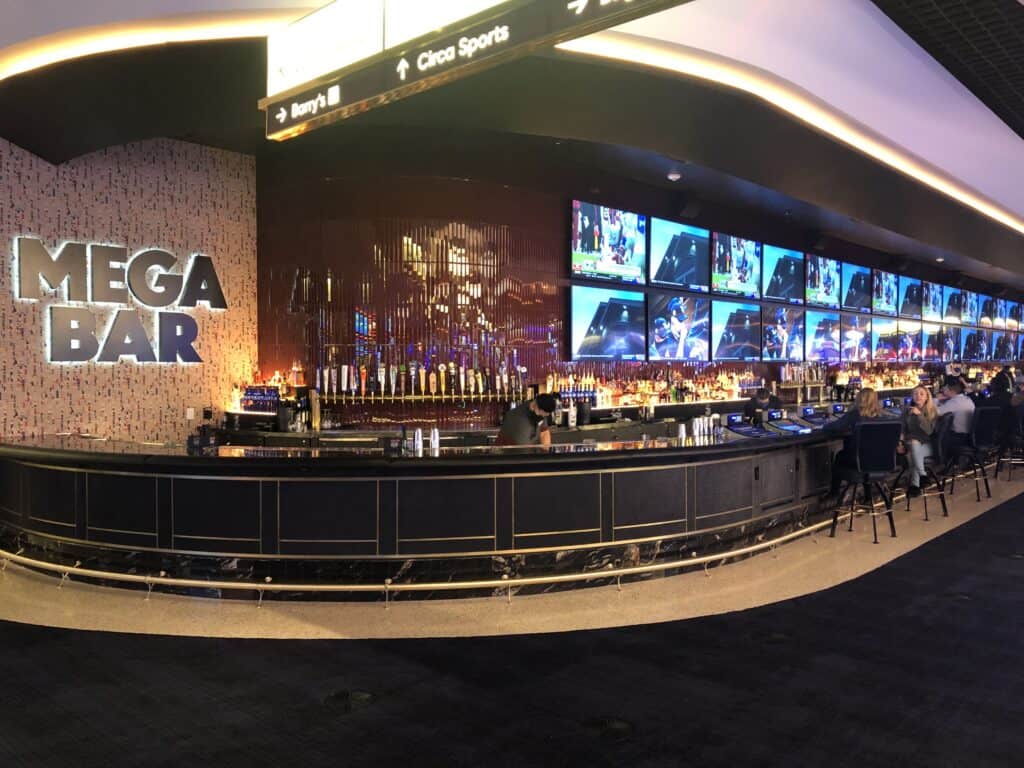 Sports Bars Near the Strip
Hooters at OYO: You're likely familiar with Hooters already, and there is one located at OYO a short 10-minute walk behind Tropicana.
Front Yard at Ellis Island: A short walk from the Strip, located behind Horseshoe, Ellis Island's Front Yard is a sports bar from heaven. While numerous TVs surround the venue, the star of the show is the 18-foot big screen. With a full selection of stadium bites, and craft beer brewed on site, Ellis' Front Yard is easily one of the best sports bars in Vegas.
Fortunately for sports fans, sports bars in Las Vegas both on the Strip and downtown are plentiful. If you're anything like us, having the ability to place a bet and then settling in for a meal and 5 beers is what makes Vegas great.
Hopefully, I was able to help you find a sports bar on the Strip, or on Fremont Street that works for you and your group!
See Also: Happy hour deals on the Strip!
I'm a former software salesman turned Vegas aficionado. While the craps table is my preferred habitat, I pull myself away to explore new attractions, shows, restaurants, and outdoor activities around Las Vegas with the intent of sharing my experiences.
Ultimately, I just want to help folks plan a better trip and save a few bucks in the process.