Until the recent repeal of PASPA (Professional and Amateur Sports Provision Act), Las Vegas was the only spot in the United States to place a legal sports wager. Although individual states now have the power to legislate and legalize sports betting, it's hard to fathom their sports betting scene living up to the experience Las Vegas is able to provide via their top-tier sportsbooks and surrounding attractions.
Although sports betting is a low-margin activity making up a small percentage of Las Vegas casino revenue, bookmaking still equates to a healthy chunk of change. In 2017, non-restricted Strip casinos won more than $114 million dollars from gamblers. Additionally, sports betting drives valuable traffic and revenue across the rest of the resort.
We thought it would be fun to visit and list the best sportsbooks in Vegas to help you find a great spot to bet and watch the big game.
Best Sportsbooks in Las Vegas
Westgate SuperBook
When looking for the best sportsbook in Las Vegas, there is no comparison. The SuperBook at Westgate features a 30,000 square foot book with a massive 220-foot-long by 18-foot-tall 4K video board. All the amenities you could ask for are part of the deal at Westgate – Free WiFi, phone charging stations, and a quality mobile app allowing you to skip the lines all in a smoke-free environment. If you are looking for the best spot in Vegas to wager on a game, SuperBook at Westgate is a top-tier option.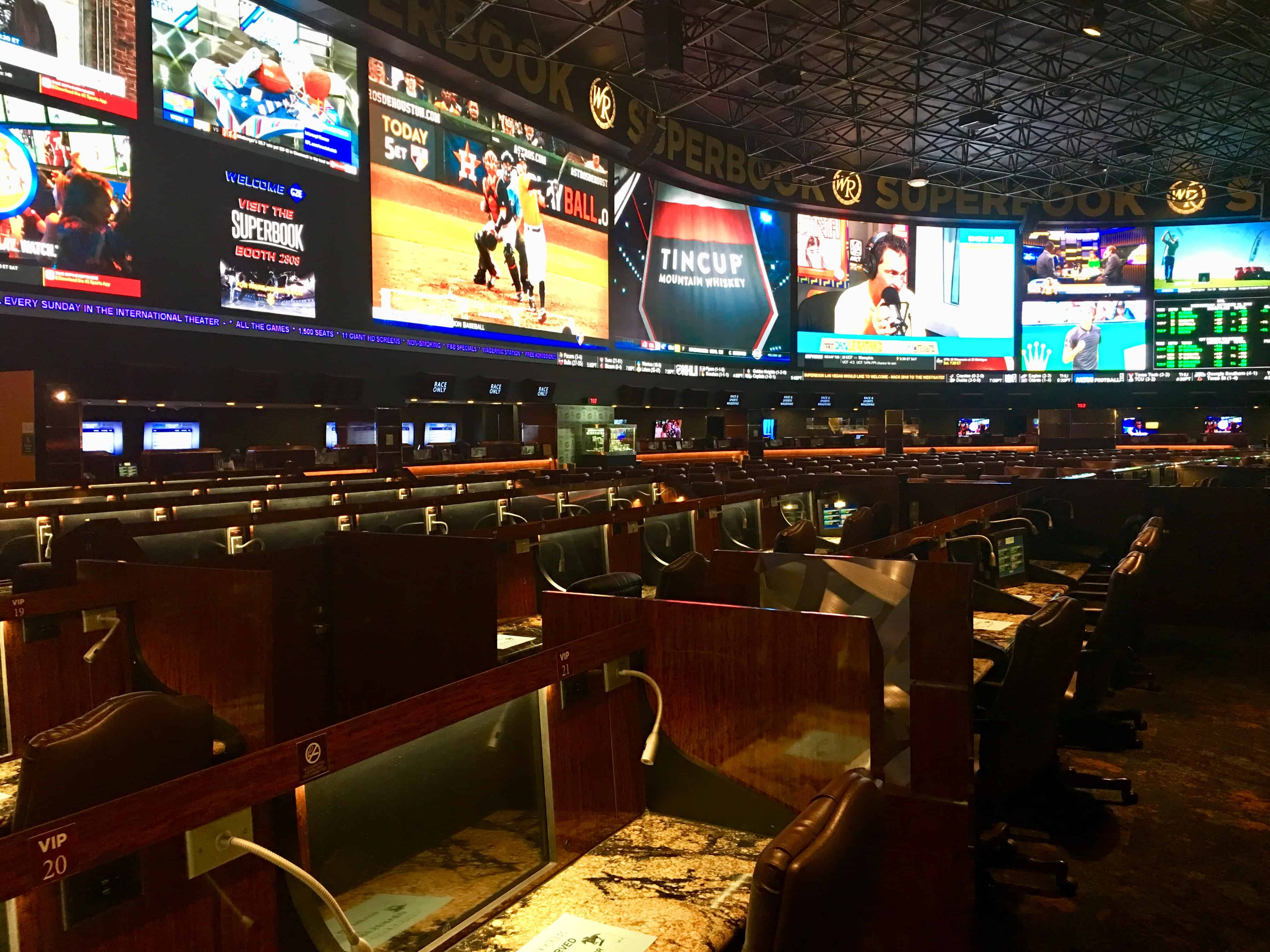 Caesars Palace Sportsbook
Caesars boasts another massive sportsbook with an enormous 143-foot, HD LED video board. The sportsbook bar is one of the best vantage points in Vegas to watch sports, chase royals, and consume double-digit beers. The book can be jam-packed for large events like March Madness, NFL Playoffs, etc, but there is generally standing room available and the screen is large enough to serve patrons at a distance, as well. As a frequent March Madness opening weekend visitor, Caesars is a must-stop providing a lively, competitive atmosphere.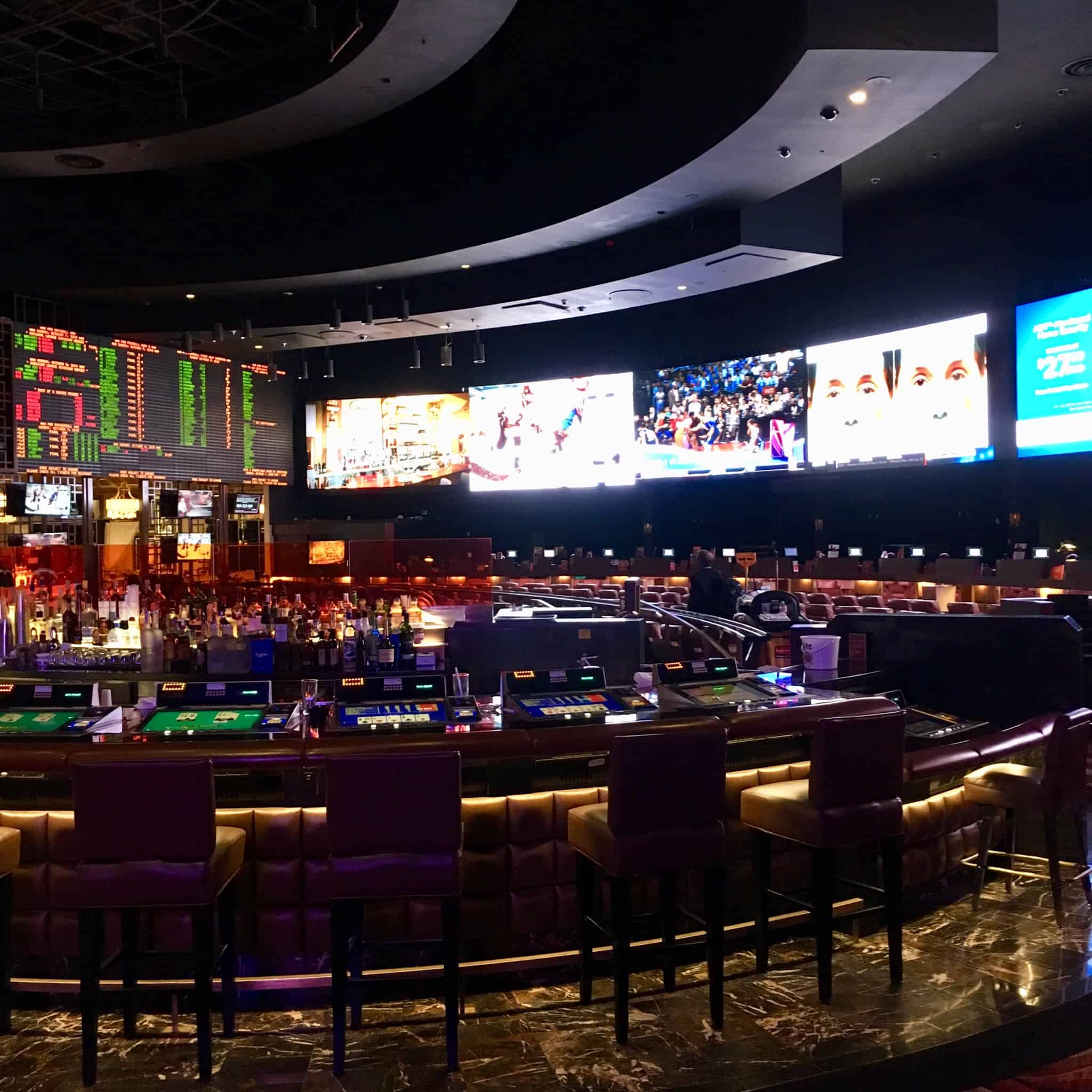 Wynn Sportsbook
Wynn is known for luxury, and the sportsbook wasn't left behind featuring one of the more unique screens in Las Vegas. The 1,600 square foot LED screen is the book's crown jewel, elevating Wynn as one of the best places to place a bet in Las Vegas. Grab a seat at the sportsbook bar in the center of the action which serves 100 types of beer on tap or in cans.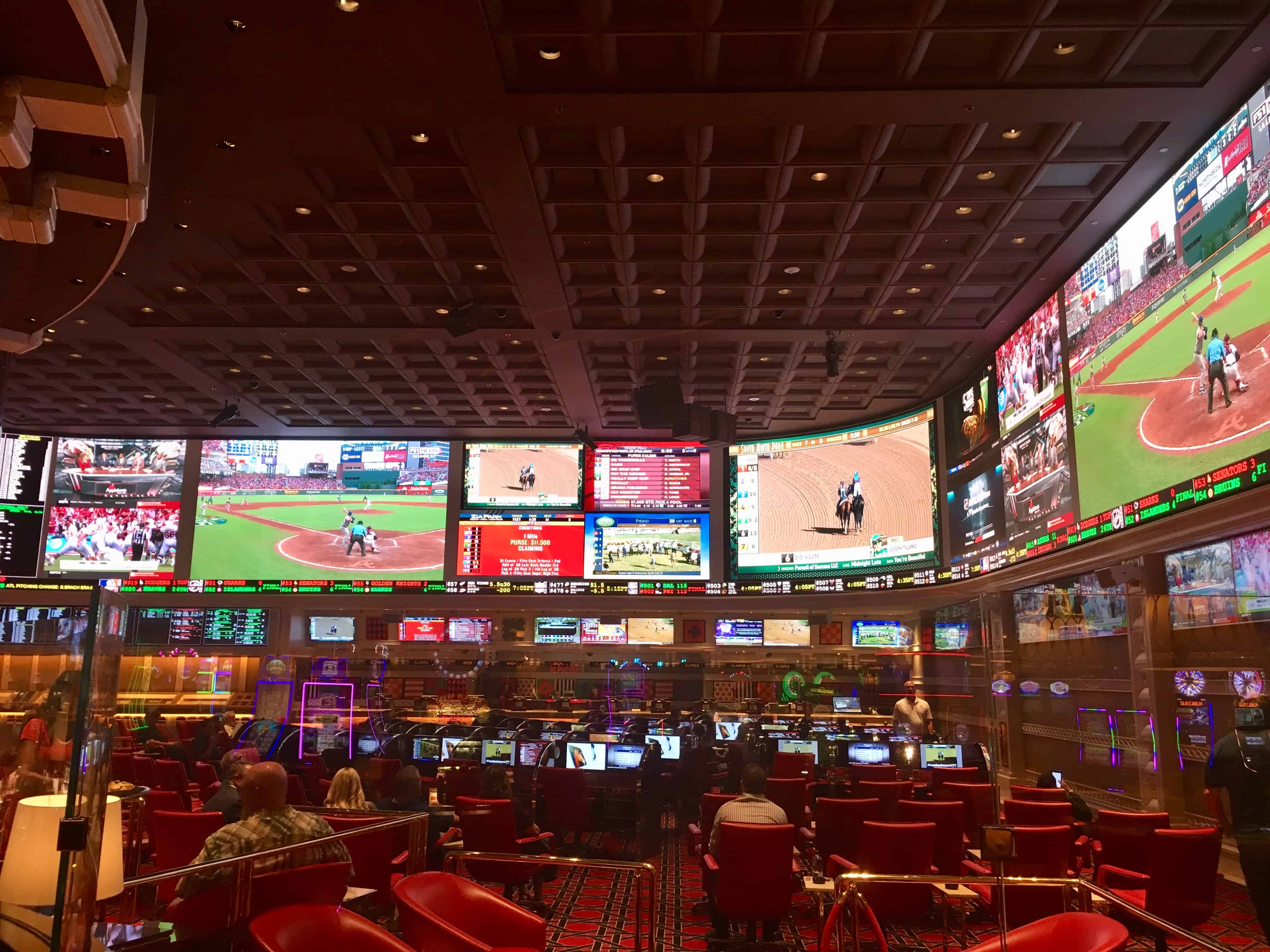 Mirage Sportsbook
Settle in and sweat out your bets in front of 85 feet of projection screens offering 4x the clarity of 1080p. Additionally, there are 5 "interactive tables" (think a 42-inch tablet as a tabletop) that will allow you to view games, make dinner reservations, or track game statistics.
Venetian Sportsbook
Another top Las Vegas sportsbook, another massive screen. Venetian's screen measures 100 feet long by 10 feet tall and can accommodate up to 42 separate broadcasts at once. During peak sports wagering events like March Madness or the NFL Playoffs, Venetian can be a great spot to find a seat at the machines just outside the book. The picture is good enough you won't miss the action and you won't have to drop any cash up for a chair in the sportsbook itself.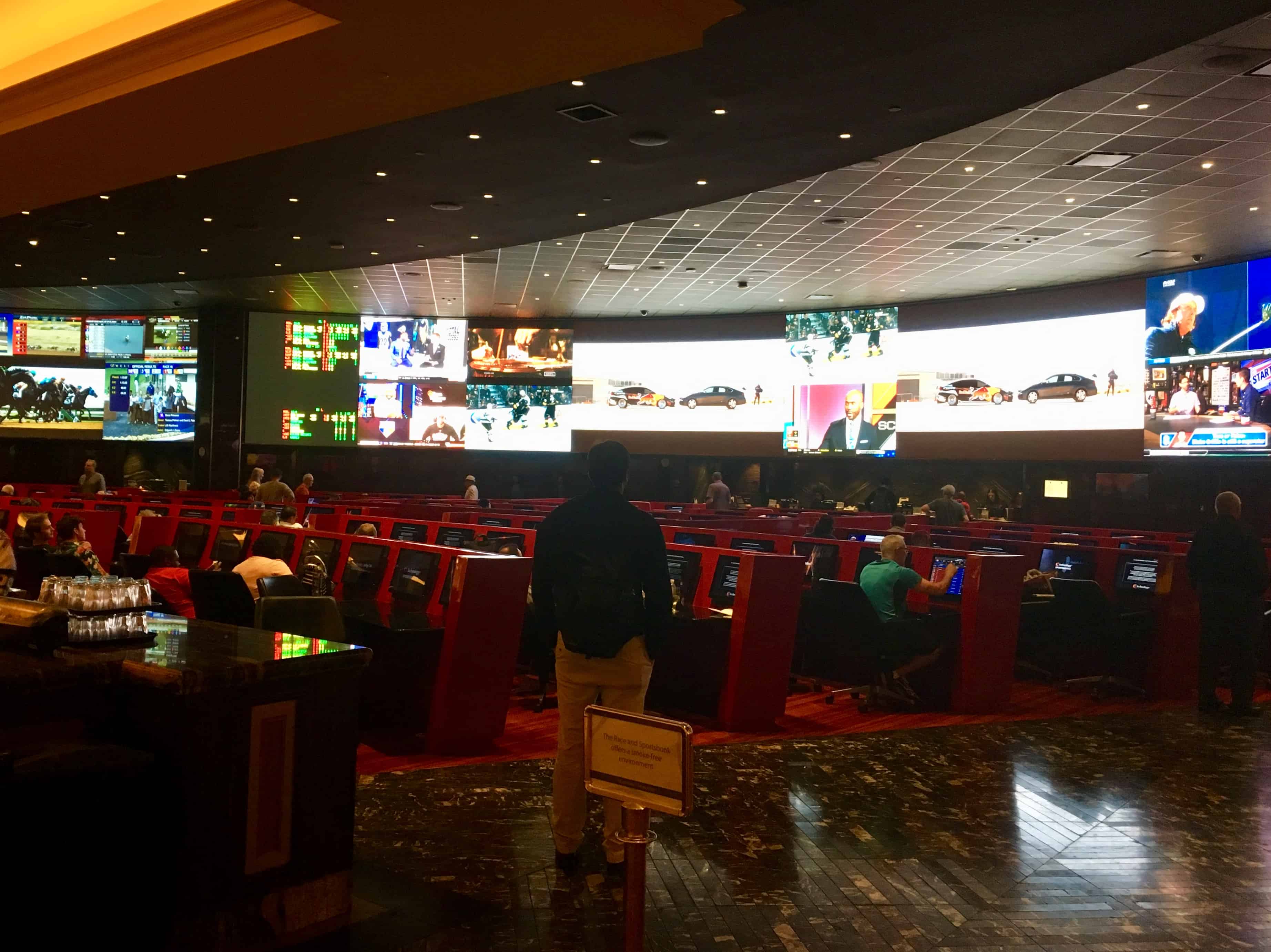 Cosmopolitan Sportsbook
A much more intimate sportsbook than the mammoths listed above, Cosmopolitan offers an LED Video wall and additional HD TVs littered about. The book is anchored by a beautiful sports bar with a wraparound video scoreboard. It certainly isn't the biggest space, but what Cosmo has done with the area is beautiful.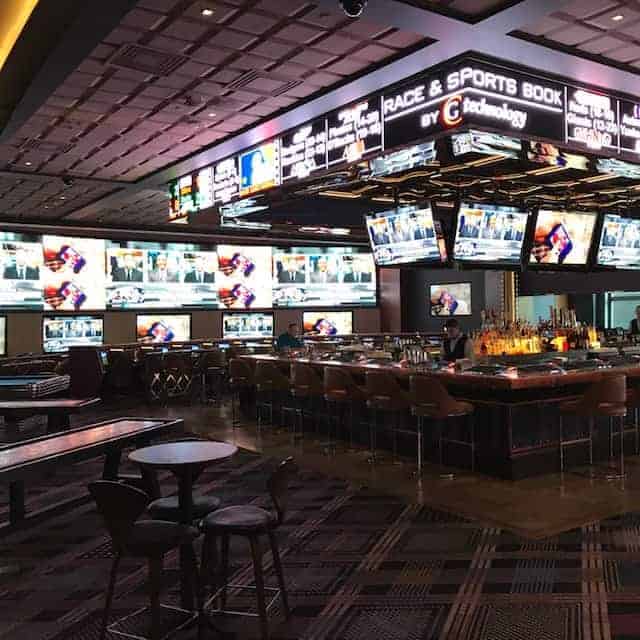 Circa Sportsbook – (Easily) The Best Sportsbook in Vegas
Save the best for last right? Circa, which opened in October of 2020 not only be the best sportsbook downtown, but in all of Vegas. Circa's 78 million pixel screen is 3 stories tall and the largest in Vegas. The resort's pool deck amphitheater also boasts a 125-foot screen and room for 4,000 guests setting the standard for big game watch parties going forward.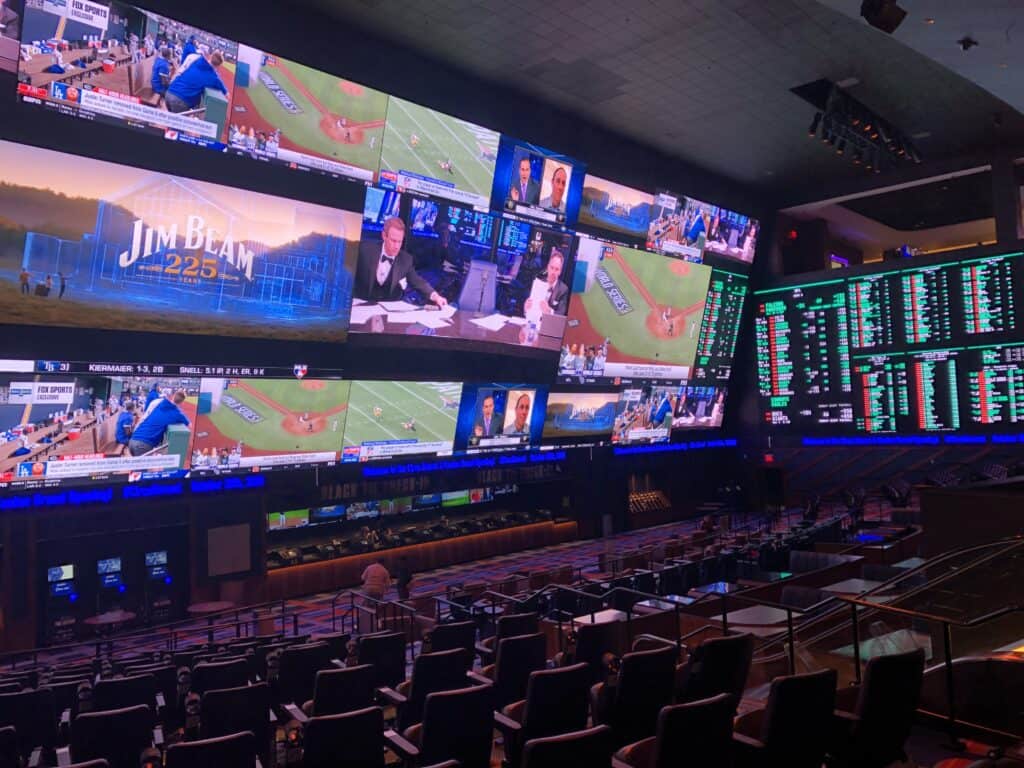 In addition to their indoor sportsbook, Circa's Stadium Swim pool deck doubles as a sports viewing amphitheater. It's tough to beat catching the game submerged in 88-degree water with a cocktail in hand.
As one of the few pools in Las Vegas anyone can use, Circa charges non-hotel guests a cover of $20 or more, depending on demand.
It's worth it.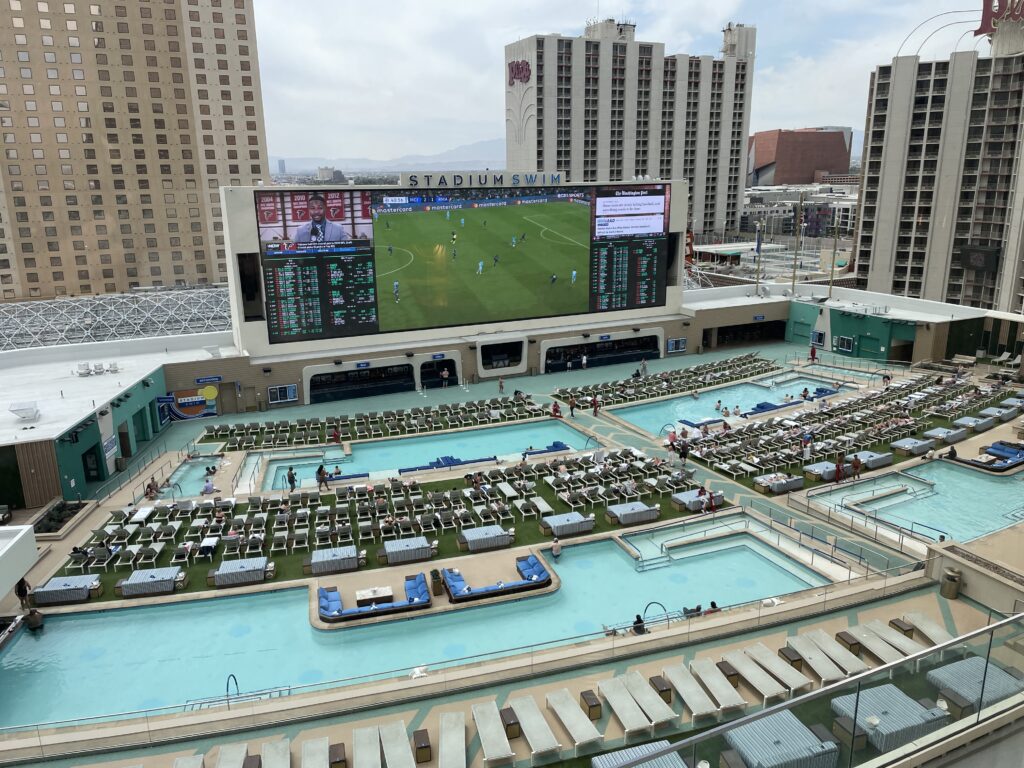 What is your vote for the best sportsbook in Vegas? Make sure to leave your opinion on the top book in the comments!
Avoid the big crowds in the sportsbook – Check out our piece on when Las Vegas is the busiest!
I'm a former software salesman turned Vegas aficionado. While the craps table is my preferred habitat, I pull myself away to explore new attractions, shows, restaurants, and outdoor activities around Las Vegas with the intent of sharing my experiences.
Ultimately, I just want to help folks plan a better trip and save a few bucks in the process.