Circa has succeeded in bringing the luxury of top resorts on the Strip to Downtown Las Vegas.
As the first new construction resort to go be built on Fremont Street in decades, Circa is a "must-see" attraction in itself, even if not staying in their 777-room hotel.
Complete with a 2-level casino, numerous dining options, and top-tier amenities, there is plenty to do at and near Circa located conveniently in the heart of the action downtown.
Let's run through the highlights, shall we?
Things To Do at Circa Las Vegas
Swim: Stadium Swim, Circa's rooftop pool is a dream for both sunbathers and sports bettors. The 6 pools that comprise the complex are open year-round, heated to the upper 80s, and offer 2 swim-up bars.
The crown jewel of Circa's pool deck, however, is the enormous screen spanning 143-feet diagonally which broadcasts sporting events to those sipping poolside cocktails.
Placing an oversized bet, then catching the game from the pool is by far, my personal favorite thing to do at Circa.
Entry to the pool for guests at The D and Golden Gate is complimentary, while non-guests need to pay a cover of $20 (or more, depending on demand).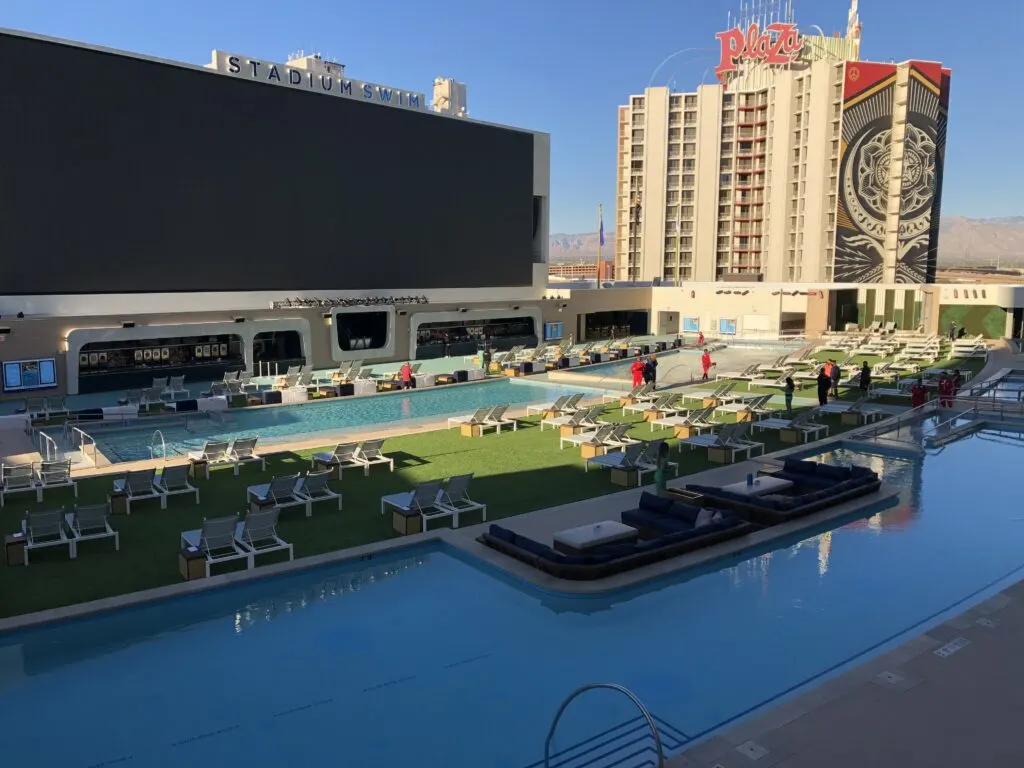 Enjoy an overpowering sportsbook: Sportsbooks in Las Vegas are known for their grandeur, but Circa takes it to the next level. Their 78-million-pixel, 3-story tall sportsbook screen is visible from both levels of the casino and is almost omnipresent as you navigate the property.
While seating on the main level can be expensive, I recommend grabbing a seat along the ledge of the second level where bartop gaming is also offered.
In my experience, there are few things better than gambling while you're gambling.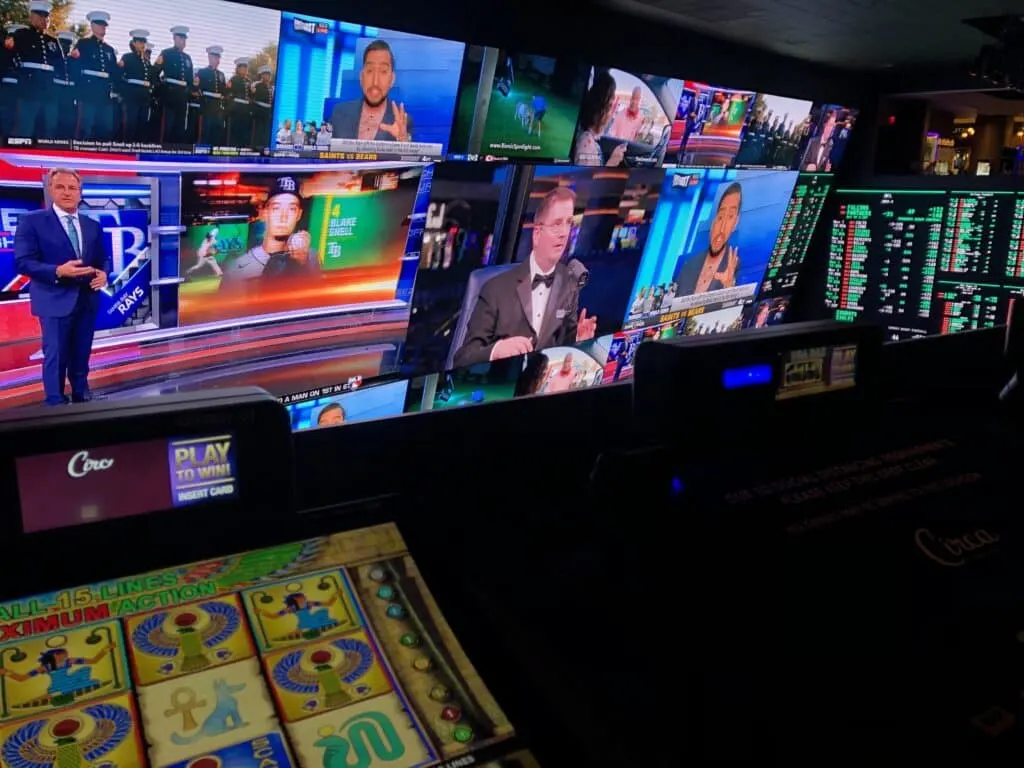 See a Vegas icon: Before Circa, Vegas Vickie sat atop the Girls of Glitter Gulch Gentleman's Club outdoors which left her in rough shape.
She is now completely restored, neon shining bright and leg kicking above Barry's Prime inside the casino.
While Circa has many signature amenities, Vegas Vickie's return gives the property a "wow factor" that is difficult to put into words.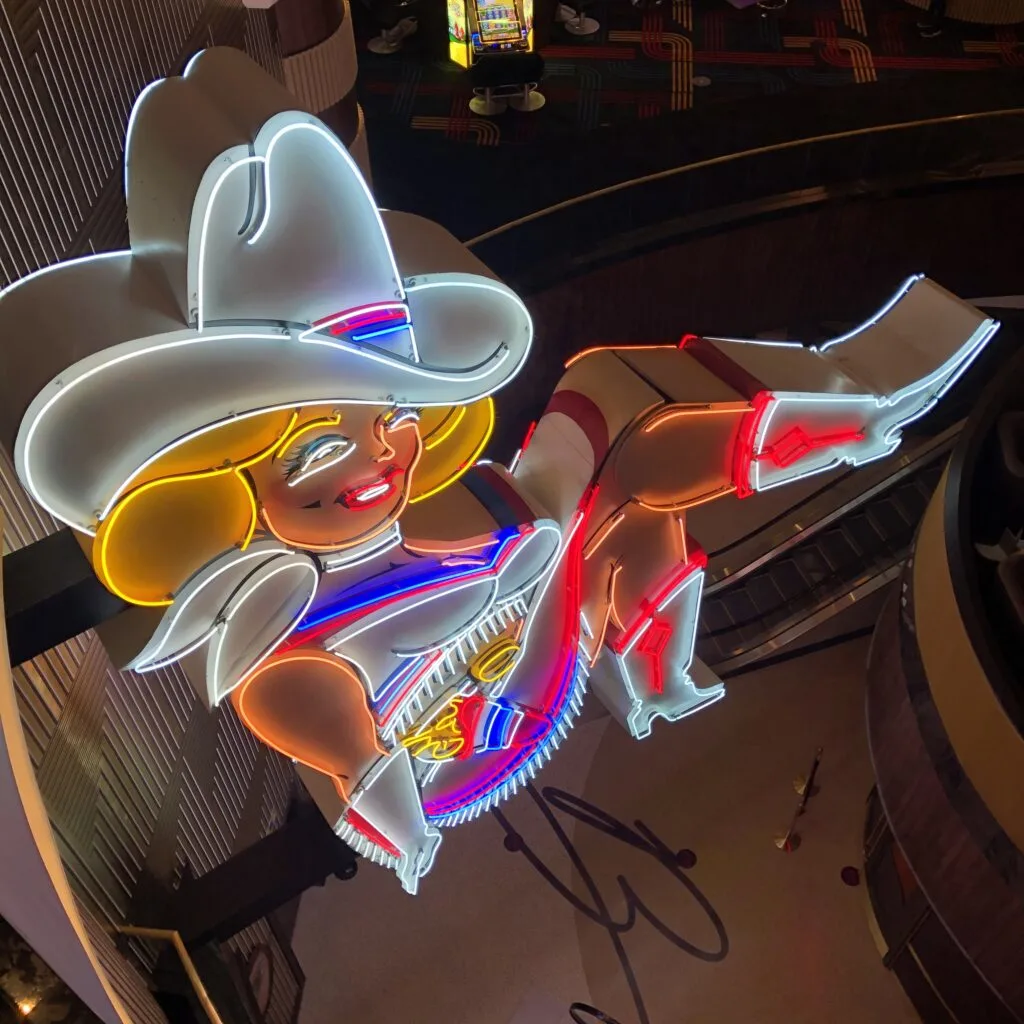 Enjoy a legendary shrimp cocktail: Many of you that have made the trip to Vegas over the years will remember the famous, and inexpensive, shrimp cocktail offered at Du-Par's at Golden Gate.
While no longer offered for sale there, Circa has revived the old favorite and serves the original recipe at Saginaw's Deli on the second level.
While the price is likely higher than what you remember at Du-Par's, you'll instantly recognize the distinct flavor.
The sandwiches at Saginaw's, while expensive, are also pretty darn good. Here's my grilled corned beef and pastrami masterpiece.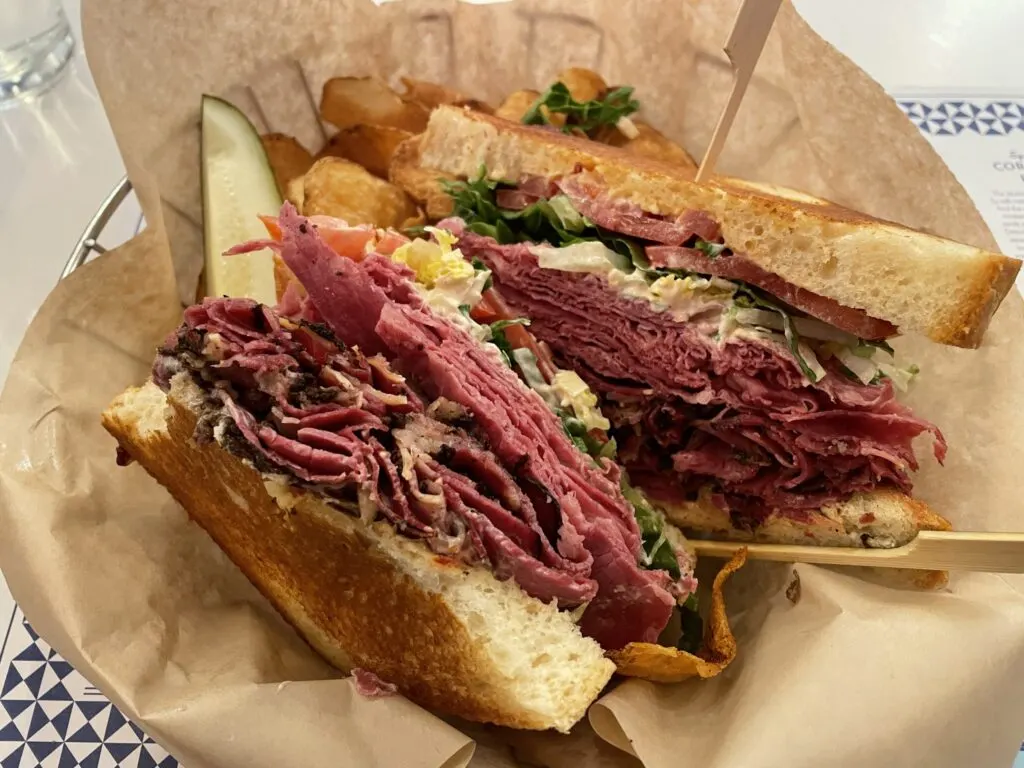 Booze: Bars are usually just bars. Places to grab a drink and sit. Not the case at Circa. Bars at Circa all have unique elements that make them worth stopping at.
For instance, Overhang Bar is perched on the second level of the casino and has aerial views of the Sportsbook.
Mega Bar is the longest in Nevada at 165-feet long and has 46 TVs.
Vegas Vickies serves cocktails under the neon glow of the restored Vegas Vickie.
Legacy Club is located on Circa's 60th floor and offers views of the Las Vegas skyline. Note that Legacy Club is a classy joint. The dress code is "elegant casual" and clothing like swimwear, ball caps, and T-shirts are not permitted. Check it out for a sunset drink.
Lastly, Circa Bar is outdoors along Fremont Street and sells cocktails near one of their live entertainment stages.
Related: Circa Hotel Review – Single King Stadium Swim View
Things To Do Near Circa
Circa's location at the head of Fremont Street means there are an enormous amount of things to do nearby. If roulette is your game, head over to Plaza and play their player-friendly single-zero variant which is typically available at a $10 minimum bet.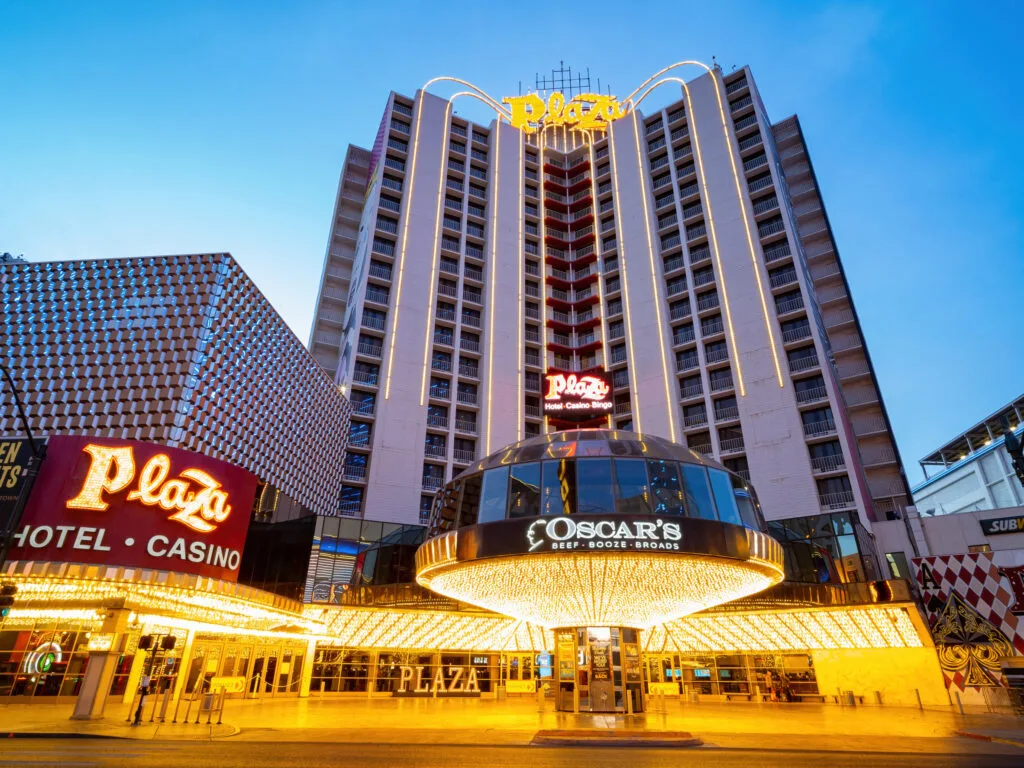 Aside from the live music shows put on by the Fremont Street Experience, live music downtown can be difficult to find. Fortunately, The Sand Dollar Lounge recently opened at Plaza and is among the few bars on Fremont Street with nightly performances.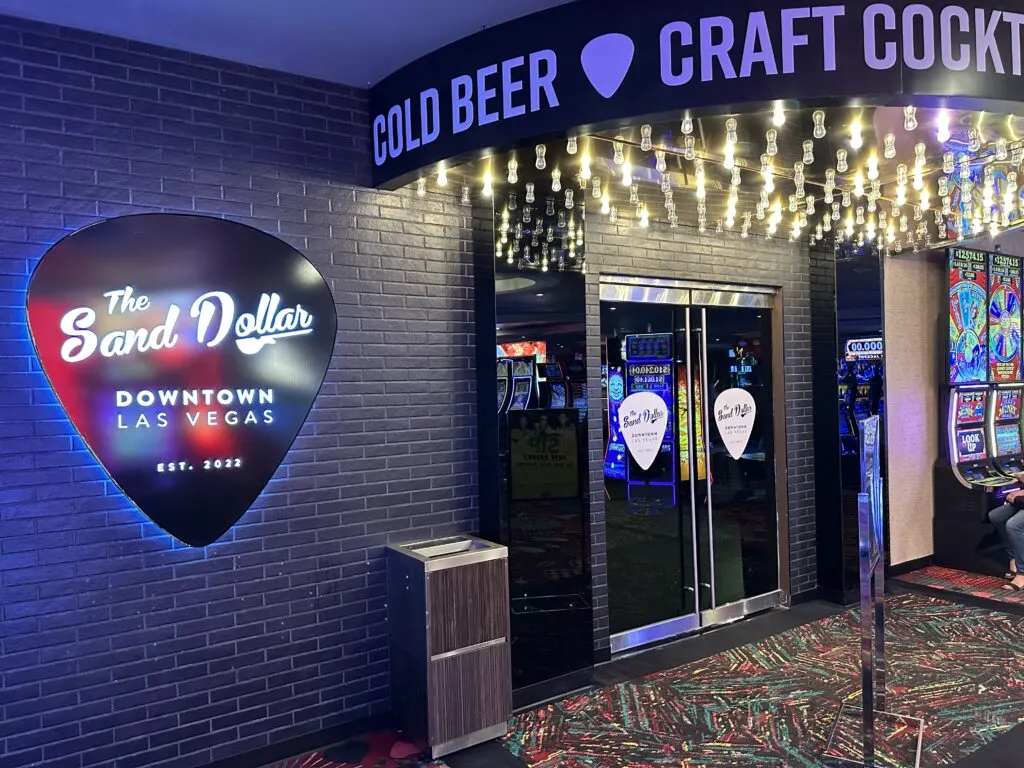 While Circa is beautiful, the gambling isn't exactly cheap with table games often commanding a $15- $25 minimum bet during peak times. If you're looking for a cheaper game, head over to Downtown Grand which deals both $1 and $5 minimum blackjack games.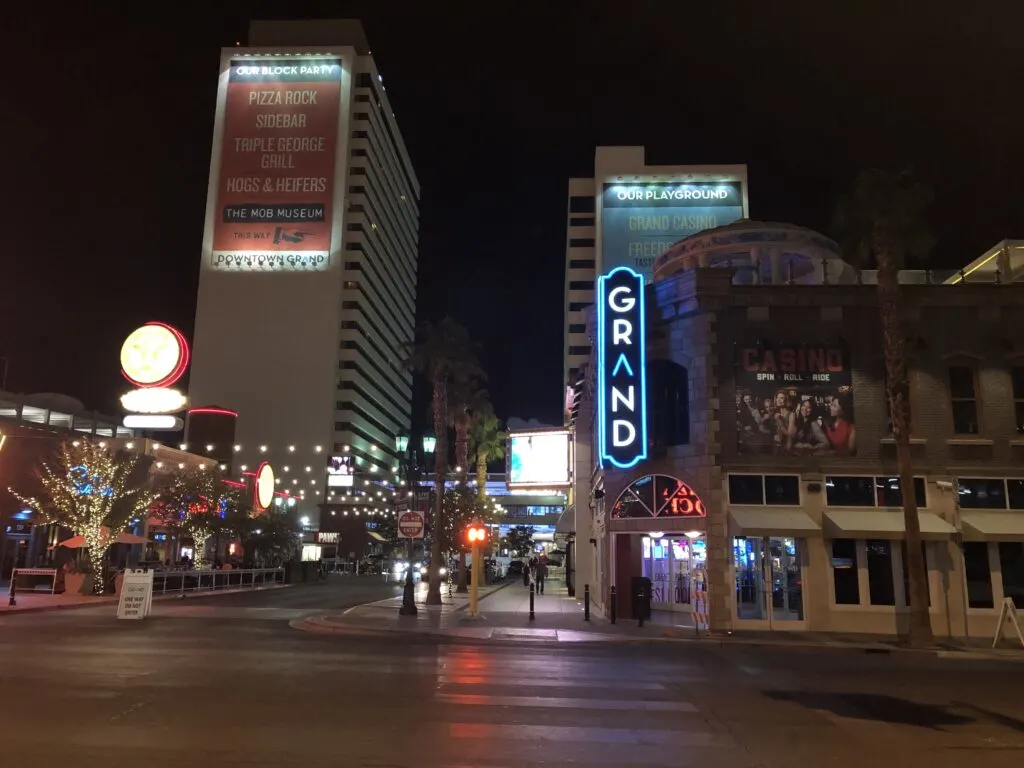 Sigma Derby, a mechanical horse racing game is offered at The D, is the last of its kind in Vegas. Save up your quarters and have a great time, especially if gambling in a group. Don't have quarters? No worries, they have a change machine.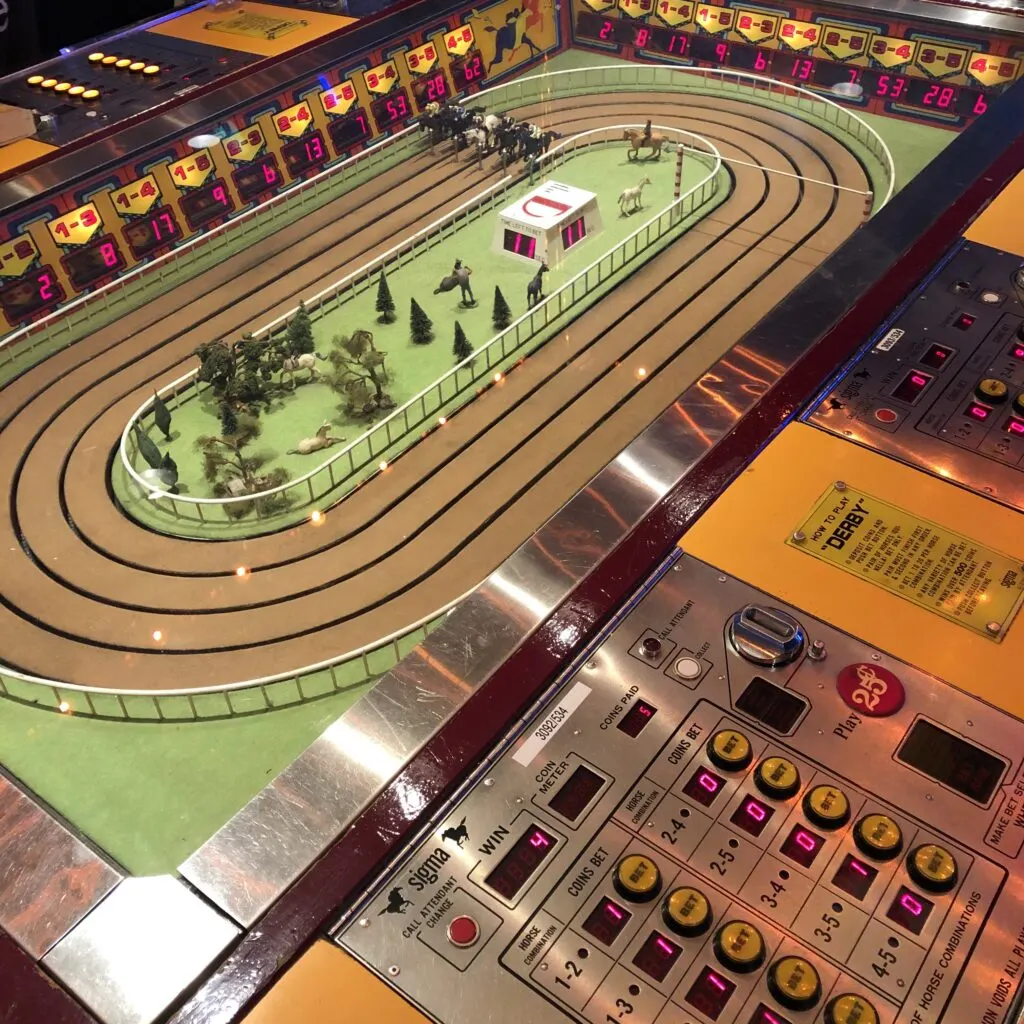 For thrill-seekers, no attraction near Circa quite compares to the SlotZilla Zipline, which I recently tackled. The upper Super-Hero Zoomline sends riders soaring 5 blocks at heights of up to 11 stories. It's a rush.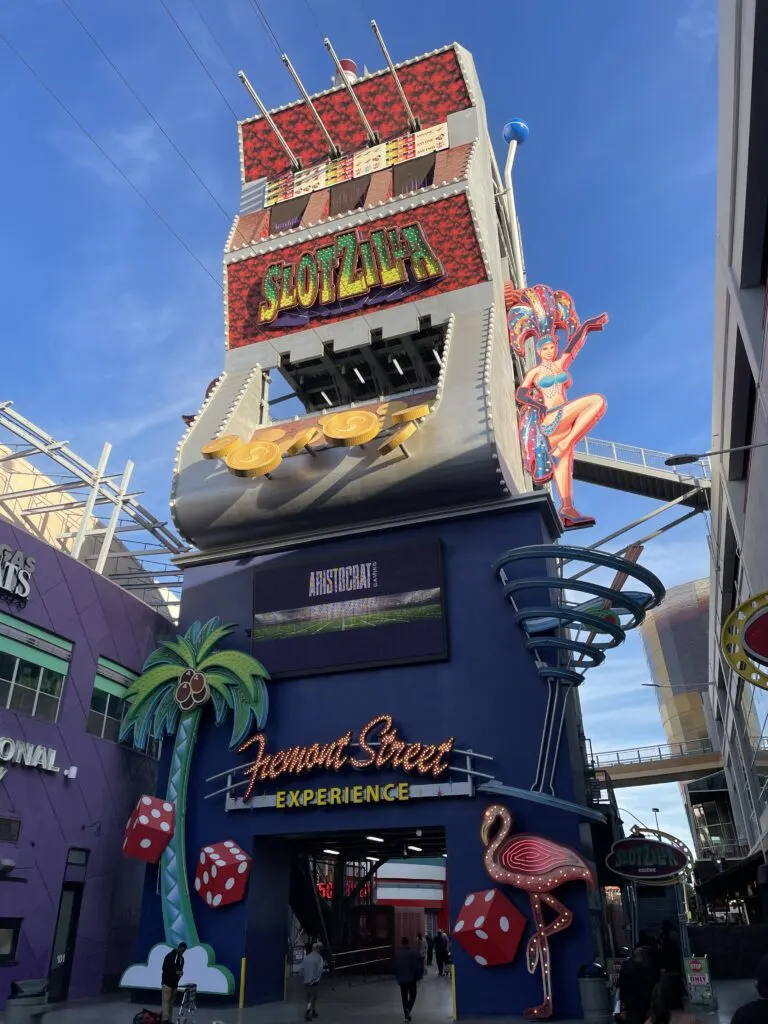 Visiting the Las Vegas Arts District is commonly an afterthought, or completely overlooked by most. If you enjoy craft beer, antique shopping, or art galleries, it could be right up your alley.
Not typically a shopping person myself, the quirky collection of shops rarely disappoints and vintage Vegas casino memorabilia can commonly be found.
Take the free Downtown Loop shuttle to and from the district from Fremont Street!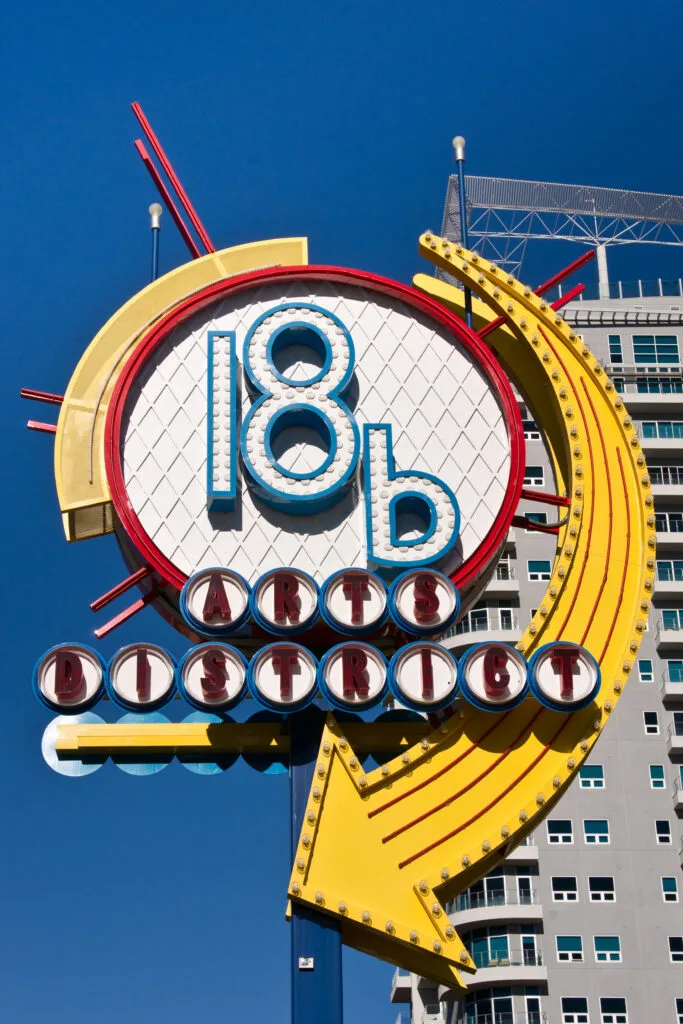 If Las Vegas history interests you, ensure you stop into Golden Gate across the street from Circa which was first opened in 1906 and offers some really interesting windows into the past.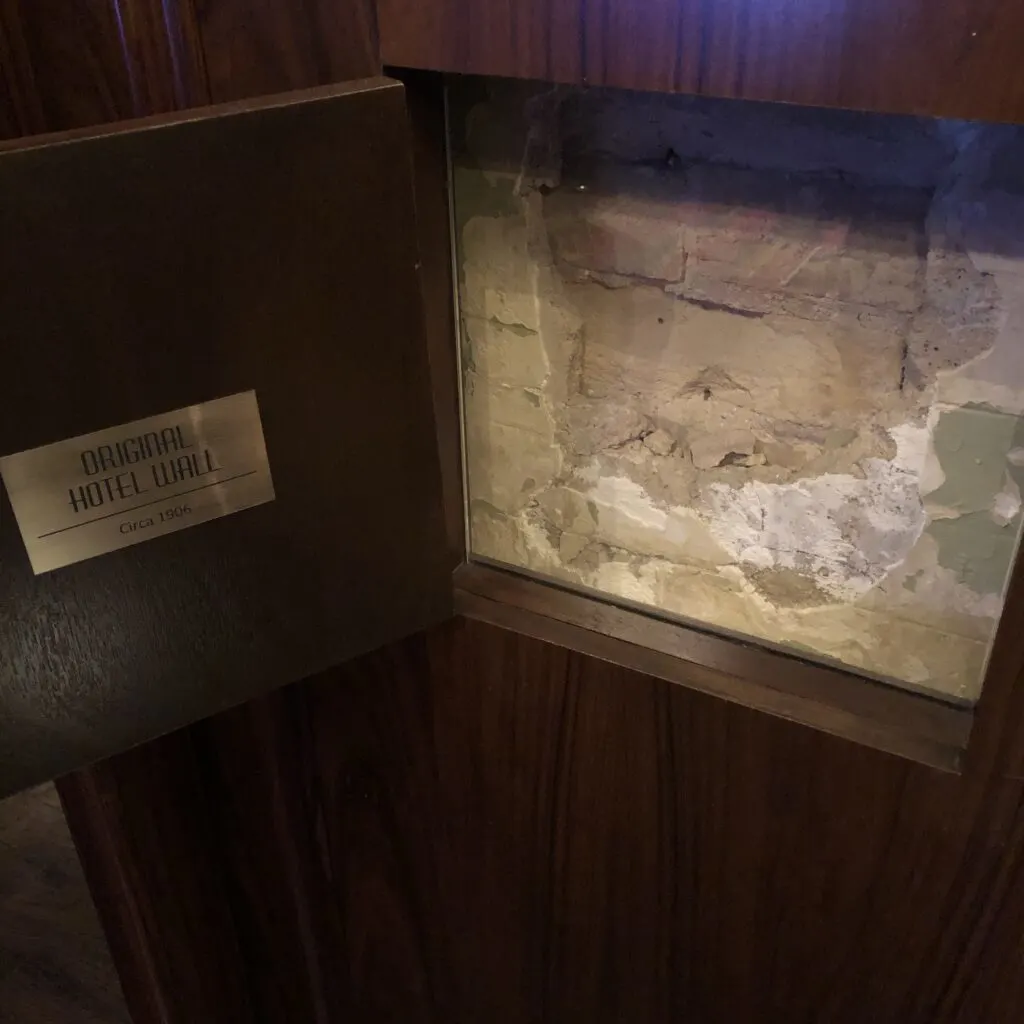 If you think the history on display at Golden Gate is appealing, you'll love The Neon Museum. Home to an abundance of retired and historic casino signs, The Neon Museum offers information-packed tours both during the day and at night.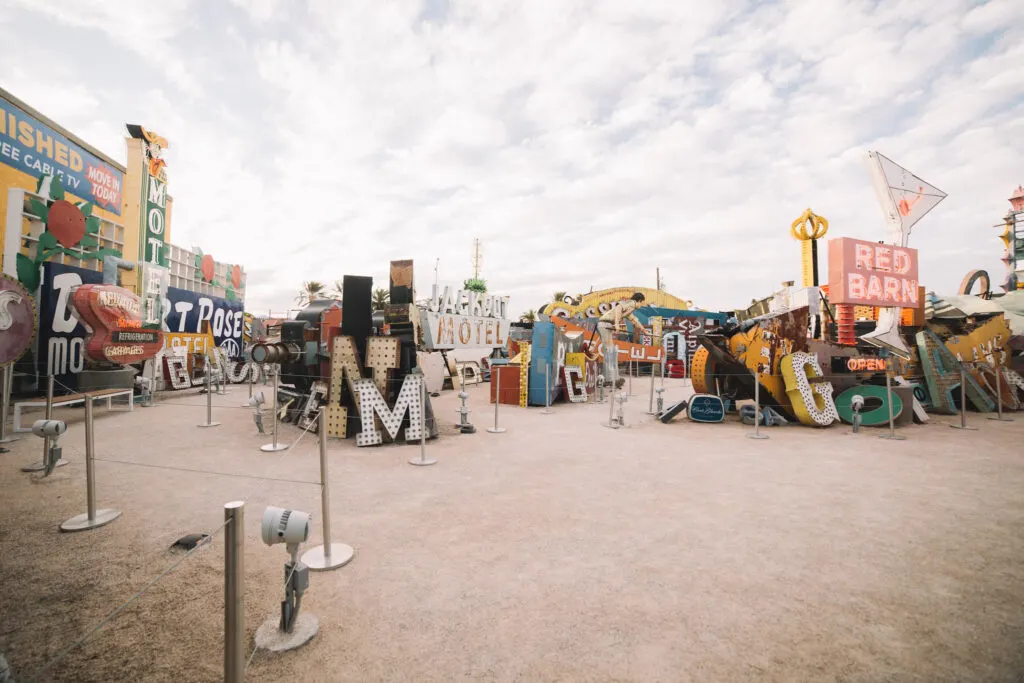 The crown jewel of their offering in my opinion, however, is Brilliant! Jackpot, an evening show that brings signs in their North Gallery back to life with projection technology.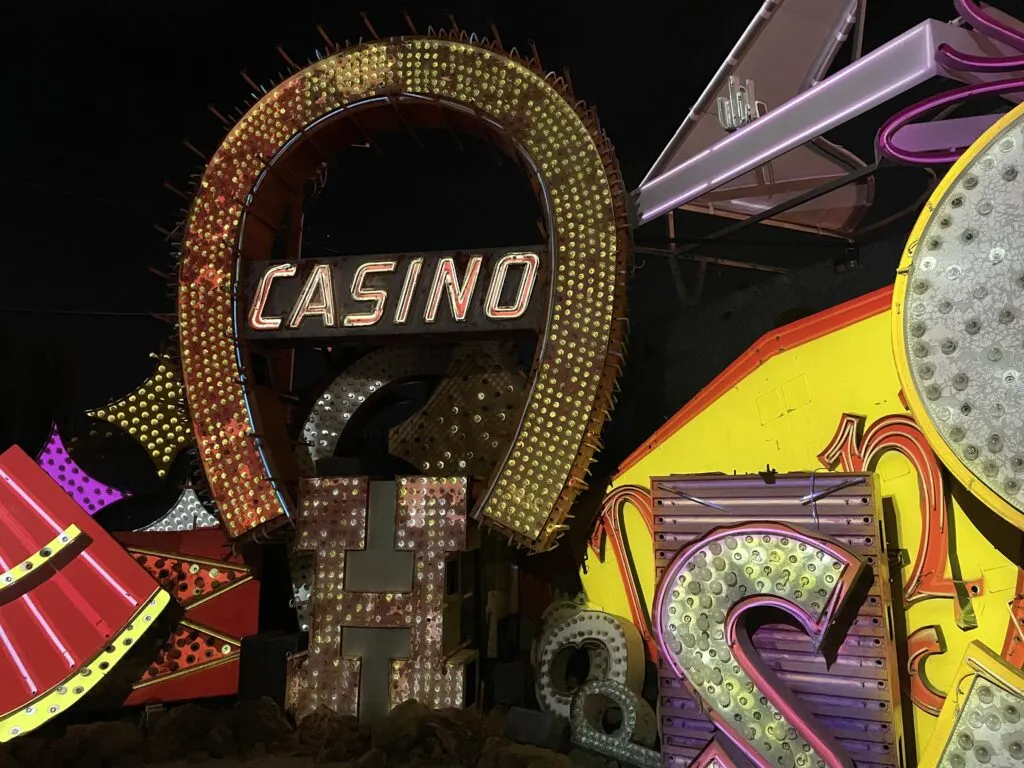 At the end of the day, Circa's positioning downtown means there more things to do nearby than I could possibly list here.
If you need more itinerary ideas, check out my comprehensive list of things to do on Fremont Street besides gambling.
See Also: Downtown Las Vegas happy hour & cheap drink deals.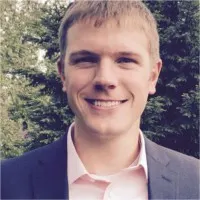 I'm a former software salesman turned Vegas aficionado. While the craps table is my preferred habitat, I pull myself away to explore new attractions, shows, restaurants, and outdoor activities around Las Vegas with the intent of sharing my experiences.
Ultimately, I just want to help folks plan a better trip and save a few bucks in the process.