If you stumbled across this article, you're likely stuck at the airport in Las Vegas with some time on your hands.
Fortunately for you, I've spent countless hours wandering the terminals due to an affliction known as "need to get to the airport way too early anxiety". Because of that, I have a good feel for everything there is to do across the complex.
Note that once you get past security, you're able to leverage trams to easily get to and from Terminal 1, Terminal 3, or out to the D Gates (which are kind of on their own island).
While there isn't anything "Earth-shatteringly cool" to do at Harry Reid International, there are some unique diversions spread across the airport that can help you pass the time.
Hopefully, you can find an item or two to keep you busy!
Things To Do at the Las Vegas Airport
Gamble and Smoke
Two things that differentiate Harry Reid International Airport in Las Vegas from every other airport in the United States are the ability to play slots and smoke indoors.
Gambling opportunities are omnipresent. There are slot machines lining the hallways and even in dedicated partitioned-off areas that allow patrons to light up.
Although the slots at the airport are thought to be among the tightest in Vegas, trying your luck is an option.
There's even a bar near the C Gates in Terminal 1, Barneys Lounge, that allows you to smoke over a cocktail or six.
Take a Nap
One of the airport's best-kept secrets is a small number of "sleep rooms" found within ZEROLevel Fitness near baggage claim in Terminal 1.
The sleep rooms can be reserved for 2, 10, or 20 hours, and pricing starts at $35 for a 2-hour block.
Access to the gym and locker room are also included with your rental.
I recently rented a sleep room and found it to be comfortable, albeit basic and far from luxurious.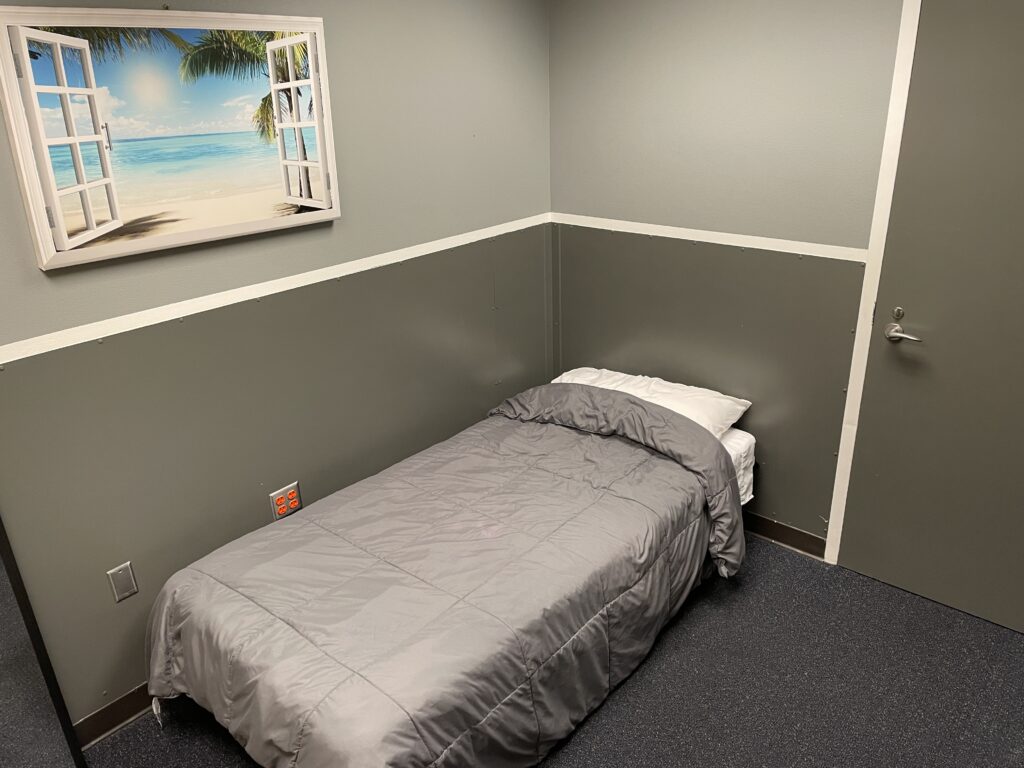 Get a Workout In
If you prefer elevating your heart rate to sleep, ZEROLevel Fitness could be a worthwhile visit.
There, you'll find daily group fitness classes, machines, free weights, and more.
The fitness center is located outside of security near the baggage claim on level zero in Terminal 1.
Pamper Yourself at the Spa
XpresSpa has 3 locations within the airport (T1 D Gates, T1 A/B Gates, and T3 E Gates), and offers massage services, manicures, pedicures, and rejuvenation treatments.
While I personally would rather walk aimlessly than let a stranger touch my feet, I know opinions differ.
Eat a Sit-Down Meal
While there are few things less exciting than an airport dining experience, there are a couple of differentiated options at Harry Reid Intl.
My wife and I have enjoyed meals previously at both the Las Vegas ChopHouse & Brewery (Terminal 3) and the Village Pub (Terminal 3).
There's also a PGA Tour Grill in Terminal 1 that offers an elevated dining experience when compared to fast food or grab & go options.
Ultimately, I think you'll find sit-down dining options at the airport in Las Vegas to be unimpressive and overpriced when compared to non-airport options.
Although none of them come highly touted on review websites like Yelp or TripAdvisor, there are worse ways to spend 30-60 minutes.
Check Out the Howard W. Cannon Aviation Museum
Found on Level 2 of Terminal 1 above baggage claim, the Howard W. Cannon museum pays homage to the history of aviation in the Las Vegas area.
On display are aviation artifacts that span decades, and they are viewable 24 hours per day.
In addition to the main display above baggage claim, additional artifacts are strewn around Terminal 1 and include flight suits, airport equipment, and a large collection of model airplanes that depict every airline that has had a presence at Harry Reid International over the years.
While this isn't a display that'll blow your socks off, the model airplane display is a fun throwback as it depicts long-gone airlines of yesteryear. RIP Northwest Airlines.
Try to Spot Janet
There's a small, secretive fleet of planes that shuttle workers to and from Area 51 dubbed "Janet". The planes are immediately recognizable by their distinctive red stripe (pictured below), and they're always fun to spot in the wild.
It's like "Where's Waldo", but with airplanes.
Grab a cocktail or coffee and post up near a window in the terminal to catch a glimpse.
Seek Out Some Art
Las Vegas history dweebs (like myself) should make an effort to find the mural found in the D Gates, which depicts a bygone era of Sin City.
Notable casinos depicted in the mural include Aladdin, Dunes, Sands, Stardust, and so many more.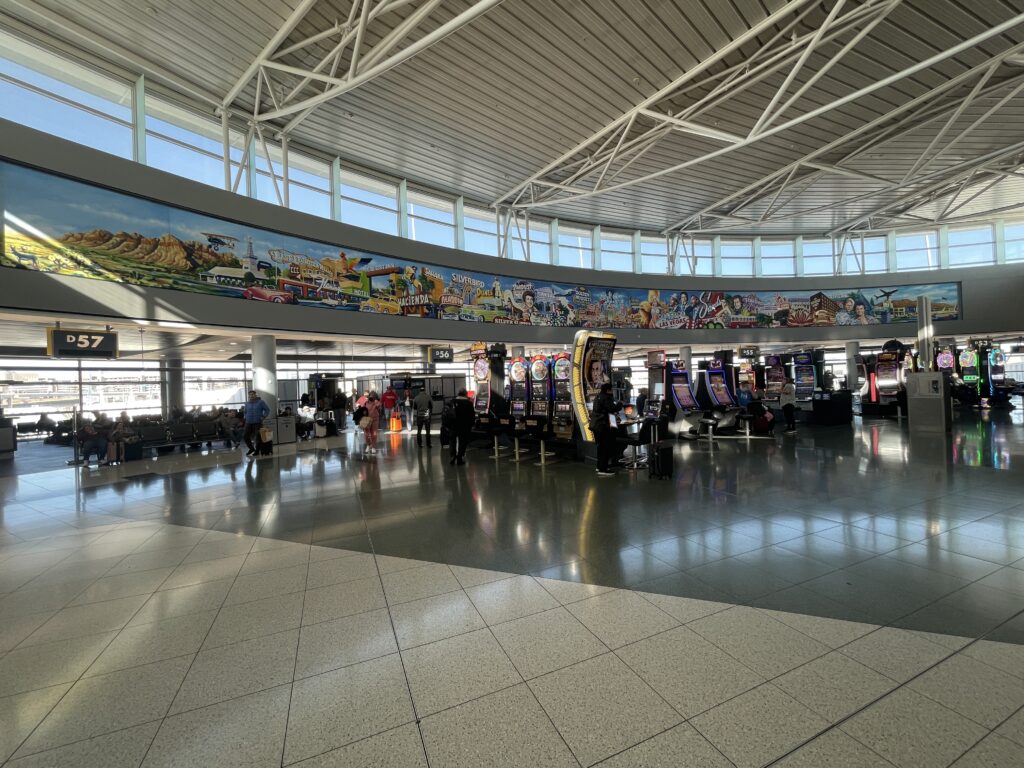 Unique Shopping
Admittedly, I'm not much of a shopping guy, but I know many are, and fortunately, the airport in Las Vegas offers some unique outlets.
Store options range from your typical Hudson stores that sell snacks, magazines, and books, to jewelry, beauty products, clothing, and more.
I always make an effort to stroll through Las Vegas Dufry, a duty-free store that sells oversized candy, liquor, and perfume among other products.
Raiders fans, and fans of the NFL in general will likely appreciate the team's memorabilia stores and kiosks that are scattered about the airport.
If you're unfamiliar, The Neon Museum is a Las Vegas treasure that gives visitors the chance to see and learn about vintage casino signs from yesteryear.
They offer day and evening tours in their boneyard, and even bring a number of old signs back to life with projector technology as part of the Brilliant! Jackpot production.
I recently stumbled across their retail location at the airport, which sells books, magnets, and other collectibles that pay homage to the past.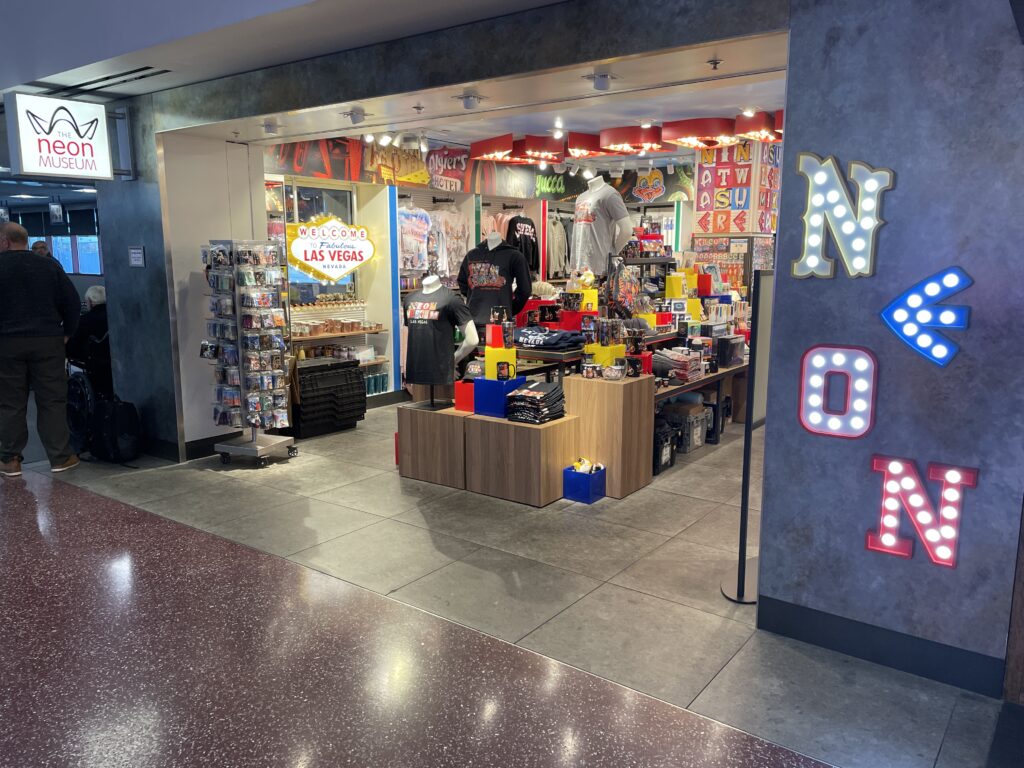 If you need a sweet treat or want to grab a last-minute gift for someone back home, check out one of the numerous Ethel M Chocolate stores & kiosks.
Selling a lineup of high-quality chocolates produced in Las Vegas, Ethel M's factory and cactus gardens are a short drive from resorts on the Strip and is one of the more unique free things to explore in Las Vegas!
Here's the deal, I know there aren't many things to do at the airport in Las Vegas… And the things that exist aren't exactly awe-inspiring. I get it.
Hopefully, however, I was able to help you identify an activity or two that will help you pass the time until your flight departs.
Related Articles:
Feature Image Credit: ©tupungato/123RF.COM
I'm a former software salesman turned Vegas aficionado. While the craps table is my preferred habitat, I pull myself away to explore new attractions, shows, restaurants, and outdoor activities around Las Vegas with the intent of sharing my experiences.
Ultimately, I just want to help folks plan a better trip and save a few bucks in the process.