The only constant in Las Vegas is change and there has been plenty of it since the early 1990s. Properties that were once standing are no longer with us, replaced by new mega-resorts. Old haunts like Stardust, Sands, Hacienda, and Sahara have met their end. The past 27 years have also seen the extinction of slot machines that spit out real coins, the doming/pedestrianization of the Fremont Street Experience, the slow death of themed properties, the transformation of Riviera into a top tier parking surface, the invention of new and exciting fees and the construction of the oh so impactful Las Vegas Monorail.
How has the metamorphosis of Las Vegas affected the business in the city? How have revenue drivers for Las Vegas resorts evolved over time?
See Also: Should you try the $20 trick in Vegas? What is it anyway?
I was poking around the Nevada Gambling Control board website on a Friday night because that's what you do when you are a numbers dweeb and lack a social life. I stumbled across a report known as the Gaming Abstract which compiles Las Vegas casino financial information so that people can get a glimpse into the financial health and trends in the gaming industry as a whole.
As the abstract goes back to 1990 and thought it would be interesting to see how the revenue mix has changed from then to now. What is neat about the comparison is that we're basically comparing today's Las Vegas Strip properties to some classics that were around in 1990 like Hacienda, Sands, Riviera, Desert Inn, and Sahara.
How Casinos Make Money has Changed
The Graph below details how revenue mix has changed over the years for properties with over $1 Million in gaming revenue on the Las Vegas Strip specifically. It's pretty clear that gambling in Las Vegas is becoming a smaller and smaller % of total revenue to the casino and that trend has been consistent for the past 25 years. Gaming revenue made up only 34% of total casino revenue in 2017 compared to 57.8% in 1990.
Not surprisingly, room revenue has become a more prominent segment for Vegas casinos since the 90's – Resort fees and increased inventory of luxury rooms are the main driver. Food, beverage, and "other" revenue categories have also brought in more revenue as a percentage of the total now than they once did in the glory days. Moral of the story – Vegas has diversified and is cultivating other categories of revenue.
Sin City will always be a gambling town… It's just not the only show in town.
Odds are Shifting in Favor of the House
Yes, we all know the house always wins. One of the most impactful ways Vegas has changed over the years though is how much they win from players. Casinos have swapped out table games for less player-friendly adaptations such as 6:5 blackjack and triple zero roulette.
Slots have also gotten consistently tighter over the years as evidenced by the graph below populated with data from the Nevada Gaming Commission. Note that the casino hold %, (the % player wagers held by the casino as profit) continues to rise.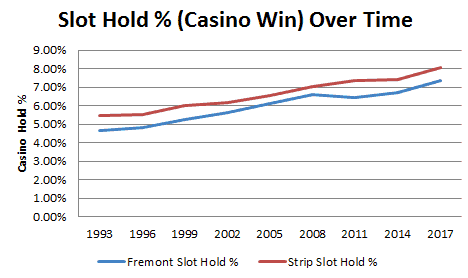 Comp Drinks Fading Away?
I also stumbled across an interesting statistic about what percentage of total drinks ordered were comped by the casino. The data doesn't lie, we are paying for a larger percentage of our drinks in Las Vegas than ever before. In 1990, 43.7% of drinks were complimentary compared to only 30.2% in 2017.
It's important to note that a portion of that increase is due to an increase in actual bars in modern resorts where gambling and the associated free drinks aren't possible. There is an argument to be made that Vegas is getting less generous with comped drinks as more properties are rolling out drink monitoring software that requires a certain level of play prior to authorizing a free drink.
Vegas Casino Floors are Growing, Dominated by Slots
One last item of note is how much the square footage, on average, allocated to certain gambling activities in Vegas has changed since 1990. The big tweaks to the average Vegas casino floor is a significant spike in square footage allotted to pit games (dark blue line below) and coin-operated games (red line) as well as overall casino size as measured by square feet (light blue line).
Minimal changes were seen to footage dedicated to Las Vegas poker rooms and the race/sportsbooks over the years.
Las Vegas as a whole has changed and evolved quite a bit over the years as evidenced by the numbers we highlighted which focused on Strip casinos with over $1million in gaming revenue. In 1990, gambling made up a much more significant percentage of revenue than it does today even though we have seen casino square footage increase pretty dramatically. Ancillary activities like dining, drinking, and luxury hotel rooms are an increasingly important part of the Las Vegas revenue picture.
Oh, and, get your complimentary drinks while you can. The trend doesn't look good!
Check out our piece on how modern casinos make money with information sourced from MGM Resorts' annual report!