The only constant in Las Vegas is change, and there's been plenty of it since the early 1990s.
While implosions and construction of new mega-resorts seem to get all the headlines, there have also been some pretty monumental shifts in how the city does business that affects everything from gambling and transportation to dining and affordability.
I thought it would be fun to take a walk down memory lane to detail some of the major ways Las Vegas has changed over the decades to aid those that are coming back after a long absence.
Odds Have Gotten Longer
Back in my day, blackjack paid 3:2, roulette wheels had 2 (or even 1) zero, and slots gave you a fighting chance.
Today, 6:5 blackjack has spread through casinos on the Strip & downtown faster than a contagion during a pandemic. It's essentially impossible to find a budget-friendly 3:2 blackjack game along the main tourist corridors, although they're still commonly available in the high-limit room.
Along those same lines, triple-zero roulette has been becoming more and more common on casino floors across Las Vegas, stretching the house edge from 5.26% to 7.69%.
Slots have also gotten progressively tighter over the years according to revenue reporting from the Nevada Gaming Control Board.
In 1995, casinos in Clark County held (or won from gamblers) 4.97% of money wagered – In 2022, that hold ballooned to 7.09%. That tightening effect over time is demonstrated well by the graph of hold percentages on the Strip and Fremont Street, below.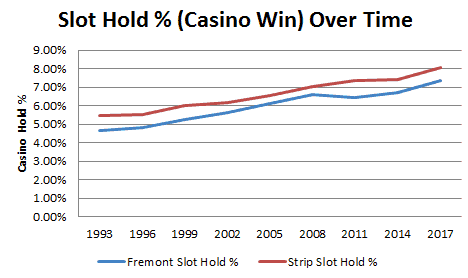 Despite the slightly longer odds, I still try my luck in Las Vegas – I just go into it with the knowledge my money may not last as long as it once did.
To give yourself a slightly better shot, check out my guide to finding the loosest slots in Vegas which leverages real hold data from casinos across the market.
Coins & Token Slots Are Out
Slots and video poker that take and dispense real coins/tokens have disappeared in favor of TITO (ticket in-ticket out) technology.
Fortunately, you can still play real coin games at a select few casinos that include Circus Circus on the Strip and El Cortez downtown. '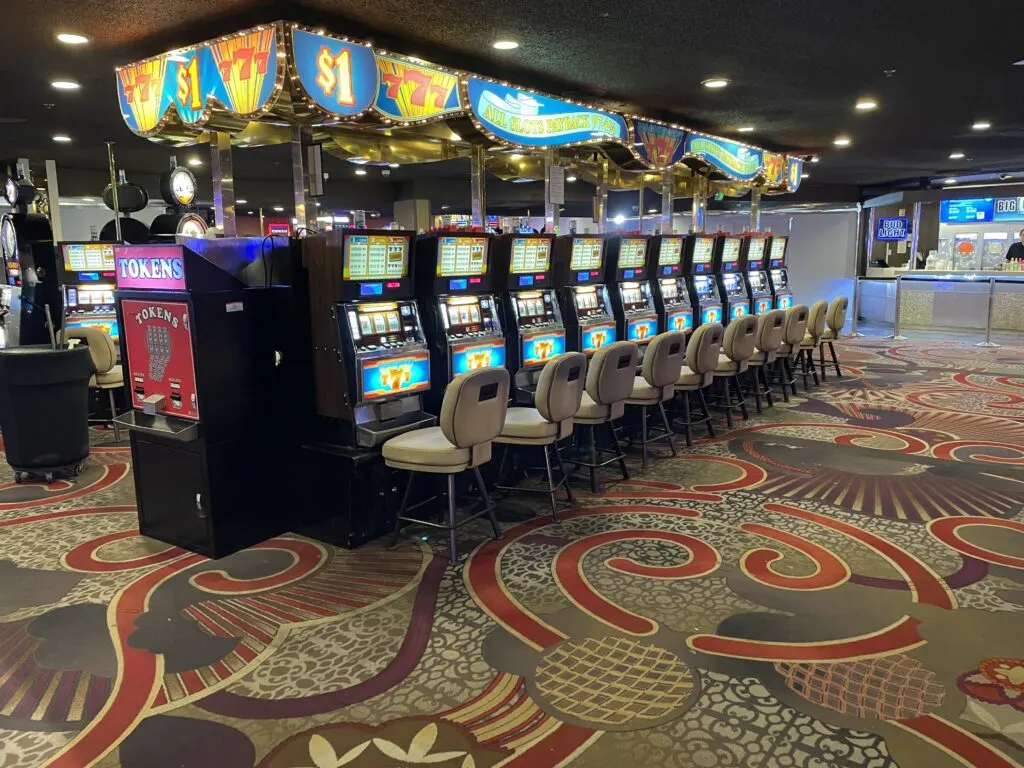 Table Minimums Have Exploded
On the topic of gambling, cheap table games along the Strip are largely a thing of the past.
Instead of $5 table minimums for games like blackjack, craps, and roulette, most games now come with a $15 or $25 minimum bet.
Your best bet for cheap table games near the Strip is Ellis Island (behind Horseshoe) and OYO (behind Tropicana. Oyo specifically deals a $1 blackjack game daily.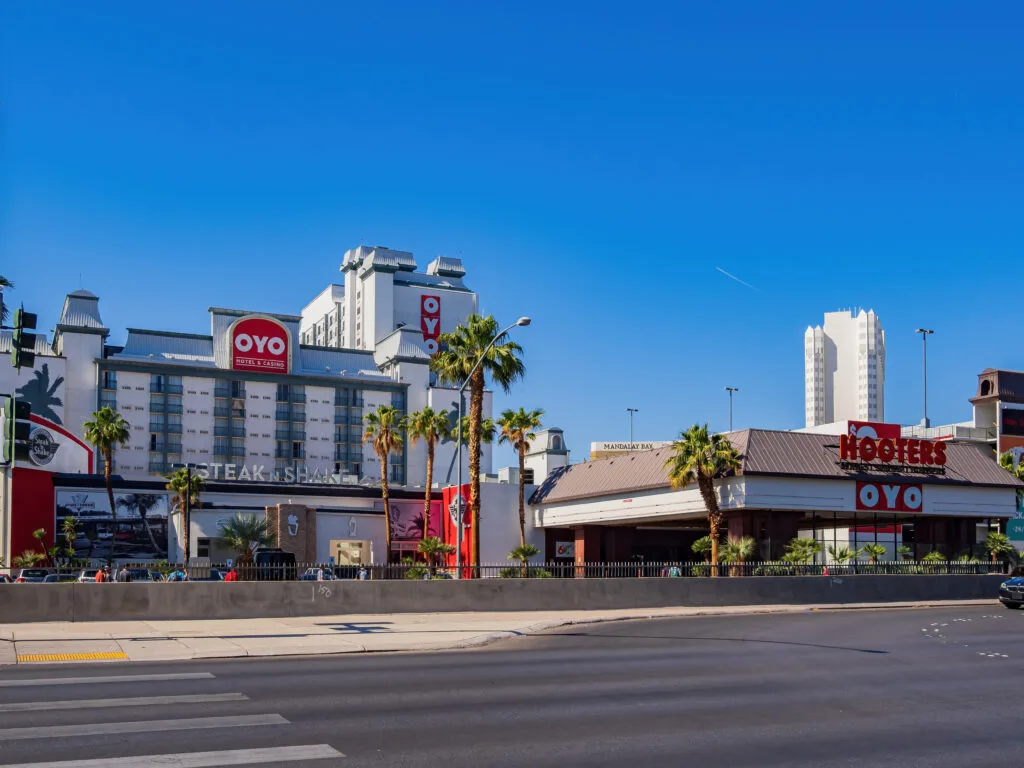 The story is the same along Fremont Street, although you're more likely to stumble across more palatable $10 minimums.
If you're looking for cheap blackjack or craps downtown, check out Downtown Grand, which reliably deals $5 craps in addition to $1 blackjack.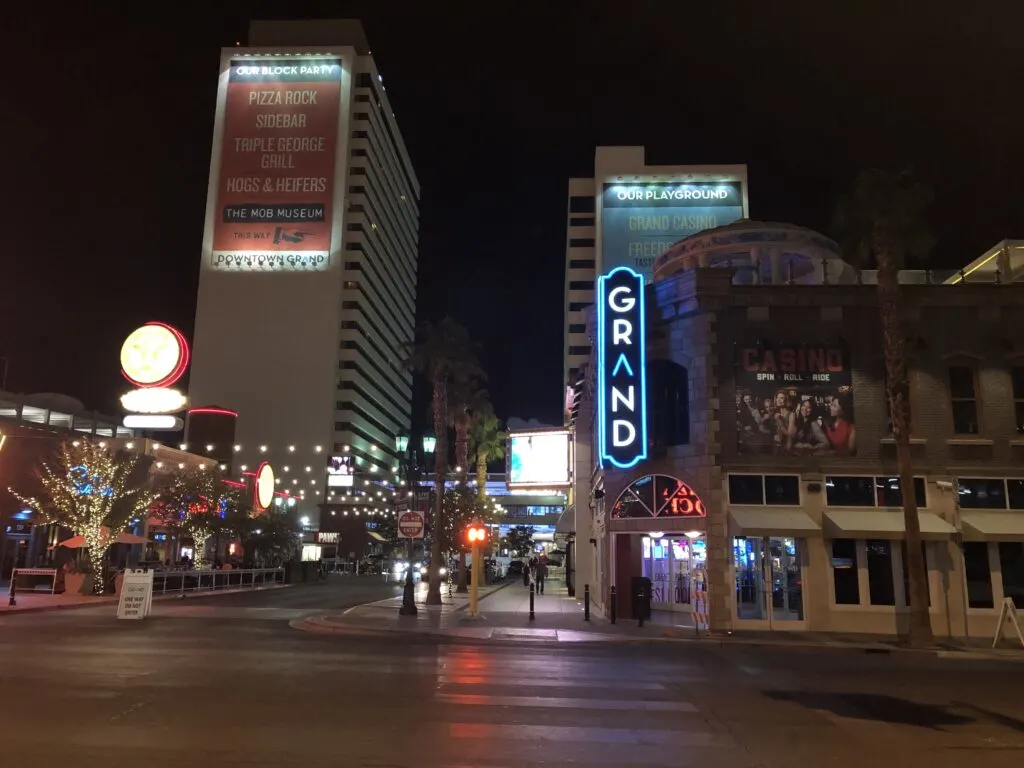 Vegas has Gotten a Bit "Fee-Happy"
Fees are now very much a part of the Vegas experience. Most resorts now charge for parking and almost every resort charges a nightly resort fee.
Additionally, some restaurants now charge a scammy CNF fee that amounts to a 3%-ish charge added to your bill… for nothing. Ask to have it removed if you see it – They usually will.
Fortunately, there are still resorts that don't charge a resort fee and a number of casinos that offer free parking, however, you should be prepared to be nickel and dimed more than you were in the 1990s.
With that being said, I still find Las Vegas to be a tremendous value when compared to other major cities, even with the proliferation of fees. Just something to be aware of.
Dining Options are Evolving
When it comes to dining in Las Vegas, many picture value buffets similar to the one featured on "Vegas Vacation" – One of the best Las Vegas movies out there.
Unfortunately, a large number of buffets were shut down at the onset of the pandemic and never returned.
While a number of buffets have reopened following the pandemic shutdowns, over 50% of buffets on the Strip & Fremont Street permanently closed.
Sadly, many of the buffets that have reopened are greatly scaled back, open only for specific meals, or on specific days.
While the days of loss-leader buffets are over, I sincerely love the upscale (yet pricey) buffet experiences that remain, including the Wicked Spoon Buffet (Cosmopolitan), Bacchanal Buffet (Caesars Palace), and The Buffet at Wynn.
Check here for my favorite buffets in Las Vegas!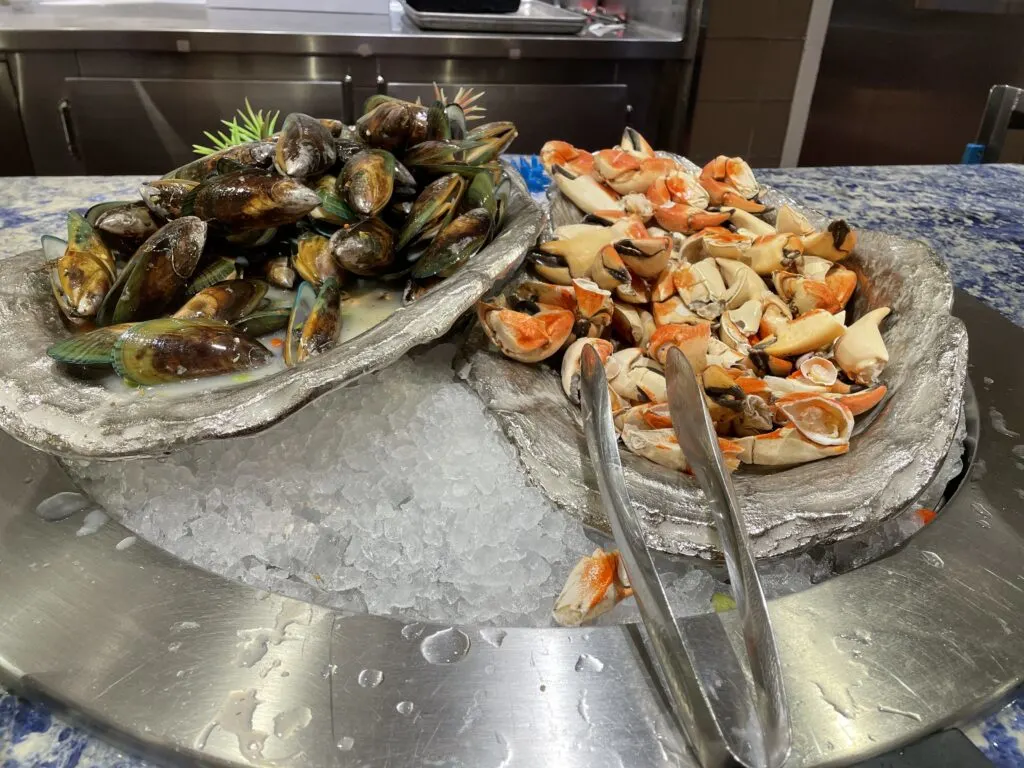 In addition to buffets becoming more sparse, so are cheap dining options. Back in the day, it seemed like there were cheap steak, prime rib, and lobster meals advertised left and right. Today… not so much.
To help you find something that won't break the bank, I've put together a breakdown of cheap eats on the Strip and inexpensive meals on Fremont Street.
Among my favorite options though is the $8.99 Steak & Eggs special at Ellis Island.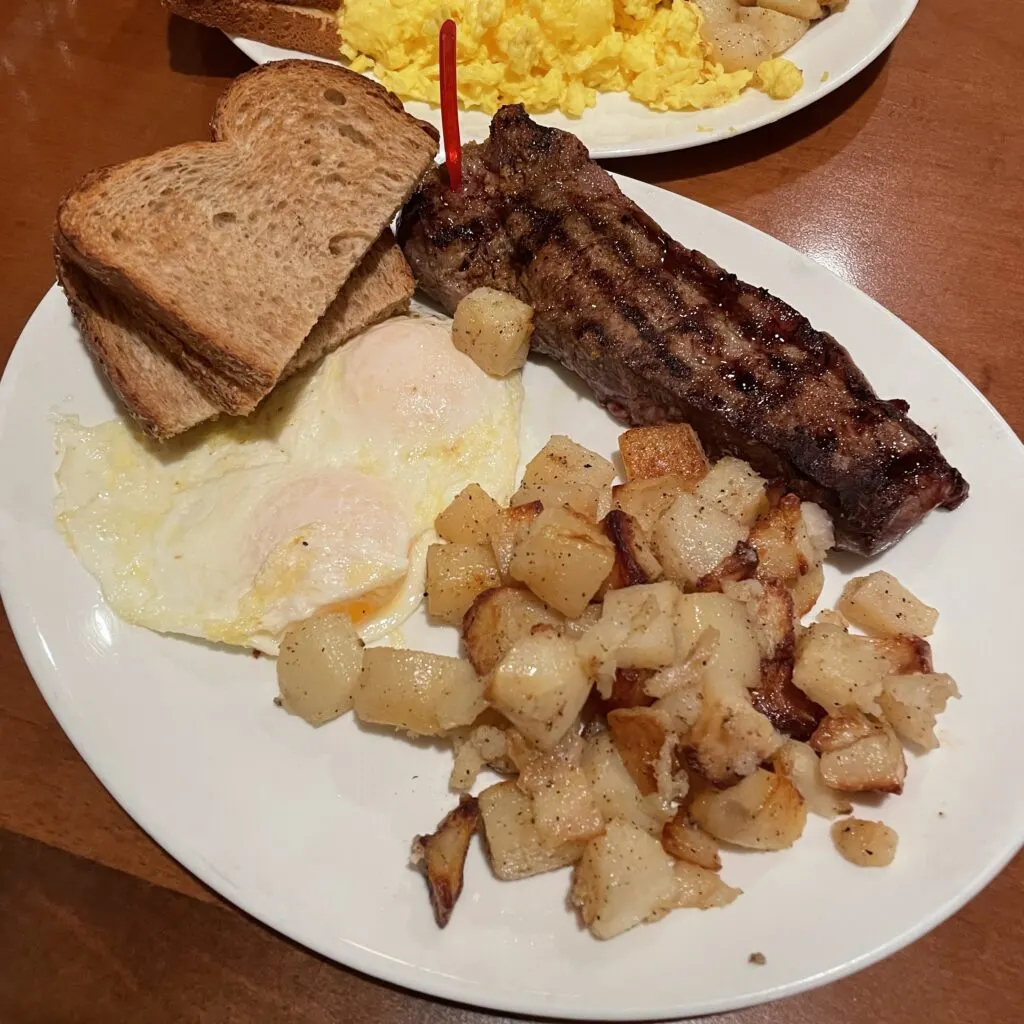 Resort Revenue Mix is Shifting
While Vegas has been, is, and always will be a gambling town, casinos have diversified their revenue mix over the years.
According to data within the Gaming Control Board's Gaming Abstract, gambling accounted for a whopping 57.9% of Clark County casino revenue in 1995. That share shrank to 38.8% in 2002.
Other areas of the resort that grew their share at the expense of gambling revenue include food, beverages, and "other" (think retail, shows, concerts, and non-gaming attractions).
The biggest revenue share gainer of them all, however, was the hotel, which increased from a 16.4% share of revenue in 1995 to 25.6% in 2022. The increase in room revenue share is largely thanks to resort fees, increased nightly rates, and an increase in convention goers (who don't get comped rooms like gamblers do).
Las Vegas resorts on the whole have pushed to diversify their revenue sources away from the casino floor, offering amenities like celebrity chef restaurants, big-name headliners like Adele, and differentiated experiences.
You can learn more about how modern casinos make money here!
Las Vegas is BIGGER
It's not rocket science, but Las Vegas is a whole lot more "Mega" than it was back in the 1990s.
According to the Gaming Abstract, Clark County casinos offered a total of 19 million room nights throughout the year in 1990, which is dwarfed by the nearly 44 million room nights available throughout 2022.
Not only are resorts more numerous today than in the early 90s, but they're considerably bigger on average.
While growth in Las Vegas is common knowledge, I was somewhat taken aback to learn that there are over 2x as many rooms in Clark County today as there were back in 1990.
Automation of Processes
Just like your local supermarket, Las Vegas has embraced automation to reduce employee headcount in an attempt to cut costs.
One part of the resort that this manifests is at the hotel check-in counter, which is commonly staffed by self-serve kiosks or even mobile check-in processes. You no longer need to talk to a human to get your room key at most Strip resorts.
Cost cutting is also evident in the casino, where many games are now automated, partially automated, or dealt in a stadium format where one dealer can service a larger number of players.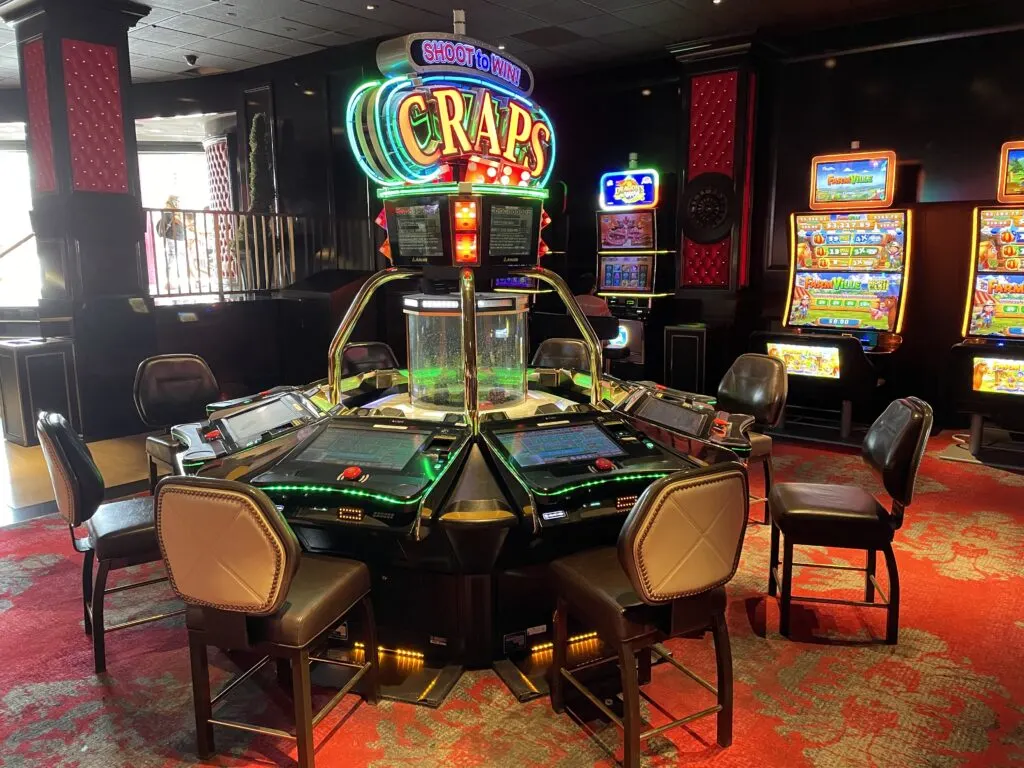 If you're anything like me, you've learned not to become too attached to any particular incarnation of Las Vegas, as she's always going to evolve and change with the times.
While other travel destinations celebrate their history, buildings, and architecture, Las Vegas seemingly gets the itch to implode anything over 30 years old.
One thing is for sure, there is more change on the horizon and I'm excited to experience what's to come.
Related: If you yearn for the Vegas of yesteryear, check out the Neon Museum and their Brilliant! Jackpot show, which brings vintage casino signs back to life.
I'm a former software salesman turned Vegas aficionado. While the craps table is my preferred habitat, I pull myself away to explore new attractions, shows, restaurants, and outdoor activities around Las Vegas with the intent of sharing my experiences.
Ultimately, I just want to help folks plan a better trip and save a few bucks in the process.