Mandalay Bay anchors the south end of the Las Vegas Strip and boasts over 3,200 hotel rooms, 424 of which are suites.
While the resort's location away from the action is a deterrent for some, others enjoy the relative quiet, and proximity to attractions like the Pinball Hall of Fame, "Welcome to Fabulous Las Vegas" sign, and themed casinos on the south end of the Strip.
Although I've historically maintained a stronger gambling relationship with the Caesars Rewards loyalty program, I've been seeking out opportunities to stay and play at MGM properties more frequently to build my status within their MGM Rewards program.
I recently had the opportunity to stay in a One Bedroom Penthouse Sky View Suite at Mandalay Bay for a mere $152 plus resort fees via the MGM Resorts booking portal. Too good to pass up, the rate was likely suppressed by the fact I stayed mid-week on a Tuesday night during a slower time of the year.
I look forward to sharing my experience in the suite below. Of course, I'll include plenty of images and a video walkthrough of the Penthouse Sky View Suite as well!
Mandalay Bay Check-In Experience
Check-in was a breeze by leveraging the MGM Resorts phone app. I was able to check in online the day before my stay and was notified the day of when my room was ready. At that point, a digital key was available within the MGM app, allowing me to walk right up to my room.
No lines, no dealing with people, pretty darn seamless.
Even better, the room was ready well before the scheduled check-in time of 4 pm. Being granted early access to the room was a nice perk as I didn't pay for early check-in.
While some enjoy interacting with the front desk folks with hopes of scoring a complimentary upgrade, or to give the $20 trick a shot, I prefer the convenience.
Inside Mandalay Bay's One Bedroom Penthouse Sky View Suite
My room was located on the 61st floor and offered views of Delano, Luxor, and Allegiant Stadium. While not a Strip view, the panoramic of the city and mountains in the distance were pretty spectacular.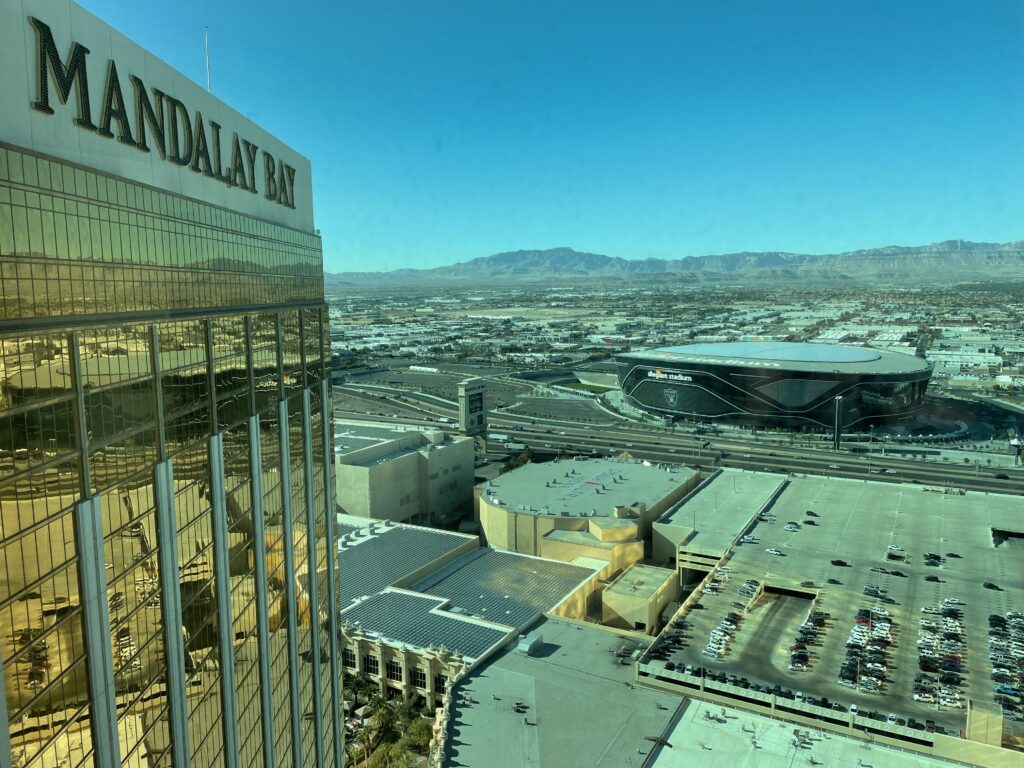 Typically, when I review a room I make a point to call out any flaws in addition to the things I liked about my experience. Oftentimes, flaws I find include chipped furniture, scuffed walls, ragged carpet, or cleanliness issues. Amazingly, there was nothing of note to call out in this room. The suite was immaculate.
The only minor issue I encountered is that one of the two toilets continuously ran – It was quickly addressed.
Living Area and Wet Bar
As a one-bedroom suite, the penthouse offered a living area separate from the bedroom. The living room was equipped with a couch, two chairs, unique artwork, a TV, and plenty of space.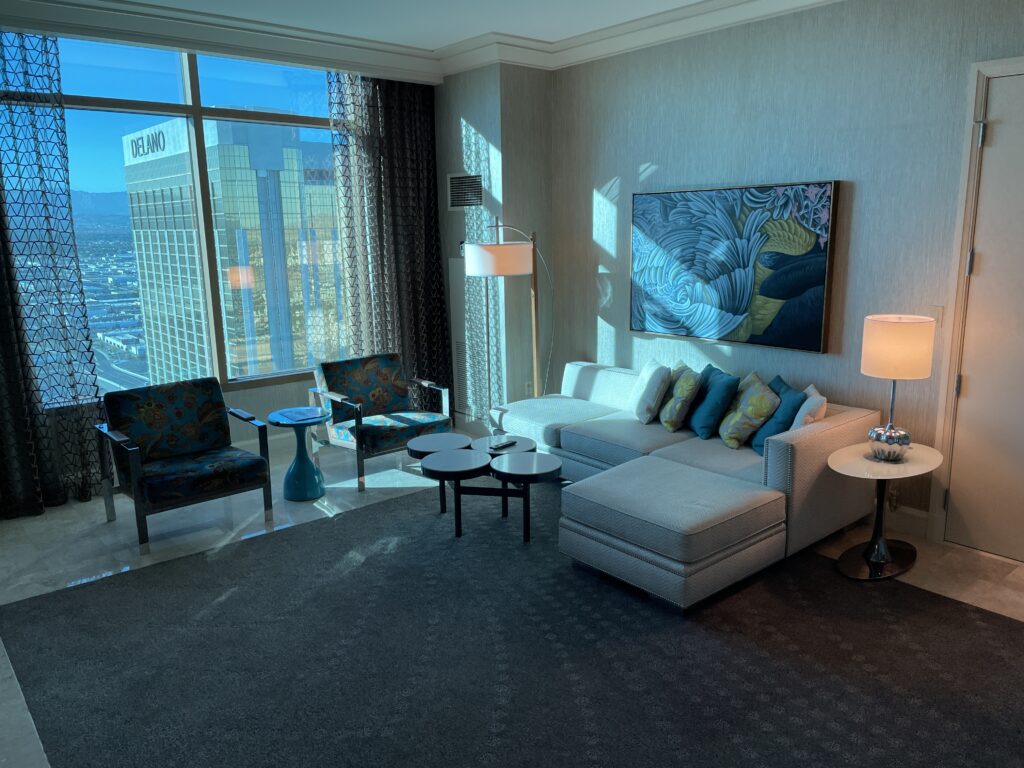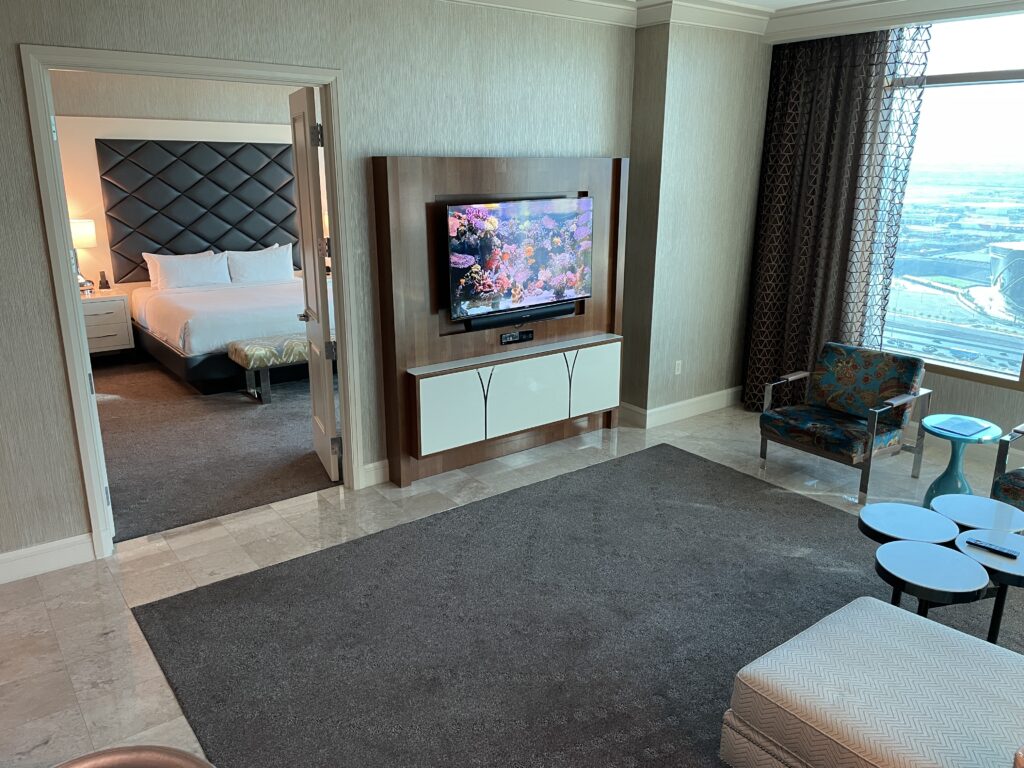 Found in the wet bar were a small sink, a bartop with two stools, and a pressure-sensitive minibar both on the counter, and in a fridge below.
Humorously, I backed into the countertop wet bar, knocking every item off the pressure-sensitive pedestal. I replaced everything immediately and was assured by guest services that I wouldn't be charged.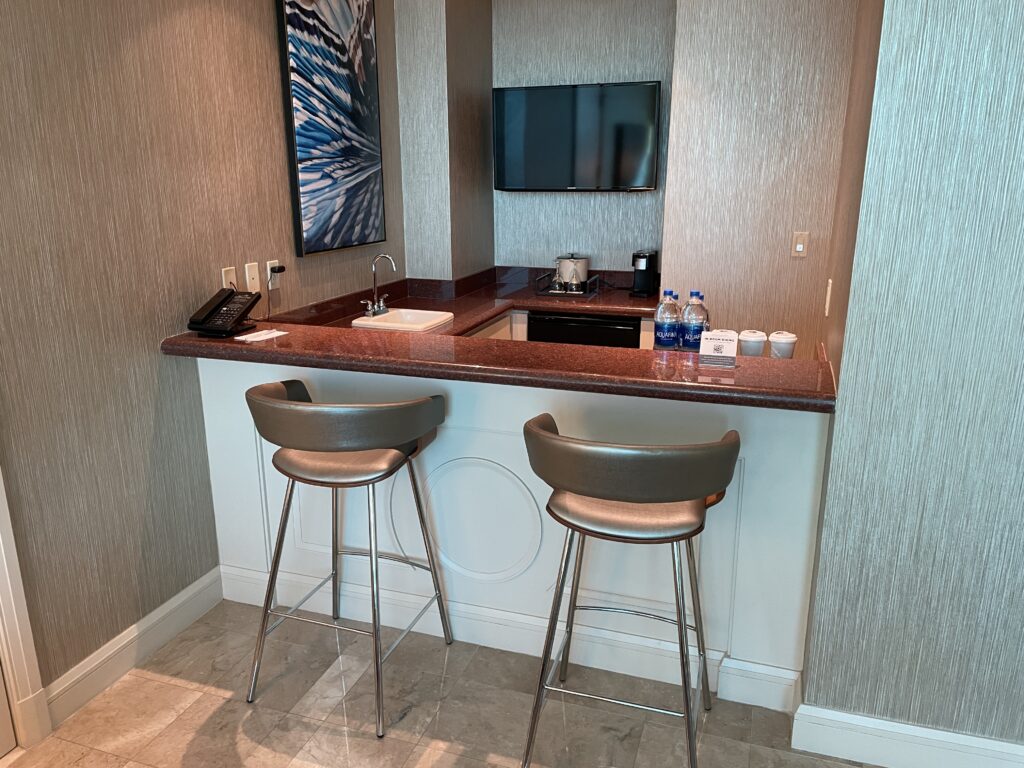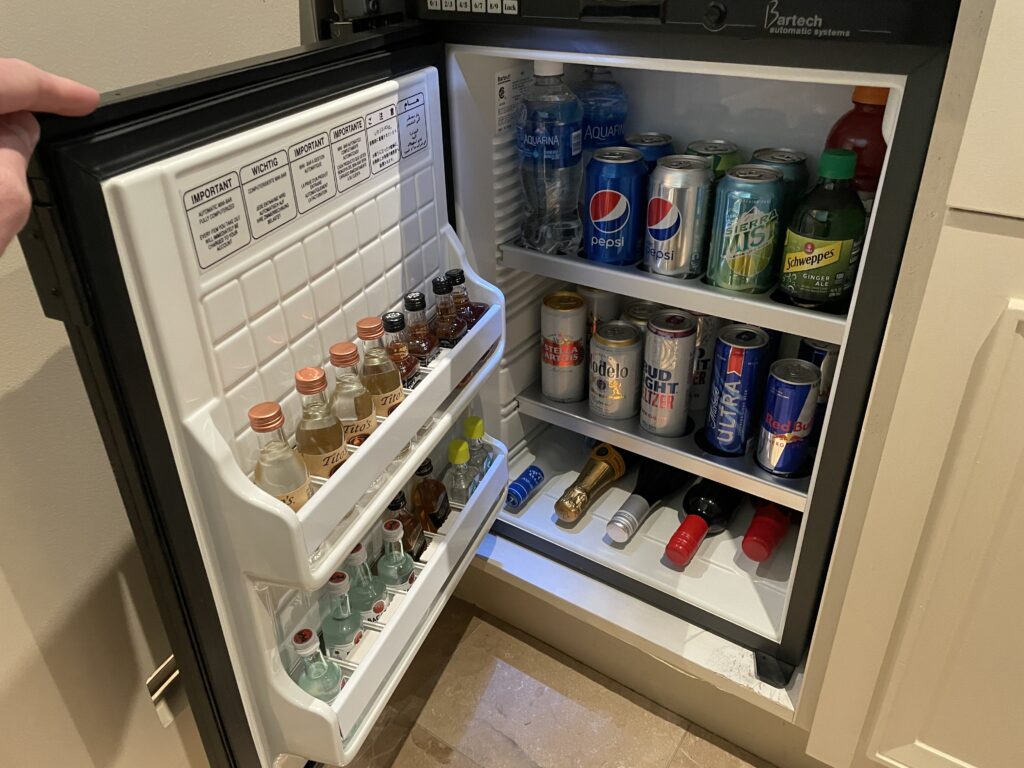 Additionally, a separate, empty fridge was available for guest use that offered a small freezer section.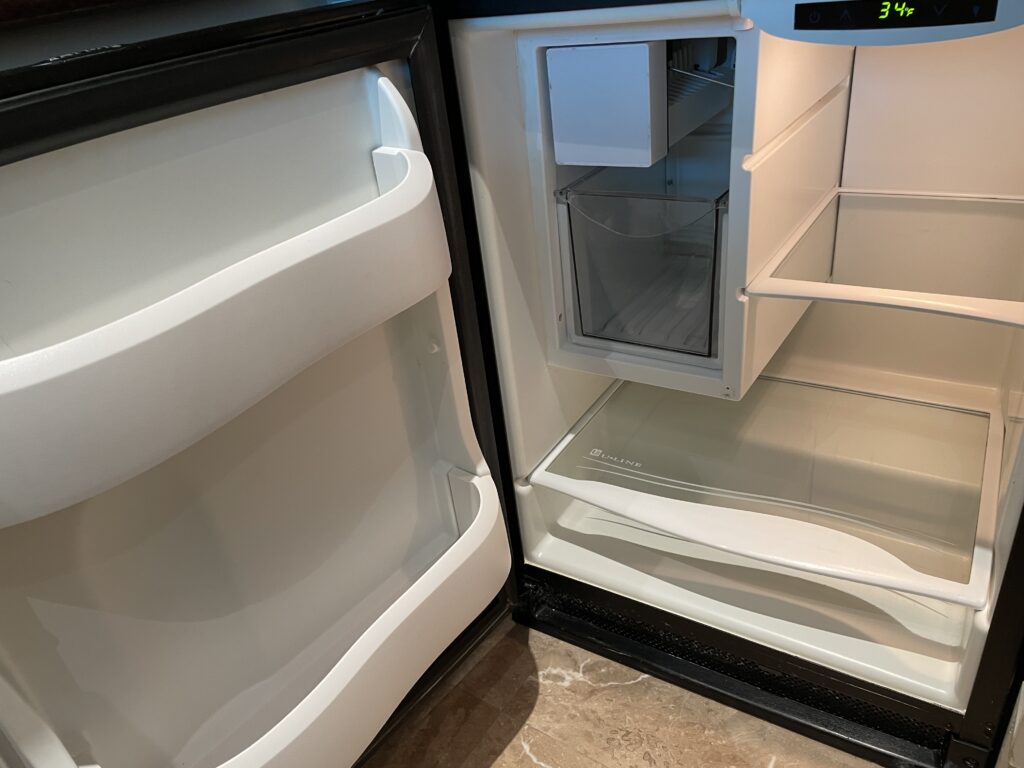 Behind the wet bar is the first of 2 bathrooms that had a sink and toilet.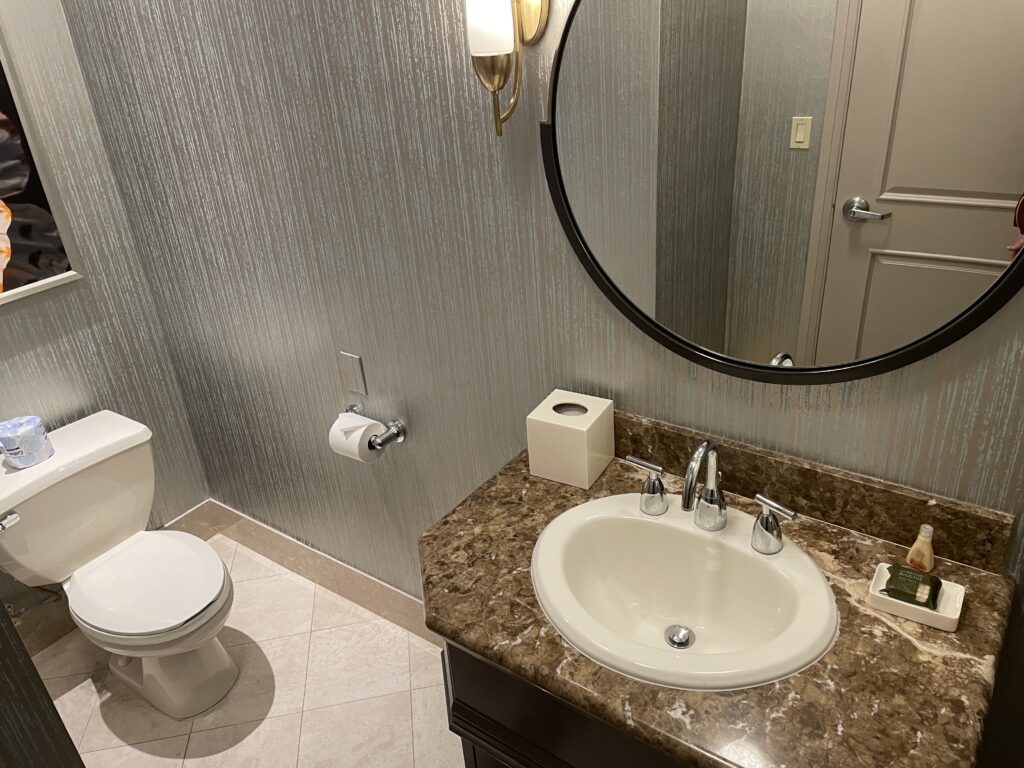 The living area, wet bar, and fridge space make this the perfect room to gather with a small group of friends to watch a game, or pre-game before heading out for the night.
The Suite's Bedroom
In the separate bedroom was a king bed, work desk, TV, ample closet space, a safe, and an iHome docking station. A full-body mirror was also present for those that like to check themselves out prior to heading out.
The work desk faced towards the window and offered views that would trump those of your office back home.
I found the bed to be comfortable, but am easily satisfied and by no means a "bed-snob".
The room was incredibly quiet overnight. I legitimately never heard a sound.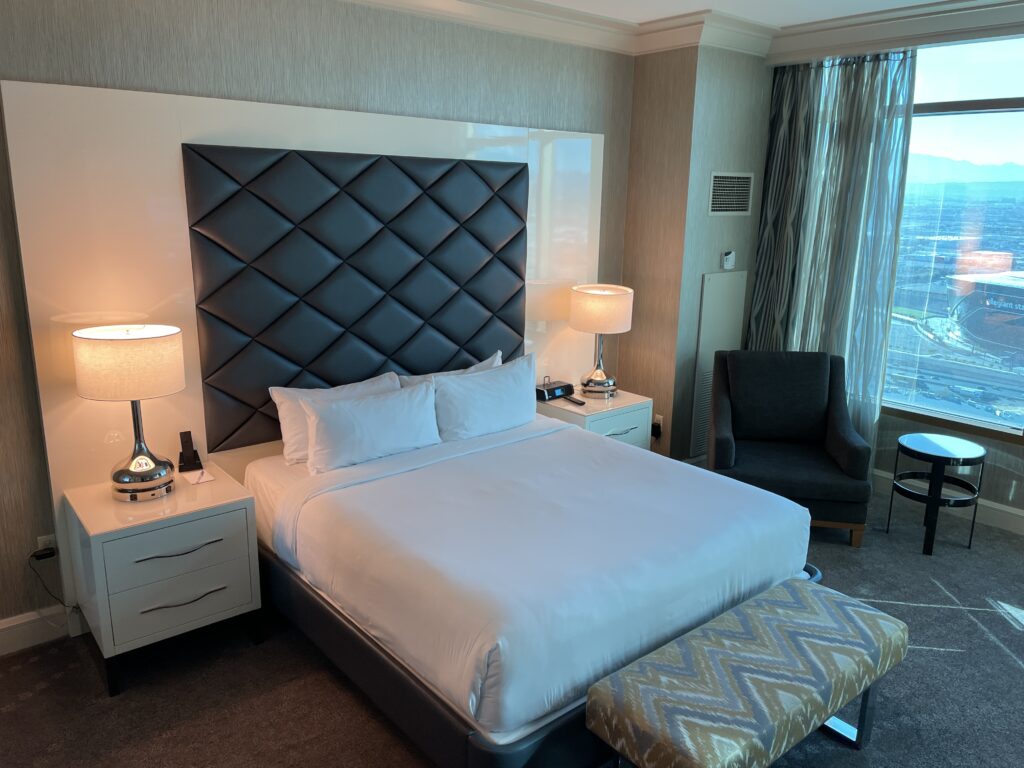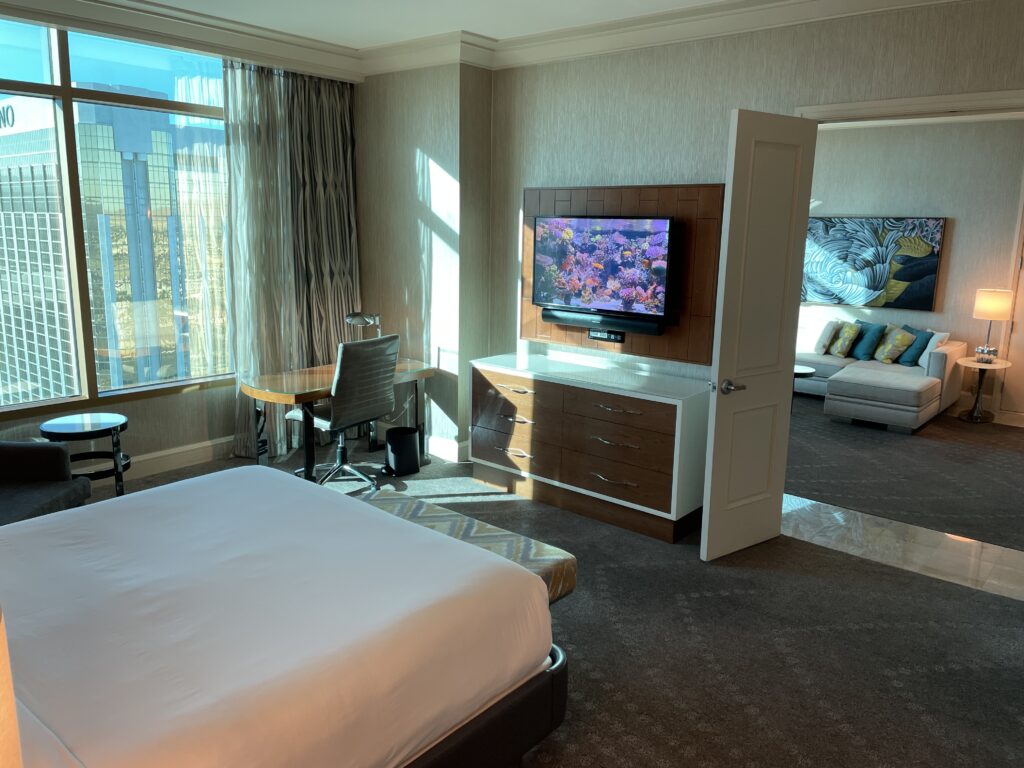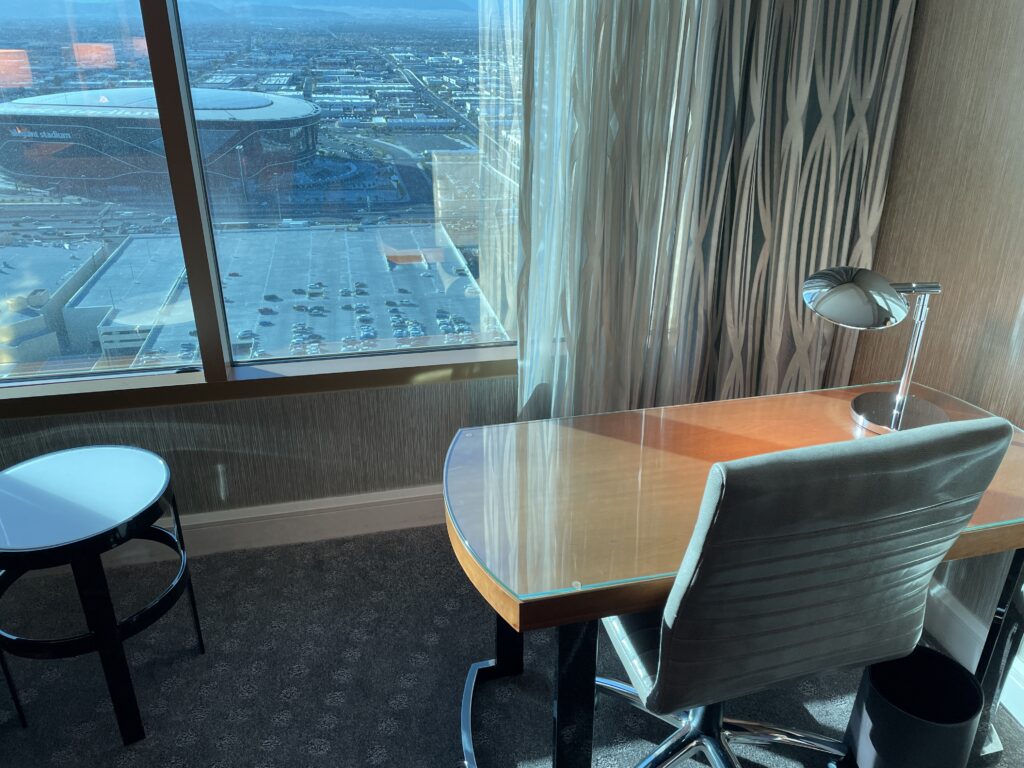 The Suite's Master Bathroom
The bathroom offered a dual sink vanity with a uniquely lit mirror, a glass-enclosed shower, a jetted bathtub big enough to fit two people, and a separate room that was home to the toilet.
The bathroom itself felt spacious, providing plenty of room for two people to navigate.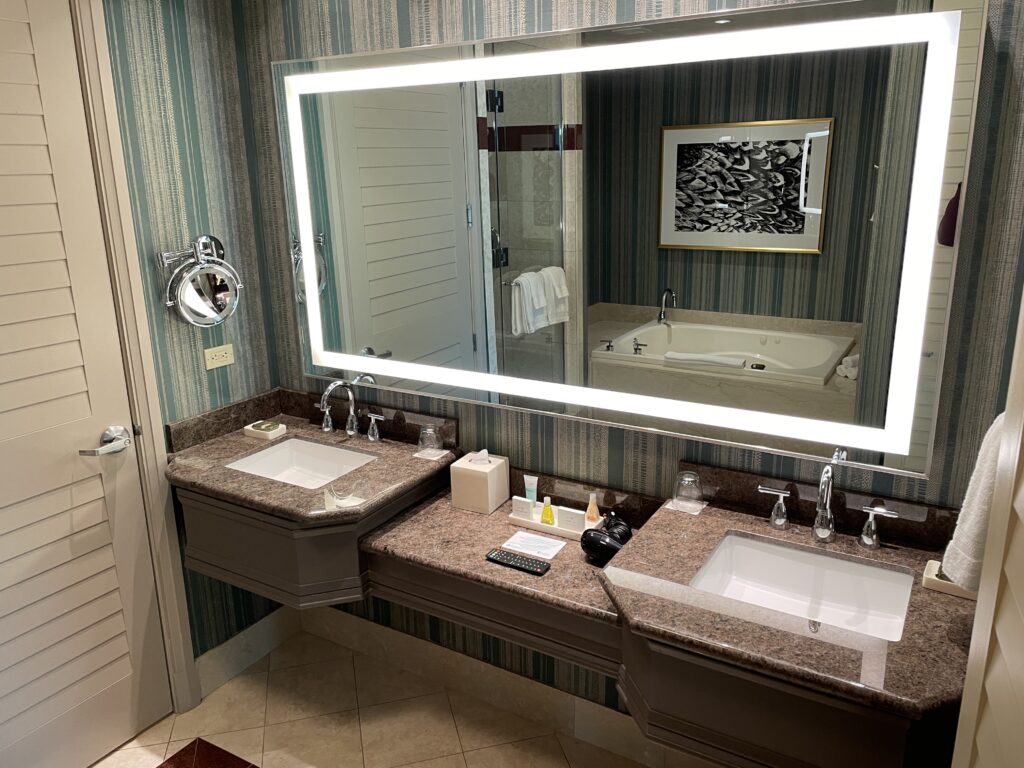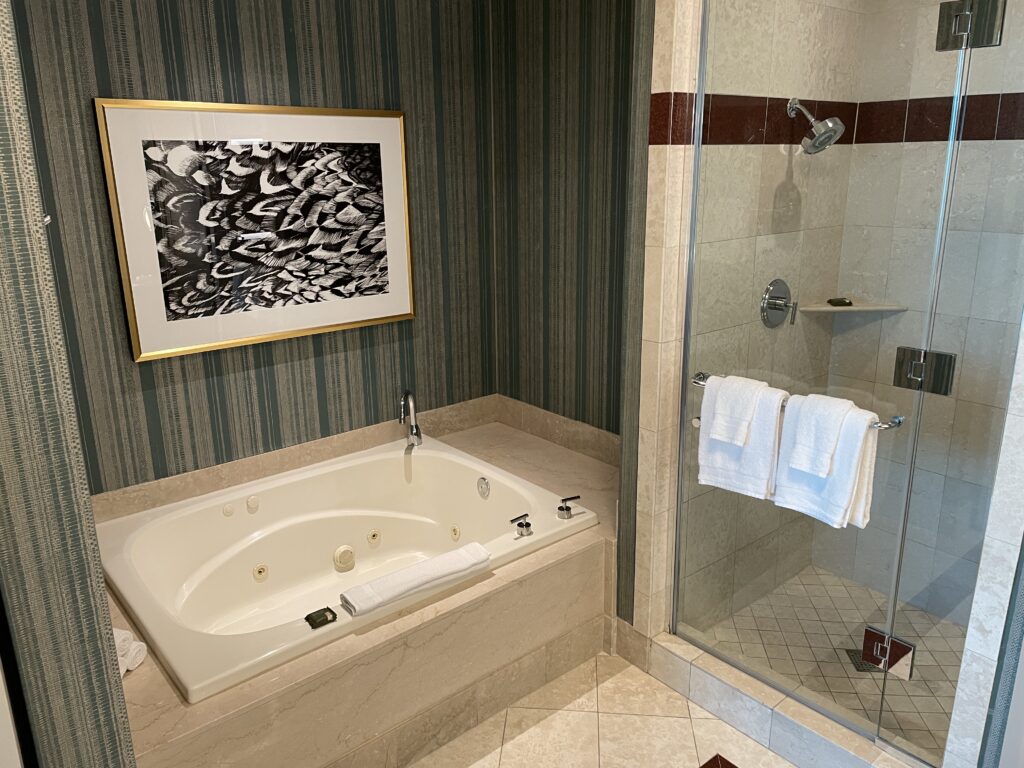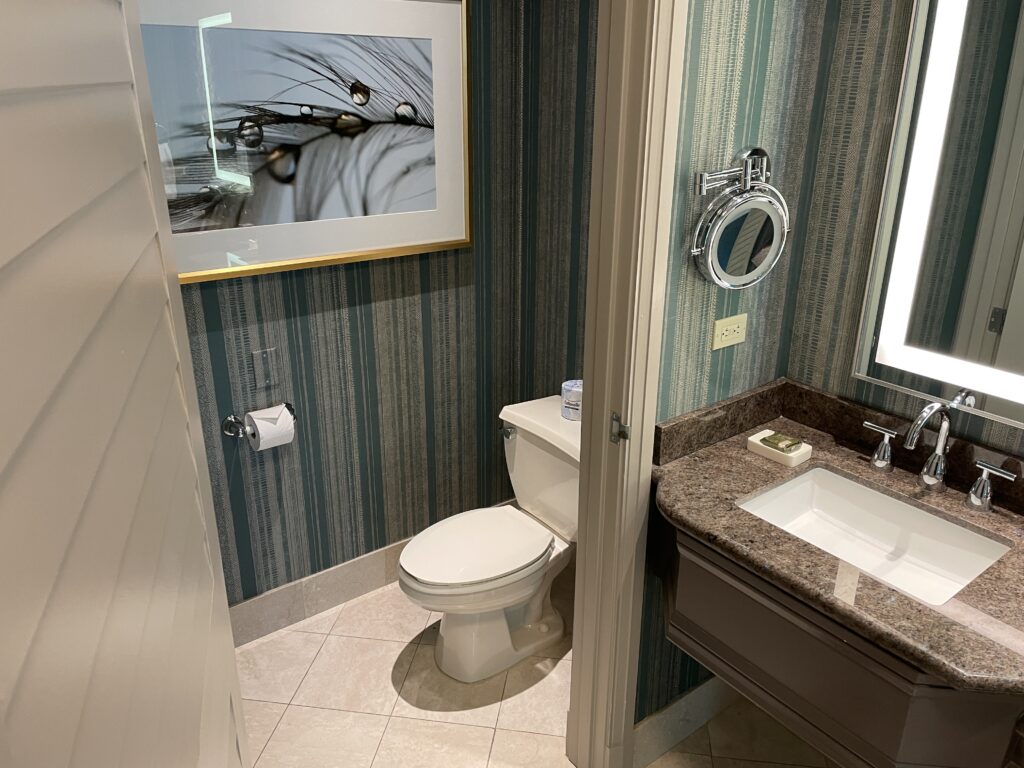 Other Resort Highlights
The Casino: Mandalay's casino floor is large, weighing in at 135,000 square feet, and offers a wide-ranging selection of slot games. Table game limits during my stay were $25 for blackjack and $15 for craps and other table games like 3-card poker.
Free Tram to the Action: Mandalay Bay is located on the far south end of the Strip, a ways from the main tourist corridor. Fortunately, a free tram connects Mandalay Bay to both Luxor and Excalibur to the north, allowing you to easily navigate to a more "touristy" part of Las Vegas Boulevard.
An Amazing Pool: Mandalay Bay's Beach is among the top pools in Las Vegas, if not the best. Uniquely, the complex offers real sand, a wave pool, and a lazy river. Mandalay also keeps at least one pool open year-round, although the majority of the complex is shuttered during the winter.
Plenty of Food & Drink Options: Over 20 dining options are offered at Mandalay Bay which ranges from a fast food court to high-end steaks. Live music can often be found at both Rythm & Riffs and House of Blues.
Additional restaurants and bars call The Shoppes at Mandalay Place, a walkway that connects Mandalay to Luxor, home. There, you'll find Ri Ra, an Irish Pub, Minus 5 Ice Lounge, a bar made completely of ice, and the 1923 Prohibition Bar, one of the numerous speakeasies in Las Vegas.
Shark Reef Aquarium: Mandalay Bay's aquarium allows guests to walk along the seafloor in a glass tube surrounded by 1.6 million gallons of water and 2,000 total sea creatures. Boasting sharks, sawfish, and sea turtles, animal lovers are sure to enjoy the attraction.
Related: Check out my recent review of the Shark Reef Aquarium!
Nearby Attractions: Mandalay Bay is within walking distance of both the "Welcome to Fabulous Las Vegas" sign and the Pinball Hall of Fame, which offers hundreds of vintage pinball games that span decades. Just bring quarters!
Is Mandalay Bay's One Bedroom Penthouse Sky View Suite Worth the Money?

As a frugal low roller, this is one of the nicest hotel rooms that I've ever had in Las Vegas.
While I was thrilled to score a night here for $152, I later learned that this suite is frequently available mid-week for about $200 or less per night. If you're in the market for a 1-bedroom suite in Las Vegas, that's a tough price to pass up. Of course, active MGM Rewards members are likely to score additional discounts over the prices I'm referencing.
As you'd expect, rates spike upwards on weekends and during events, sometimes significantly.
While I found the suite to be WELL worth $152 plus fees, I'd likely opt for something less expensive, preferably in a better location on the Strip, if nightly rates reached $300 or more.
Ultimately, every person will have their own "Is it worth it?" calculation. The question that needs to be answered is "Do the amenities like additional space, a separate bedroom, 2 bathrooms, a wet bar, etc. justify the price?" If you're willing to pay up for the extras, then you're in good hands with this particular suite.
I think this room could be a great option for those looking to impress their wife with an upgraded accommodation, or for those planning to host a small gathering prior to hitting the town for the night.
With 3 total TVs, 1,025 square feet of space, and seating for 10, this suite could also be a cool spot to host a watch party for sporting events like the opening weekend of March Madness or college/professional football.
Hopefully, our pictures, video, and review of the One Bedroom Penthouse Sky View Suite at Mandalay bay helped you determine if the room is a good fit for an upcoming trip! Have a great time in Las Vegas! No matter where you end up, I hope you strike it rich.
I'm a former software salesman turned Vegas aficionado. While the craps table is my preferred habitat, I pull myself away to explore new attractions, shows, restaurants, and outdoor activities around Las Vegas with the intent of sharing my experiences.
Ultimately, I just want to help folks plan a better trip and save a few bucks in the process.