Downtown Grand, formerly Lady Luck, is located just a couple of blocks away from the Fremont Street Experience and delivers a unique, boutique experience. In 2006, Lady Luck closed its doors for renovations that never materialized and the building sat vacant until 2013 when Downtown Grand as it exists today opened after an overhaul of its 600+ hotel rooms. Recently, construction started on a new hotel tower that will increase the resort's room count to over 1,000 guest rooms.
We have enjoyed the Grand's dining options as well as the uncrowded, affordable casino in the past, and staying at the property's hotel has been on our Vegas to-do list.
We booked a "Premium King" room which is a step up from Downtown Grand's baseline "Deluxe" option. That modest upgrade provided us an additional 100 square feet and for a mid-week rate of around $40 plus $29.36 in resort fees seemed like a pretty decent value. Was it though? Let's dive into the details!
See Also: $20 Trick: Should you try it when checking in?
The Premium Room and Amenities
We had stayed at Binion's new take on Hotel Apache the previous night and this was a nice contrast to the "old-timey" vibe that Binion's offered. Downtown Grand's rooms have a modern vibe and feel fresh. Guests at the hotel receive free parking and access to the fitness center with cardio equipment. Premium rooms at Downtown Grand are also corner rooms that have more windows and oftentimes a better view.
Our Premium King room had all the basic amenities you would expect in a Las Vegas hotel room such as a hairdryer, iron/ironing board, safe, 46′ flat-screen TV (vs 40″ in DTG's standard room), USB charging ports, hanging/drawer storage space, high-speed internet, 2 bottles of water daily, and C.O. Bigelow bath products. One additional item not typical of Vegas hotel rooms was a white noise machine that can be helpful in drowning out the distant rumblings from the Fremont Street Experience. Here are a few angles of our accommodations: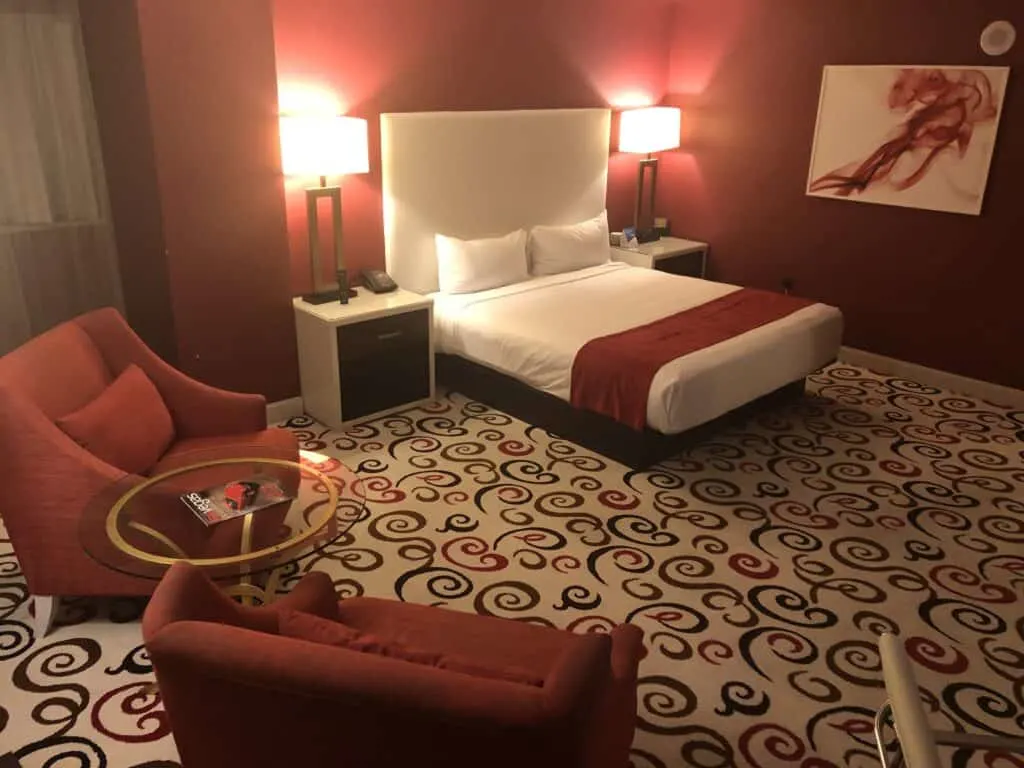 The bathroom featured a shower/tub combo and dual sinks. Nothing that will knock your socks off, but certainly a functional, spacious, bathroom that will meet most visitors' needs. Notably, the shower doesn't have a door, only a short glass partition that doesn't do a great job of preventing water from splashing onto the floor.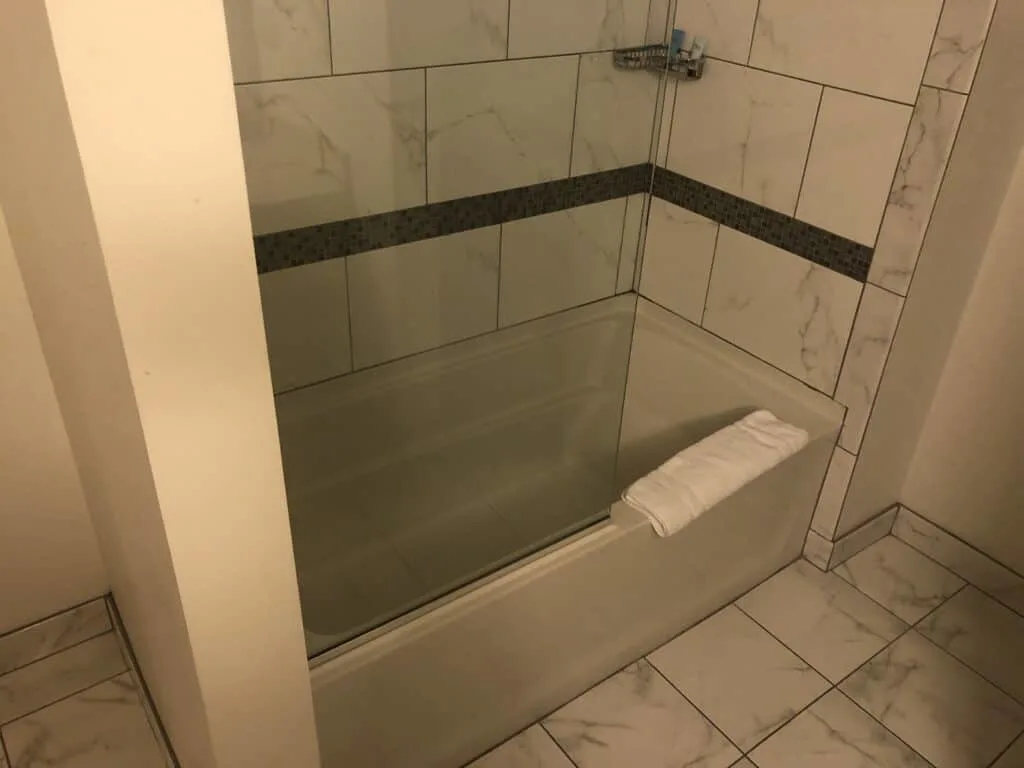 Our favorite aspect of the room though was the additional space provided by the upgrade to a premium room. A standard deluxe room at DTG has 350 square feet, while the premium room had 450 square feet. The additional space was great and allowed for two chairs and a small table to be easily incorporated into the room.
Overall, the room had a modern feel with newer furnishings and an extremely comfortable bed. An added bonus was the view of Fremont Street Experience and DTG's Citrus Pool Deck.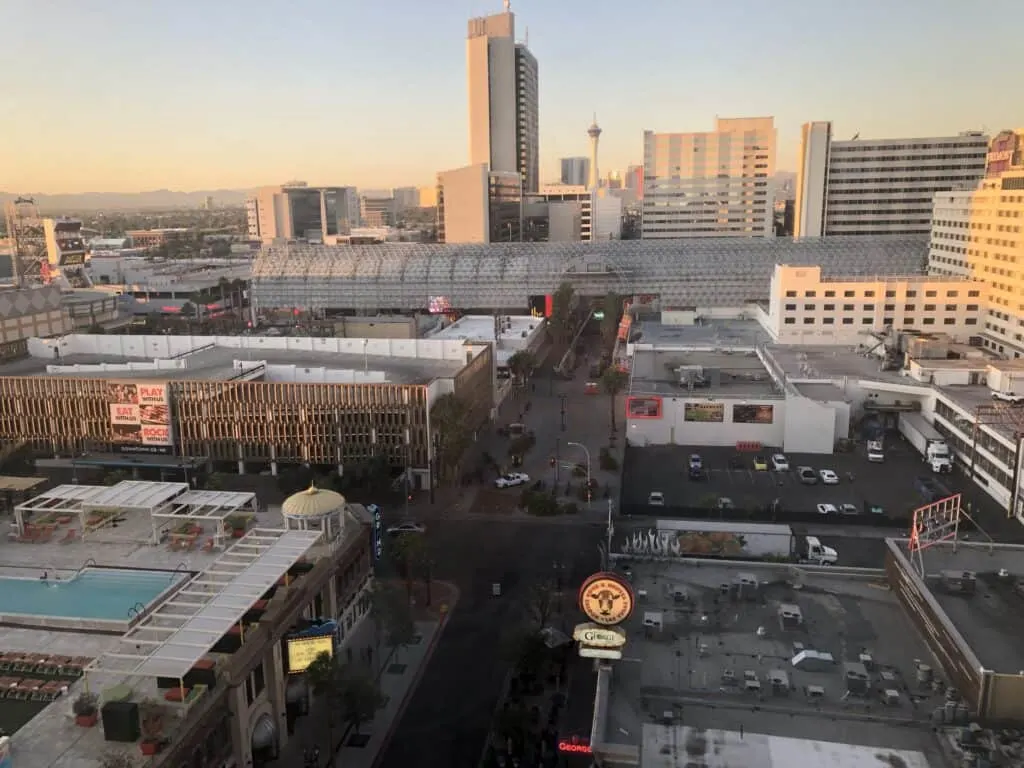 Citrus Pool Deck
A key feature of the property, Downtown Grand's rooftop Citrus Pool Deck allows guests to cool off in their elevated pool and enjoy cocktails/food items from the poolside bar. If a nice pool area is important to you when staying downtown, Downtown Grand is a solid option.
Note that even if not staying at DTG, you are able to access the pool for a fee ($5 on weekdays and $10 on weekends)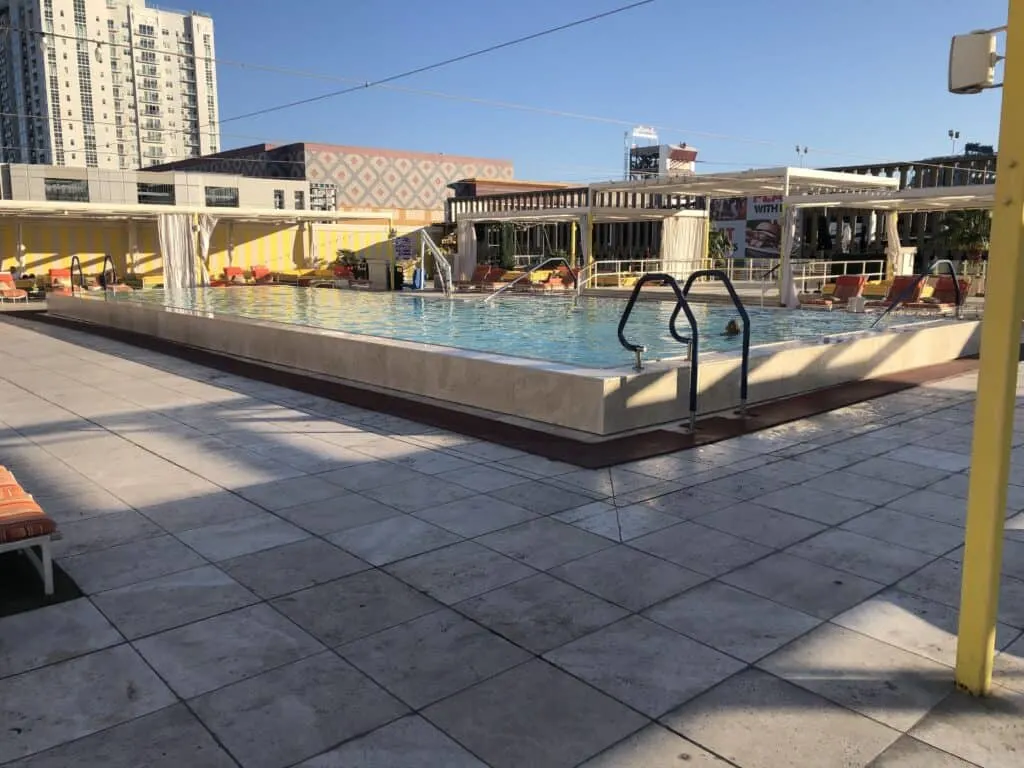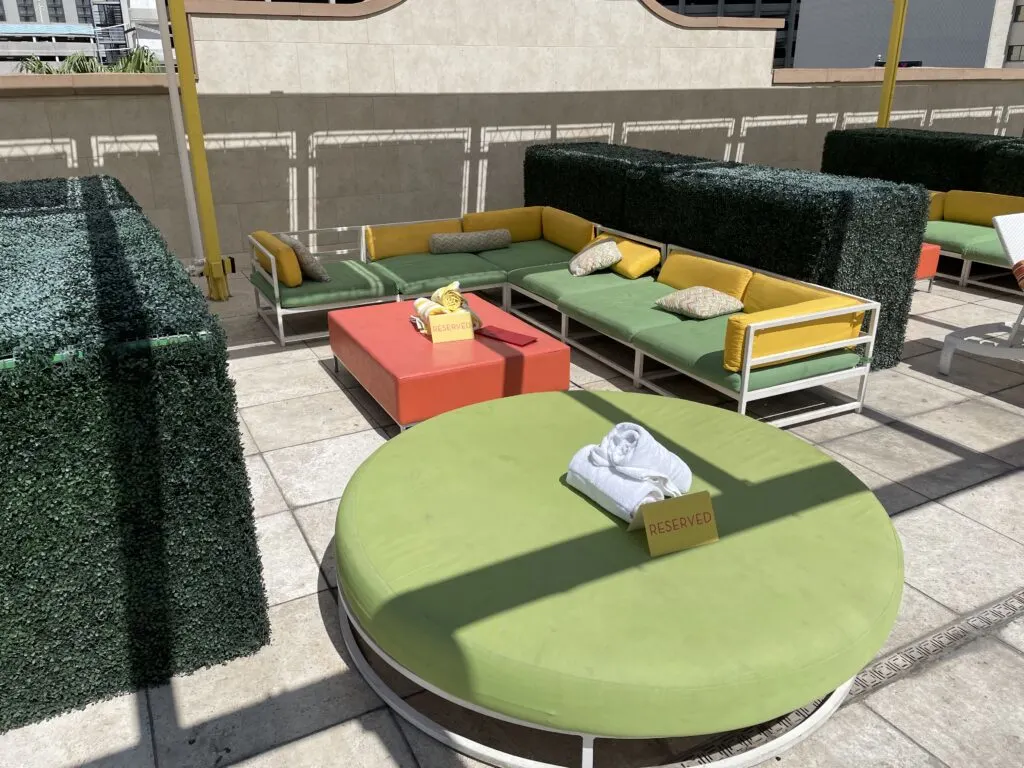 Downtown Grand Gaming Floor
The casino at Downtown Grand has been the driving force for me to want to book a room. It is one of my favorites in Las Vegas. DTG's gaming floor has a modern vibe, 375 slot games to choose from, as well as some of the most advantageous video poker pay tables you'll find in Vegas.
My game of choice though is Craps and DTG's crew is always helpful, friendly, and fun. Table games feature low limits, usually $5 minimums which fit my low rolling budget. Cocktail servers are plentiful and rarely did I have an empty drink while gaming.
William Hill operates DTG's sportsbook which is rarely crowded.
The casino itself is usually sparsely populated and a seat at a table game or machine is not difficult to find.
Food and Drink Option at Downtown Grand
Dining options are numerous and span the spectrum of wants with something for everyone. At the cheaper end, Pizza Rock (Raked our best pizza by the slice in Vegas) delivers a high-quality slice for next to nothing.
Freedom Beat, located on the casino floor is open 24 hours and serves up American-style food at a $10-$20 average price point. Stop in to check out live music acts on Fri/Sat/Sun – See Freedom Beat's event calendar here.
Triple George resides on the higher end of the price/quality spectrum but is a fantastic value compared to steakhouses on the Strip. You can expect to pay $20 for pasta entrees and anywhere from $30-$80 for meatier items depending on what you are feeling. Check out Triple George's menu here.
Furnace Bar is smack dab in the middle of the casino floor as well and offers bar-top video poker with progressives. I couldn't tell you how much beer is because they kept the comped beverages flowing as VP drained my wallet. Excellent service.
Could You Hear Fremont Street Noise from your room?
My room overlooked Fremont Street, however, the fact that DTG is set a couple of blocks back from the commotion was helpful. Live music shows were certainly audible, but not intrusive to sleep. A white noise machine and earplugs are provided but I didn't find it necessary and fell asleep with ease. I supposed the 8 beers didn't hurt either.
It boils down to your personal noise sensitivity. There are plenty of guest reviews that state the noise is unbearable. If it is a concern, I would recommend staying elsewhere.
For those that are noise-averse, you may want to consider a Superior Room at Downtown Grand, which is in their new Gallery Tower. I found that specific room type to be extremely quiet.
The Verdict: Is Downtown Grand's Premium Room Worth Booking?
I found the premium king room at Downtown Grand to have a modern, renovated feel at a rock-solid price point compared to similar rooms on the Strip. The extra 100 square feet delivered via an inexpensive upgrade made a massive difference. While some crave that "grimier" or older feel downtown properties can provide, Downtown Grand is not that. Instead, it succeeds at delivering an updated, hip party vibe.
Location was one of my favorite qualities of the property. DTG is just two blocks from Fremont Street which is quickly walkable but makes a massive difference as it relates to noise. Live entertainment is certainly still audible, but the distance helps take the edge off.
If you are happy with mid-tier rooms on the Strip (like LINQ, Flamingo, etc) and want to give staying downtown a shot, then Downtown Grand is a fantastic option.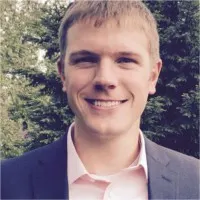 I'm a former software salesman turned Vegas aficionado. While the craps table is my preferred habitat, I pull myself away to explore new attractions, shows, restaurants, and outdoor activities around Las Vegas with the intent of sharing my experiences.
Ultimately, I just want to help folks plan a better trip and save a few bucks in the process.