In the book on Las Vegas history, El Cortez is deserving of its own chapter. Opening in 1941, the building's exterior has changed very little over the years and the property is the only active casino on the National Register of Historic Places.
Adding to El Cortez's historic significance is Bugsy Siegel's early ownership of the property in the 1940s. Needless to say, in a city of shiny and new, El Cortez remains a diamond in the rough for Vegas history nerds.
In addition to its historic significance, El Cortez attracts guests with an old-school Vegas atmosphere and overall perception of value. Low-limit gaming, inexpensive hotel rooms, and cheap food/drink options differentiate the property from many of its peers.
See Also: What is the $20 trick? Should you give it a shot in Vegas?
Check-in Experience at El Cortez
As a smaller hotel operation, lines are short and move quickly. As a pleasant surprise, my room was upgraded automatically from a Cabana Junior Suite to a Cabana Super Suite. Nice touch as I didn't ask for an upgrade, nor did I attempt to coerce the staff member with the $20 trick. A few additional square feet can't hurt!
Upon check-in, guests are also given a coupon book with food, drink, and casino match play offers. A nice touch, further perpetuating El Cortez's image as a property where you get your money's worth.
Inside the Cabana Super Suite
While the majority of El Cortez's rooms are located in the tower immediately behind and connected to the casino itself, the Cabana Suites are in a separate building accessible by exiting the rear of the gaming floor and crossing Ogden Avenue. The walk isn't far and is not inconvenient.
While El Cortez's standard guestrooms have a reputation for being a bit worn and dated, it was a pleasant surprise to find the Cabana Suites to be updated with modern, trendier decor elements.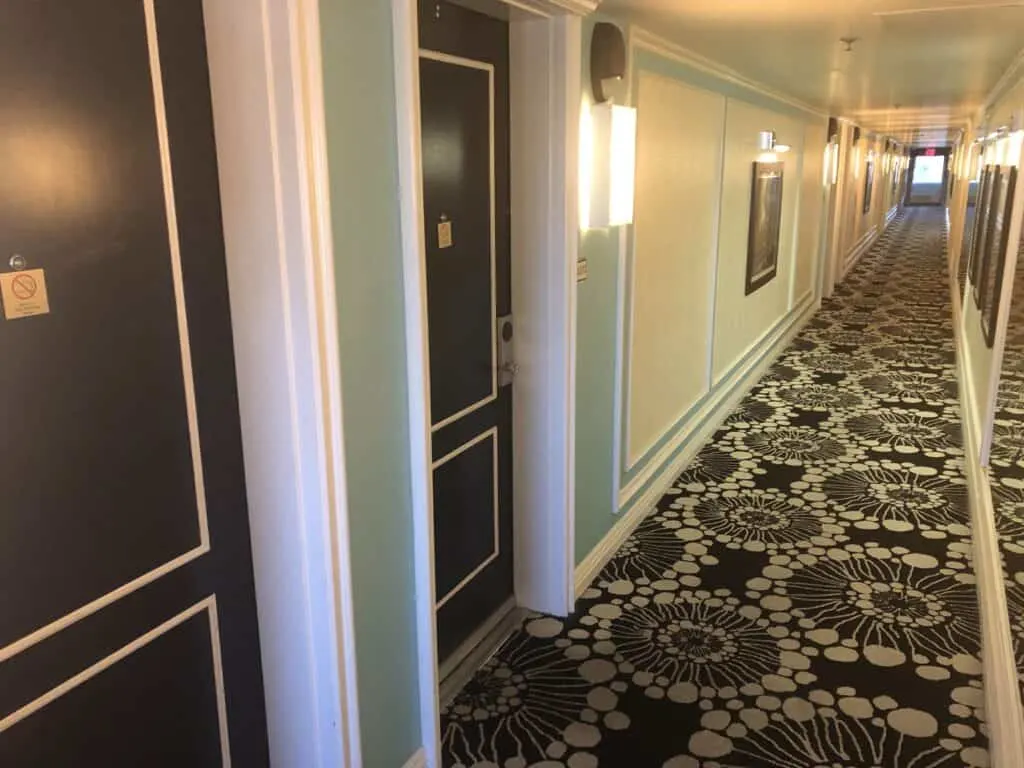 The room itself was spacious and offered up all key amenities you would expect in a Las Vegas hotel room such as a safe, iron/ironing board, fridge, TV, and hairdryer. An additional perk not offered in many Vegas rooms was the Keurig coffee machine that came stocked with 4 K-Cups daily at no additional fee. A really nice touch!
As a suite with some square footage, there was a connected living area that included a couch, chair, coffee table, and seating at the end of the bed. The interior walls were a vibrant green that was described as "headache-inducing" by the gal working the check-in counter but as a person that embraces differentiation, I liked it.
The furniture in the room matched the vibrant nature of the color scheme furthering the modern, trendy vibe of the accommodation.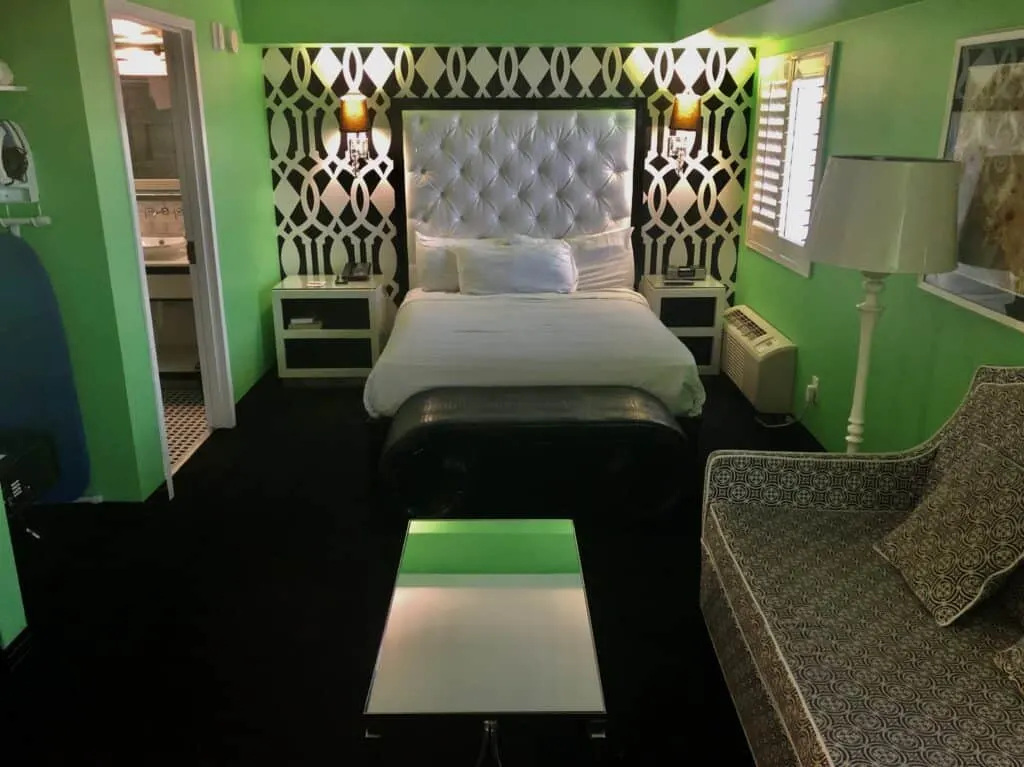 The bathroom was also spacious, with 2 sinks and a large shower. Floors and walls were attractively tiled and a massive mirror hung above the vanity.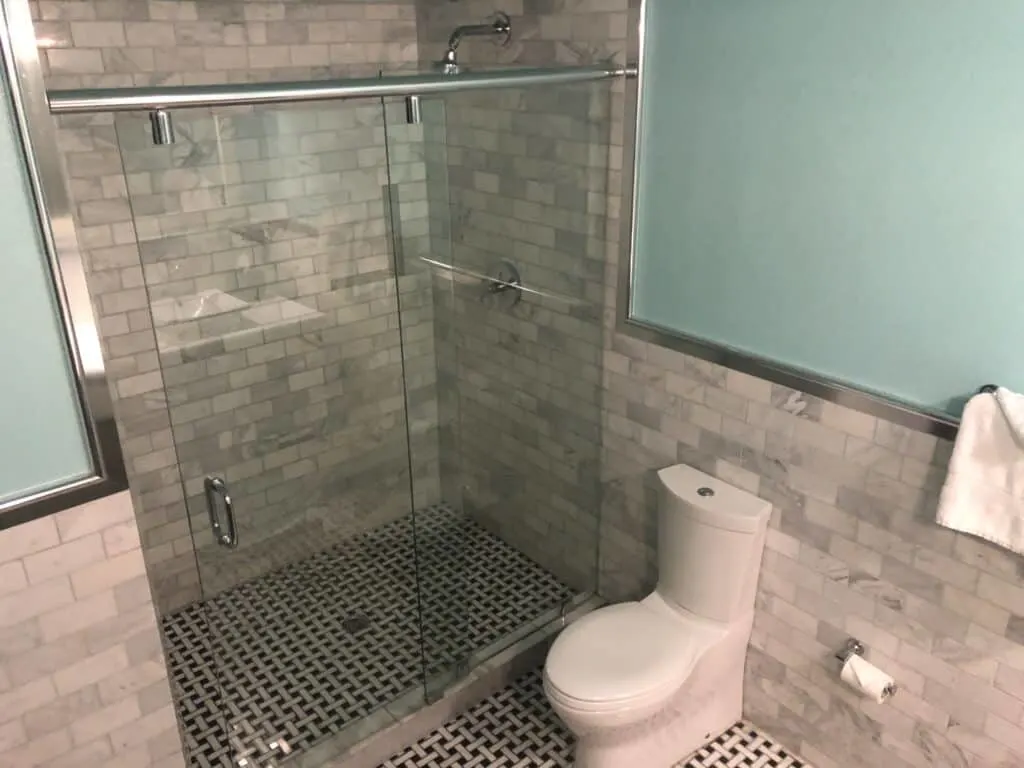 Unlike most rooms downtown, the roar of Fremont Street is completely inaudible from the Cabana Suites. They are just far enough away from the commotion to allow for complete silence. No earplugs are needed here.
With physical security in mind, we liked that there was a security guard posted outside the Cabana Suites 24/7. It's rare that I feel unsafe on Fremont Street, but where drinking and debauchery are afoot, playing it safe is a good call.
One disappointing aspect of our room was the overall cleanliness. By no means would I describe it as disgusting, but this room hadn't received a detailed cleaning for some time. Every corner had dust and hair accumulating, the bathroom door had visible dried drips running down its surface, the couch fabric was worn and tired and every wall corner and furniture leg seemed to be knicked up. Pulling back the end tables on either side of the bed revealed dust buildup that must have taken years to slowly build. Not enough to ruin my stay, but I could see guests used to higher-end accommodations being put off.
At a price point of $74.52 (inclusive of tax and resort fees), I found the room to meet expectations and deliver a strong enough value proposition to stay again.
The Casino at El Cortez
Every resort property has its silver bullet and this is where El Cortez absolutely shines. Low limits on tables are abundant. A spot at a $5 blackjack, craps, or roulette game is rarely a difficult find. Of course, they offer the typical assortment of slot games, but we recommend seeking out the bank of coin-operated slots near Ike's bar.
In addition to coin-operated slots, El Cortez has a plethora of coin-operated video poker machines as well, most located in the back past the hotel registration desk. Even if you don't stay at the hotel, stop at El Cortez for a night of gambling. It's a wonderfully stark contrast to anything found on the Strip.
Food and Drink Options at El Cortez
A little bit of something for everyone, but nothing over the top. For a sit-down meal, Siegel's 1941 serves up sandwiches, steaks, and burgers at an affordable price point ($15 burger/$30 steak/prime rib specials). Adorned with vintage Bugsy Siegel decor, Siegel's 1941 offers up a pretty cool old-school vibe at a solid value.
Additional options include Shinya-Maru Ramen and Eurika. The latter is a gourmet burger restaurant that boasts menu items like the "Fresno Fig Burger, "Bone Marrow Burger" and "28 Dry-Aged Burger" which is topped with exotic mushrooms, caramelized onions smoked mozzarella, and garlic aioli. Personally, I prefer traditional burger toppings so I'm not the target market, but with plenty of euphoric reviews, it's safe to assume they are doing something right.
Also armed with a healthy selection of craft beers, Eurika is located in the Medical Arts Building just across the street from El Cortez.
There is also a Subway tucked away at the back end of the gaming floor if you are looking for something really quick.
The Verdict: Is El Cortez's Cabana Super Suite Worth a Stay?
Fitting into a nice niche, the Cabana suites offer guests a bit more space at a competitive price point. We enjoyed the modern design elements incorporated into our Cabana Suite as compared to El Cortez's standard guestroom offering.
While the room wasn't immaculately clean, it wasn't a deal-breaker for us. When you reserve a suite in the $60 range, perfection shouldn't be expected. We felt that for the price, the room was an enticing value just steps away from one of our favorite historic casinos in Las Vegas.
The location of the property is tough to beat. All of the casinos and restaurants on Fremont Street are minutes away, but the hotel maintains enough distance to offer a quiet night of sleep.
If a budget suite option downtown is what you seek, we recommend taking a look at the El Cortez Cabana Suites.
Related: Check out other downtown Las Vegas rooms we've recently stayed at including the Premium Room at Downtown Grand, the Superior Room at Downtown Grand, Pyramid Premier Corner Suite at Luxor, a Premium Room at Flamingo, and the recently refurbished Binion's Hotel Apache.
I'm a former software salesman turned Vegas aficionado. While the craps table is my preferred habitat, I pull myself away to explore new attractions, shows, restaurants, and outdoor activities around Las Vegas with the intent of sharing my experiences.
Ultimately, I just want to help folks plan a better trip and save a few bucks in the process.