Circa opened to much fanfare in 2020, during the depths of the pandemic. Even a plague couldn't tamp down excitement for the first brand new hotel to be built from the ground up on Fremont Street in decades.
The reason Circa generated, and continues to generate, so much buzz is the unique amenities that make the resort what it is. A refurbished Vegas Vickie, 2-level casino, cavernous sportsbook, and a rooftop pool amphitheater all contribute to Circa's popularity.
On a recent trip, I noticed that rooms at Circa were slightly cheaper than I've seen in the past and decided to take my shot.
Considering I have a near non-existent relationship with Circa's casino loyalty program, I was on the hook for the room, which cost a total of $207.86 per night which is inclusive of resort fees and taxes.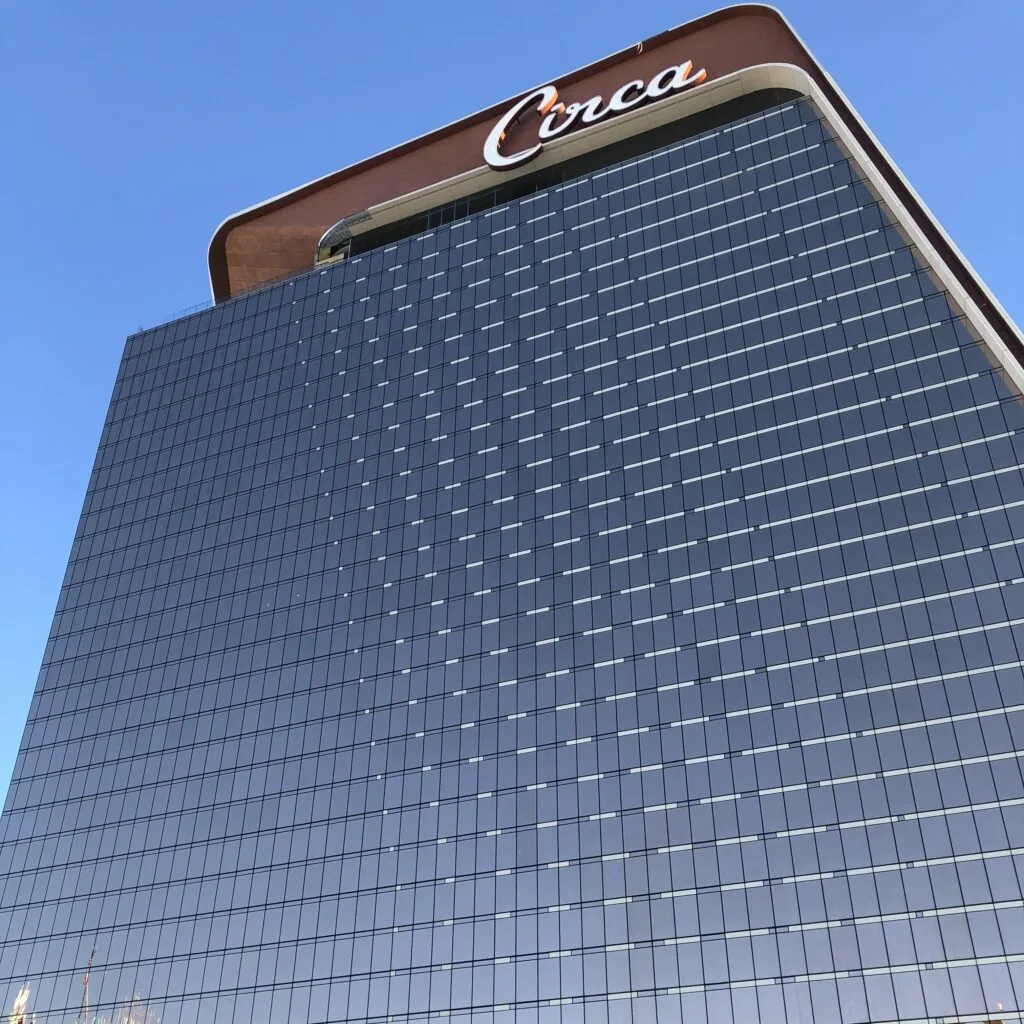 Circa Check-In Experience
While Circa's standard check-in time is 3 pm, I gave it a shot at 1 pm on the off chance a room was ready to rock. I was happy to learn that there was and that I'd be able to check-in early without an additional charge or fee. Off to a good start!
I really enjoy the check-in process at smaller hotels in Las Vegas like Circa, Cromwell, El Cortez, etc. as there's rarely a long snaking line like there can be at larger properties.
At Circa, I was able to walk right up to the desk and take care of business.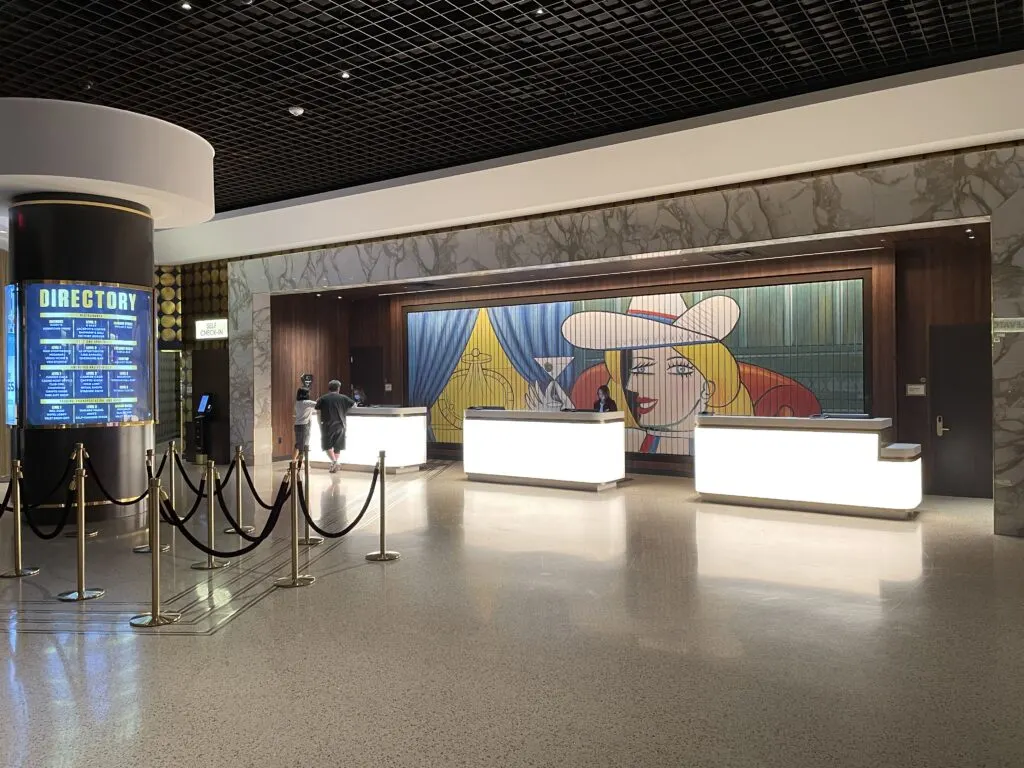 Inside Circa's Single King Hotel Room
Circa has a unique elevator system when compared to other Las Vegas hotels, and it's pretty neat.
First, you use your room key to bypass a security gate to get into the elevator lobby.
Once in, you simply press the floor number you wish to be taken to (as opposed to the traditional up button). You're then informed which elevator (they're all labeled) will be opening.
No buttons need to be pushed once you get into the elevator.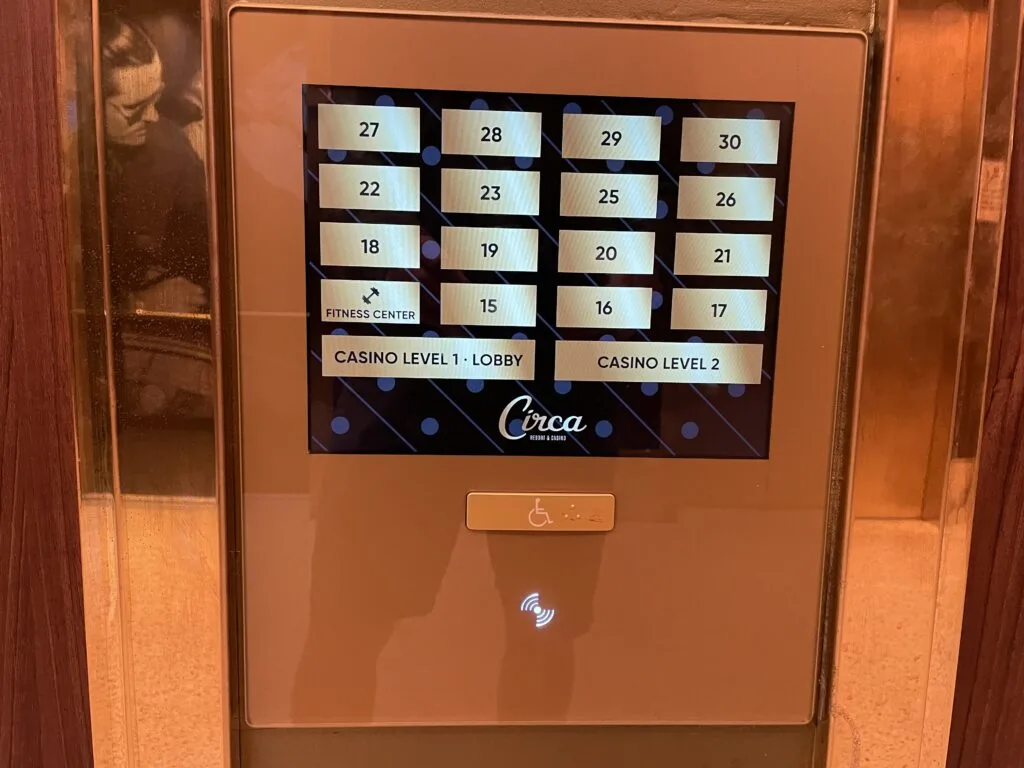 While I never actually had to ride the elevator with a stranger, I could see this process as being preferable to having to press your floor number inside the elevator when it's packed.
On the way up to my room, I snapped a photo of the elevator lobby and hotel hallway on my floor (floor 16). They were spotless and had a classy vibe, as I would expect in a new resort.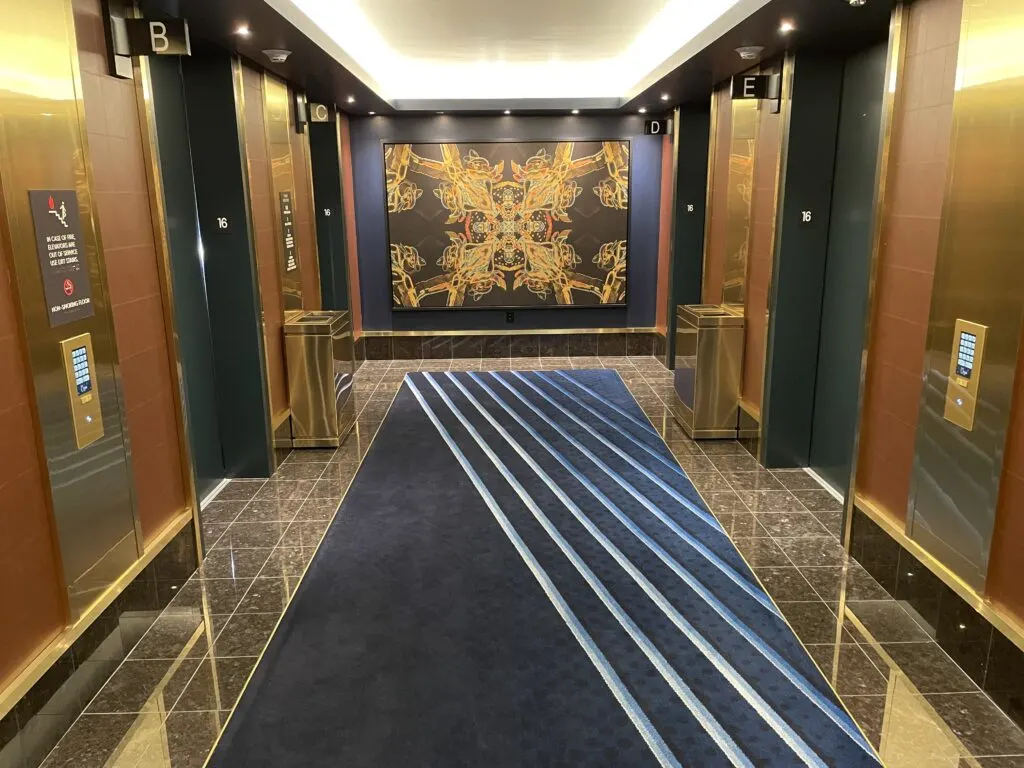 The Bedroom/Living Area
I've stayed in and reviewed a LOT of hotel rooms in Las Vegas. Few standard hotel rooms have immediately impressed me like Circa's.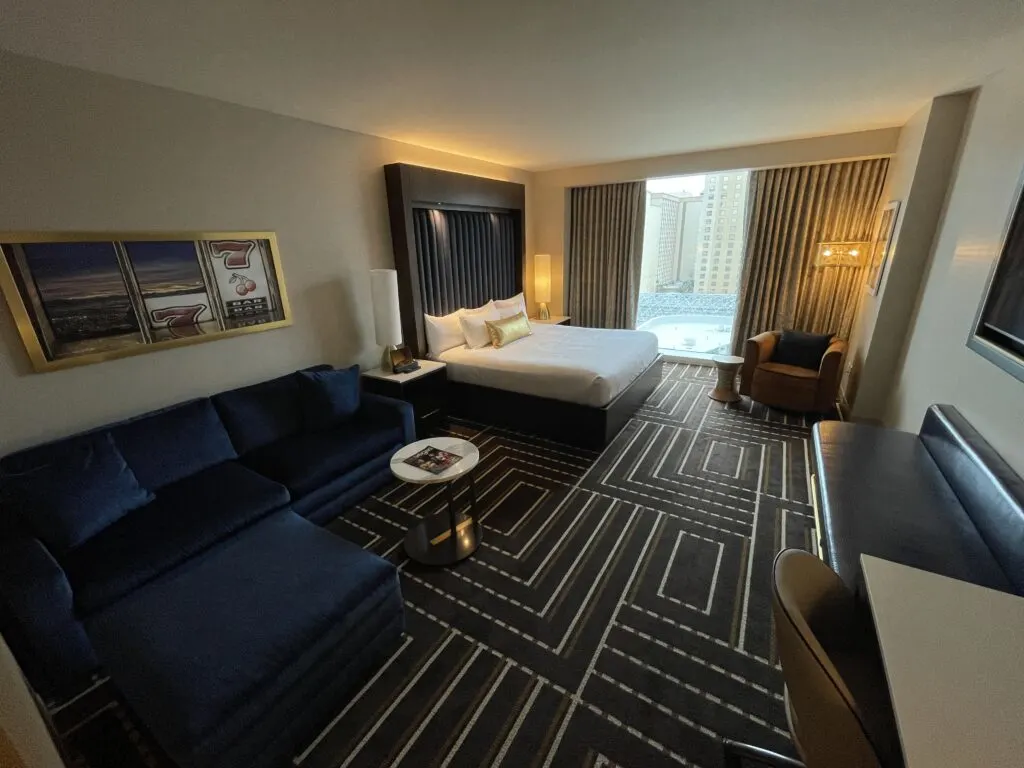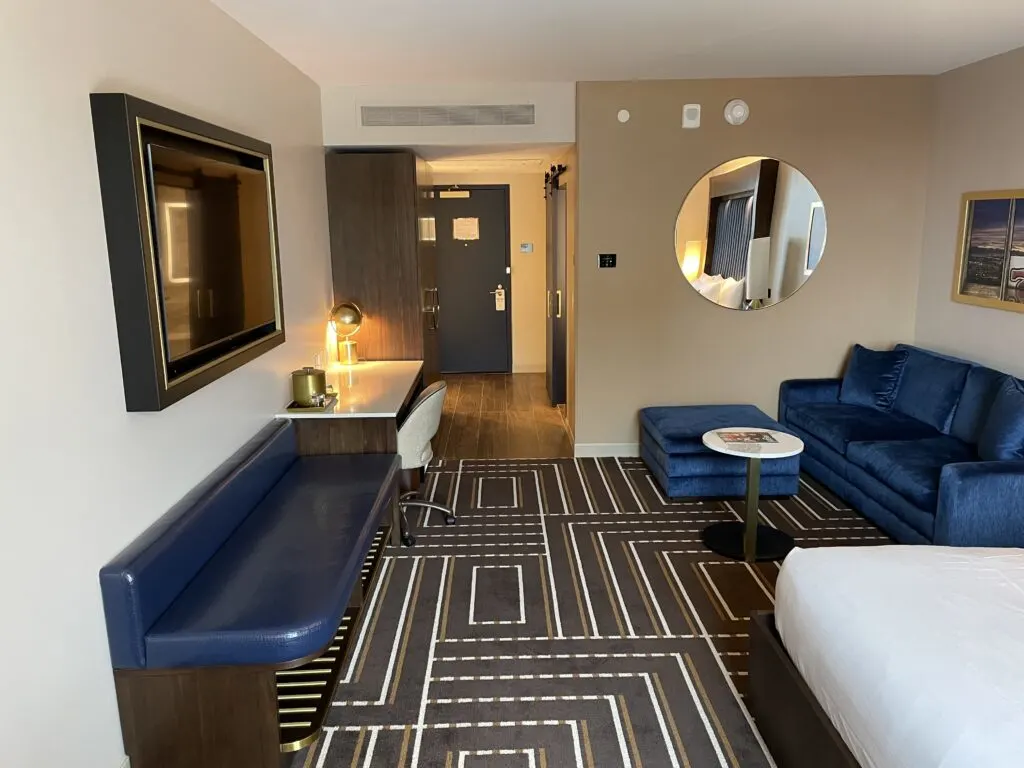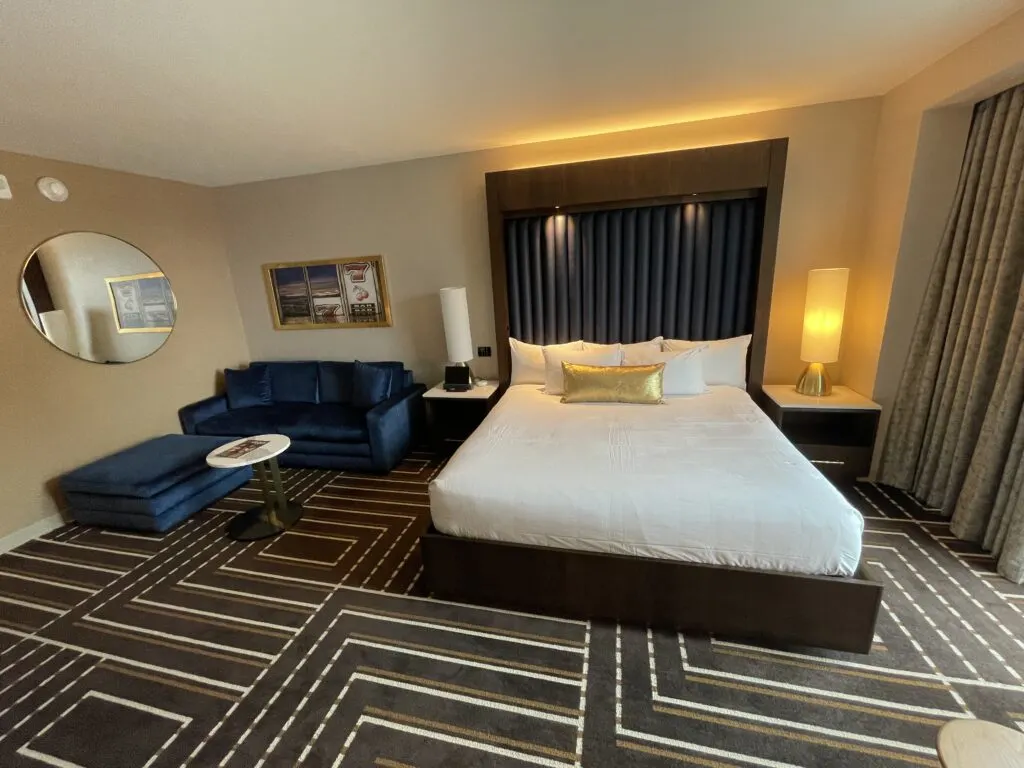 The room is slightly bigger than your typical standard accommodation in Vegas at 439 square feet. That additional space is used to provide a small living area, made up of a couch, small table, and ottoman.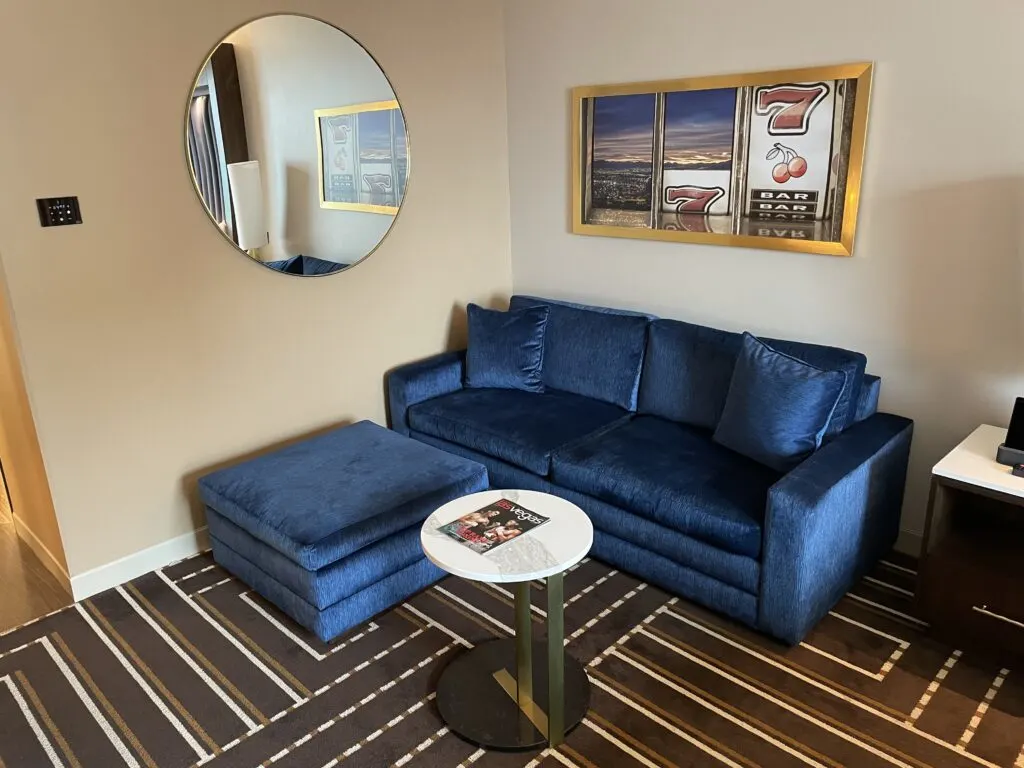 The work desk was pretty standard, but I always appreciate the presence of an empty fridge. There are few things better than having the ability to stock up on some cheap cocktails and keep them cold in the room.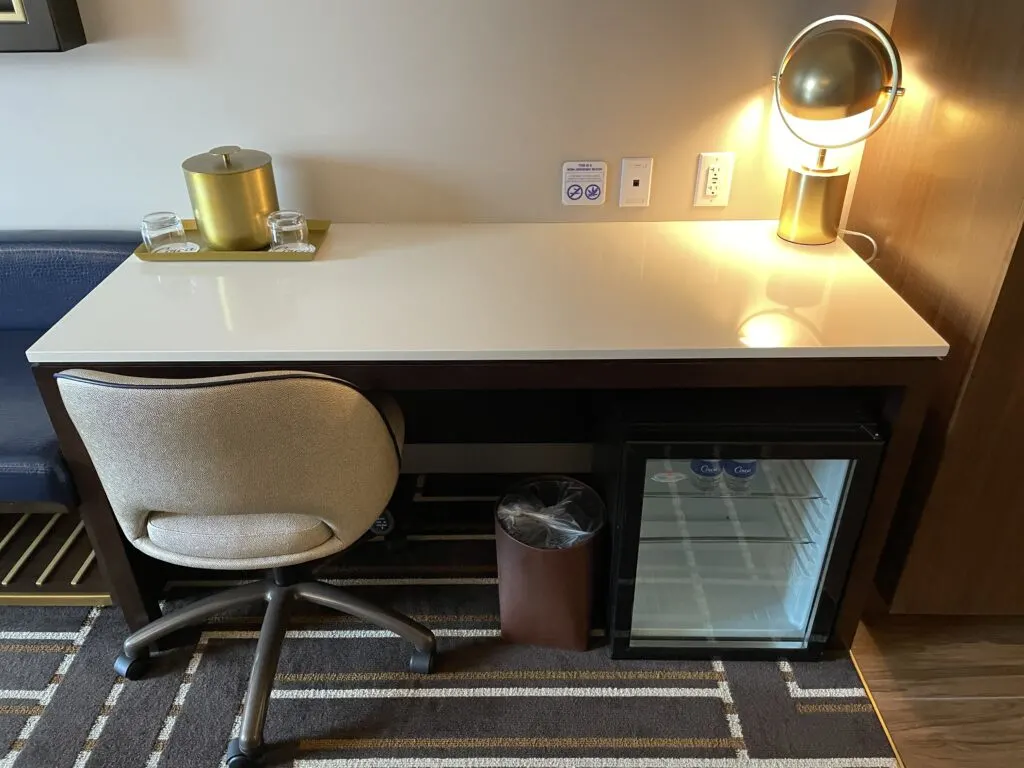 Lighting in the room was controlled via touchpads on the wall that provided the ability to turn everything on, everything off, dim, brighten, or request service. There was even a "night light" mode.
These touchpads were located in multiple locations around the room, and even right next to the bed.
The presence of technology extended to a bedside iPad that could be used to check the weather, request service, play music, surf news websites, and even read magazines.
The view of Stadium Swim was definitely worth the upcharge (I think I paid an additional $20-$30).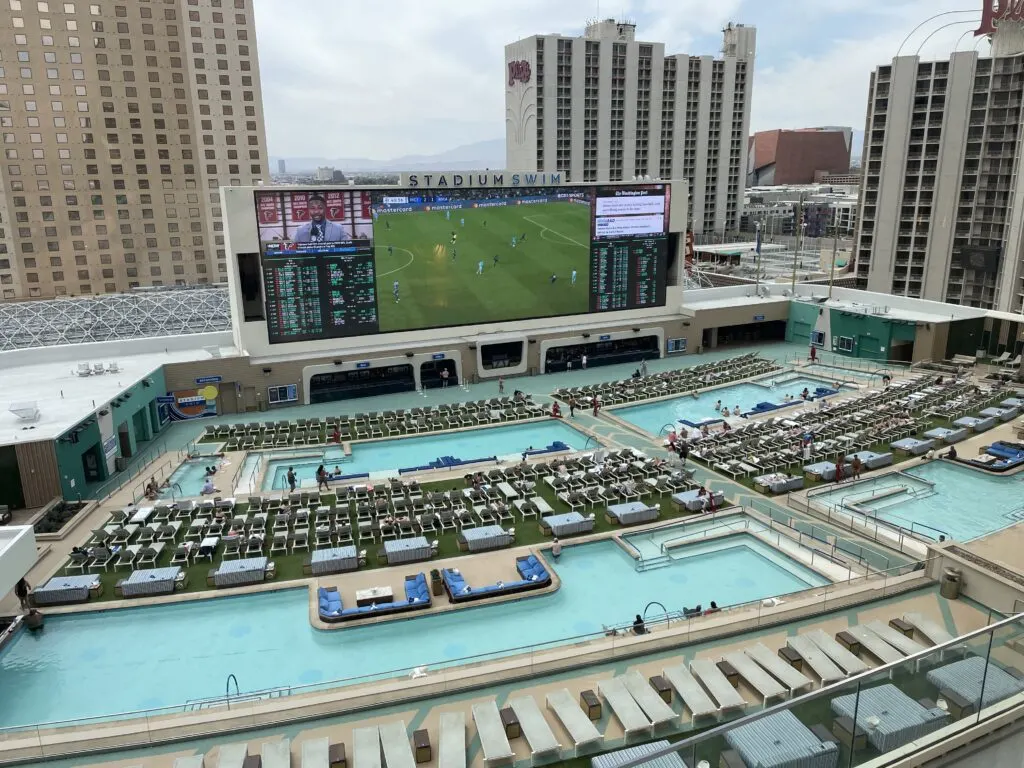 The Bathroom
Like the room, I found the bathroom to be instantly impressive.
The dual vanity with illuminated mirrors was sharp, and the gambling-themed wallpaper was a fun, yet classy touch. The mirror light brightness was controllable by the up and down arrows built into the mirror.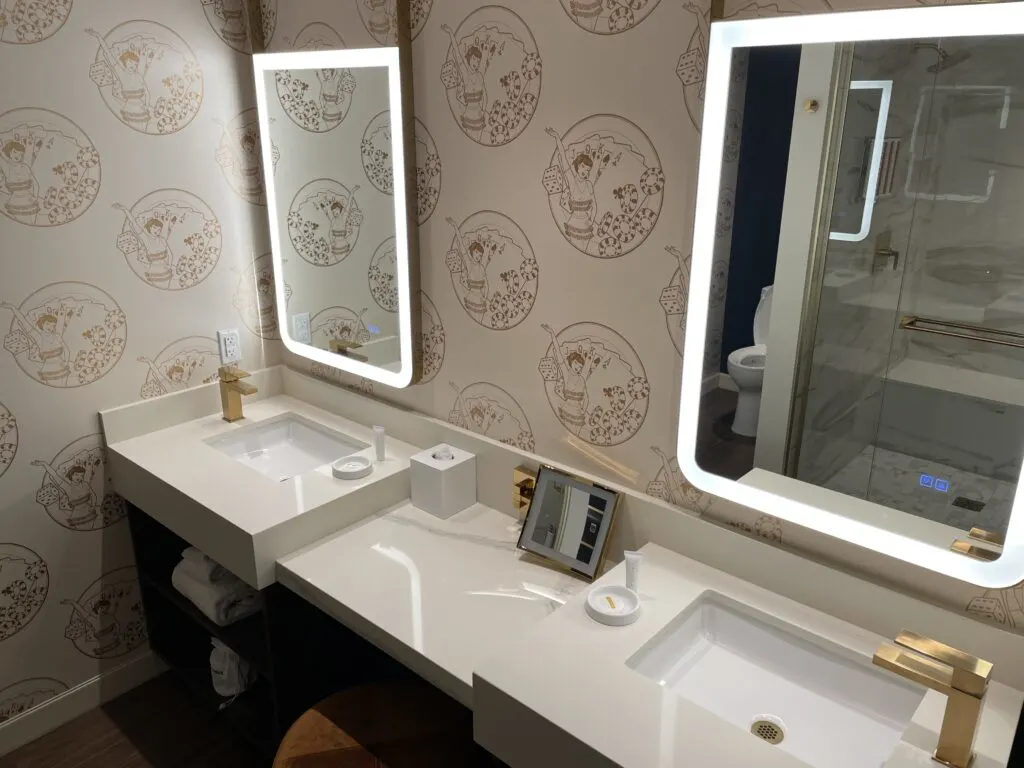 The marble shower was large, offering a bench, bath product dispensers, and a showerhead that was high enough for my 6′ 4″ frame to fit underneath.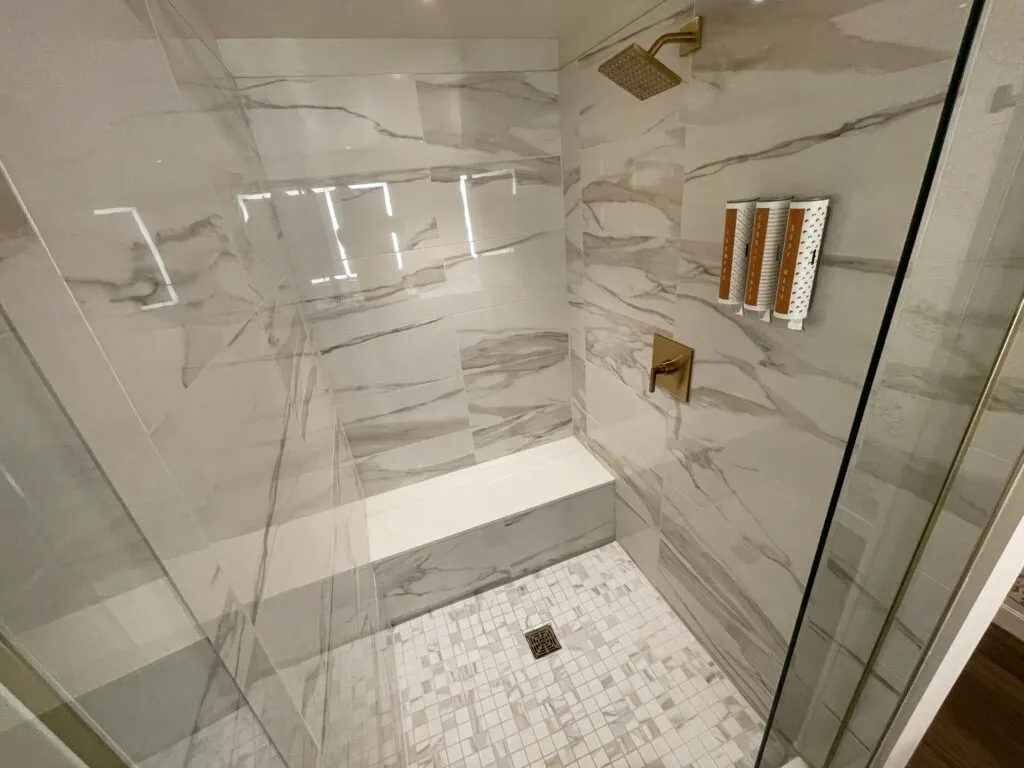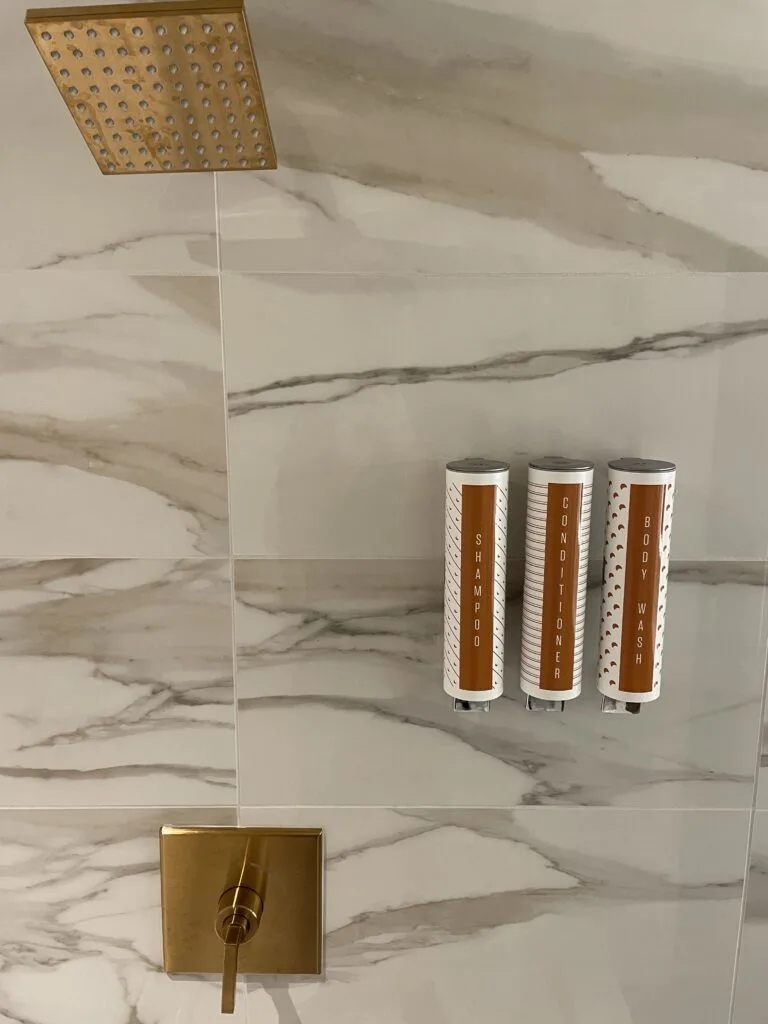 The toilet was located right around the corner.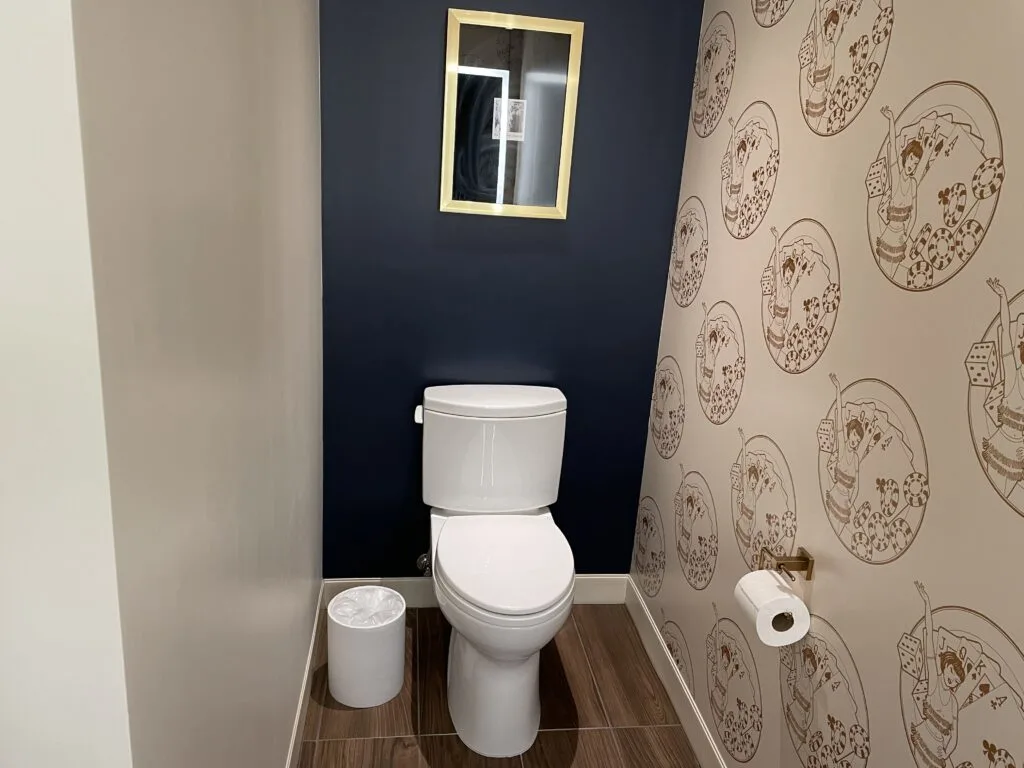 What's Not to Like?
First, let me say that when I do room reviews, I go out of my way to find imperfections like dings, scuffs, broken furniture, stains, and unclean surfaces. None of those things were detected in my room at Circa.
Even the iPad and light control touchpads were free of smudges and fingerprints. Unheard of.
The room was pristine and felt as though I was the first to spend a night. Circa's housekeeping staff pays some serious attention to detail, and a room this perfect is a rarity.
With that being said, there are some things you want to be aware of if planning to stay at Circa.
Noise: During the day, Stadium Swim is bumping. That noise pollution could get in the way of a mid-afternoon nap if that's your plan. At night, live music on Fremont Street is audible but wasn't egregious. I was easily able to fall asleep. A room on the backside of the tower facing away from Stadium Swim would likely allow you to avoid noise pollution around the clock.
Overnight, the lights turned on: It was super strange. I went to bed at around 10 pm with all the lights off and woke up at 2:30 am with every light in the room brightly on. To say I was confused is an understatement. Later that day, I came to the realization that some prankster must have set an alarm on the iPad for that time as a prank.
Circa Resort Highlights
If you've been considering Circa, you're likely well versed on why the resort is appealing aside from the hotel.
First, the 3-story sportsbook is the biggest in Vegas, and is almost omnipresent as you navigate the casino floor. As I like to say, it's overpowering in the best way.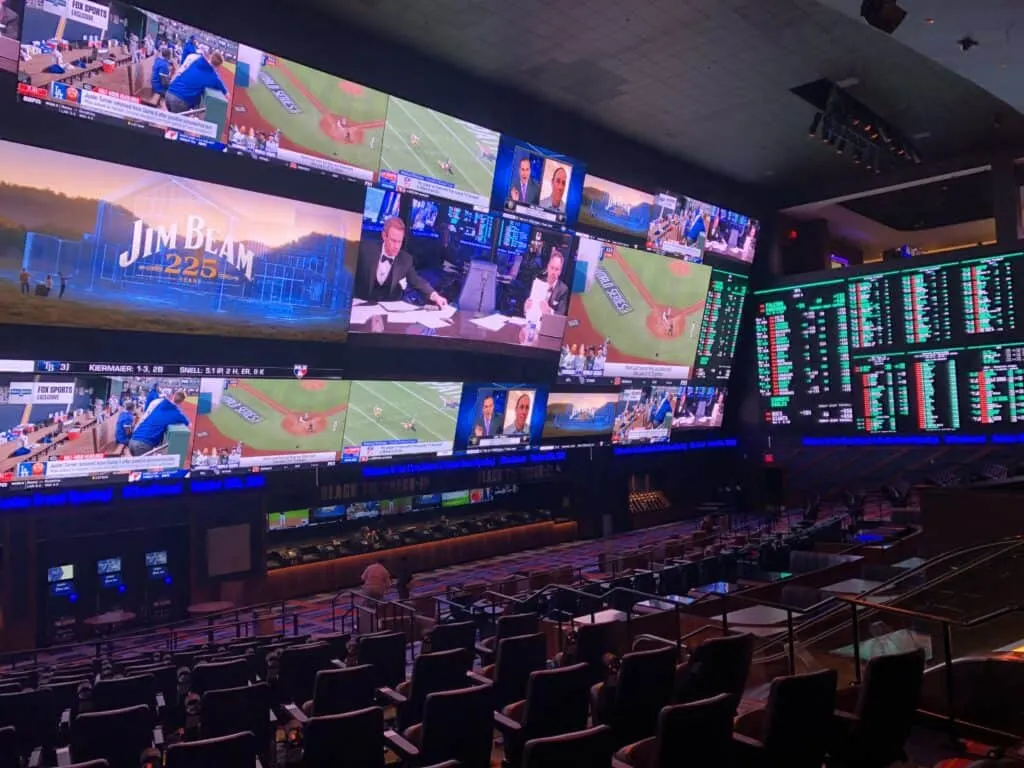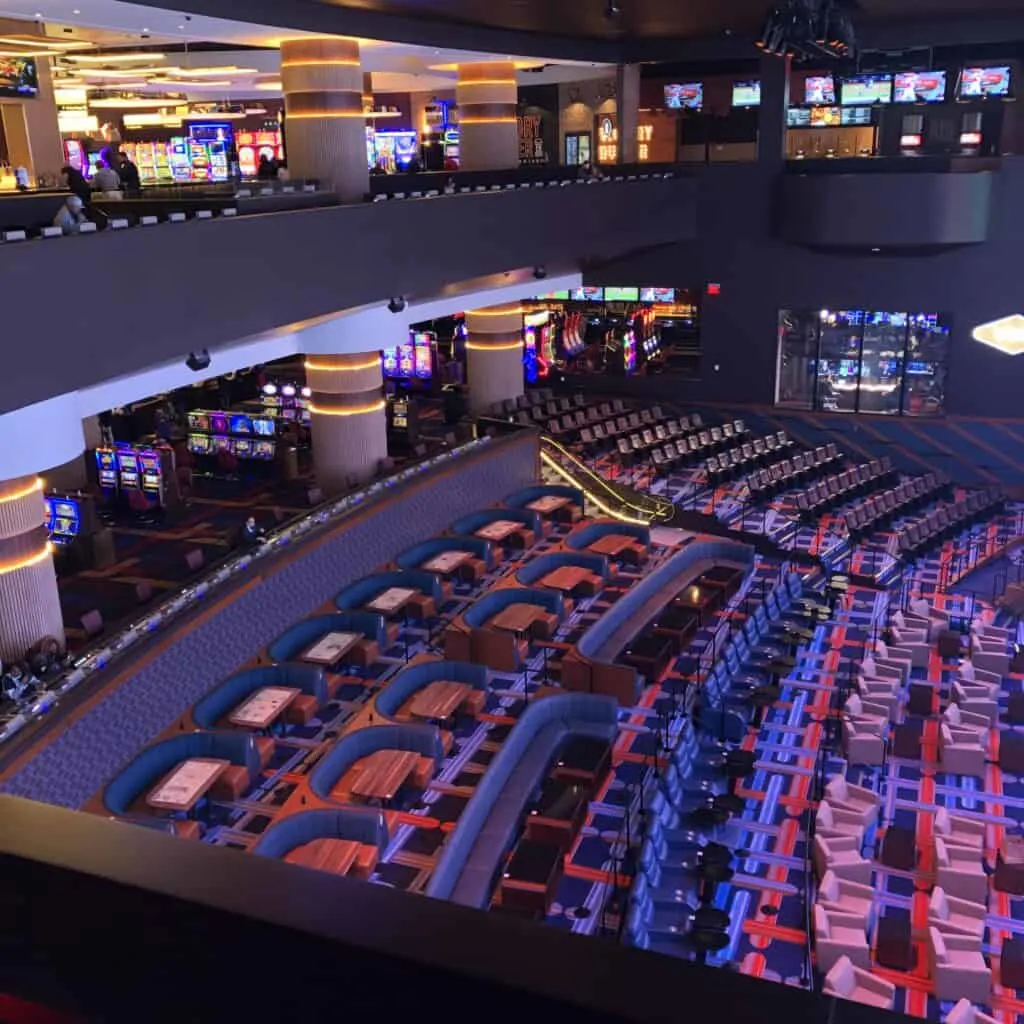 Stadium Swim, Circa's rooftop pool is open year-round and boasts 6 separate pools, 2 hot tubs, 2 swim-up bars, and poolside gaming. While the pool itself is noteworthy, the fact it sits in front of a 143-foot screen (diagonally) playing the game you just bet on takes things to the next level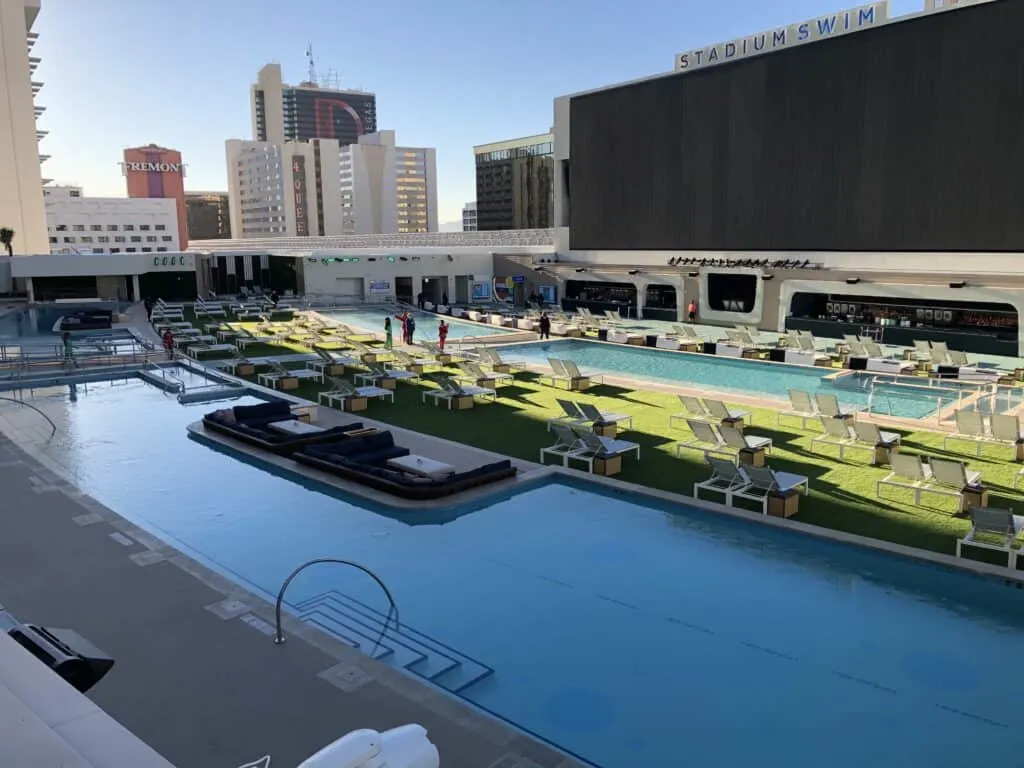 Circa is also home to a number of dining options that range from Barry's, a high-end steakhouse to Saginaw's Deli, which specializes in both hot and cold sandwiches.
None of Circa's dining options are inexpensive, but there are plenty of cheap dining options on Fremont Street nearby if budget-friendly options are what you seek.
During this visit, I snagged a grilled corned beef & pastrami sandwich that was served with chips and a pickle for $22. Not cheap, but pretty darn good and extremely filling.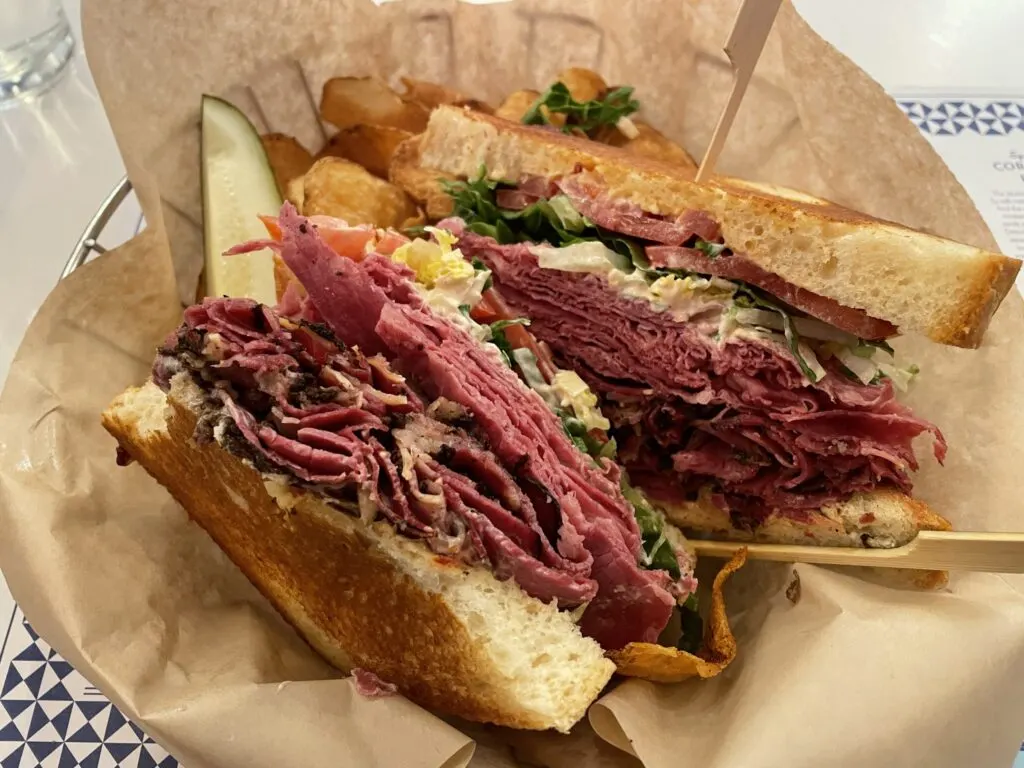 Garage Mahal. Yea, I'm mentioning a parking ramp as a feature property amenity. Look, paid parking irks me as much as the next guy, but this ramp was a dream compared to others I used during this trip (like at Circus Circus… yikes).
Uncrowded. Clean. Safe.
Yes, paying $25 for a night was a downer, but I think it was worth it compared to nearby alternatives, none of which would have been free.
Keep in mind that players with Maverick status or higher in the Club One loyalty program park for free.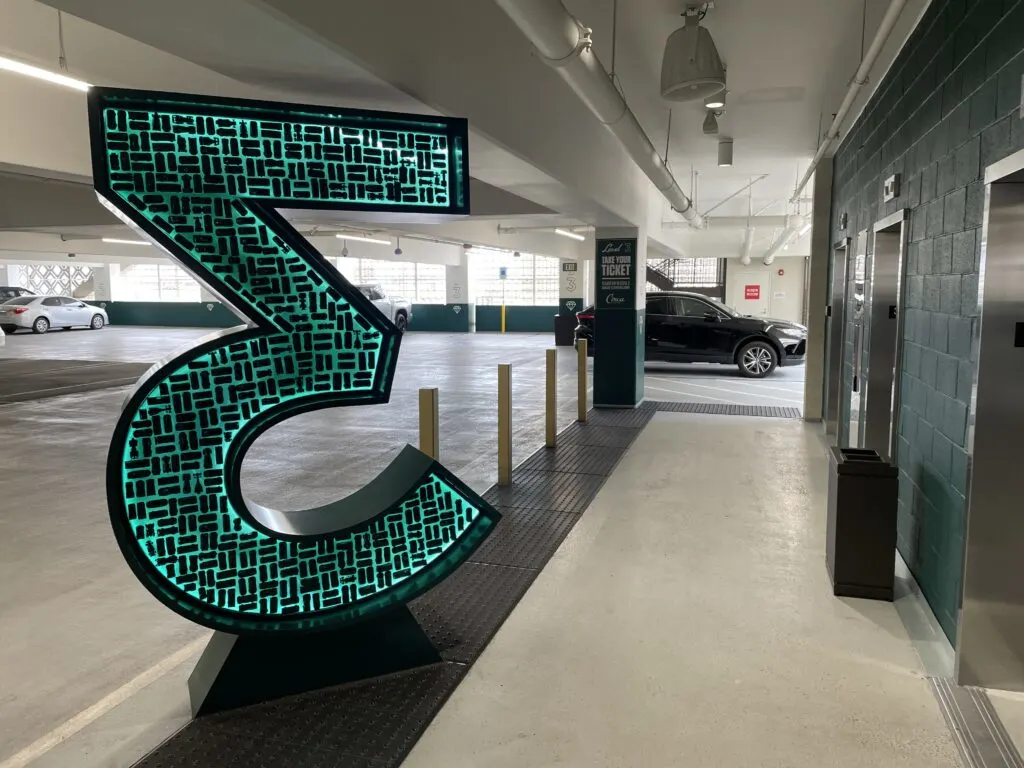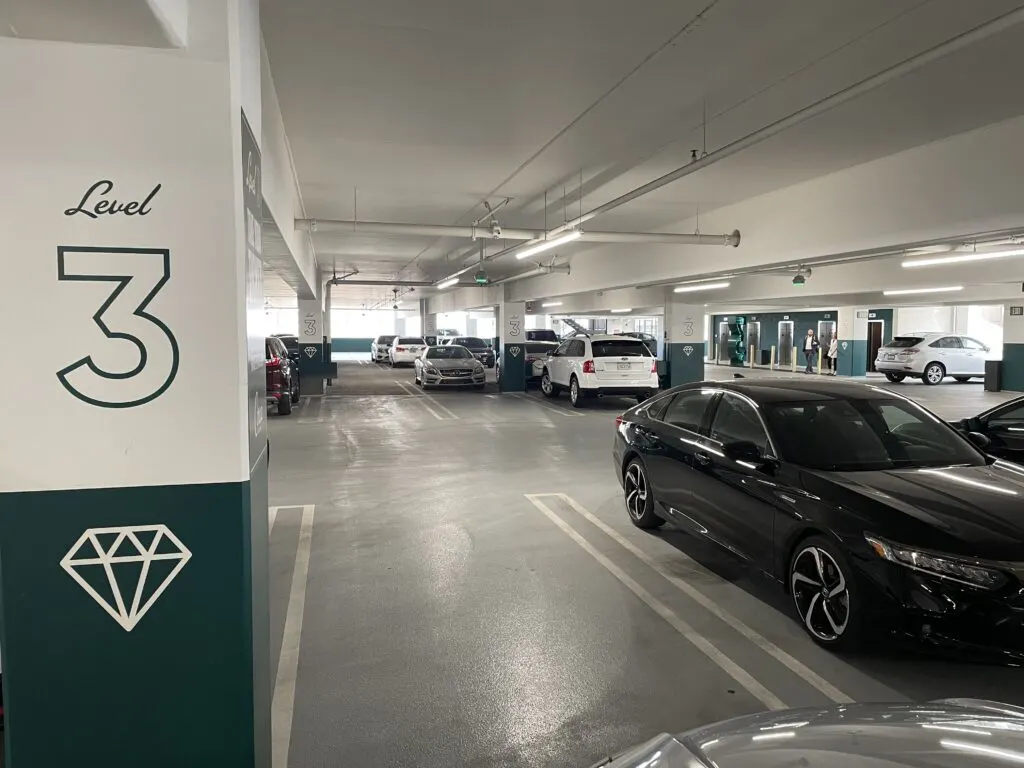 Lastly, Vegas Vickie is back, and better than ever on Circa's gaming floor.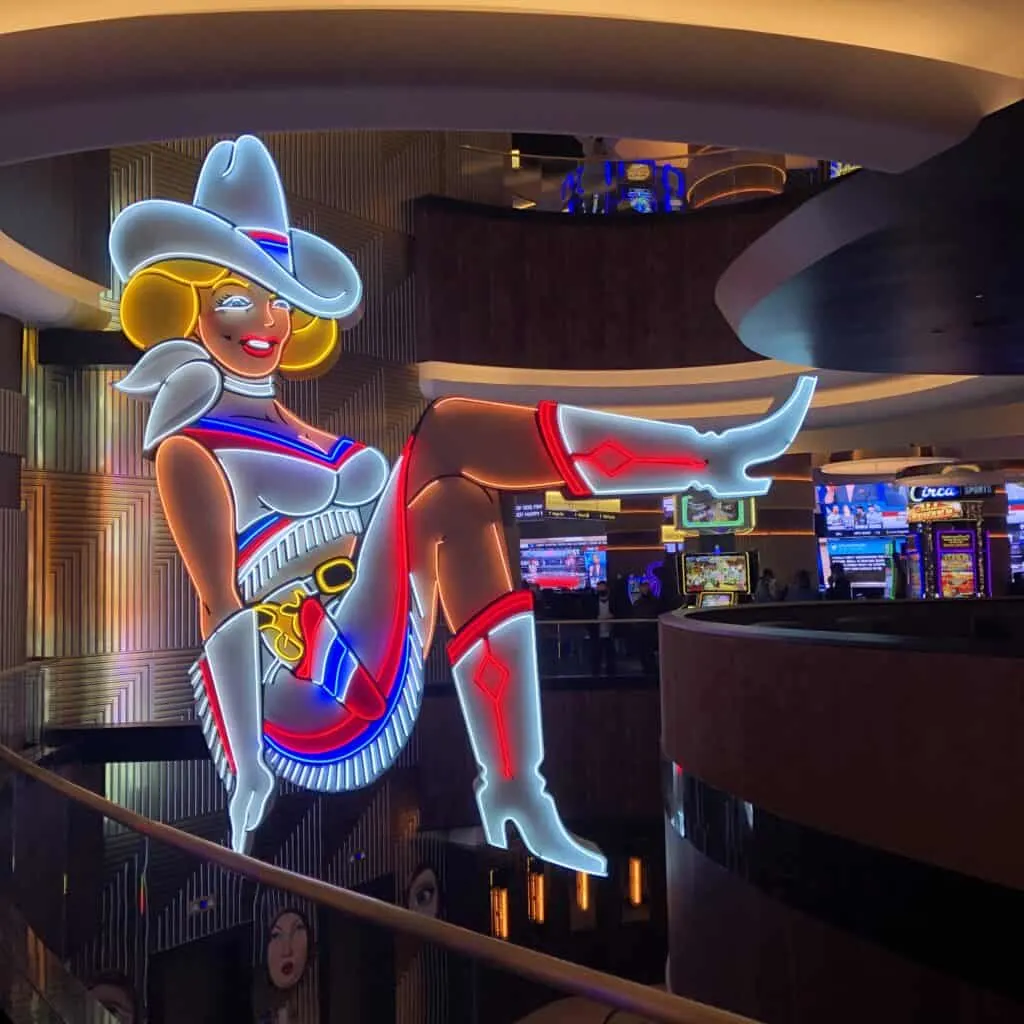 Was Circa Worth the Money?
Circa is unbelievable. I was enthralled with the room product, resort experience, and amenities. The room was easily worth the $207.86 I paid.
Easily.
Circa is the most expensive hotel downtown, but for good reason. This is a high-end, yet boutique feeling Strip resort on Fremont Street. Rooms like these are tough to find downtown, if not impossible.
While I'm likely to return to stay at Circa in the future (my wife would love it), it's a challenging proposition given my limited play within their Club One loyalty program. It's difficult to justify paying $200+ per night at Circa when rooms at Delano, Aria, Caesars Palace, or Venetian are free based on my relationship with their respective loyalty programs.
I'm also hesitant to migrate the play that earns me free rooms with other hotel chains to Circa with hopes of scoring free rooms in the future, mainly because I'm terrified I'd be stuck with offers at sister properties Golden Gate or the D. While both the D and Golden Gate offer an enjoyable, upbeat casino environment, their hotel product is a rung below where I prefer to be, and a mile below Circa.
Ultimately, I'll wait for a special occasion and pay up to stay at Circa again. Perhaps I'll make a point of spending my whole gambling budget there, just to see what offers come in.
If, however, you don't have any competitive offers at comparable properties, or just want to try something new, book Circa with confidence.
Quick Note: I know this was a pretty spotless review, which is rare. Usually, flaws are easy to find in a hotel room, even if I'm satisfied with the experience overall. You'd be right to wonder if I have a business relationship with Circa. I don't. The resort just wails.
I'm a former software salesman turned Vegas aficionado. While the craps table is my preferred habitat, I pull myself away to explore new attractions, shows, restaurants, and outdoor activities around Las Vegas with the intent of sharing my experiences.
Ultimately, I just want to help folks plan a better trip and save a few bucks in the process.