My personal affinity for Palace Station stretches back to my early days of visiting Las Vegas.
Now, in those days, Palace Station was a dump, and my friends and I would stay there because we were broke and rooms commonly cost less than $20/night.
I fondly recall visiting Vegas with my friend Chris way back when. Rooms at Palace Station were $18/night, and we were arriving at 9 pm.
At that point in our lives, we were so cheap that we opted against booking a room that first night to save $18 (literally $9 each), figuring we'd be out all night gambling anyway.
Fast forward to 11 pm, our daily budgets were spent, and Palace Station didn't have any available rooms to rent.
We regretted our decision.
Obviously, we continued to gamble through the night, losing hundreds and hundreds of dollars… But hey! We saved $18 by not getting a room!
In the years that followed, Palace Station became my friend group's home base for our annual pilgrimage to watch and wager on the opening weekend of March Madness.
I've made more fond memories in that building than any other in Las Vegas.
More recently, Palace Station benefitted from a $192 million renovation project, which transformed the resort from a lovable dive to something much more polished.
Since I hadn't stayed a night at the property since that renovation work, I thought it would be fun to do so with the intent of sharing my experience with you.
I originally had booked a baseline room, which was complimentary based on my play in the my Rewards loyalty program. A week later, I received an email stating that I could upgrade to a Studio Suite for $30/night and opted to do so.
While my room came to $30/night, the Studio Suite at Palace Station typically lands around $150/night mid-week and slightly more on weekends (obviously events and holidays can impact pricing drastically) -That's about $30-$40 more than Palace Station's baseline accommodation.
A unique bonus, hotels under the Station Casinos umbrella don't charge resort fees for complimentary rooms – Off to a good start!
Palace Station Check-In & Parking
I arrived in Las Vegas late, and after picking up my rental car, didn't get to Palace Station until just before midnight.
While the resort has yet to embrace mobile check-in or automated kiosks, the line to check in at the front desk was non-existent, and I was headed up to my room within 5 minutes.
Obviously, wait times during the check-in rush are likely to be more substantial, but I was thrilled to be on my way.
Parking is free and abundant, with both a ramp and surface lot just outside the hotel's entrance. I opted to park in the uncovered lot and appreciated being within 20 steps of the entrance when coming and going.
Compared to the hike most Strip resorts force you to take from their ramp to the action, this was a huge perk.
Inside My Studio Suite at Palace Station
On the way up to my room, I always like to scope out common areas like hallways and elevator lobbies as they're commonly a strong hint at what you can expect in the room.
Palace Station's were clean and made a good first impression. Nothing fancy like you'd see at opulent Strip resorts, but rock solid nonetheless. It felt comfortable.
The Studio Suite itself felt spacious at 400 square feet, (60 more than a standard room) and had a king bed, which came equipped with a padded headboard, 2 end tables, and a bench at the foot.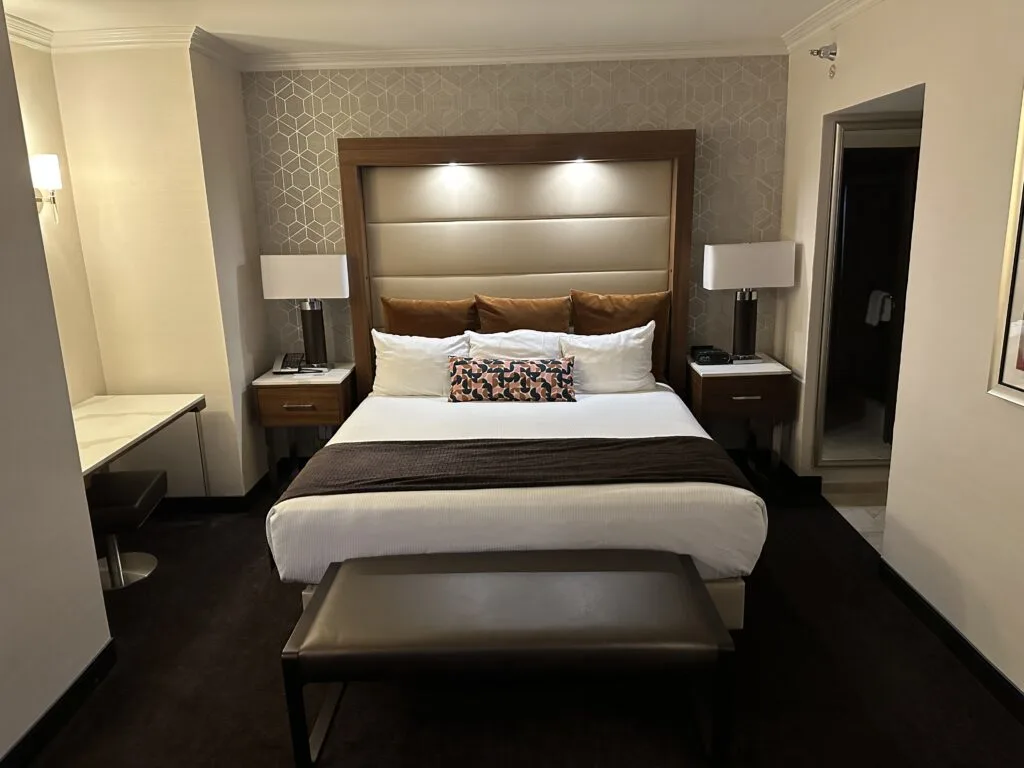 On one of the end tables was a clock radio that had a wireless charging pad, which was convenient as I initially forgot my iPhone charge cord in the car.
The TV stand had a small built-in work desk, a mounted TV, and was restocked with 3 free small bottles of water daily.
While it didn't impact my stay whatsoever, the fact the TV was crooked kind of drove my OCD up the wall.
On one side of the bed was a small powder desk which had a stool, mirror, and lighting.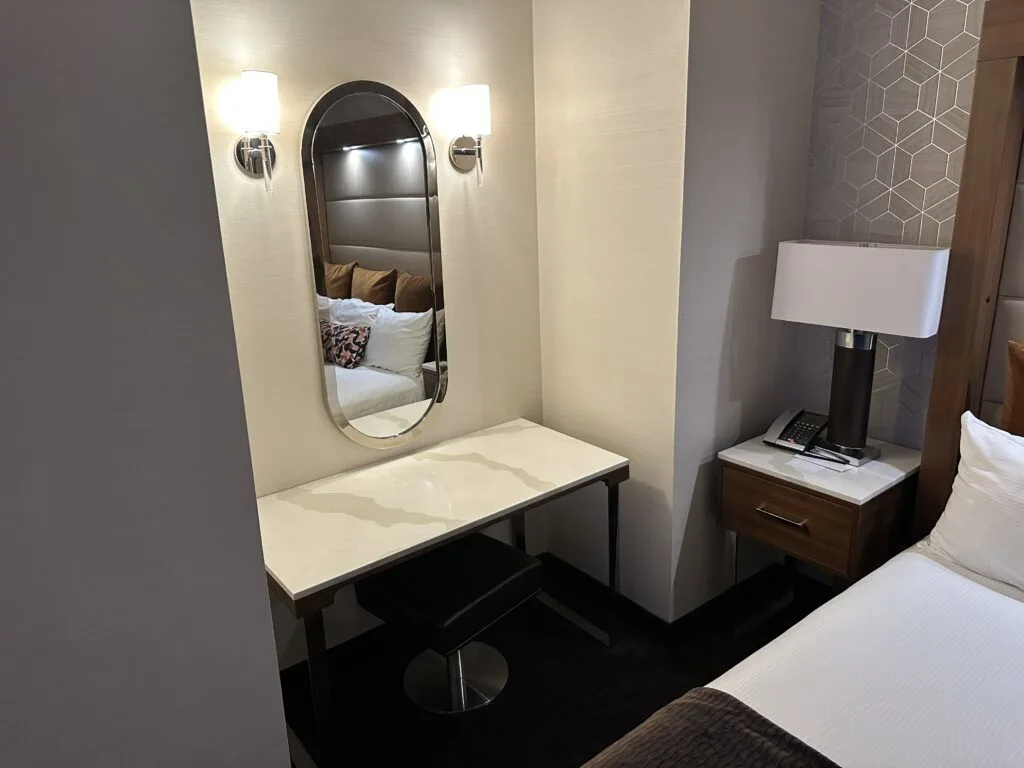 The coolest part of the Studio Suite was the dining area, which featured a table tucked into a semi-circle of windows that overlooked Las Vegas.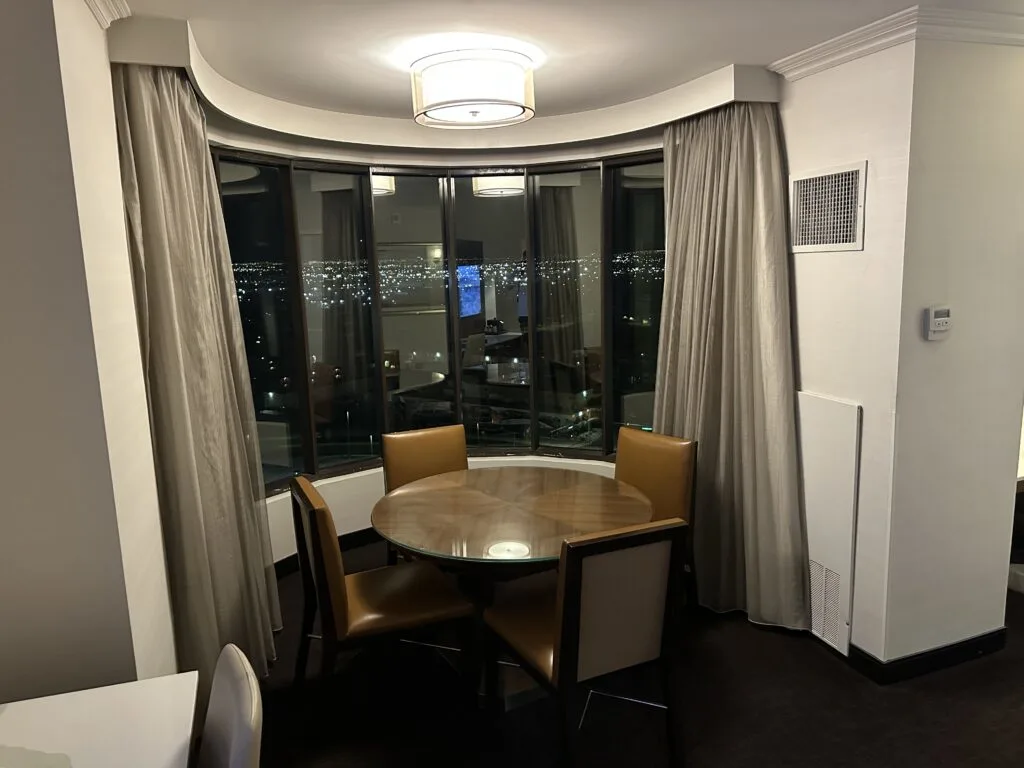 Here's the view during the day.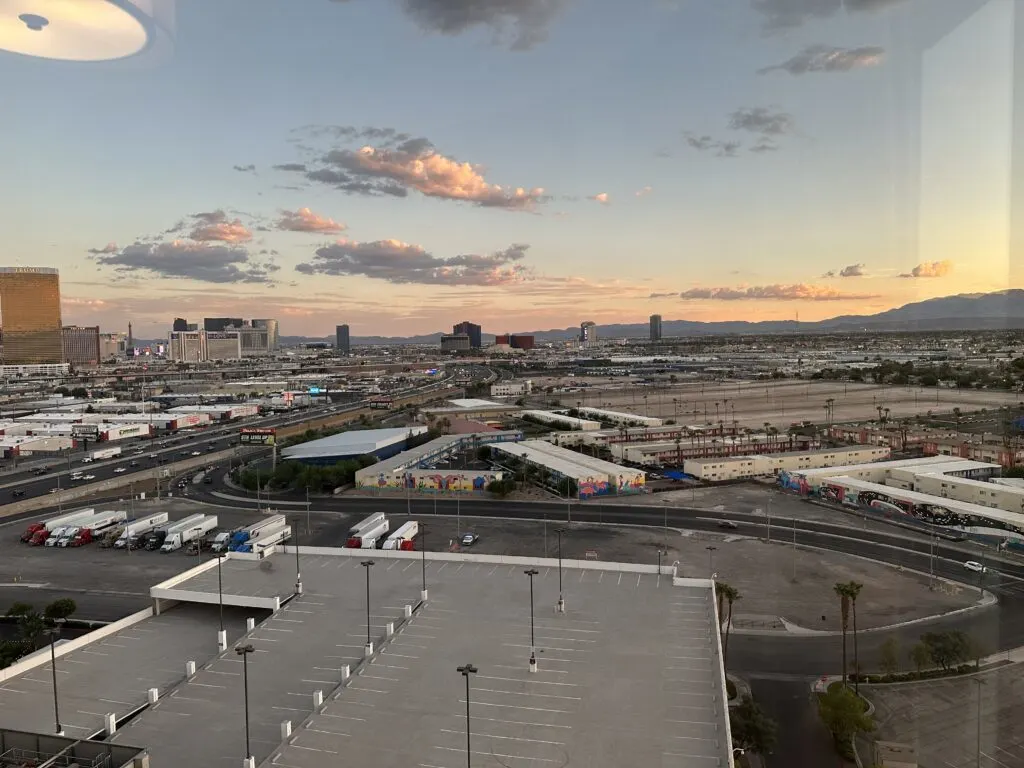 The bathroom would be best described as "utilitarian", serving its purpose well without any real "wow factor".
While there was only a single sink, the bathroom offered plenty of counter space, a small magnified mirror, and a separate room for the toilet and shower.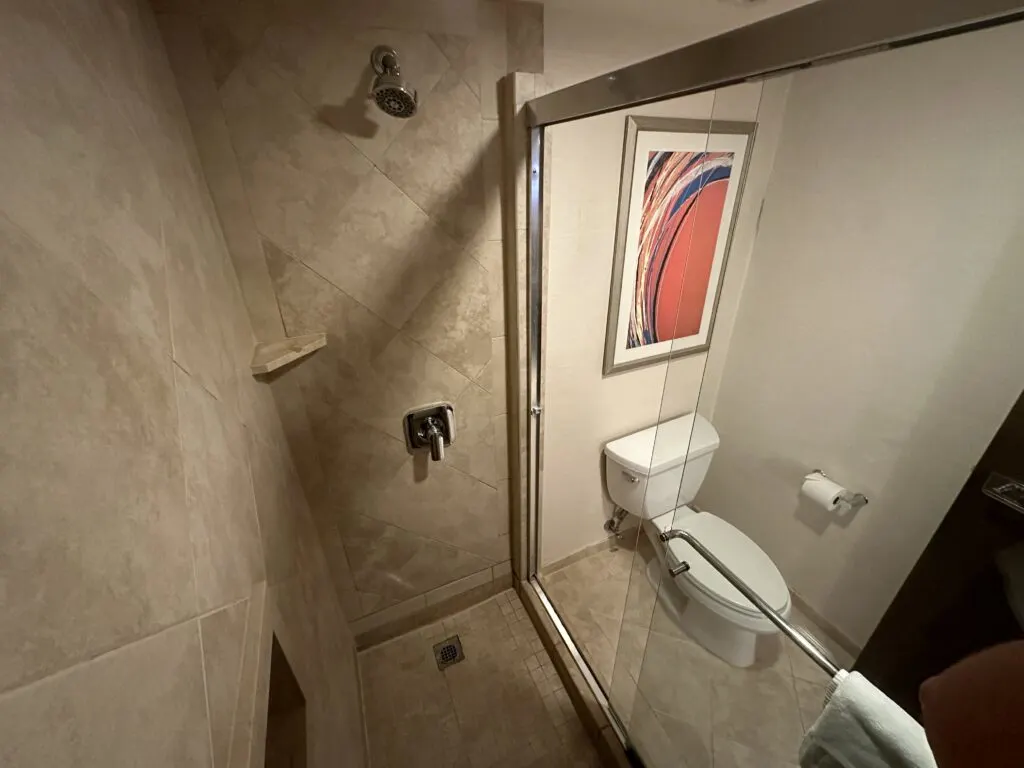 Bath products by Bodyography that included shampoo, conditioner, body wash, lotion, a bar of soap, and makeup-removing wipes were offered.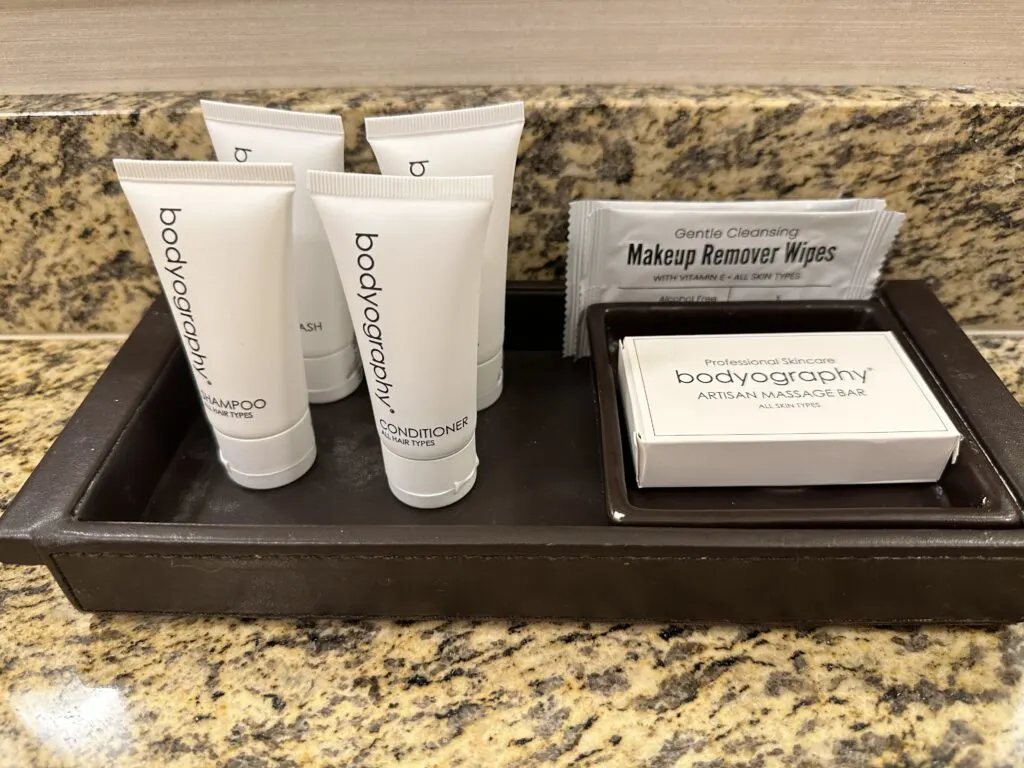 What's Not To Like?
It can't all be roses, right? Here are a few things you should be aware of.
Minor Cleanliness Issues: Whenever I review hotel rooms, I inspect the walls, corners, etc. for imperfections.
Although this was a clean room on the whole, there were a few corners that could use some attention.
Far From Luxurious: Sometimes, when people hear the word "suite" they think "high-end". In this case, "suite" refers to having a bit more space than a standard room.
While this is a nice, spacious room, by no means is it a fancy or luxurious one. Finishes are much more "institutional" than at upscale Strip resorts, and it's relatively plain. Aside from a wireless charger, extra space, and a great view, there are no real "bells and whistles".
This isn't a room that's built to blow you away, but rather to excel at budget-friendly quality – And it succeeds in that mission.
Hallway Noise: Although noise never interrupted my sleep, there were times when a group would exit their room and their conversations were perfectly audible from my room.
Things could get frustrating if you get stuck on the same floor as the rowdy bachelor/ette party.
Palace Station Resort Highlights
Dining Options: Palace Station is home to a diverse set of dining options that span the price, quality, and culinary spectrum.
Options include Boathouse (Asian eatery), Tailgate Social (Sports Bar), The Charcoal Room (Steakhouse), The Brass Fork (diner-like vibe), and the absurdly popular Oyster Bar, which only has bar seating and commonly has a long line of folks waiting to dine.
I personally ate at The Brass Fork twice for breakfast and was thrilled with the quality at a palatable price ($15 give or take for a meal).
In addition to the sit-down restaurants mentioned, there are fast-food options that include Wingstop and Panda Express.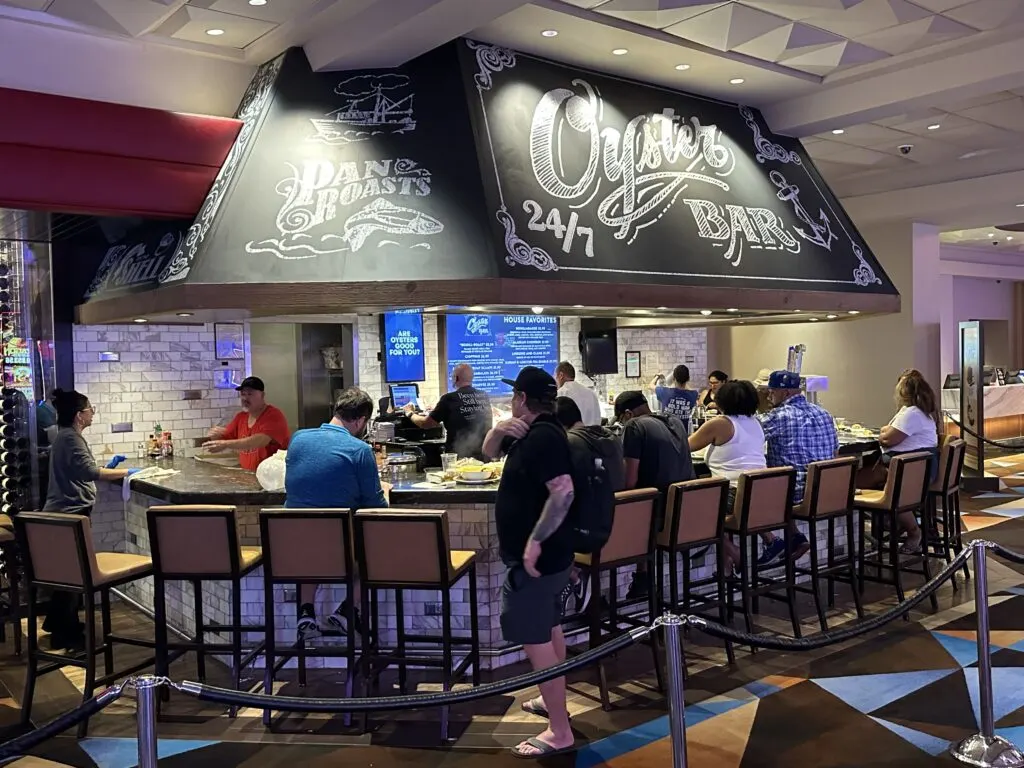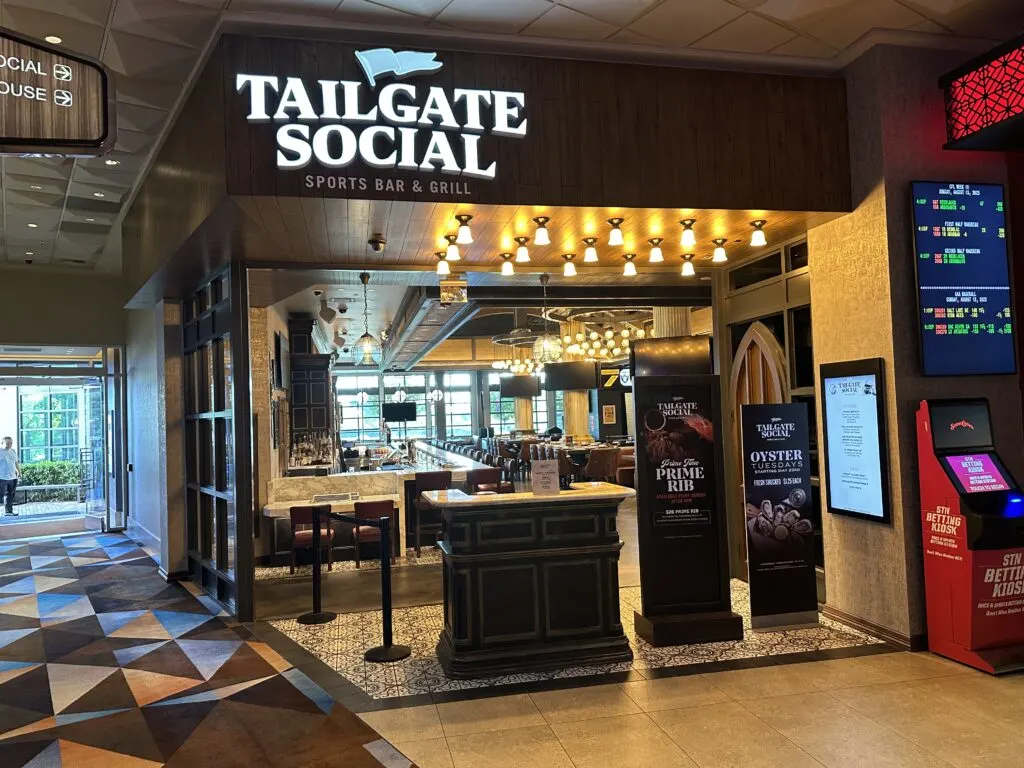 A Theater: Blow your gambling budget? Check out a new release on one of 9 screens at Palace Station's Cinebarre Theater, which offers in-theater service and a full bar.
Strip-Quality Casino: The gaming floor at Palace Station feels like a strip resort. Following the recent renovation work, it's legitimately nice.
In addition to slots and table games (which tend to be a rung cheaper than peer games on the Strip, there's a bingo hall, a sportsbook, and even live keno.
The Verdict: Is Palace Station's Studio Suite Worth Reserving?
I found the Studio Suite at Palace Station to be a great value. No, it isn't flashy, but at around $150 – $200/night it's a bargain.
For the extra $30-$40/night when compared to a standard room, the Studio Suite offers 60 additional square feet of space, a 4-seat dining room table with one heck of a view, and a position at the end of the hotel hallway, meaning fewer shared walls with other rooms.
While the room is solid, the resort as a whole is a great home base.
Parking is free and not 45 miles from your hotel room.
There are dining options that range from quick serve to fancy, with various cuisine options.
The casino is legitimately nice and offers games like keno and bingo that are difficult, if not impossible to find, on the Strip. Minimum bets on the tables are also a notch lower than they'd be at a more "touristy" resort.
I think it's also important to point out that you don't need to gamble much to get free room offers in the future. I'm the definition of a low-roller and get free room offers mailed to me constantly, and Station Casinos doesn't charge resort fees on complimentary rooms – A huge perk.
If you're OK with being away from the action on the Strip and Fremont Street and want a quality room that won't break the bank, then give Palace Station a look. I think you'll enjoy your stay.
I'm a former software salesman turned Vegas aficionado. While the craps table is my preferred habitat, I pull myself away to explore new attractions, shows, restaurants, and outdoor activities around Las Vegas with the intent of sharing my experiences.
Ultimately, I just want to help folks plan a better trip and save a few bucks in the process.