Flamingo is an iconic property that has graced the center of the Las Vegas Strip since the 1940s when mobster Bugsy Siegel brought her life. While Siegel was "eliminated" not long after opening day, the resort he envisioned has stood the test of time.
Among my favorite properties on the Strip due to its prime location and competitive pricing, Flamingo has served as my home base on numerous occasions over the years. While I've always stayed in a recently renovated "Go" or "Flamingo" room, I was able to snag a Premium Room this time as a comp through Caesars Rewards.
As I had yet to experience the baseline suite, I excitedly reserved it. Below, I'll share my experience along with plenty of pictures!
Related: Hotels in Las Vegas with recently renovated rooms.
Flamingo Check-In Experience
While the check-in process at Caesars resorts is typically quick, this one was frustrating. Usually, guests have the option to either wait in line for a person or opt to use a self-serve kiosk to get their room keys. I'm typically able to skip the line and opt for a kiosk, allowing me to breeze through the process in minutes.
My experience at Flamingo was a touch more challenging, in part, because they have moved to an all-kiosk check-in experience. While I've always been a fan of self-serve kiosks, it was evident that many guests were unfamiliar with the process, which caused delays. Significant delays.
While there were about 20 total kiosks available, I'd estimate that 33% were out of service. Then there was a "traffic management" issue where the next guest in line frequently failed to realize that one, or more, of the working kiosks were available.
Now, Flamingo had a couple of employees there to both direct guests to the next open machine and assist those having issues, but they were so busy helping guests that there was nobody left to keep guests moving towards open machines.
Once I finally got to a kiosk myself, the machine repeatedly failed to read my driver's license. It took me 5-minutes to flag down an available employee who informed me "Yea, that machine doesn't work" and got me in line for one that did.
It was a minor inconvenience and I'm sure they're working to refine the process. Perhaps their hand was forced by the labor shortage, but it was a time-consuming and frustrating experience for me on that one particular day.
Alright – Onto better, and happier topics – The Premium Room!
Inside Flamingo's Premium Room
Historically, I've only stayed in Flamingo's baseline rooms which I feel deliver quality at a reasonable price point. Likely because it was a mid-week stay, I was able to level up and book a Flamingo Premium Room on a comp via the Caesars Rewards loyalty program. My room was on the 16th floor and offered a wildlife habitat/pool view.
On the way up to the room, I snapped a few pictures of the elevator lobby and the hotel hallway. I feel that the condition of common areas typically hints at what you'll find in the room.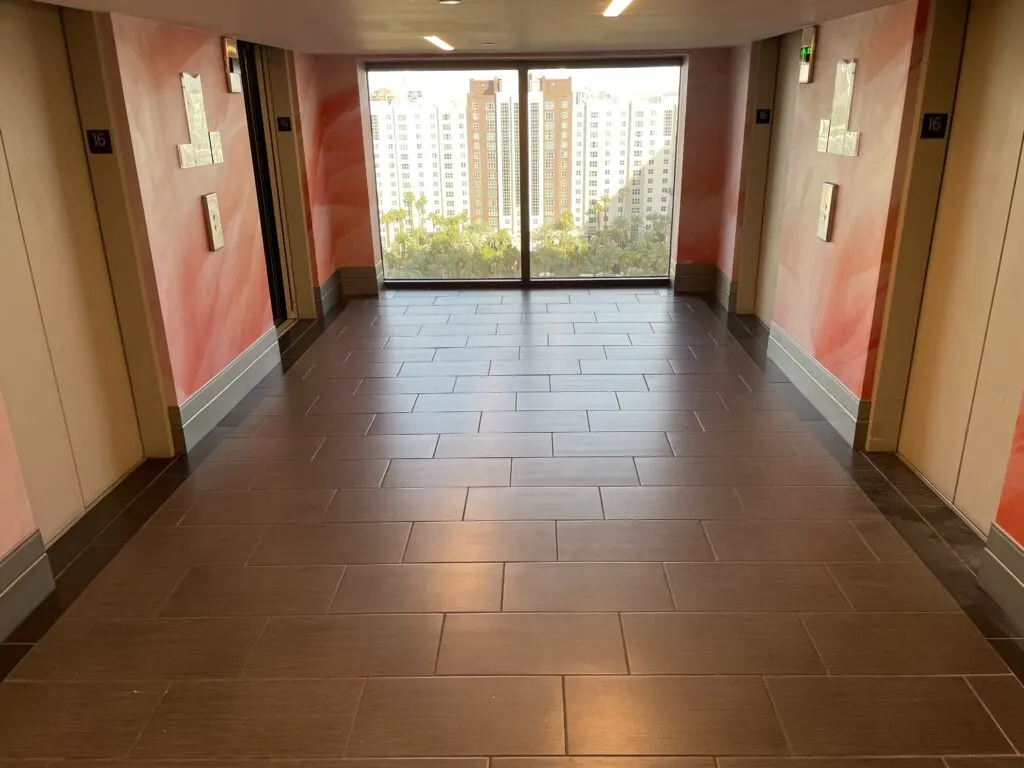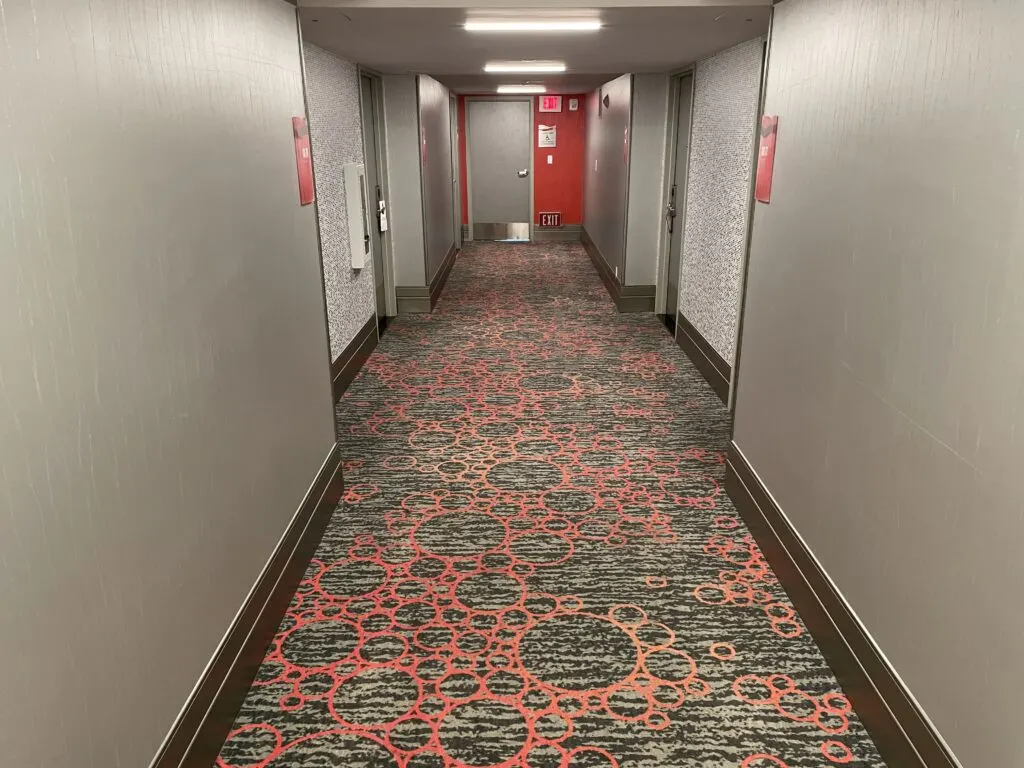 The Room
The Flamingo Premium Room offers 550 square feet of space, which felt much larger than the 350-450 provided by base-level rooms at the resort.
That additional space is dedicated to a living area that comes stocked with a circular couch, table, chair ottoman, and TV. All in all, the room offers 3 chairs in addition to the couch, meaning there's seating available for about 6 or 7 depending on how tight you pack in on the couch.
There is also a movable pink partition (pictured against the back wall below) that can be used to separate the bed from the living area.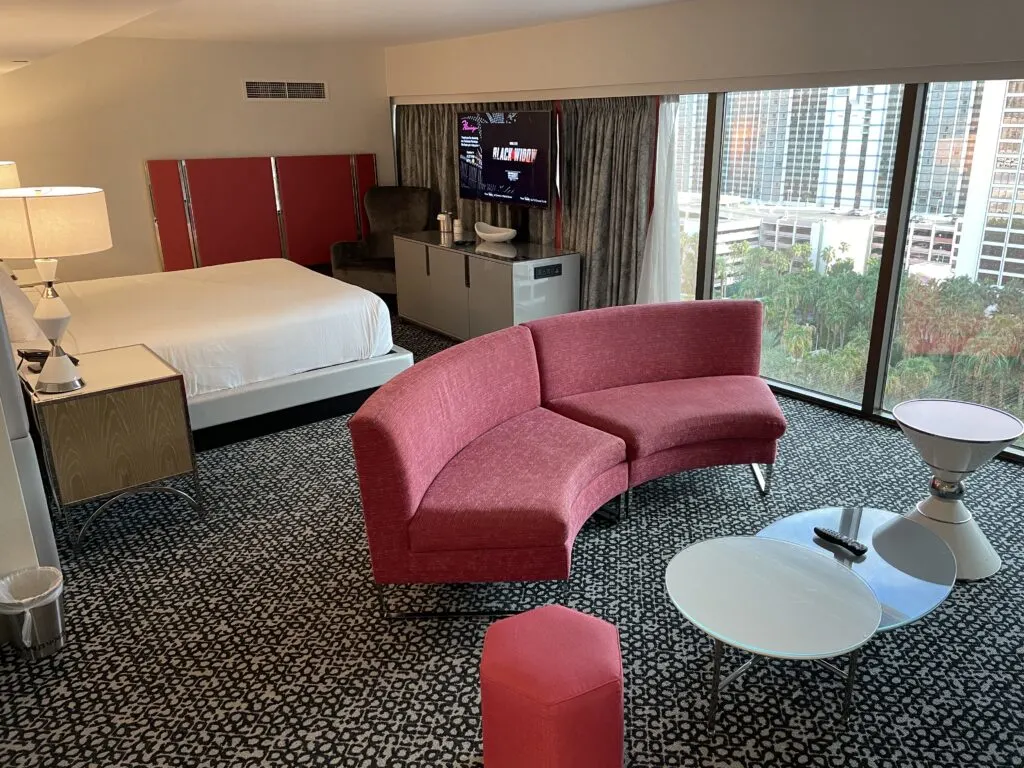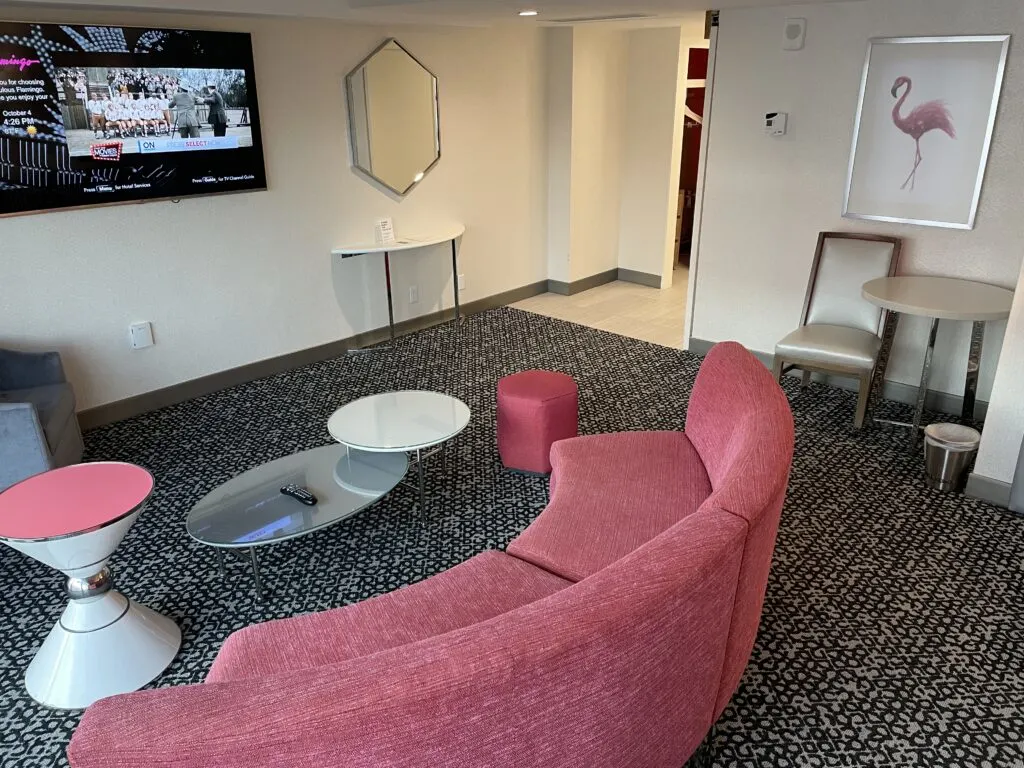 The bed was extremely comfortable and had its own TV positioned in front of it sitting atop a TV stand that came equipped with a safe and mini-fridge in the cabinets below. Built into each nightstand were both traditional outlets and USB charge ports.
In the front closet were an iron, ironing board, and a small dresser with 3 drawers.
Near floor-to-ceiling windows extended the full length of the room and offered views of Flamingo's pool and wildlife habitat below. At Flamingo, I prefer this view to the Strip.
Because my room faced away from the Strip, there was no noise seepage from outside and only faint sounds audible from the hallway. Sound from the hallway like doors, voices, etc. was likely muffled because the bathroom sat between the bed and the hall, creating a nice natural barrier.
Overall, I was thrilled with the room product and found the additional space to be worth the upgrade.
While the room was great overall, there were a few noticeable signs of wear and tear when looking closely albeit nothing that affected my stay negatively. Namely, there was a busted cabinet corner and a dusty fire sprinkler hole in the ceiling (both pictured below). Extremely minor in the whole scheme of things, but I know some people are pickier than I am.
The Bathroom
Found in the Premium Room's bathroom was what I deemed to be a stylish single sink vanity that was well lit. Underneath were spare towels and a hairdryer. While a small bar of soap is provided on the countertop, the lotion is found in a dispenser next to the sink alongside a personal mirror.
The white subway tile shower was pretty basic and came with a glass partition that only extended about half the length of the shower. For the life of me, I can't figure out how to avoid getting water everywhere with this specific shower type.
Instead of providing travel-sized bath products, 3 dispensers were provided in the shower that were stocked with shampoo, conditioner, and body wash.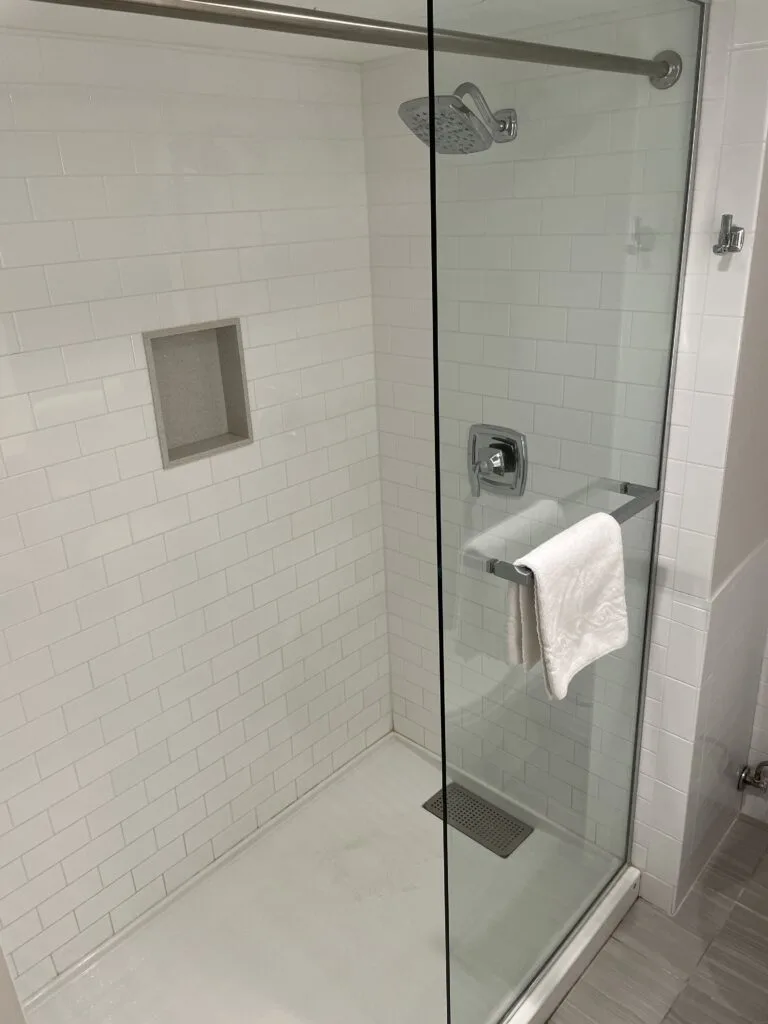 While not a huge issue for me, the corners of the shower were a bit dingy, continuing the "clean, but not quite 100%" trend we observed in the room.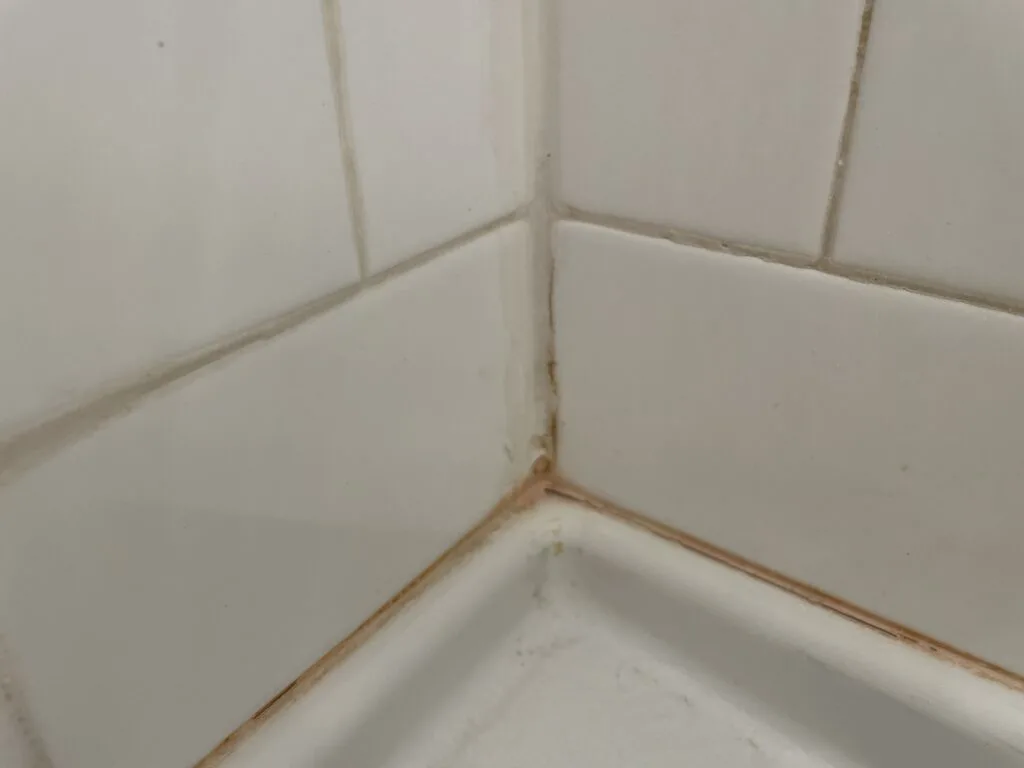 The Pool at Flamingo
Among our favorite amenities at Flamingo is the pool scene, which is as upbeat as it is visually appealing. Complete with palm trees in the middle of the pool, a grotto, and waterfalls, the pool complex is built to impress.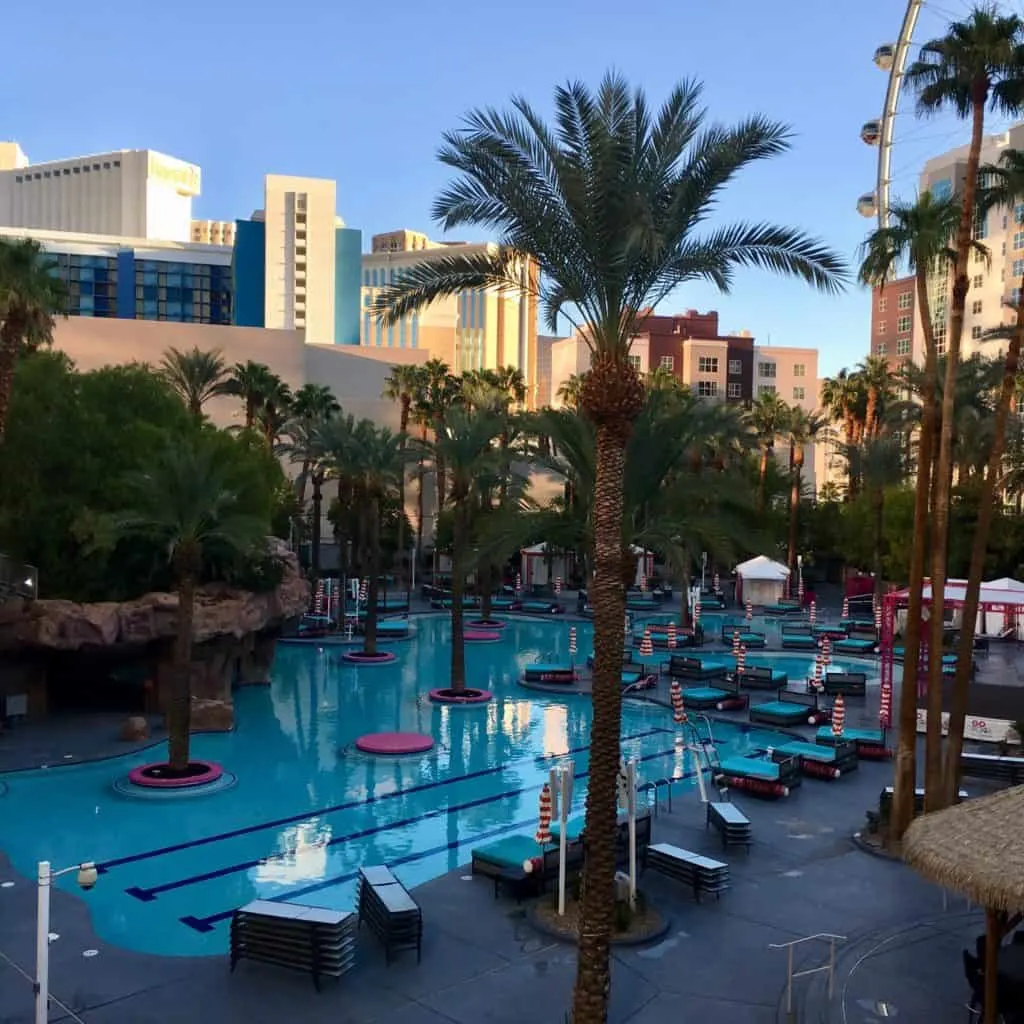 It is important to point out that Flamingo's GoPool is more of a party atmosphere. If you prefer a quieter, laid-back pool scene, you'll want to visit Flamingo's separate Beach Club Day Pool instead.
Is The Flamingo Premium Room Worth the Money?
My vote is a resounding "yes". While there were some minor wear and tear issues, Flamingo's Premium Room is an affordable suite that provides additional space and seating. At a mid-tier property like Flamingo, you expect to see a few dings here and there and I found the room to be exceptionally clean outside the few minor details pointed out.
As the suite comes with a mini-fridge, the room makes for a great spot to lounge or pre-game with friends before a night out on the town.
If you aren't working off a complimentary stay like I was, you can expect to pay about 30% more for the Premium Room when compared to a standard accommodation. Whether or not the room is worth paying up for boils down to whether you can put the additional space, TV, and seating to use.
See Also: Check out some of our other room reviews:
I'm a former software salesman turned Vegas aficionado. While the craps table is my preferred habitat, I pull myself away to explore new attractions, shows, restaurants, and outdoor activities around Las Vegas with the intent of sharing my experiences.
Ultimately, I just want to help folks plan a better trip and save a few bucks in the process.