Key Points:
While this suite was recently renovated, it was clear that the work was surface-level, with aspects of the room left untouched.
Key amenities included a 4 person tub in the bedroom, a large living area, and a stylish accent wall.
The Suite was a bit "rough around the edges", but is a good option for those who want extra square footage at an affordable price.
I'm a sucker for value and am naturally drawn to properties like Luxor which commonly offers rooms at a comparatively low price point.
Luxor refreshed a number of their pyramid rooms in 2021, and I've been jonesin' to get into one ever since.
From the photos I had seen, the renovated rooms received a new vibrant accent wall, new furnishings, decor, and carpet. All of the changes moved the hotel further from its previously embraced Egyptian theme.
On a recent trip, I was able to book a complimentary night in one of Luxor's recently renovated Pyramid Corner Suites thanks to my gambling activity within the MGM Rewards loyalty program. All I had to pay was the $35 resort fee.
The Corner Suite I selected was the "big" version. The big Pyramid Corner Suite offers an impressive 850 square feet vs the 590 offered by the normal "non-big", standard corner suite in Luxor's Pyramid.
Luxor Check-In Experience
The ease of check-in is one of my favorite aspects of staying at an MGM resort.
The night before my stay, I was prompted to check in via the MGM Resorts phone app. The next day, I was then alerted when my room was ready and the digital key was available for use.
Although Luxor's standard check-in time is 3 pm, I received an email the day of my stay at 7 am from Luxor alerting me that my room key was ready. Now, I've stayed in countless rooms in Las Vegas and this easily qualifies as the earliest complimentary check-in I've been allowed.
Not all resort chains in Vegas go out of their way to let guests *that didn't pay for early check-in* know that their room is ready for them early. Kudos to MGM, as it seems that more often than not that I'm able to get into my room a little early – Or in this case, extremely early.
I also can't stress enough how much I appreciate the fact that MGM allows you to check in, and access your room key from their phone app. The fact that guests never have to wait in line or talk to a human is a massive convenience.
Here's what the virtual room key looks like:
Inside Luxor's Big Pyramid Premier Corner Suite
I was unfortunately only on the 5th floor of the hotel, so I wasn't able to take the inclinator, or elevator that climbs the pyramid wall diagonally. Instead, I was stuck using a run-of-the-mill elevator that moves straight up and down. Boring, but oh well.
The hotel hallways in Luxor's pyramid are among the more unique in Las Vegas, offering views of the cavernous casino atrium below. I only wish I was placed on a higher floor.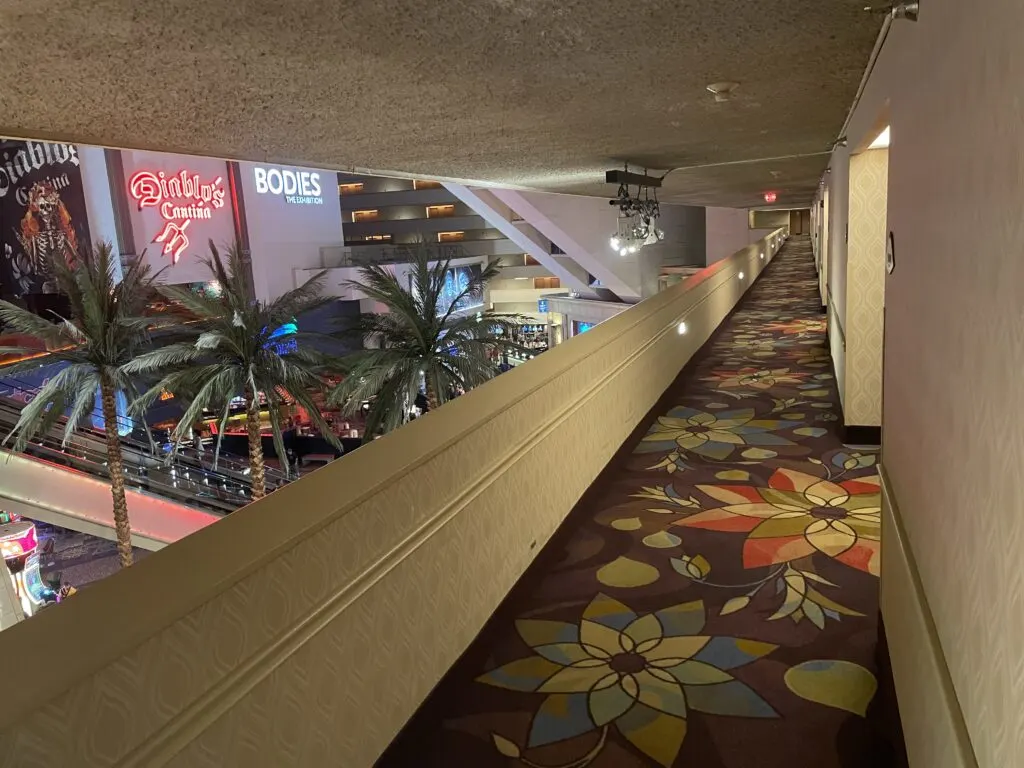 Now, let's dig into the room itself, shall we?
The Pyramid Premier Corner Suite is pretty large, with a separate living area and bedroom, although the two rooms aren't completely separated by a door.
My immediate thought upon entering the Pyramid Premier Corner Suite revolved around how spacious it felt.
My second observation was how warm it was (more on that in a second).
The Bedroom
The focal point of the room is a large, bright, and busy accent wall behind the bed which does a nice job of making the room less bland from a decor perspective.
Although the shades were drawn, the sun was beating down on my particular side of Luxor, and the 2 air conditioning units in the suite were having a difficult time keeping up. Once the sun shifted, things got much cooler.
The bedroom, which was partially partitioned from the living area had a king bed facing a TV sitting atop a dresser.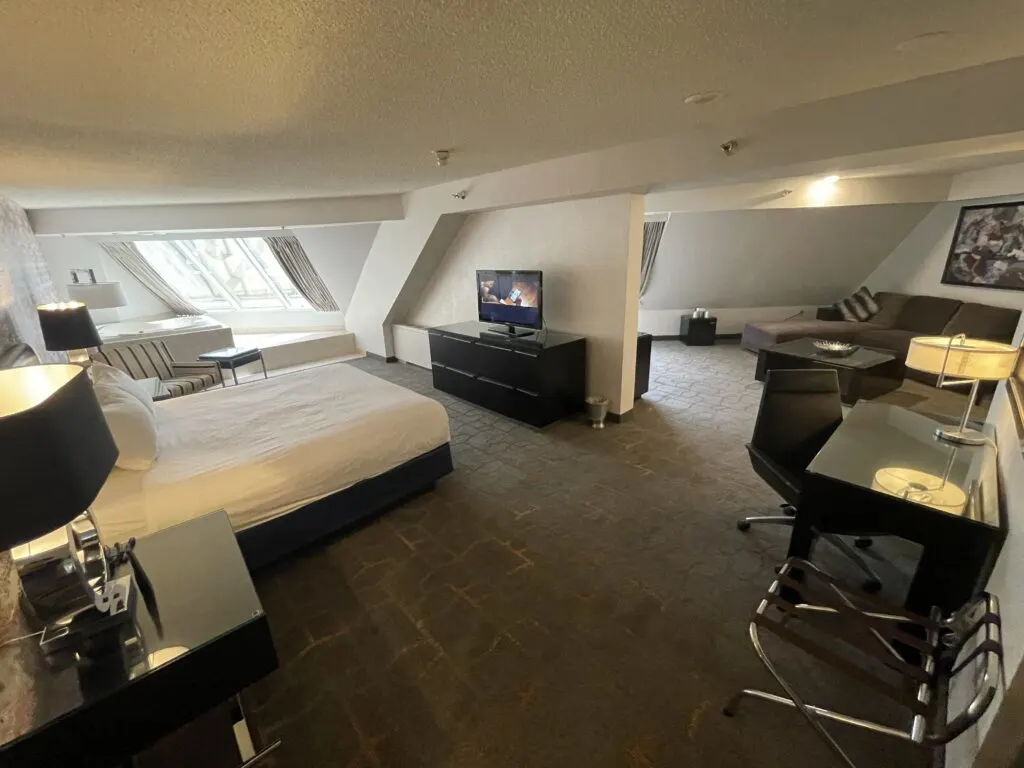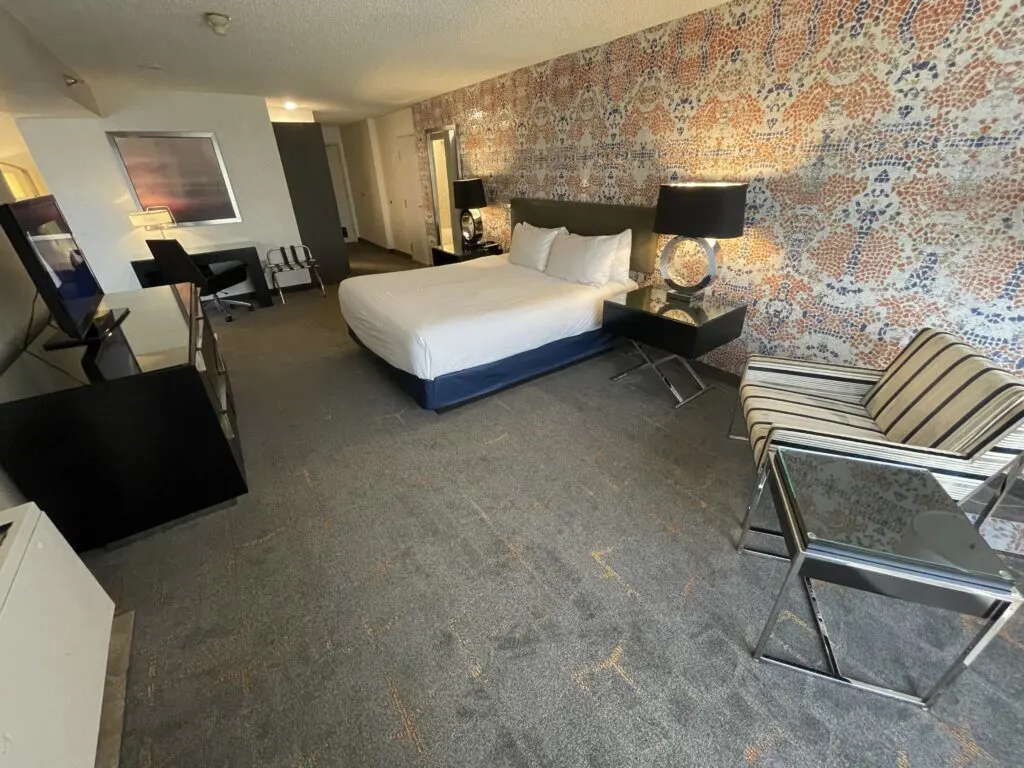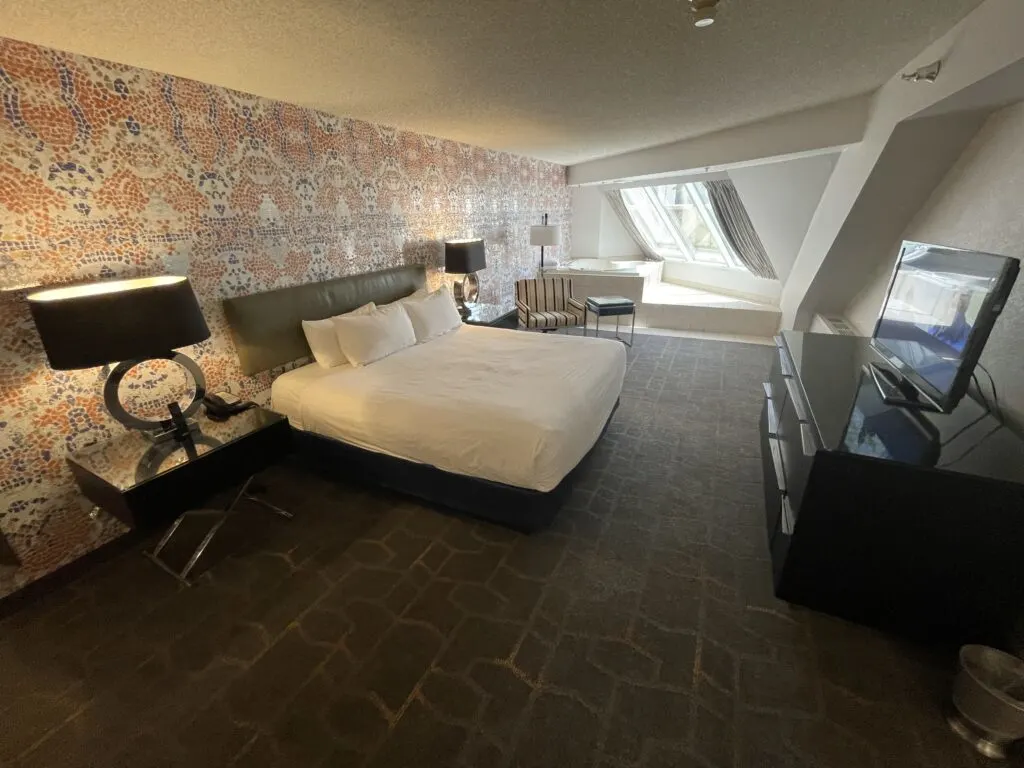 In my opinion, the signature amenity of this suite is the 2-person bathtub which is located in the bedroom itself on a tile platform with a view of the Strip.
For those into this type of thing, the tub could make the room worth booking on its own.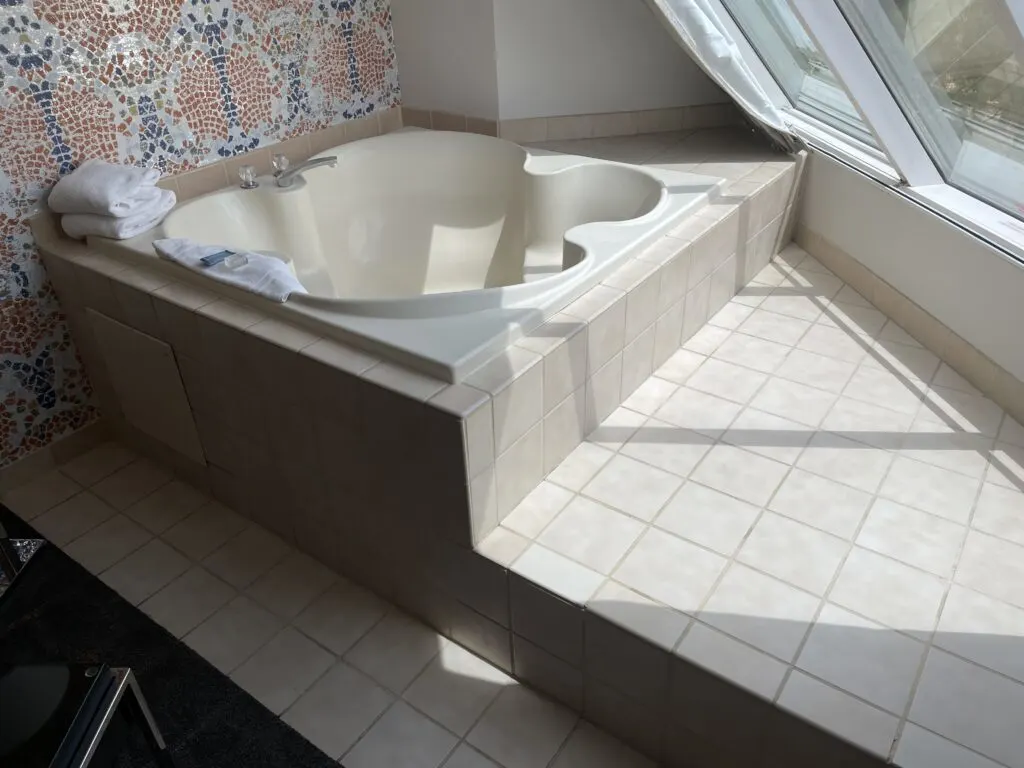 Here's a closer look inside that massive tub. Unfortunately, it didn't have jets, which would've been a welcome addition after trekking up and down the Strip all day.
For you oddballs that look to contribute to society and work while in Las Vegas, there was a workdesk in the suite as well.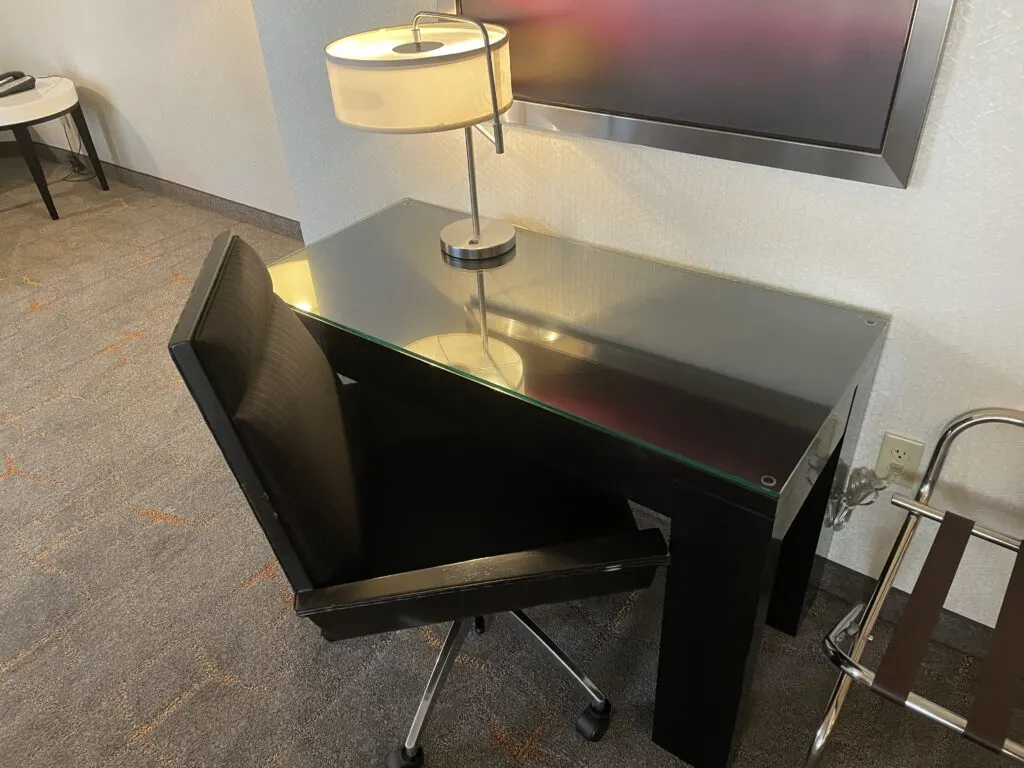 Living Area
While lacking any amazing bells and whistles, the living area is functional and serves its purpose as a spacious spot to relax and watch TV.
The furniture was in great shape and was almost certainly a new addition as part of the recent renovation work.
While an empty fridge is a welcome addition to any room, this one was oddly placed along the wall in the living area, with the cord stretched to its limit, extending to the outlet.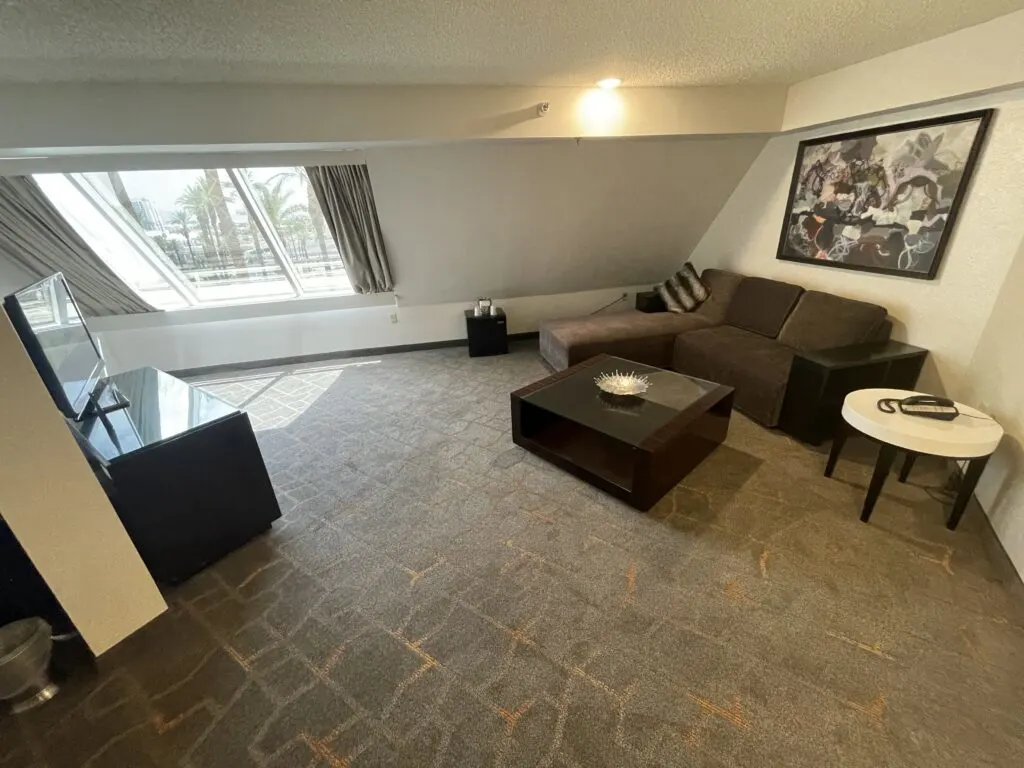 The Bathroom
The best way to describe the bathroom within the suite is "utilitarian". Like the living area, there is no signature amenity, heck, there wasn't even a towel rack.
The bathroom, sans a dusty exhaust fan cover, was exceptionally clean which is all I really cared about, and fulfilled its role well as a place to take care of business & clean up.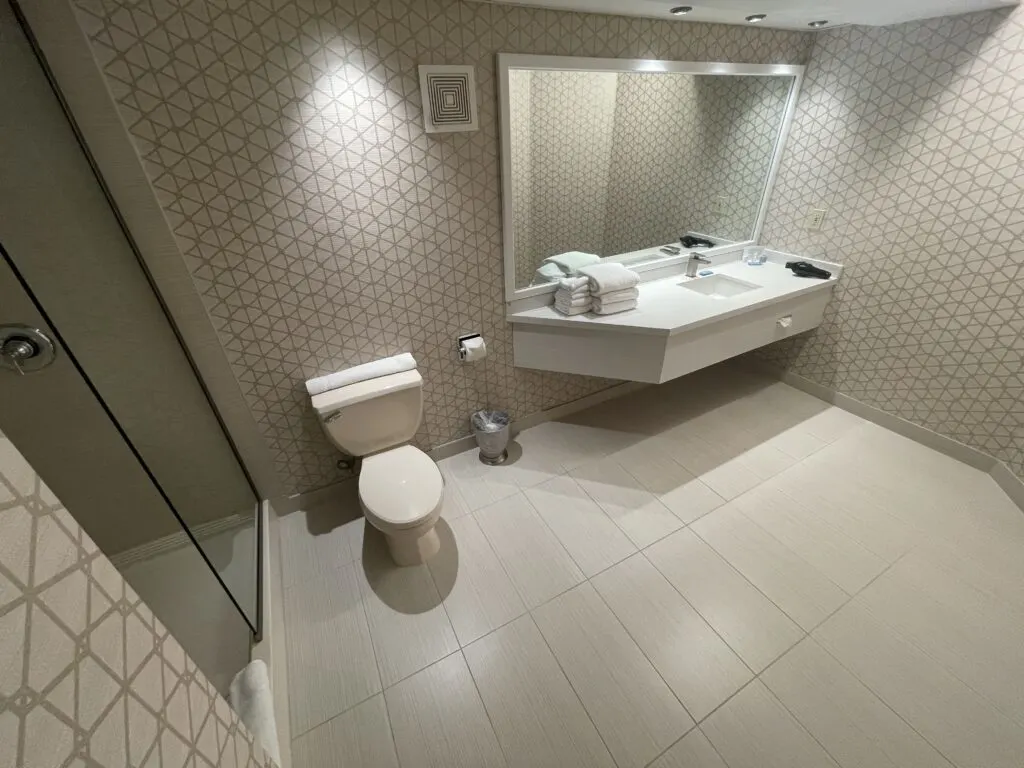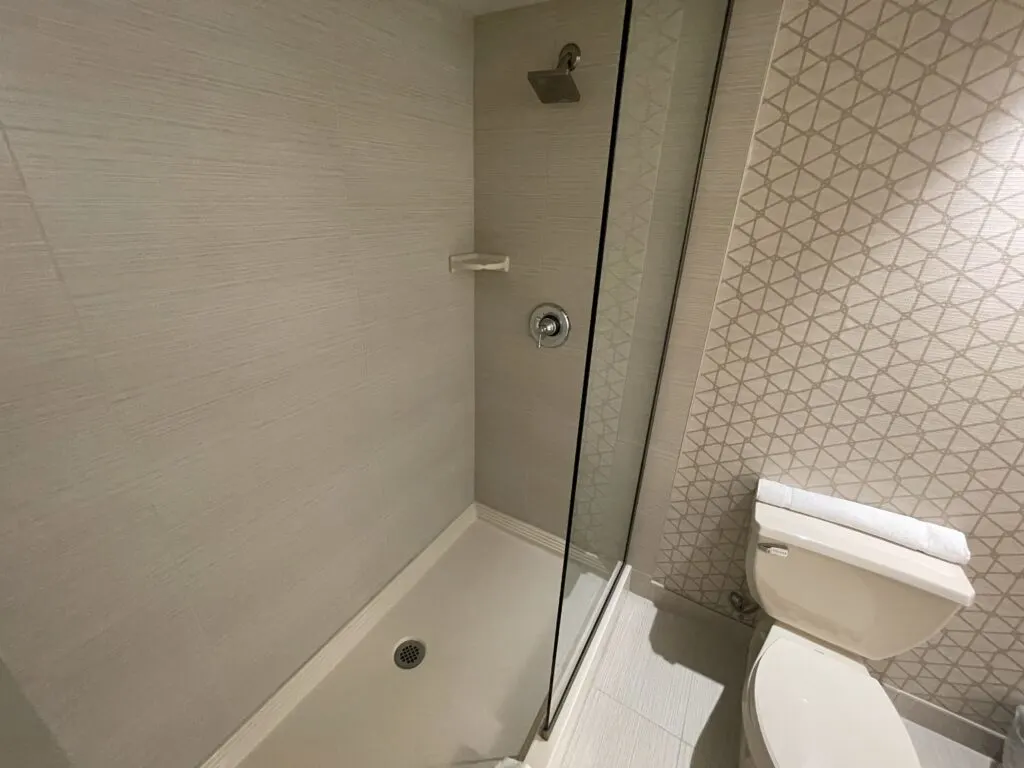 Sounds Solid, What's Not To Like?
While this is a recently refurbished room, it's pretty clear that the renovation only went so deep and wasn't a full overhaul.
While I didn't necessarily expect a "brand new" room at the price point, I know that some readers are pickier than I, so it's only fair to point potential deficiencies out.
While the furniture, carpet, wallpaper, and colorful accent wall in the bedroom are all new, and in great condition, other items like the two HVAC units, light switch covers, and the popcorn ceiling appeared to be original and untouched.
The A/C units in particular seemed to be struggling to keep up with the summer heat and sun.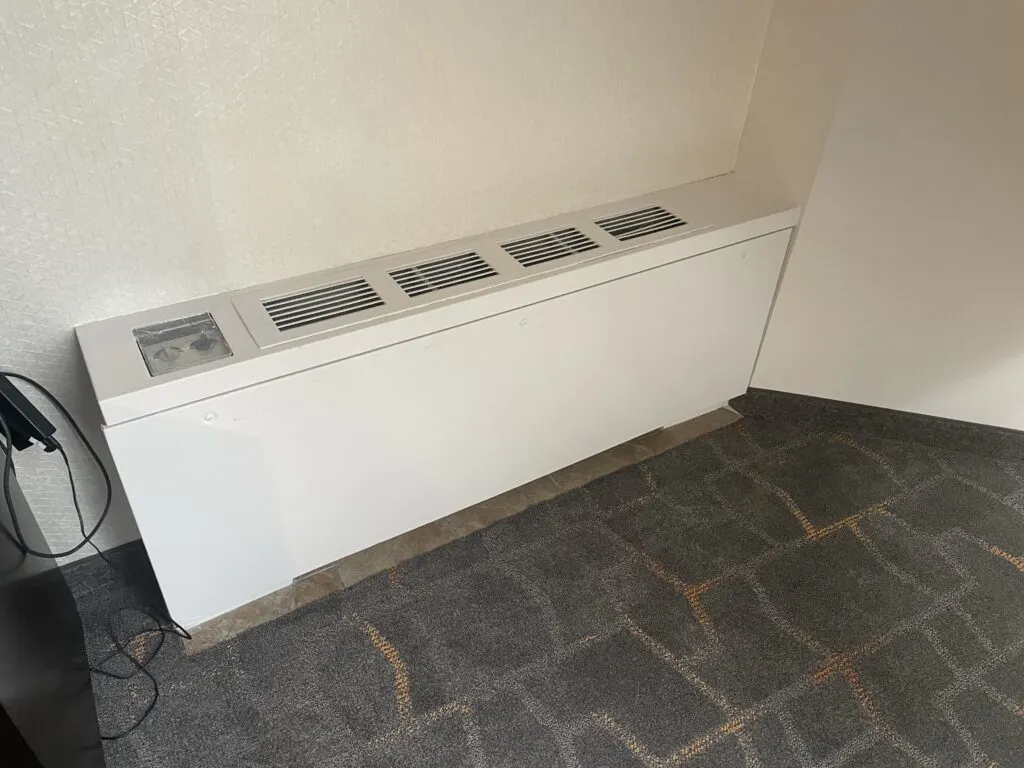 There were also some cleanliness and overall polish items that were a bit of a miss.
For instance, the popcorn ceiling seemed to have sustained some damage at some point and had been left unrepaired.
Although 99% of the bathroom was exceptionally clean, this bathroom fan cover seems to have been neglected.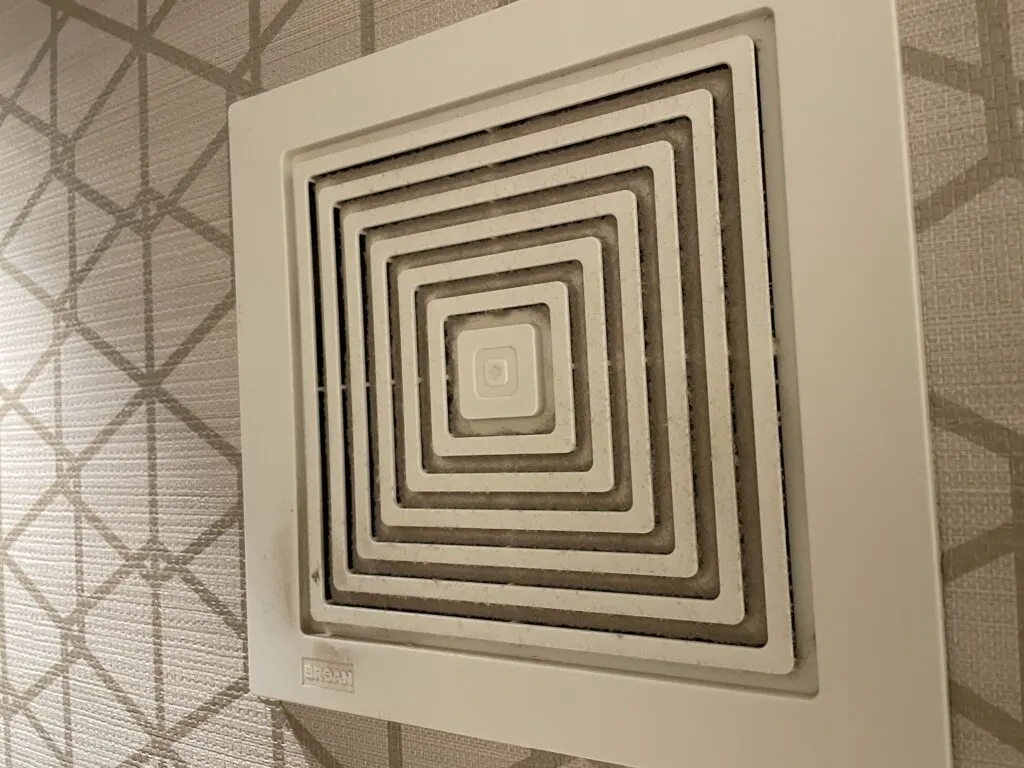 There were also 2 or 3 wall scuffs like the one below within the suite.
As mentioned, this room also gets a bit toasty during the day if you're receiving direct sunlight. Even with the blinds closed, that heat was radiating through the windows. Keep in mind that I stayed in mid-July, so fall, winter, and spring stays may be more tolerable.
Luxor Las Vegas Resort Highlights
Esports Arena: If you're traveling with kids, Luxor's HyperX Esports Arena provides the opportunity to game for an hourly rate. They even have retro consoles like Atari, Sega Genesis, NES, and more.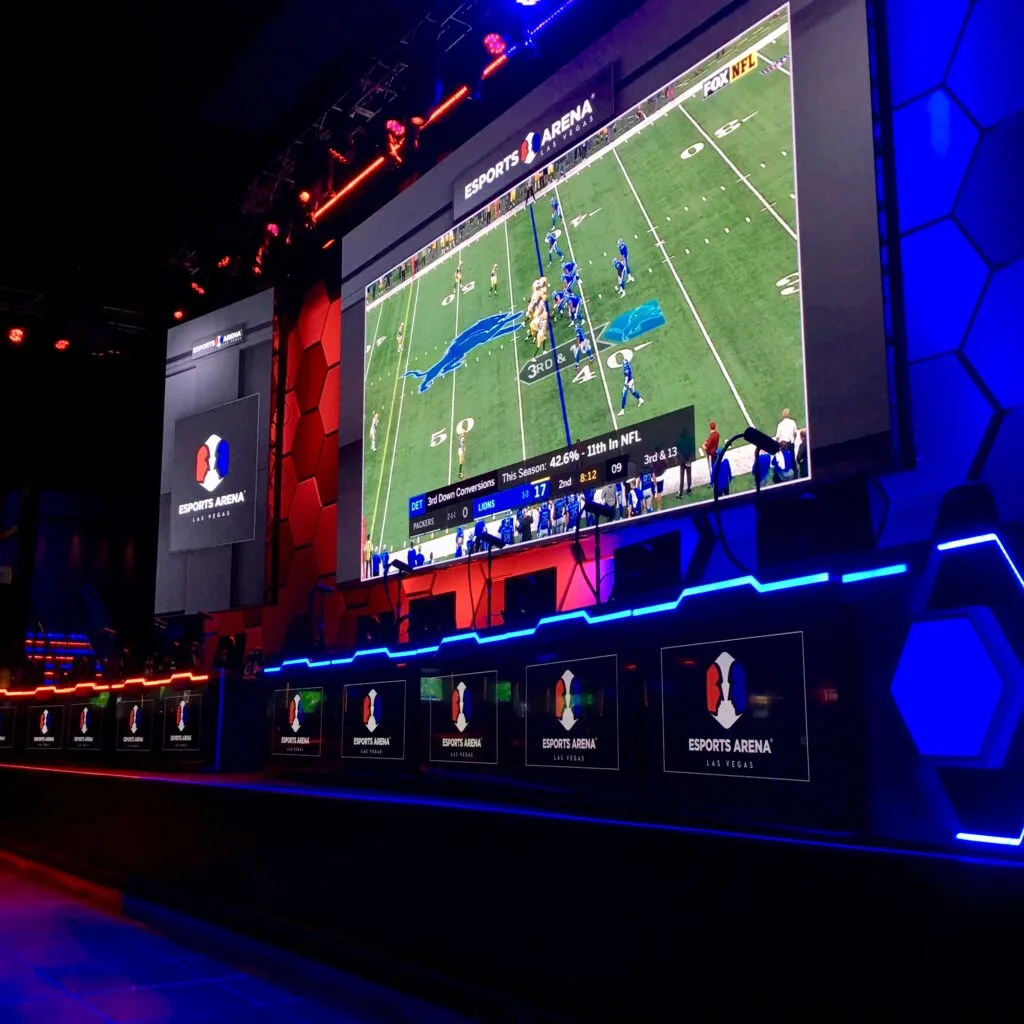 Pyramid Cafe: Ranking as one of my favorite spots to eat cheap on the Strip, Pyramid Cafe serves a collection of breakfast, lunch, and dinner items at a price point under $20. My wife and I gorged ourselves on a couple of burgers and enjoyed the experience.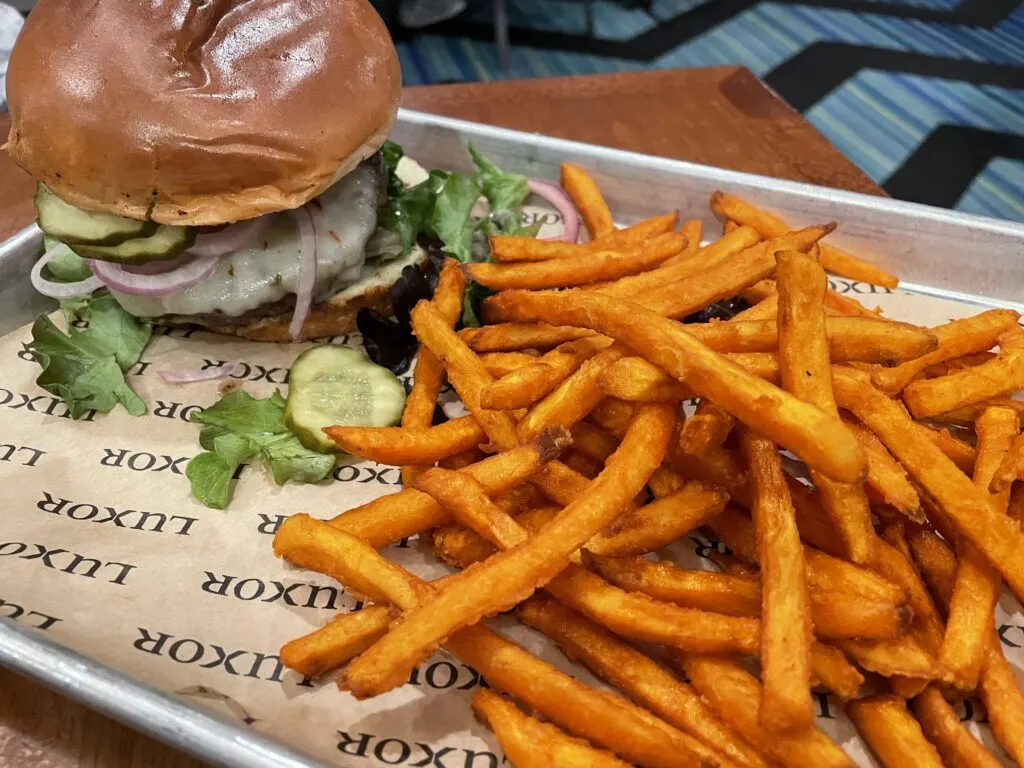 Theming: In a city where elaborate themes have gone the way of the dodo bird, Luxor still carries a strong Egyptian identity that makes for some great sightseeing and photo opportunities.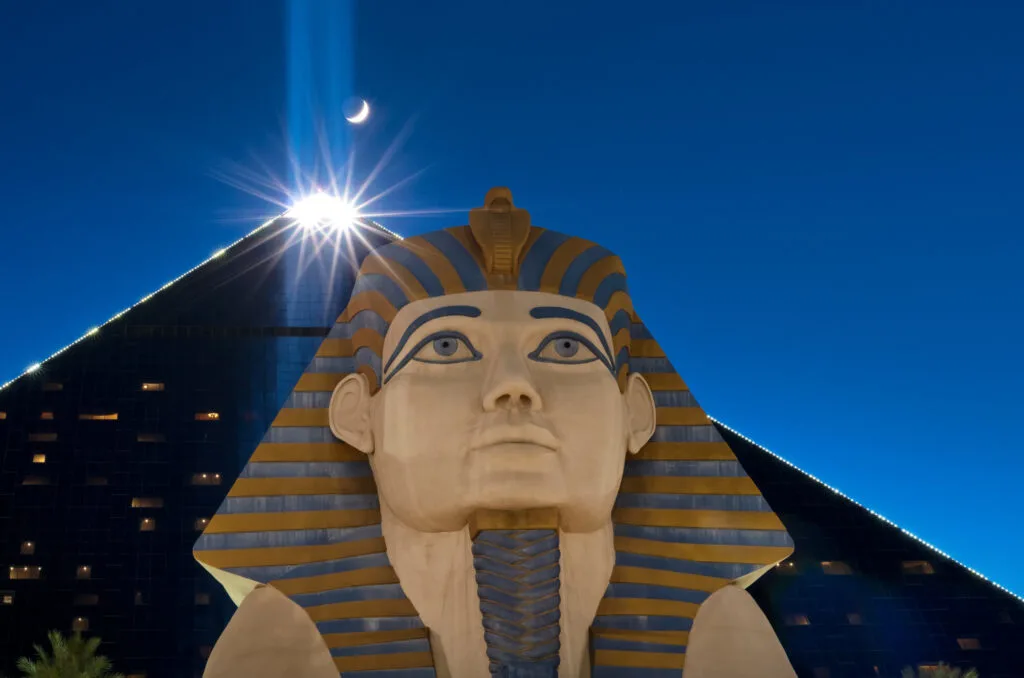 Free Trams: Obviously, you'll want to visit nearby resorts. Luxor is connected to both Mandalay Bay to the south, and Excalibur to the north by a free tram that runs on an elevated track.
Once you make it to Excalibur, you're steps away from NYNY, Tropicana, and MGM Grand.
If on the other hand, you're looking for a budget-friendly suite with plenty of space right on the Las Vegas Strip and don't mind a few minor deficiencies here and there, then the Pyramid Premier Corner Suite could be a great value.
There are also a good number of folks that actively seek out hotel rooms with 2 person tubs in Las Vegas, and this room clearly fits the bill.
Ultimately, for value seekers, it doesn't get much better than a room this size at a price point that typically hovers between $80 – $130 per night.
Related: See more options like this on our breakdown of Cheap Suites in Las Vegas.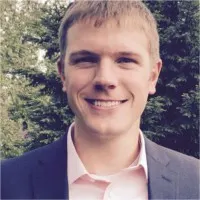 I'm a former software salesman turned Vegas aficionado. While the craps table is my preferred habitat, I pull myself away to explore new attractions, shows, restaurants, and outdoor activities around Las Vegas with the intent of sharing my experiences.
Ultimately, I just want to help folks plan a better trip and save a few bucks in the process.