Key Points:
Easy's Speakeasy is located in the upscale Proper Eats Food Hall.
The clandestine cocktail lounge is tucked behind Easy Donuts, an actual donut and coffee shop during the day.
Inside, guests are treated to an elegant 1920s atmosphere and live jazz music nightly.
A hot trend in Las Vegas, speakeasy experiences are popping up almost everywhere.
Aria recently jumped on the trend, introducing Easy's Cocktail Lounge, a speakeasy, which is a part of their Proper Eat's Food Hall.
Proper Eats offers an enhanced experience when compared to a traditional run-of-the-mill food court, serving higher-end food options that include ramen, pizza, burgers, sushi, deli sandwiches, Mediterranean fare, and even Koren street food.
Hidden behind the facade of one specific outlet though lies Easy's, a Speakeasy that isn't immediately obvious to passersby.
I thought it would be helpful to write a quick guide to finding, and getting into, Easy's Cocktail Lounge at Aria.
Where is Easy's Cocktail Lounge at Aria?
As mentioned, Easy's Speakeasy is found in the Proper Eats Food Hall, which recently opened and calls Aria's former buffet space home.
The cocktail lounge is found behind Easy Donuts, an actual bakery specializing in coffee and… you guessed it… donuts.
As you get closer, you'll notice that in between the "EASY" lettering on the back wall is the word "speak", providing a subtle hint that there's more to this place than meets the eye.
At night, the donut shop is nothing more than a facade, concealing, and acting as an entry point for the clandestine cocktail lounge that lies behind the counter.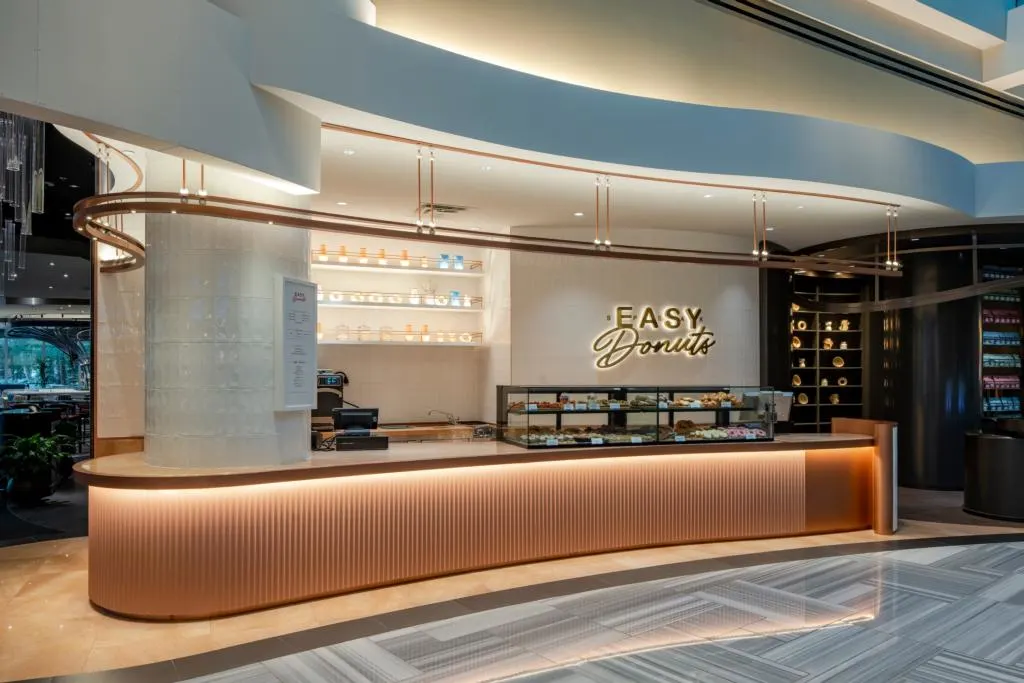 How to Get Into Easy's Speakeasy at Aria
Unlike other Las Vegas speakeasies, there isn't a gimmick, secret password, or puzzle that you need to solve to gain entry.
Simply show up at the donut shop facade, and find the queue to enter. There will be an employee there to assist and answer questions.
As Easy's is a smaller venue, I'd recommend that you make reservations, here to avoid an extended wait.
The venue opens at 6 pm Thursday – Monday (closed Tuesday and Wednesday) – In my experience, arriving right when a Las Vegas speakeasy opens is a great way to assure that there will be a seat available.
A Look Inside Easy's Cocktail Lounge
Once inside, guests are transported to an elegant 1920s-era speakeasy environment that boasts a backlit bar, dark wood accents, and floral patterns on both the floor and ceiling.
She's a legitimate show-stopper.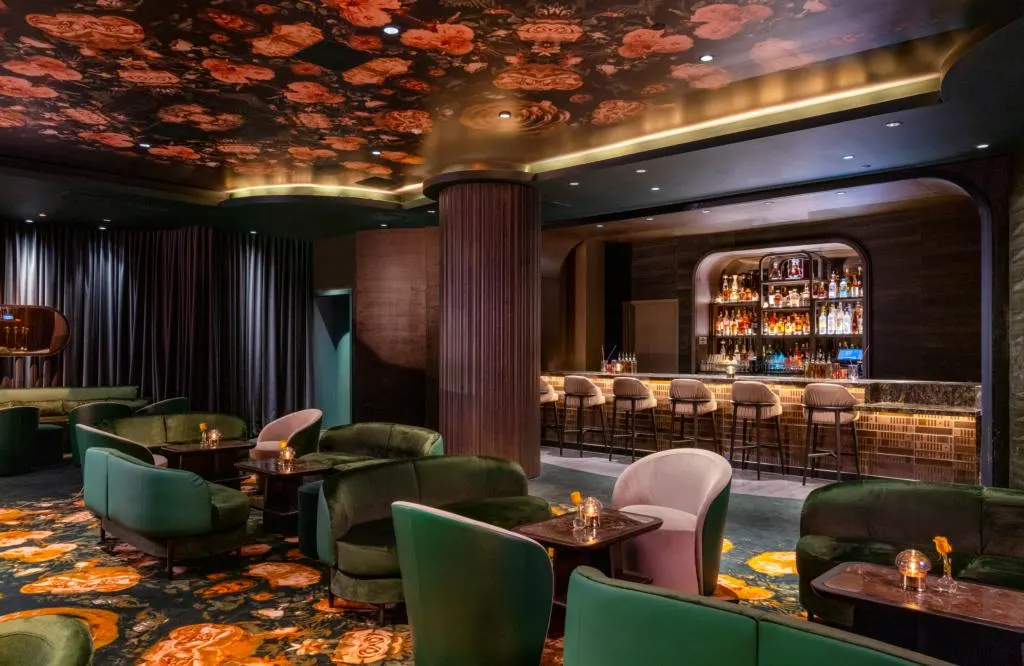 Contributing to the 1920s vibe, Easy's Cocktail Lounge offers live uptempo jazz performances nightly.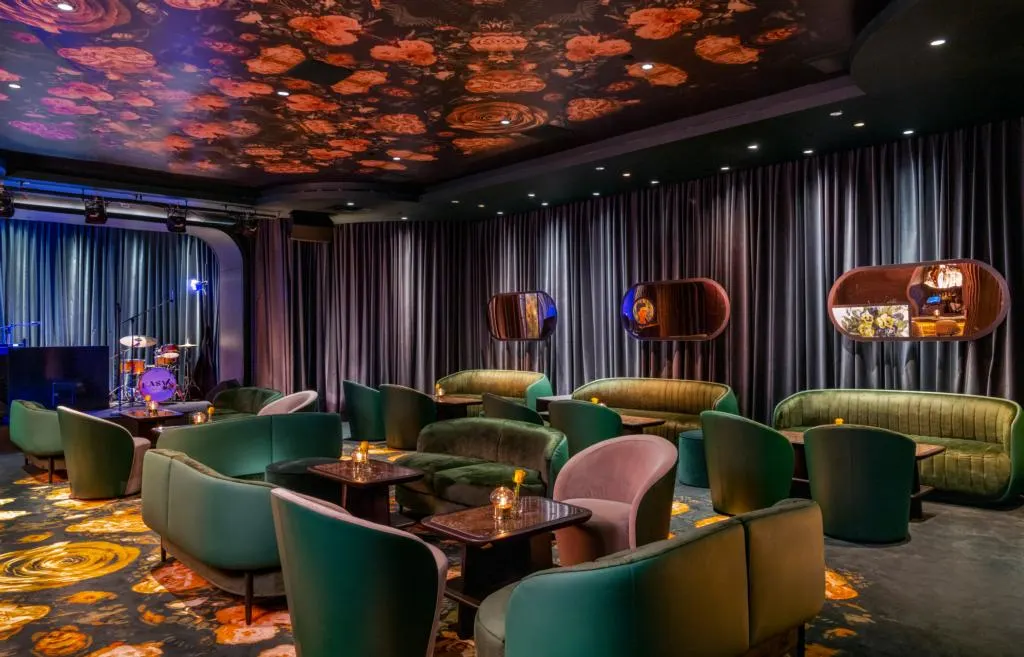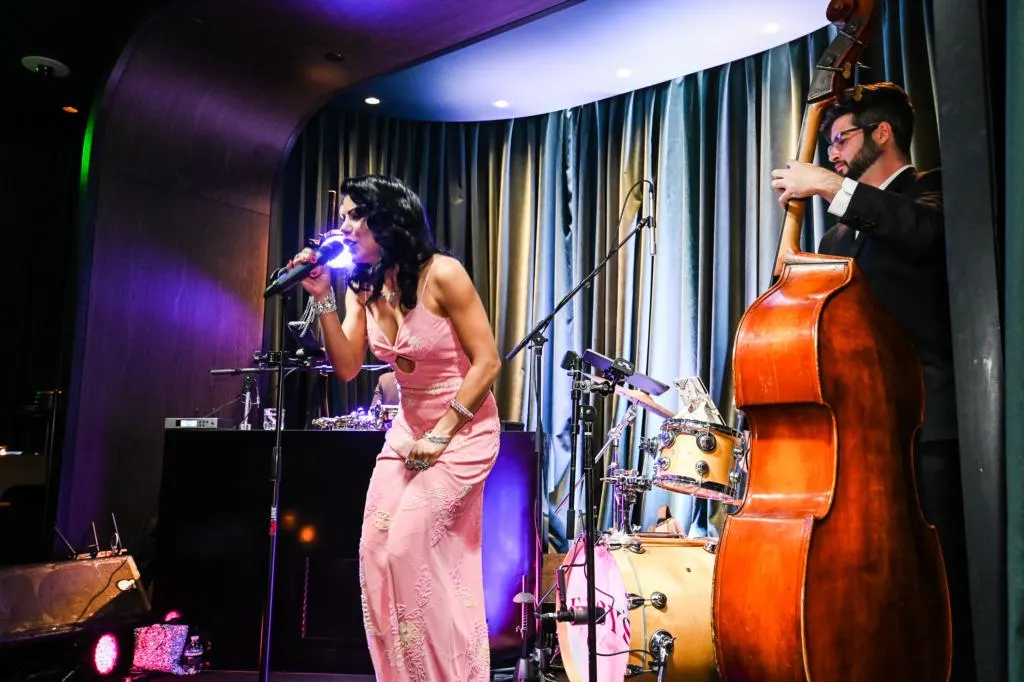 While common cocktails like an old-fashioned, a margarita, a mint julep, and a Manhatten are on the menu, I'd encourage you to branch out and try one of their exclusive concoctions.
One of the more unique options is the "3 Lil Bears", pictured below, which is comprised of Belvedere Vodka, cranberry, canteloupe, honeydew, Solermo, lime, and prosecco served with 3 watermelon bears in the glass.
Most cocktails on the menu land in the $20-$30 price range – View the menu, here.
Want to impress on date night? Try one of Easy's three "Show Stoppers", each of which costs $75.
Better described as a cocktail experience, each of Easy's "Show Stoppers" are a conversation starter in and of themselves, boasting an impressive presentation.
Easy's "Smoke Show", pictured below, is made from Angel's Envy Bourbon, banana liqueur, sweet vermouth, chocolate bitters, tobacco-wrapped chocolate, and 2 boxes of sugary candy cigarettes.
The drinks are served in pipe-shaped glasses alongside smoldering dry ice in a cigar box.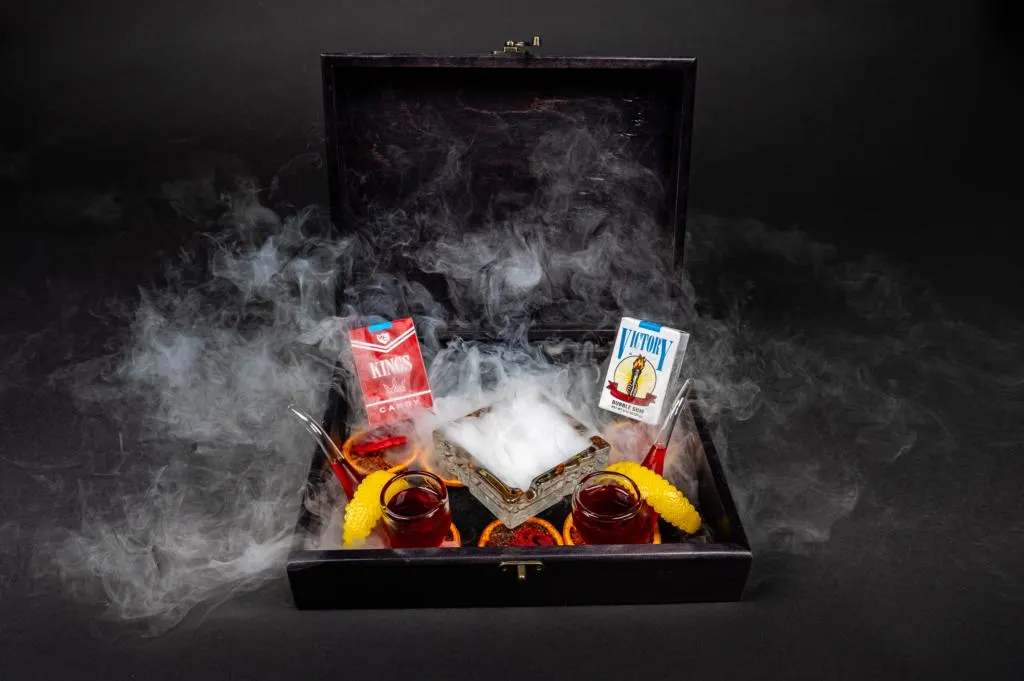 Another notable "Show Stopper" that would be perfect for couples is "Shroomin", which is served in two dry herb sugar-rimmed mushroom-shaped glasses on a foliage-covered wooden tray.
The drinks are made from gin, matcha, lemon honey, and dry ice.
For those of you that are less adventurous, Easy's also serves a selection of wine and beer that includes options like Bud Light, Corona, Shock Top, Stella, and Modelo Especial among others.
Hopefully, I was able to help you find, get into, and determine if Easy's Speakeasy at Aria could be a good fit!
The cocktail lounge does an expert job of taking guests from a bustling casino food hall and instantly transporting them through time to the 1920s prohibition era.
The lounge is elegant and serves a number of one-of-a-kind cocktails that can't be found elsewhere.
With live music offered nightly, this intimate cocktail lounge could make for the perfect date night in Las Vegas or nightcap destination.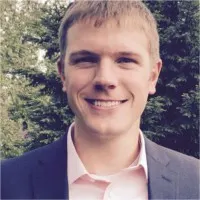 I'm a former software salesman turned Vegas aficionado. While the craps table is my preferred habitat, I pull myself away to explore new attractions, shows, restaurants, and outdoor activities around Las Vegas with the intent of sharing my experiences.
Ultimately, I just want to help folks plan a better trip and save a few bucks in the process.