Hidden bars are popping up all over Las Vegas, appealing to those that like a little challenge before indulging in a cocktail.
Cosmopolitan, also home to both The Ski Lodge and Ghost Donkey, boasts a third clandestine cocktail lounge, The Barbershop Cuts & Cocktails.
To the unknowing passer-by, the speakeasy bar looks like a run-of-the-mill barbershop, but because you're here, you'll soon know that there's more than meets the eye.
Below, I'll show you how to find The Barbershop speakeasy at Cosmopolitan with pictures.
How to Get Into The Barbershop Speakeasy
Finding the entrance to The Barbershop is easy IF you know where to look. First, you'll want to navigate to The Barbershop Cuts & Cocktails which is located in the front of the Casino, near the entrance closest to Bellagio.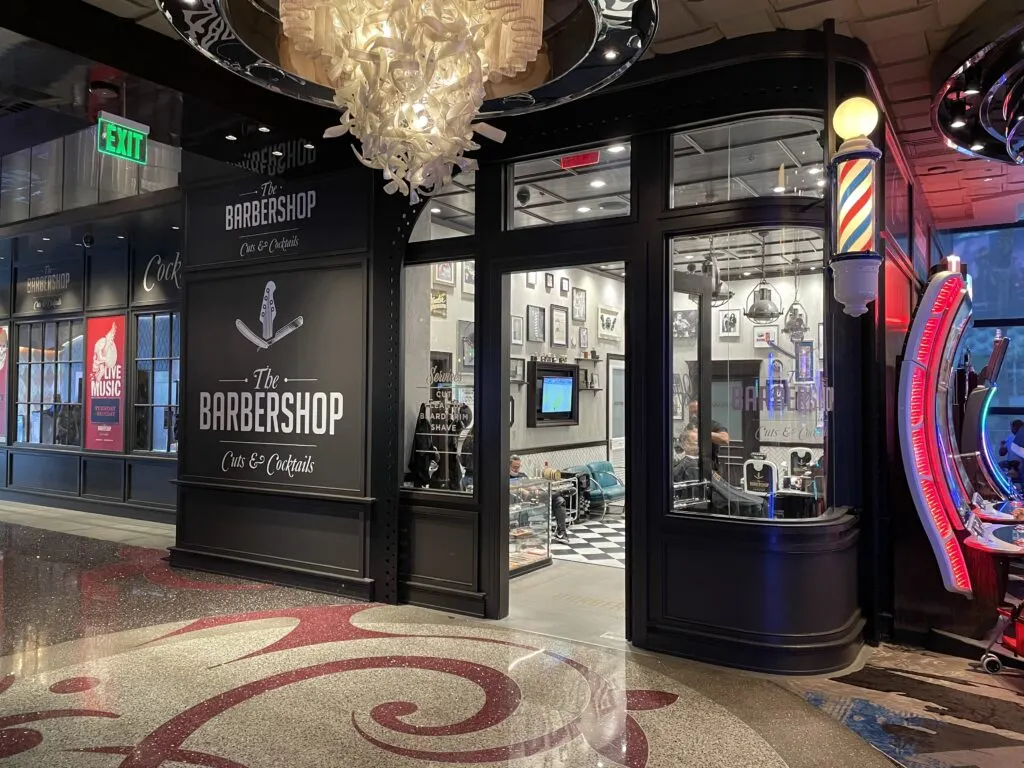 The "front business" concealing the speakeasy is a functioning barbershop with a vintage feel.
If you're in the market for some grooming, a haircut will set you back $75 and other services are available that include a hot lather shave. Check out the full hair care menu here.
Back to the hidden bar. To get in, you'll first want to find the nondescript door in the back left corner of the barbershop labeled "Janitor".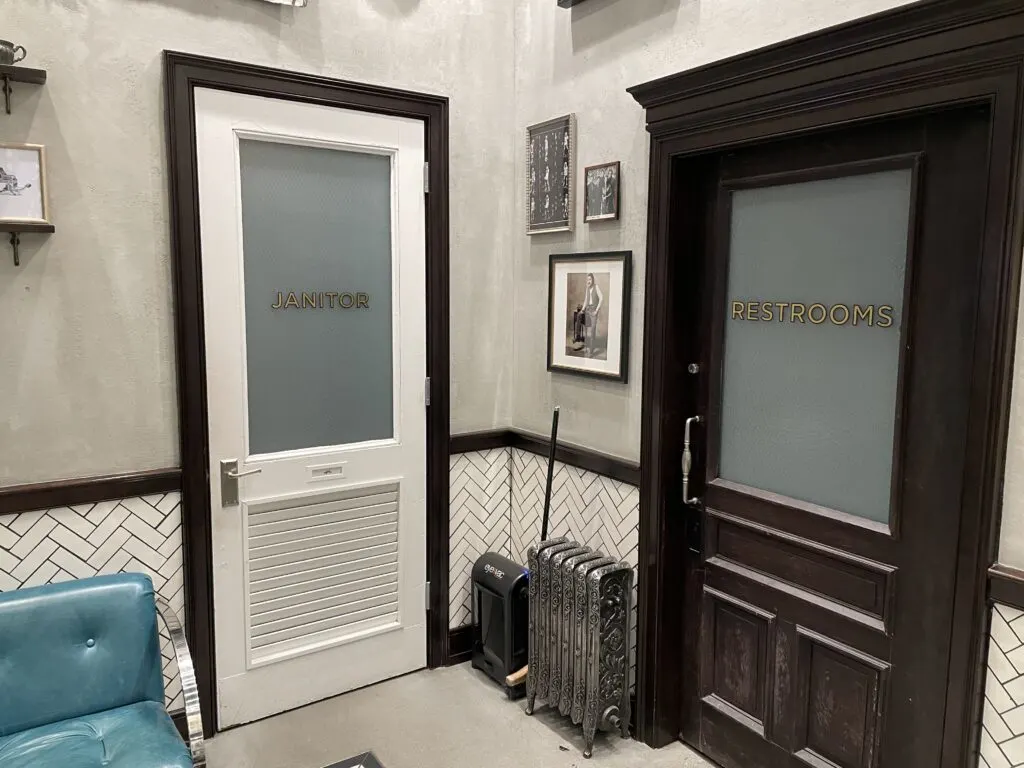 The "Janitor" door opens to a small closet with a second door (pictured below) that leads to the speakeasy. Once through the metallic speakeasy door, you're in.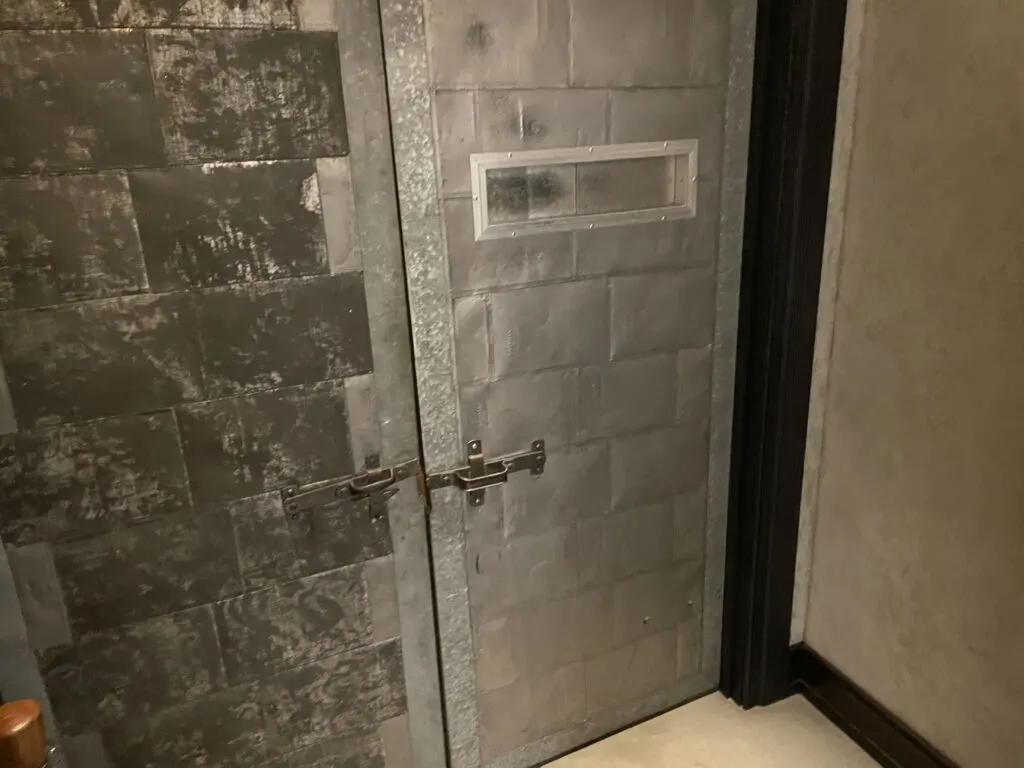 I checked in with a barbershop employee upon arrival to let her know we wanted to check out the speakeasy.
She then took me back and guided me through the doors and into the secret lounge. Checking in with someone felt more normal than wandering through an active barbershop and busting through a janitor's door.
Want a hot tip? I got one for you. As you walk through the actual barbershop (where they're actively cutting hair), you'll want to avoid bumping into a barber that's in the process of cutting a customer's hair with clippers as I did. Face, meet palm. Talk about awkwardness.
What To Expect Inside The Barbershop Speakeasy
It's gorgeous.
This visit to The Barbershop was my first, and I was impressed with the room's size and decorative elements that gave the lounge personality. The speakeasy had a vintage 1920s vibe and reeked of elegance.
While seating is often readily available during the day, I suggest making a reservation for any evening visits you have planned.
Reservations at The Barbershop can be made here.
After requesting a reservation, the team will communicate any minimum spend requirements for that timeframe, if applicable.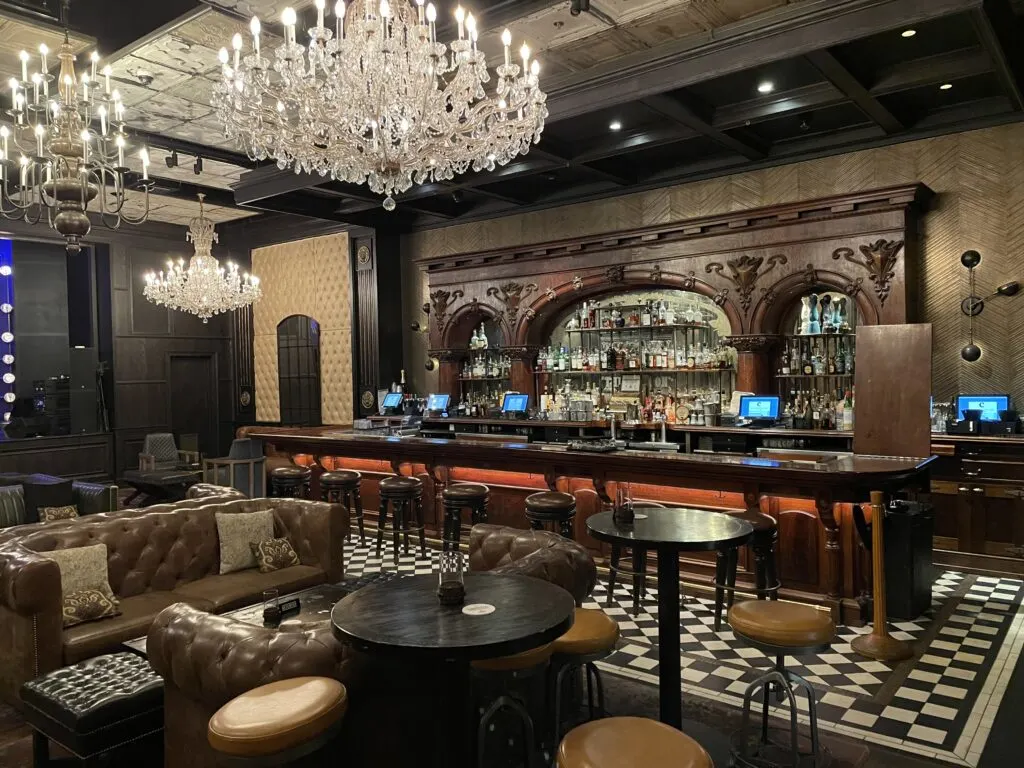 Food and Drinks at The Barbershop
The cocktail menu offers "Spiked Juice" drinks starting at $18 and "Shooters" for $16. Notably, the IV Pusher Shooter is a concoction of epsolon blanco tequila, orgeat, and lime served in an IV Bag alongside a doctor's note.
Most 22 oz. draft beers and bottled beer options are either $9 or $10.
Bottle Service is also available, and not exactly inexpensive. Notable options include Maker's Mark and Jameson which will each set you back $450.
In addition to cocktails, The Barbershop offers a few snacky food items like fries, popcorn, sliders, pigs in a blanket, and deep-fried Oreos.
You can see the full Barbershop menu here.
Live Entertainment at The Barbershop
Live music is offered at The Barbershop nearly every night. The full calendar of events is available here, and we would recommend making a reservation in advance. Reservations can be requested by clicking the date you wish to attend in the events calendar.
A fun twist, Bruno Mars and Anderson Paak recently dropped in for a surprise performance.
"Faded" Karaoke is offered weekly on Tuesdays from 8 pm – 1:30 am.
Whether or not you make it to The Barbershop at Cosmopolitan, I recommend hitting at least one of the growing number of speakeasies in Vegas. A hidden bar is a perfect way to kick off date night, a bachelor party, a bachelorette party, or just a night out in Sin City.
Related: Check out some additional speakeasies:
I'm a former software salesman turned Vegas aficionado. While the craps table is my preferred habitat, I pull myself away to explore new attractions, shows, restaurants, and outdoor activities around Las Vegas with the intent of sharing my experiences.
Ultimately, I just want to help folks plan a better trip and save a few bucks in the process.