Resorts World, the newest resort on the Las Vegas Strip, offers over 100,000 square feet of gaming, 3,500 hotel rooms, a unique collection of food & drink offerings, a sprawling rooftop pool deck, and upwards of 70,000 square feet of retail.
Even with all that Resorts World has going for it, it's safe to say my favorite intricacy of the new resort is the Here Kitty Kitty Vice Den Speakeasy which is tucked away out of sight within their Famous Foods Street Eats food hall.
Although the presence of speakeasies around Las Vegas is somewhat well-known by regulars, most visitors milling past are oblivious to their existence. There's something exclusive and fun about pushing through a hidden, disguised, or secret door to access a cocktail lounge that not everyone knows about. It feels good to be an "insider".
Below, I'll use pictures to help you find the entrance to the Here Kitty Kitty Vice Den speakeasy at Resorts World.
Related: Resorts World – Conrad Room Review.
Where To Find the Here Kitty Kitty Vice Den
While the hidden bar is mentioned on the Resorts World website under dining options, there's no signage or advertisements within the resort that would alert you to its presence.
The speakeasy is located behind a shelf at a restaurant, Fuhu Cha Chaan Teng, pictured below. If you're walking along the Famous Foods Street Eats, you can't miss the storefront, which doubles as a functioning restaurant.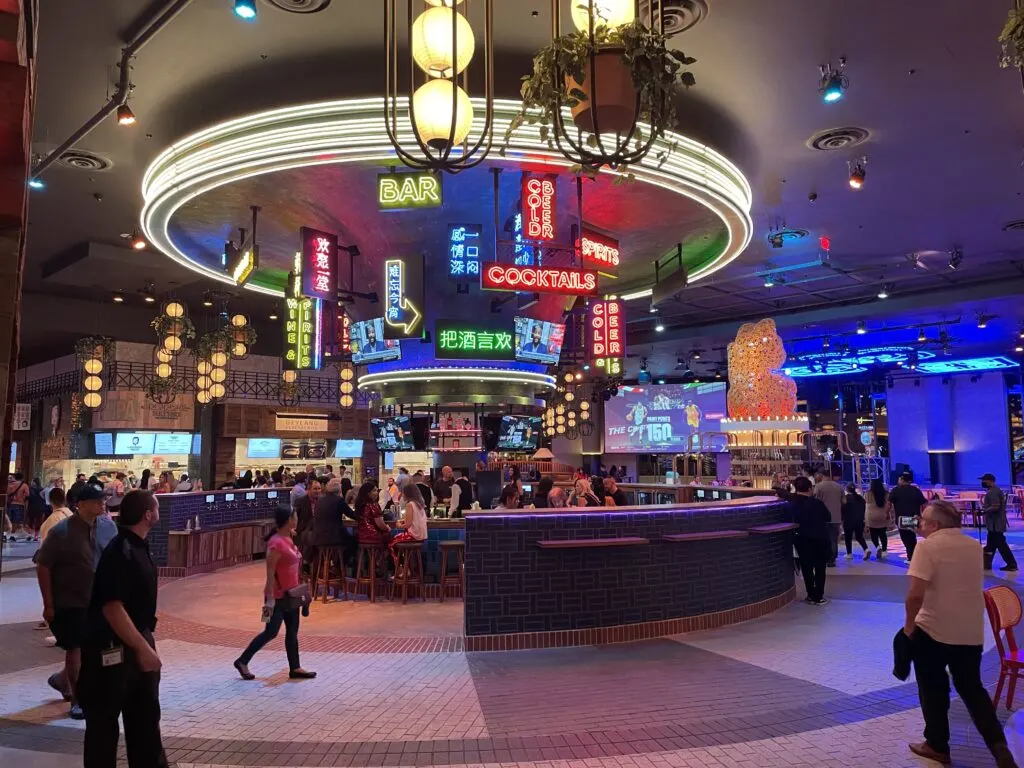 The secret door to the bar is the shelving unit with the large golden lucky cat sitting on the middle shelf (pictured below).
To be seated, guests need to check in at the desk on the left with the gold lucky cat sitting on it.
When I last stopped by, I was asked for the password and had no clue. Fortunately, the staff was gracious and coached us until I finally guessed correctly – It was "Meow".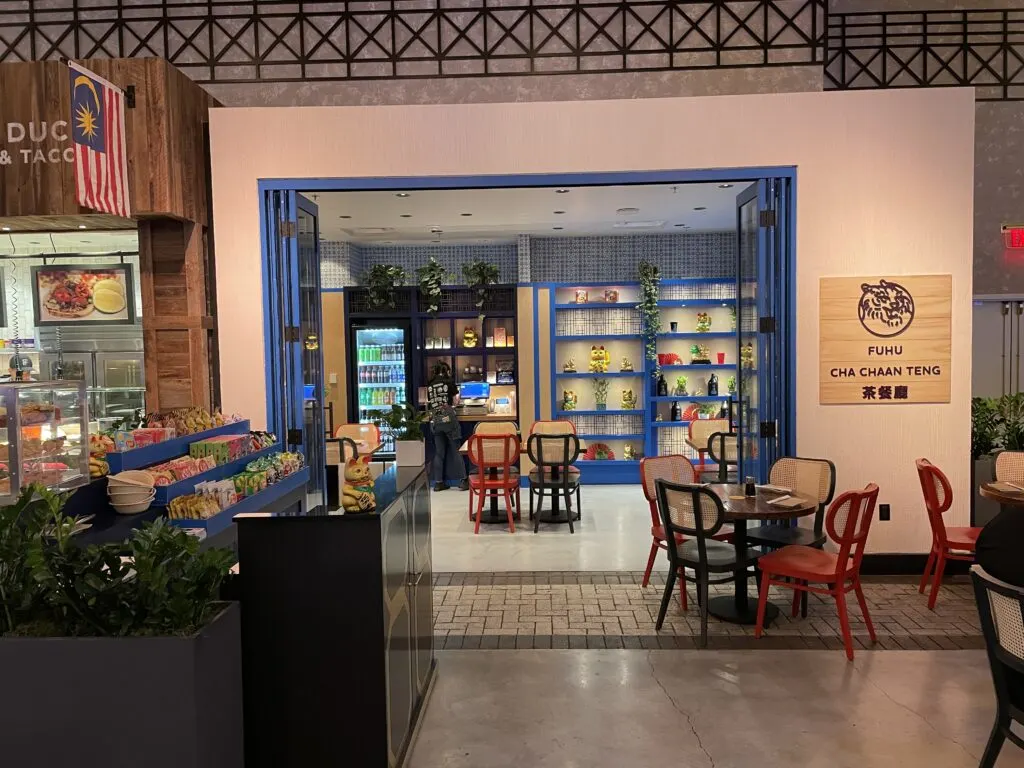 Once inside, you'll find a small cocktail lounge with limited seating.
Here are a couple of photos that I was able to snap the night of Resorts World's grand opening.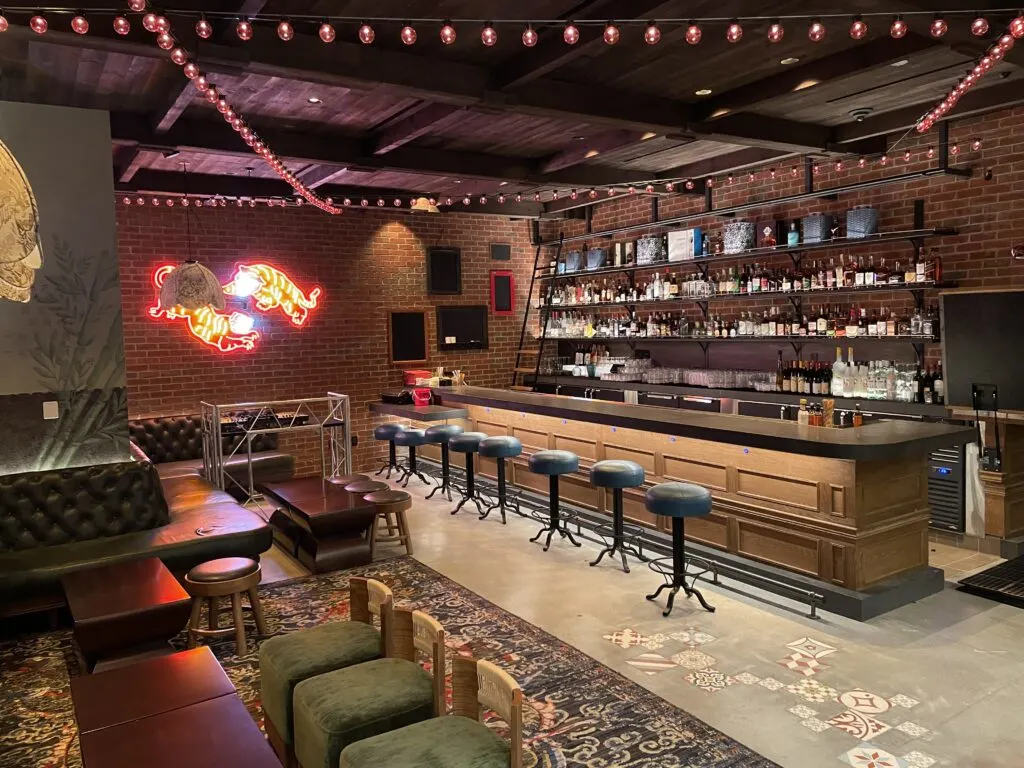 One thing that I loved about the look and feel of the Vice Den at Resorts World was the immediate transition in decor and overall vibe experienced when entering.
As a guest, you're walking in from a bright, loud, and oftentimes crowded casino floor through a secret door into a sophisticated feeling lounge with unique design elements.
Making an immediate impression was the neon tigers on the wall, but other subtle touches like oriental rugs, brick walls, painted murals, and lighting under the bar top and behind booth seating enhance the aesthetic appeal.
The Vice Den's decor has evolved slightly over time. Below are a few photos taken during a more recent visit.
My Experience at the Speakeasy
My wife and I were recently at Resorts World and decided to snag a cocktail at the Here Kitty Kitty Vice Den before dinner.
We arrived right when they opened for the night at 4:30 pm and were seated immediately. We found the cocktails to be strong, and worth the price.
My wife opted for the "Kiku" which incorporated Ketal One grapefruit, rose botanical vodka, Malibu coconut rum, lemon, white grapefruit, chrysanthemum, and pink salt.
I went with the "Patriot" which is made with Elijah Craig small batch bourbon, pineau des Charentes, benedictine, cherry bark vanilla bitters. It was served with an ice cube engraved with the Resorts World logo.
We both found the decor, vibe, and environment to be enjoyable. While I personally tend to be a $3 bottle of Bud kind of guy, I found our pair of hand-crafted cocktails to be a worthwhile and unique wrinkle in our night.
While I wouldn't opt to sip $20 cocktails all night, visiting the speakeasy was an enjoyable way to kick off a night on the town.
Drink Prices at Here Kitty Kitty Vice Den
Craft cocktails at the Vice Den cost between $18 – $21, a glass of wine averages $20, and most bottled beer options fall into a range of $9 – $11. Sake is also available in small cans (200ml – 250ml) for $14 – $18, or by the glass for $16 – $20.
Here Kitty Kitty Vice Den Reviews
Although a newer venue, reviews are starting to trickle in with nearly all being positive in nature. Currently, the speakeasy holds a 4-star rating out of 5 on Yelp after over 130 reviews.
There you have it. You now know how to find the entrance to, and enter, the Here Kitty Kitty Vice Lounge speakeasy at Resorts World.
Whether or not you choose to stop at this specific lounge, I still recommend visiting one of the various hidden cocktail lounges in Las Vegas, either on the Strip or on Fremont Street. More than a simple cocktail, a clandestine bar provides an experience to remember, making for the perfect date night or an evening out on the town in Las Vegas.
See Also: Check out these other speakeasies in Las Vegas:
I'm a former software salesman turned Vegas aficionado. While the craps table is my preferred habitat, I pull myself away to explore new attractions, shows, restaurants, and outdoor activities around Las Vegas with the intent of sharing my experiences.
Ultimately, I just want to help folks plan a better trip and save a few bucks in the process.