Planet Hollywood is conveniently located smack dab in the middle of the Las Vegas Strip with notable neighbors like Paris, Bellagio, and Cosmopolitan. With a location like that in the city dubbed the "Entertainment Capital of the World" you can be assured that there is plenty to do at and near Planet Hollywood.
Making Planet Hollywood unique when compared to other properties is the expansive Miracle Mile Shops that call the resort home. With over 35 places to eat and drink, the Miracle Mile is one of my favorite places to check out while in Vegas due primarily to an abundance of cheap food and drink options.
Below, I'll dive into some notable things to do at Planet Hollywood Las Vegas!
Things To Do at Planet Hollywood
See Criss Angel Mindfreak: If you like your magic shows to come with a heavy dose of pyrotechnics, choreographed dancing, and production value, then Criss Angel Mindfreak could be right up your ally.
Earning 4/5 stars from patrons on TripAdvisor after 2,000+ reviews, Mindfreak ranks among the more popular magic shows in Vegas.
I'd recommend pricing out tickets in advance:
Nathan Burton Comedy Magic: An afternoon show, Nathan Burton Comedy Magic is family-friendly featuring an array of tricks with laughs sprinkled in.
As a former contestant on "America's Got Talent" and earning 4.5/5 stars on TripAdvisor after 1,880+ reviews, I doubt you'll be bored.
The Ultimate Variety Show: If you crave a little bit of everything in your Vegas entertainment choice, check out The Ultimate Variety Show in the Miracle Mile Shops.
Boasting a wide-ranging variety of acts that include comedians, magicians, and acrobats, there is something for everyone.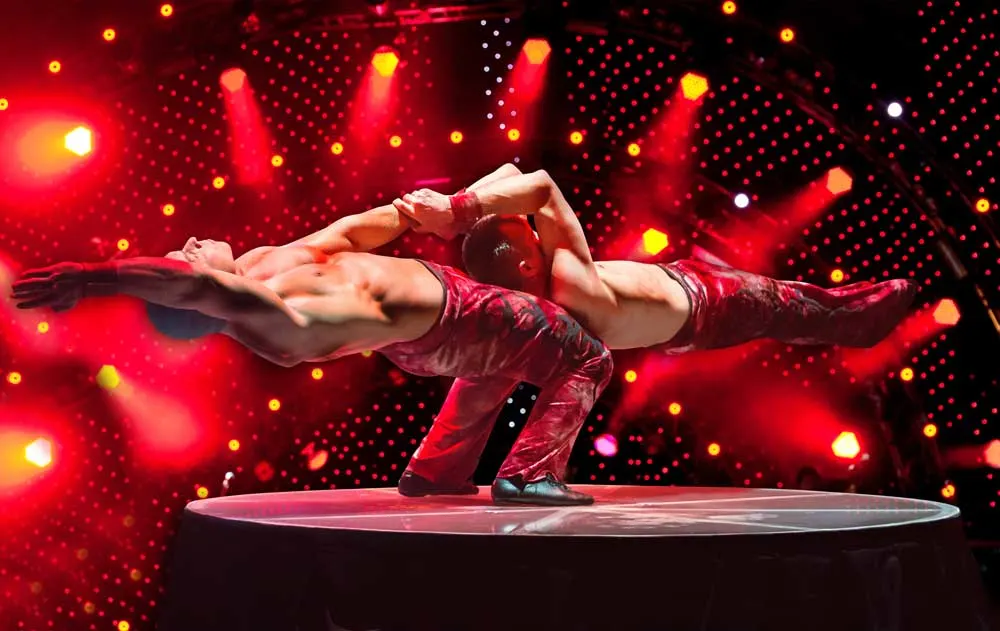 See a Big Name Performer: The Bakkt Theater at Planet Hollywood attracts some of the top residencies in Las Vegas. Names like Shania Twain, The Scorpions, The Doobie Brothers, Christina Aguilera, and John Legend among others have all taken the stage.
You can see upcoming performances at the Bakkt Theater, here, to gauge if anything of interest matches up with your dates.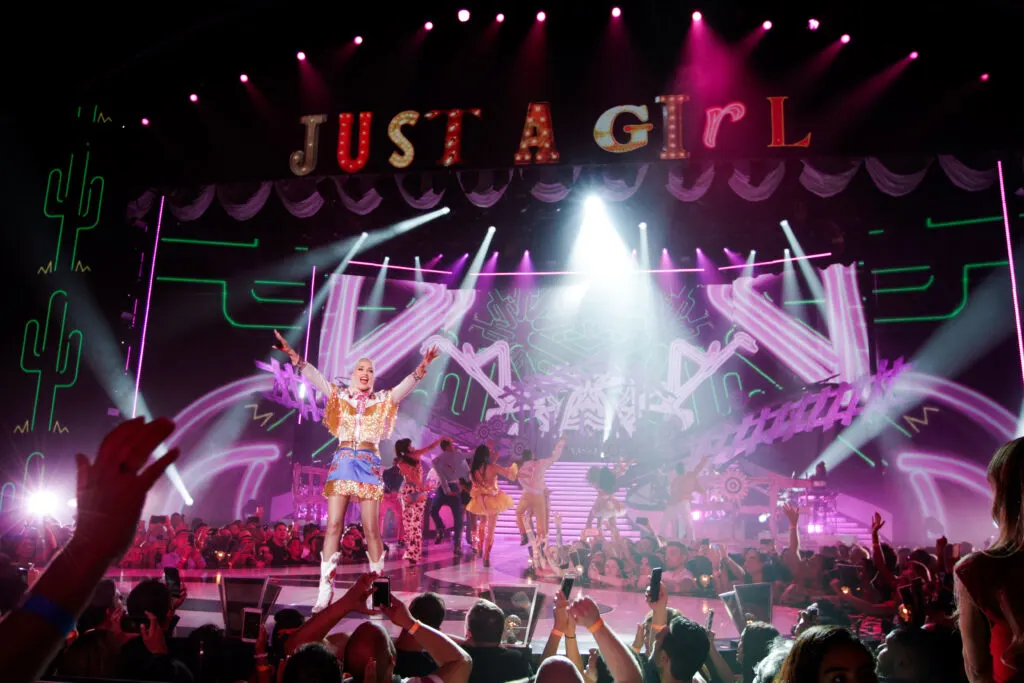 Free Ranstorm Show: Found in the Miracle Mile Shops, the free rainstorm show fires to life at the top of each hour Monday – Thursday and every half-hour Friday – Sunday. Full disclosure, it just isn't that cool, BUT, if you are in the area I'd recommend sticking around for a moment of zen.
See a Robot Bartender: Visiting a bar staffed by robots certainly qualifies as a unique thing to do at Planet Hollywood. The two robotic arms that work behind the bar at Tipsy Robot can concoct up to 120 drinks per hour and 1,440 per day.
Guests dream up and order their desired cocktail via a tablet, and the robots get to work. A typical drink costs about $15-$20, but stopping by to watch is free.
Find Remnants of Aladdin: As a Vegas history dweeb, I enjoy finding glimpses into Planet Hollywood's past life as Aladdin, a Moroccan-themed resort. See if you can find the lingering theming elements from the Miracle Mile Shops days as the "Desert Passage".
The Miracle Mile Shops are currently being renovated, but I remain hopeful a few odes to the past are still visible when work is complete.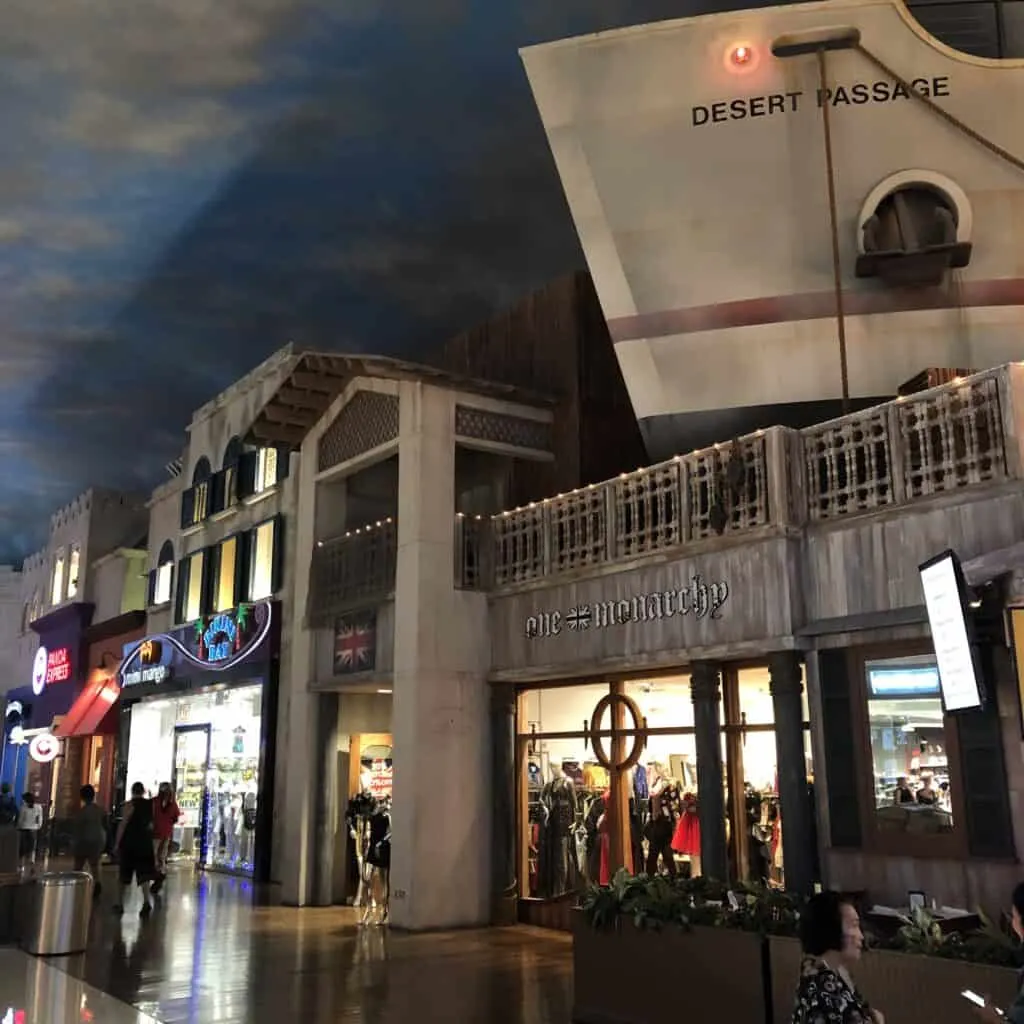 Ride the FlowRider: Planet Hollywood's rooftop pool deck offers spectacular views of surrounding resorts on the Strip.
For $25, you can take a half-hour ride on the FlowRider, which is an infinite stream of water allowing guests the opportunity to surf in the middle of the desert.
Cheap Restaurants in the Miracle Mile Shops
Among my favorite things to do at Planet Hollywood is taking advantage of the numerous inexpensive food and drink deals in the Miracle Mile Shops. Below, are some of my favorites!
Ocean One Grille: The lunch menu makes Ocean One one of my favorite cheap places to eat on the Strip. Everything is $5.99, and for the price, portion size and quality are both wins.
Seriously, items like their Half Pound Sirloin Burger, Chicken Tacos, Buffalo Chicken Wrap, and a selection of salads are that cheap.
Adding to the value proposition is their neverending 3-for-1 deal on drinks.
No, it's not upscale, but Ocean One is a value seeker's dream.
La Salsa Cantina: Looking for a cheap breakfast and a bloody? La Salsa Cantina has a $4.79 breakfast special that includes 2 eggs, a choice of bacon, ham, or sausage, and southwest potatoes. Add a Bloody Mary for a mere $4.95. Not bad!
Ketchup Premium Burger Bar: There is seemingly always a good deal to be had at Ketchup. Daily deals that find their way into the rotation include 2-for-1 hot dogs, 2-for-1 chicken tenders, and a $5 classic burger among others.
Cheap Drink Options in the Miracle Mile Shops
If you take a peek at our compilation of cheap drinks and happy hour deals on the Las Vegas Strip, you'll notice that bars and restaurants in The Miracle Mile Shops at Planet Hollywood make up nearly half the list.
If drinking cheap is your jam, then you will have plenty to do at Planet Hollywood. Here are a few notable options:
Flights: Serving flights of 3 drinks for as little as $14, Flights is an inexpensive spot to drive your BAC higher.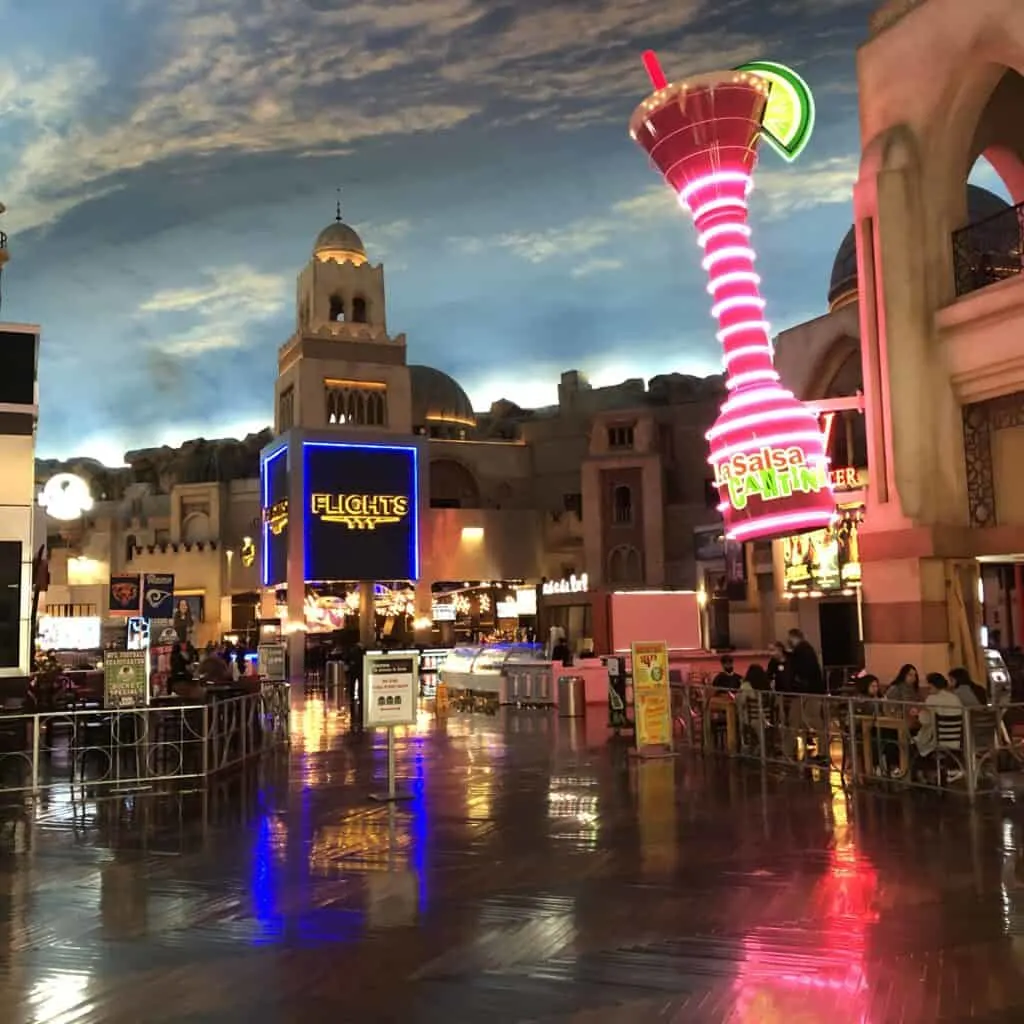 Ocean One: Drinks are always 3 for 1, need I say more?
Blondies: For $20, you can consume all the well drinks/draft beer you can handle between 3 pm – 6 pm (Monday – Friday). One of the few All you can drink deals on the Strip that offers beer and cocktails.
Things To Do Near Planet Hollywood Las Vegas
Conveniently located near a number of mega-resorts, there are a ton of things to do near Planet Hollywood on the Strip.
If a clandestine cocktail sounds appealing, stop by Cosmopolitan to find their collection of speakeasies that include The Ski Lodge, Ghost Donkey, and The Barbershop.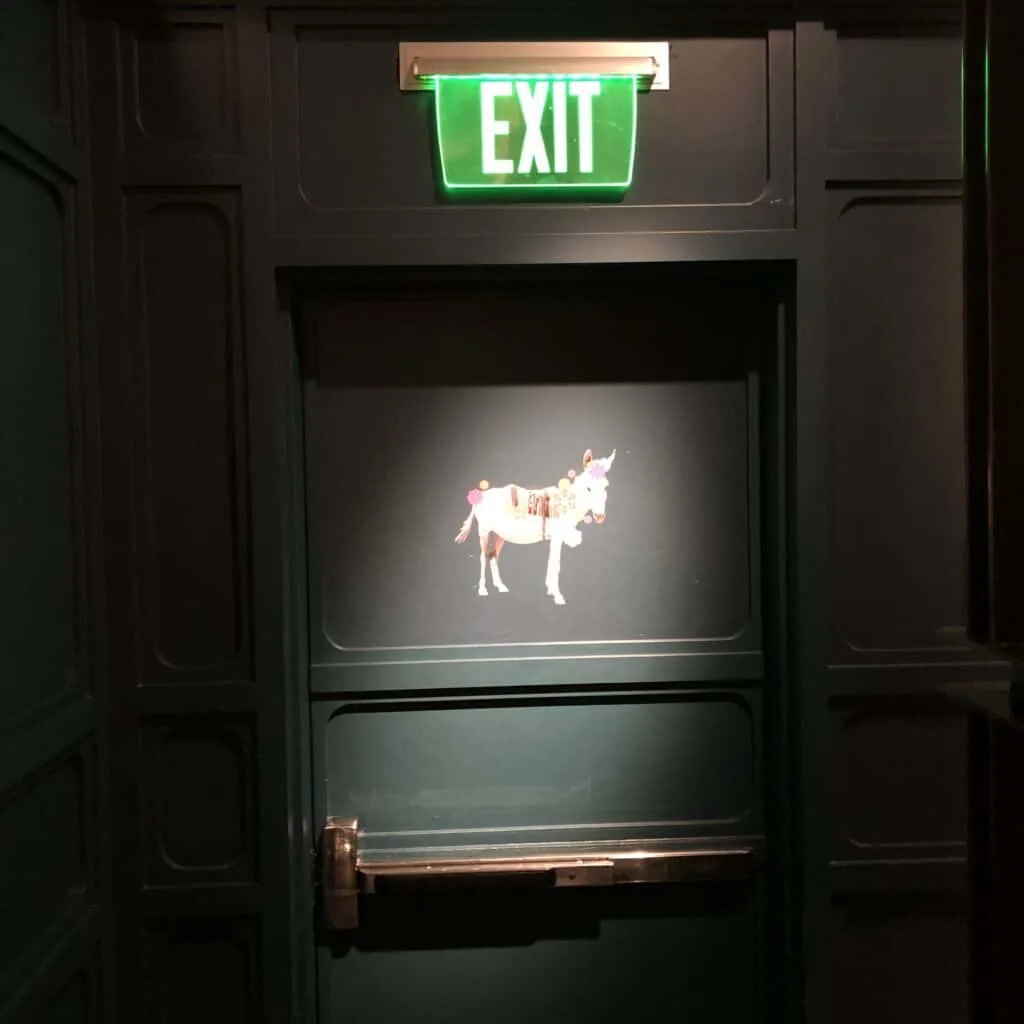 After your cocktails, find Secret Pizza, Cosmopolitan's hidden pizza joint. There, you'll find a selection of quick, cheap, and delicious slices.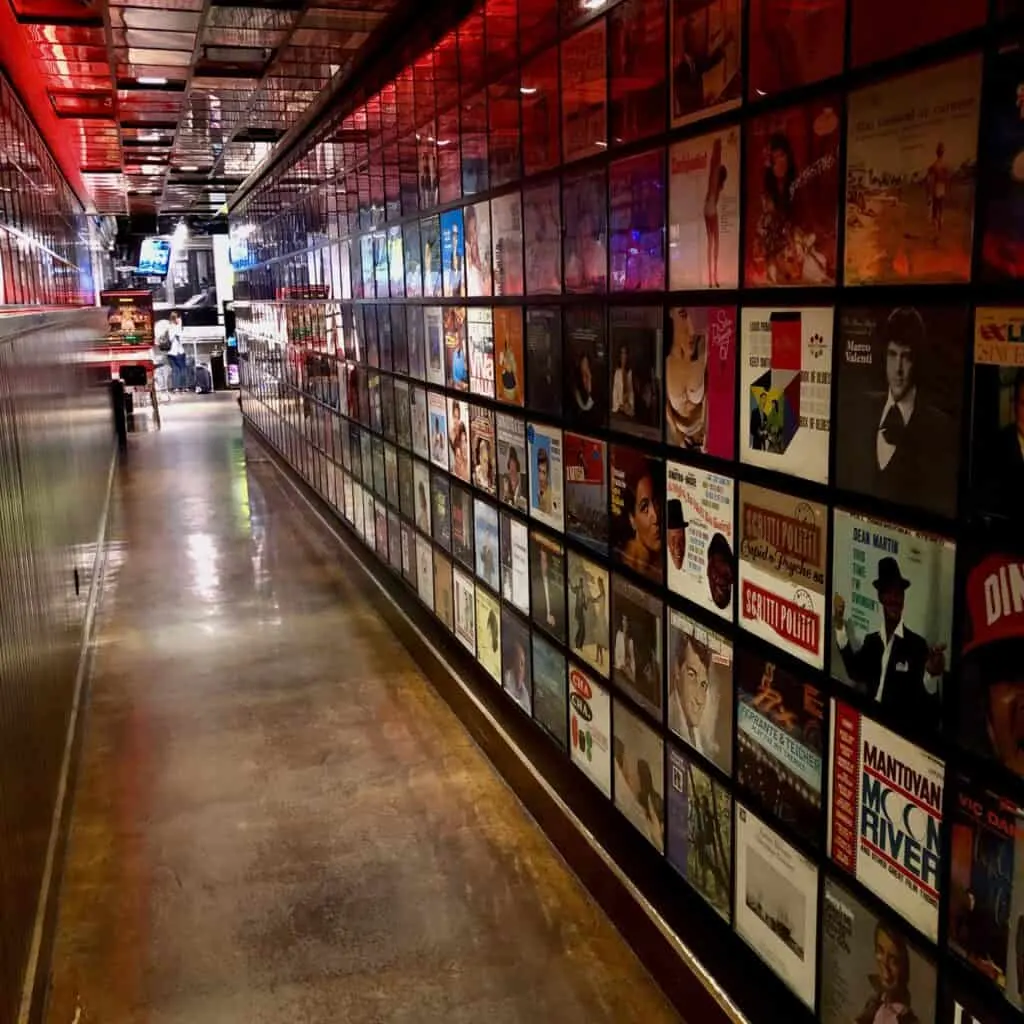 Of course, visiting Paris is a must. Things to do there include the Eiffel Tower observation deck, or grabbing a rooftop beer with a view of the Bellagio Fountains at Beer Park.
The Parisian-inspired theming is enough to warrant a visit on its own, however.
Speaking of Bellagio, put the free attractions there at the top of your list of things to do near Planet Hollywood. Specifically, the Fountains of Bellagio water show and the seasonal display in the conservatory inside.
You can even grab dinner with a view of Bellagio's fountains.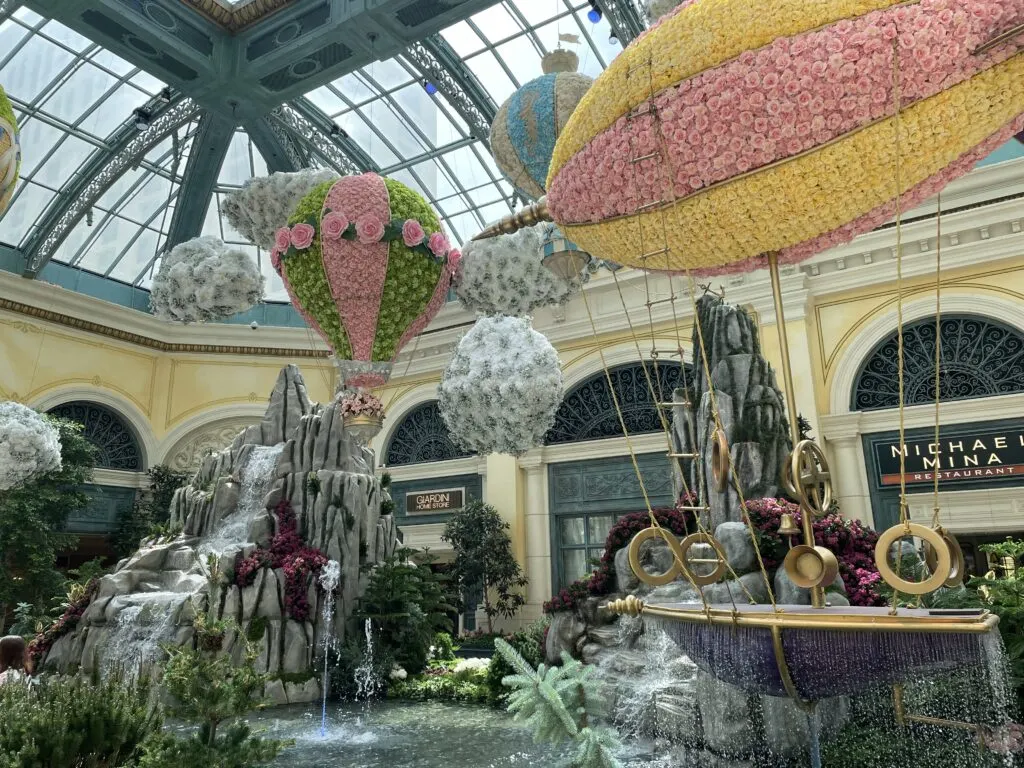 To the south, I'd recommend checking out Topgolf, which is located behind MGM Grand.
Even if you don't golf regularly, the games offered at the driving range are a great social lubricant for groups. In addition to golf, they also offer a 2-level pool that is open to the public and bartop video poker.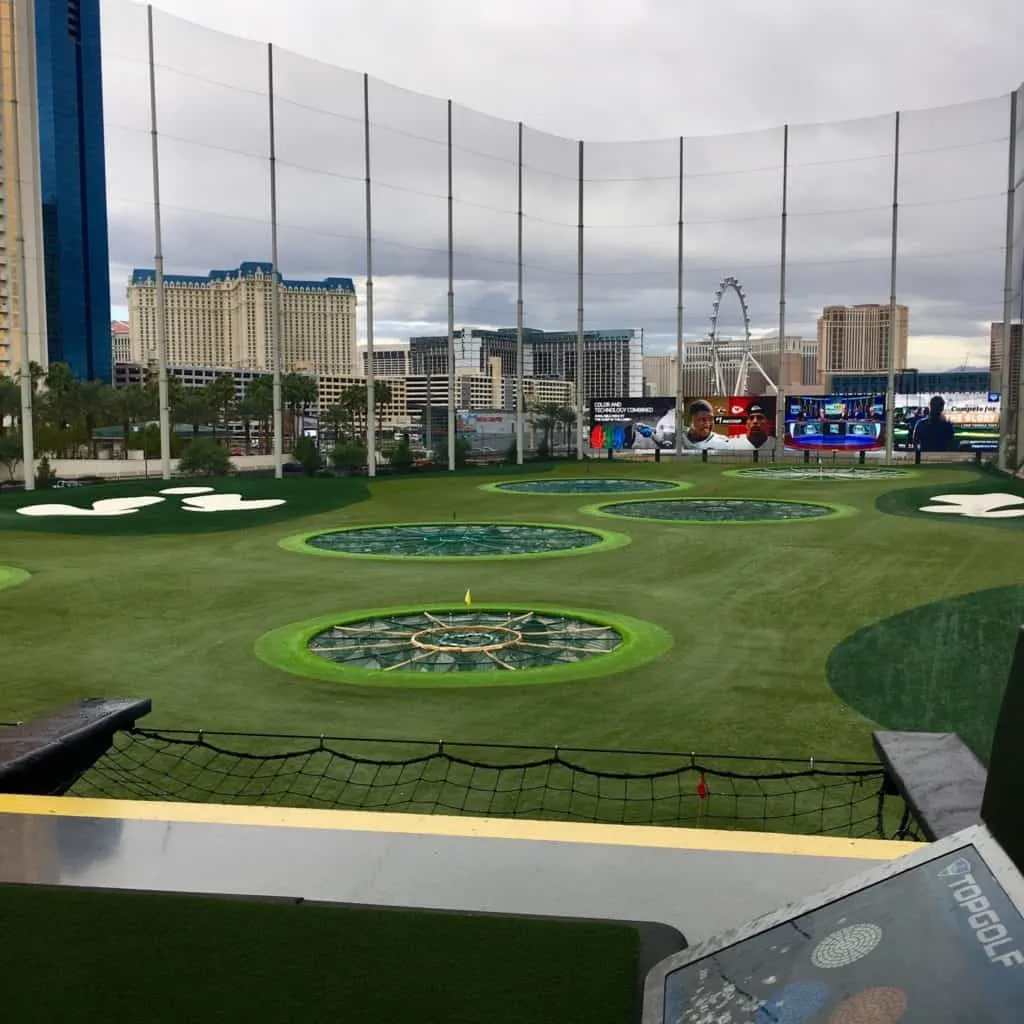 Given the resort's location, there's more to do than I could possibly mention here. Check out this breakdown of things to do at every resort on the Strip.
See Also: My perfect 3 day Las Vegas itinerary.
I'm a former software salesman turned Vegas aficionado. While the craps table is my preferred habitat, I pull myself away to explore new attractions, shows, restaurants, and outdoor activities around Las Vegas with the intent of sharing my experiences.
Ultimately, I just want to help folks plan a better trip and save a few bucks in the process.