Planet Hollywood is conveniently located smack dab in the middle of the Las Vegas Strip with notable neighbors like Paris, Bellagio, and Cosmopolitan. With a location like that in the city dubbed the "Entertainment Capital of the World" you can be assured that there is plenty to do at and near Planet Hollywood.
Making Planet Hollywood unique when compared to other properties is the expansive Miracle Mile Shops that call the resort home. With over 200 places to eat, drink, and seek entertainment, the Miracle Mile is one of our favorite places to check out while in Vegas due primarily to an abundance of cheap food and drink options.
Below, we'll dive into some notable things to do at Planet Hollywood Las Vegas!
Cheap Restaurants in the Miracle Mile Shops
Among our favorite things to do at Planet Hollywood are taking advantage of the numerous inexpensive food and drink deals in the Miracle Mile Shops. Below, are some of our favorites!
Ocean One Grille: The lunch menu makes Ocean One one of our favorite cheap places to eat on the Strip. Everything is $4.99, and for the price, portion size and quality are both wins. Seriously, items like their Half Pound Sirloin Burger, Chicken Tacos, Buffalo Chicken Wrap, and a selection of salads are that cheap. Adding to the value proposition is their neverending 3 for 1 deal on drinks. No, it's not upscale, but Ocean One is a value seeker's dream.
La Salsa Cantina: Looking for a cheap breakfast and a bloody? La Salsa Cantina has a $4.79 breakfast special that includes 2 eggs, a choice of bacon, ham or sausage, and southwest potatoes. Add a Bloody Mary for a mere .99 cents. Not bad!
Ketchup Premium Burger Bar: There is seemingly always a good deal to be had at Ketchup. Currently, they run a 2 for 1 hot dog deal on Tuesdays, 2 for one chicken tender deal on Wednesday, and offer a $5 Classic Burger Monday – Friday from 11 am – 3 pm.
Cheap Drink Options in the Miracle Mile Shops
If you peruse our compilation of cheap drinks and happy hour deals on the Las Vegas Strip, you'll notice that bars and restaurants in The Miracle Mile Shops at Planet Hollywood make up nearly half the list. If drinking cheap is your jam, then you will have plenty to do at Planet Hollywood. Here are a few of our favorites:
Flights: Offering 3 drinks for $12, and $2 shots, Flights is an inexpensive spot to drive your BAC higher.
Ocean One: Drinks are always 3 for 1, need we say more?
Blondies: For $20, you can consume all the well drinks/draft beer you can handle between either 3 pm to 6 pm or 9 pm to midnight, Monday – Friday.
See Also: A complete list of all you can drink deals in Las Vegas to include bottomless mimosas and bloody marys.
Other Things To Do at Planet Hollywood
Free Ranstorm Show: Found in the Miracle Mile Shops, the free rainstorm show fires to life at the top of each hour Monday – Thursday and every half-hour Friday – Sunday. Full disclosure, it just isn't that cool, BUT, if you are in the area we recommend sticking around for a moment of zen.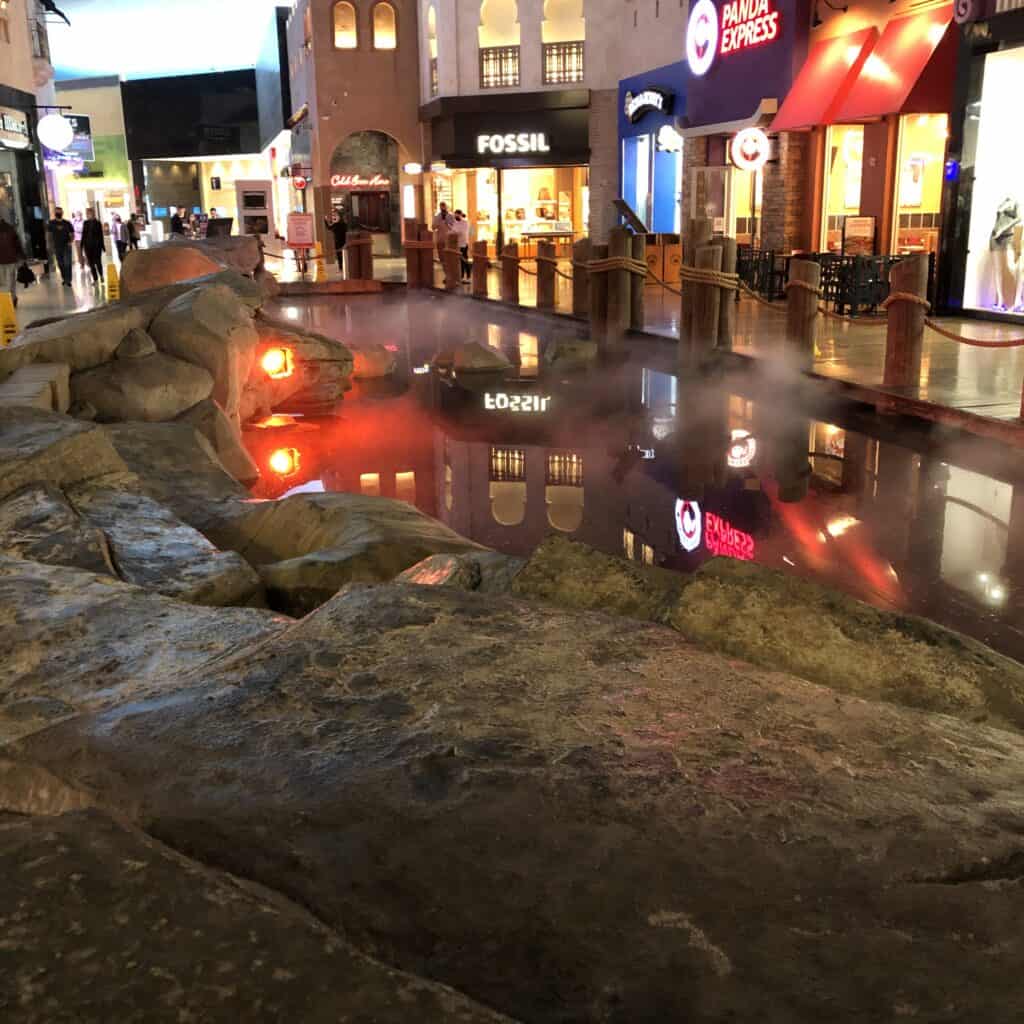 Check Our The Tipsy Robot: Visiting a bar staffed by robots certainly qualifies as a unique thing to do at Planet Hollywood. The two robotic arms that work behind the bar at Tipsy Robot can concoct up to 120 drinks per hour and 1,440 per day. Guests dream up and order their desired cocktail via a tablet, and the robots get to work. A typical drink costs about $15, but stopping by to watch is free.
Grab a Craft Beer: Sin City Brewing Co. offers craft beer options ranging from a German Hefeweizen, to "The Dark Side of Sin", an Irish Dry Stout. If you are anything like me, sniffing out a unique drink or beer is high on your list to do in Vegas, and you can do it in the Miracle Mile Shops at Planet Hollywood.
Find Remnants of Aladdin: As a Vegas history dweeb, I enjoy finding glimpses into Planet Hollywood's past life as Aladdin, a Moroccan themed resort. See if you can find the lingering theming elements from the Miracle Mile Shops days as the "Desert Passage".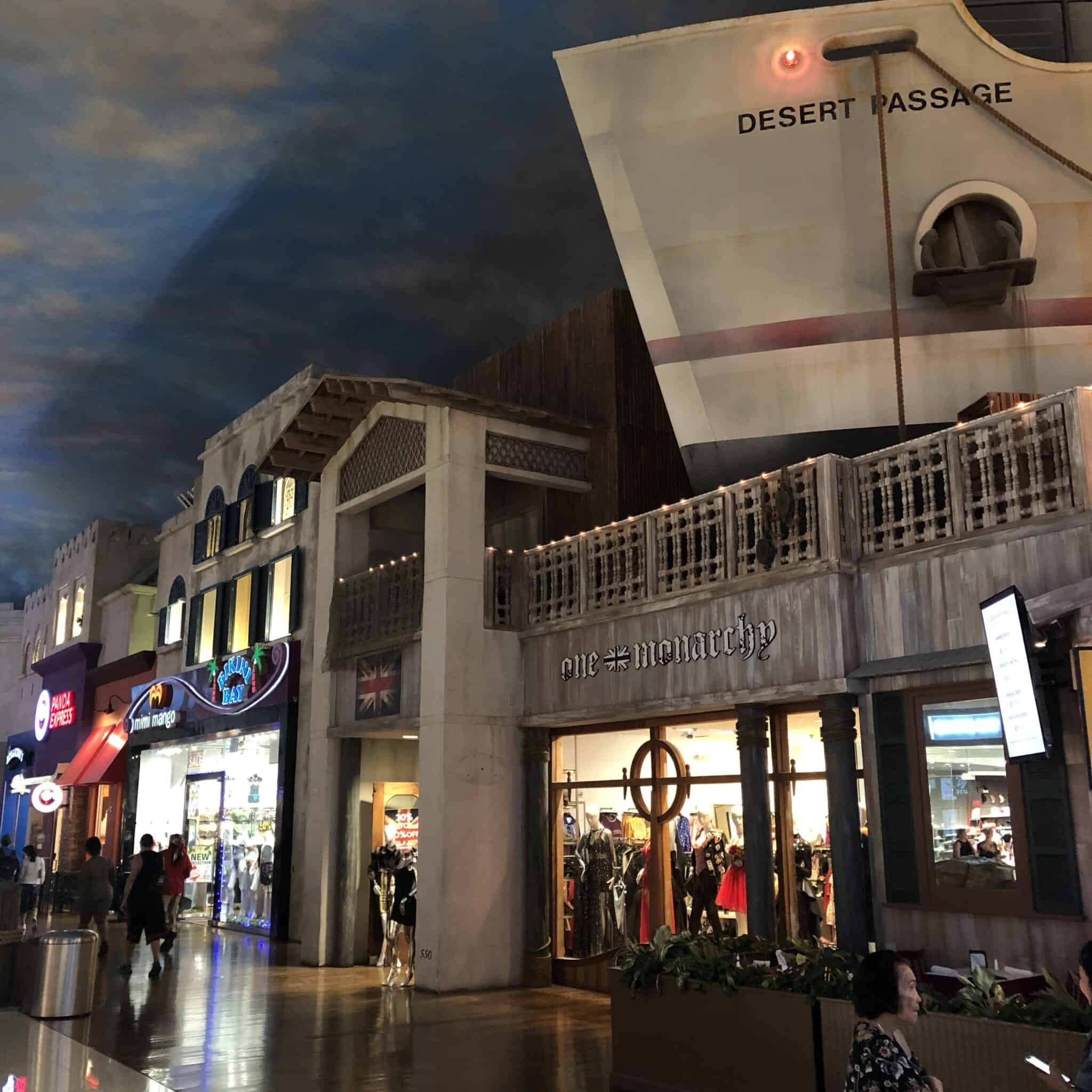 Ride the FlowRider: Planet Hollywood's rooftop pool deck is open to the public and offers views of surrounding resorts on the Strip. For $25, you can take a half-hour ride on the FlowRider, which is an infinite stream of water allowing guests the opportunity to surf on the Las Vegas Strip.
Get a photo with the Crazy Girls: As one of the most iconic photo opportunities in Vegas, the bronze statue that used to sit out front of Riviera is a can't miss attraction.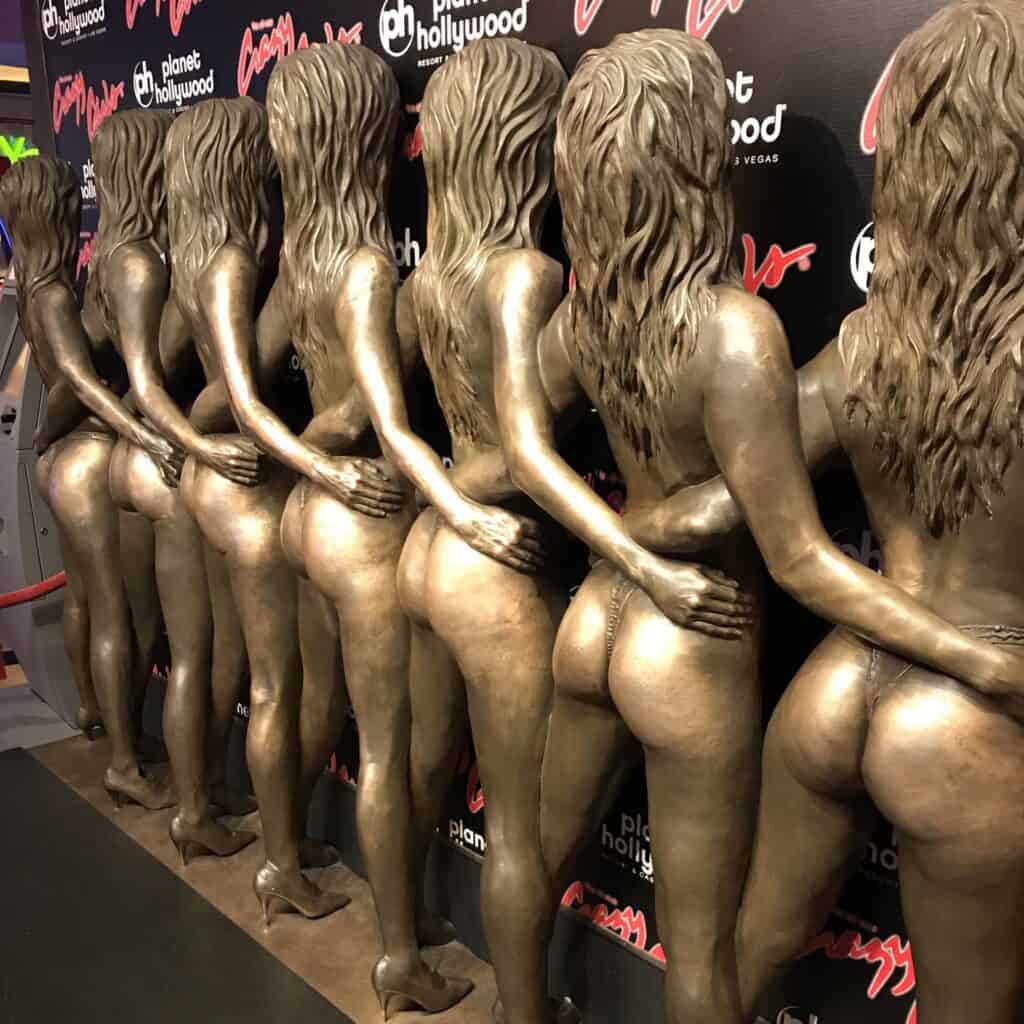 Thanks to the offerings in the Miracle Mile Shops, there are a plethora of things to do at and near Planet Hollywood Las Vegas. Even better, many of those things to do are a great option for those that are budget conscious.