Planet Hollywood is conveniently located smack dab in the middle of the Las Vegas Strip with notable neighbors like Paris, Bellagio, and Cosmopolitan. With a location like that in the city dubbed the "Entertainment Capital of the World" you can be assured that there is plenty to do at and near Planet Hollywood.
Making Planet Hollywood unique when compared to other properties is the expansive Miracle Mile Shops that call the resort home. With over 200 places to eat, drink, and seek entertainment, the Miracle Mile is one of our favorite places to check out while in Vegas due primarily to an abundance of cheap food and drink options.
Below, we'll dive into some notable things to do at Planet Hollywood Las Vegas!
Marc Savard Comedy Hypnosis: Either volunteer to be put under Marc Savard's spell, or sit back and watch others make a fool of themselves under hypnosis. Whether you are brave enough to get on stage or not, you are in for a hilarious time. Earning a 4.5/5 star rating on Vegas.com, very few walk away disappointed. Tickets can be purchased in advance here in the $59 – $110 range.
Tribute Shows: If shows that pay tribute to legends of the past are up your alley, we recommend checking out these deals on Groupon for "All Shook Up – Tribute To The King" and "Hitzville" a Mowtown Revue which call the V Theater in the Miracle Mile Shops home.
The Ultimate Variety Show: If you crave a little bit of everything in your Vegas entertainment choice, check out The Ultimate Variety Show in the Miracle Mile Shops. With a wide-ranging variety of acts that include comedians, magicians, and acrobats, there is something for everyone. Tickets can be purchased in advance here in the $79 – $150 range. Note that there is also a current Groupon deal good for 40% off face value.
Free Ranstorm Show: Found in the Miracle Mile Shops, the free rainstorm show fires to life at the top of each hour Monday – Thursday and every half-hour Friday – Sunday. Full disclosure, it just isn't that cool, BUT, if you are in the area we recommend sticking around for a moment of zen.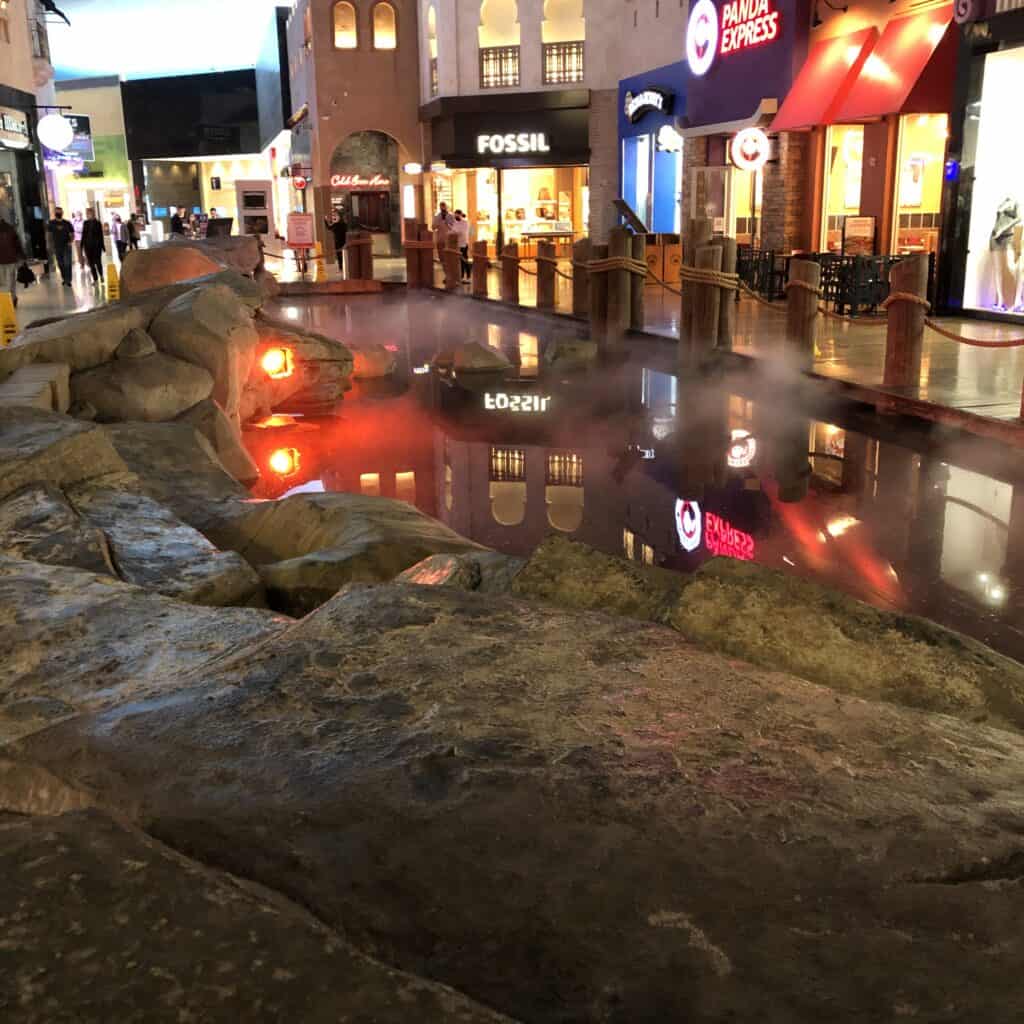 Check Our The Tipsy Robot: Visiting a bar staffed by robots certainly qualifies as a unique thing to do at Planet Hollywood. The two robotic arms that work behind the bar at Tipsy Robot can concoct up to 120 drinks per hour and 1,440 per day. Guests dream up and order their desired cocktail via a tablet, and the robots get to work. A typical drink costs about $15, but stopping by to watch is free.
Find Remnants of Aladdin: As a Vegas history dweeb, I enjoy finding glimpses into Planet Hollywood's past life as Aladdin, a Moroccan-themed resort. See if you can find the lingering theming elements from the Miracle Mile Shops days as the "Desert Passage".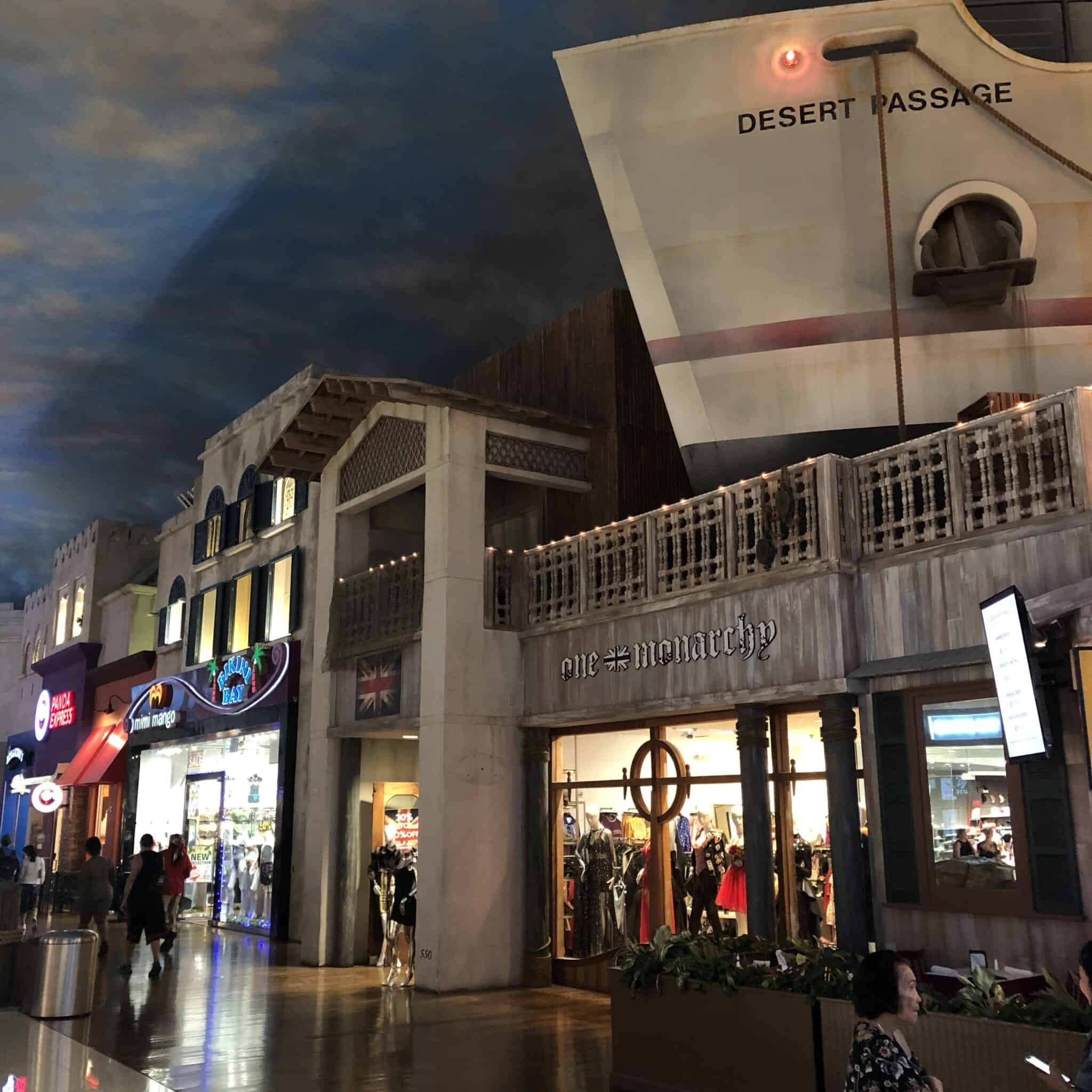 Ride the FlowRider: Planet Hollywood's rooftop pool deck offers spectacular views of surrounding resorts on the Strip. For $25, you can take a half-hour ride on the FlowRider, which is an infinite stream of water allowing guests the opportunity to surf in the middle of the desert.
Ocean One: Drinks are always 3 for 1, need we say more?
Blondies: For $20, you can consume all the well drinks/draft beer you can handle between either 3 pm to 6 pm or 9 pm to midnight, Monday – Friday.
See Also: All-you-can-drink deals in Las Vegas to include bottomless mimosas and bloody marys.
Given the resort's location, there's more to do than we can mention here. Check out this breakdown of things to do at every resort on the Strip.