Located inside the Shops at Crystals, Immersive Disney Animation by Lighthouse Immersive aims to take guests "Inside the greatest films of Walt Disney".
The experience uses projection technology to display Disney video content on the walls and floor of a cavernous warehouse-sized room to achieve that "immersive" vibe.
Considering I had previously scoped out Immersive Van Gogh in the same space, I figured it would be fun to stop into the newer Disney attraction to help you determine if it's worth slotting into your Las Vegas itinerary.
Immersive Disney Pricing & Ticketing
The price to see Immersive Disney varies based on which day you want to see the show, but pricing starts in the low $20s on weekdays and in the mid-$30s on weekends.
Note also that there are also upgraded ticketing options that carry an additional cost that includes:
"Premium Plus" tickets include an interactive light-up wristband, a seat cushion for the show, and an animation print alongside admission.
"VIP Tickets" include free return visits, the ability to change your entry time, an interactive light-up wristband, a seat cushion for the show, a collectible cup, a collectible print, a VIP souvenir laminate, and the ability to skip the line.
In my opinion, an upgrade is not worthwhile, and a basic ticket is the best option. Reasons for this include:
There wasn't really a line to skip when I visited.
I'm not sure people are going to want, or even be able to, make a return visit within the 30 days allowed by the VIP ticket.
Do you really want to be lugging souvenir prints and/or cups up and down the Strip?
A seat cushion is a nice touch, but pretty unnecessary. I was even offered a free one on my way into the experience with my baseline non-upgraded ticket.
I recommend pricing out the following outlets to ensure you're getting the best deal:
As this was an unplanned stop for me, I bought tickets at the door and paid $31.98 total to get in.
My Experience in Immersive Disney at Crystals
After purchasing my ticket, I was instructed to hang out in the waiting area pictured below to be escorted into the immersive theater.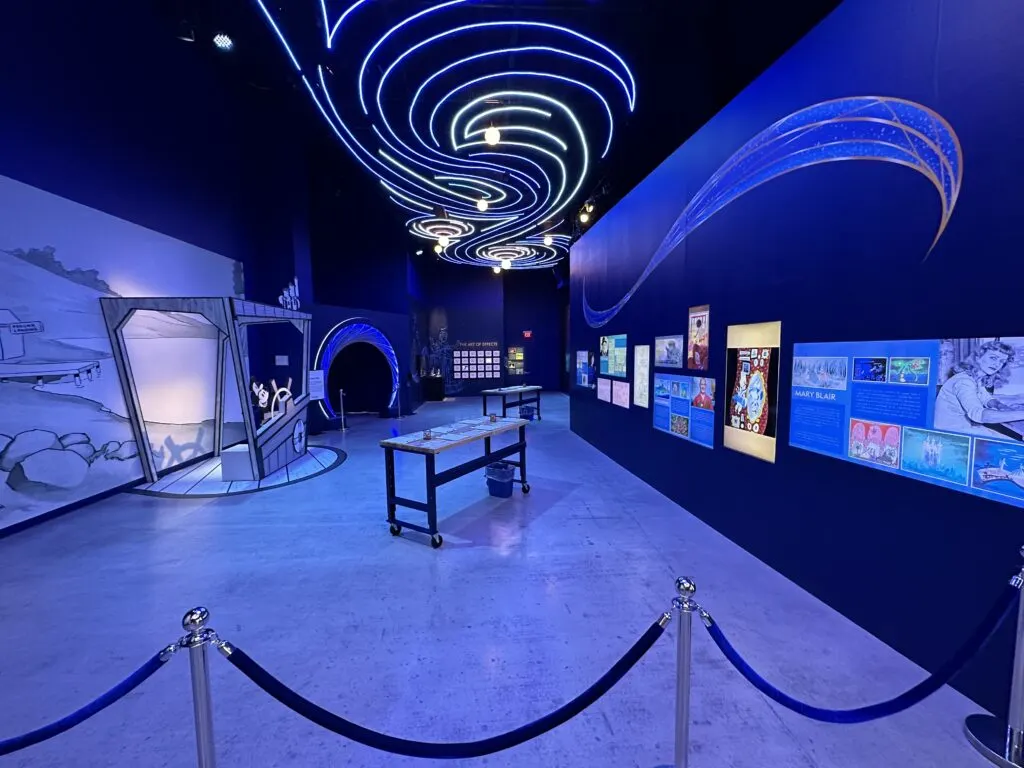 Within that waiting area were some fun diversions to keep you busy that included a Mickey photo opportunity, information about the "Art of Effects", an informational wall dedicated to Disney animators, and even a coloring activity that teaches you how to draw your favorite characters.
Within about 5 minutes, my group was escorted into the Immersive Disney Experience.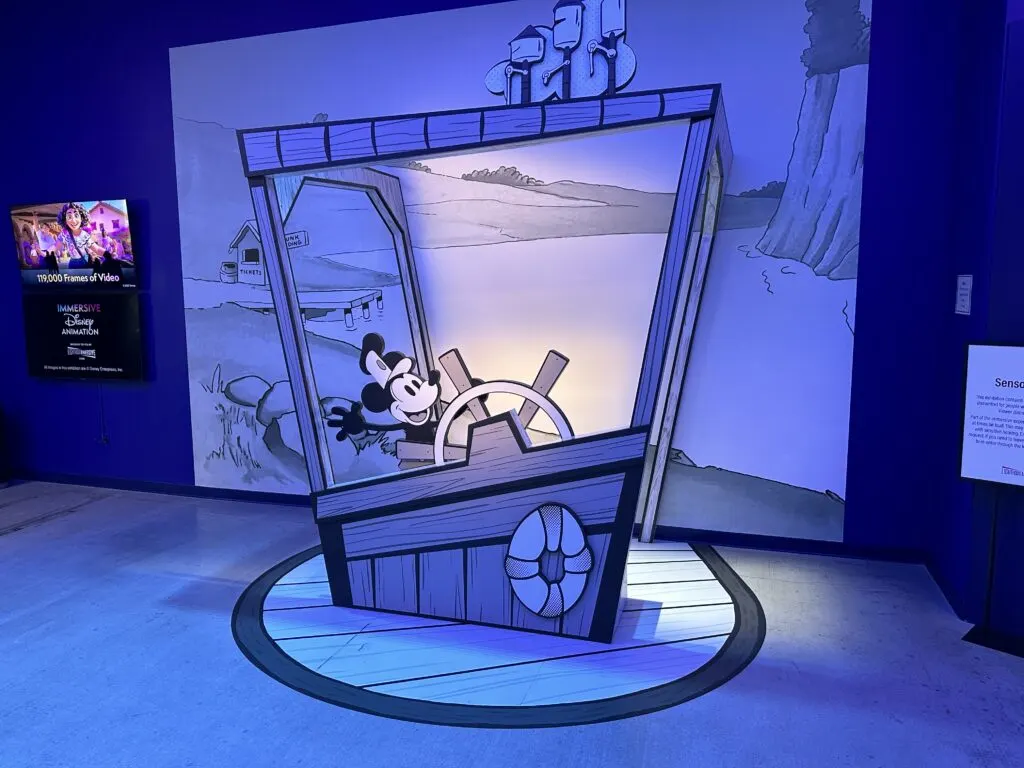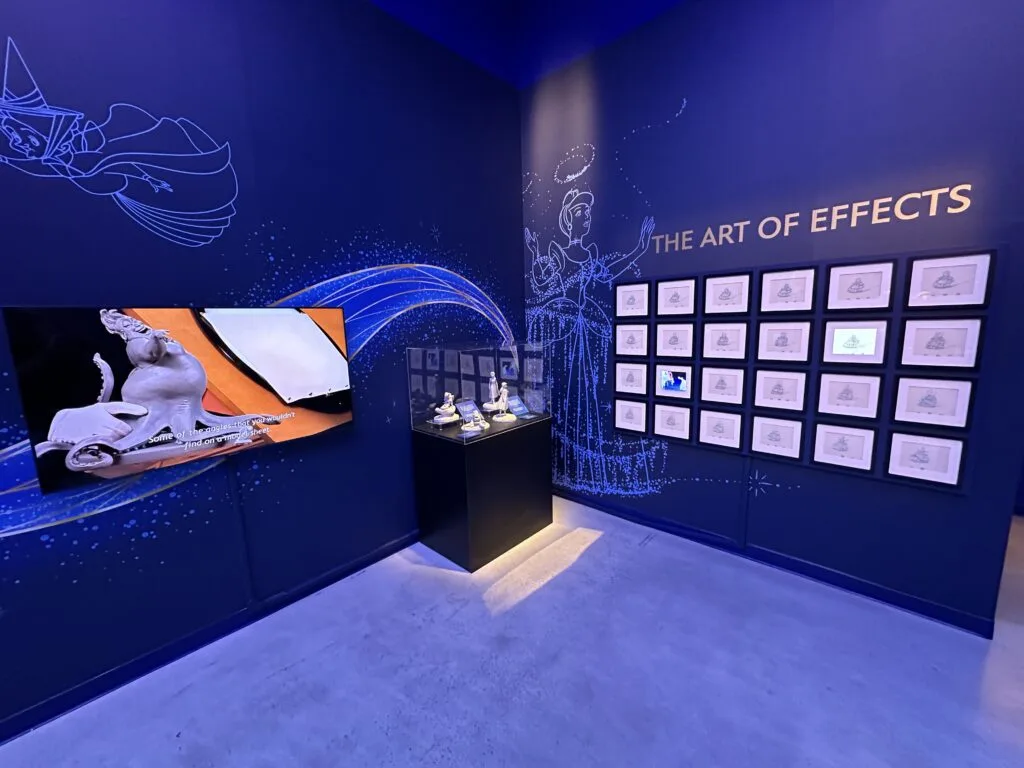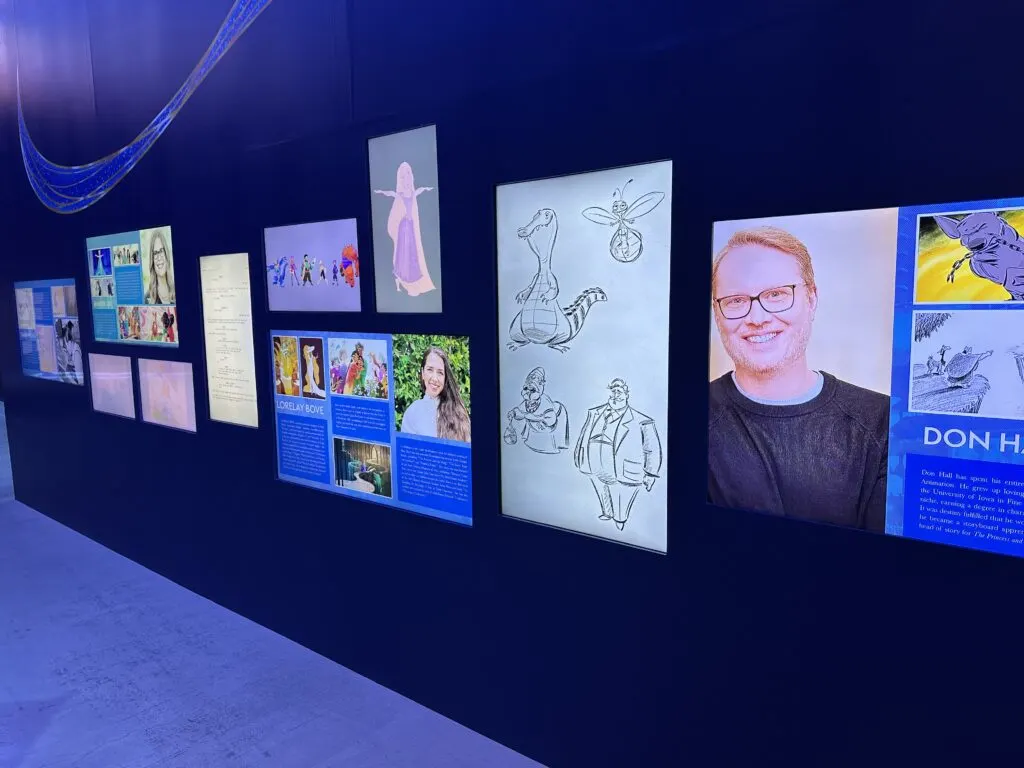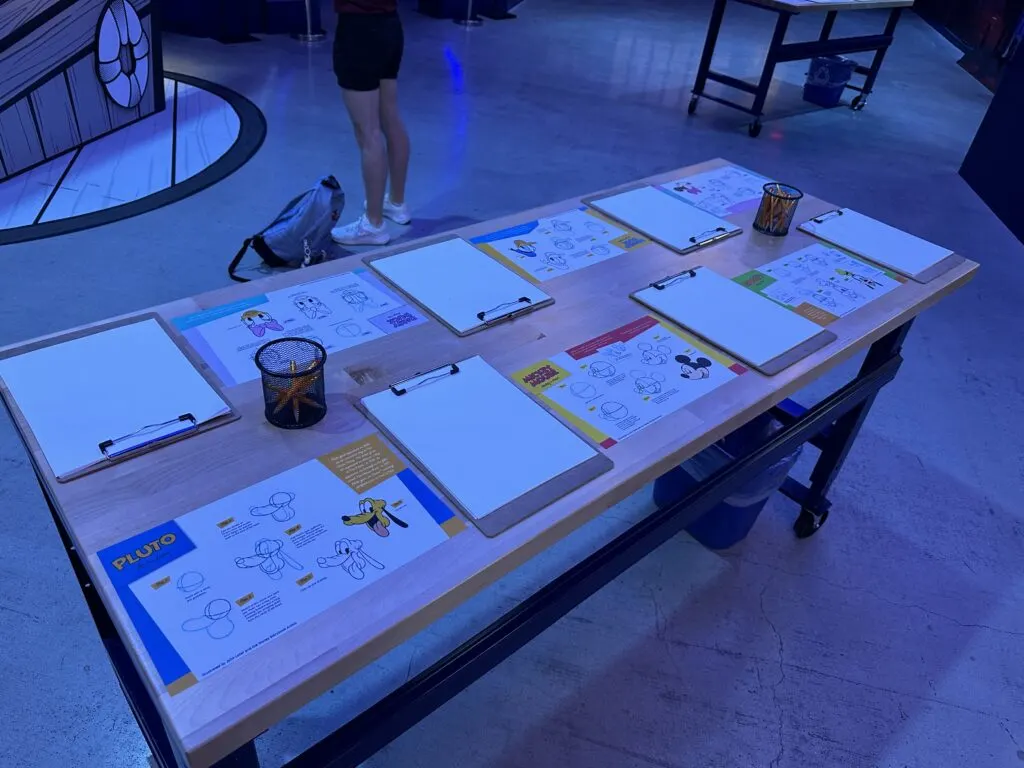 The theater itself is comparable to a large rectangular warehouse and is surrounded by floor to cieling screens that are illuminated with projection technology.
While there are pillars throughout the space, they are coated in mirrors so as to not disrupt the immersive experience.
Uniquely, even the venue's floor acts as a screen, which creates a pretty darn unique visual.
Here's an idea of what you can expect: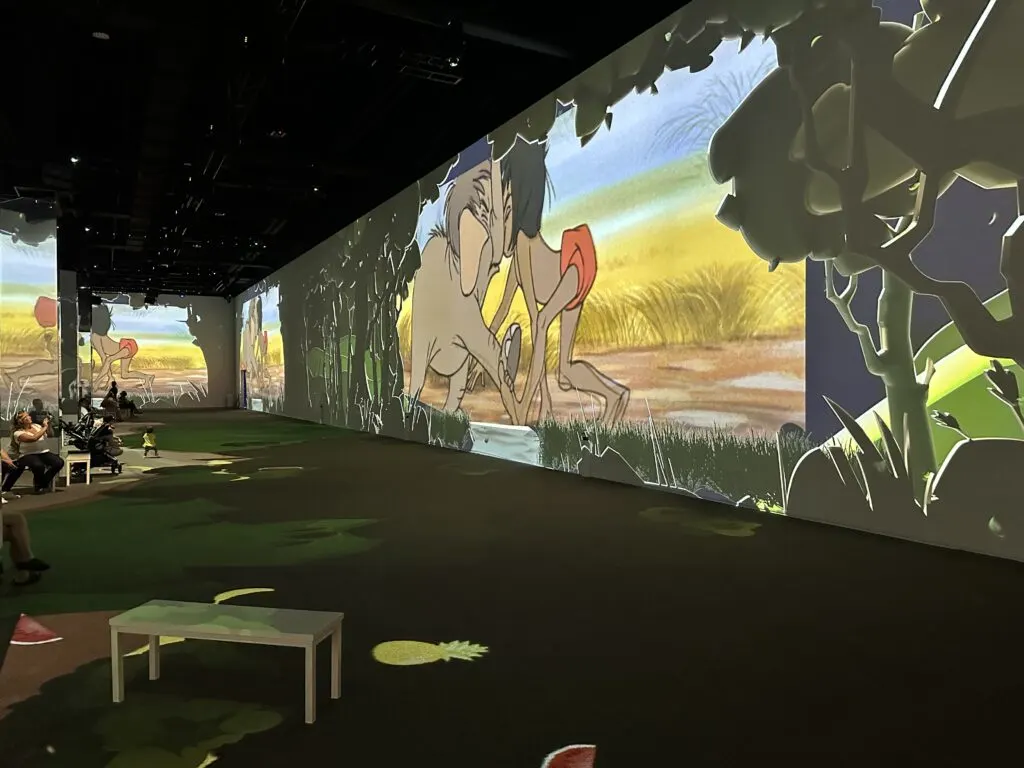 The video production runs on a loop that takes 56-minutes and is packed with clips from classic Disney films like "The Little Mermaid", "The Jungle Book", "Aladdin", "The Lion King", "Beauty and the Beast", "Frozen", "Lilo & Stitch", "Tangled", "Encanto", "Coco", "Hercules", and so many more.
Notably, you don't need to leave when the movie restarts, and can stay as long as you'd like.
There were benches scattered about the space to sit on, however, they were metal and didn't have a backrest. I opted to stand and mill about.
Now that I've covered the basics of the attraction, let's break down what I liked and what was lacking.
What I Liked
Visual Appeal: At its core, Immersive Disney is a pretty awesome sight. The towering 360-degree screens, mirror-wrapped pillars, and floor projections create a truly awe-inspiring visual.
There were a few especially unique "busy scenes" that stand out where thousands of fish or bubbles are projected onto the walls and floor that were visually awesome.
This, combined with a love of Disney movies, is why you buy a ticket.
Interactive Elements: There were times during the show that elements on the floor became interactive. Examples of this included stars and flowers on the floor that parted like the Red Sea as you walked through them.
Kids especially liked this, which was also somewhat annoying (more on that below).
Nostalgia Factor: Immersive Disney featured clips from both recent and historic Disney movies, some of which I hadn't watched since I was a young kid in my Grandma Ellie's basement.
It was a really fun trip down memory lane that'll appeal to both fans of Disney's recent work and the classics from yesteryear.
What Was Lacking
A Plot or Anything Original: I'm not exactly sure what more I was expecting, but the 56-minute loop is essentially a patched-together series of clips from Disney movies set to music. There really wasn't a point, plot, or anything original.
It almost felt as if I were watching a series of replays/highlights from a sporting event I had already watched. The only real differentiator vs. watching these clips at home is the venue (which is amazing).
I recall thinking that the 56-minute loop could've been patched together in about 15 minutes by an intern… Obviously, the projector effects, etc. took a more substantial time investment, but I'd be disappointed if I paid $120+ for my family of 4 to see a mashup of clips we could've just viewed at home.
Obnoxious Kids: Remember those interactive floor elements I mentioned above as a positive? Well, one negative aspect of that is that it brought the kids out of their shells and encouraged them to run about the venue, distracting people from the show.
If I'm being honest, kids didn't seem all that interested in the actual production anyway, perhaps because there was no plot or story behind it.
There was one kid in particular who incessantly was throwing his chair cushion in the air and catching it. Repeatedly.
The Verdict: Is Immersive Disney Worth Doing?
The venue and visuals were amazing, as I had expected going in. Immersive Disney was definitely a feast for the eyes.
With that being said, I was a bit underwhelmed by the actual content, which amounted to a 56-minute series of Disney movie clips synched together to music.
After the "coolness" of the visuals started to wear off, I just found myself feeling… bored.
It was cool. It just wasn't $31.98 cool in my opinion. Needless to say, I would've felt a bit bamboozled if I'd spent over $120 for my entire family to come along.
Look, I still think there are reasons to visit – Especially if you're a massive Disney fan. Don't let me dissuade you!
I would simply recommend visiting on a weekday when you can snag cheaper tickets and/or double-check Vegas.com to gauge if there are deals to be had there.
As for the "Premium" and "VIP" tickets, I'd recommend skipping those as well. Just stick with the baseline option and spend the money you save on a great souvenir in the gift shop if you desire a memento.
I'm a former software salesman turned Vegas aficionado. While the craps table is my preferred habitat, I pull myself away to explore new attractions, shows, restaurants, and outdoor activities around Las Vegas with the intent of sharing my experiences.
Ultimately, I just want to help folks plan a better trip and save a few bucks in the process.