Horseshoe has completely reinvented itself during its recent transition from its previous identity as Bally's.
Some of those changes include a new poker room, the addition of Jack Binion's Steakhouse, fresh horseshoe-themed carpeting, a new Dino Safari attraction which is family-friendly, and a new cocktail lounge which is home to "The Lock" Speakeasy.
Out front of the resort along the Strip, construction of a pizzeria & nightclub called Bottled Blonde is underway right next to Ole' Red, another new live music venue that's the brainchild of Blake Shelton.
One of the most obvious changes to regulars was the conversion of their former sportsbook space to an arcade fittingly called… ARCADE.
I thought it would be fun to stop into Horseshoe's ARCADE to survey the offering with the intent of sharing the experience with you.
Of course, I'll be sure to include plenty of pictures to help you determine if the ARCADE at Horseshoe is itinerary-worthy.
Inside the ARCADE at Horseshoe Las Vegas
I stopped into Horseshoe's ARCADE the moment it opened at 10 am with the intention of avoiding crowds.
Going in, I knew this wasn't the biggest arcade in Las Vegas at around 80 total games, which is a relative baby compared to behemoths like the Arcade at Circus Circus or Excalibur's Fun Dungeon, each boasting around 200 total arcade games.
What Horseshoe lacks in sheer size is made up for by the venue's comparative modern vibe, cleanliness, and overall "niceness" of the space.
Look, I have nostalgia for both Circus Circus and Excalibur… but both resorts are a bit dated and rundown – Horseshoe's ARCADE is anything but.
Game credits are purchased at one of many self-service kiosks scattered about the space, and "tickets" are accumulated on that same play card to be redeemed at the redemption counter at the tail end of your session.
While most arcades in Las Vegas offer a spectrum of games that include older classics and modern favorites, I'd describe Horseshoe's as skewed toward modern. That being said, there were still old-school classics like Skee Ball, Space Invaders, and air hockey mixed in.
Unlike larger arcades like those at Excalibur and Circus Circus, there were no carnival-style midway games.
Here are some images from inside the ARCADE to give you an idea of what to expect.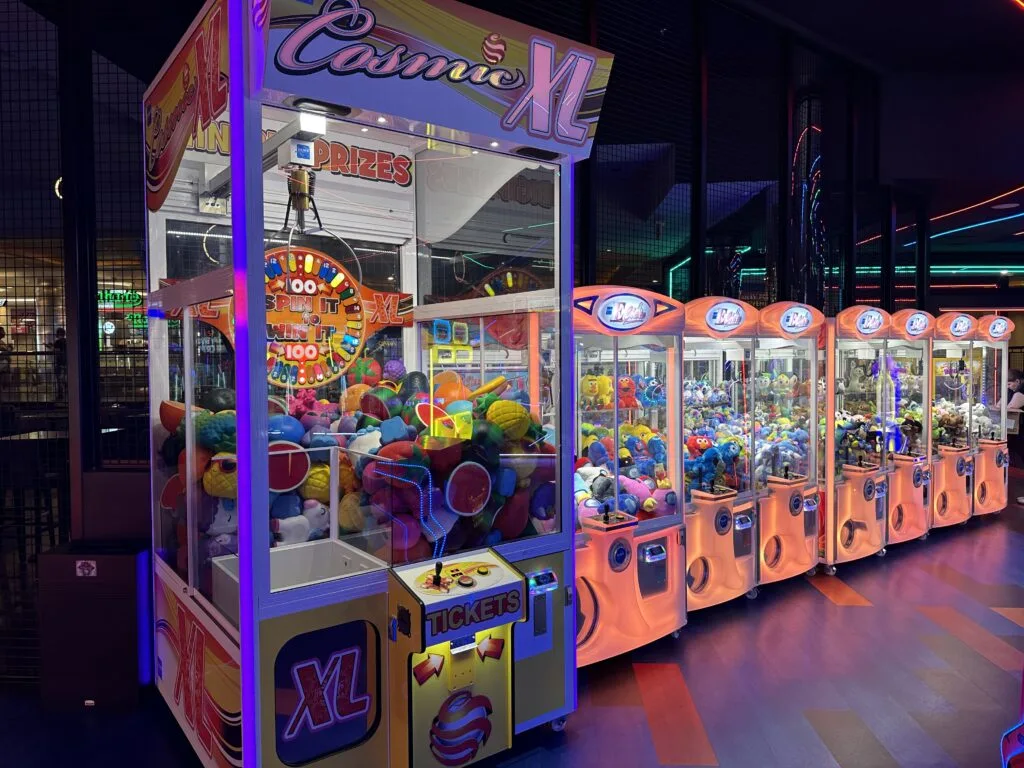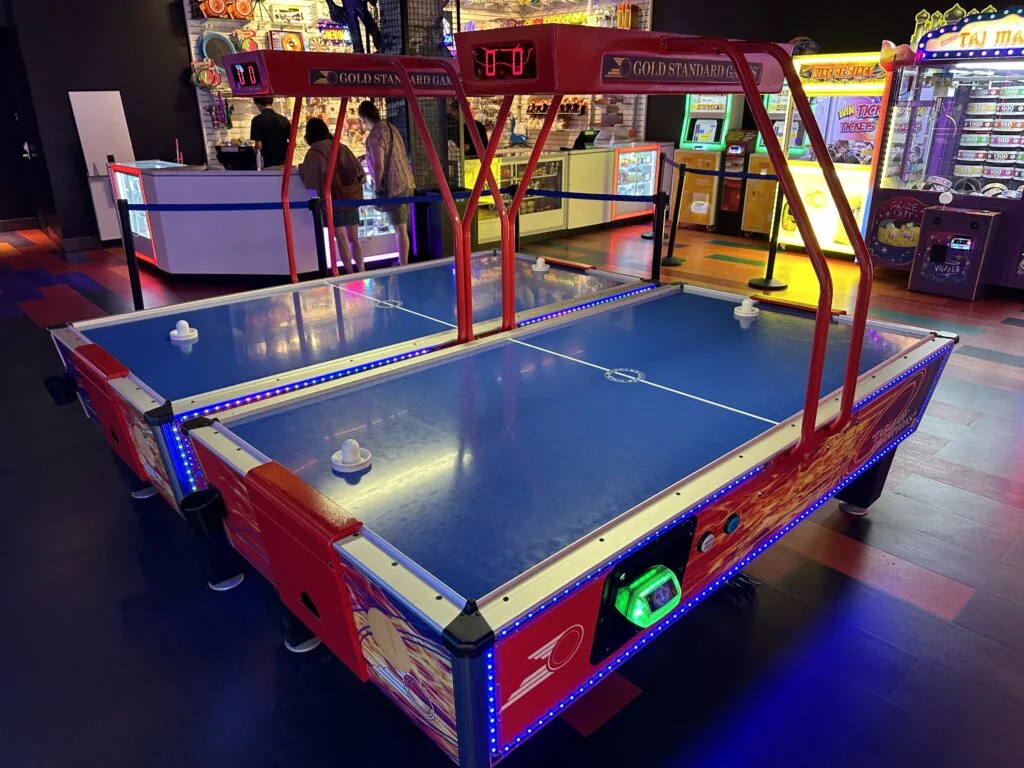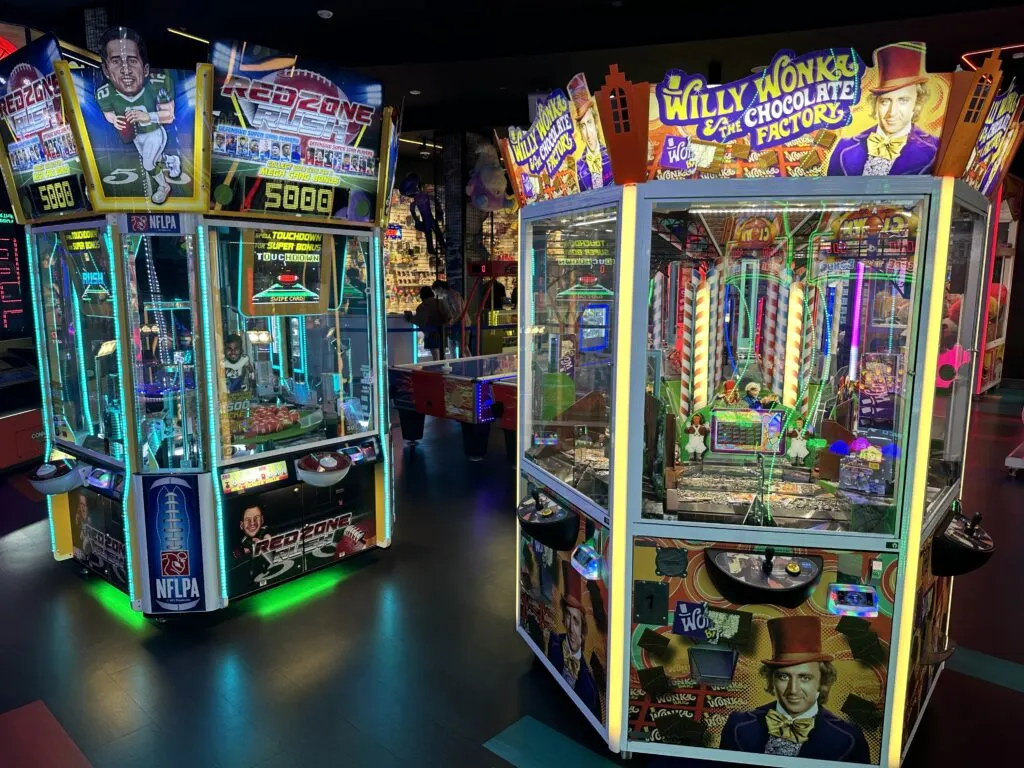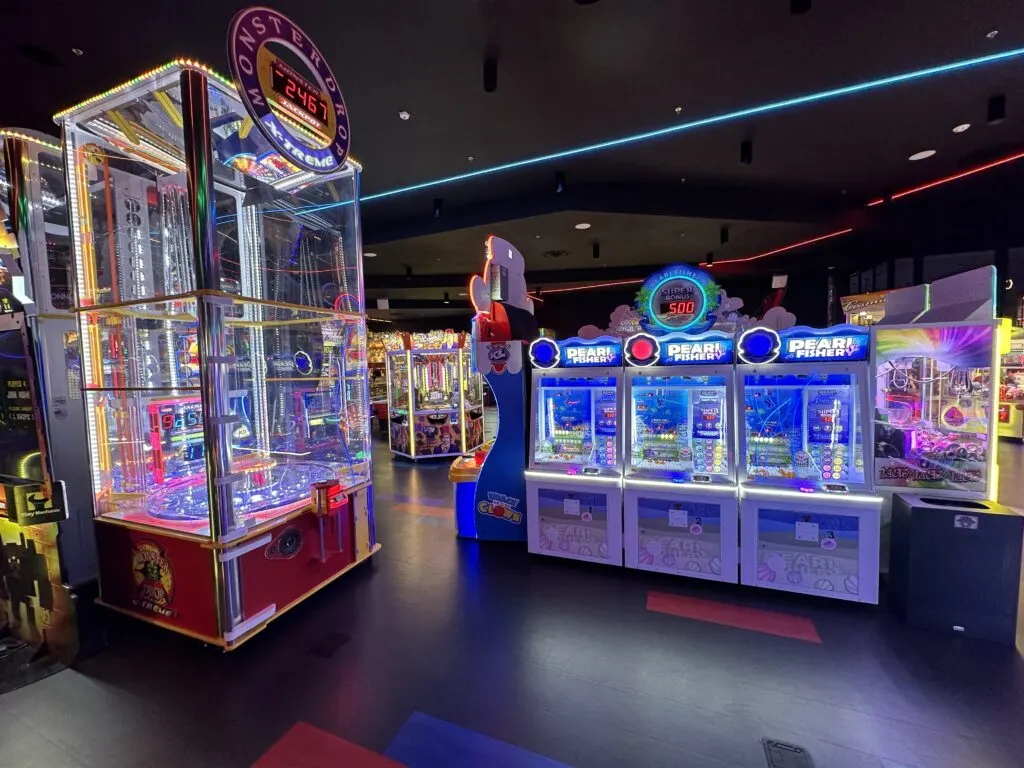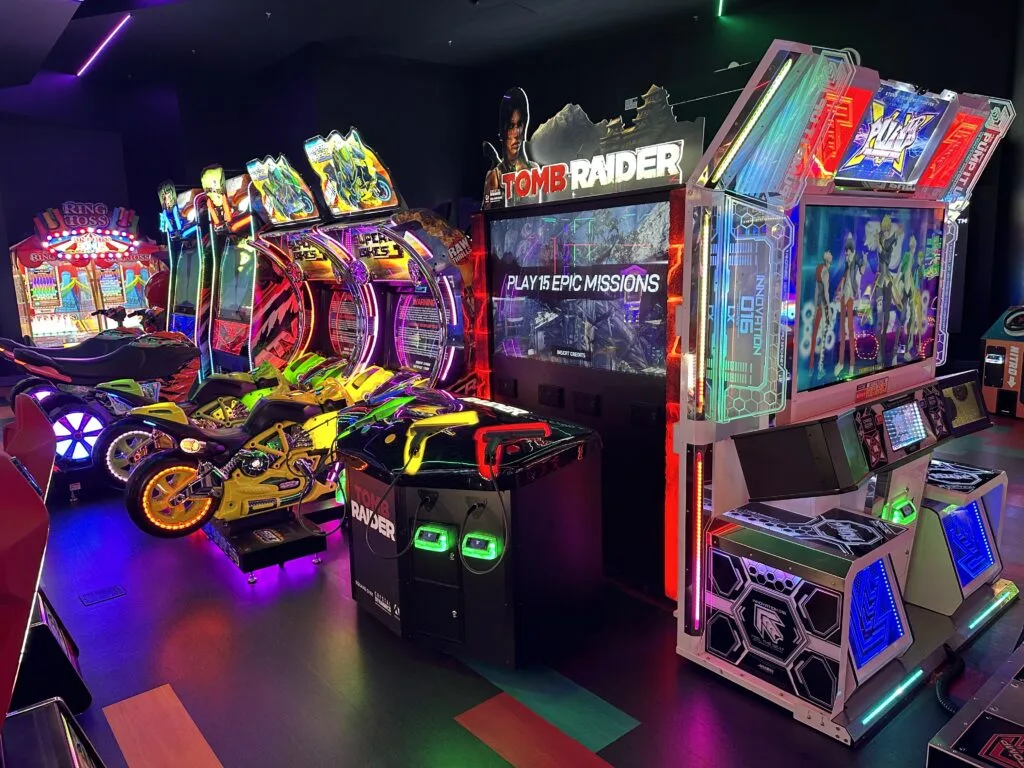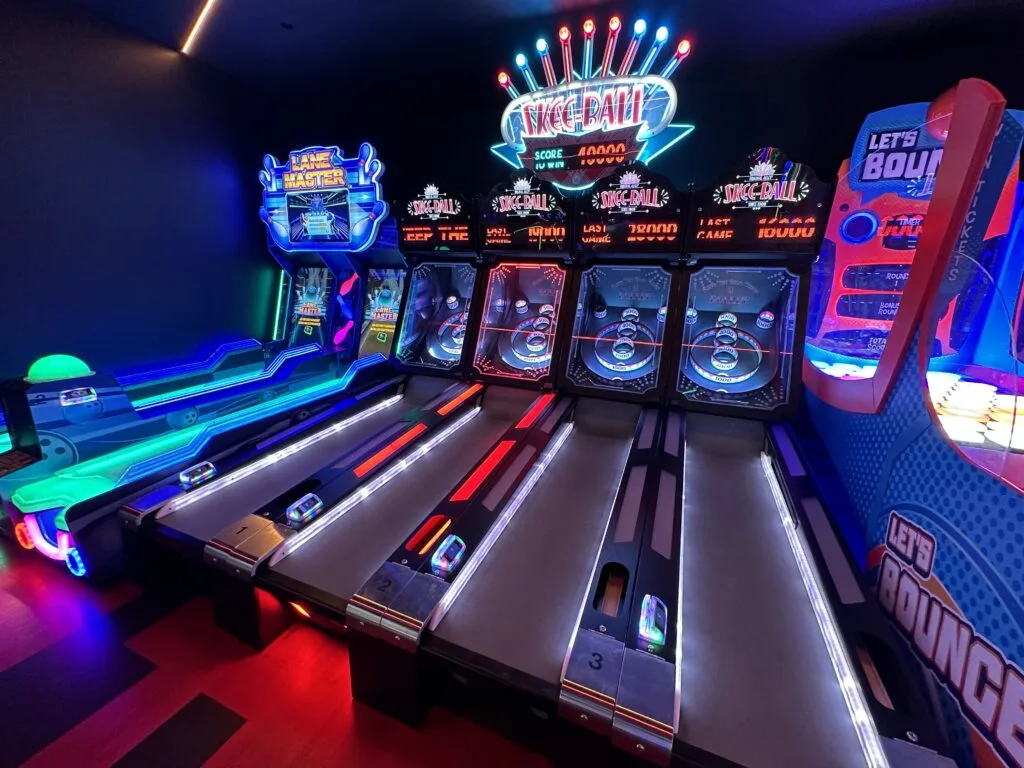 Although expected in a smaller arcade, the redemption counter was fine but paled in comparison to the literal retail store offered at Circus Circus.
Although kids typically only earn enough to buy small candy items and trinkets, I'm a firm believer in arcades flaunting a broad selection of big-ticket items like TVs and video game consoles to build excitement and provide some inspiration.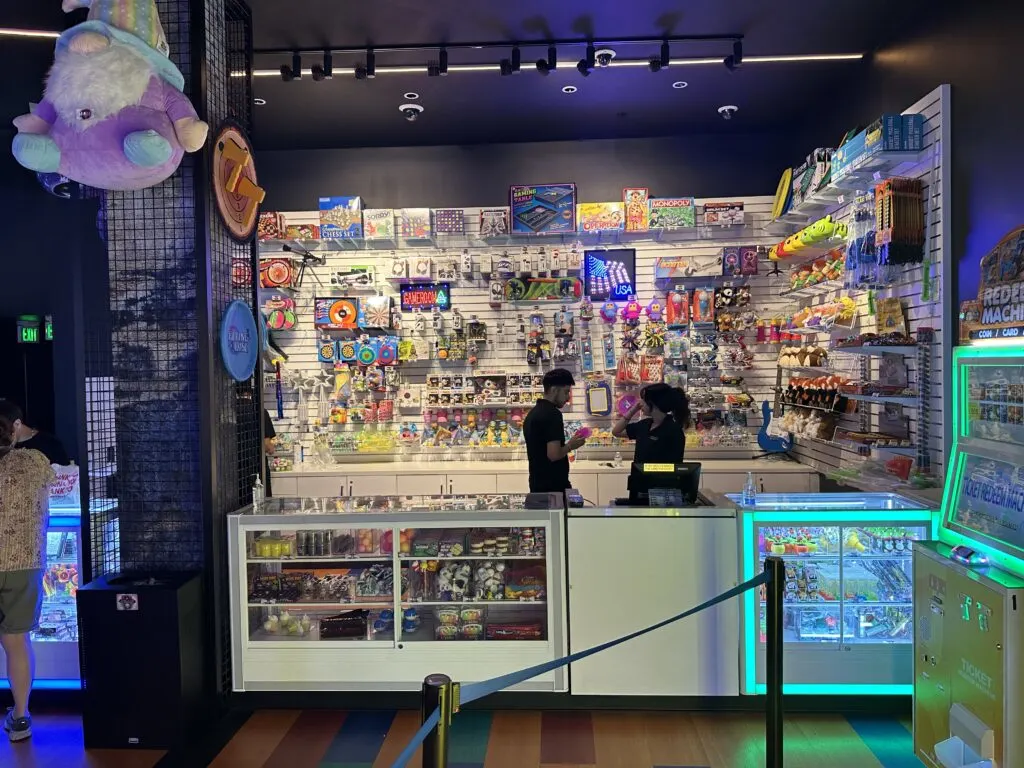 A unique amenity, Horseshoe's ARCADE also is home to a cocktail lounge which is sure to help parents stay sane as they dodge other people's kids.
The bar wasn't open when I visited, but I thought it was also cool that pinball and the popular Golden Tee golf game were available to be played.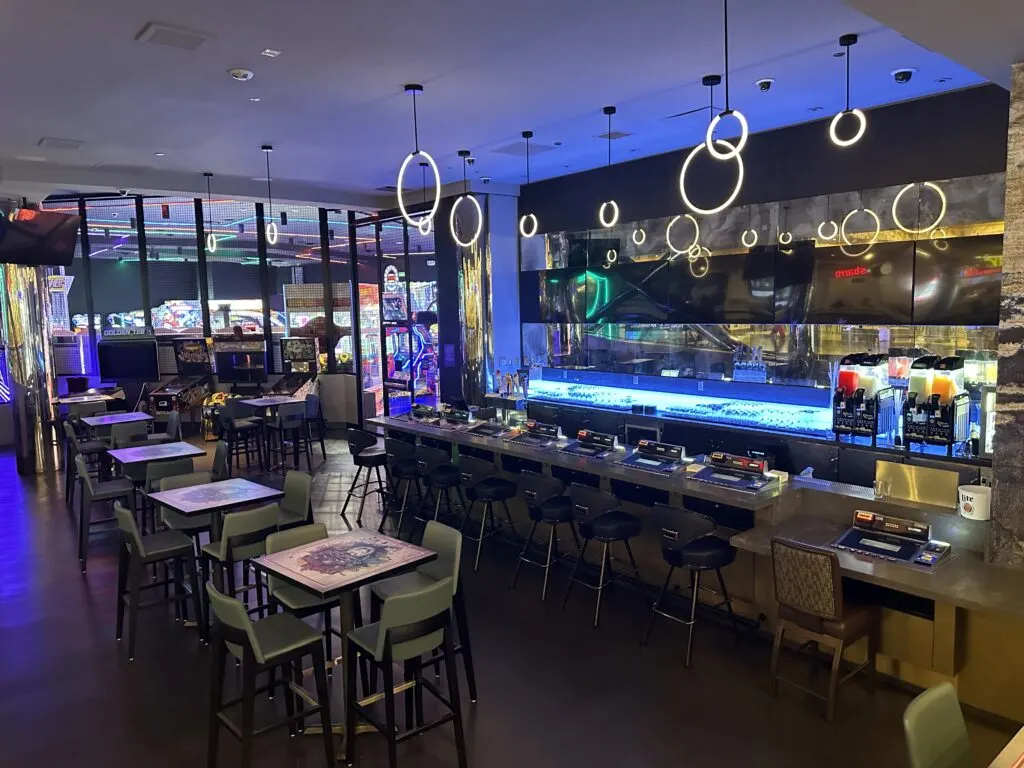 The Verdict: Is Horseshoe's ARCADE Worth Visiting?
Although this isn't the premier arcade in Las Vegas (that title belongs to Circus Circus), there is certainly reason to visit the ARCADE at Horseshoe.
If you don't mind a smaller game selection and the absence of carnival-style midway games, ARCADE has a modern vibe, is brand new, and is in incredible shape.
Although the game selection is smaller, I still felt there was ample variety to satisfy all preferences.
While kids and families certainly make a point to visit the ARCADE, I can only imagine it's less chaotic and crowded than the bigger options at Excalibur and Circus Circus.
Parents will also appreciate the presence of a bar, meaning you can have a little fun while your kids run wild.
If you're looking for an arcade, your family can visit with confidence. ARCADE at Horseshoe is a legit option, albeit smaller than the big boys.
I'm a former software salesman turned Vegas aficionado. While the craps table is my preferred habitat, I pull myself away to explore new attractions, shows, restaurants, and outdoor activities around Las Vegas with the intent of sharing my experiences.
Ultimately, I just want to help folks plan a better trip and save a few bucks in the process.