Key Points:
LINQ's Bunk Bed Room lofts an extra twin bed above one of the two queens, allowing guests to sleep an extra person.
Functionally, the room met my expectations at the price point, although it was aesthetically "beat up".
My check-in experience was delayed and a bit aggravating – I yearn for the day Caesars adopts mobile check-in and room keys.
LINQ is one of the few hotels in Las Vegas that offers bunk bed rooms, a unique accommodation that tends to be popular with small groups and families.
Bunk bed rooms at LINQ are essentially standard 2-queen rooms with a lofted twin above one of the two beds.
I've actually been a bit of a LINQ fanboy since the property transitioned from IP & The Quad to its current incarnation.
While not the most luxurious property on the Strip, I've found myself drawn to stay at LINQ several times over the years due to its mid-Strip location, upbeat gaming floor, and budget-friendly rooms.
On a recent jaunt to Vegas, I noticed that I could reserve a complimentary bunk bed room due to my gambling activity within the Caesars Rewards loyalty program – I would just need to pay resort fees and tax, which amounted to $45.30.
As rooms with bunk beds tend to be popular with families, small groups, and even bachelor & bachelorette parties, I figured it would be fun to rent one with the intent of giving you a look inside.
LINQ Check-In Experience
The standard check-in time at LINQ is 4 pm, and I dutifully pulled up to the self-check-in kiosk promptly at that time.
I entered my ID, information, and credit card only to be informed my room wasn't ready yet. No biggie. I figured it'd be fun to go peck some slots with my luggage in tow and try back in a half hour.
*$200 donated to the slots later*
Again, I tried to check in at one of LINQ's self-serve kiosks and was informed that my room wasn't ready. Ugh. a little annoying, but I'm feeling lucky, and the "Rich Little Piggies" were calling my name.
*$200 more donated to the slots later*
It was now after 5 pm, and I figured that there was no way my room wouldn't be ready. I re-approached a kiosk and was shot down for a 3rd time. Fine, I thought, I'm going to make them pay in the casino… After all, I still have 2 crisp $100 bills left in my wallet.
*$200 more donated to the slots later*
Now down $600 while waiting for my room, I approached the self-serve machine for a 4th time at 6 pm. Shot down. Again.
As my cash reserves were tapped out, I figured it was time to wait in line to talk to the sole employee working the hotel desk.
She pulled up the room, also saw that it was "not ready", called housekeeping, and was able to determine that my room *was* actually ready… Apparently, housekeeping simply forgot to mark it as clean after taking care of it.
My room had been ready the whole time. Ugh.
Ultimately, it was my fault for not checking with a human earlier, but the check-in process at resorts under the Caesars umbrella doesn't always make that a convenient option.
As a fan of (and frequent guest at) Caesars properties, I yearn for the day that a mobile check-in process is adopted that allows you to use your phone as a room key.
In this day in age, there is no need to wait in line, talk to a person, or interact with self-serve kiosks that sporadically work.
Clunky check-in process aside, let's take a look inside the room, shall we?
Inside LINQ's Bunk Bed Room
On my way up to the room, I always like to scope out the common area, hallways, and elevator lobbies to get a feel for what to expect in the room.
Basic & clean – Good vibes thus far.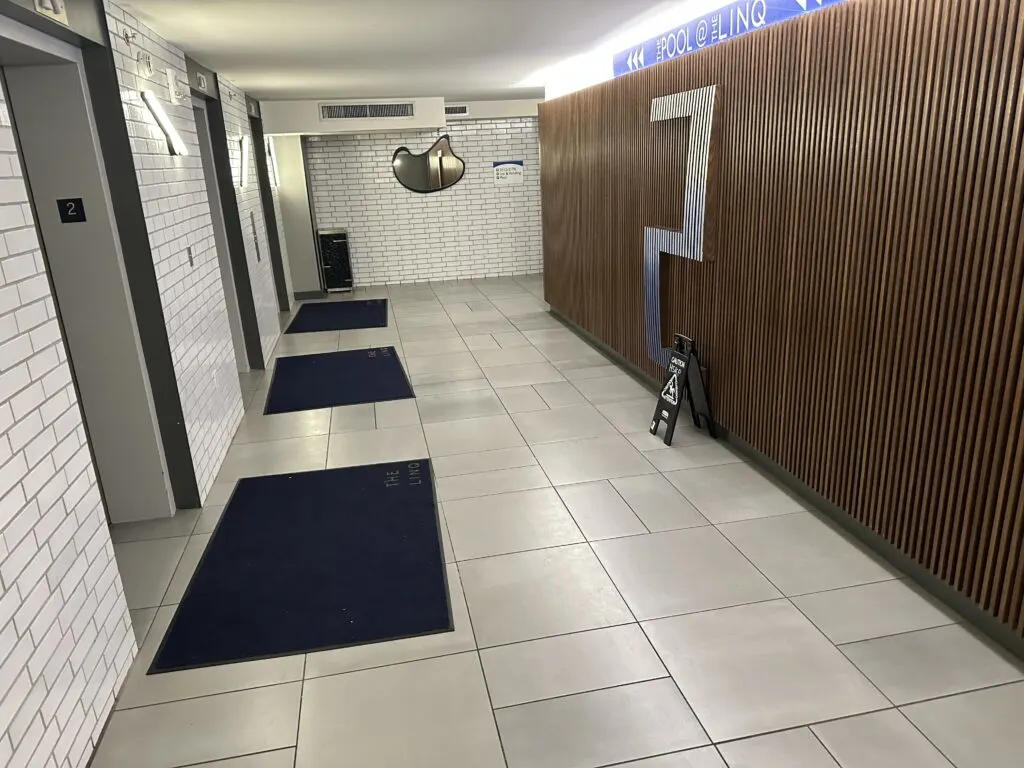 The room itself isn't overly unique. It's essentially one of LINQ's standard 2-queen guest rooms with a lofted twin, providing the opportunity to comfortably sleep 5 people.
One thing you should know is that LINQ's bunk bed rooms are on the small side by Vegas standards at 350 square feet.
Granted, it's Vegas, and you'll be out and about. But cramming 5 adults into this room is going to be tight.
Aesthetically, I've always dug LINQ's room decor, which features an illuminated accent wall depicting vintage casino signage. It gives the space a relatively modern and unique feel.
Take a look:
As a budget-friendly hotel, LINQ's rooms don't come equipped with the technology and "frills" that rooms in high-end resorts have. There are no fancy curtain buttons, bedside iPads, or Alexa devices.
Importantly to me, however, there was an empty fridge standing ready to keep my 6-pack cold, which is a nice perk.
Give me an empty fridge over an overpriced mini-bar any day!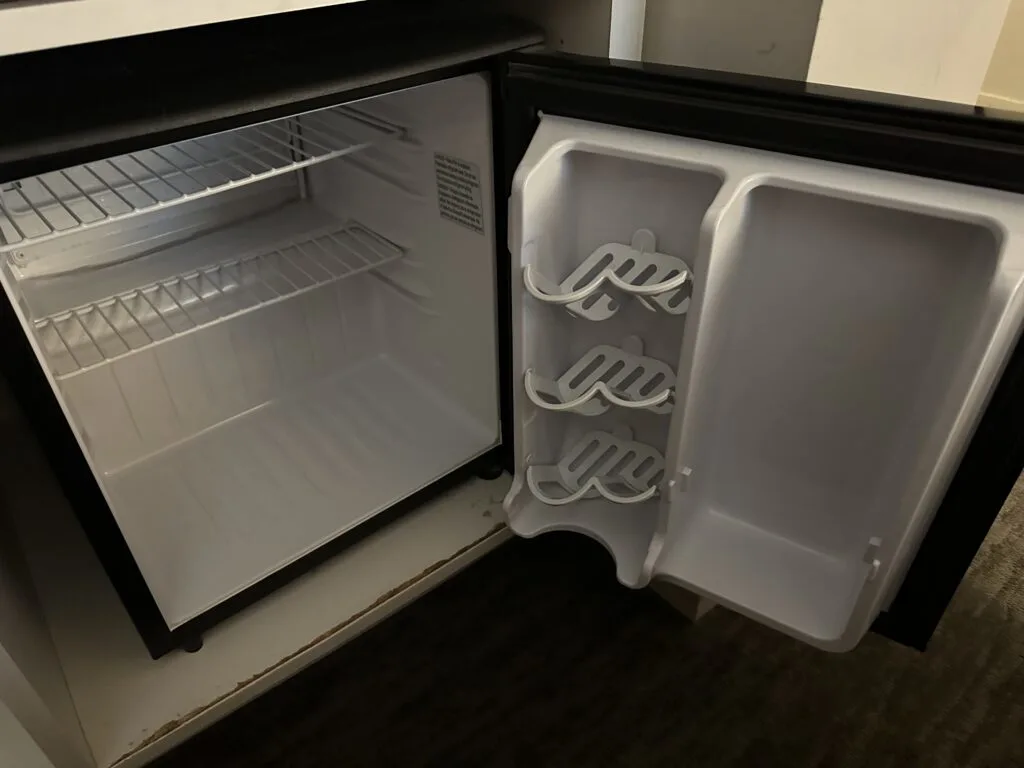 Other ancillary amenities offered within the room included an iron, an ironing board, a safe, hanger space, drawers for clothing, and an ice bucket.
The bathroom, which offered a single sink vanity, toilet, and shower was solid, albeit nothing Earth-shattering.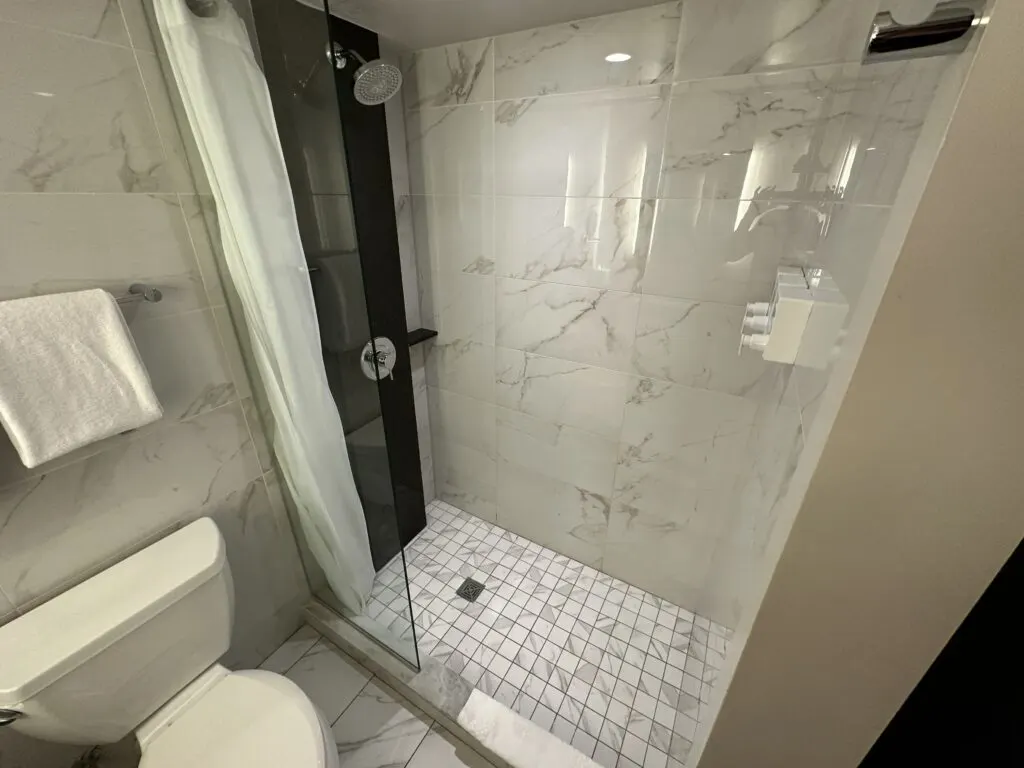 Present were industrial pumps filled with shampoo, body wash, conditioner, hand soap, and lotion. Not exactly the classiest touch, but effective and efficient for the hotel.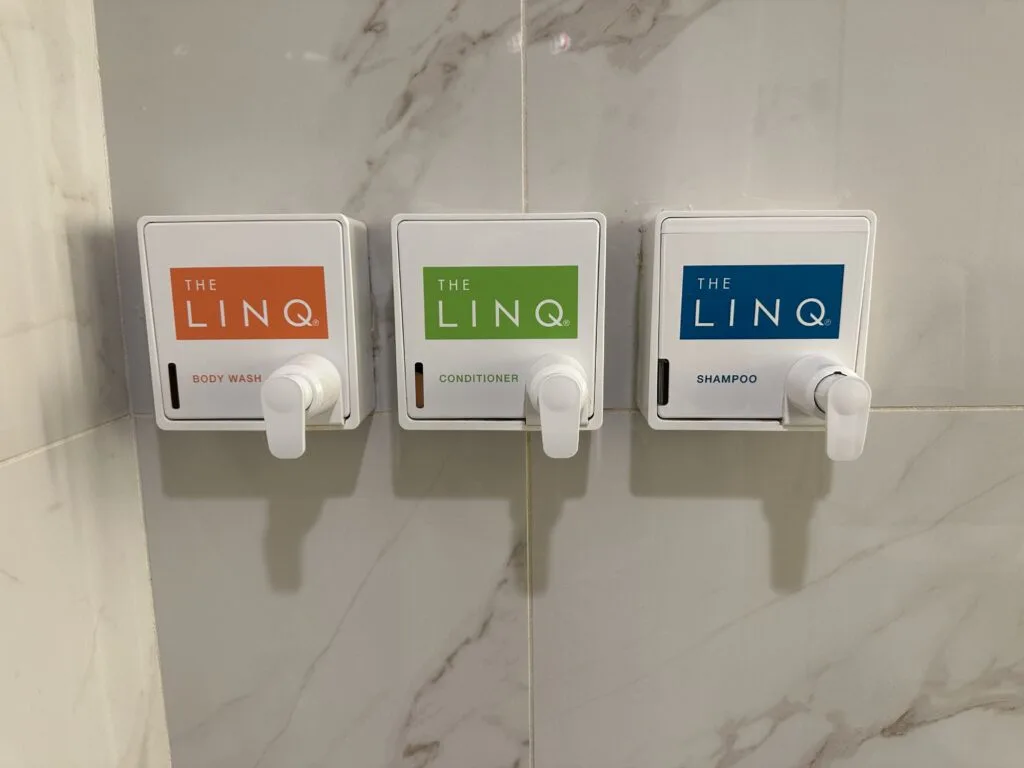 What's Not to Like?
It's never all roses, and I'm committed to sharing both the pros of a room along with the cons to help you make the best decision.
The Room was Dinged Up: My wife and I stayed at LINQ immediately after their 2015 renovation project that transformed their room product into what you see today.
At the time, the rooms were in tip-top shape, however, the years have taken a toll, and this room was a bit rough around the edges. Walls and ceilings had scuffs, corners were abused, and some of the metallic surfaces had seen better days.
By no means was this a dirty or disgusting room, but LINQ is definitely due for a hotel-wide refresh.
Similar deficiencies were also evident in my Poolside Cabana Room at LINQ rented about a year prior.
Here's what I mean:
Smaller than Average Room: As mentioned, LINQ's bunk bed room isn't exactly spacious at 350 square feet, especially if you plan to cram in 5 people.
Because of the space needed for the bunk bed step and stairs, there wasn't even enough room for a bedside table, which is where I usually set my cell phone and a glass of water when in bed.
You won't be spending much time in the room anyway – Just know it's going to be snug.
Neighbor Noise Audible: I'm weird about noise coming from neighboring rooms. If I can even faintly hear it, I can't sleep.
While I've never had a problem with noise spillage during my previous stays at LINQ, my neighbor on this occasion had (what I assume to be) a cell phone alarm going off starting promptly at 5 am.
The alarm, which was both audible and vibrating (which I could actually feel), would go off for about 15 minutes before silencing, only to go back off 15 minutes later. The cycle repeated until 7 am.
As mentioned, this has never been an issue in the past and I've stayed at LINQ numerous times. It may have been a freak occurrence where a cell phone was simply a foot away from my head on the other side of the dividing wall.
The Verdict: Is the Bunk Bed Room at LINQ Worth Renting?
Although I've grown "snootier" about my hotels over the past decade or so, I still like LINQ.
While the room was a bit rough around the edges, the defects were cosmetic and are to be expected at the price point.
I found the bunk bed room, and still find LINQ in general, to be one of the best bangs for your buck on the Strip.

No, it's not the nicest, most luxurious, or most spacious hotel in Vegas, but it's a rock-solid room product for the price.
Standard guestrooms commonly can be had for less than $50/night + fees mid-week, and bunk bed rooms can often be found for less than $100/night + fees, even if you don't have a relationship with the Caesars Rewards loyalty program as I do.
In addition to a budget-friendly hotel, LINQ offers an upbeat, trendy casino and boasts a great location in the middle of the Strip.
If you don't mind a couple of wall scuffs and need an extra twin bed then I'd suggest booking LINQ's bunk bed room with confidence. It's a strong value, albeit a no-frills experience.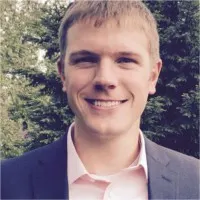 I'm a former software salesman turned Vegas aficionado. While the craps table is my preferred habitat, I pull myself away to explore new attractions, shows, restaurants, and outdoor activities around Las Vegas with the intent of sharing my experiences.
Ultimately, I just want to help folks plan a better trip and save a few bucks in the process.