Caesars Palace has been a go-to resort of mine for some time, in large part due to its location in the middle of the Strip.
Of course, it doesn't hurt that I can commonly score a free room based on my play within the Caesars Rewards loyalty program.
In addition to solid accommodations, Caesars Palace is home to the Bacchanal Buffet, which ranks among the best buffets in Vegas, the intricately themed Forum Shops, a sprawling pool complex, and a cavernous sportsbook.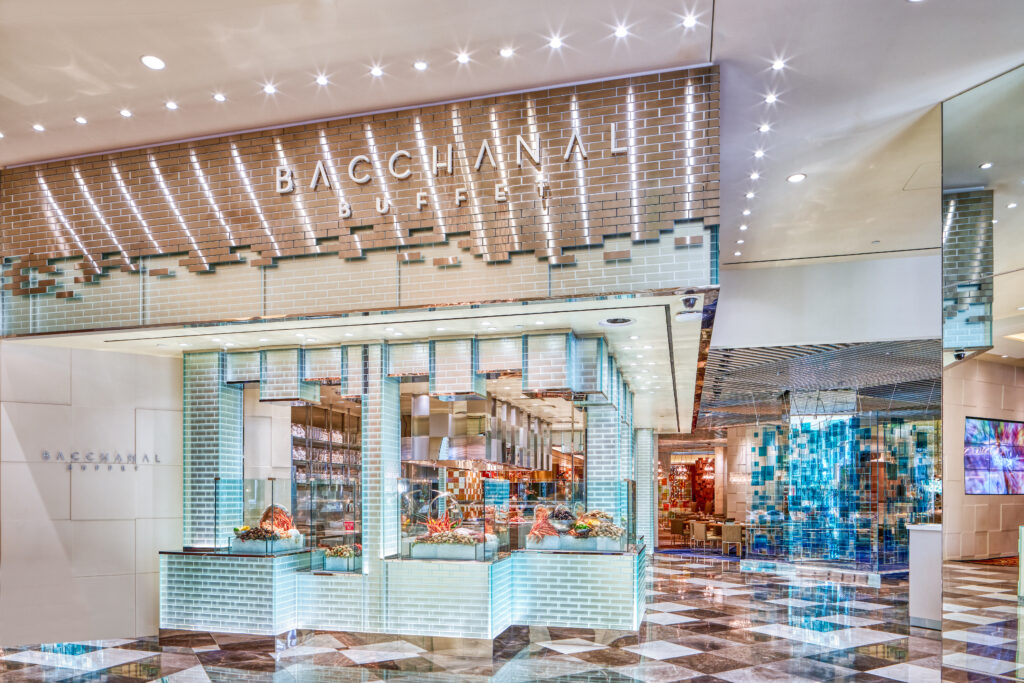 I recently noticed that I could reserve a complimentary Palace Premium room with 2 queen beds in Caesars' Palace Tower. As I had yet to experience that particular room, I was excited to jump all over it.
Below, I'll give you a look inside the room with plenty of pictures and share my opinion on the room product.
Caesars Palace Check-In Experience
The check-in process at properties under the Caesars Entertainment umbrella feels stuck in the 1990s or early 2000s.
Unlike other operators on the Strip that have gone completely mobile, Caesars still requires guests to physically check in with a live agent or at an automated kiosk.
While their standard check-in time is 4 pm, I've been able to check in at a kiosk at 3 pm or after without incurring a fee, however, if you want to get into your room before 3 pm, you'll disappointingly need to pay up.
On this visit, I received an email that my room was ready promptly at 3 pm and made my way to a kiosk to check in, got my room key, and was on my way to my room.
Not terribly painful, but clunkier than it needs to be.
As I commonly stay at Caesars properties and genuinely enjoy their resorts, I yearn for the day they allow for mobile check-in, mobile room keys, and the ability to skip the check-in desk altogether.
While almost everyone in Las Vegas charges for guaranteed early check-in, Caesars' biggest competitor, MGM Resorts almost always grants access to your room early, even if you didn't pay for that privilege.
It's one heck of a nice surprise when it happens, and I think Caesars could benefit from a similar policy instead of holding out until the last minute with the hope of driving some additional revenue.
Inside the Palace Premium Room at Caesars Palace
As I make my way up to the room, I always enjoy surveying the common areas like hotel hallways, elevator lobbies, etc. as their condition often suggests what you can expect in your room.
The Palace Tower at Caesars certainly makes a good first impression.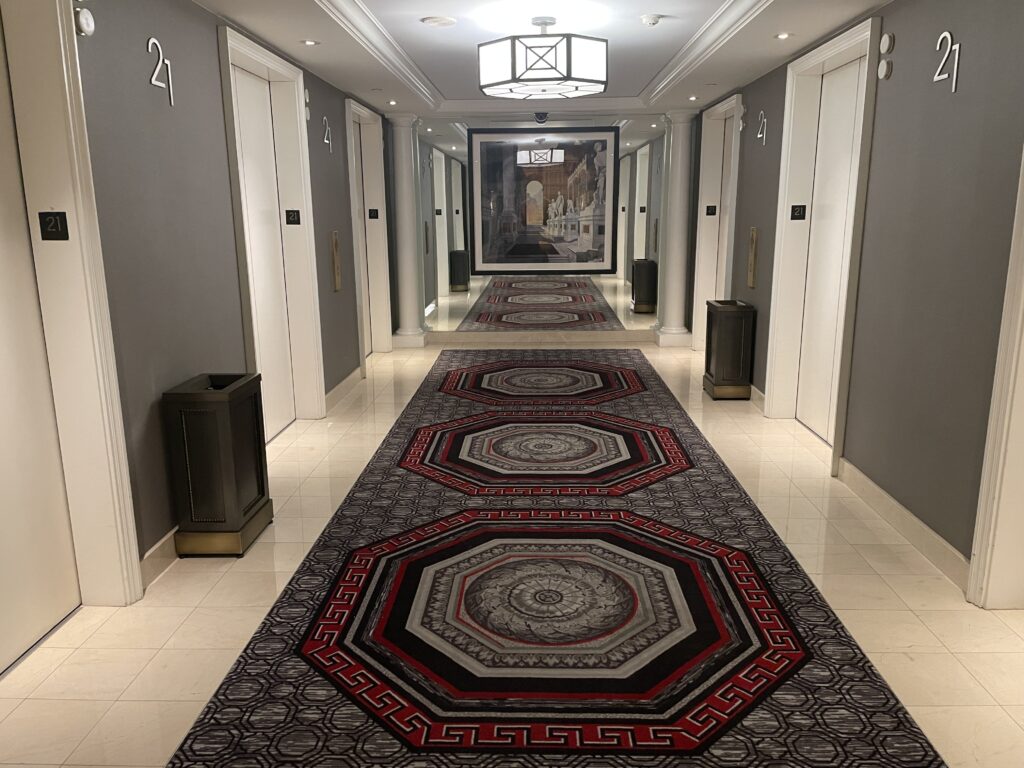 While my socks weren't blown off upon entering the 450+ square foot room, I'd describe it as having a "quiet quality" vibe.
Nothing, aside from the bathroom (more on that below) was overly unique, but the room still felt nice, albeit a bit unexciting and bland.
There were two queen beds, each with a bench at the end. On the nightstand was a lamp that came equipped with traditional power outlets in the base.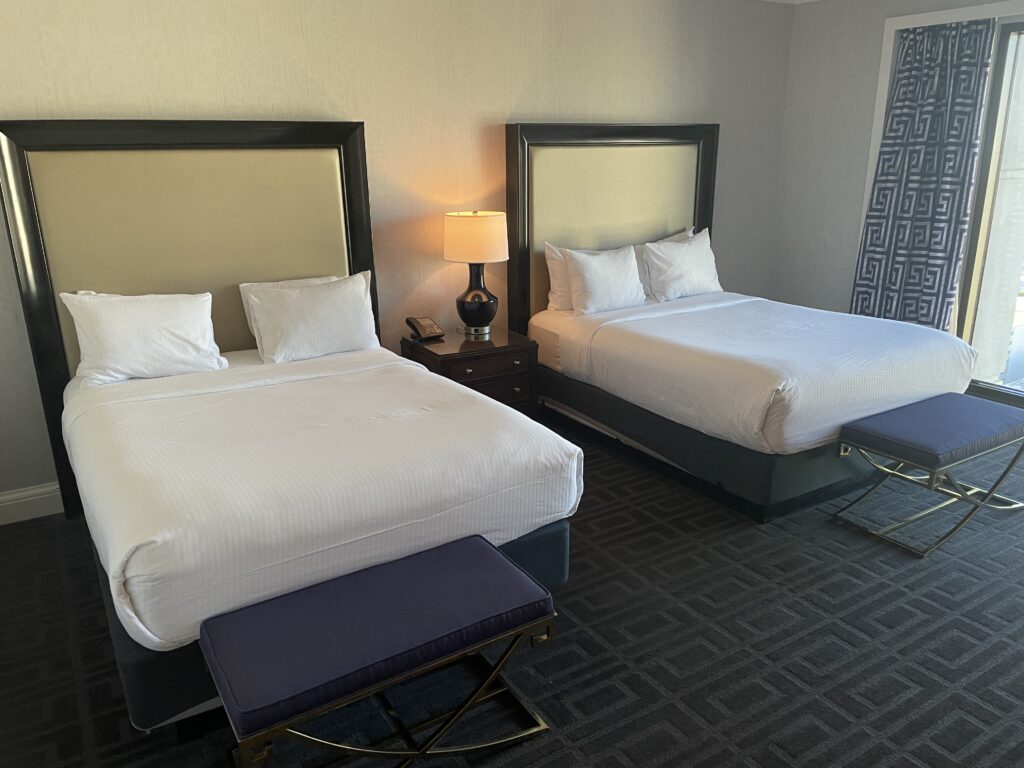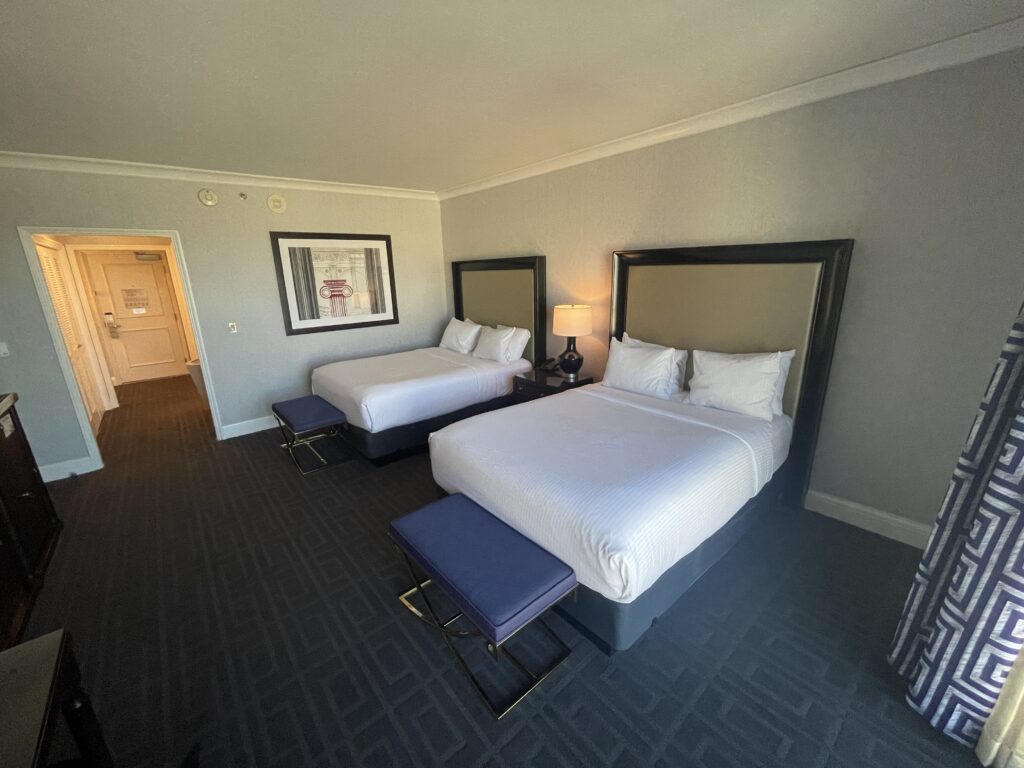 The beds have a view of a TV mounted on a stand with an impressive amount of storage space built into it.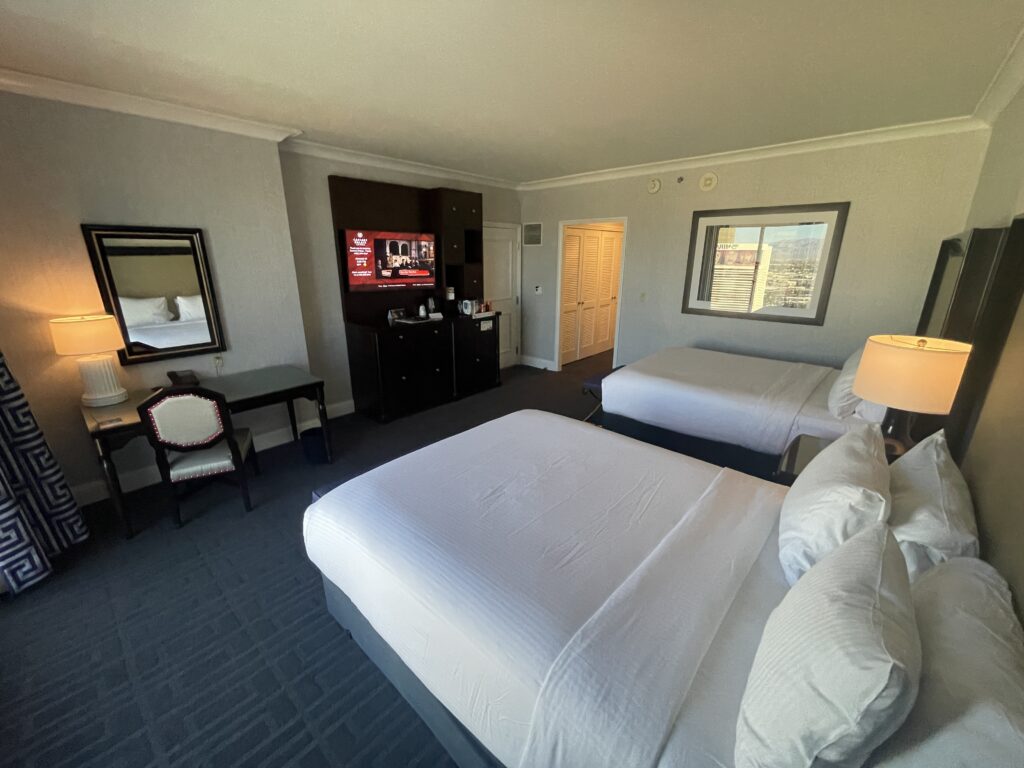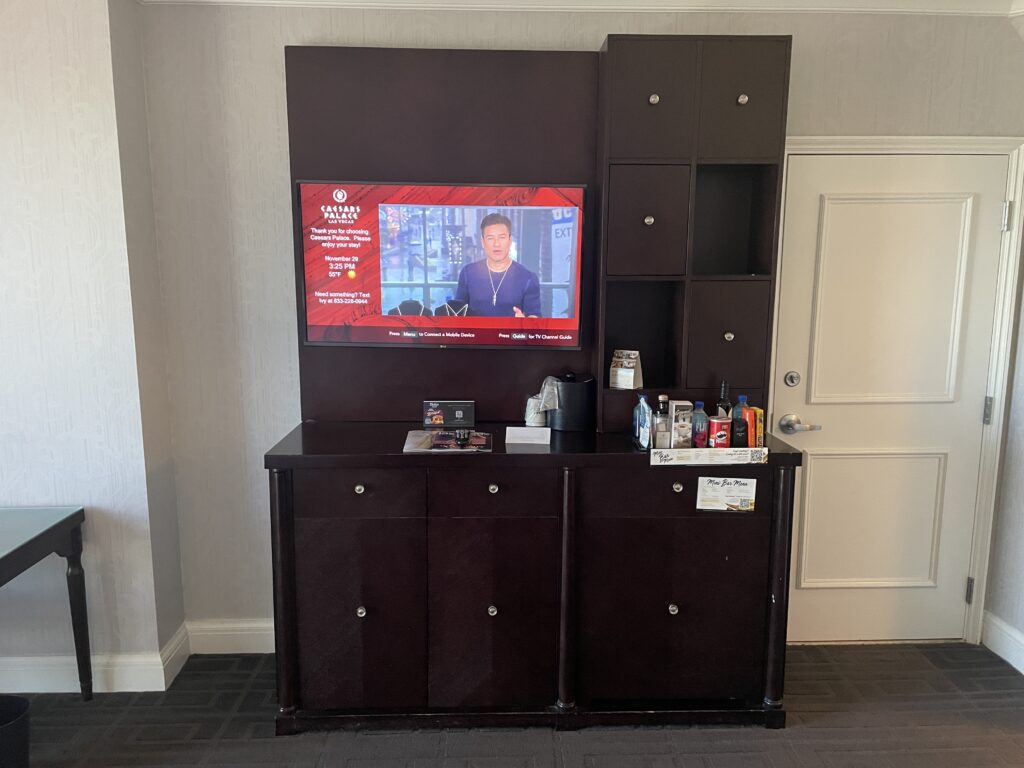 In addition to empty drawers found in the base of the TV stand, there's also a fridge that's home to cold mini-bar items.
Unfortunately, there wasn't any personal fridge space offered.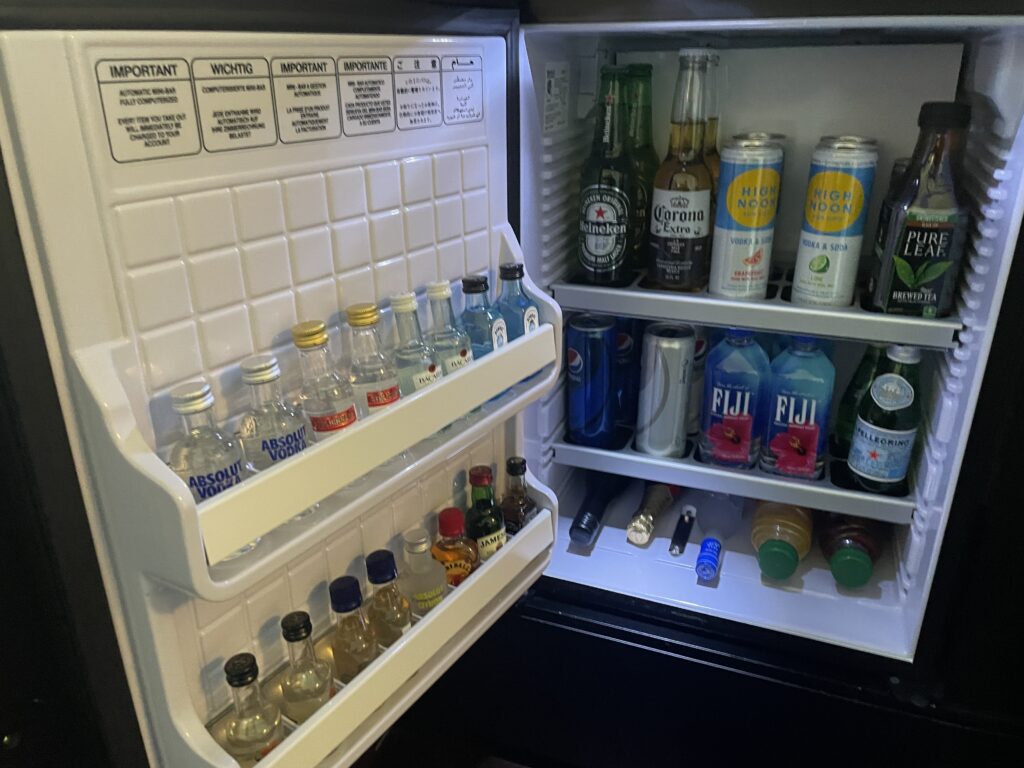 Uniquely, there was both a workdesk and a powder station outside the bathroom.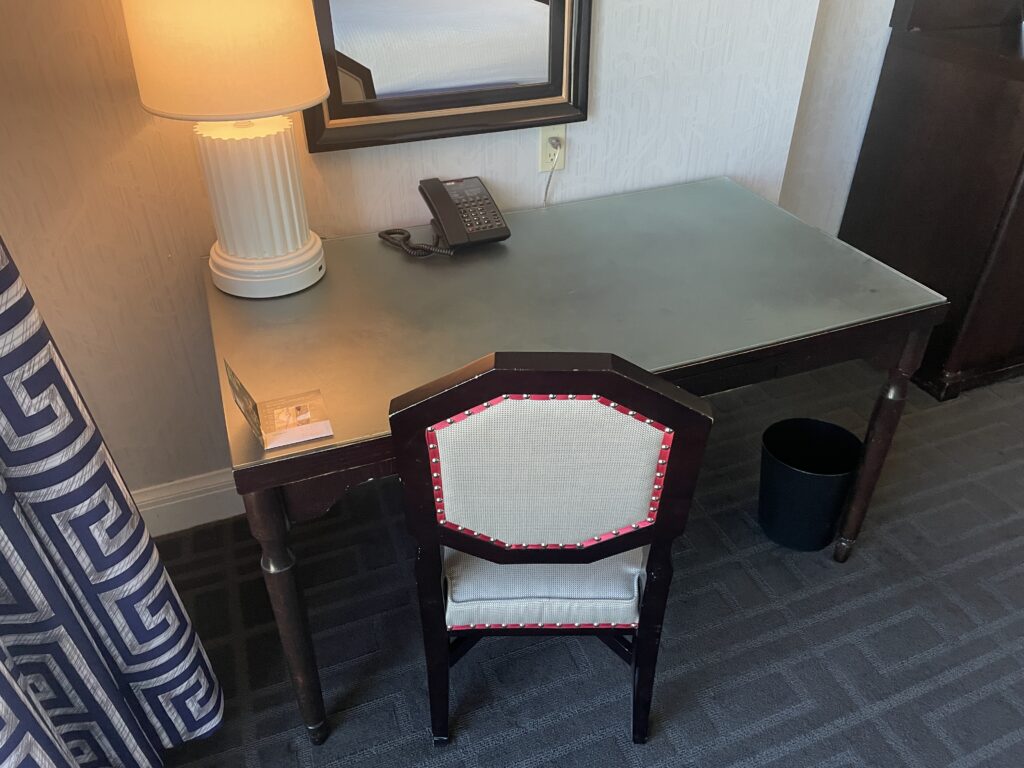 What the main room lacked in the visual "wow factor" department was made up for in the bathroom, which was a stunner.
Immediately evident was some pretty unique and visually appealing tile work on the floor, surrounding the tub, and in the shower. The dual vanity sinks and mirrors were sharp, and the toilet was housed in a separate closet.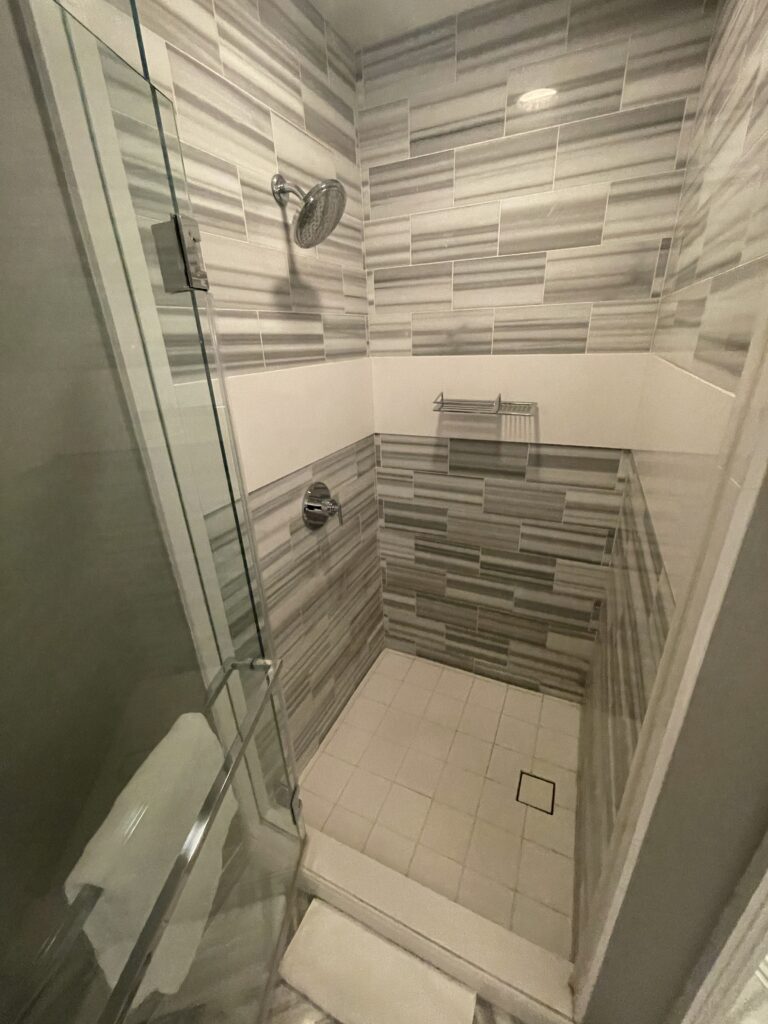 On the counter was a selection of bath products from Apotheke.
Overall, I found this to be a good room, with a pretty great bathroom. It was comfortable, relatively clean, and had a quality feel to it.
What's Not To Like?
Well, it can't be all roses, right? Although I found the room to be in good condition, I like to point out aspects of my stay that are a "miss" to paint the full picture.
Inter-Room Door
This room had one of those doors in the wall that can connect guestrooms to each other. I detest these inter-room doors, as they commonly allow noise to easily pass through.
All was quiet until the moment I was about to doze off. It was then that the loudest conversation between two (probably drunk) women erupted next door. I was nearly driven to the point of calling their room and respectfully asking them to quiet down when they left for the night, not to be heard from again.
Seriously, I go out of my way to avoid rooms with the sound porous door for that reason. Sometimes you get lucky, and sometimes you get stuck next to the party room.
Dusty Filter
Admittedly, I'm no HVAC professional, but I was pretty shocked to open the closet and see how disgusting the HVAC intake filter, and area around it were. It may be time to swap that bad boy out.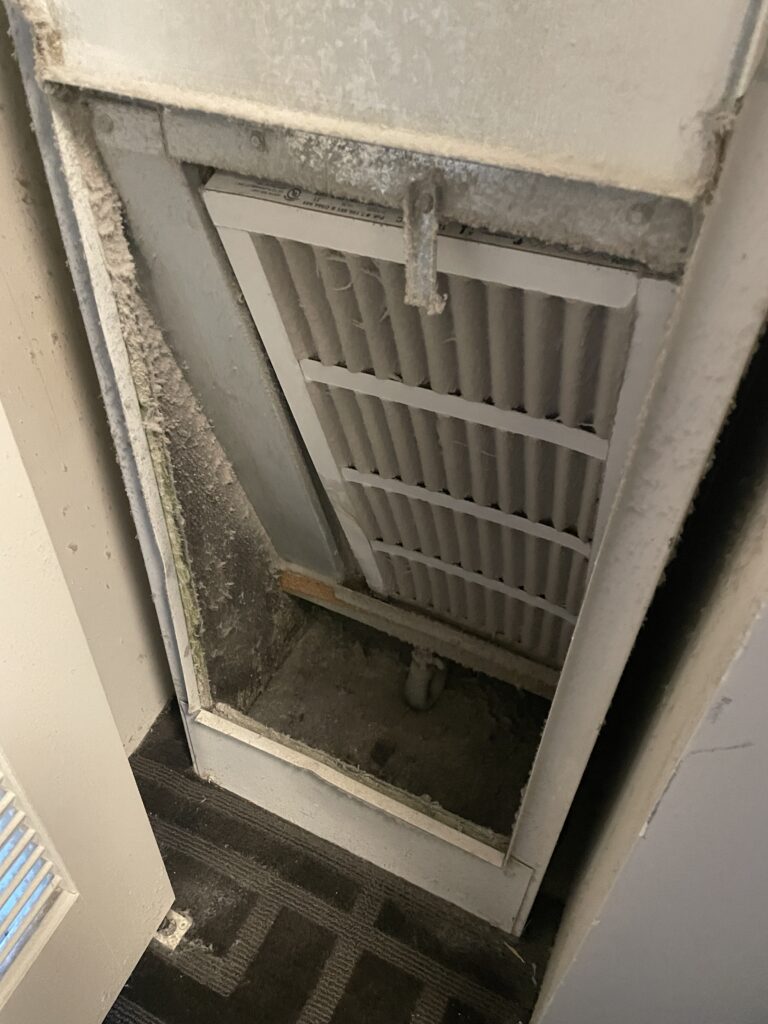 Beat up TV Stand and Baseboards
While this is common in Las Vegas hotel rooms and didn't negatively affect my stay, the baseboards around the room and even the TV stand were a bit dinged up.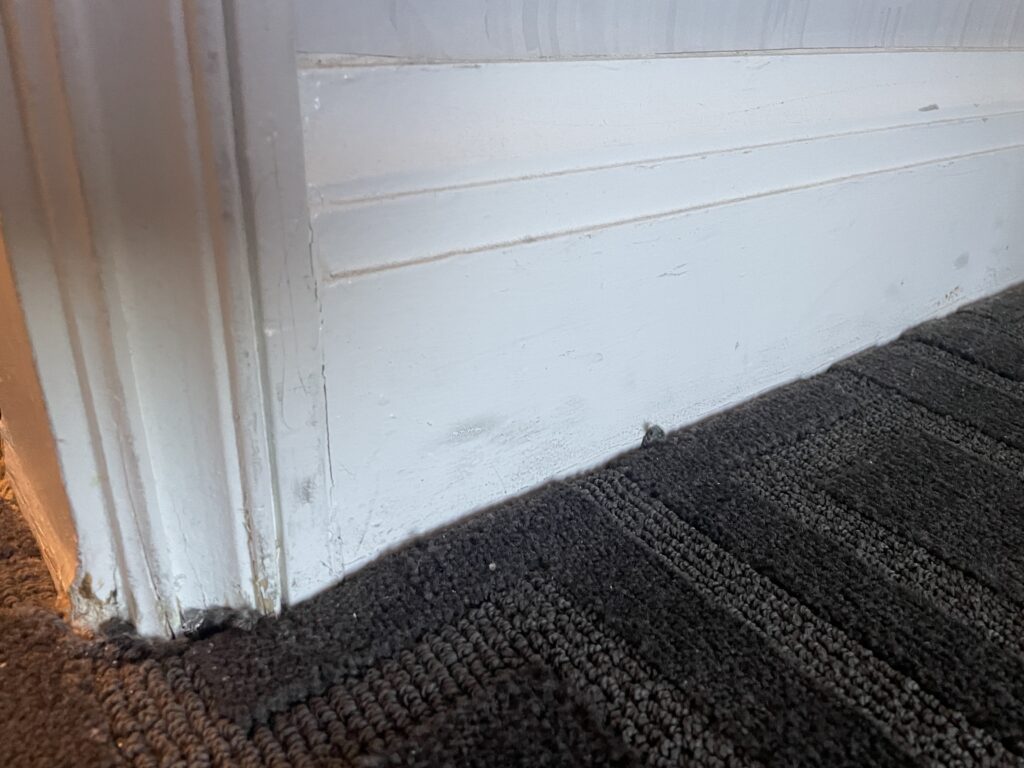 Caesars Palace Resort Highlights
The Pool: Easily ranking among the best pools in Vegas, Caesars' Roman-themed Garden of the Gods pool deck is made up of 8 separate pools and even offers swim-up blackjack. When it comes to good-looking pools, it's tough to top this one.
The Buffet: Widely recognized as one of the best in Vegas, Caesars Palace's Bacchanal Buffet is worth the sticker shock.
Although they offer a wide variety of high-quality cuisine from around the world, I find myself gravitating toward the crab legs and prime rib – both of which are a rarity at Las Vegas buffets nowadays.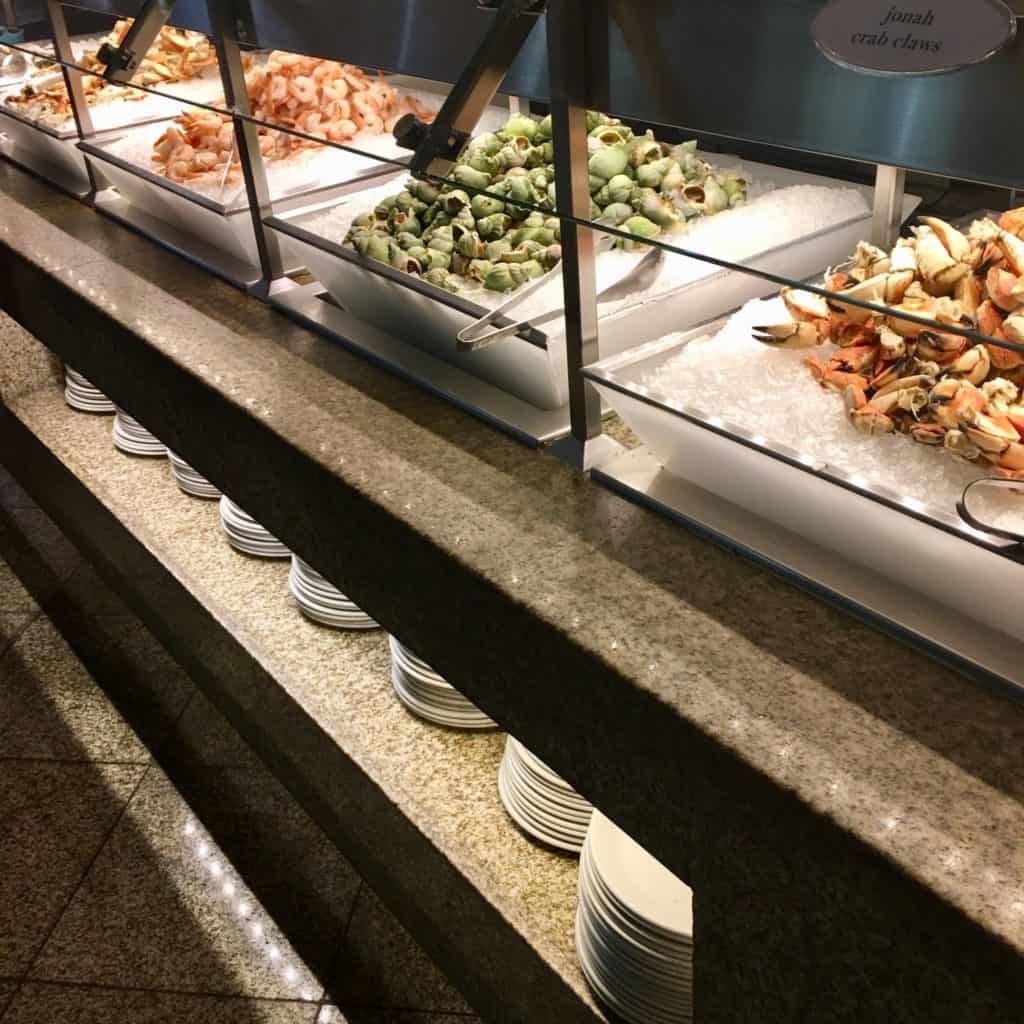 The Forum Shops: I'm not a shopping guy, but strolling through the themed Forum Shops is a must when I find myself in the area. She's a beauty.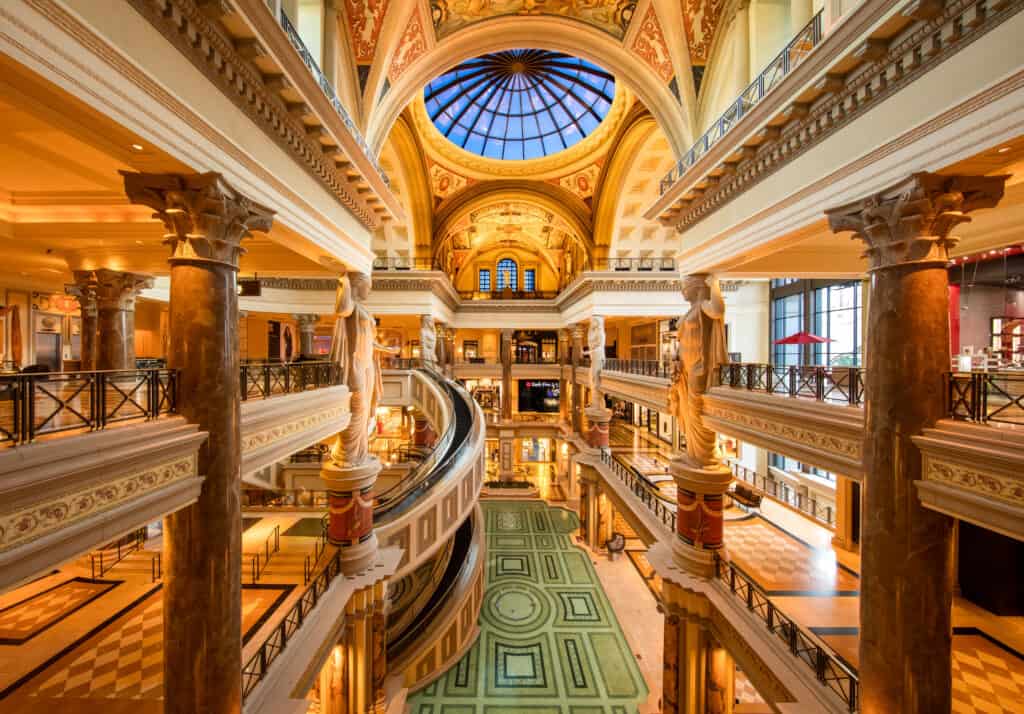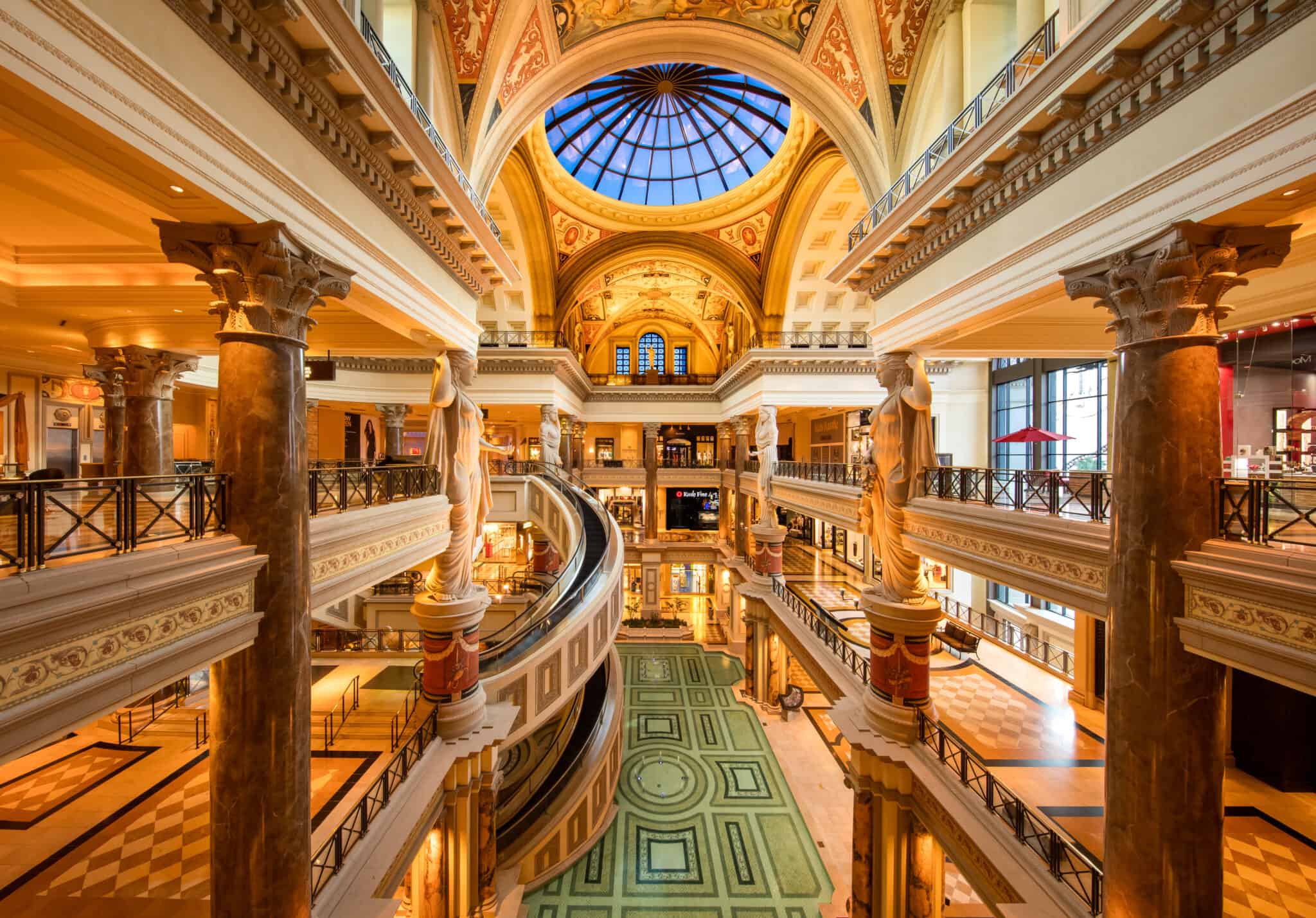 Location: If you're looking for something center-Strip and within walking distance of numerous resorts, bars, and dining options, then Caesars Palace could be a great fit. Especially if this is your first trip to Vegas, Caesars is a worthy home base.
The Verdict: Is The Palace Premium Room at Caesars Palace Worth the Money?
This was a quality, comfortable room, and I was especially impressed with the bathroom aesthetics and amenities.
With that being said, the Palace Premium room is slightly more expensive than other room types at Caesars Palace which I feel offer similar quality at a lower price point.
Specifically, the Octavius Premium room type offers nearly identical amenities and a few additional square feet at a price that's usually a few bucks cheaper. While the Octavius Premium room I stayed in also had some dinged-up furnishings, I'd prefer to realize the savings and book it over the Palace Premium room.
I also enjoyed a recent stay in a Julius Deluxe room, which is a bit smaller (and cheaper) than the Palace Premium Room. Julius Deluxe rooms have a fresh decor strategy that includes pops of yellow and the tower is easily accessible from the casino floor.
While I'd describe the Palace Premium Room at Caesars Palace as "nice", "adequate", and "comfortable", it didn't "wow" me enough to justify spending up for it in the future. Instead, I'll opt for another room type at Caesars Palace, which easily ranks among my favorite resorts in Las Vegas.
Check out other Las Vegas hotel reviews:
I'm a former software salesman turned Vegas aficionado. While the craps table is my preferred habitat, I pull myself away to explore new attractions, shows, restaurants, and outdoor activities around Las Vegas with the intent of sharing my experiences.
Ultimately, I just want to help folks plan a better trip and save a few bucks in the process.