According to a Las Vegas Convention and Visitor's Authority (LVCVA) profile survey, about 5% of visitors to Vegas made the trip to get married or attend a wedding in 2021. With total visitation in 2021 totaling 32 million visitors, 5% equates to a significant number of wedding-driven trips to Vegas.
The reason many flock to Vegas for their wedding is the ability to get a same-day marriage license with no waiting period or blood test required.
In addition to easy access to a marriage license, Las Vegas is an appealing wedding destination due to the wide range of venues offered. From budget, no-frill venues, to elaborate chapels, Las Vegas has something for everyone.
Here, I thought it would be fun to point out some of the most unique places to get married in Vegas, highlighting one-of-a-kind venues that can differentiate your wedding experience.
If your idea of the perfect Las Vegas wedding venue is a dull casino or off-Strip chapel, these suggestions are likely not for you.
Unique Wedding Venues In Las Vegas
Flying Above Vegas
There is nothing that screams "One of a kind Las Vegas wedding" like saying your "I Do's" above the Las Vegas Strip in a helicopter.
Maverick offers wedding and proposal packages starting at $899 which include a limousine ride to the flight terminal, preflight champagne, and an officiant that flys along. View Maverick's wedding packages and pricing here.
In addition to wedding packages above Las Vegas, Maverick offers packages that fly the happy couple out to the Valley of Fire National Park for their nuptials. The route takes you over the Hoover Dam and Lake Mead making for a scenic adventure.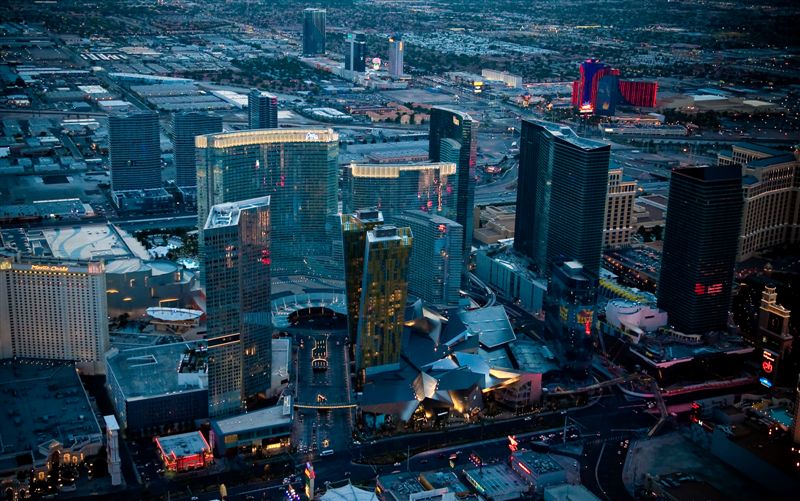 High Roller
A one-of-a-kind venue due to its elevation, the 550-foot-tall High Roller Observation wheel allows for a wedding in the sky with stunning views of the Las Vegas skyline as the backdrop.
Options offered include everything from flowers to photography to reception services and start at $395 and go up as you add extras. View your options and request a High Roller wedding quote here.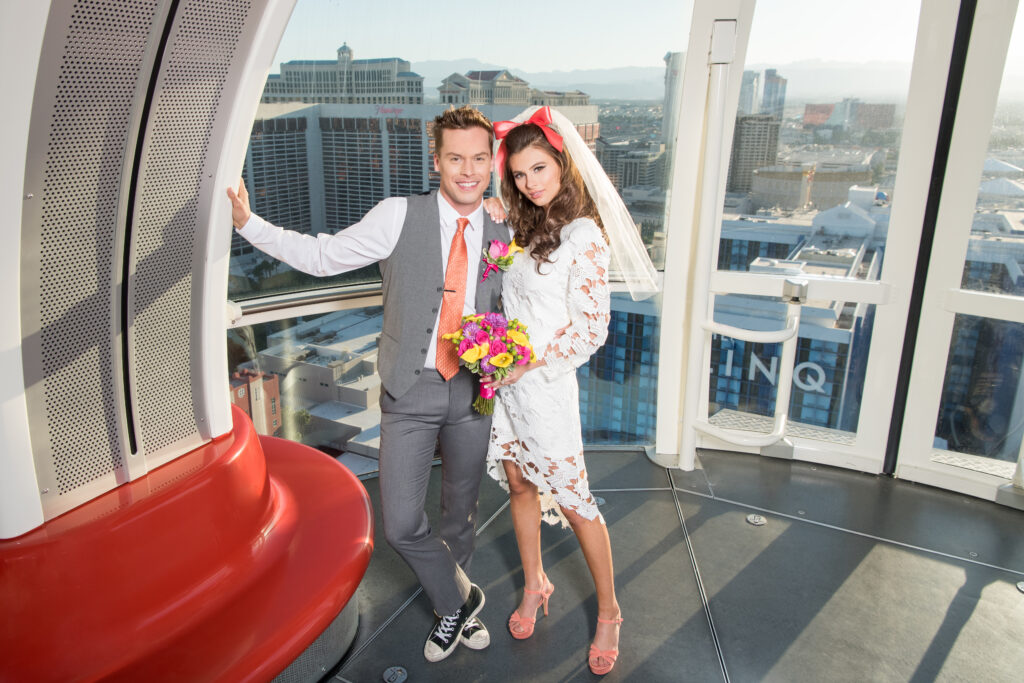 At the Eiffel Tower
Wedding venues in Vegas don't get much more unique than from inside a replica Eiffel Tower overlooking the Strip.
The baseline package offered by the Eiffel Tower Restaurant (located 1/3 of the way up the tower) includes a dinner for two, an officiant, and vows exchanged at dinner, or in front of the Baloon out front of Paris. Pricing starts at $1,000 and increases as options are selected. View all options and pricing for weddings at the Eiffel Tower Restaurant here.
In addition to Paris' two traditional chapels, wedding ceremony packages are also available atop the Eiffel Tower on the viewing deck, however, guest attendance is limited due to space constraints. Couples should call (702)777-2782 for pricing and scheduling.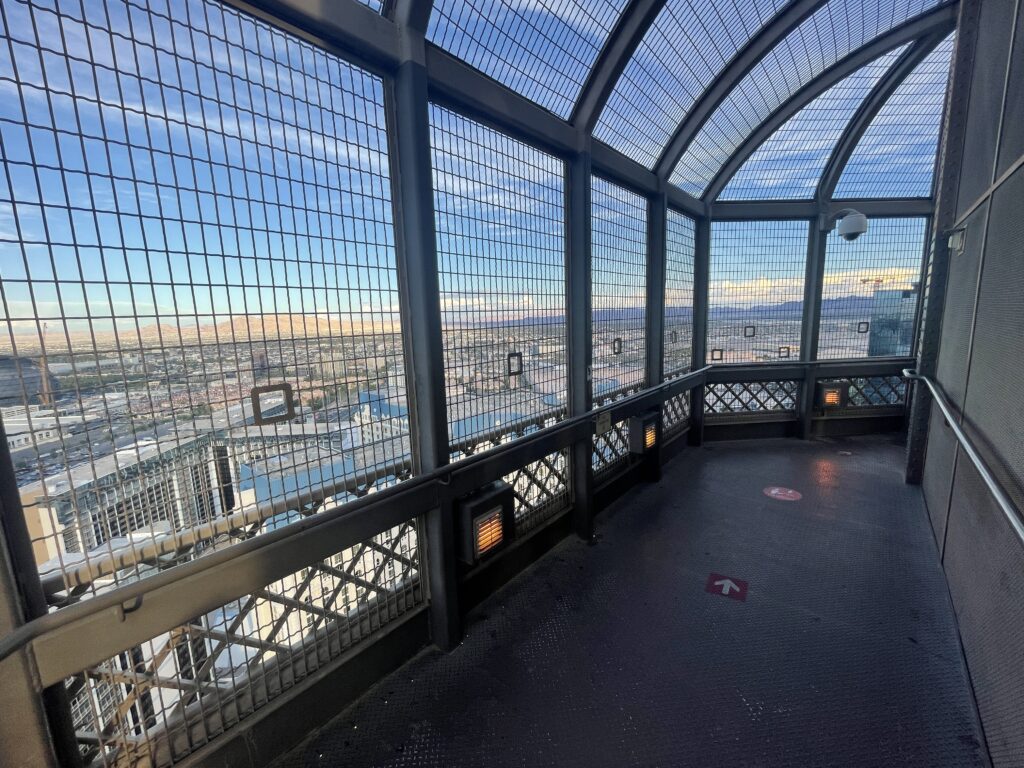 Beside the Bellagio Fountains
There are few spots in Las Vegas more photogenic and iconic than the Fountains of Bellagio, and both Bellagio's Terrazza di Sogno and Fountain Courtyard venues allow them to be the backdrop of your big day.
Packages start at $2,600 and ceremonies are live-streamed online so that friends and family from afar can follow along. Check here for Bellagio wedding options and to request a quote.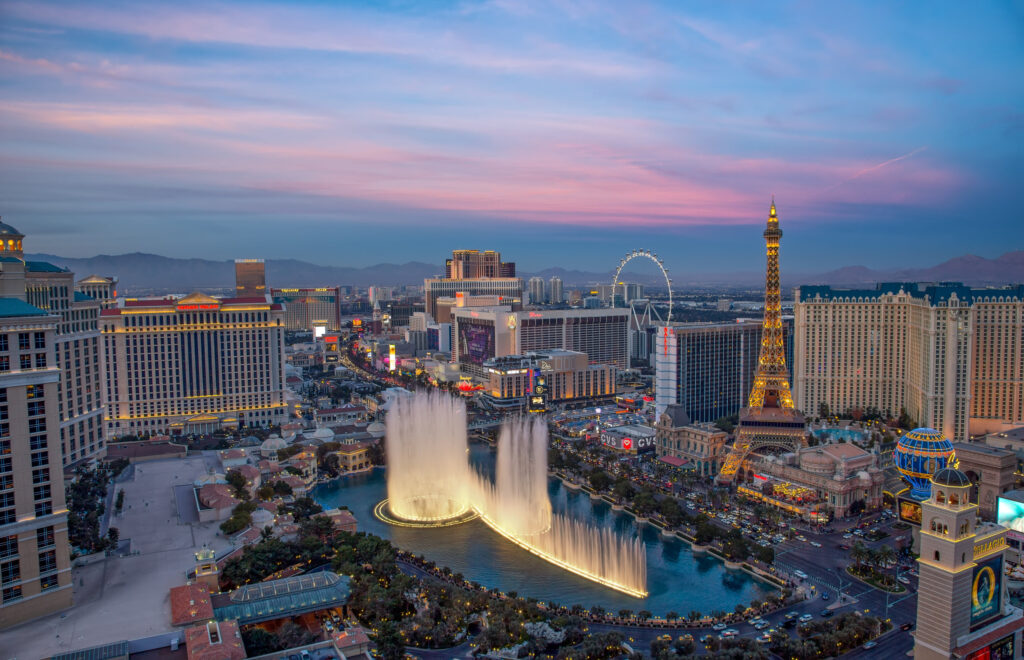 Aboard a Rollercoaster
Tie the knot on the platform of the Big Apple Coaster at New York New York, then board the rollercoaster to start your married life in style.
The rollercoaster itself is wild, reaching speeds of up to 67 mph, going upside down, and providing stunning views of the Strip from New York New York's rooftop.
Wedding venues in Vegas don't get much more unique than a rollercoaster. More information on rollercoaster weddings is available here.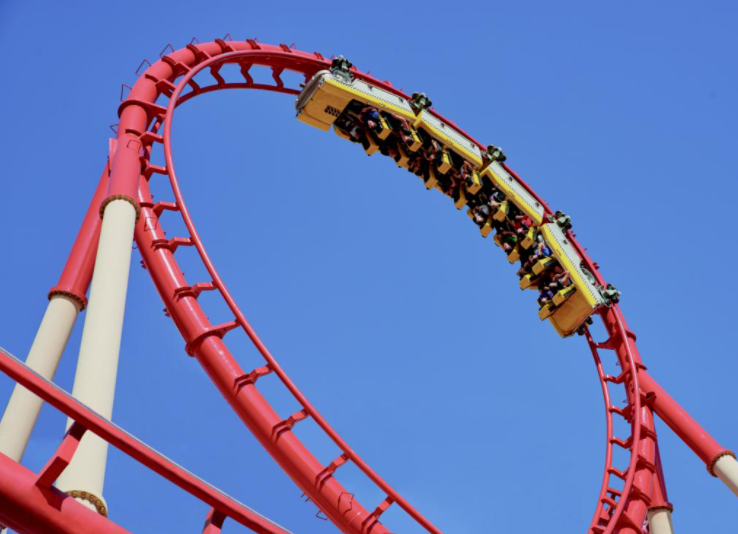 Amid Las Vegas History
For those enthralled with Las Vegas history, a wedding at the Neon Museum is tough to beat.
For those that are unfamiliar, the outdoor museum is home to neon signage from earlier incarnations of Vegas now long gone.
Hosting 60 -minute ceremonies, the venue can accommodate up to 50 spectators. One thing is certain, all that vintage neon will make for amazing wedding photos. Inquiry forms can be submitted with the Neon Museum here.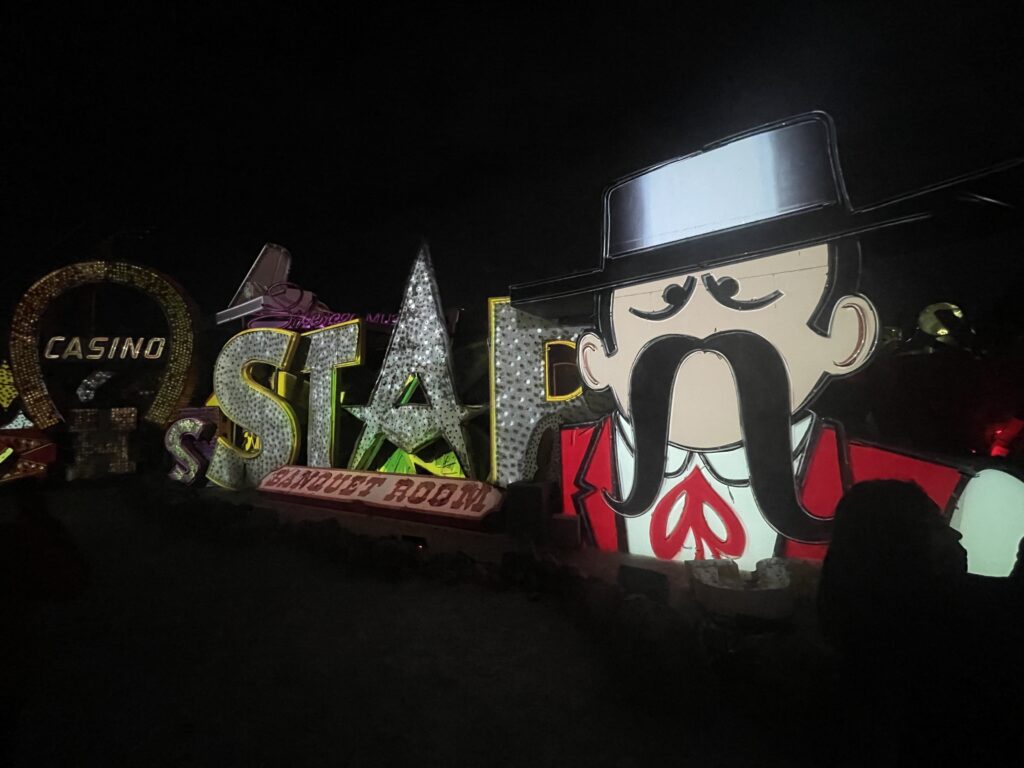 A Wedding With a View
A one-of-a-kind Las Vegas wedding venue, STRAT offers two chapels on level 103 of their SkyPod.
At 800 feet above the Las Vegas Strip, your special day will certainly be unforgettable. In addition to STRAT's chapels on level 103, they also offer outdoor weddings on levels 108 & 109 on the observation deck. "Wedding in the Clouds" packages atop STRAT's SkyPod start at $949 and scale up depending on options and timeframe.
Notably, STRAT offers a wide variety of differentiated wedding packages. The cheapest of which starts at $199 for a short Minimoni ceremony that allows for up to ten guests and takes place at the base of the SkyPod tower.
Unique wedding twists can also be added to include taking the "leap of faith", jumping off the STRAT's tower to your ceremony below for an additional $99.99 per jumper. Additionally, guests can opt for a "Thrill Ride Wedding Package" where you are actually wed on one of STRAT's rides atop the tower. Thrill ride packages start at $479.
Check here to see options, pricing, and to receive a quote for a ceremony at STRAT.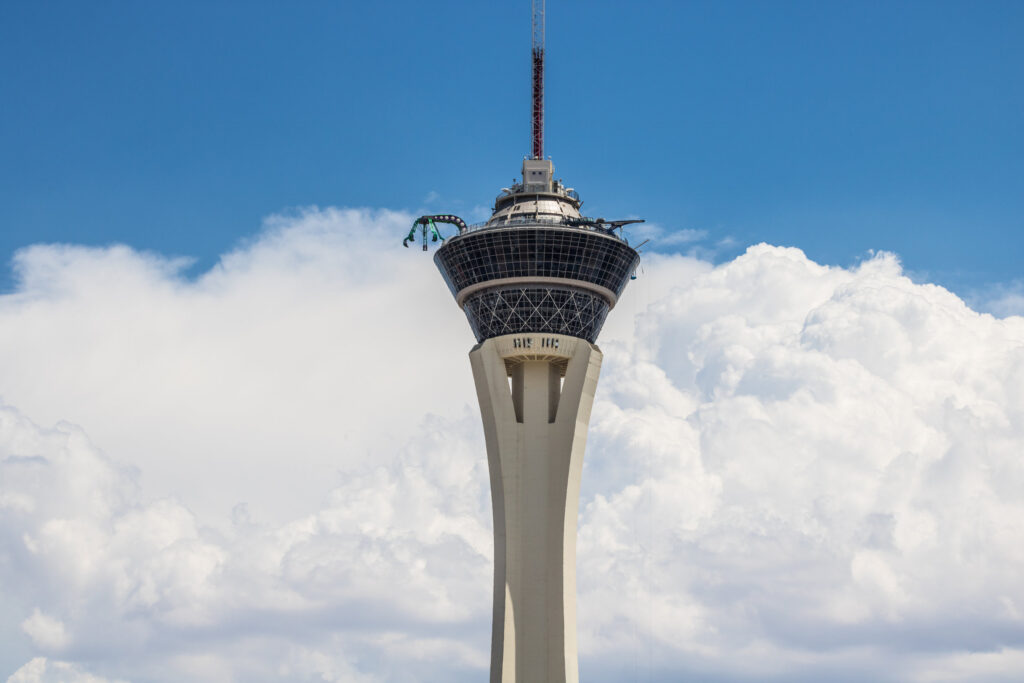 On a Pirate Ship
Certainly qualifying as a one-of-a-kind wedding venue in Las Vegas, or anywhere for that fact, is aboard the Song Ship in Siren's Cove at TI.
Pirate ship wedding packages at TI start at $1,380 and include the ceremony, personalized music, his/her's shirts, and a dressing room with champagne service. View details, additional options, and request a TI wedding quote here.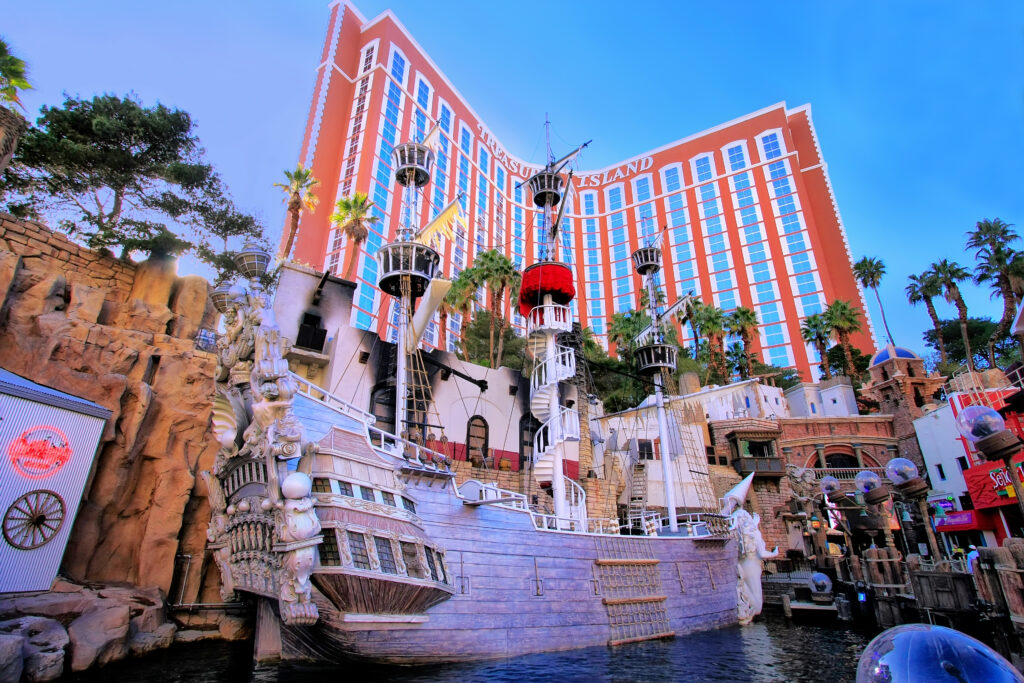 Aboard the Titanic
If you don't mind the grim metaphor, you can get married on the replica Titanic's grand staircase at the Titanic Artifact Exhibit at Luxor.
30-day notice is required, and parties interested in this unique Las Vegas wedding venue should call (702) 730-5983.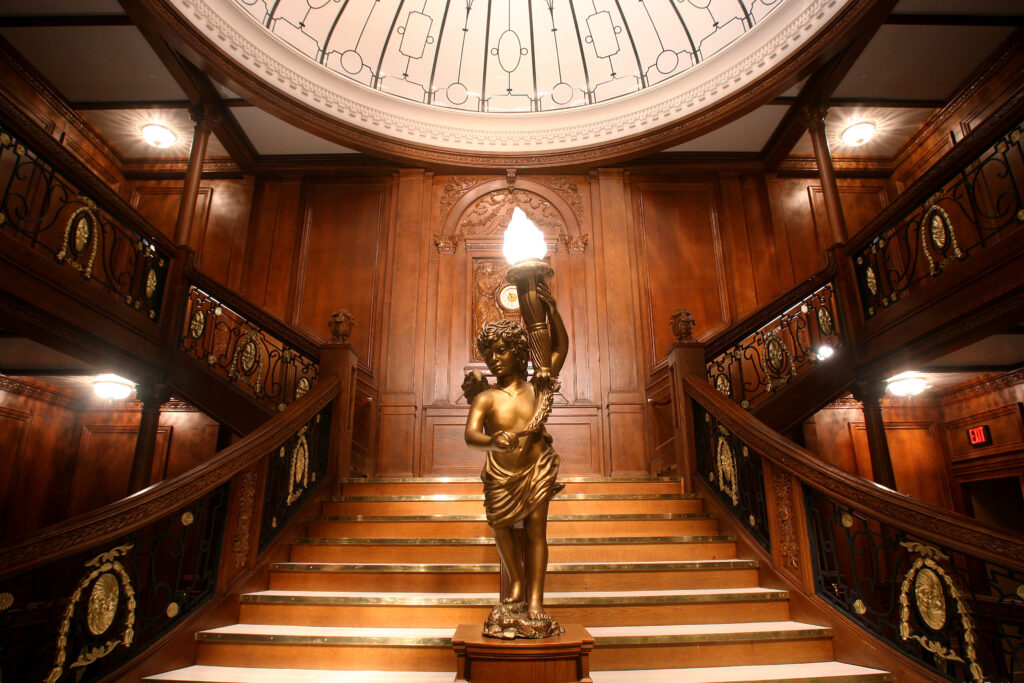 Aboard a Romantic Gondola
While the Venetian offers a number of wedding venues, the most unique is abord their white wedding gondola navigating the canals of the Grand Canal Shoppes which expertly mimic the canals of Venice.
The Gondola Luxury Wedding package comes with expert planning assistance, photography, and an officiant. Pricing starts at $1,150 and goes up as options are added. Reach out to Venetian to discuss packages, options, and pricing here.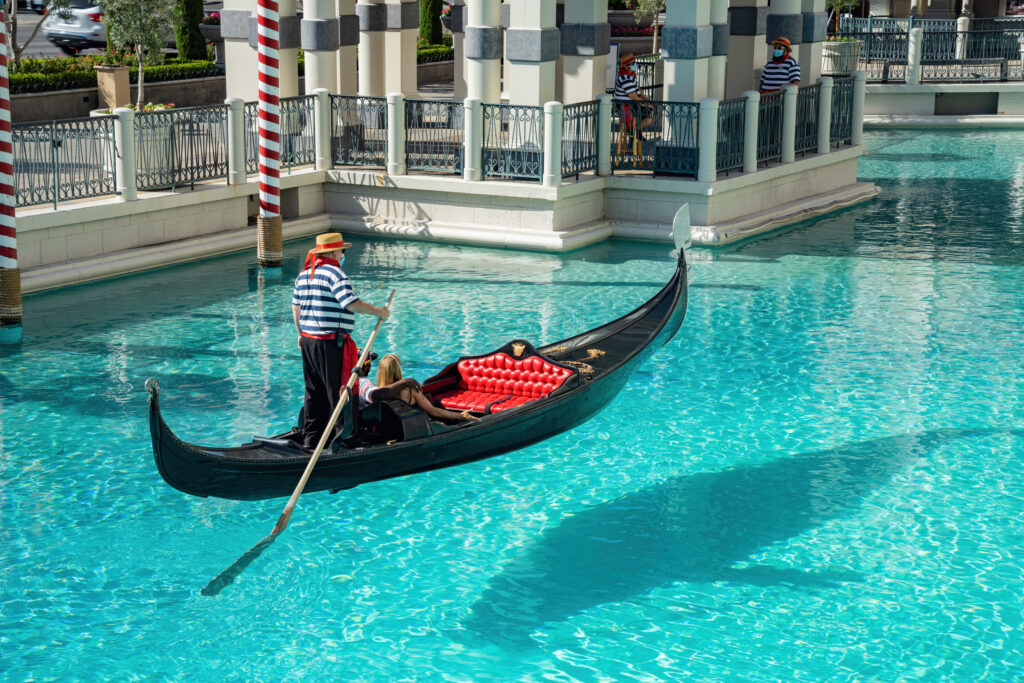 At the "Welcome to Fabulous Las Vegas" Sign
Numerous chapels in Las Vegas offer to perform weddings at the iconic sign that marks the south end of the Strip.
Pricing typically starts around $200 for a basic, no-frills ceremony, but spendier options are available. One chapel, the Little Church of the West, offers a ceremony officiated by an Elvis impersonator for $399.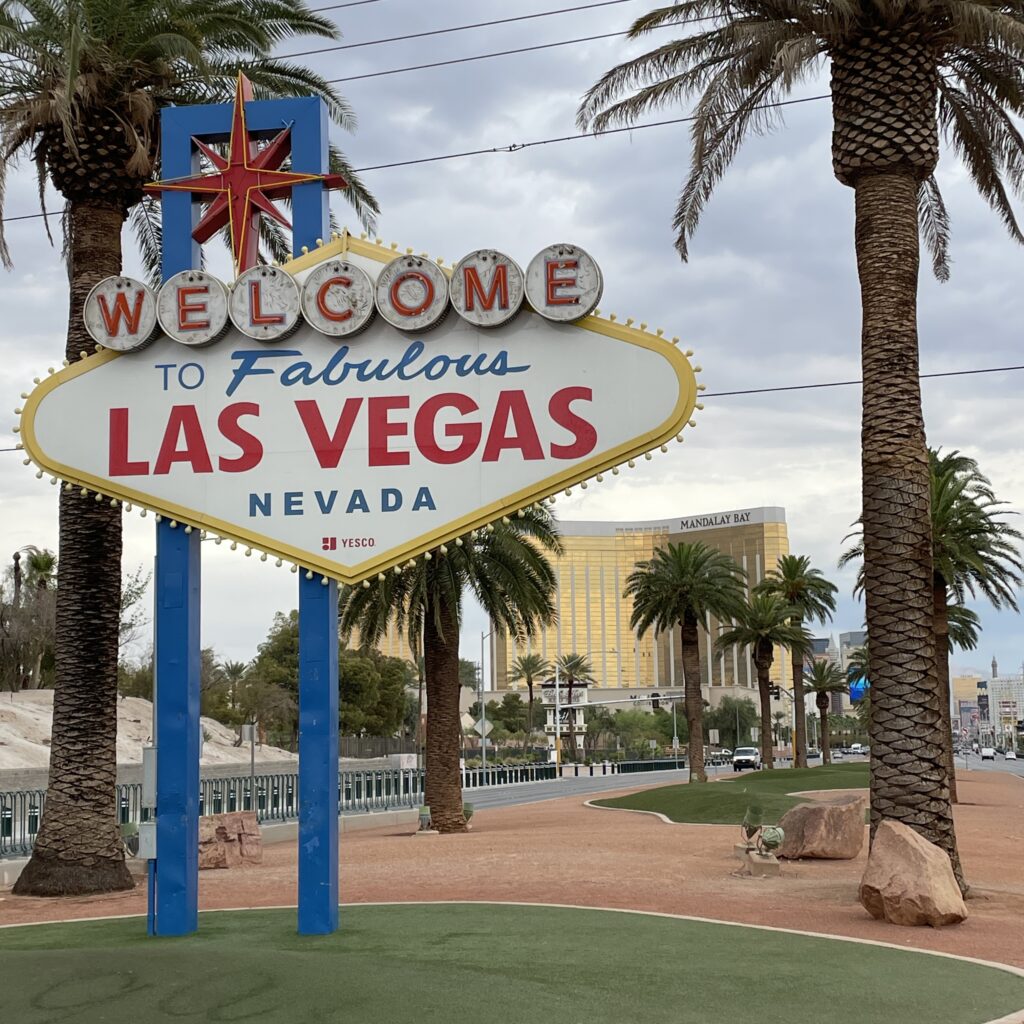 Taco Bell Cantina
Wedding parties are limited to 15 guests, and you'll receive a wedding bouquet made of sauce packets, a private area for your reception, and some unique swag such as a sauce packet bowtie. Learn more about Taco Bell wedding packages here.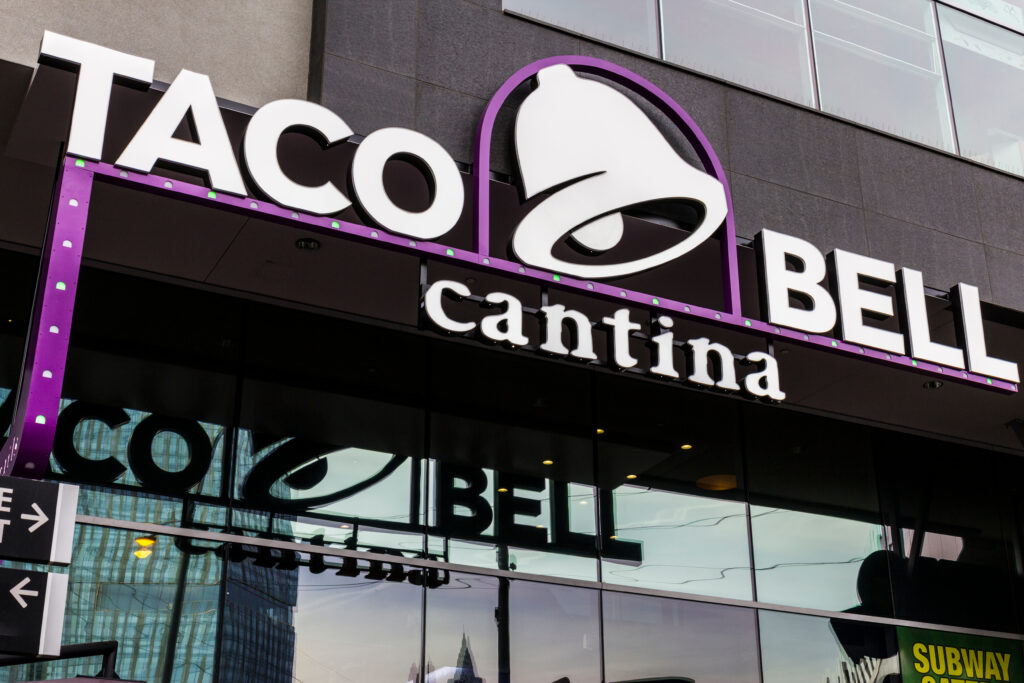 A Themed Mini-Golf Course
I doubt you thought that tieing the knot at a mini-golf course was possible, but is. Both the Kiss-themed course at Rio and the Twilight Zone-themed course at Horseshoe have a chapel and are able to host your special day.
Packages start at $299 and escalate as options are added.
I promised unique wedding venues in Vegas, and dangit, I intend to deliver.
The Mob Museum
Located just off Fremont Street, The Mob Museum has played a significant role in Las Vegas history, serving as both a US Post Office and Federal Courthouse.
While they now focus on educating the public on the Mob and organized crime's influence on Las Vegas, they also host wedding ceremonies.
Packages that allow up to four guests start at $600, but numerous options exist at other price points depending on the options selected by the couple.
Wedding packages and pricing for the Mob Museum are available here.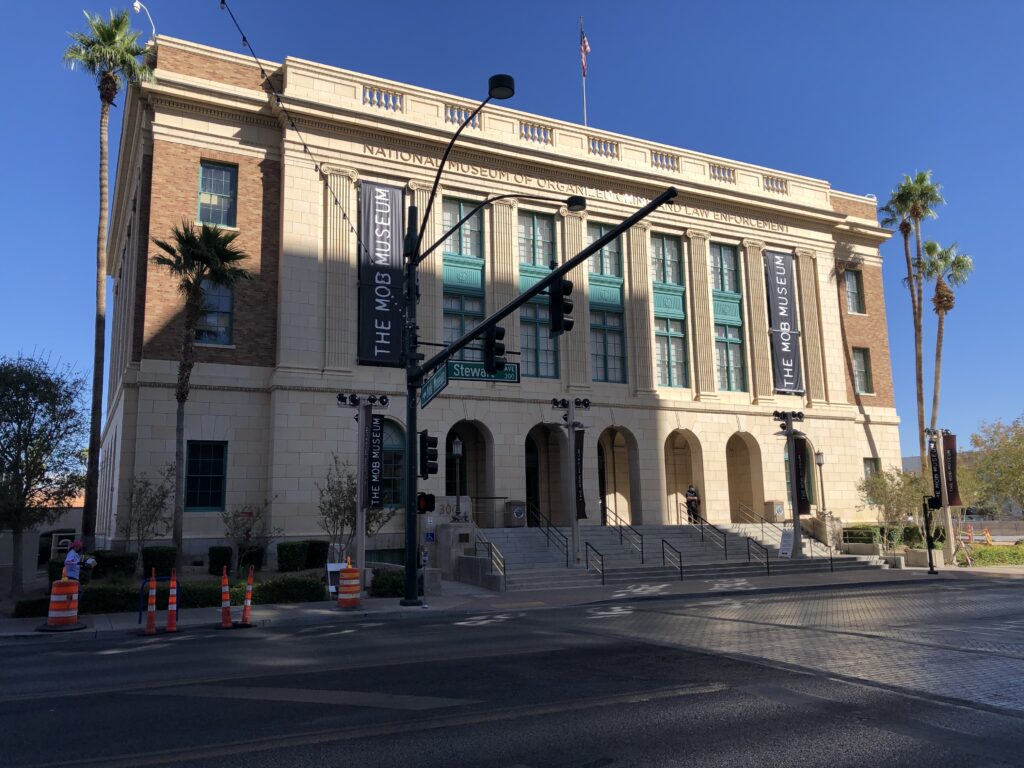 Elvis Weddings in Vegas on the Way Out?
There is nothing more "Vegas" than a wedding hosted by an Elvis impersonator. Unfortunately, for those looking to get hitched by "The King", this type of ceremony may not be around for long.
Recently, chapels across Las Vegas that performed Elvis weddings were sent cease and desist letters by an attorney representing a company called Authentic Brands Group.
According to an interview conducted by NPR, the terms of the letter were vague, but it sounds like weddings could potentially continue if unspecified licensing fees are paid. Only time will tell how the drama eventually unfolds.
Congrats on your upcoming wedding or proposal! Hopefully, you are able to find a unique wedding venue in Las Vegas that fits your needs!
See Also: Things For Couples to do in Las Vegas – Ideas and Inspiration!
I'm a former software salesman turned Vegas aficionado. While the craps table is my preferred habitat, I pull myself away to explore new attractions, shows, restaurants, and outdoor activities around Las Vegas with the intent of sharing my experiences.
Ultimately, I just want to help folks plan a better trip and save a few bucks in the process.