Las Vegas has no shortage of scenery or photo-worthy attractions. With "Instagrammable spots" ranging from a replica Eiffel Tower to floral conservatories and outdoor attractions, the perfect souvenir picture or ideal selfie can always be found just around the corner.
I thought it would be helpful to construct a breakdown of some of my personal "Top Las Vegas photo spots" to aid you in your quest to create the perfect vacation photo album, selfie, or Instagram shot.
Some of these attractions tend to be crowded, making the perfect picture a challenge. For popular attractions like Bellagio and Wynn's conservatories for instance, visiting late at night or early in the morning could be a great option to avoid throngs of strangers in your shot.
Now, onto some of the photogenic attractions in Las Vegas!
Photo Opportunities On The Strip
The "Welcome to Fabulous Las Vegas Sign": Among the more iconic photo opportunities in Las Vegas, the historic sign can be found south of Mandalay Bay on the Strip.
While you can make the walk from south Strip resorts during the cooler months, I'd recommend an Uber, or the Deuce bus during the heat of summer.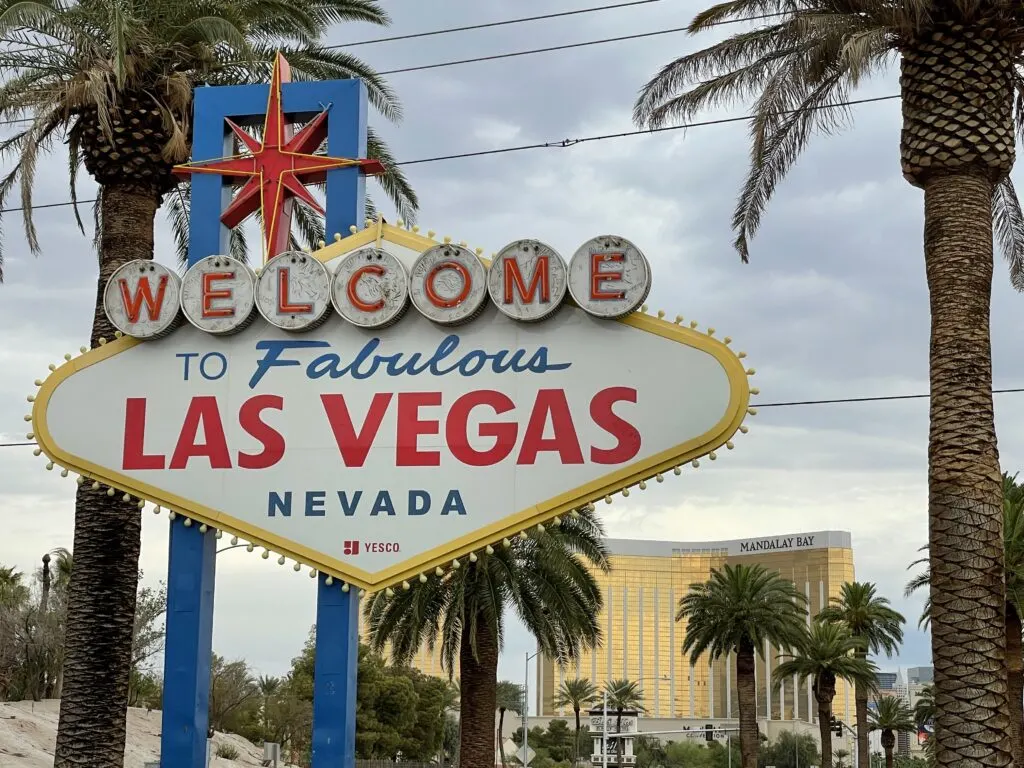 The Venetian: The entire property is one giant Intstagrammable moment. It's gorgeous, intricately themed, and unique in every way.
Ensure you spend some time exploring Venetian's exterior as there are numerous angles and vantage points that make for a cool shot.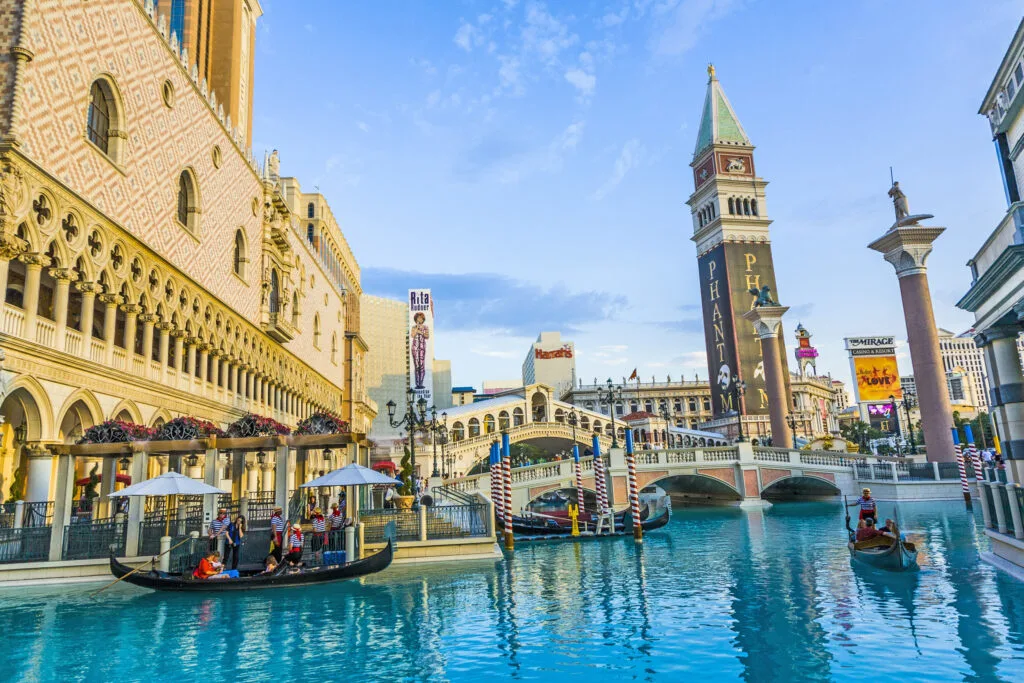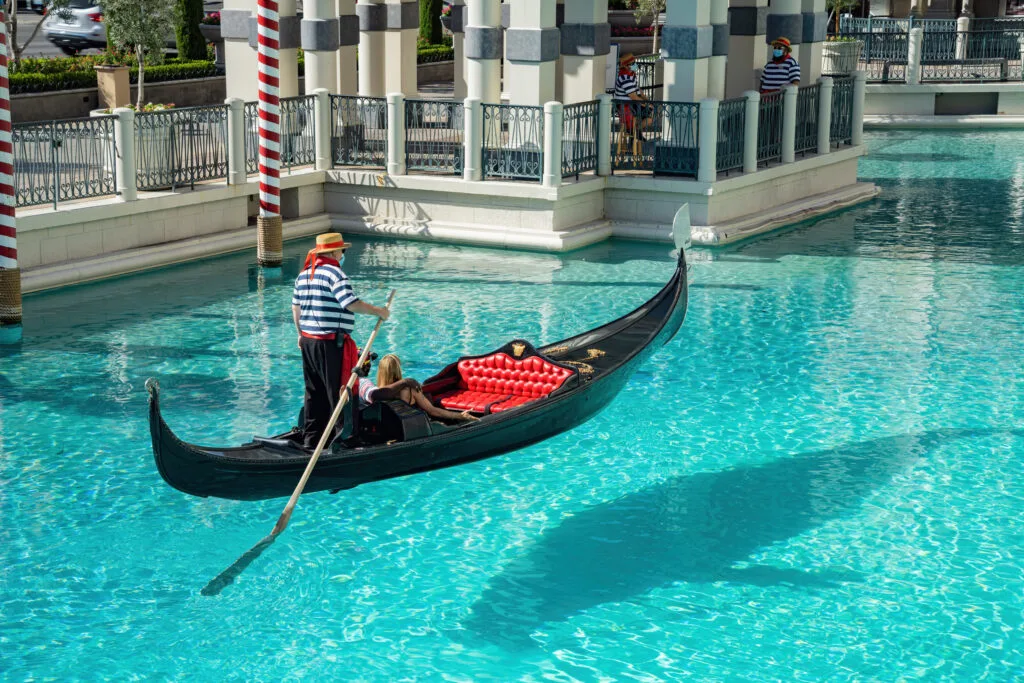 The theming spills into Venetian's interior, creating numerous high-quality photo opportunities.
Grand Canal Shoppes at Venetian: Much more than your typical shopping mall, the Grand Canal Shoppes also incorporate the Venetian theme complete with canals, gondolas, and a replica St. Mark's Square.
Ranking among the most popular spots to take photos is the "LOVE" atrium.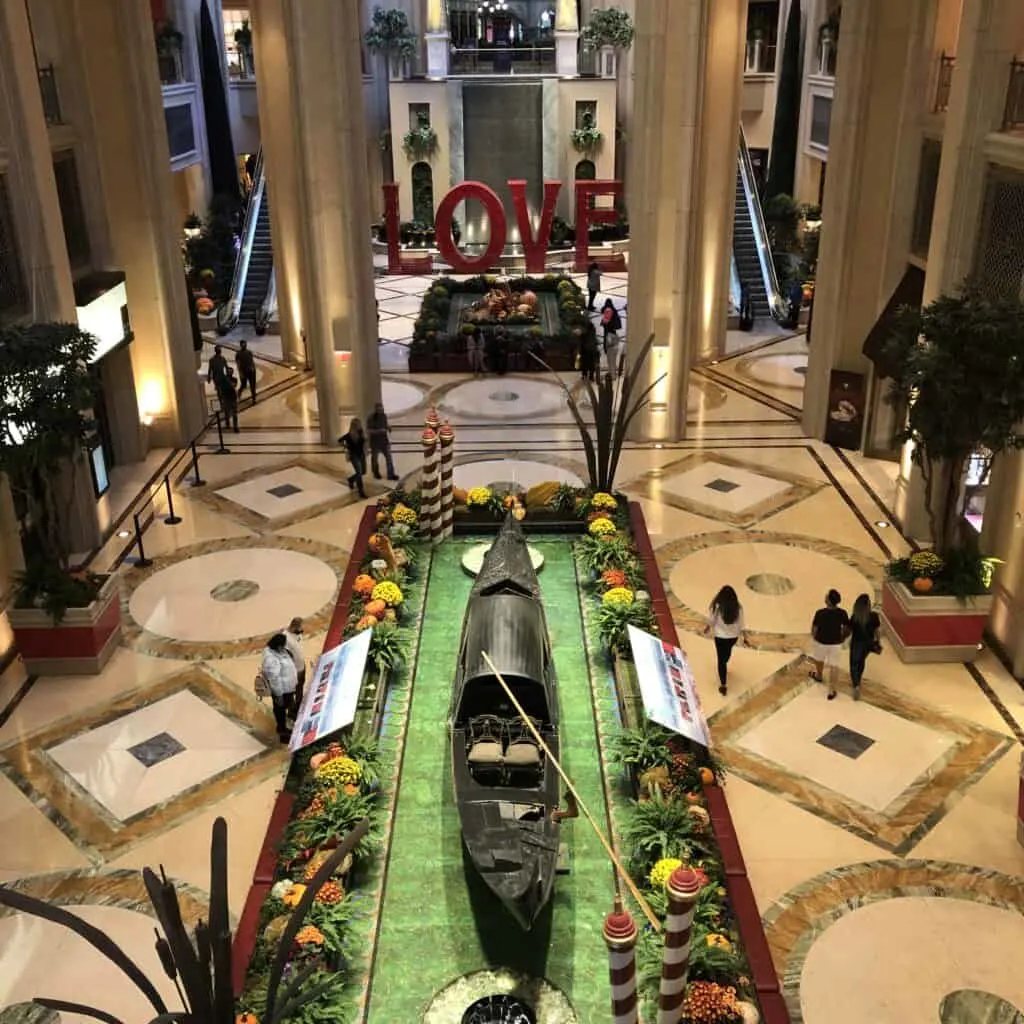 Forum Shops at Caesars Palace: The topic of themed, photo-worthy shopping malls would be incomplete without a mention of the Forum Shops at Caesars. Sporting a distinct Roman theme, you'll find numerous spots more than worthy of a pic.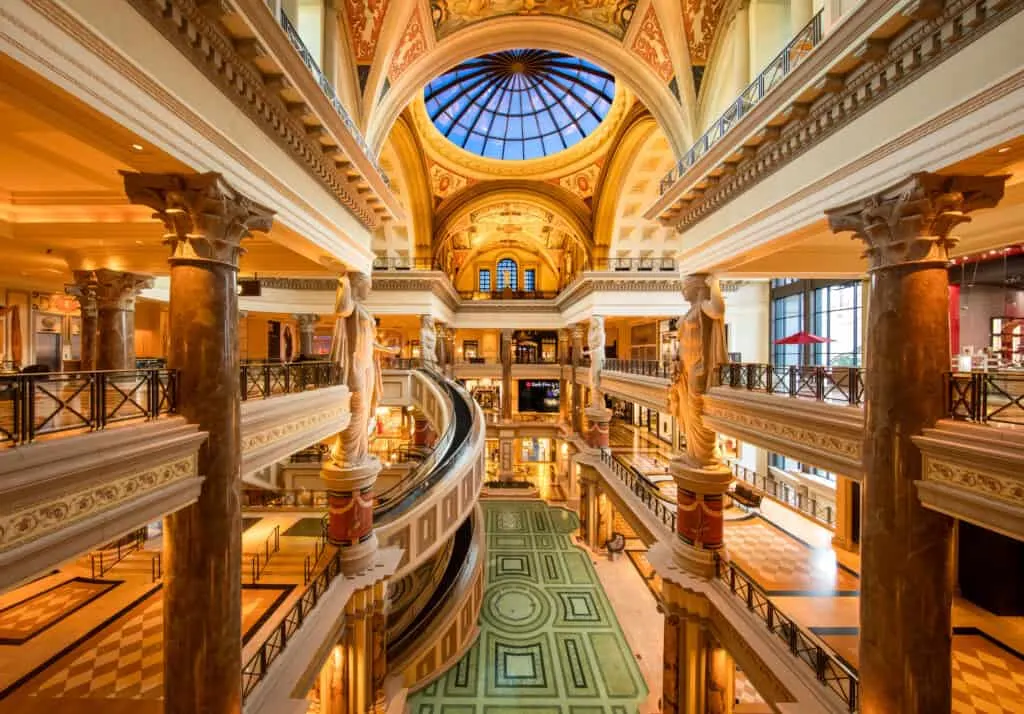 Located outside the Forum Shops is a replica Trevi Fountain, which can also make for a unique shot.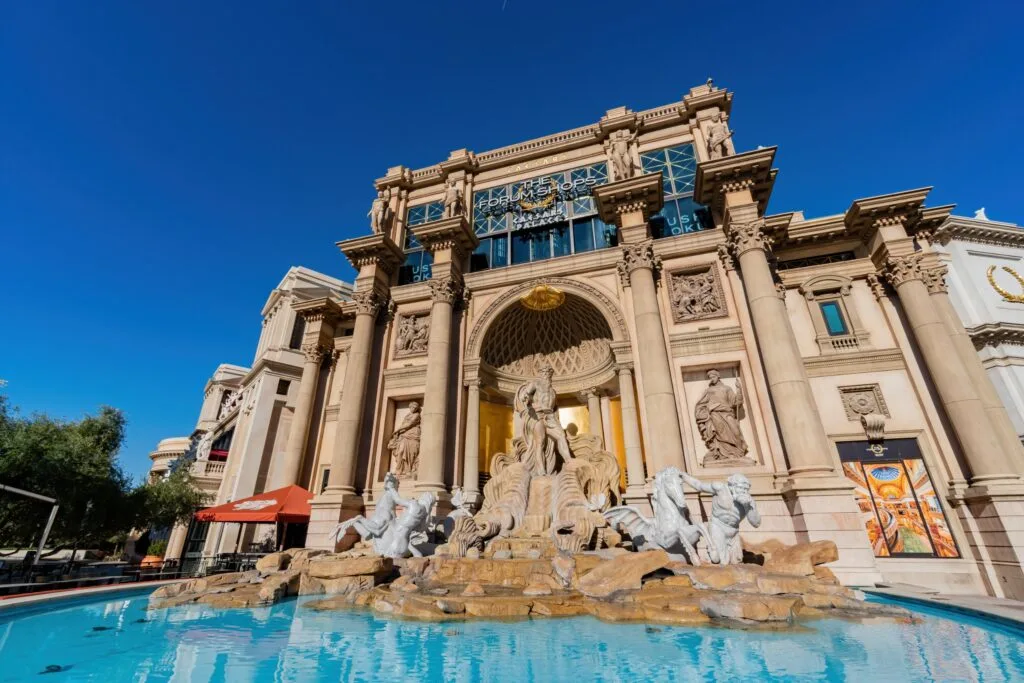 Bellagio's Conservatory: Bellagio is packed with photogenic attractions. Among my favorites is their floral conservatory, which is completely revamped quarterly, offering something fresh every time you're in town.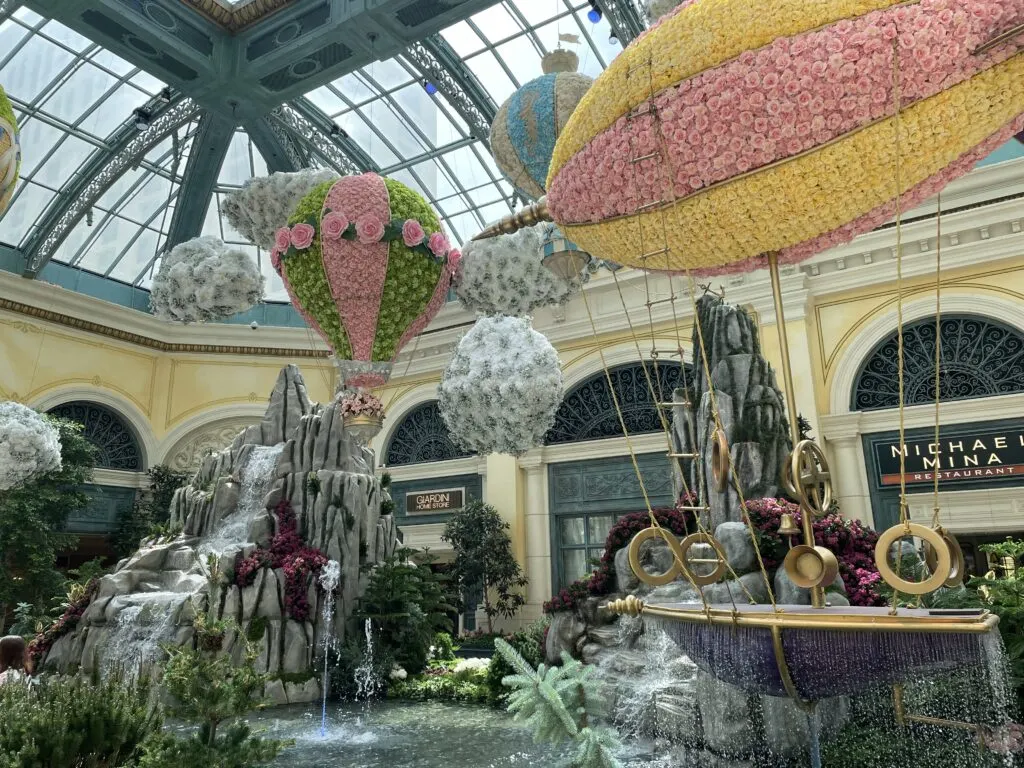 Bellagio's Lobby Ceiling: Step outside Bellagio's conservatory, look up, and you'll be staring at Dale Chihuly's Fiori di Como, which is a visually stunning collection of glass flowers that are mounted on the ceiling of the hotel lobby.
Bellagio's Fountains: Of course, no trip to Las Vegas would be complete without a photo of Bellagio's iconic fountains. Dancing both day and night, the Fountains of Bellagio could be worth more than one stop.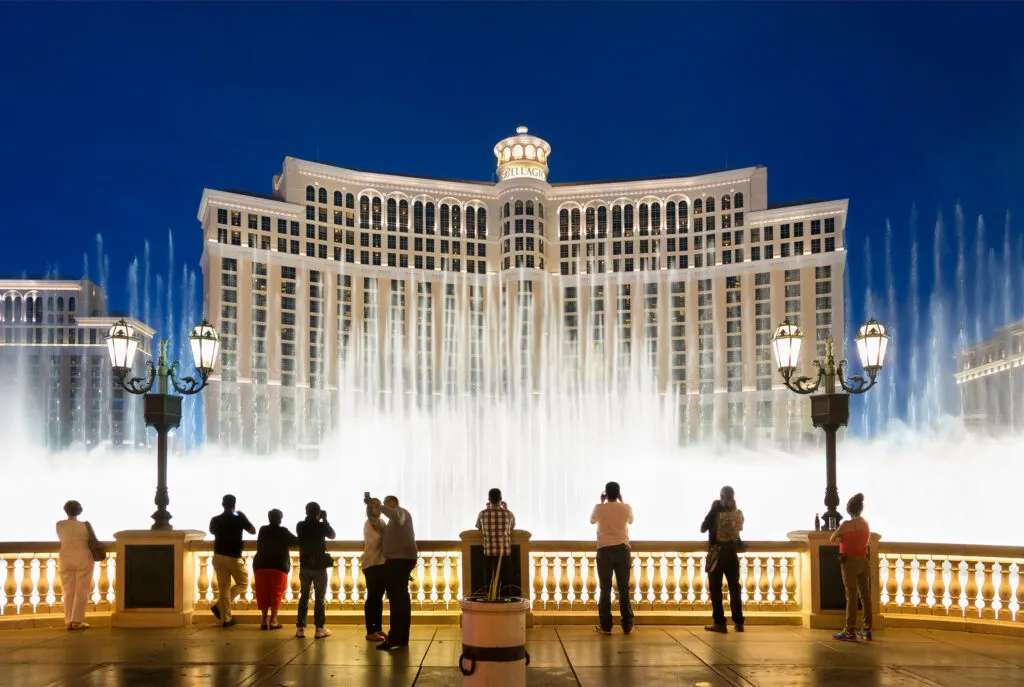 Wynn's Floral Atrium: Wynn's floral atrium is the first thing guests see when they enter the resort, and it's stunning.
Snap a photo in Paris: Paris's exterior is photogenic from nearly every angle. Of course, a shot of the Eiffel Tower, balloon, and Arc du Triomphe are a must. Stop back in the evening to capture the Eiffel Tower light show.
For a differentiated aerial view of Vegas, venture up to the observation deck at the Eiffel Tower to gain a unique perspective of the Strip and Fountains of Bellagio across the street.
Aria's Hotel Lobby: Aria's hotel lobby is home to an artistic photo opportunity that changes with the seasons, meaning there's always a new, Instagrammable selfie to be taken.
On my most recent visit, the space was filled with gigantic bubbles emanating from a bubble wand.
Strat's Observation Deck: Speaking of elevated spots to photograph Las Vegas, Strat's SkyPod Observation Deck provides a pretty amazing view of the north end of the Strip from 1,100+ feet up.
See some of the photos I recently captured at STRAT along with my full observation deck review!
Linq's Promenade: Between Linq and Flamingo is a pedestrian mall lined with stores, dining options, and most importantly, bars. What makes this a fun photo spot is how the High Roller Observation wheel anchors the promenade.
Of course, some cool photos can also be taken from aboard the High Roller itself which reaches a height of 550 feet, offering a great view of the Strip.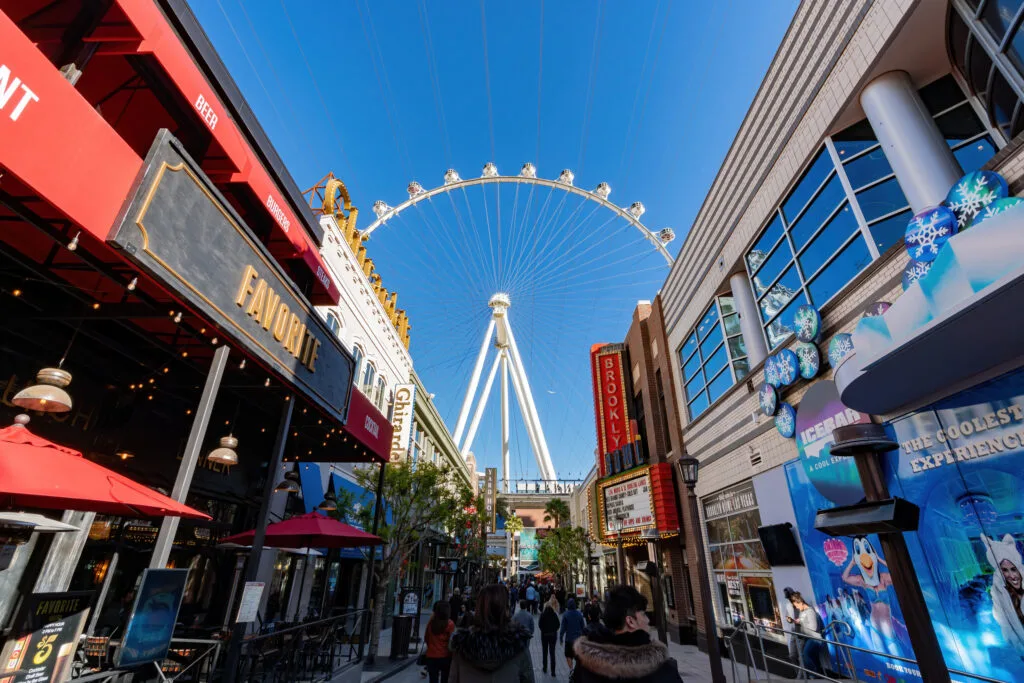 New York in Las Vegas: New York New York is essentially one big photo opportunity. On the outside of the building, ensure to get photos of the replica Statue of Liberty and Brooklyn Bridge. As one of the more unique exteriors in Vegas, the hotel towers are a recreation of the NY skyline.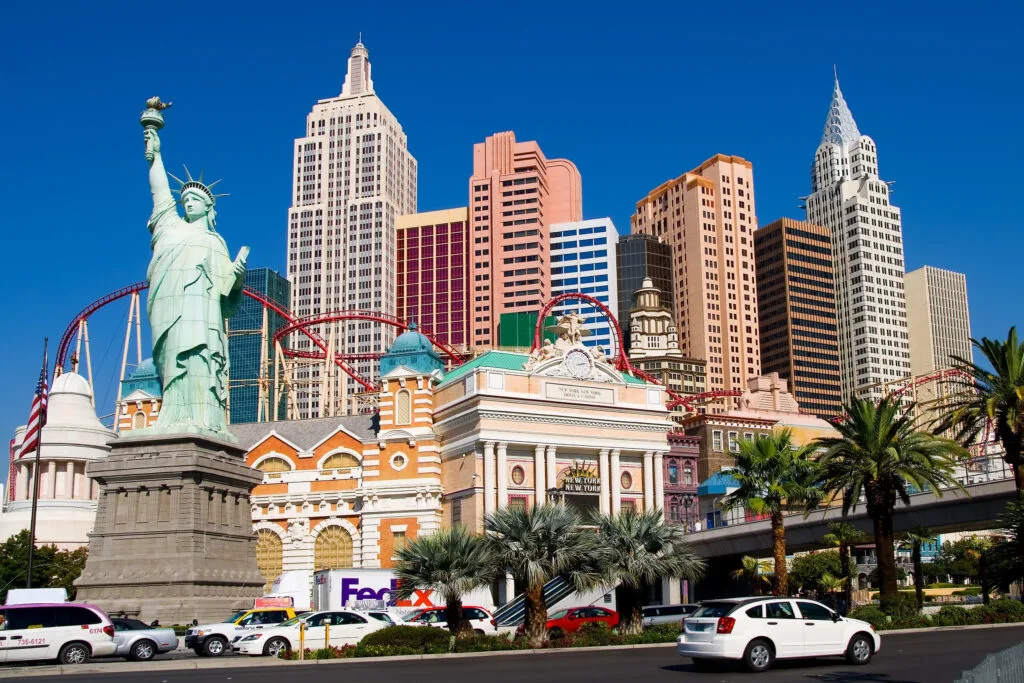 Inside, ensure you wander the intricately themed Villiage Street Eateries area, which boasts some incredible detail.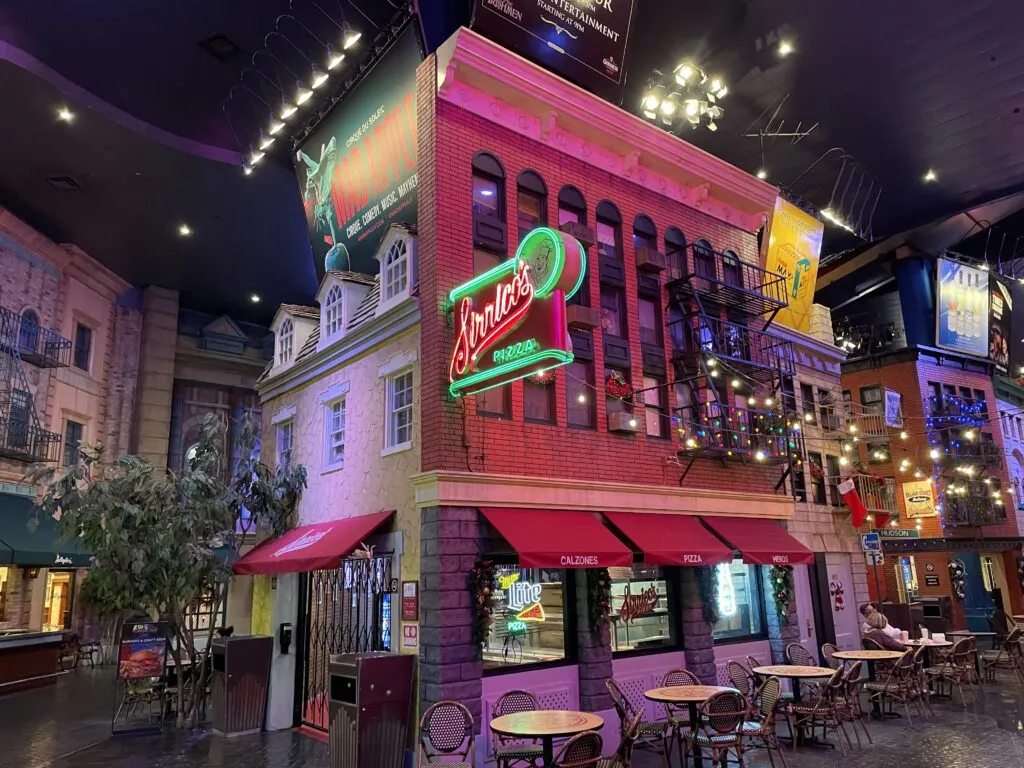 At the Pool: Las Vegas is home to some of the most beautiful pools in the world, and the top pools in Vegas offer an ideal photo backdrop.
Resorts like Wynn, Resorts World, Caesars Palace, Circa, Cosmopolitan, Mandalay Bay, and others all offer a pool scene sure to make your Instagram followers jealous.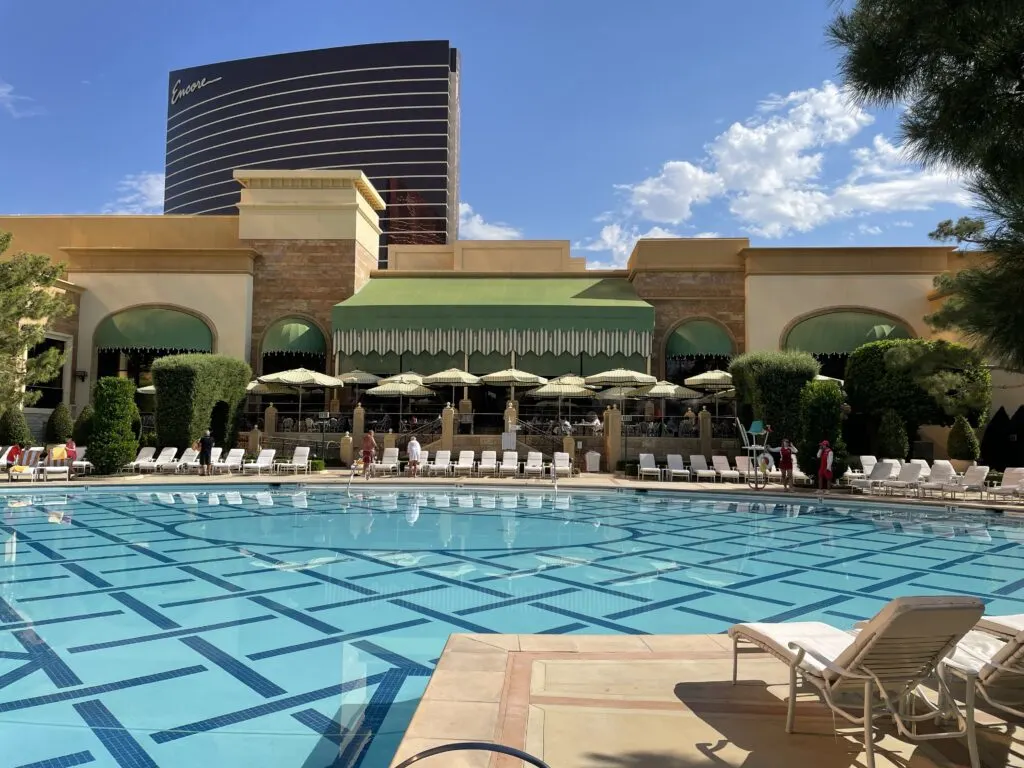 Views from an Elevated Bar: Vegas is home to a number of bars with a view that make for a great photo vantage point. Check out spots like the Foundation Room at Mandalay Bay, Skyfall Lounge at Delano, SkyBar at Waldorf Astoria, Alle on 66 at Resorts World, or Legacy Club at Circa.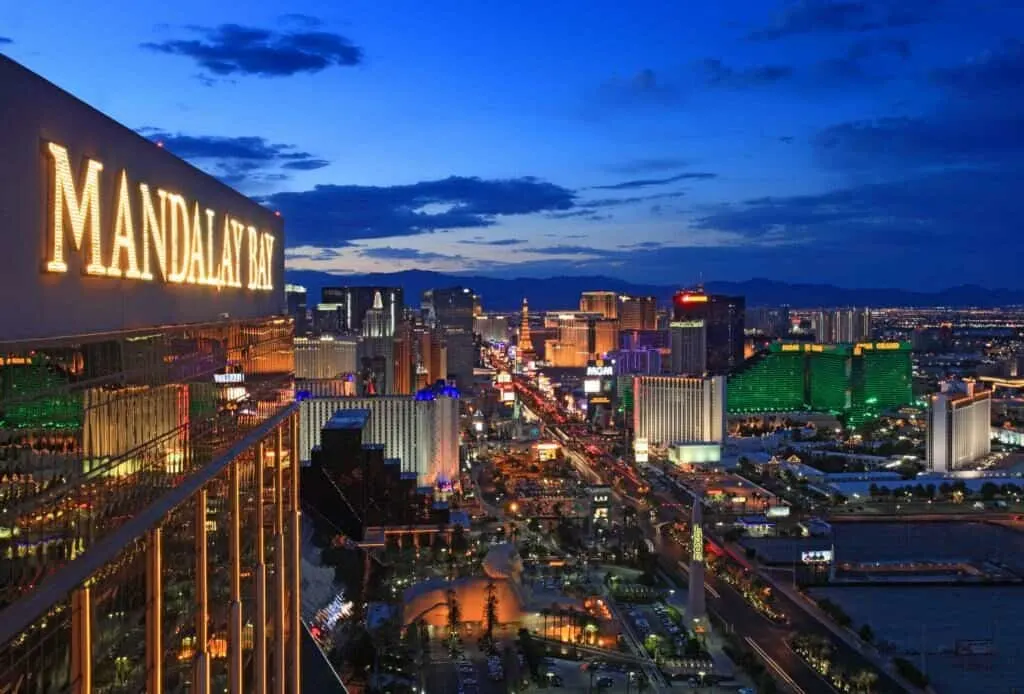 The Strip from above: Las Vegas Strip Helicopter tours with Maverick start at around $115 per person and offer some of the best photo vantage points around.
I recently hopped aboard a chopper – See my Maverick Strip Helicopter Tour Review!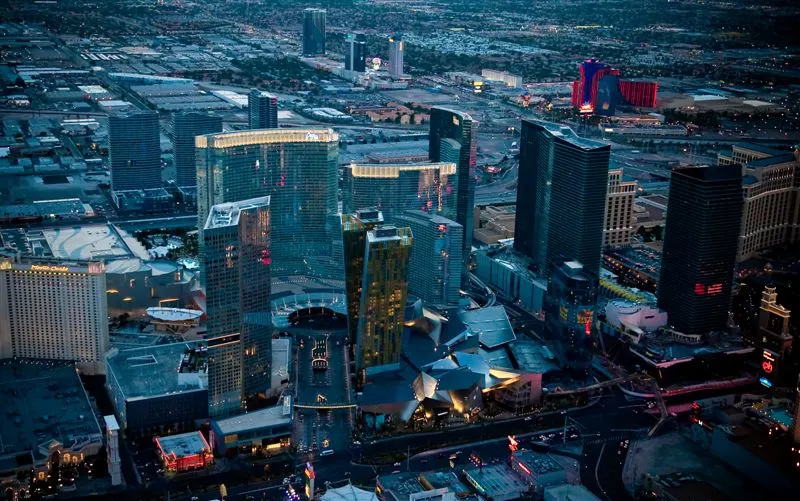 Photo Opportunities on Fremont Street
Vegas Vickie: The neon companion of Vegas Vic has been restored and displayed prominently within Circa, the newest resort downtown. Few pictures say "Only in Vegas" like this gal.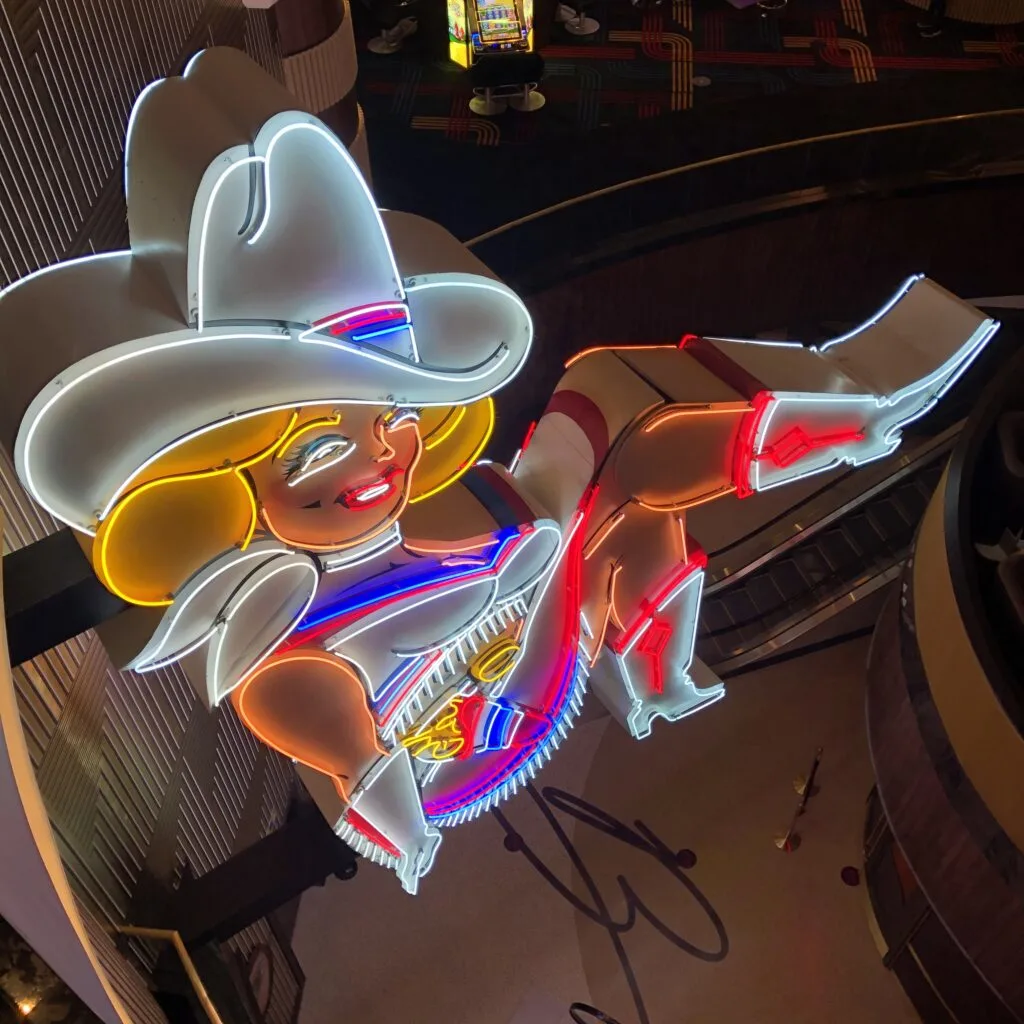 Neon Museum: For history dweebs like myself, or folks looking for a more "old school" Vegas photo opportunity, check out the Neon Museum.
There, you'll find 250+ signs from history that make for a spectacular picture. Signs are in various states of repair/disrepair, with some being rusty and nonfunctional, while others have been fully restored to their original luster.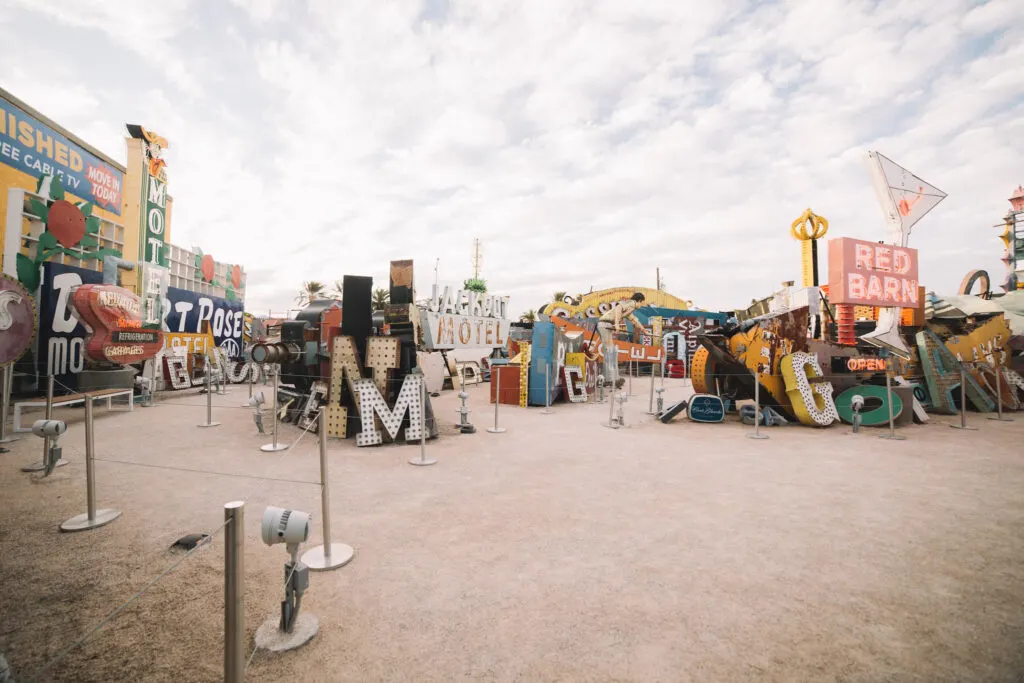 Fremont Street Casinos: Fremont Street casinos boast neon facades that have long gone extinct on the Strip, making for a great Las Vegas photo.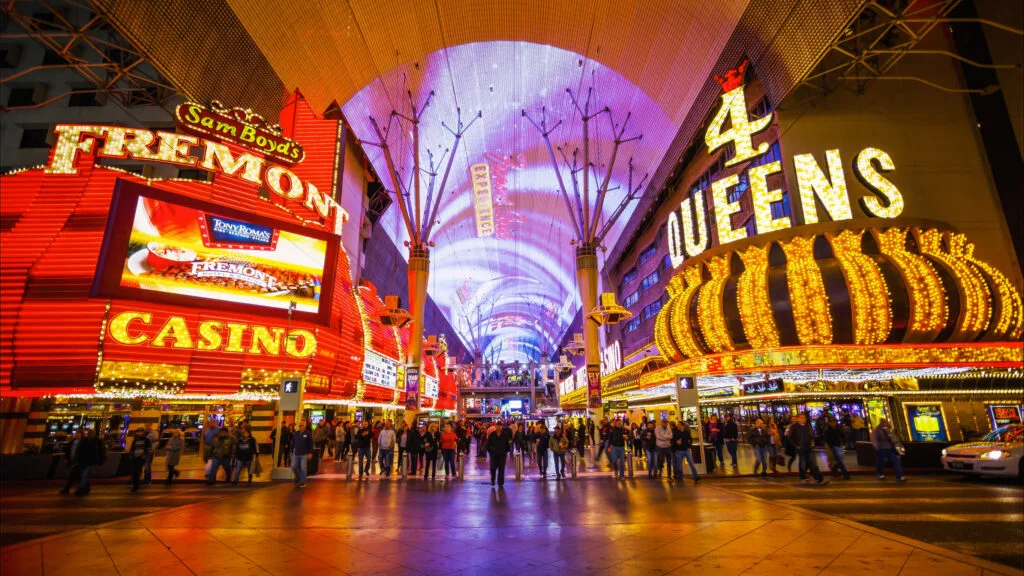 Fremont East: Walk down Fremont Street toward El Cortez and you'll stumble into Fremont East, which is home to a number of stunning neon signs, which make for a cool photo at night.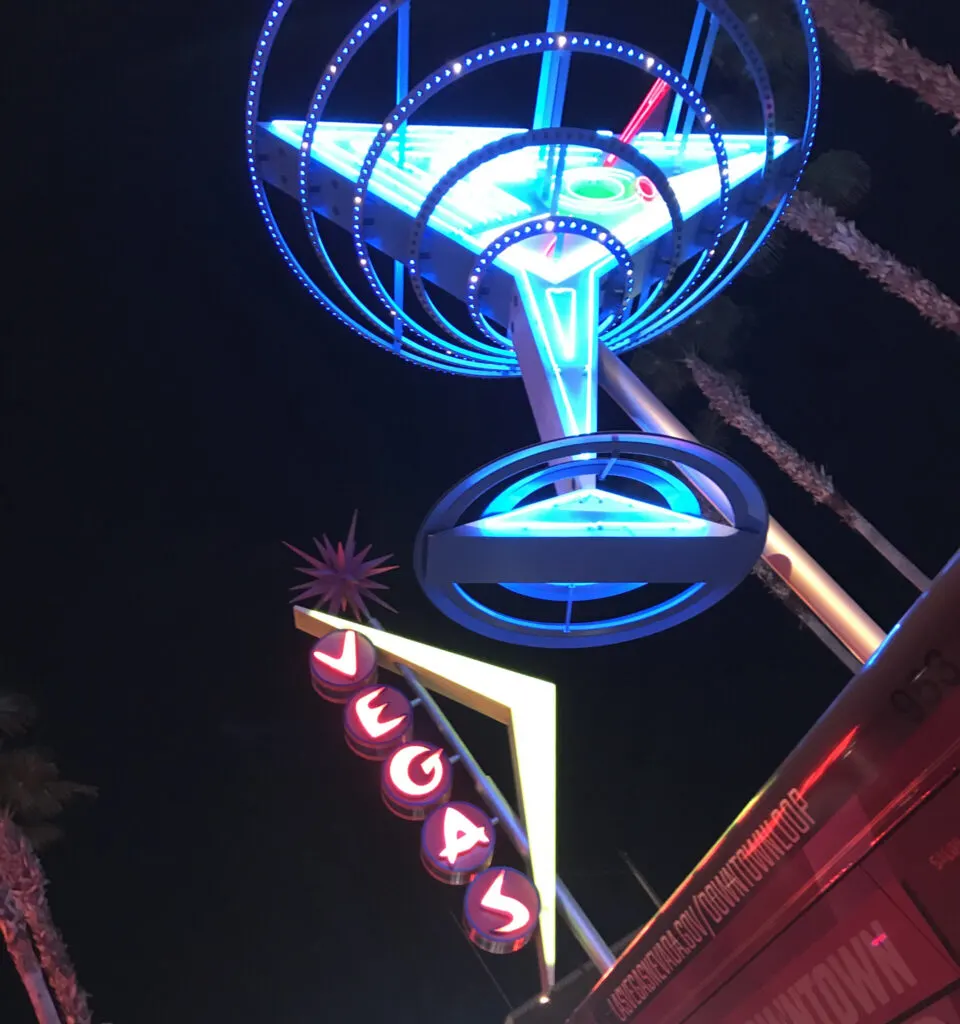 Other Notable Las Vegas Photo Opportunities
Natural Wonders: Just outside Las Vegas lie some amazing natural attractions. I've had the chance to visit, and photograph, Valley of Fire State Park and Red Rock National Conservation Area – Both are unreal and offer numerous photo opportunities of a lifetime.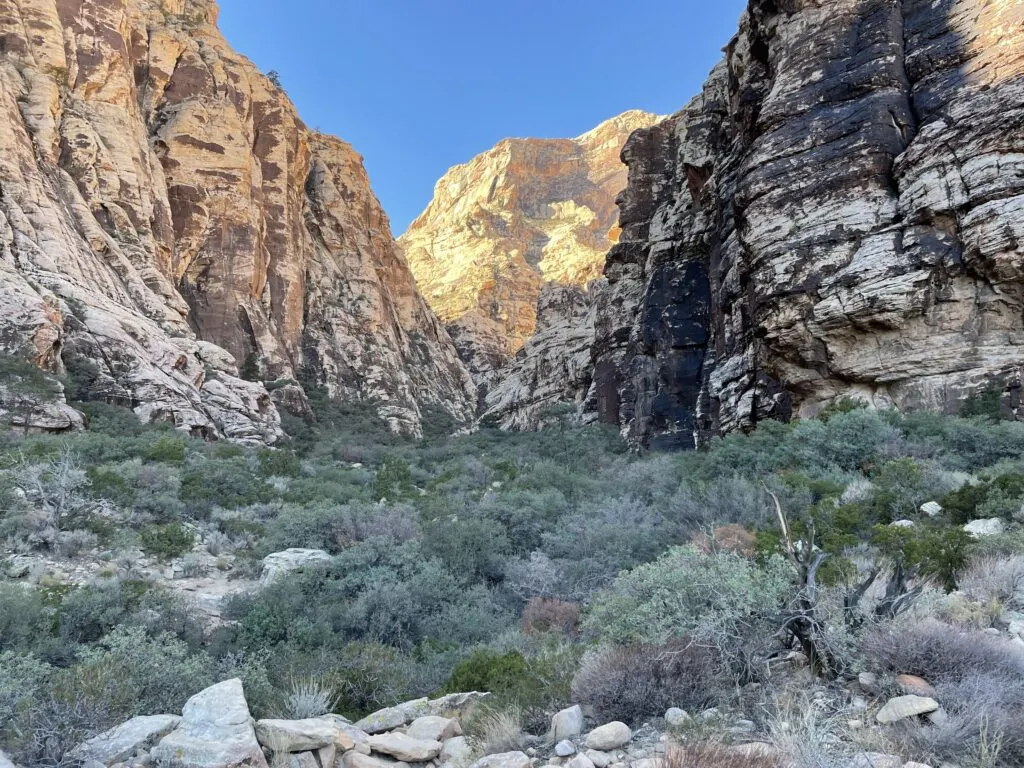 Hoover Dam: A man-made attraction, Hoover Dam is a short drive from Las Vegas, and offers the chance to snap photos not possible elsewhere.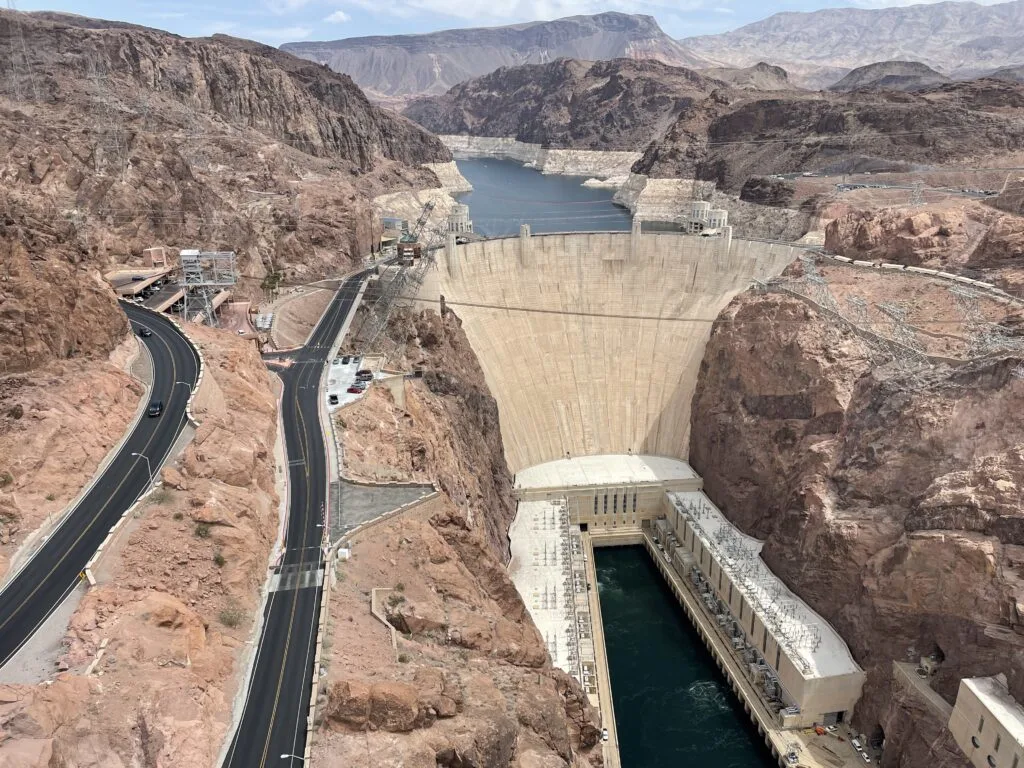 Seven Magic Mountains: Located a short drive from the Strip to the south, Seven Magic Mountains is an art installation in the middle of the desert that's comprised of 7 stacks of colorful boulders.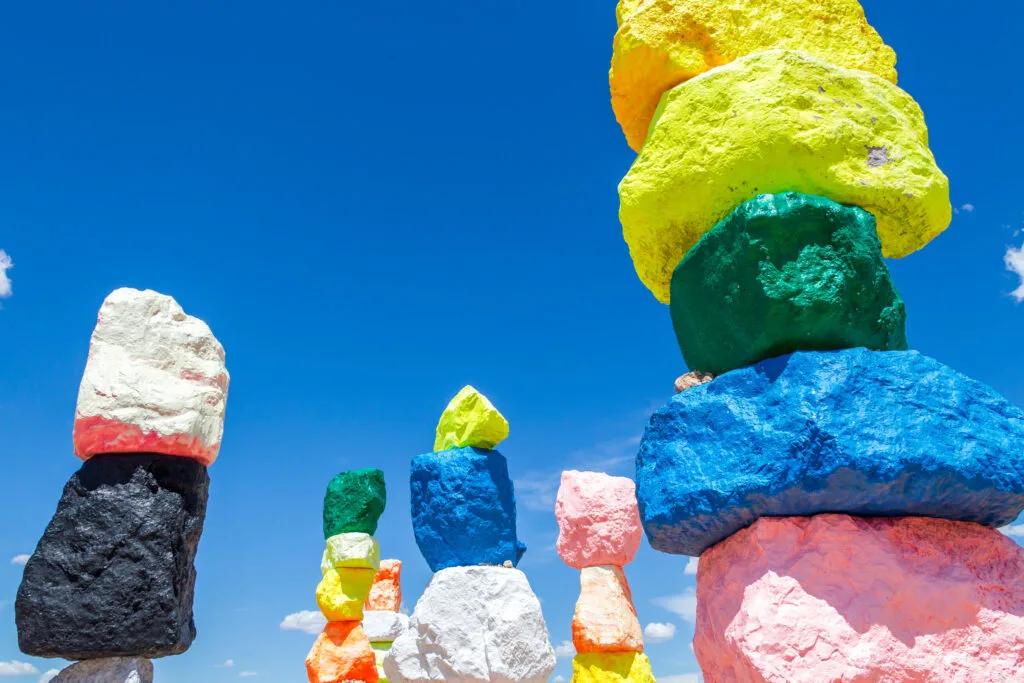 Area15: Found just off the Strip, visiting Area15 is akin to leaving Las Vegas for a world created with psychedelic art.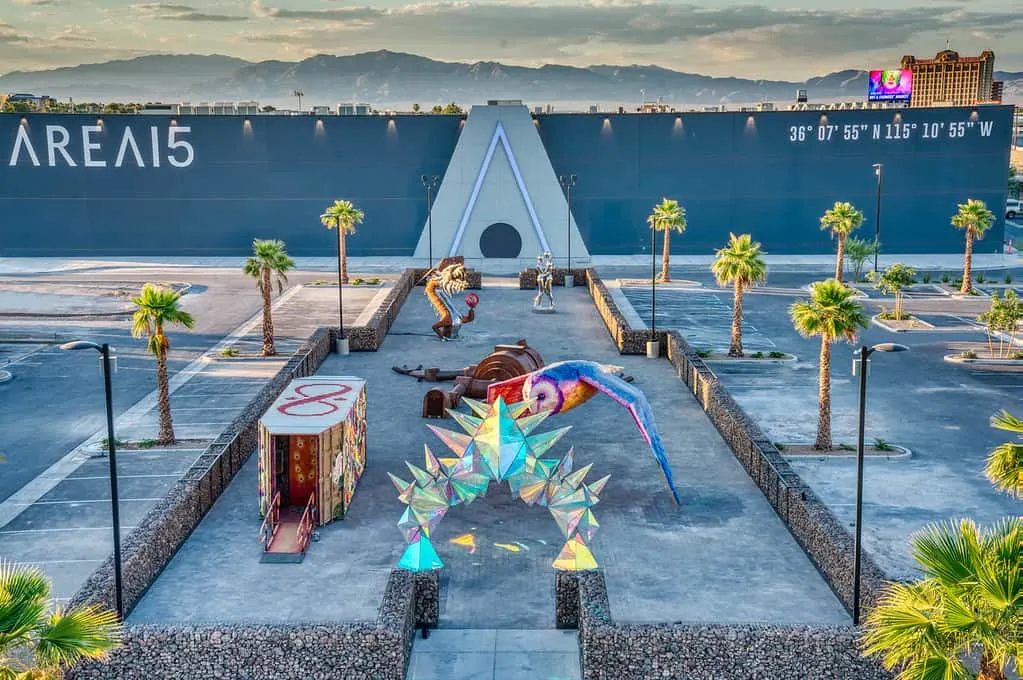 Access to the complex is free, but activities, rides, and dining cost extra. Free access is enough to see some trippy photo ops though.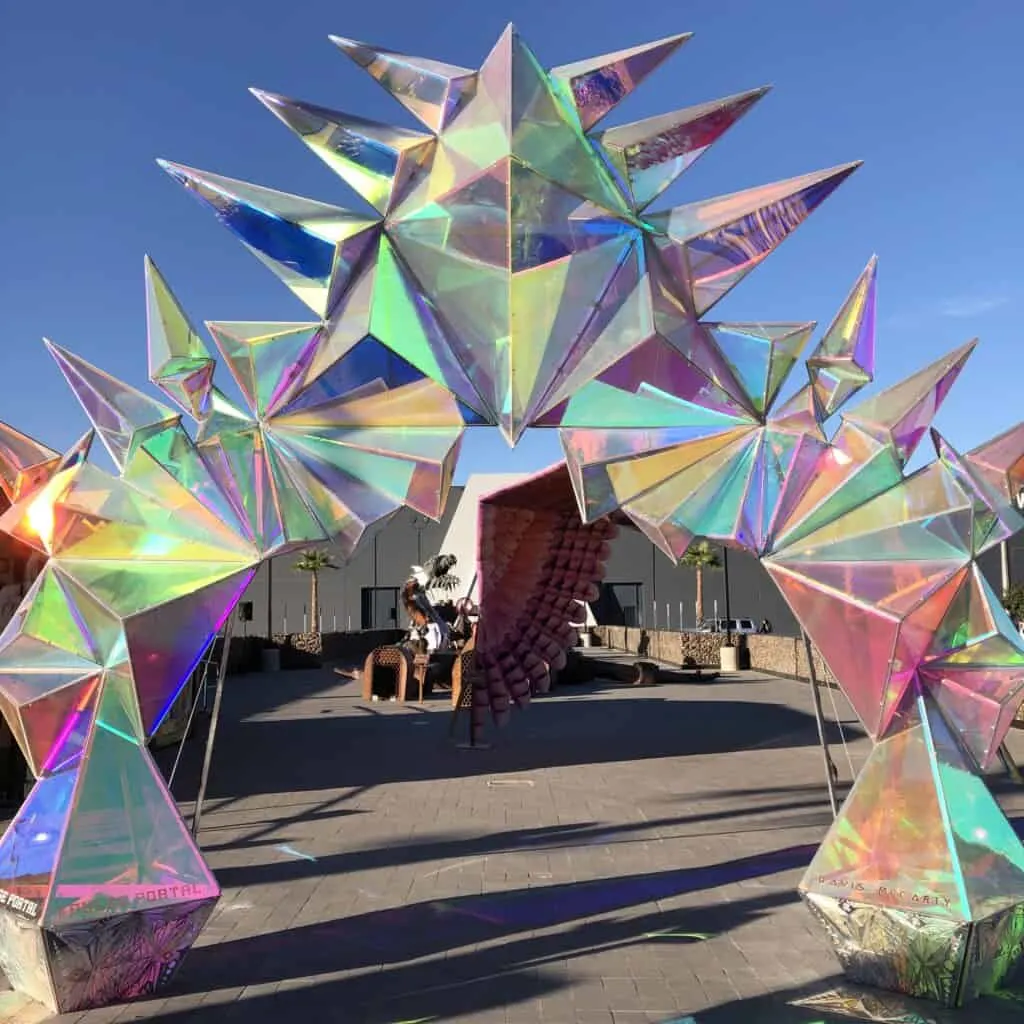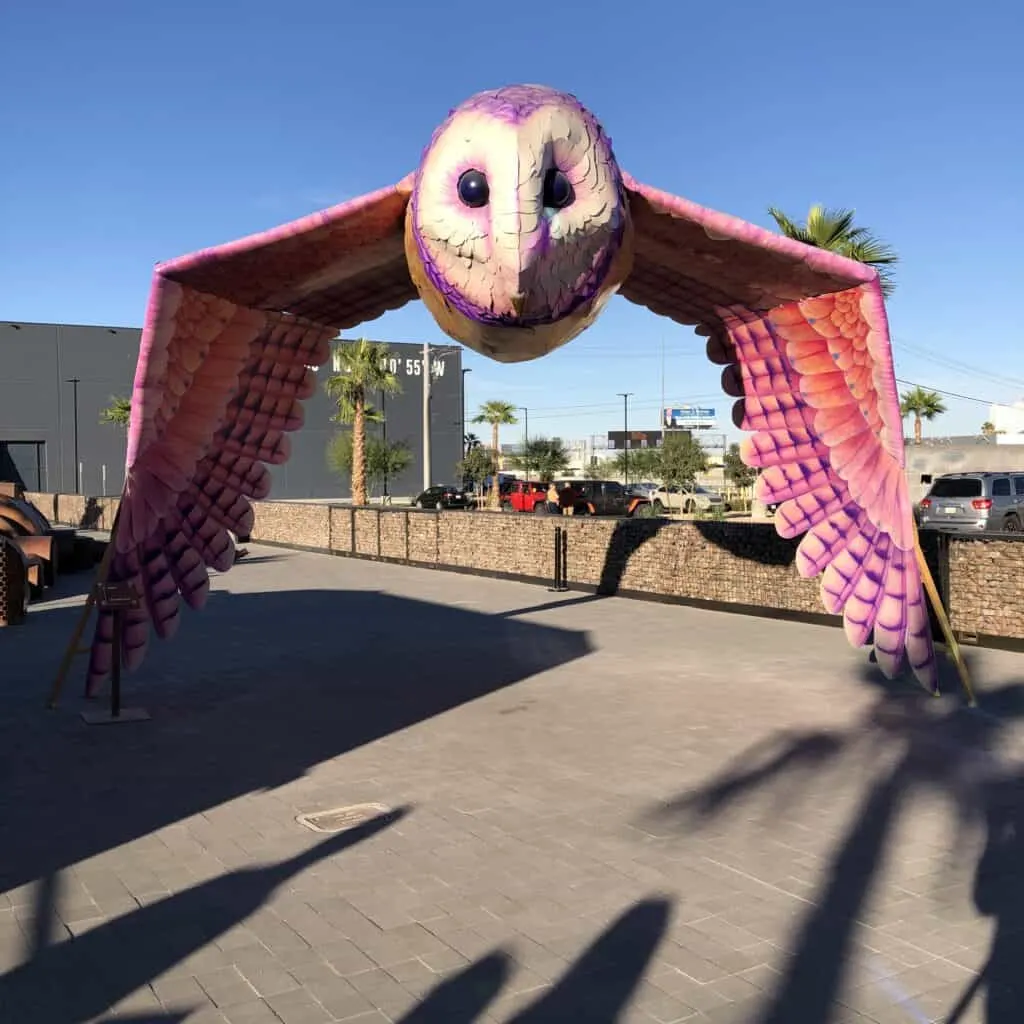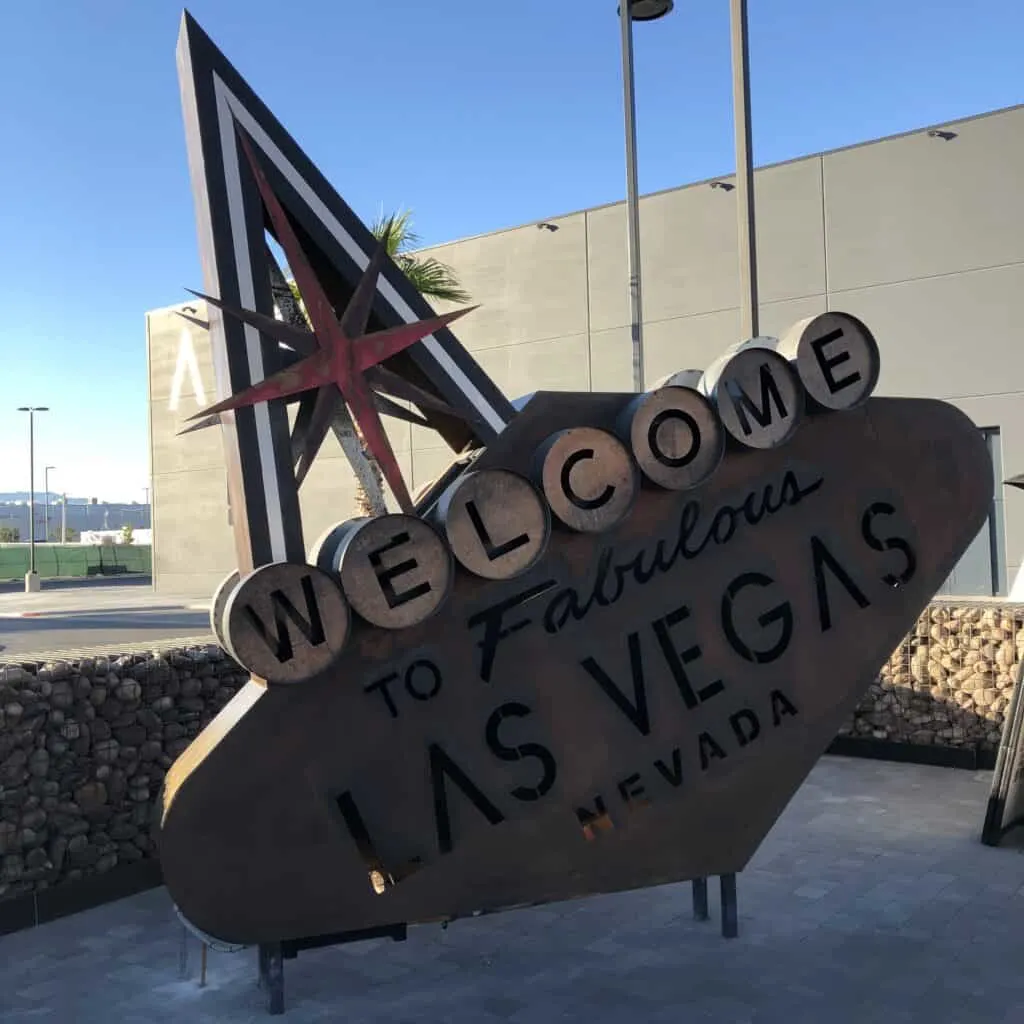 Hopefully, my personal favorite Las Vegas photo opportunities were able to help you find that perfect shot.
Whether you're an influencer looking for something instagrammable, or a couple looking to take memorable photos for an album, there are sure to be a number of great photo spots in Las Vegas that work for you!
See Also: Rookie Mistakes in Las Vegas to Avoid and a First Time in Las Vegas Checklist.
I'm a former software salesman turned Vegas aficionado. While the craps table is my preferred habitat, I pull myself away to explore new attractions, shows, restaurants, and outdoor activities around Las Vegas with the intent of sharing my experiences.
Ultimately, I just want to help folks plan a better trip and save a few bucks in the process.