According to the Las Vegas Convention and Visitors Authority, 74% of 2018 visitors gambled while in Vegas. After all, Vegas is the gambling Mecca of the United States. Most visitors though have an interest in putting together a Las Vegas itinerary that includes non-gambling activities as well. For first-timers, building the perfect 3 day itinerary in Las Vegas can be a daunting task with SO many dining and entertainment options competing for your time.
Besides gambling (which is a given), what are some ideas for things to do in Vegas? What attractions and dining options should you prioritize while in town? We'll share the activities and food options, in one-day increments, that we think will help you make the most of your time!
Hopefully, our ideal 3 day Las Vegas itinerary will help you discover a few items to add to your Vegas "to do" list that wasn't there before!
Related: Things for Couples to do in Las Vegas!
Day 1 Of Our 3 Day Las Vegas Itinerary
Breakfast at Peppermill: It's vintage Vegas and the perfect way to set a base for the alcohol consumption that is about to transpire. Peppermill is known for its 70's neon decor and generous portions. Enjoy an omelet or a waffle stacked with a mountain of fruit. You may need to plan a ride, as Peppermill is located at the north end of the Strip near Circus Circus but it's the perfect way to kick off your Vegas itinerary.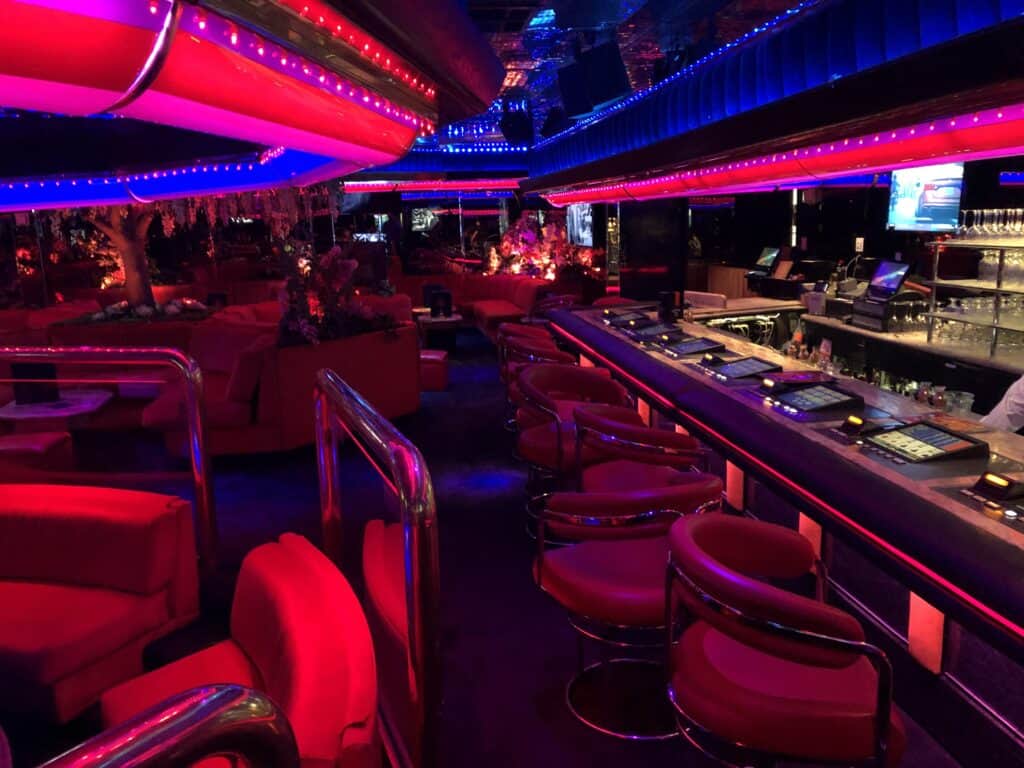 Experience Free Sights on the Strip: If you are new to Vegas, there are plenty of free things to see and do that are worth the time investment. Check out the Fountains of Bellagio which are choreographed to a number of musical selections and the conservatory, also at Bellagio, which is a seasonal display made up of millions of flowers. In the evening, the Mirage volcano is an impressive sight.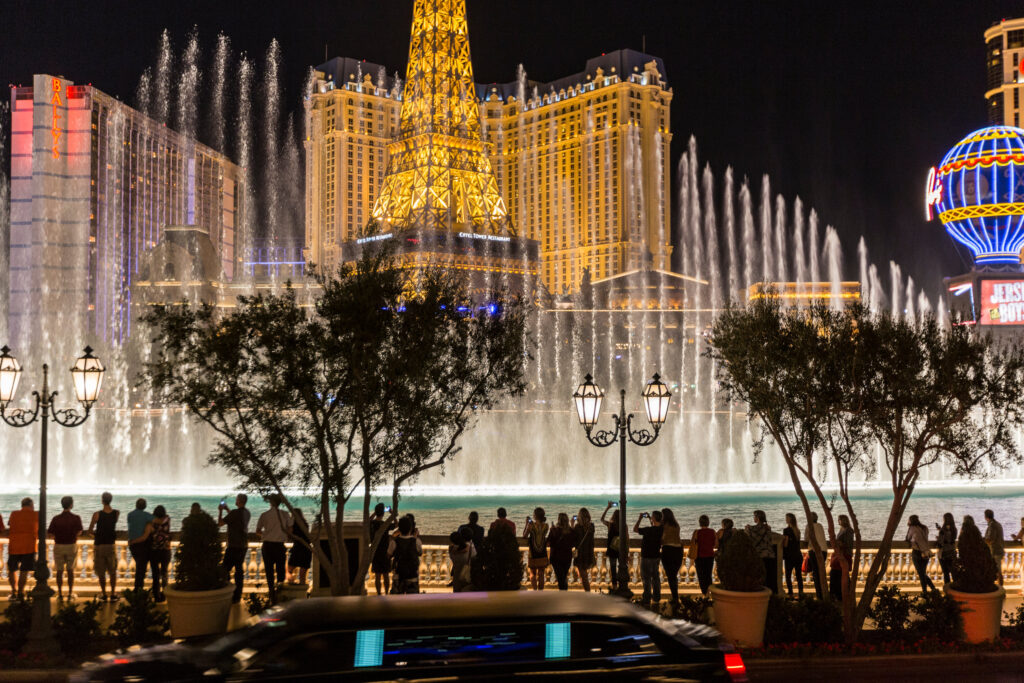 Happy Half Hour on the High Roller Observation Wheel: Alright, you've had a big breakfast and checked out some free attractions. It's time to start drinking. Some of the most memorable drinks you'll have are on the High Roller Observation Wheel which stands at 550ft tall. Typically, a ride costs $27 (day) and $40 (night), however, for an additional $23 (day) or $20 (night) your pod will have an open bar allowing you to drink as much as you can in 30 minutes. Trust us, you'll get your money's worth.
We recommend ordering High Roller tickets online in advance, allowing you to skip the line to purchase at the High Roller.
Related: See our review of the Happy Half Hour on the High Roller.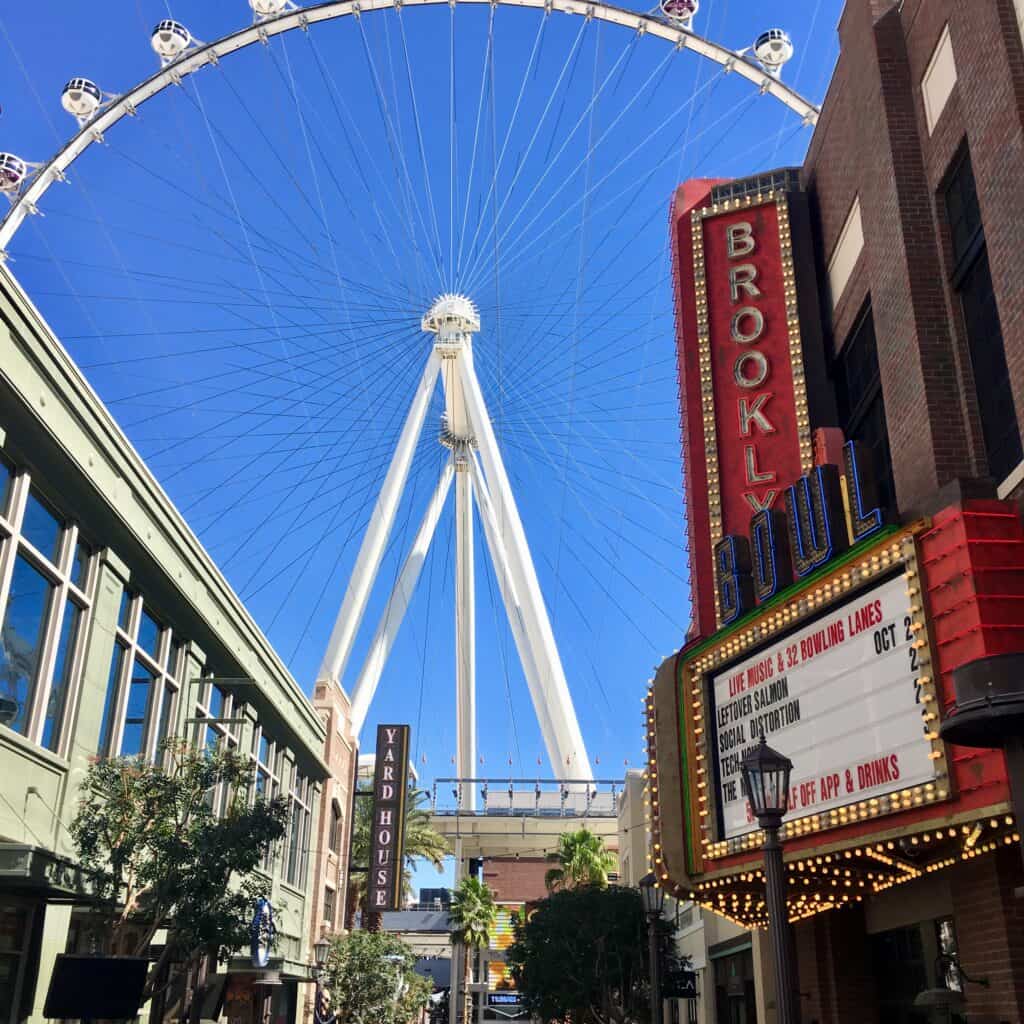 Dinner Downtown at Triple George Grill: While everyone else is flocking to Hell's Kitchen or Giada, you're going to save a few bucks and have a great meal at Triple George at Downtown Grand right off Fremont Street. My go-to menu items include the $65 16 oz Ribeye and $65 10 oz filet, while my wife typically opts for the $35 Spicy Linguine which is comprised of scallops, shrimp, and creole cream sauce.
Other high-quality dinner options downtown that are comparable to Triple George include Hugo's Cellar, Oscar's, and the Top of Binion's Steakhouse.
Brilliant at Neon Museum: After dinner, grab a quick Uber to the Neon Museum for their evening "Brilliant" display. If you are unfamiliar, the Neon Museum is an outdoor display of vintage neon signs from historic casino properties and is worth the trip day or night. At night though, projector technology is used to bring the signs back to life and it is spectacular. A perfect couples activity that even a non-history buff can enjoy.
Enjoy the Fremont Street Experience and Party the night away: After Brilliant, make your way back to Fremont Street to enjoy free live music on the street, drink, and take advantage of lower gaming limits and better game odds than casinos offer on the Strip. While downtown, ensure to stop by Circa, the newest addition to the neighborhood. Here is a full rundown of things to do on Fremont Street besides gambling.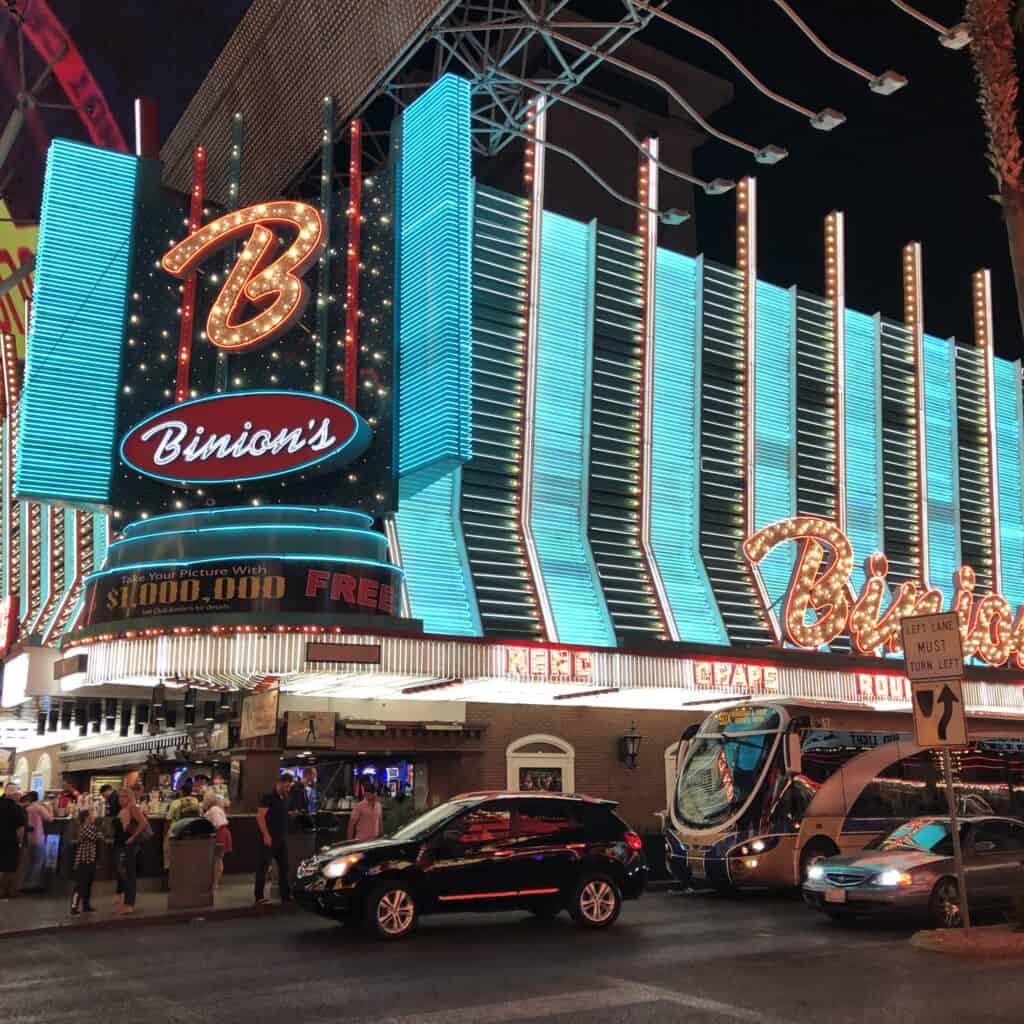 Day 2 Of Our 3 Day Las Vegas Itinerary
Brunch with bottomless mimosas and bloodies: We get it, you followed our advice and hit Fremont Street WAY too hard last night. You slept in a bit but are still hurting. Beat that hangover down with one of numerous all you can drink mimosa/bloody mary brunch deals up and down the Strip. We put together a comprehensive list of bottomless brunch deals in Las Vegas here!
Grab a signature cocktail on the Strip: You can get a drink anywhere in Vegas. Bars are numerous. But only a few sling drinks that are unique to the destination. Here are a few of our favorites:
Verbena Cocktail at Cosmopolitan's Chandelier Bar: A lemon-flavored cocktail topped with a Verbena flower which, when eaten before consuming the drink, provides a tingling sensation and enhanced ability to taste.
Frozen Baileys at O'Shea's: Think a malt or smoothie made of Baileys Irish Creme. The least pretentious of our favorite Vegas cocktails, this option is served up in a plastic cup and hits the spot on a hot day.
Pisterolo at Ghost Donkey: While you are at Cosmopolitan, find the hidden Ghost Donkey speakeasy, found in the back of the Block 16 food court. We love the Pistorolo, a spicy, yet sweet drink concocted with tequila, pineapple juice, lime, roasted poblano, and ancho verde.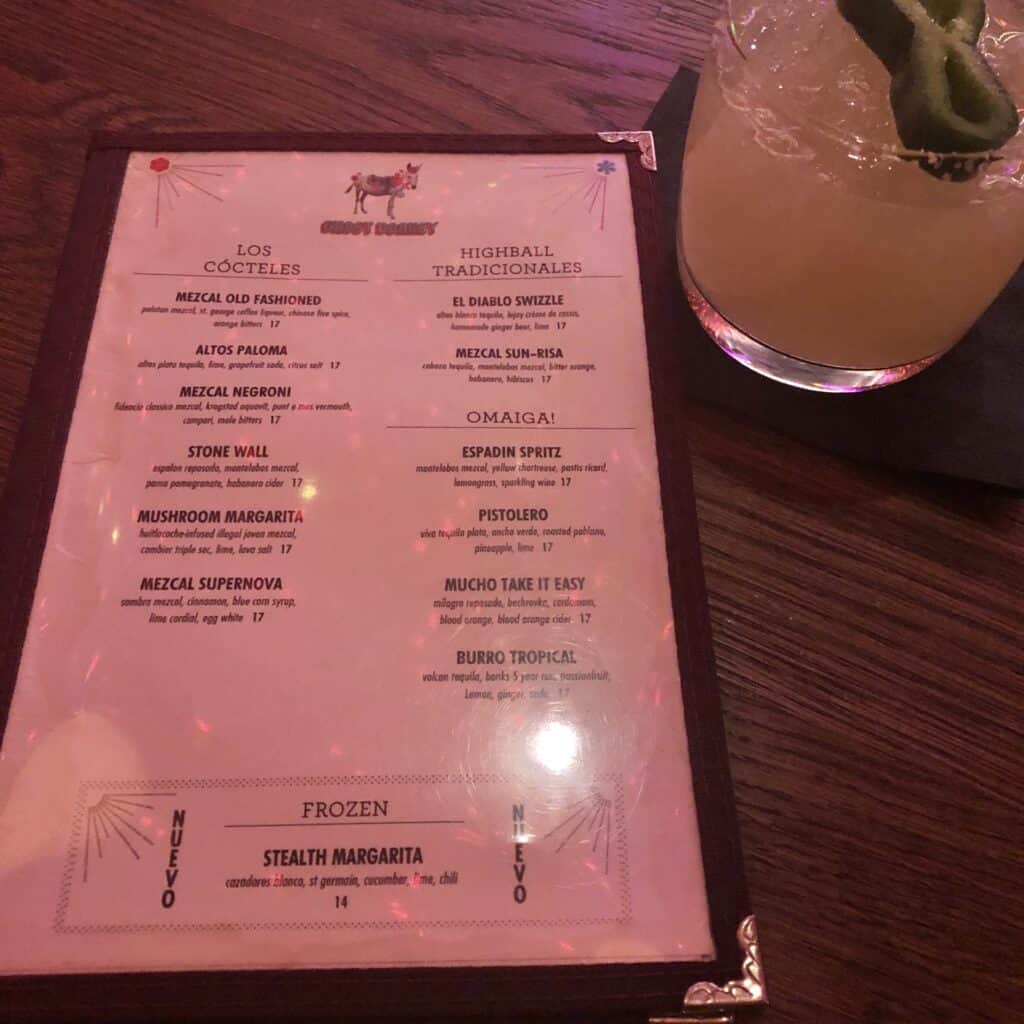 Find the hidden Secret Pizza at Cosmo: After stopping into Ghost Donkey, find Cosmopolitan's secret pizza place. Secret Pizza, or as it is officially named "The Pizzaria" at Cosmopolitan doesn't even advertise their existence to passers-by, instead, relying on word of mouth to drive traffic. Hidden at the end of a record lined hallway on the 3rd floor of the property, Secret Pizza is one of our favorite slices in all of Vegas. You can find more specific directions to find Secret Pizza here.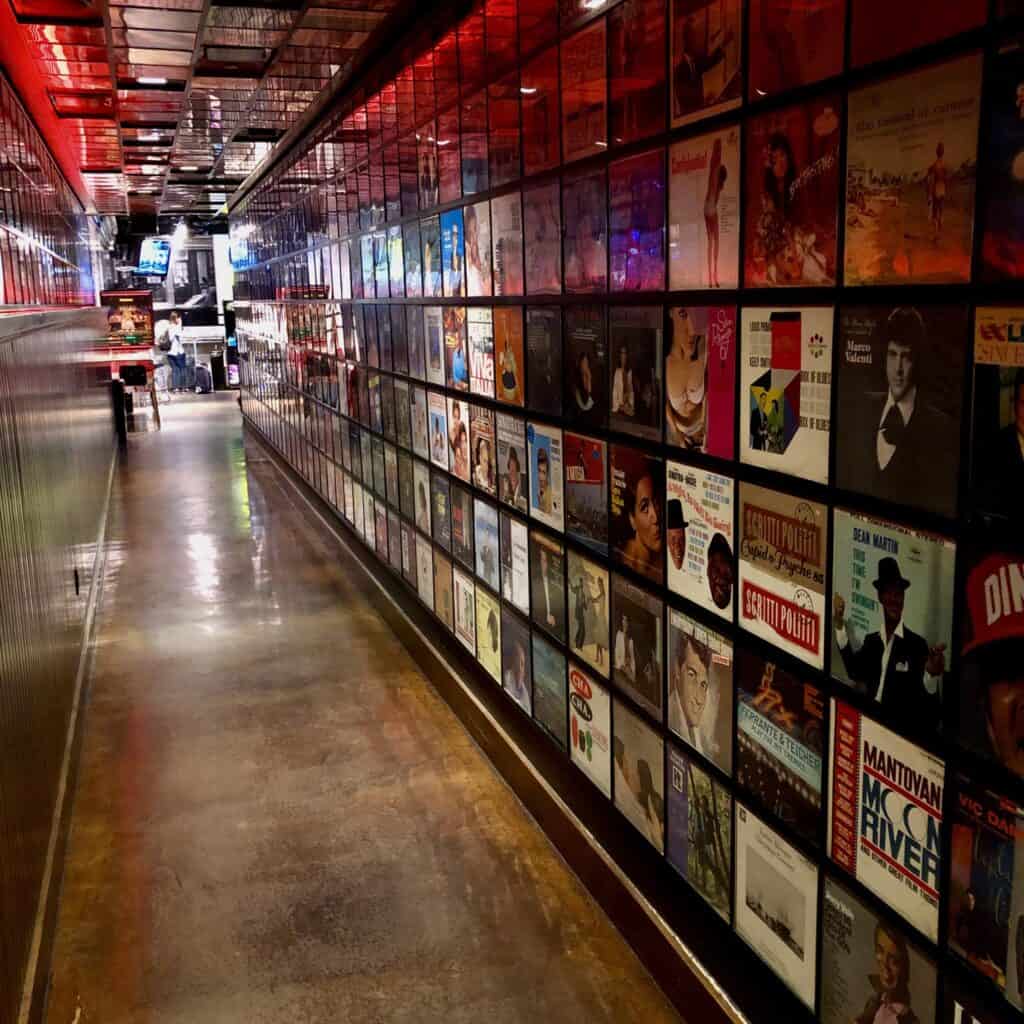 See Absinthe at Caesars Palace: Of the million shows in Las Vegas, Absinthe at Caesars Palace is the best. Period. Well, if you like raunchy, wildly inappropriate humor that is… If that type of show isn't up your alley then you'll hate the show and should ignore this advice and see Love, a Beatles-themed acrobatic Cirque Show at Mirage. Very tame, and your feelings will not be hurt.
But back to Absinthe – In addition to unparalleled humor, you'll see various acrobatic and circus-type acts that defy reality. Since the Venue is small, tickets can sell out quickly. As one of the more popular shows in Vegas, buying in advance is something you'll want to do.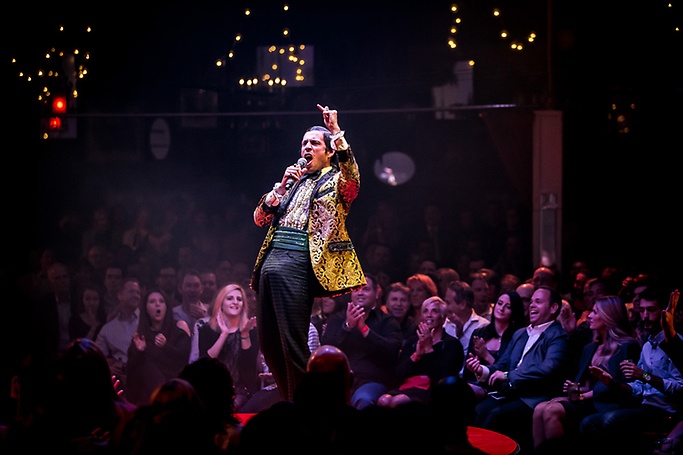 Related: Bringing Kids? Add these kid-friendly activities in Las Vegas to your itinerary!
Day 3 Of Our 3 Day Las Vegas Itinerary
Breakfast at Hash House a Go Go: Like Peppermill (part of Day 1), many visitors swear by Hash House. That loyalty is primarily due to massive serving sizes that are certainly Instagram-worthy. Locations can be found both at Linq on the Strip and Plaza Downtown. Below, are a couple of pictures of breakfast options we've enjoyed previously.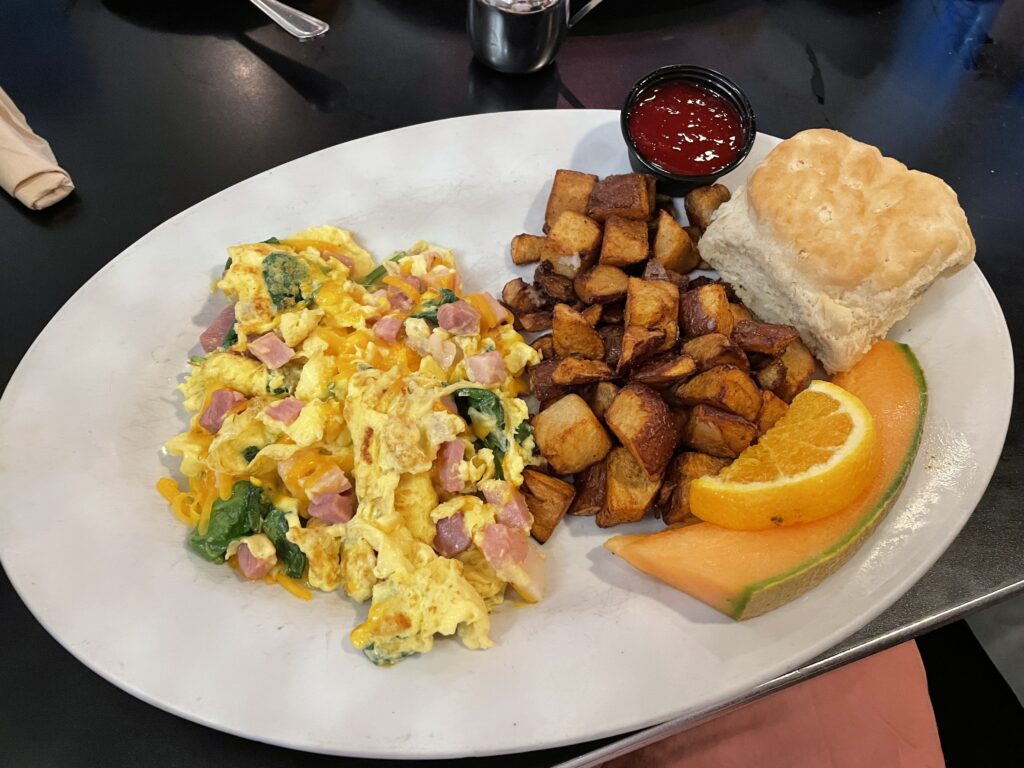 Related: Hash House a Go Go vs. Peppermill. A comparison of your options.
Play slots or Video Poker that take and dispense real coins: The timer on this itinerary item is running out folks. On the Strip, only Circus Circus offers token slot machines (about 25), and downtown, coin slot machines can still be found at El Cortez although a number of additional casinos still offer quarter video poker. We estimate that coin-operated machines will continue to fade away and soon every machine in Vegas will be coinless. Here is a full rundown of where you can still play coin slots & Video Poker in Vegas.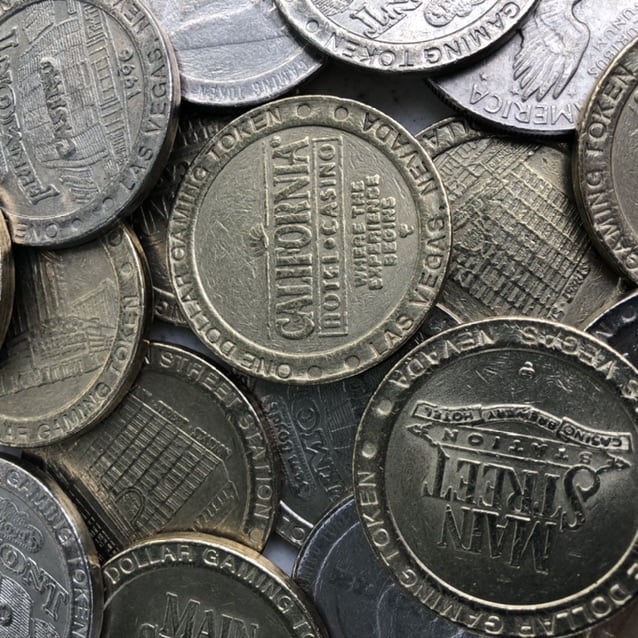 Visit the Skypod at STRAT: Admission to STRAT's observation deck starts at $20, and it's something everyone should experience. For the thrill-seekers among us, STRAT also offers 3 rides atop the tower that are both exhilarating and inexpensive.
Of the 3 rides atop the SkyPod, two dangle visitors off the edge of the tower while the other shoots you 160 ft straight up at a speed of 45 miles per hour. While I'm not a big ride person, I have really enjoyed the options on top of STRAT.
As an added bonus, STRAT is currently offering this deal on Groupon, good for observation deck access and rides.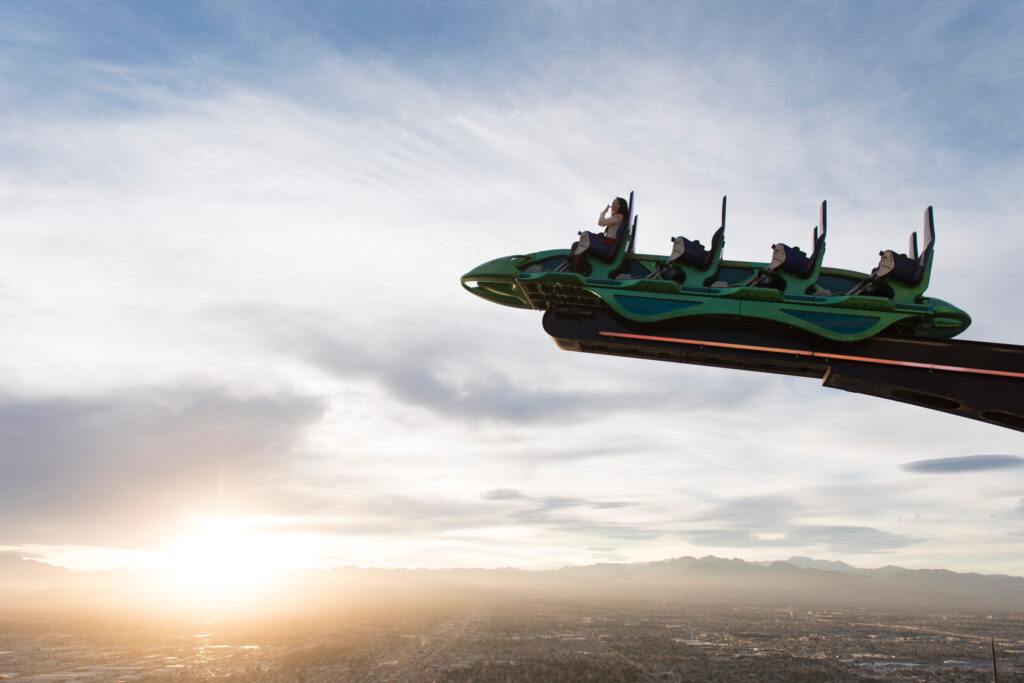 Dinner at a top-tier buffet: There are a number of premier buffets in Las Vegas. We're suckers for a high-end buffet and have recently reviewed Bacchanal at Caesars, The Buffet at Wynn, and The Buffet at Bellagio.
Our personal favorite, however, is Wicked Spoon at Cosmopolitan. Wicked Spoon serves high-end, single-serving cuisine options (no troughs of food) that are focused on quality over quantity. Items like Angry Mac and Cheese, Shrimp & Grits with Bacon, Chives and "Beer Blanc", and Crispy Pork Poutine with Cheese Sauce will delight. Of course, Wicked also has traditional meat and seafood options. Even if buffets are not traditionally your thing, this one will be.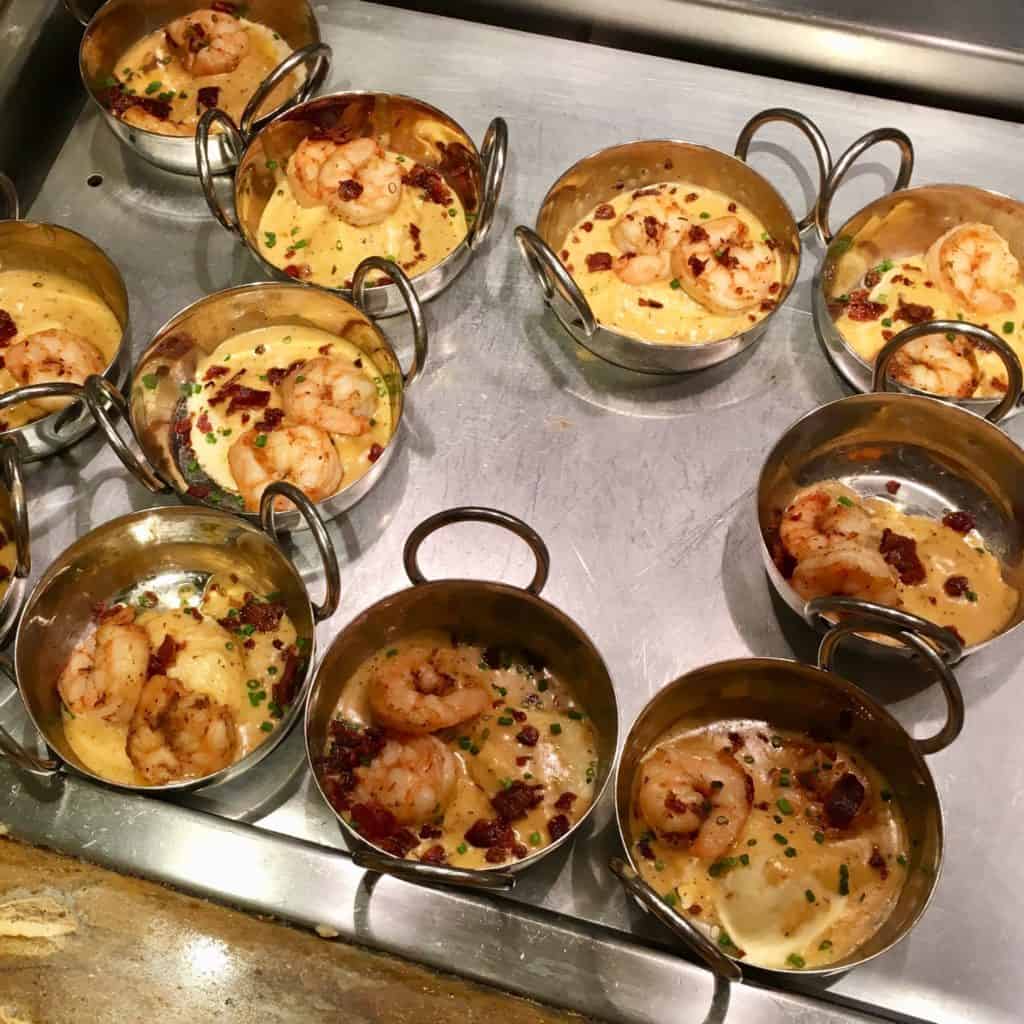 Karaoke at Ellis Island: Ellis is set 2 blocks off the Strip, right behind Bally's. It's a small casino and brewery with low limits, great food, and performers scattered across the talent spectrum attempting to sing in front of strangers. Karaoke fires up at 9 pm and can be a blast to watch. If it's not your thing, you should still go for the cheap gaming and $2.50 tall craft beers brewed on-site.
In addition to the items mentioned guide for spending 72 hours in Vegas above, we recommend squeezing plenty of pool time, gaming, and drinks along the way into your ideal Vegas itinerary. After all, kicking back and forgetting about the world you left behind is what this city is all about!
See Also: Check out our unique ideas for your Las Vegas Bachelorette Party, or Bachelor Party itinerary.
I'm a former software salesman turned Vegas aficionado. While the craps table is my preferred habitat, I pull myself away to explore new attractions, shows, restaurants, and outdoor activities around Las Vegas with the intent of sharing my experiences.
Ultimately, I just want to help folks plan a better trip and save a few bucks in the process.