Those of us that have stayed on Fremont Street know how loud rooms can be until the wee hours of the morning.
The ruckus, caused by live music, light shows, and bucket drummers can be unbearable for those that are light sleepers or are traveling for work.
Many hotels even offer a complimentary set of earplugs at check-in or laid ominously on your nightstand next to the bed, foreshadowing what you're in for.
I thought it would be helpful to identify the quietest room options and towers at each hotel in downtown Las Vegas for those that are seeking out a great time on Fremont Street and a good night of sleep.
As a general rule of thumb, rooms that are further away from, and/or face away from Fremont Street will be the quietest option at a given property.
Elevation matters too. Rooms on higher floors are quieter than those closer to street level.
Don't be shy, always ask the front desk at check-in for the quietest room possible. Unfortunately, though, quiet room options tend to be in high demand and are never guaranteed.
Related: Staying downtown Las Vegas vs. on the Strip – A comparison.
Quietest Rooms at Plaza
The quietest rooms at Plaza can be found on the back spoke of the North Tower (the main one pictured below) with a mountain view, or in the South Tower which is set away from Fremont Street.
In the South Tower, request a room facing South towards the Strip for the quietest experience.
You can make this request in advance when booking online in the "Extra Info About Your Visit" field.
Rooms that overlook Fremont Street and Oscar's on the front of the north tower can be extremely loud given their proximity to one of FSE's live entertainment stages across the street.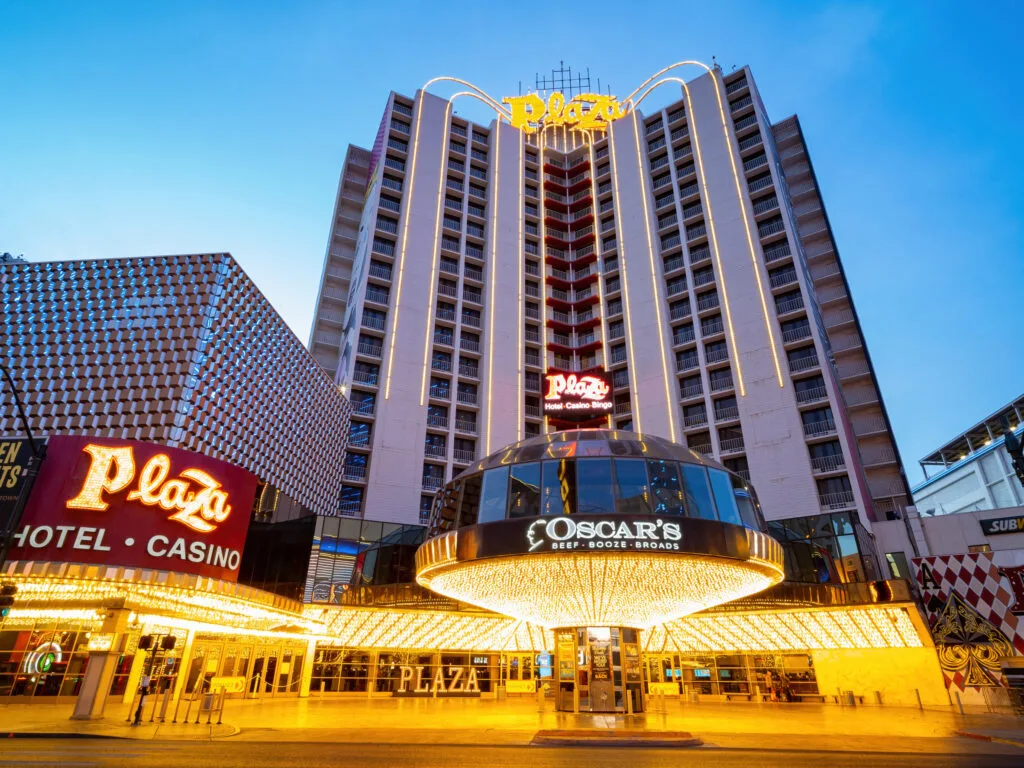 Quietest Rooms at Circa
Circa's hotel tower sits away from the Fremont Street Experience and offers a degree of natural sound insulation because of it.
Rooms with a Stadium Swim view (facing Fremont Street) will be loudest due to noise from both Fremont Street's live entertainment and any noise generated from Stadium Swim below.
The quietest rooms at Circa will be on the backside of the tower that are listed as having a "north city view" on Circa's website.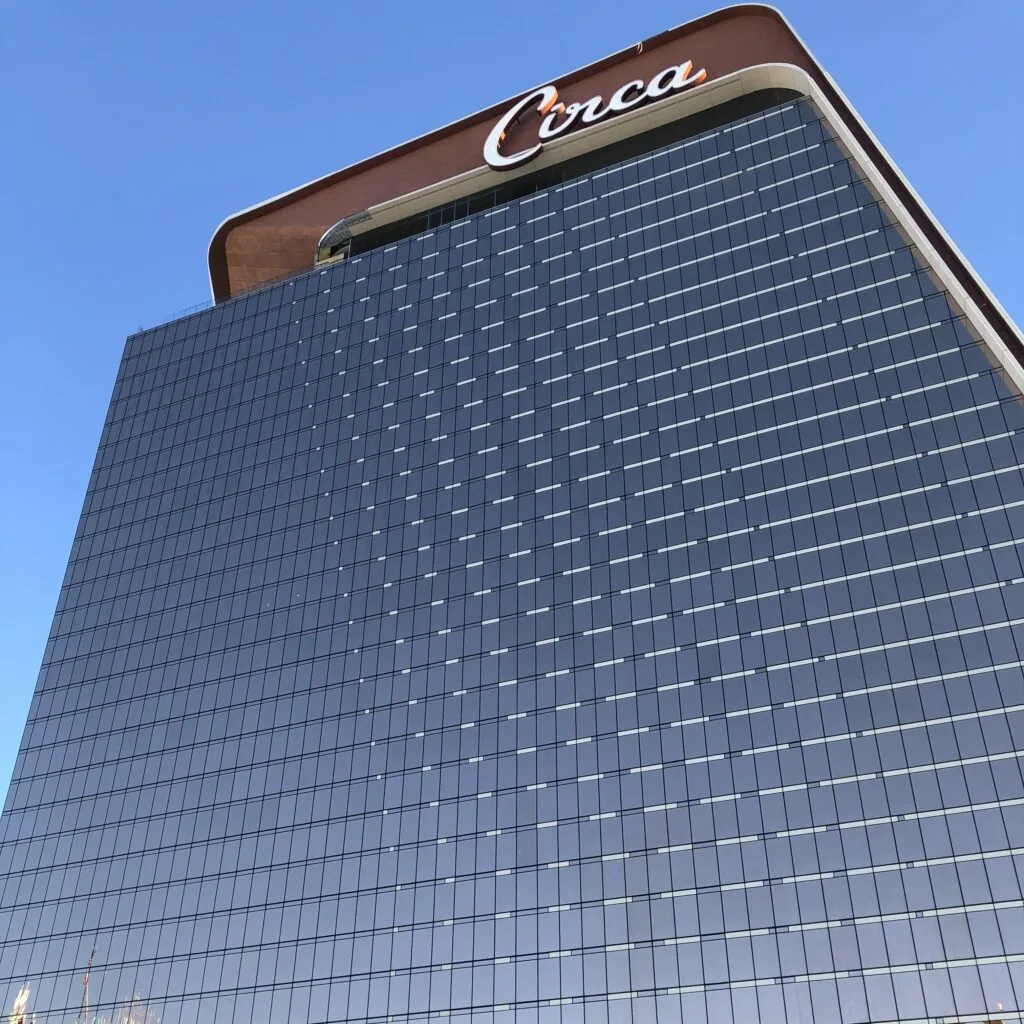 Quietest Rooms at Golden Gate
Golden Gate is located steps away from one of Fremont Street's live entertainment stages, and a big chunk of their rooms are absurdly loud because of it.
While it can be difficult to completely escape the noise at Golden Gate, your best bet is to book a suite as they are all located near the back of the property away from the Fremont Street Experience.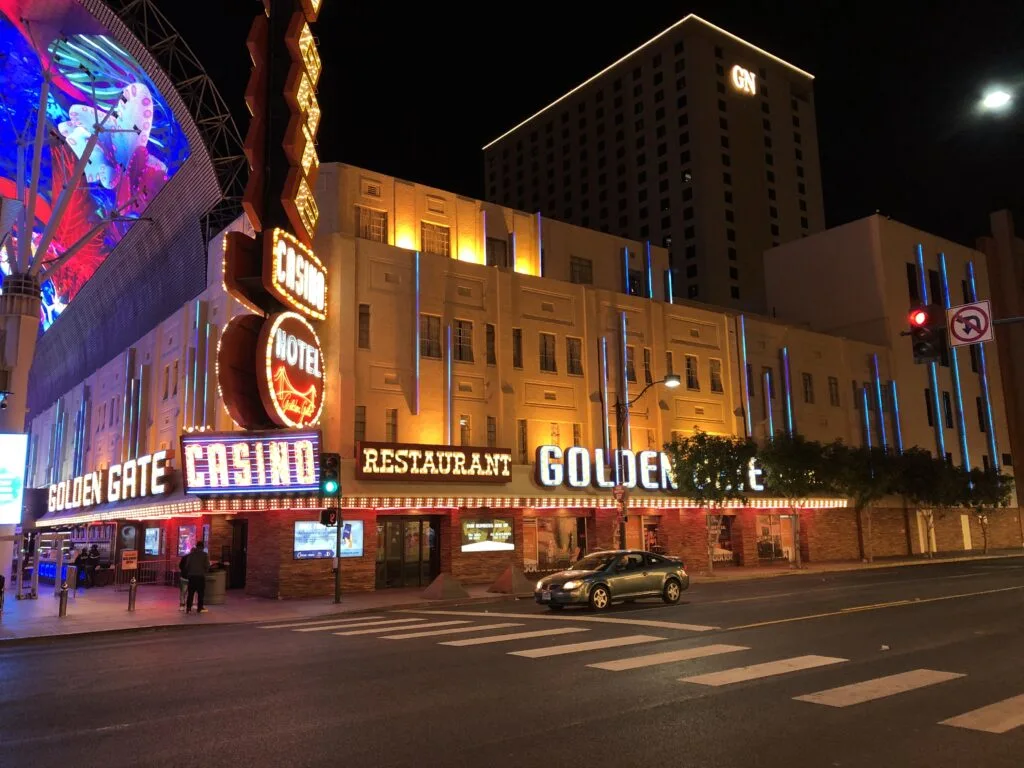 Quietest Rooms at Golden Nugget
Both the Gold and Rush towers at Golden Nugget sit alongside Fremont Street and are quite loud if your rooms are on that side (the north side) of the tower.
The backside of both Gold and Rush Towers, however, tends to be much quieter. If booking either of those towers, you will want to specifically request the quieter back side of the tower at check-in.
The quietest rooms at Golden Nugget can be found in the Carson Tower which is set back away from the commotion on Fremont Street. It's a bit of a hike to the casino and pedestrian mall, but if quiet is your goal, Carson is your best option.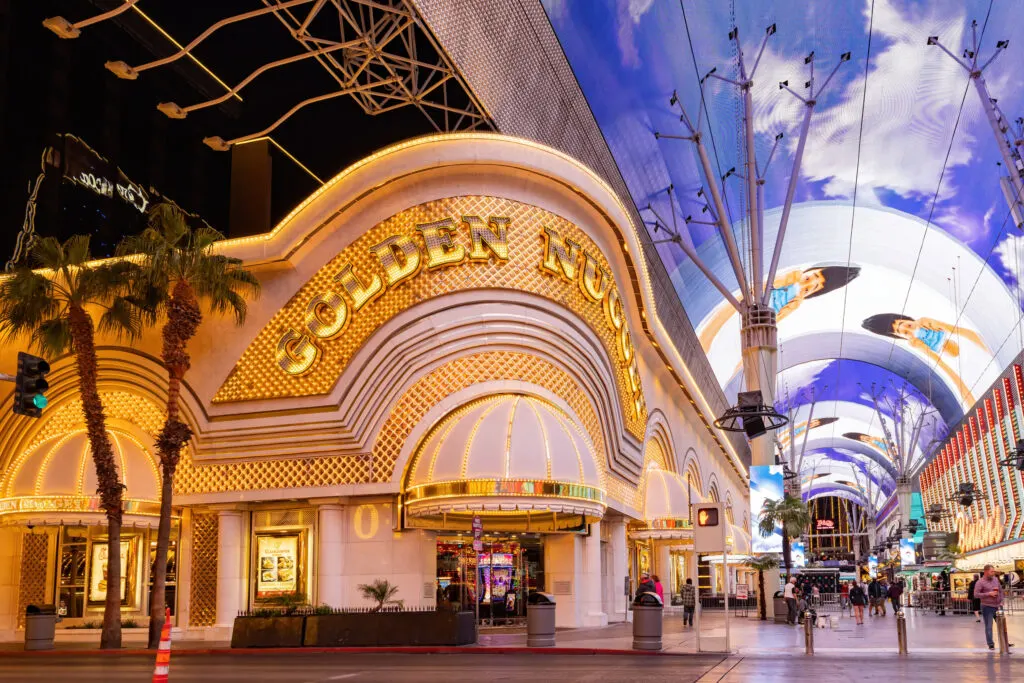 Quietest Rooms at Binion's Hotel Apache
Hotel Apache's rooms are located behind the blue neon facade that covers Binion's exterior. Due to the close proximity to Fremont Street, a good chunk of rooms are loud, although there are a few quieter options.
Unfortunately, there is no specific bookable room type that will guarantee a more peaceful experience.
The staff, however, are aware of what rooms are quieter so it's worthwhile to ask for one at check-in, but it'll be a gamble.
If you need a quiet night, you may want to look in another direction.
Related: I recently stayed at Binion's Hotel Apache – Check out a room up close!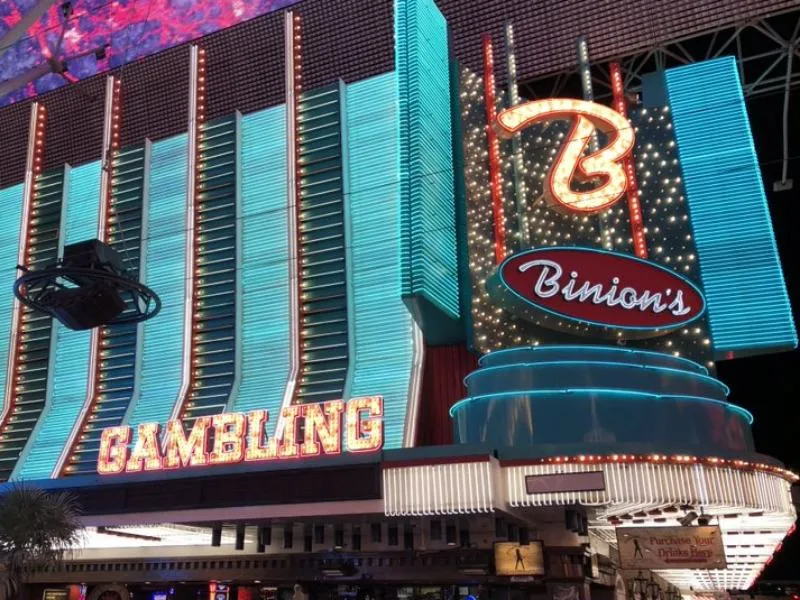 Quietest Rooms at 4 Queens
4 Queens has both a North and South Hotel Tower.
The North Tower sits directly on top of the Fremont Street Experience and rooms on the north side of that tower (facing Fremont) are extremely loud. Rooms that face south (away from Fremont) in the North Tower tend to be quieter.
Your best bet, though, is to book a room in the South Tower which is set back from Fremont Street. Although further away, the north side of the South Tower faces both Fremont Street and the 3rd Street live entertainment stage, and rooms tend to be loud as a result. Rooms in the South Tower that face south (away from Fremont Street) are the quietest option at 4 Queens.
You can reserve a room in the South Tower by selecting a "Premium" room option at the time of booking, however, you'll need to ask for a south-facing room when checking in.
A quiet room can be a gamble to come by when the resort is busy. Those that value sleep and a quiet night should likely look elsewhere.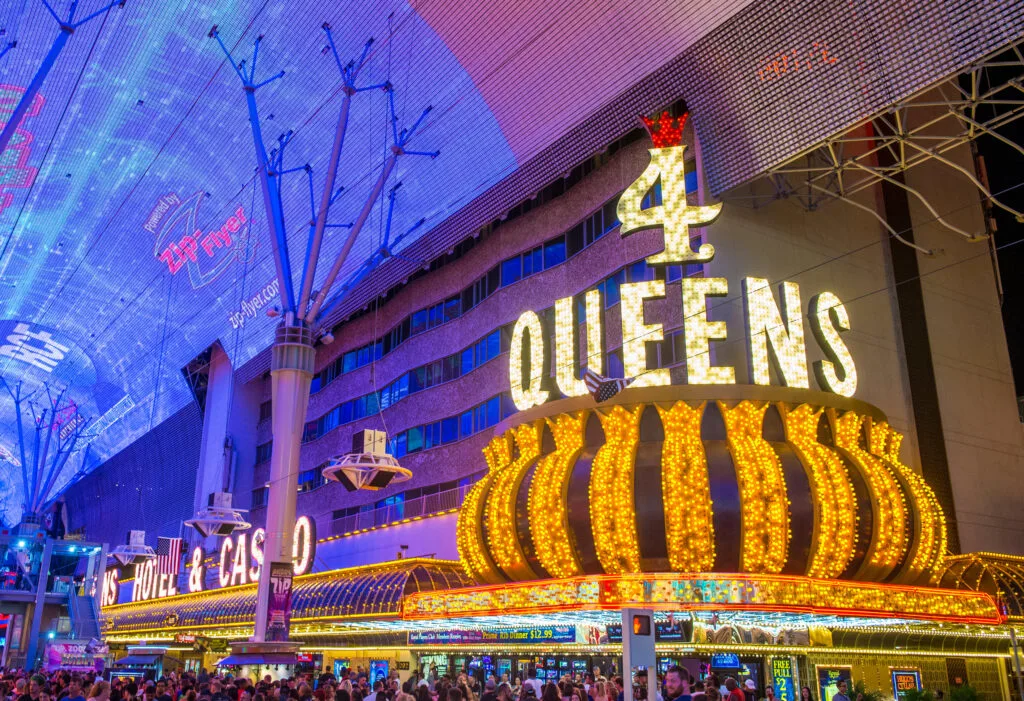 Quietest Rooms at The D
Also sitting on top of Fremont Street, The D is known to have some of the loudest rooms in downtown Las Vegas.
While there isn't a specific room type or tower selectable at the time of booking that would guarantee a quiet experience, you can request a quieter room at check-in.
Those rooms tend to be on the side of the hotel tower that faces the Downtown Container Park as opposed to the side that faces the Plaza. As always, the higher up the tower your room is, the quieter it will be.
Quietest Rooms at El Cortez
Although El Cortez is a good distance away from the noise created by the Fremont Street Experience, rooms on the front (south-facing) side of their hotel tower are often noisy.
That noise issue is due to a nightclub operating across the street. If staying in El Co's main hotel tower, request a room on the north side, facing away from Fremont Street.
The quietest room types at El Cortez are their "Cabana Suites" which are located in a separate building across Ogden Avenue on the back side of the property. Because the suites are behind El Cortez's main structure, they are among the quietest rooms on Fremont Street.
Related: I stayed in one of El Cortez's Cabana Super Suites – Check it out!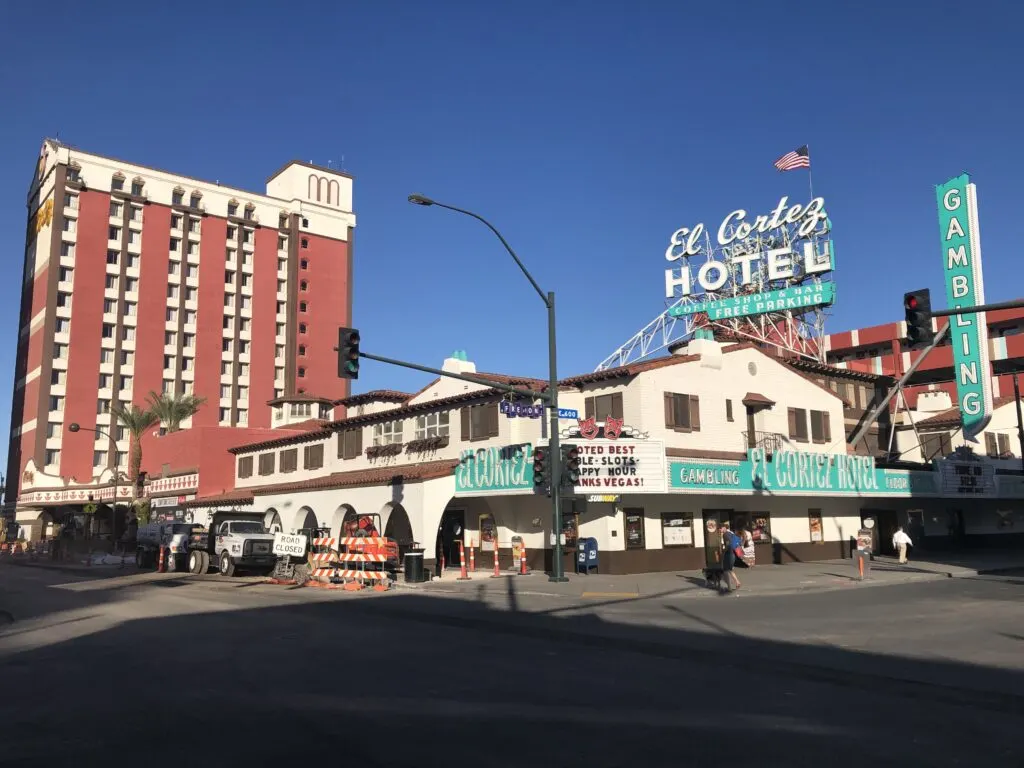 Quietest Rooms at Downtown Grand
Because Downtown Grand is set back from Fremont Street a few blocks, noise from live entertainment on the pedestrian mall is blunted slightly.
Unfortunately for light sleepers, Hogs & Heifers, a bar nestled between the two main hotel towers, creates a significant amount of noise itself. Quieter rooms are available in the two original hotel towers, typically to the rear (away from Fremont) and facing out, away from Hogs & Heifers.
Quieter rooms can be requested when checking in, and they will do their best to accommodate.
If you want to be assured a quiet room at Downtown Grand though, look to book a room in their new Gallery Tower. Due to the tower's location, rooms there rank among the quietest hotel rooms on Fremont Street. When booking, select a "Superior Room" which will run 10%-20% more than options in the 2 older towers.
See Also: Check out our Downtown Grand Superior Room Review.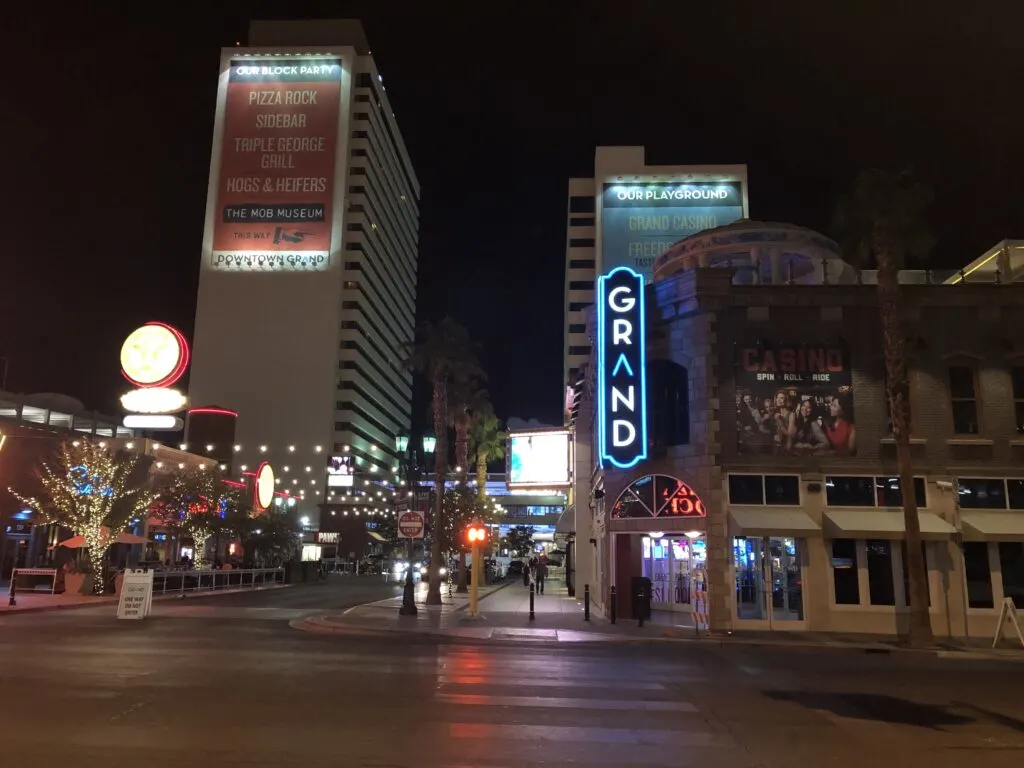 Quietest Rooms at Fremont
Fremont only has one hotel tower which starts at Fremont Street and extends back to Ogden Avenue.
Essentially, the closer your room is to Ogden Avenue at the rear of the property, the quieter your experience will be. Guests wanting a quiet room will need to make that request at check-in.
Quietest Rooms at Main Street Station and The Cal
Fortunately, both Main Street Station and California are located far enough away (but still very close) to Fremont Street that noise isn't really an issue.
Some of Main Street Station's rooms do face the freeway, however, so if you feel that could be an issue request a non-freeway room at check-in.
A quiet hotel room on Fremont Street can be difficult to find due to the rambunctious nature of the entertainment. Yes, I love the commotion, but it's not for everyone, especially those that have an early wake-up, are light sleepers, or are in town for work.
Hopefully, I was able to help you find a quiet room option downtown!
See Also: Check out these incredibly easy ways to save money in Vegas!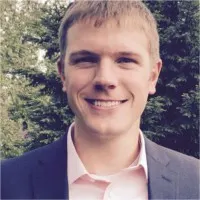 I'm a former software salesman turned Vegas aficionado. While the craps table is my preferred habitat, I pull myself away to explore new attractions, shows, restaurants, and outdoor activities around Las Vegas with the intent of sharing my experiences.
Ultimately, I just want to help folks plan a better trip and save a few bucks in the process.