Nothing outshines the lights of the Las Vegas Strip, but for many, staying there isn't preferred. In fact, according to a 2019 LVCVA survey, 21% of visitors chose to stay at hotels away from the Strip and downtown. The reasons are numerous. Hotels off the Strip offer table games with player-friendly rules, have looser slots and offer premium amenities, often at a lower price point than resorts on the Strip.
In addition to being away from the madness of main tourist corridors, hotels away from the Strip are a cheap Uber ($20 – $25), or even a free shuttle ride from the action allowing guests to experience the best of both worlds.
Below, we'll dive into the best off-Strip hotels in Las Vegas so that you can easily compare and contrast your options.
Red Rock
Located in Summerlin, Red Rock's guestrooms match the luxury of top resorts on the Strip with stunning views of Red Rock National Park. In addition to the gaming floor you would expect from a resort in Vegas, Red Rock offers bowling, a movie theater, and numerous dining options spanning the price spectrum on site. Red Rock's "Sandbar" Pool is among the nicest in all of Vegas and even offers poolside gaming. A free shuttle to the Fashion Show Mall on the Strip is offered daily as well.
Making hotel rooms at Red Rock among the best off-Strip options is recent renovations completed in 2020. Red Rock's baseline luxury rooms can commonly be had for around $100 per night (check rates and options for your travel dates here), with options increasing from there. For those traveling with a family or group, Red Rock also offers suite options with 2 bedrooms.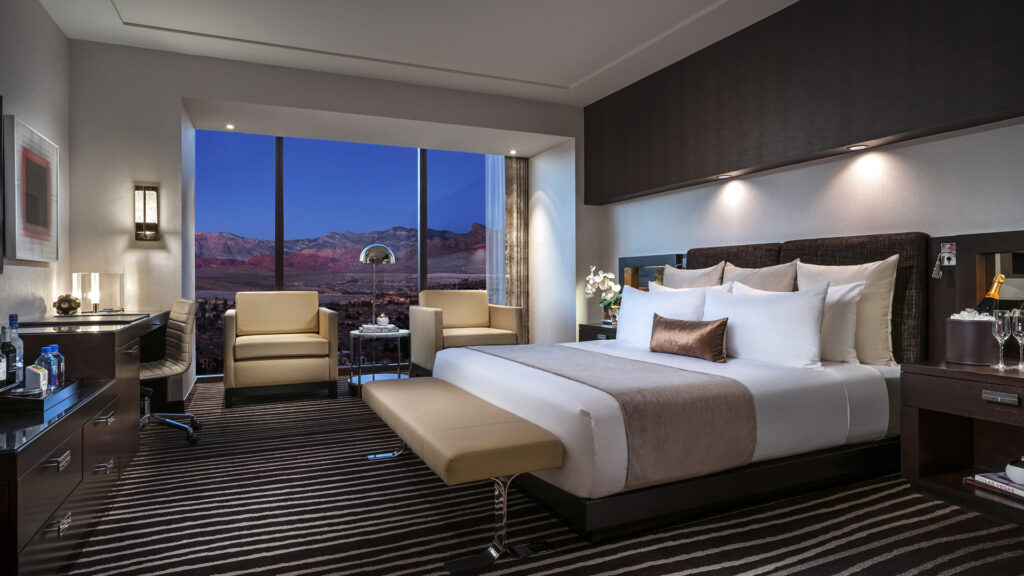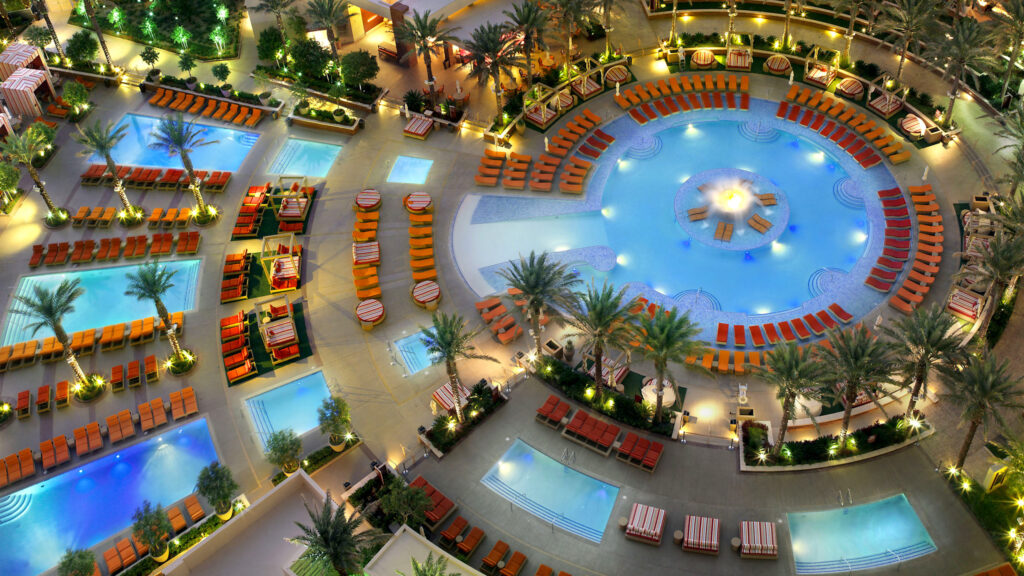 Green Valley Ranch
Located in Henderson, Green Valley Ranch is easily one of the best hotels away from the Strip in Las Vegas. With room options ranging from their baseline Deluxe Rooms, all the way up to a collection of suites, all rooms match the level of luxury you would expect at upper-tier resorts on the Strip. Like Red Rock, Green Valley Ranch also boasts a stunning, aesthetically pleasing pool complex complete with a beach made of sand and views of the Strip. A daily free shuttle with service to Mandalay Bay on the Strip is also available.
Room rates at GVR start at about $150, however, pricing for your dates of stay can be found here.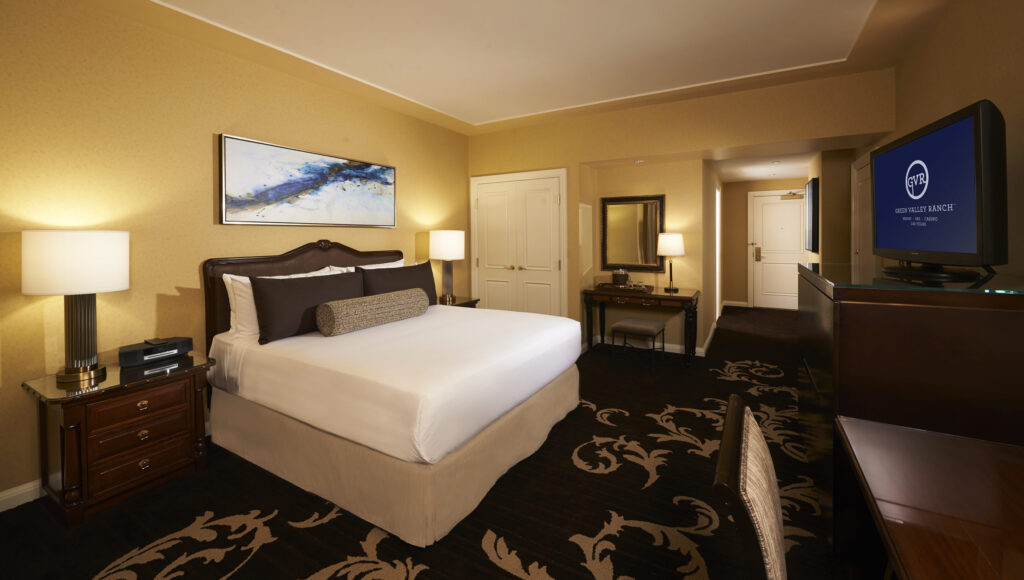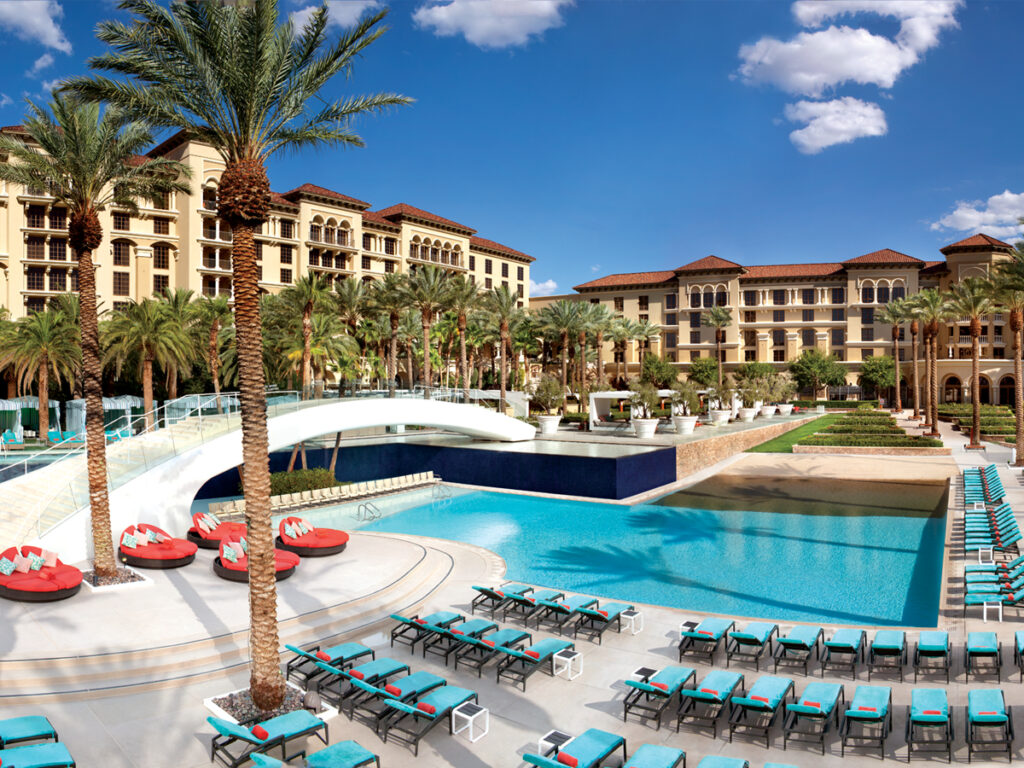 M Resort
Another top resort away from the Strip located in Henderson, M Resort offers luxurious hotel accommodations, diverse dining options, over 90,000 square feet of gaming, and a luxurious pool scene spread over 100,000 square feet complete with two heated infinity pools. Adding to the allure of M's pool are seating options submerged in 9-inches of water, making for a refreshing way to enjoy the Nevada sun. Notably, M Resort also offers a daily free shuttle to Tropicana on the Strip.
Accommodations at M Resort are among the best you'll find away from the Strip. Options start with their baseline "M Resort Room" which can be had for rates starting at around $125, however, pricing for your exact travel dates can be checked here.
Virgin Las Vegas
The old Hard Rock Hotel and Casino has transitioned to the Virgin brand via a $200 million renovation project. The reimagined property, which opened in Spring of 2021 is borderline walking distance from the Strip, although we would instead recommend a cheap Uber… especially in the middle of summer… trust us. The new resort's 1,500 refurbished guestrooms, 60,000 square foot gaming floor, and stunning pool complex are destined to put Virgin atop the list of options off the Strip.
In addition to a shiny new resort experience, Virgin sits across the street from Hofbrauhaus, which serves up massive beers. Not a bad spot. Check rates and options for your travel dates here. Notably, Virgin is one of the few Las Vegas resorts without a resort fee, which is appreciated.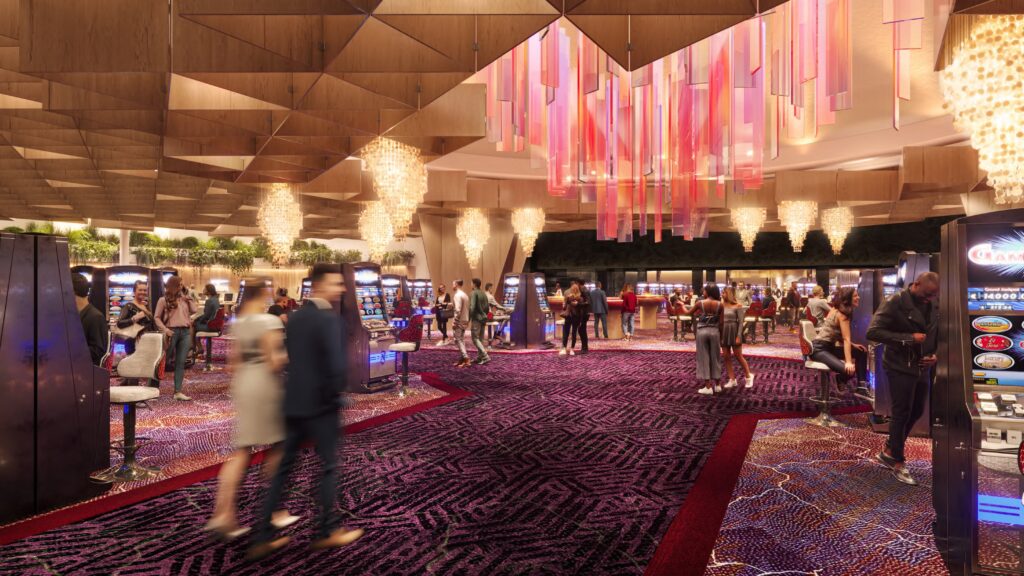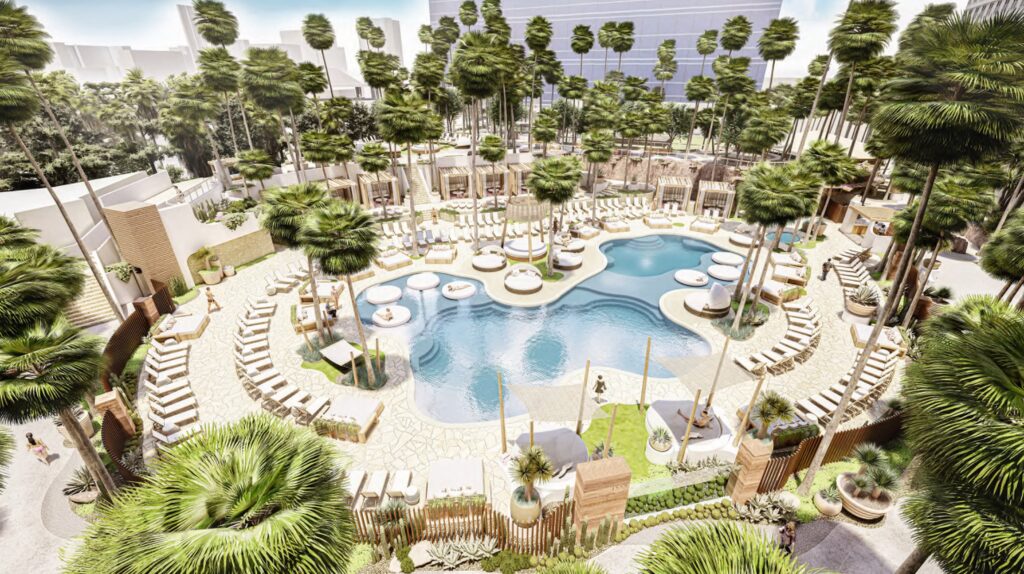 Palms
Palms was among the trendiest off-Strip resorts after opening in 2001 and subsequently hosting The Real World in 2003. Present at the hotel's grand opening were notable celebrities to include Samuel L. Jackson, Dennis Rodman, and Pamela Anderson.
After a hot start, Palms slowly fell out of favor and into a state of dated neglect. That perception was reversed on a dime, however, via a $690 million renovation project which again resorted the property's position as one of the best hotels away from the Strip. The project touched all guest rooms and infused new life into common areas. Check rates and options for your dates of travel here.
Note: Palms remains closed as we emerge from the public health crisis, however, we hope that changes as demand returns to the Las Vegas market.
Sunset Station
Also located in Henderson, Sunset Station makes the list of best off Strip hotels due to its budget-friendly pricing in exchange for updated, modern feeling hotel rooms. The casino itself is incredibly unique with the focal point being a backlit stained glass ceiling. As for ancillary amenities, Sunset has you covered with a bowling alley, a 13 screen theater, and numerous dining/drinking options.
Room rates start at a mere $50 per night and increase during peak times, or as options are added. Check rates and options for your dates here.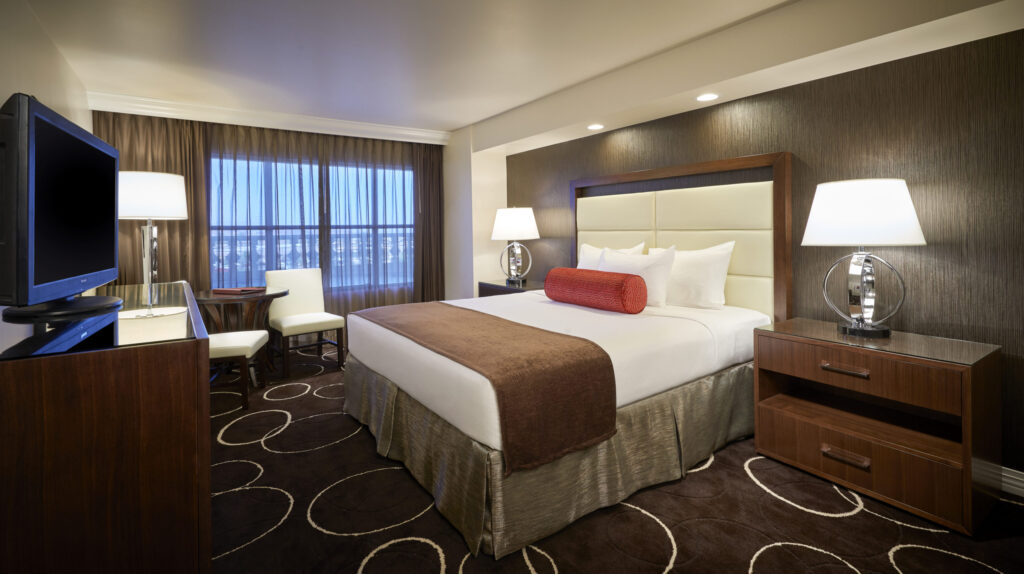 As evidenced above, it is entirely possible to find a high-quality hotel away from the Strip with top tier amenities. Adding to the appeal, slots are typically looser, table games boast player-friendly rules, and prices, on the whole, become less painful as you move off-Strip.
Related: Are you eligible for a discounted hotel room in Vegas? Here is a rundown of discounts for the military, first responders, educators, and locals!