It's no secret – Circus Circus is the home base for families looking for kid-friendly things to do in Las Vegas.
Home to a waterpark, free circus acts, Adventuredome Amusement Park, and a sprawling arcade, there are plenty of activities to keep you busy.
Up until now, I hadn't made visiting the arcade at Circus Circus a priority, preferring instead to belly up to the craps table or their selection of old-school token slots that are found on the casino floor.
With that in mind, I figured it would be fun to finally stop in and share my experience so that you can determine if the Arcade and Midway at Circus Circus deserve to be slotted into your itinerary.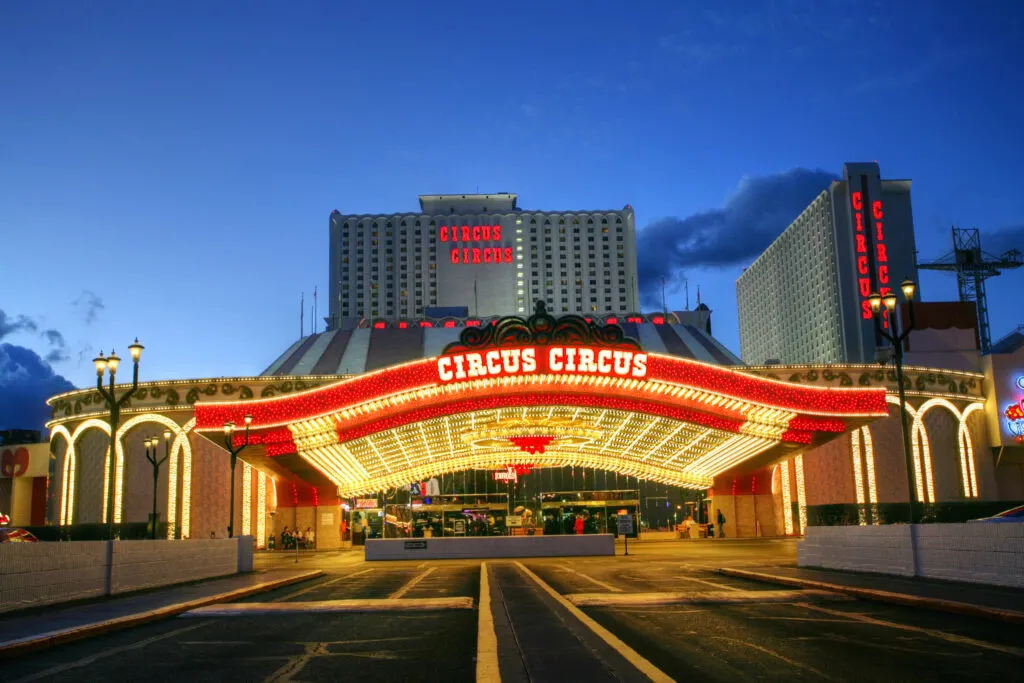 Inside the Arcade & Midway at Circus Circus Las Vegas
The Midway at Circus Circus is located on the second level above the casino and is home to "200 of today's most popular and yesterday's most classic games".
Conveniently, gameplay credits are loaded onto a card which is then scanned to play the game of your choice. Tickets are then awarded based on your performance, which are tracked on the same card and can be redeemed for prizes.
Now, I obviously knew an arcade existed at Circus Circus, but because I prefer vices to innocent pleasures, I had yet to really explore it.
Needless to say, I had underestimated the size and scope of this bad boy.
This place is massive compared to other arcades on the Strip and is easily the biggest of the bunch (although Excalibur's Fun Dungeon is a close 2nd).
I'm embarrassed to admit I got a little lost on a couple of occasions.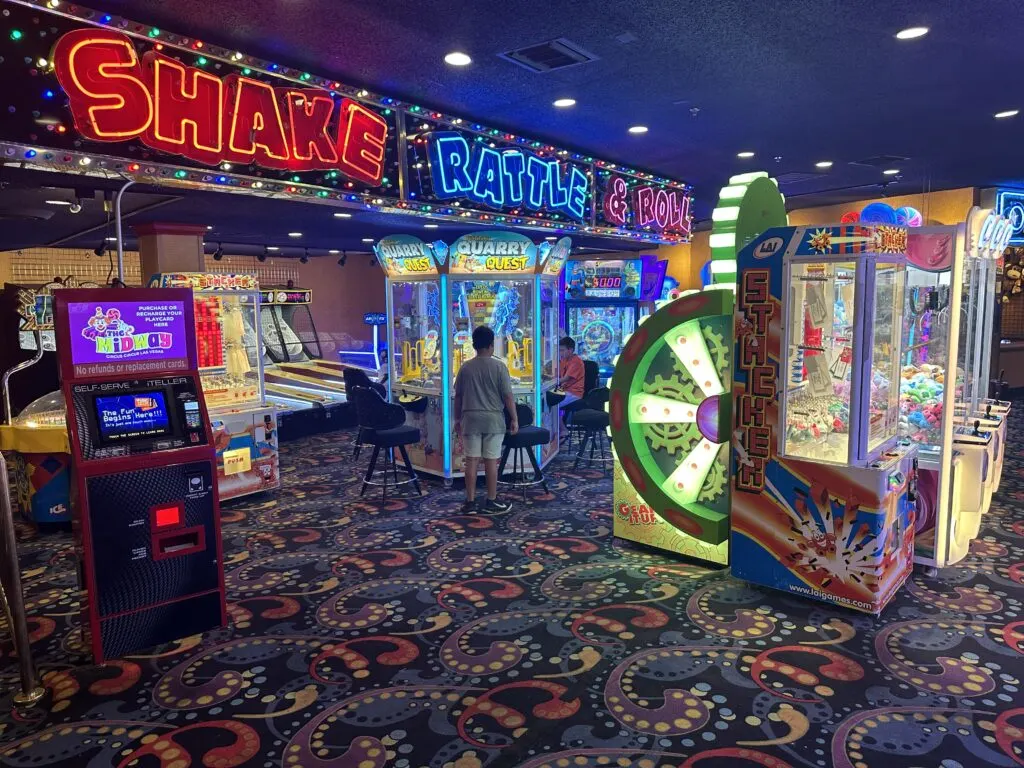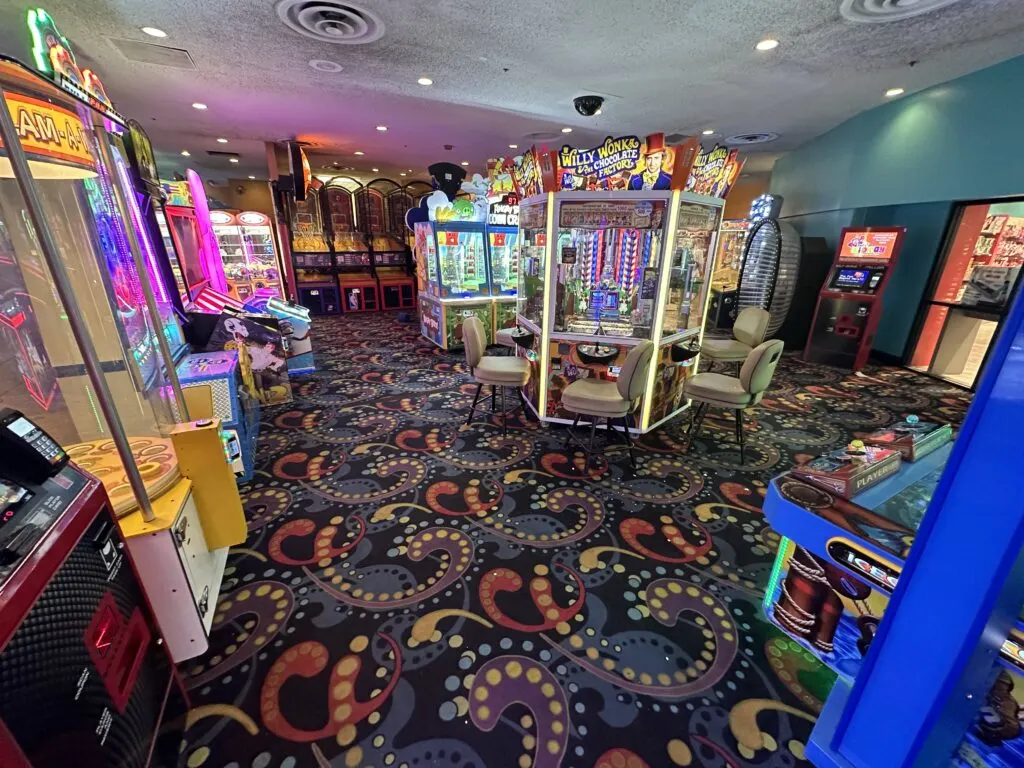 Here are a few more games that I thought looked intriguing as I wandered the arcade area.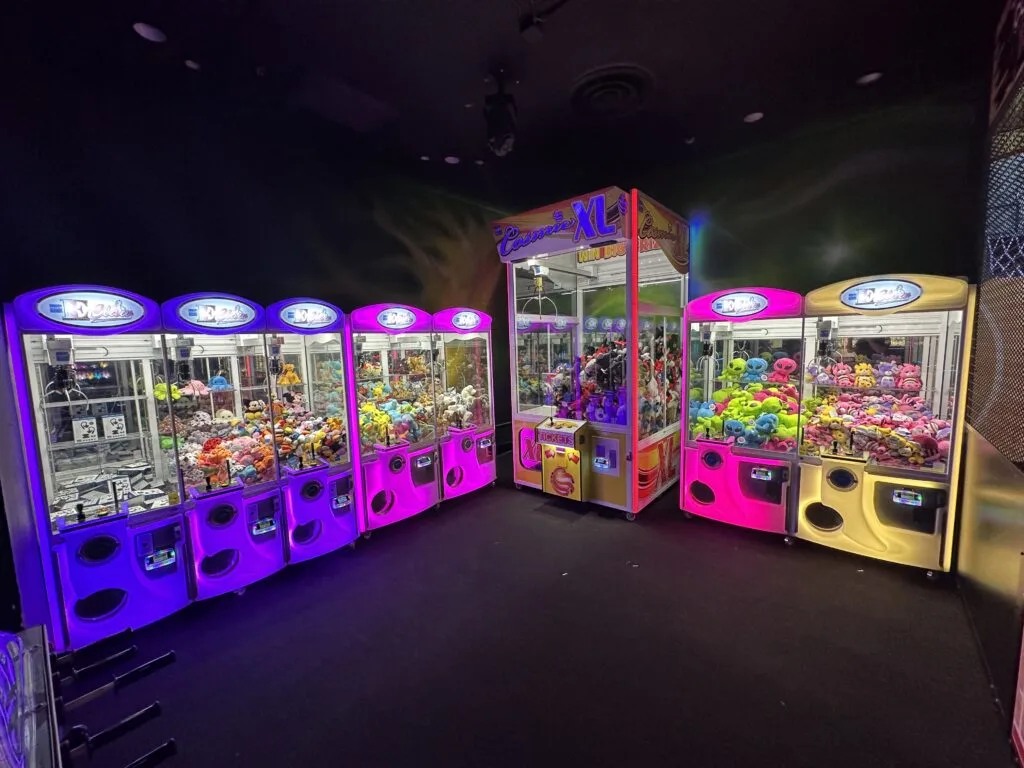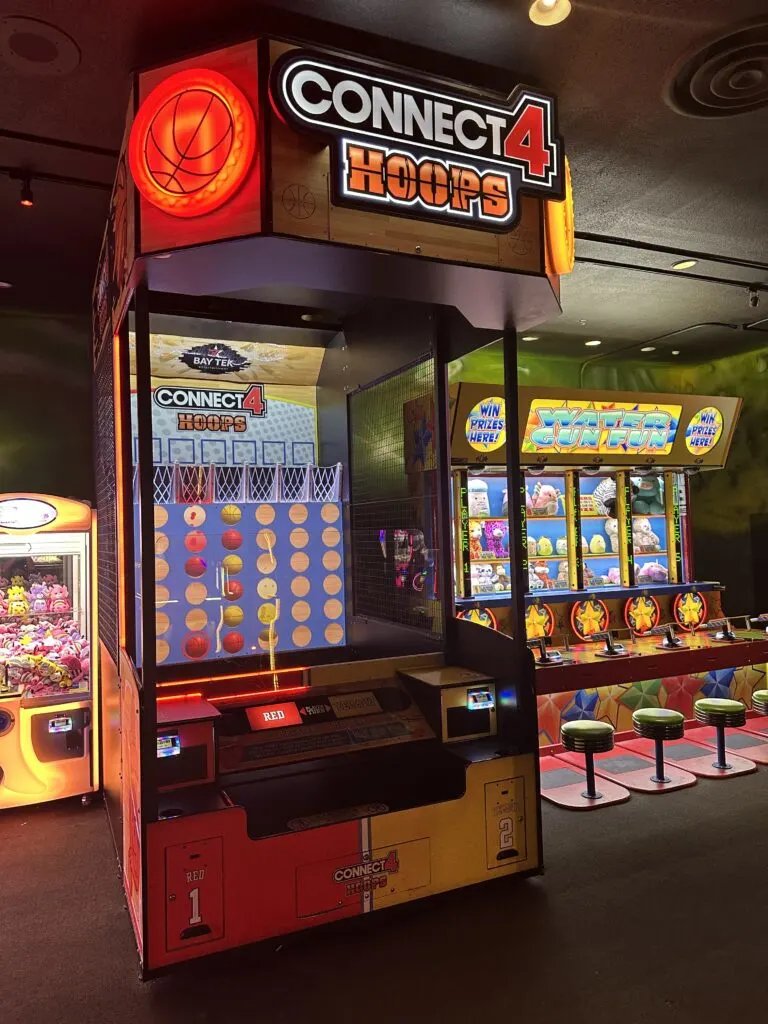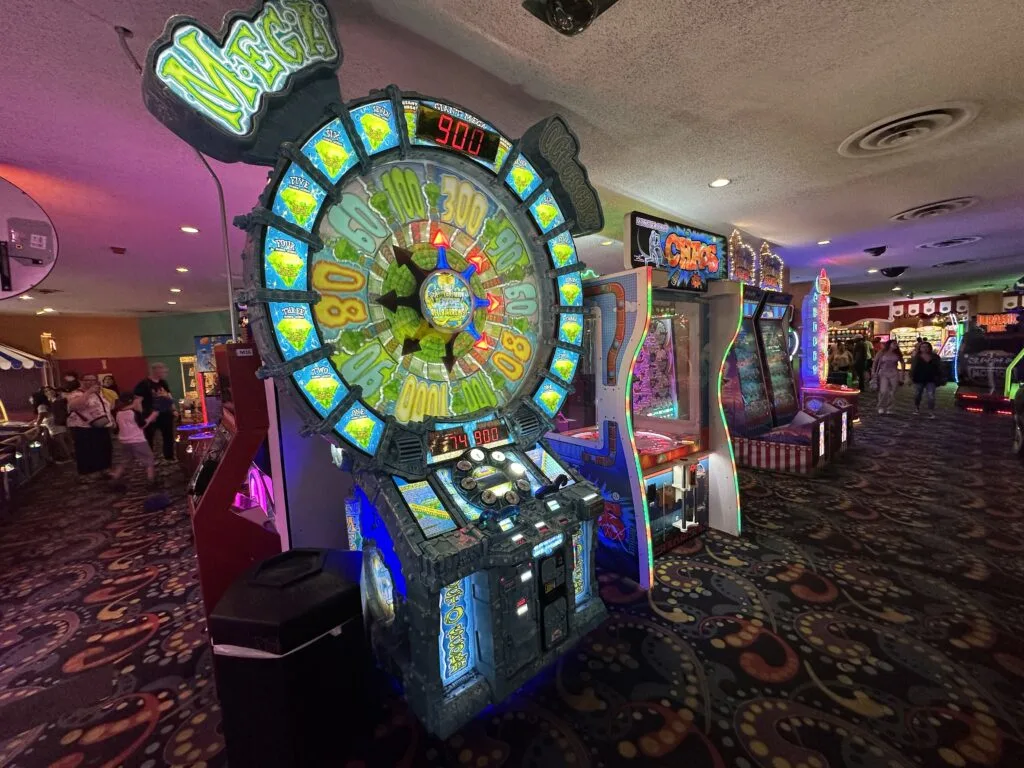 While other arcades in Vegas offer carnival-style games in addition to traditional arcade games, Circus Circus' selection blows them away.
When I say carnival-style games, I'm referring to games that are manned by an employee that tasks participants with breaking a target, tossing a ball into a jug, knocking over jugs with a ball, throwing a ring on a glass bottle, etc.
Of course, these games also have big-ticket.. or just big… prizes hanging above, calling out to players like a siren's song.
Here's a small sampling of the carnival-style games available for play: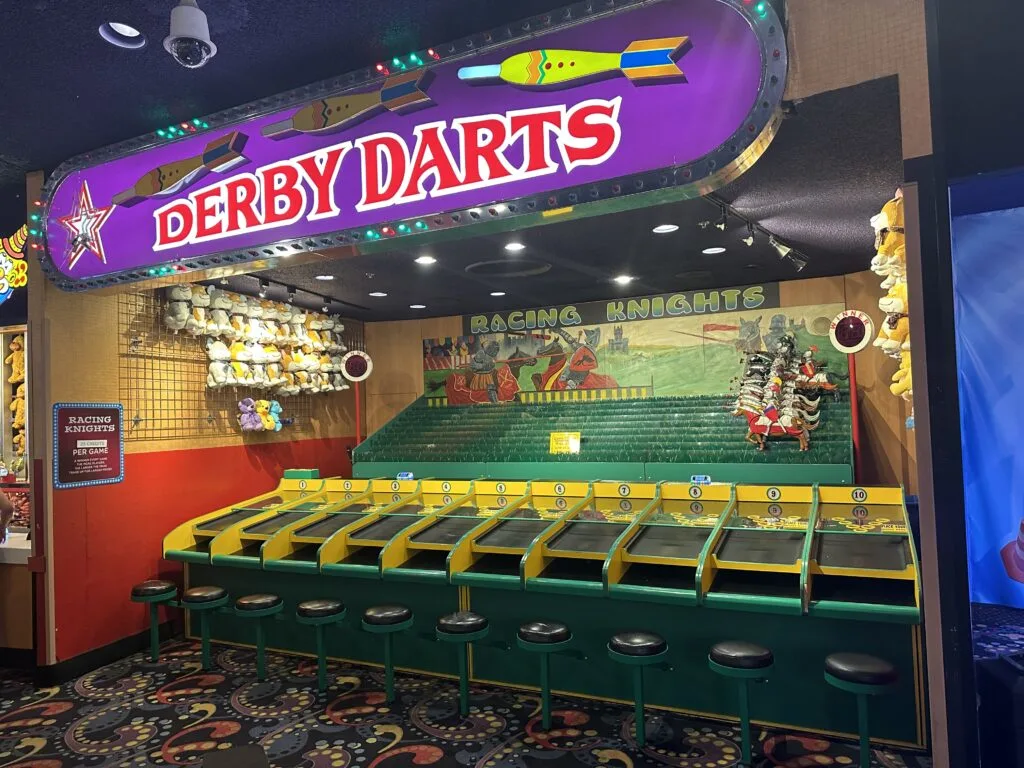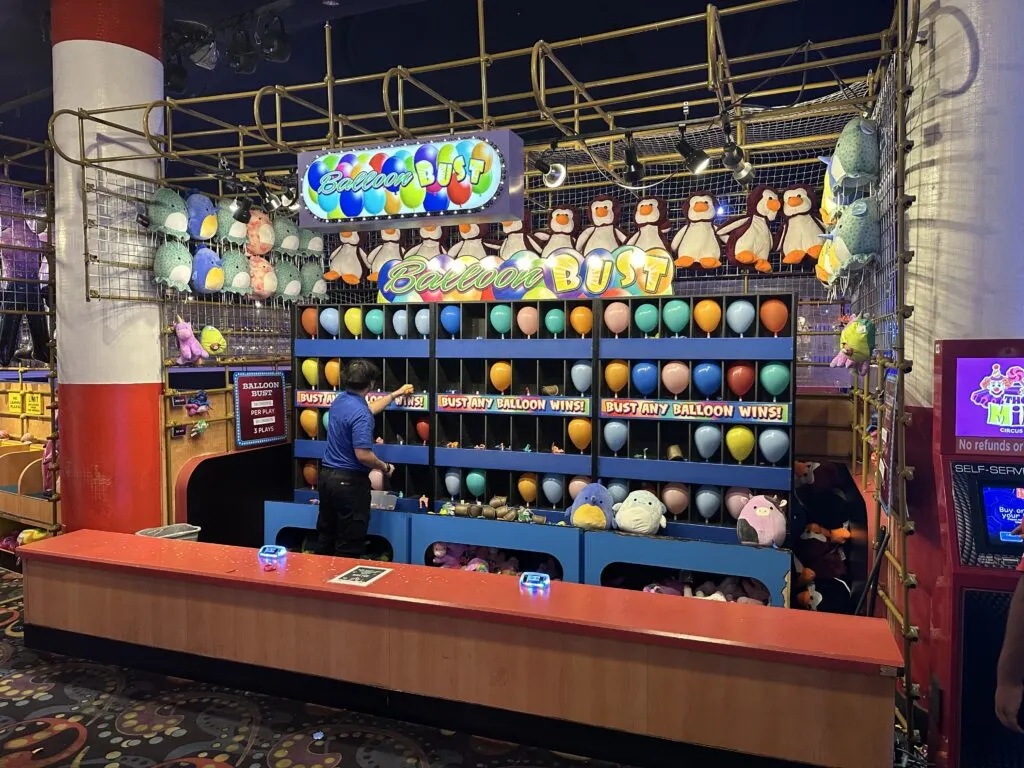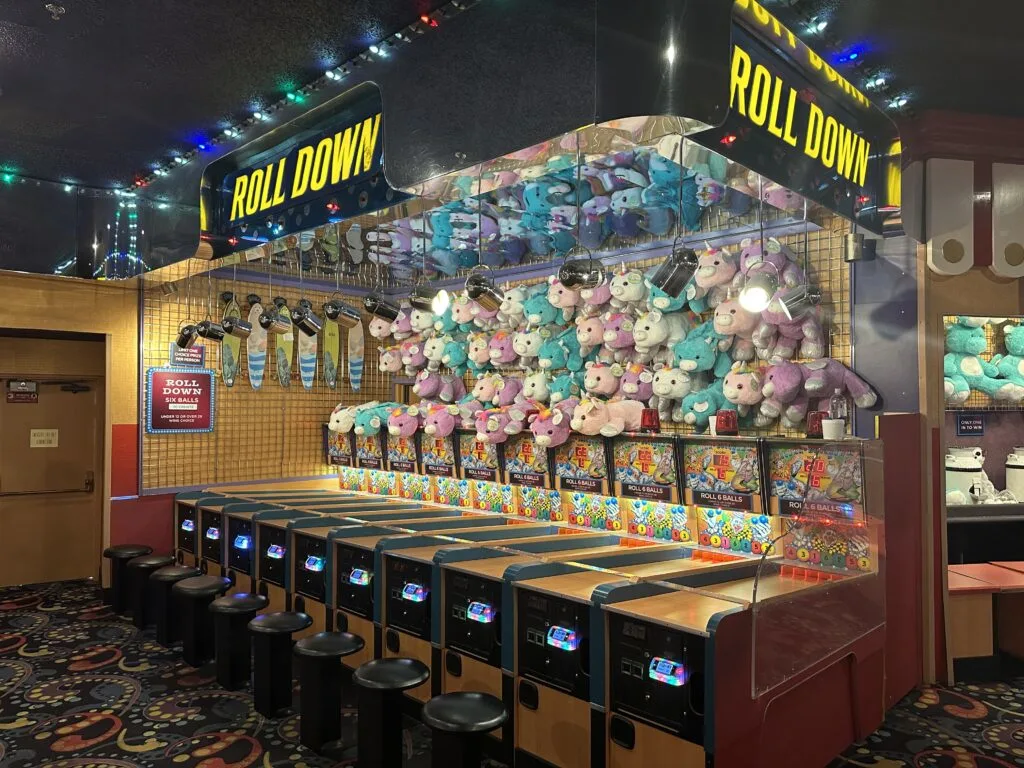 Prize Selection
A key differentiator of Circus Circus' Arcade vs. others in Las Vegas is the vast assortment of prizes available when redeeming your tickets.
While other arcades offer a small selection of treats and toys behind a counter, Circus Circus has an entire "store" with items ranging from Tootsie Rolls to TVs.
Of course, most kids were redeeming their tickets for bracelets and cheap candy… but a guy can dream can't he?!
A Free Circus Show
A unique cherry on top of the Midway at Circus Circus are the free circus acts that take place daily starting at 1:30 pm.
Acts include ladder men, jugglers, aerial dancing, feats of strength, and trapeze tricks among others.
While these acts are worth catching if you're already in the area, I wouldn't recommend making a separate trip out to Circus Circus just to see them. They're cool – Just not that cool in my opinion.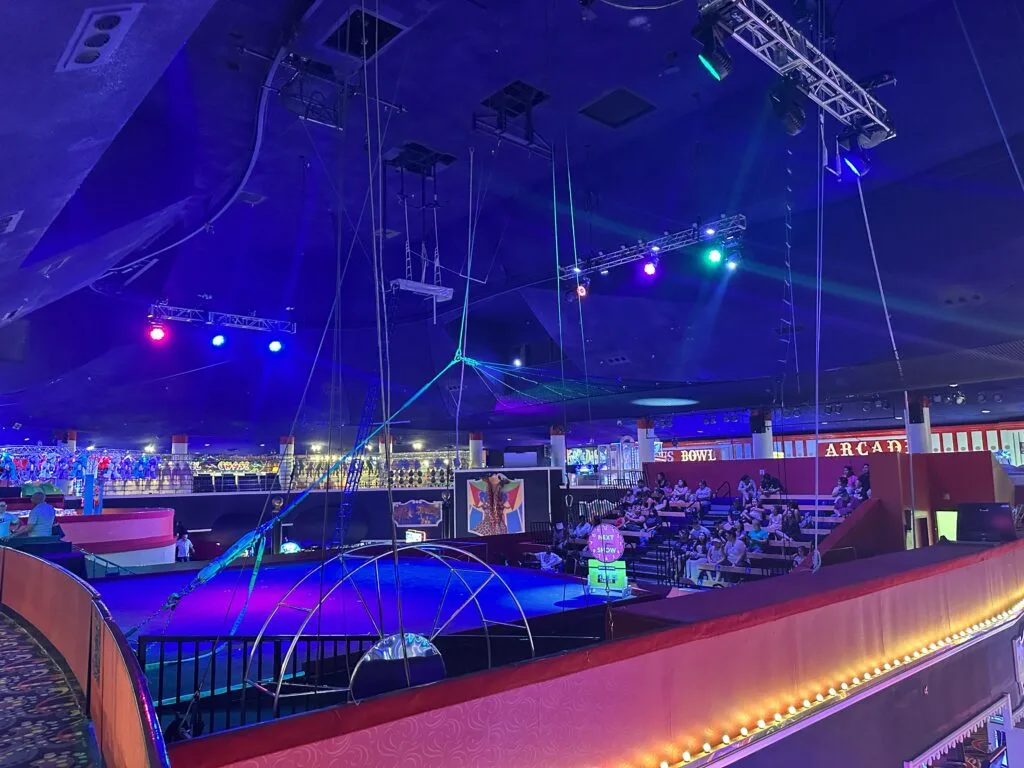 Food & Drink Options
Throughout the Midway & Arcade at Circus Circus are kid-friendly food and drink options that include a carousel-themed candy shop and an "Icee Land & Treats".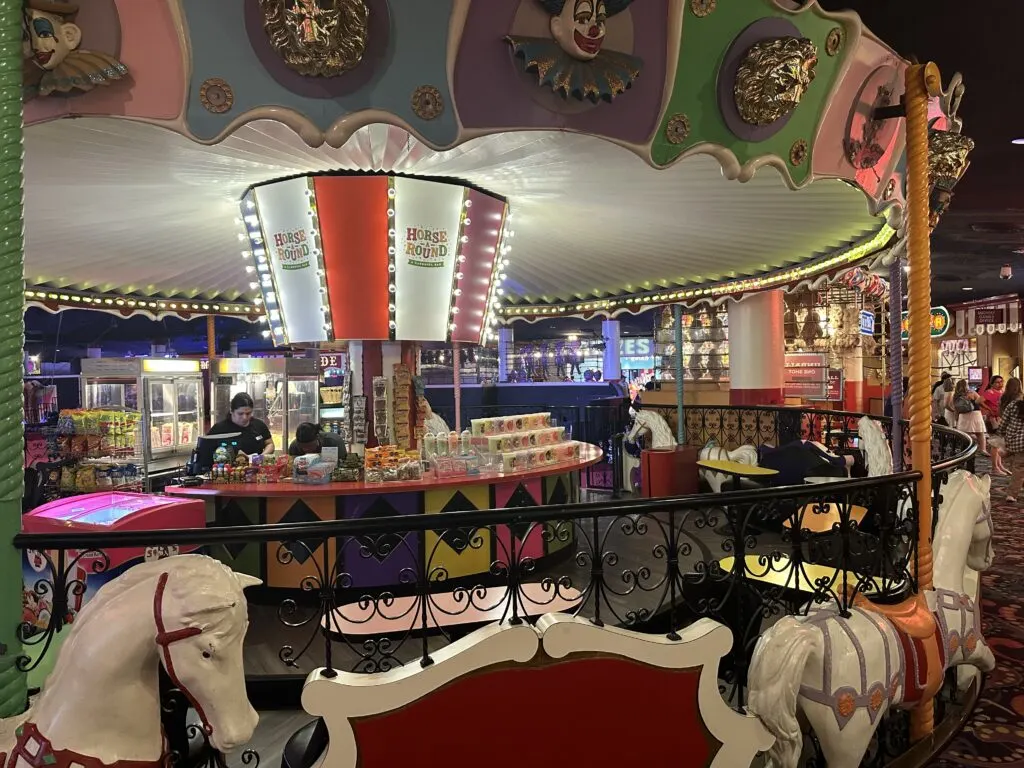 Of course, the resort is also home to other family (and budget) friendly spots to grab a bite which include a food court with fast food options, Big Top Eats, and a pizzeria.
The Verdict: Is The Midway & Arcade at Circus Circus Worth Visiting?
Look, I've been plenty critical of Circus Circus in the past.
The resort as a whole has seen better days and I commonly use words like "neglected", "dirty", or even "depressing" to describe it. And if I'm being honest, the arcade is also a bit rough around the edges.
That being said, this is the premier arcade in Las Vegas.
The arcade is easily the biggest on the Strip, has the widest selection of arcade games, offers more carnival-style games than a state fair, has a massive "prize store" vs. the prize counter offered at lesser arcades, and even boasts free circus acts daily.
Game selection ranges from modern selections that are designed to impress to old-school classics like pop-a-shot and Skee Ball.
If you're lugging the kids to Vegas and are looking for activity ideas, I'd recommend considering the arcade at Circus Circus. It's chaotic, but your kids will have a blast.
On a related note, I recently reviewed The Adventuredome indoor amusement park at Circus Circus, which is stocked full of rides that range from tame to thrilling. It could also be a great option for families!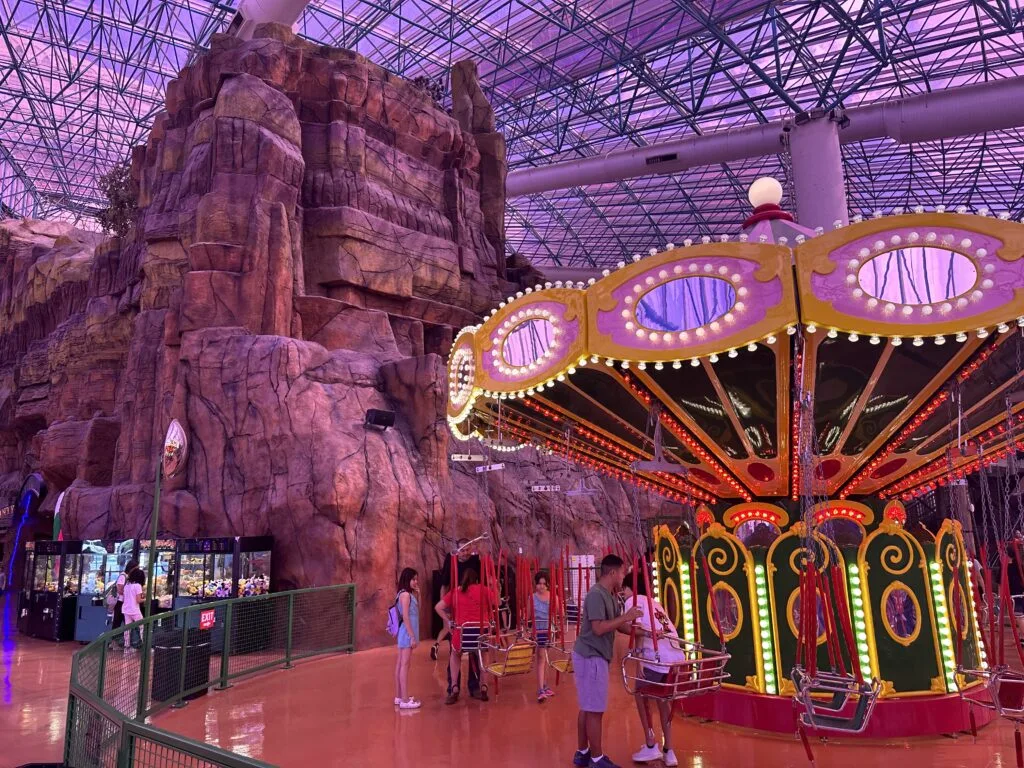 I'm a former software salesman turned Vegas aficionado. While the craps table is my preferred habitat, I pull myself away to explore new attractions, shows, restaurants, and outdoor activities around Las Vegas with the intent of sharing my experiences.
Ultimately, I just want to help folks plan a better trip and save a few bucks in the process.