Surrounded by mega-resorts that boast thousands of hotel rooms, Cromwell is a small boutique gem in the shadow of giants. While the masses seem to be wowed and drawn to big and oversized attractions, I've always been intrigued by Cromwell and often find myself settling in for the night on their small, yet elegant casino floor.
Elegant isn't how Cromwell would have been described historically, however. Prior to its 2014 transformation and re-branding, the property spent time as both Barbary Coast and Bill's Gamblin' Hall & Saloon. Those previous incarnations of Cromwell were known in part for cheap gambling, inexpensive drinks, and a no-frills environment.
My affection for Cromwell today is amplified by the countless memories my wife and I have made over the years within the structure, regardless of the name on the sign outside.
A rarity in Las Vegas, the entirety of the resort is 21+ with one exception – Kids are allowed to dine at Giada. Other than that, you won't have to worry about kids doing cannonballs at the pool or screaming up and down your hotel hallway at 2 am.
While I've always enjoyed visiting Cromwell's casino, their hotel is one of the few in Vegas that I had yet to experience. As a low-rolling member of the Caesars Rewards loyalty program, Cromwell is one of the few hotels I've never been offered a complimentary stay at… until now.
Excitedly, I snapped up a Luxury King Strip View room and anxiously awaited my stay.
The Cromwell Check-In Experience
With only 188 rooms, absent were crowds looking to check-in at the same time as me. I was able to walk right up to the reception desk, check-in, and I had a room key in my hand within 5 minutes. Granted, I arrived on a Wednesday. If you plan to arrive during peak times, you may experience more guest traffic.
Unlike other Caesars properties, there aren't any self-serve check-in kiosks. If there is a line when you arrive, you'll be stuck waiting.
Inside The Cromwell's Luxury King Room
I always enjoy the first impressions of a hotel property and the walk from reception to my guestroom was as cool and quirky as I expected it to be.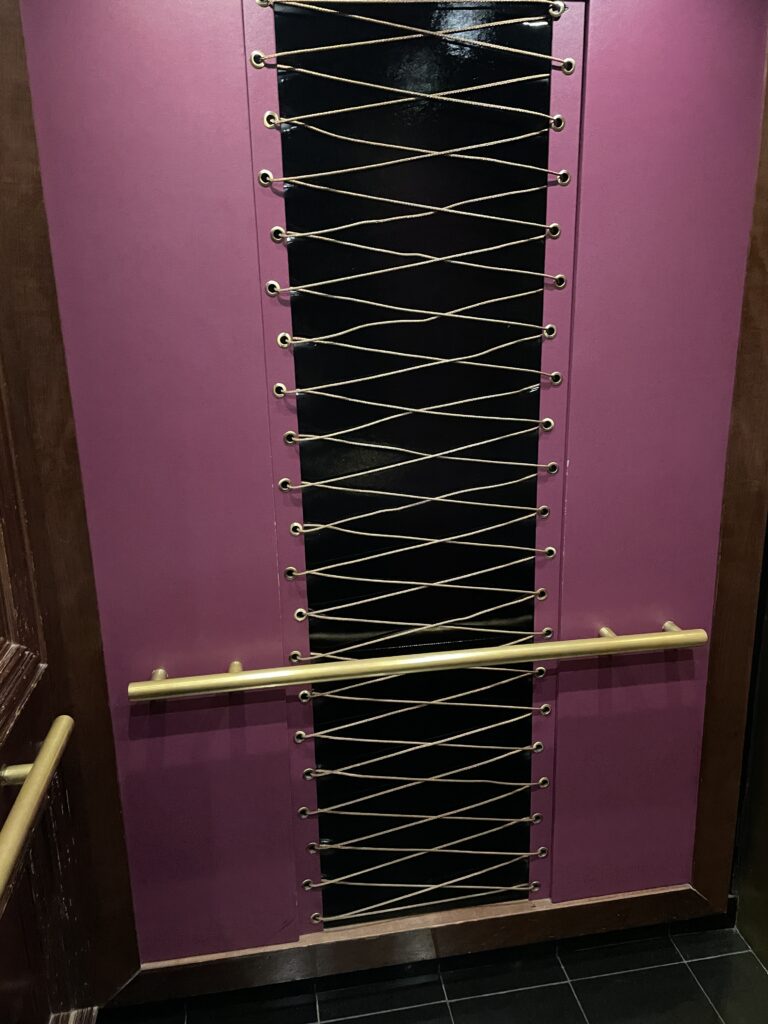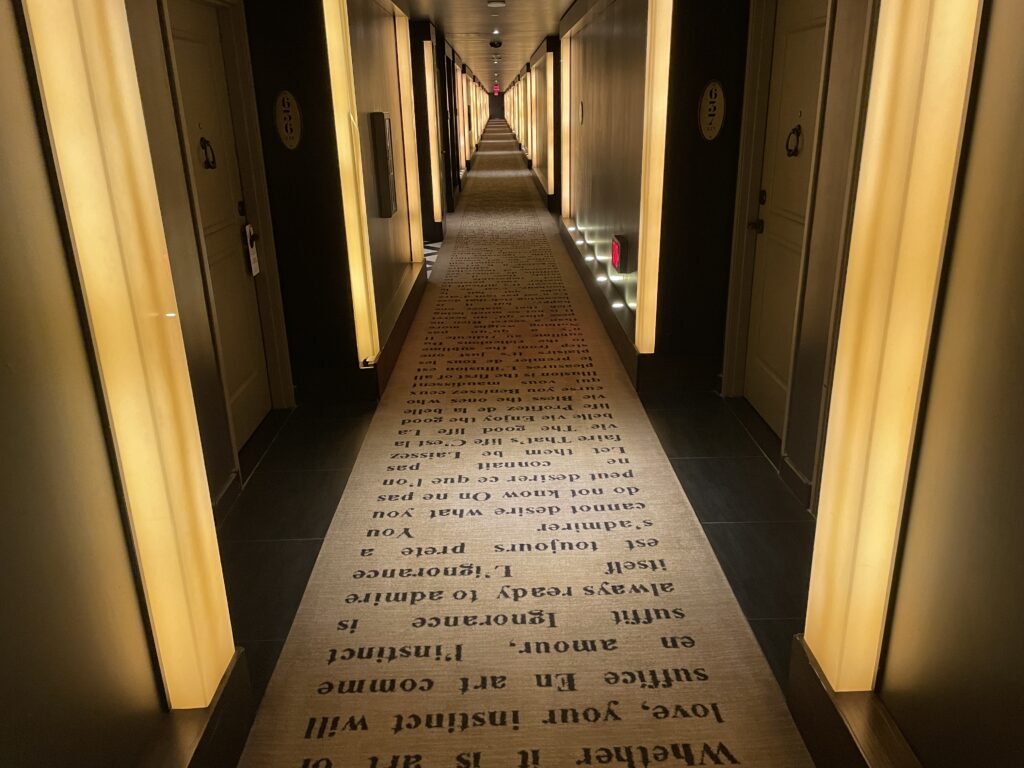 Immediately evident was the "Parisian-inspired" theme of the hotel. While the French script found everywhere was a fun design touch, it served the dual purpose of reminding me that I should have put forth more effort in high school French class.
The Room
The theming carried over from the hallway into Luxury Room at Cromwell, creating one of the more unique hotel products found in Las Vegas.
Inside the room was a comfortable king-sized bed, a leather sectional couch with an ottoman, a 55-inch flat-screen TV, and a massive full-length mirror.
There was an ample-sized wood cabinet stocked with an iron, ironing board, and safe. Just outside the bathroom was a make-up counter which offered a "showgirl lighting" feature.
Instead of carpeting, the use of dark hardwood floors gave the room a more upscale feel. There's also a degree of comfort in knowing that a hard floor is easier to clean. Just imagine what types of substances lurk within the fibers of traditional hotel room carpets. It's enough to give a guy a case of the heebie-jeebies.
Other design elements I enjoyed included the purple accent wall, nightstands that looked like suitcases, and an "old-timey" Crosley clock radio.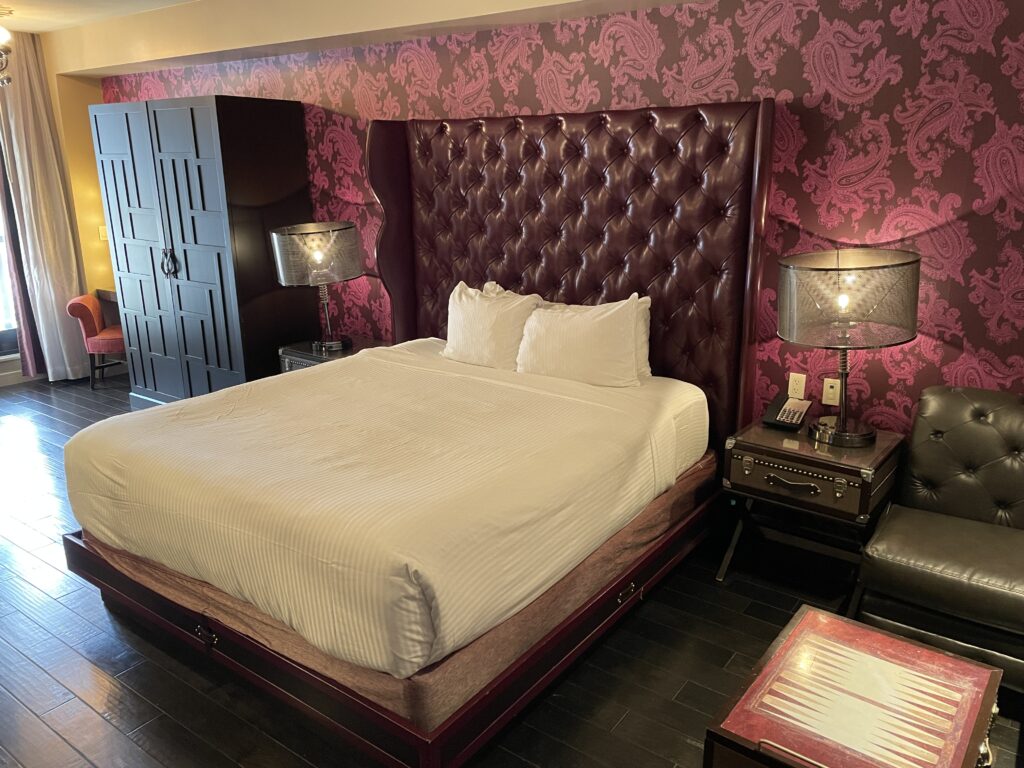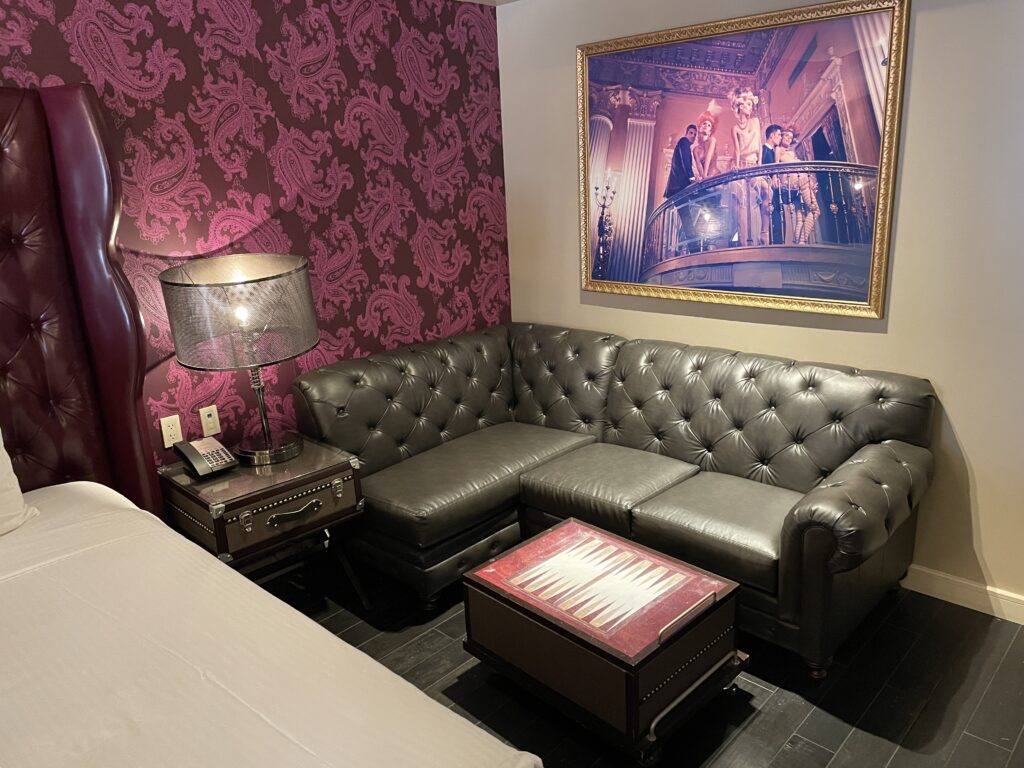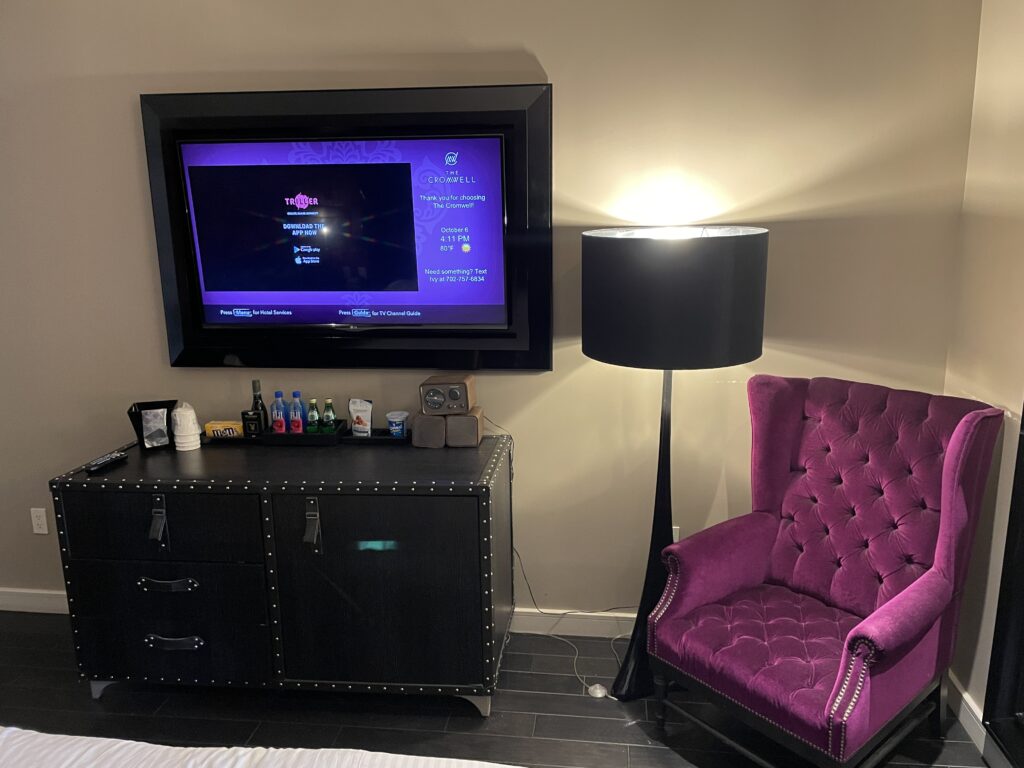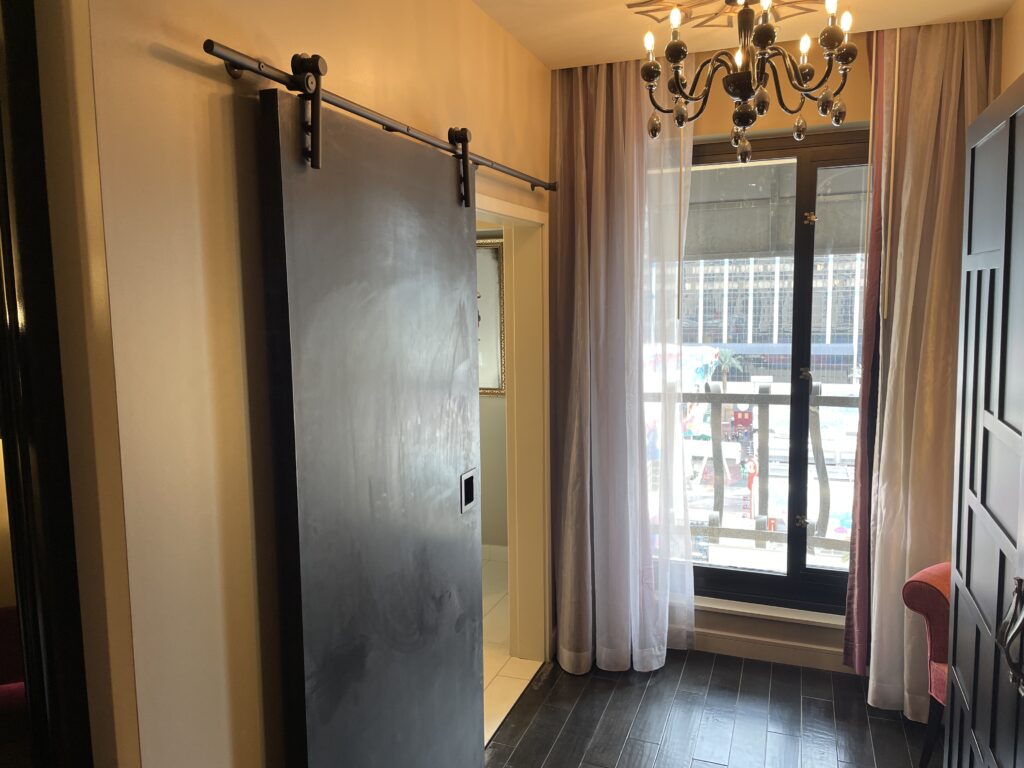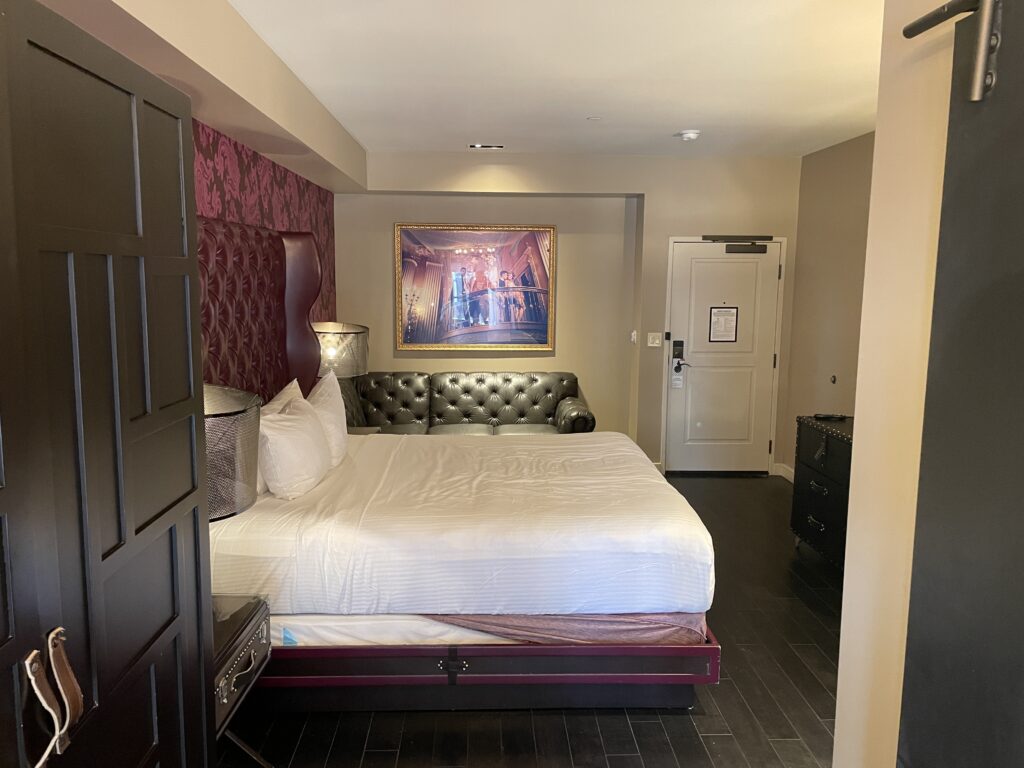 It's important to note that this wasn't a quiet hotel room. Along with the Strip view came a hefty amount of noise from the traffic below on Flamingo Rd. which cuts between Cromwell and Horseshoe. Seriously, every loud muffler that passed by sounded like it was IN the room.
On that same note, hallway noise was surprisingly noticeable. Every key jingle and conversation was perfectly audible.
Fortunately, Drai's was dark during my stay, but I've heard horror stories about noise from the rooftop nightclub invading hotel rooms until the wee hours of the morning. Depending on your room, the noise is often so powerful that it can be felt. According to the front desk, the quietest rooms at Cromwell are on lower floors and on the east side of the resort which is away from the Strip (and nightclub).
Light sleepers or those traveling for business may want to stay elsewhere.
Noise aside, I was impressed with the room. While I've always been in love with The Cromwell's casino, the rooms lived up to my lofty expectations.
For those curious, the difference between a Deluxe Room and a Luxury Room at Cromwell is the view. The Luxury room offers a view of the Strip, while the Deluxe Room doesn't.
Cromwell Luxury Room Bathroom
While not ranking among the more spacious bathrooms in Vegas, Cromwell makes up for it with unique design touches. The single sink vanity has a circular mirror hanging above which is flanked by two light bars.
The shower was comprised of intricate mosaic tile work that provided words of wisdom in both French and English. The shower also offered a large mirror, bench, detachable showerhead, and a rain faucet overhead.
Be warned, however, that the shower mirror is of the 2-way variety, acting as a window for those in the room to see into the shower. A nice touch if you're on a romantic getaway, but not ideal if traveling with your kids. lol.
The toilet is around the corner from the vanity and has a small openable window if fresh air is desired.
A large sliding door serves as the partition that separates the bathroom from the rest of the room.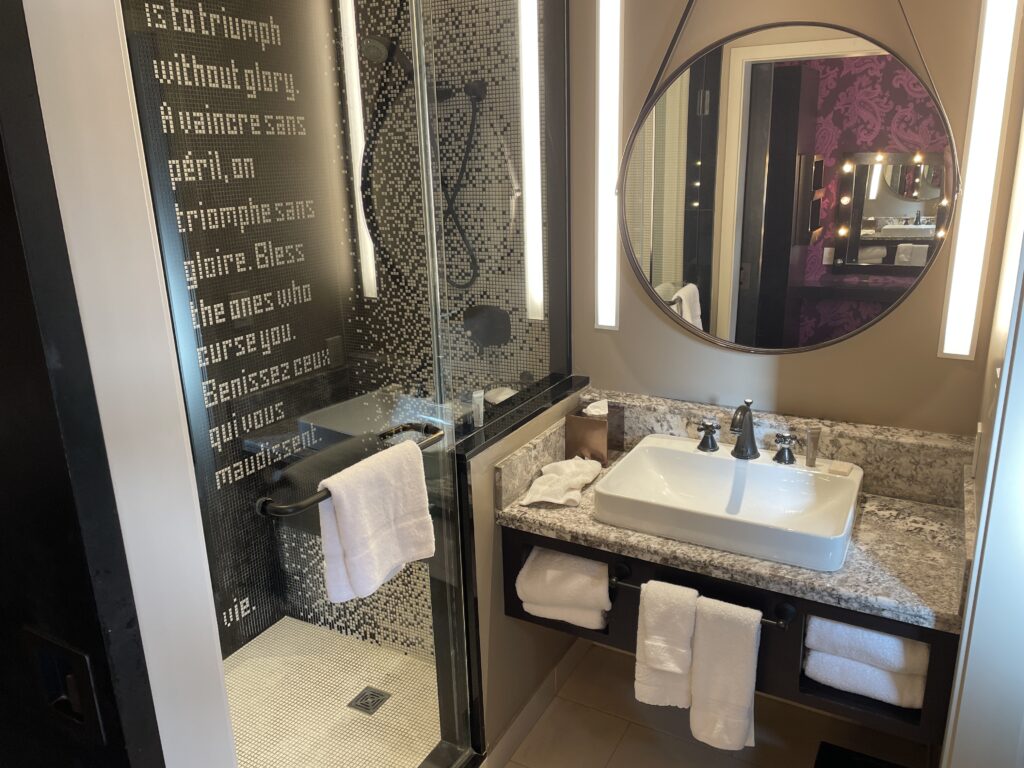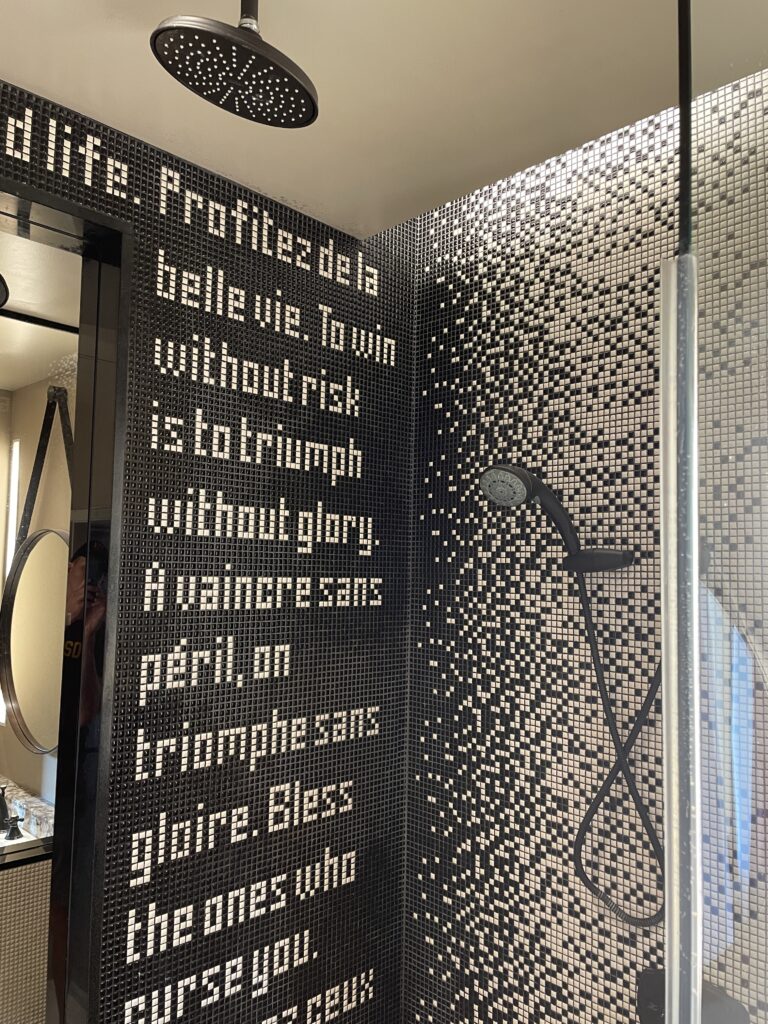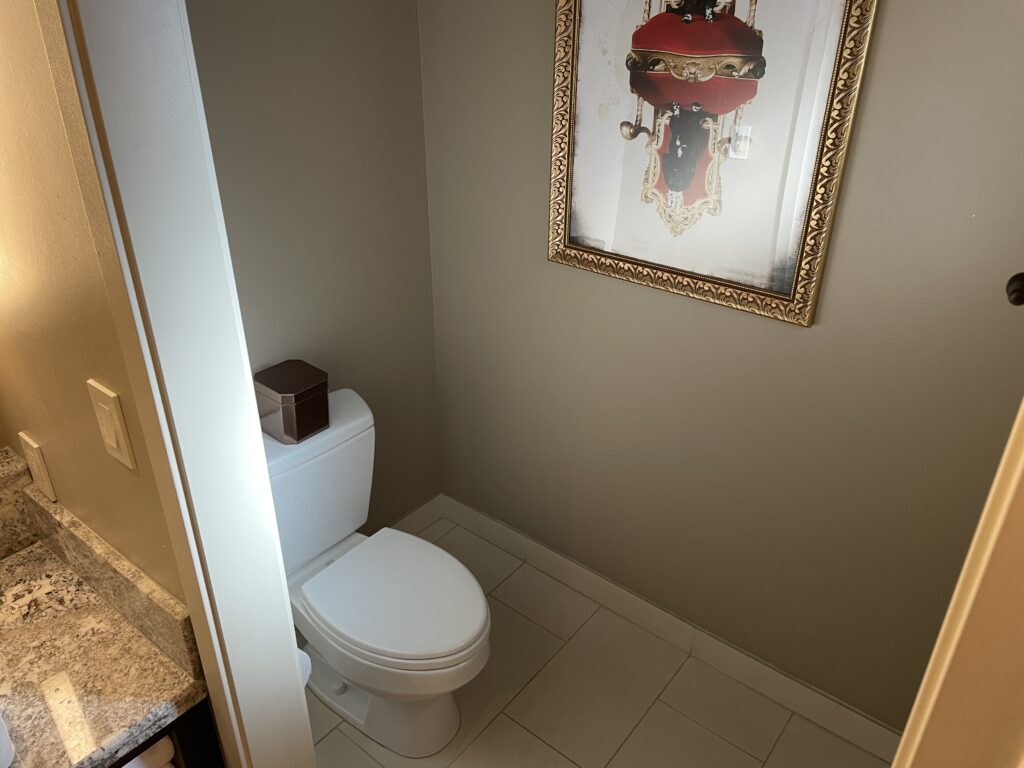 The Pool at The Cromwell
Cromwell's pool is located on the 11th-floor rooftop and provides stunning views of surrounding resorts on the Strip. Of course, this was the one amenity I was most looking forward to experiencing, and it was closed during my mid-week stay.
For those looking to soak in rays, it's extremely important to point out that Cromwell's pool spends time as both a normal pool and a raucous dayclub/nightclub. On days that a dayclub party is scheduled, sunbathers will need to leave the pool deck in the early afternoon to make way for the party.
We recommend checking Drai's calendar of events in advance and calling the property directly before booking to gauge whether you'll have access to the pool at your desired time.
Of course, if you're looking for a pool party in Vegas, then Cromwell could be an extraordinary fit.
The front desk did let us know that guests at The Cromwell can use their room key to access the pools at both Caesars Palace and Flamingo next door. While a hassle, both pools are fantastic if you don't mind walking.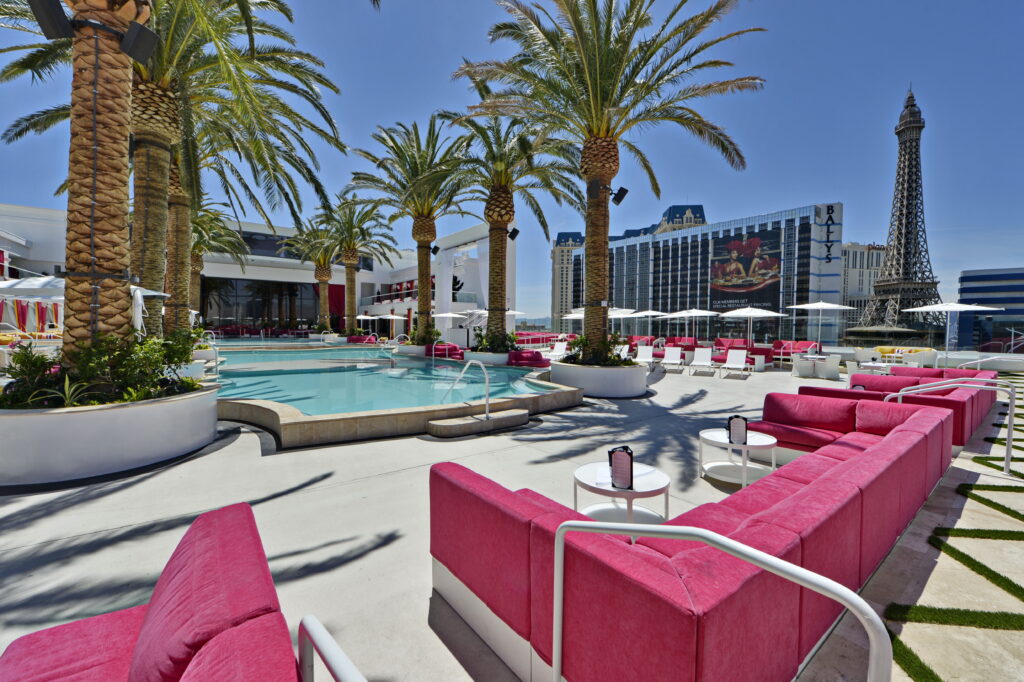 The Cromwell's Casino
Cromwell's is among the smallest casinos on the Las Vegas Strip, weighing in at 40,000 square feet. Within that footprint, the casino offers 60+ table games and 400+ slot machines.
While I was there, table game minimums were $15 for craps and $25 for Pai Gow Poker and blackjack. My guilty pleasure, 3-Card Poker was offered at a $10 minimum.
In recent history, Cromwell's casino was a rare bastion of value on the Strip offering 100x odds on craps, 3:2 payouts on blackjack, and single zero roulette. Those player-friendly rules are largely gone at this point and gaming conditions have fallen back in line with surrounding resorts.
Even considering the rule deterioration, Cromwell ranks among my favorite casinos on the Strip. Maybe it's the nostalgia of recalling the numerous times my wife and I were "overserved" playing $5 blackjack at Bill's Gamblin' Hall, or the swanky, classy vibe of the gaming floor. Whatever it is, Cromwell's a must-stop for me whenever I'm in the neighborhood.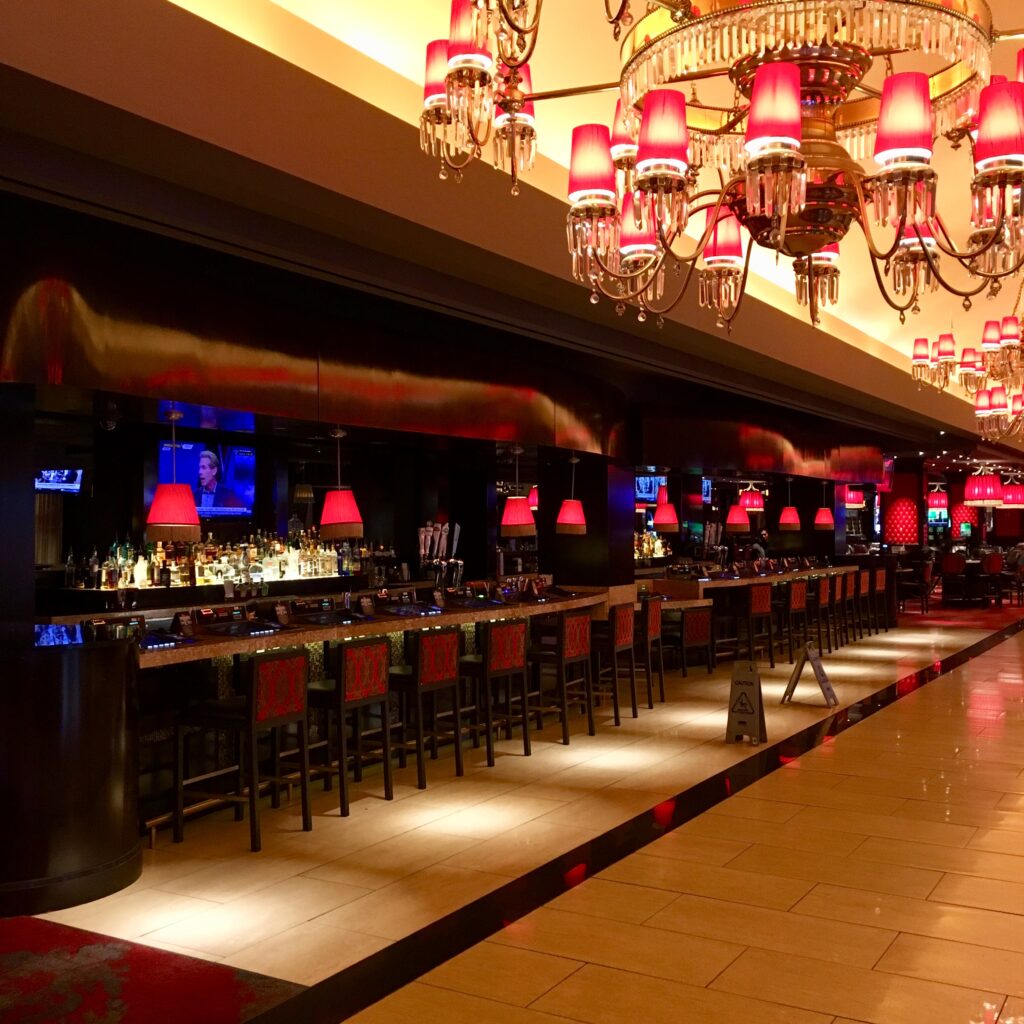 Dining Options at The Cromwell
Another con, albeit minor, is the lack of dining options at Cromwell. If you're hungry, you really have 2 options.
The first is a quick-serve restaurant called Eatwell, located right on the casino floor, that serves options like pizza, sandwiches, salads, and coffee. Fortunately for your wallet, this is among one of the cheapest places to eat on the Strip.
Giada, an upscale Italian eatery can also be found at Cromwell on the second floor and offers views of the Bellagio Fountains.
Although dining options at Cromwell are few, the resort is steps away from dozens of restaurants that span the spectrum from fast food to high-end. Don't worry, you won't go hungry.
Is The Cromwell Luxury Room Worth the Money?
As one of the most expensive Caesars properties on the Strip, it's certainly a fair question. I found the room product to be both unique and nice enough to justify the additional cost Cromwell commands comparatively.
In addition to an appealing room product, Cromwell allows guests to avoid the crowds, lines, and long walks to the room that are common at larger resorts on the Strip.
That being said, you'll want to consider the few "cons" that I touched on above and will recap below, as they could be deal breakers for some.
My main concern with Cromwell's hotel is that the noise generated both from vehicle traffic below, and the nightclub above can be intrusive. Light sleepers and those that absolutely need sleep should consider alternate accommodations or request a room on a low floor near the back of the resort. Those that stay out late anyway need not stress.
Another "con" to be weighed is the lack of pool access. If Drai's Dayclub will be active on the dates of your stay, you'll want to gauge if walking to use the pool at Caesars or Flamingo is worth the hassle.
Ultimately, if the "cons" leave you unconcerned, I think you'll enjoy what Cromwell has to offer.
Related: Still undecided on a room? Check out our stays in a:
I'm a former software salesman turned Vegas aficionado. While the craps table is my preferred habitat, I pull myself away to explore new attractions, shows, restaurants, and outdoor activities around Las Vegas with the intent of sharing my experiences.
Ultimately, I just want to help folks plan a better trip and save a few bucks in the process.