Doing Vegas on a budget isn't as easy as it used to be. Prices are on the rise, and new "innovative" fees seem to be sprouting up left and right.
With that in mind, we thought it would be helpful to share which options rank among the cheapest hotels in Las Vegas, both on the Strip and Downtown.
To determine the cheapest hotel options, we'll compare rates for 5 randomly selected dates in the future that land on both weeknights and weekends.
From there, we'll be able to determine an average nightly rate and the least expensive option. Nightly resort fees will be accounted for in the average room rate as well.
It's also important to point out that the average rate results we came up with are not necessarily reflective of how low mid-week rates can get. Every hotel on the list can commonly be had for around $30 during non-peak times before fees.
Now, keep in mind, cheapness is usually inversely related to quality, cleanliness, and luxury.
As the old adage says, "You get what you pay for". Ultimately, however, if a cheap place to rest your head is what you seek, these budget hotels could be a great option.
We'll add links for each resort so that you can price out your dates and easily compare options.
8 Cheapest Hotels on The Strip
As you may have expected, 3 of the cheapest hotels on the Strip have one common disadvantage: Location.
Although Circus Circus, Sahara, and STRAT are a ways from the action, they are a quick (and inexpensive) bus ride or Uber away from tourist centers.
Circus Circus
Coming in with an average nightly rate of $142.60, Circus Circus sits atop the list as the cheapest hotel on the Las Vegas Strip. Their "West Tower King Room" specifically was the least expensive option, often priced at $25 plus resort fees mid-week.
The small price tag comes with some distinct tradeoffs though, as Circus Circus is located a short ride (or a long walk) from the main portion of the Strip. Note that the brand new Resorts World sits next door, however, which is a plus.
Additionally, the resort is known for being dated, and in a rough overall condition, earning a mere 3.5/4 stars from reviewers on TripAdvisor.
If traveling with kids, Circus Circus is known to be one of the more kid-friendly resorts in Las Vegas, offering an arcade, carnival games, and an amusement park.
Price out your dates at Circus Circus, here.
Related: See my recent Circus Circus West Tower Hotel Review!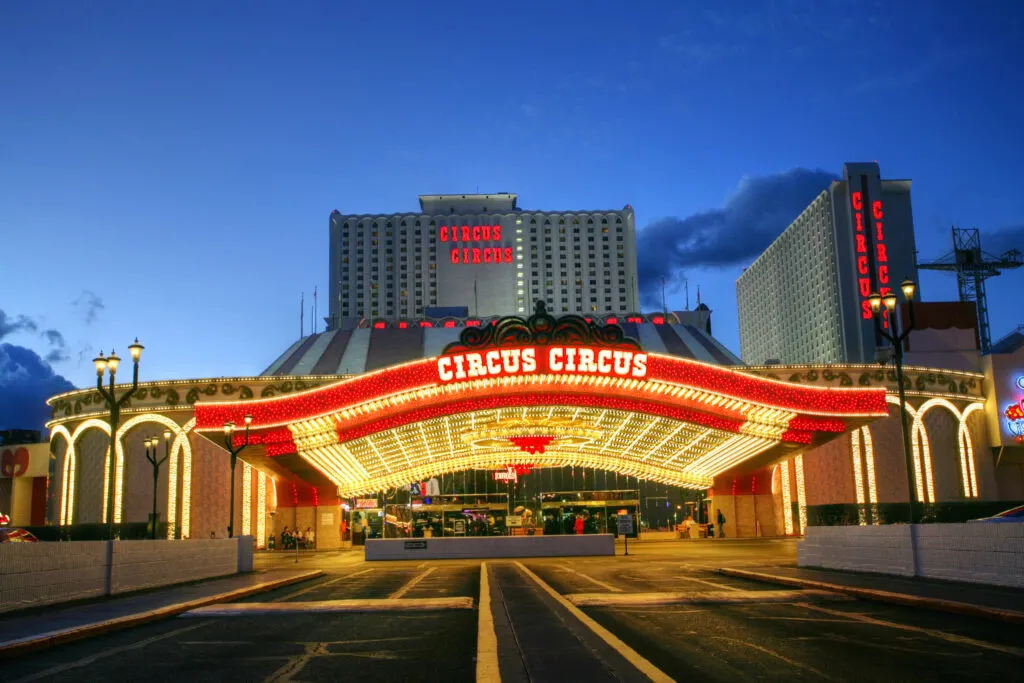 Sahara
Sahara, formerly SLS, ranks as the second cheapest resort on the Strip with an average nightly rate of $149.40 on the 5 nights we sampled.
Like Circus Circus, Sahara is "location challenged" finding itself in a bit of a "no man's land" north of other resorts on the Strip.
Unlike Circus, Sahara's room product is of a higher quality and carries a more respectable rating on review sites like TripAdvisor.
The casino is typically uncrowded and offers lower limits than you'd find center strip. The hotel also boasts a solid list of restaurants including Bazaar Meat by Jose Andres.
Notably, Sahara is connected to resorts along the Strip via the convenient and inexpensive Las Vegas Monorail system. If you don't mind being distant from more touristy areas, Sahara could be a great budget hotel option.
Price out your dates at Sahara, here.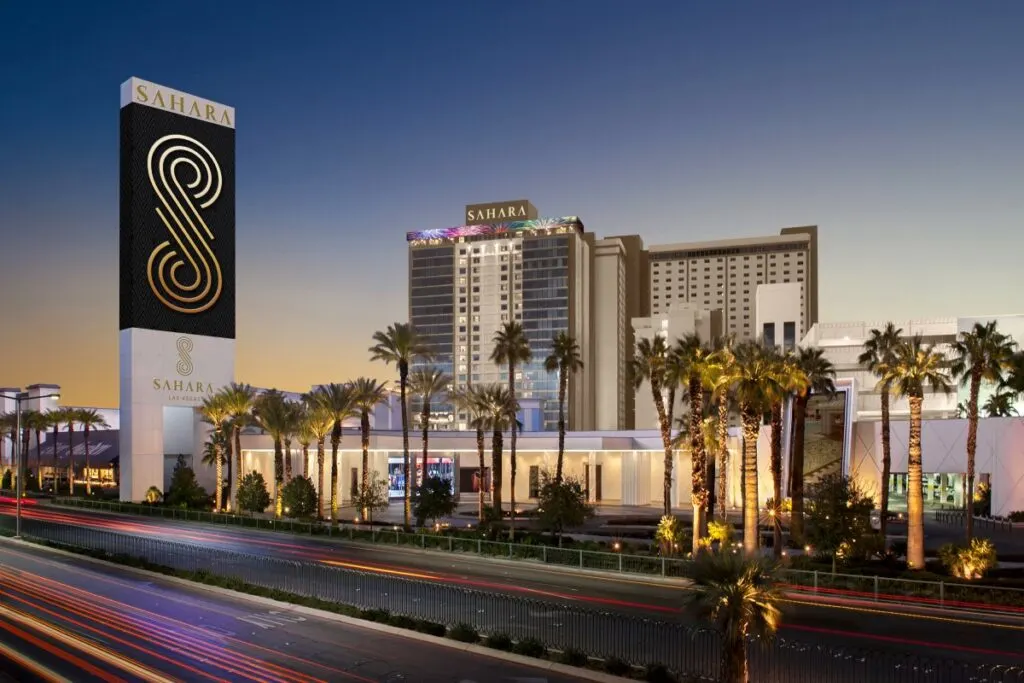 Excalibur
I'm a sucker for themed resorts in Las Vegas and Excalibur brings medieval stylings that I've grown to love over the years. Excalibur offers a massive gaming floor, one of the few buffets open in Vegas, and a free tram to both Luxor and Mandalay Bay to the south.
Baseline rooms at Excalibur ranked as the 3rd cheapest option on the Strip for the dates I sampled with an average nightly rate of $162. Those same baseline rooms tend to hover in the $40 range before fees during non-peak times.
If Excalibur's Royal and Resort Towers are priced comparatively, I'd recommend opting for their Royal tower as they were renovated most recently (in 2016).
Price out your dates at Excalibur, here.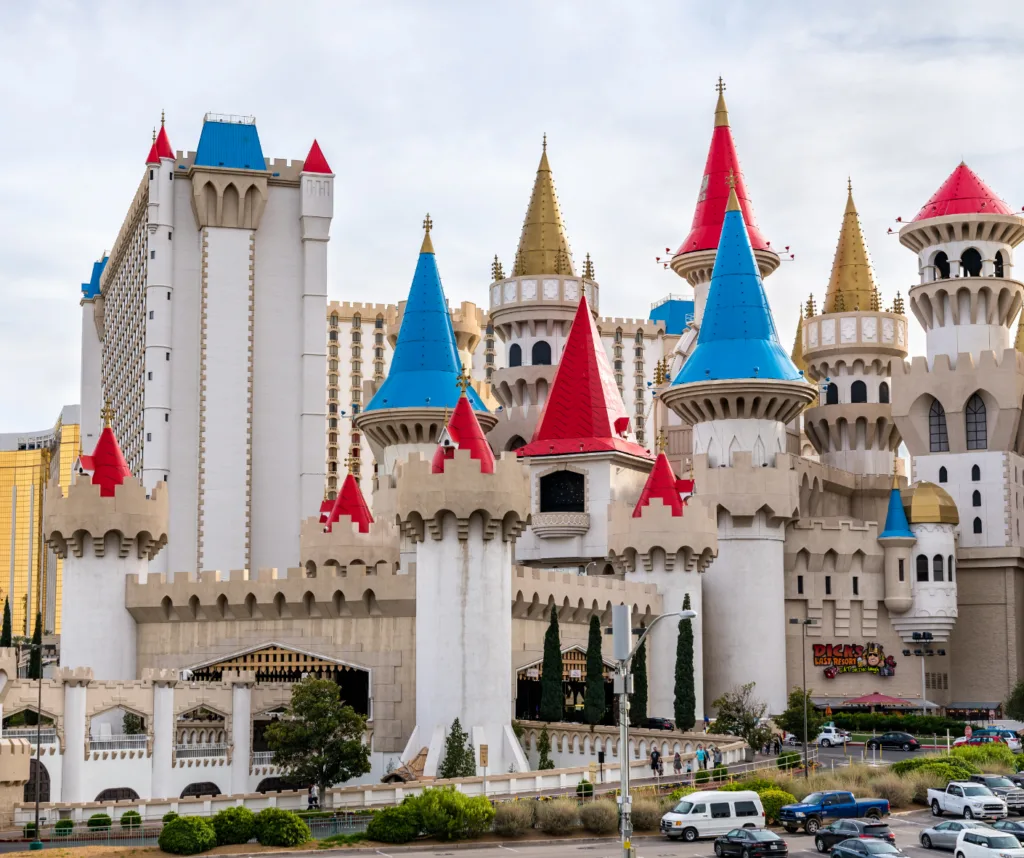 STRAT
While technically located on The Strip, STRAT is far from the action. While distant, there's still plenty to love about the resort.
First, gambling limits are usually a rung or two cheaper than center strip resorts, allowing you to stretch your budget.
The real perk, however, is STRAT's SkyPod tower which boasts bars, restaurants, a wedding chapel, and rides. Observation deck tickets cost $20, and rides are a small additional fee and 100% worth it. The 3 rides either dangle you off the edge of the tower or shoot you straight up. They're exhilarating and worth the trip, even if not staying at STRAT.
STRAT is also located on the Deuce Bus route, which connects to resorts on the Strip to the south and Fremont Street to the north.
Another transportation option available to you is the FREE Downtown Loop shuttle which connects STRAT to stops in the Arts District and the Fremont Street Experience. It's a great option.
Price out your dates at STRAT, here.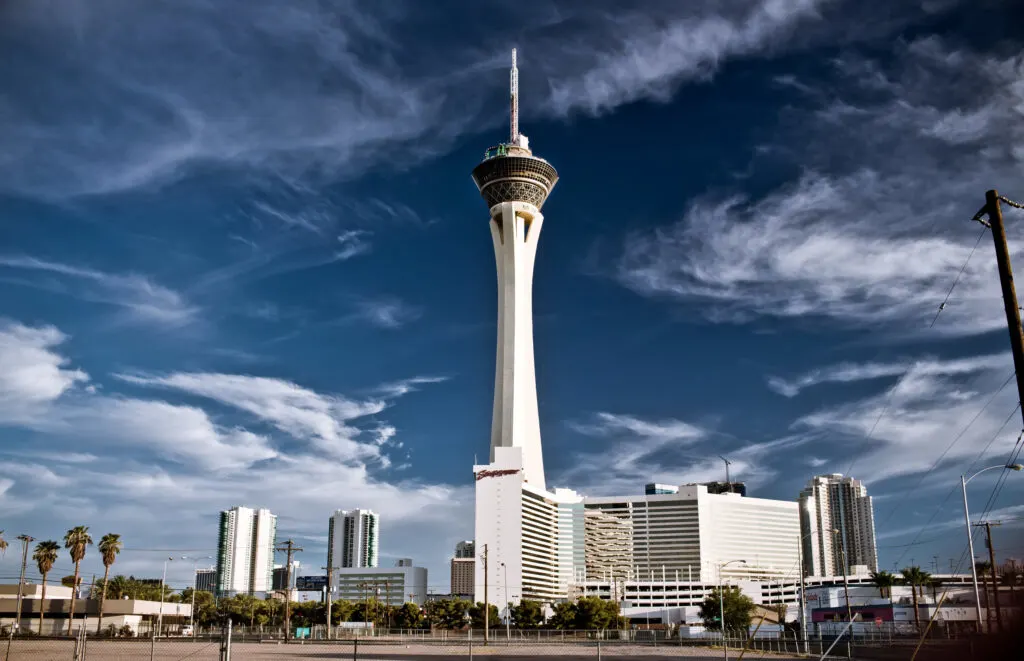 Flamingo
A Las Vegas icon, Flamingo ranked as the cheapest Caesars Entertainment hotel on the Strip by a hair with an average nightly rate of $170.80.
If center Strip location is what you seek Flamingo is tough to beat as it's parked smack dab in the middle of things and is surrounded by Linq, Cromwell, and Caesars Palace across the street. Numerous other resorts are within walking distance as well.
Our favorite non-gaming amenity at Flamingo is their raucous GoPool, which we ranked as one of the best pools in Vegas.
Price out your dates at Flamingo, here.
Horseshoe
Slightly more expensive than Flamingo, Horseshoe's average room rate was 183.80, ranking it as the 6th cheapest hotel on the Strip.
Guestrooms in Horseshoe's Resort and Jubillee towers were last renovated in 2014 and 2018 respectively and offer vibrant pops of red and great Strip views. Horseshoe also has some of the most affordable suites on the Strip.
Notably, the colorful Grand Bazaar Shops in front of the resort along the Strip offer a number of quick-serve restaurant options if you're on the hunt for cheap eats in Vegas.
Price out your dates at Horseshoe, here.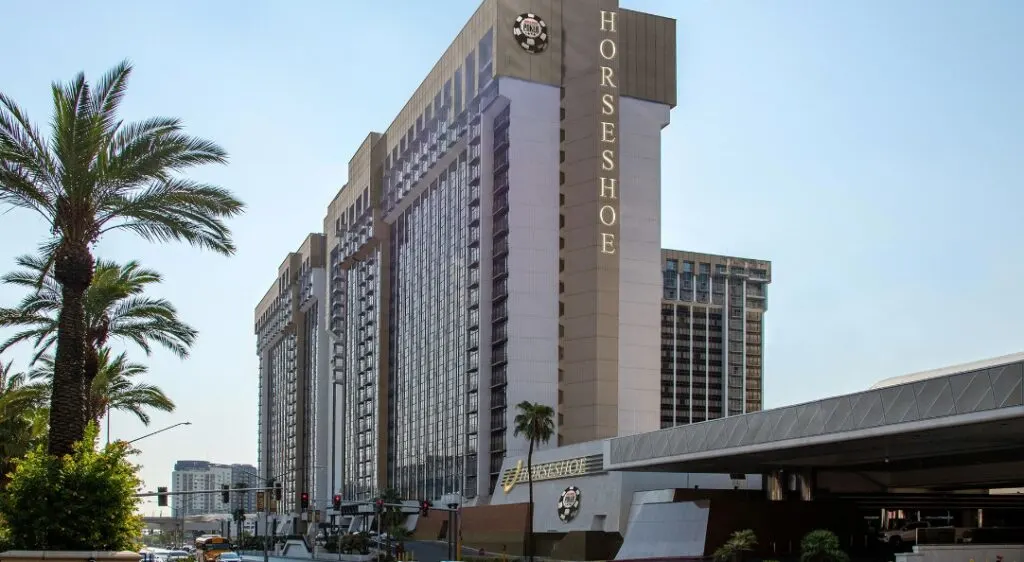 LINQ
While Linq's multicolor exterior is admittedly shabby in appearance, the room product has a surprisingly updated and modern feel. One drawback you'll want to be aware of is that LINQ's hotel rooms are small compared to peers on the Strip, weighing in at a mere 300 square feet.
If smaller rooms don't bother you, Linq is in a great location in the middle of the Strip and represents a strong value.
Linq's rooms averaged $188.60 nightly for the 5 nights we surveyed.
Price out your dates at LINQ, here.
Luxor
Perhaps the most iconic and instantly recognizable component of the Las Vegas skyline, Luxor also offers some of the cheapest rooms in Las Vegas.
While our 5-night sampling of dates pegged Luxor at $188.80 per night, recently renovated baseline rooms in their pyramid can frequently be had for under $40 plus fees.
Located on the south end of the Strip, Luxor is connected by both a free tram and an indoor walkway to Mandalay Bay and Excalibur.
Price out your dates at Luxor, here.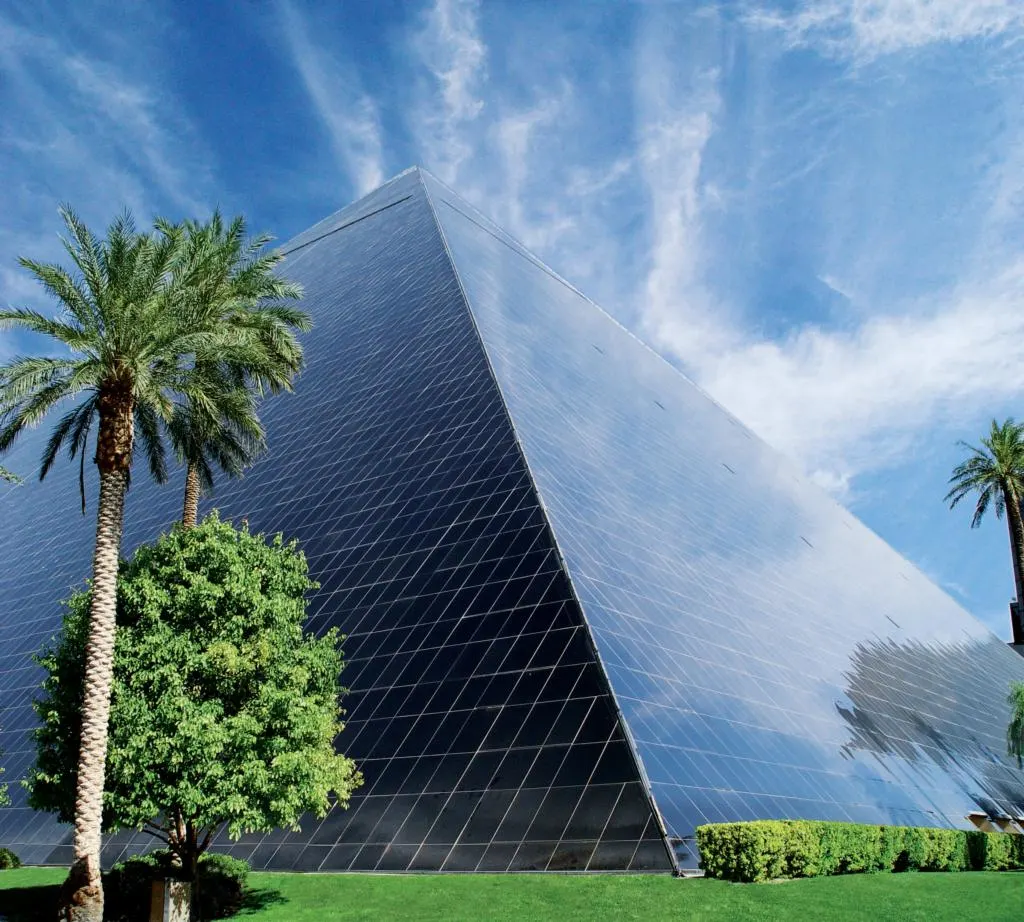 Although I've grown snobbier about hotels over the years, I'd almost certainly choose LINQ from the above list. Although Linq's baseline rooms are small at 300 square feet, they are freshly renovated and the resort is in a great location in the middle of the Strip.
Surprisingly to me, Casino Royale, which doesn't charge a resort fee, didn't place in our ranking of the 8 cheapest Strip hotels.
Related: Cheap Activities in Las Vegas (Under $25).
5 Cheapest Hotels on Fremont Street
Unsurprisingly, 2 of the top 3 cheapest hotels in downtown Las Vegas are ones that don't charge a resort fee.
Here are the 5 cheapest options:
Binion's
Recently reopened after being shuttered for decades, Binion's Hotel Apache ranked as the cheapest hotel on Fremont Street with an average nightly rate of $97.
Notably, Binion's and sister property 4 Queens (also on this list) don't charge a resort fee.
The rooms at Binion's are hidden behind the blue neon facade surrounding the casino, so there isn't an outdoor view from most guestrooms.
The rooms themselves are among the more unique accommodations in Las Vegas, designed to look like something you would have encountered 100 years ago. While they have a historic look, hotel rooms at Binion's still come equipped with the modern amenities you'd expect.
The pool, while unimpressive in its own right, sits atop the roof of the vacant Mint hotel tower and offers a great view of downtown Las Vegas.
We recently stayed at and reviewed Binion's Hotel Apache – Check it out!
Price out your dates at Binion's, here.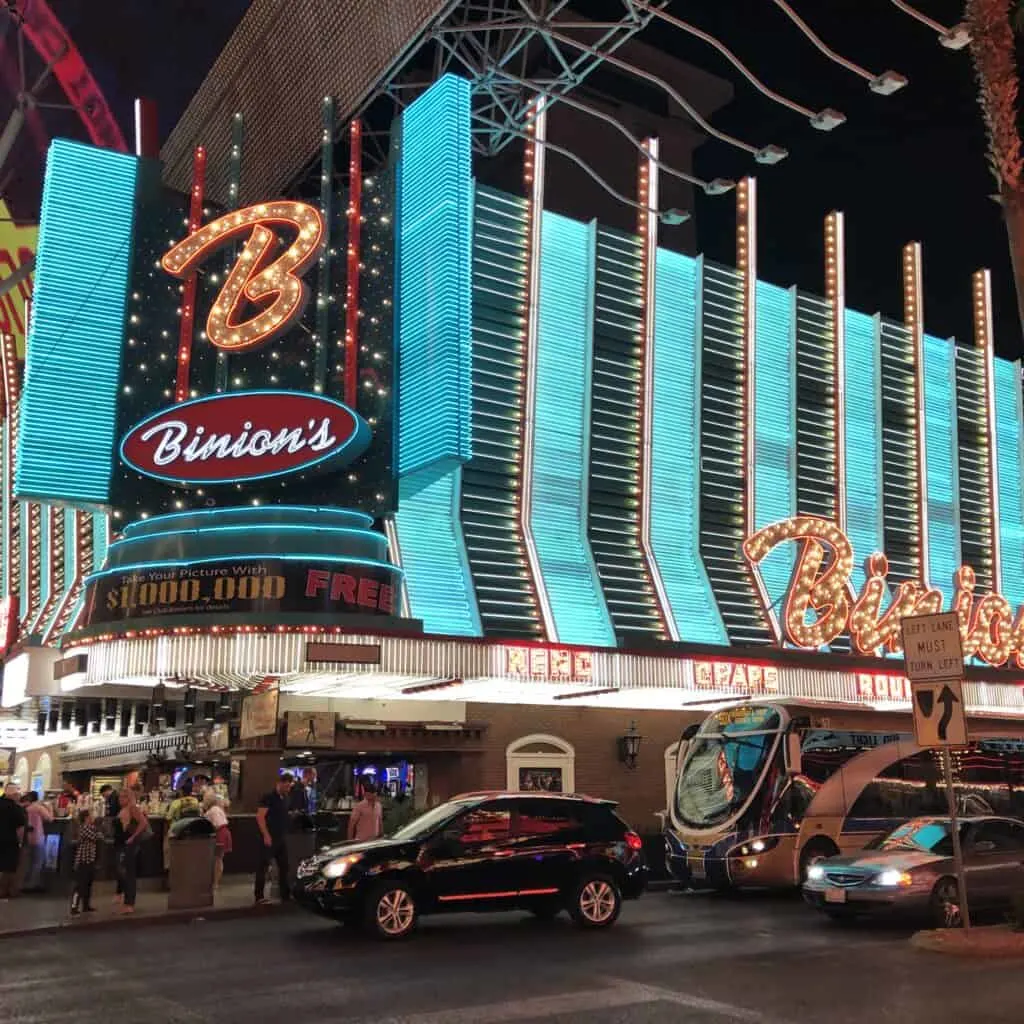 Golden Gate
As the oldest hotel in Las Vegas, opening in 1906, Golden Gate has some serious historic charm. Ranking as the second cheapest hotel in Downtown Las Vegas, Golden Gate's average nightly rate was $101.
Uniquely, the hotel offers rooms online that are clearly labeled as their "Original 10" rooms. Those rooms, have been around since the hotel originally opened (Don't worry… they've been renovated). What the rooms lack in space, they make up for with a fun historic vibe.
Original 10 rooms also rank among the cheapest room options at Golden Gate, frequently costing under $35 before fees.
You'll want to note that many of Golden Gate's hotel rooms are a short distance from a live entertainment stage, and they are far from being the quietest hotel rooms in Vegas.
Price out your dates at Golden Gate, here.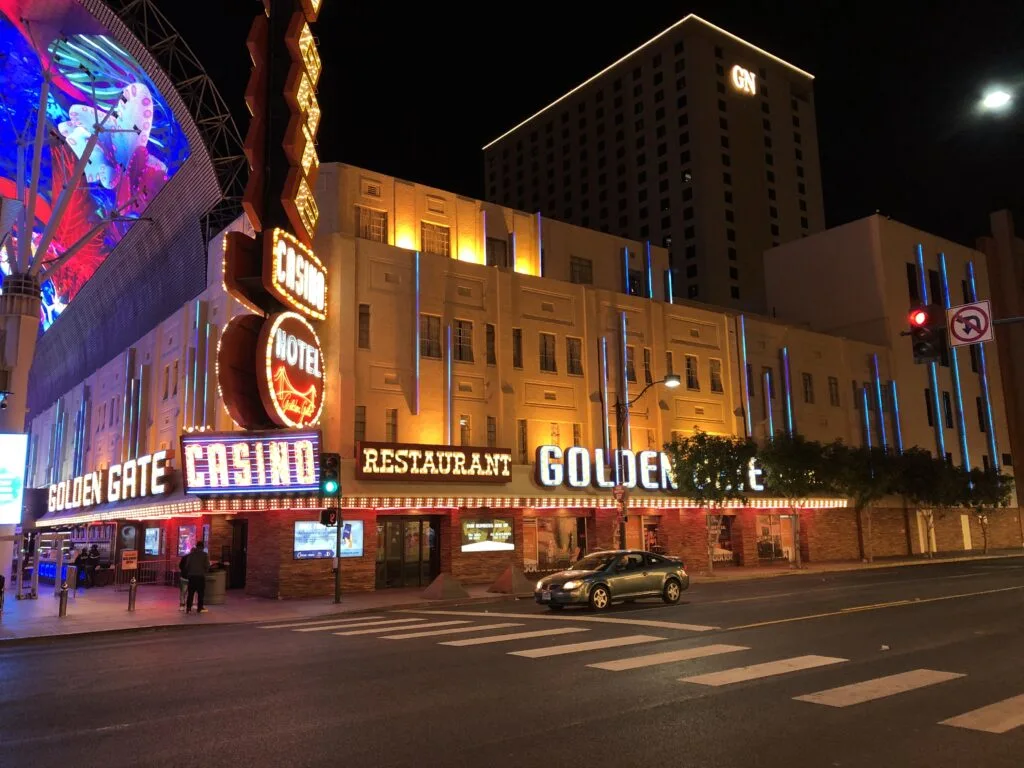 4 Queens
The sister property of Binion's, 4 Queens is one of the few resorts in Vegas that don't charge a resort fee. The absence of fees, in part, contributes to the hotel's ability to rank as one of the most affordable options in town, averaging $111 per night in our sampling of dates.
Reasons we enjoy visiting 4 Queens are numerous. They're one of the only casinos still offering Silver Strike slot games, which kick out souvenir "strikes". Additionally, some of our favorite places to eat cheap on Fremont Street call the resort home. Both Magnolia's Veranda and Chicago Brewing Co. are frequent stops for us.
Like other resorts on Fremont Street, many of the rooms at 4 Queens are exposed to significant noise until the early hours of the morning. Light sleepers may want to look elsewhere.
The room product itself is unlikely to amaze, earning a decidedly mediocre 3.5/5 stars on TripAdvisor after over 3,000 reviews.
Price out your dates at 4 Queens, here.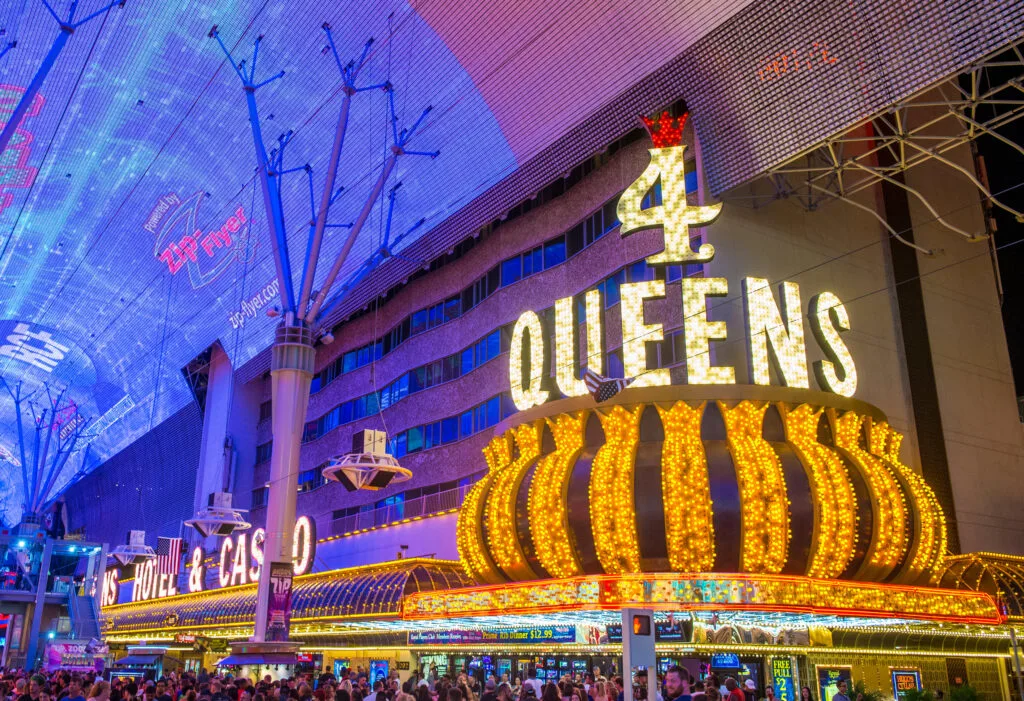 El Cortez
Owned in part by Bugsy Siegel at one point, El Cortez has plenty of historic significance. In fact, El Cortez is the only Las Vegas casino on the National Register of Historic Places.
On our sampling of dates, room rates at El Cortez averaged a nightly rate of $114.20, making it one of the cheapest options in Vegas. Note that accommodations in the hotel tower can commonly be found for around $30 during non-peak times.
Rooms aren't the only cheap thing at El Cortez, however, as table game limits are frequently cheaper than other casinos on Fremont Street.
If you desire a good night's sleep, check out the Cabana Suites at El Cortez, which are housed in a separate building behind the casino and across the street. They are relatively updated and are much quieter than most rooms downtown.
We recently stayed in and reviewed a Cabana Suite at El Cortez – Check it out!
Price out your dates at El Cortez, here.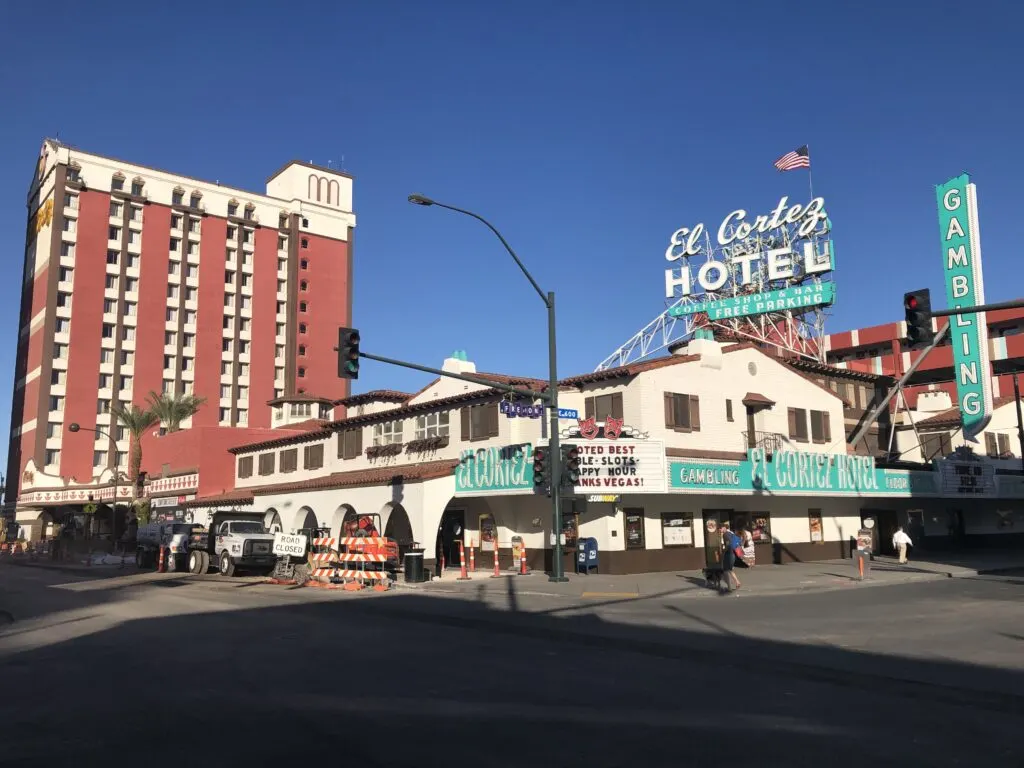 Oasis at Gold Spike
Often overlooked, Gold Spike can be found a block away from Fremont Street and is home to the famous "Real World Suite" and "Sugar Shack" tiny house. The cheapest rooms, however, are the traditional rooms with a queen bed.
Rounding out the top 5 cheapest hotels in downtown Las Vegas, rooms at Gold Spike averaged $118.20 in our sampling of dates, however, rooms are commonly priced for as little as $40 (before fees) during non-peak times.
While there isn't a casino at Gold Spike, the hotel is a 2-minute walk from the action on Fremont Street.
Hopefully, our breakdown of the cheapest hotels in Las Vegas on the Strip and on Fremont Street was able to help you identify a budget-friendly option that will work for you!
Here are a few other articles that may be of interest for those looking to stretch their dollar:
Related: The Most Expensive Hotels in Las Vegas!
Feature Image Credit: ©ivantagan/123RF.COM
I'm a former software salesman turned Vegas aficionado. While the craps table is my preferred habitat, I pull myself away to explore new attractions, shows, restaurants, and outdoor activities around Las Vegas with the intent of sharing my experiences.
Ultimately, I just want to help folks plan a better trip and save a few bucks in the process.