Key Points:
The Julius Studio Suite was spacious, in great shape, and offers flexibility and privacy via the separate bedroom.
I've grown to enjoy the distinctive decor in the Julius Tower's hallways and rooms, which pop with yellow accents.
While there was only 1 bathroom, this room could be an ideal spot to host a small group before heading out for the evening.
Located smack dab in the middle of the Las Vegas Strip, Caesars Palace has been a staple of the skyline since opening in 1966.
Sporting an elegant, yet subtle, roman theme, Caesars has over 3,900 hotel rooms which include over 300 suites.
In addition to a sprawling hotel, Caesars is also home to the 4,300-seat Colosseum, 5-acre Garden of the Gods pool complex, intricately themed Forum Shops, Omnia nightclub, and a 120,000 square foot casino.
I recently had the opportunity to stay in one of Caesars Palace's Julius Studio Suites and wanted to share my experience.
Due to my play within the Caesars Rewards loyalty program, I was able to secure the room at a slightly discounted rate of $262.98, which was inclusive of tax and resort fees.
Caesars Palace Check-In Experience
Although Caesars Palace's check-in time is 4 pm, I decided to give it a shot at 1 pm just in case a room was available. Because I was early, there was no line at their bank of self-serve check-in kiosks and I was able to walk right up.
Much to my surprise, and delight, I was able to check in early without being charged the usual fee. Off to a good start.
Strangely, the early check-in policy at Caesars Entertainment resorts seems to be spottily enforced. While some resorts have charged me, others don't mention an additional fee. When I bring this up to the resorts that have charged me, they state that the hotels that didn't charge me made a mistake and that I lucked out.
The lesson: Give early check-in a shot. You may get lucky.
While I had a good check-in experience this time around, it's important to note that Caesars as a chain lags behind the competition when it comes to this process.
Resorts within the MGM portfolio, Resorts World, and Venetian, among others, have moved to mobile check-in and app-based room keys. This streamlines the whole process and allows you to skip lines and walk right up to your room when it's ready.
That mobile process is infinitely better than the self-serve kiosks at Caesars properties that are oftentimes glitchy, not working, turned off, etc. The pain is oftentimes exacerbated further by guests ahead of you in line who aren't "tech-savvy".
It can be a nightmare.
Enough check-in process pontificating from me though, on to the Julius Studio Suite!
Inside Caesars Palace's Julius Studio Suite
I've stayed in Caesars Palace's Julius Tower before, albeit in a standard room, and really enjoyed the decor and pops of yellow. Those design elements were on display in the hotel's hallway, which can usually give you hints about what to expect in the room.
My room was on the 8th floor and offered views of the Strip.
Because of how the Julius Tower is positioned, you can expect views of either the Strip or their pool complex – Both are great, but I prefer the pool.
Julius Studio Suite Living Area
Upon entering the room, you walk right into the living area that has a couch, chair, coffee table, and two end tables.
The furniture was in great shape and the additional space makes suite this a solid option for entertaining a small group before heading out for the night, or great for couples that prefer going to bed at different times.
Next to the TV stand was a work desk that was small, but adequate.
While there was a fridge in the cabinet under the TV, it was disappointingly jam-packed with minibar items and had no empty space available for guest use.
For those that are curious, here's a shot of the minibar.
Julius Studio Suite Bathroom
Located just off the entry hallway outside the living area was the Julius Studio Suite's sole bathroom.
It was spacious in nature, offering a dual vanity sink with unique backlit mirrors along with the splashes of yellow I've come to expect in a Julius room at Caesars.
The shower was fully enclosed, spacious enough, and offered a handheld sprayer in addition to the traditional showerhead.
The toilet wasn't in a separate room but had its own little alcove in the larger bathroom.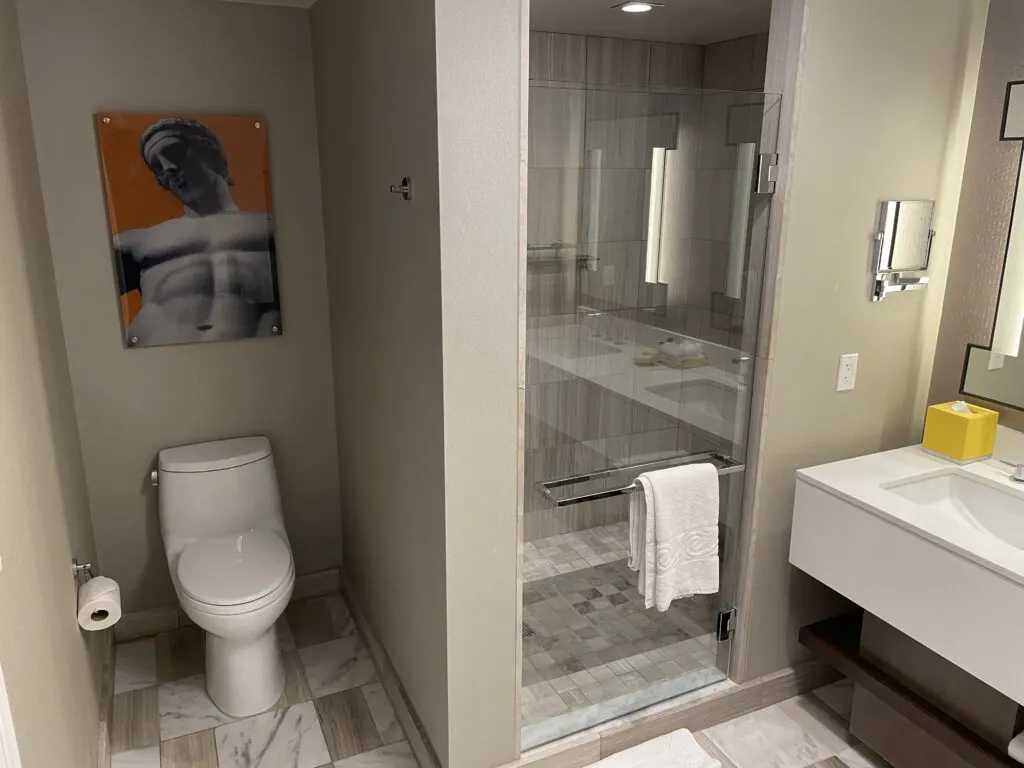 I found the bathroom to be both functional and aesthetically pleasing. I'm also a bit of a stickler for cleanliness in bathrooms, and this one passed the test with flying colors. Not a dingy corner to be found.
Julius Studio Suite Bedroom
The signature yellow accents carried into the bedroom, which had a door and was fully separated from the living area.
The bed was comfortable and hallway noise was non-existent during my 1-night stay.
There was a second TV in the room that was mounted above a dresser with ample drawer space.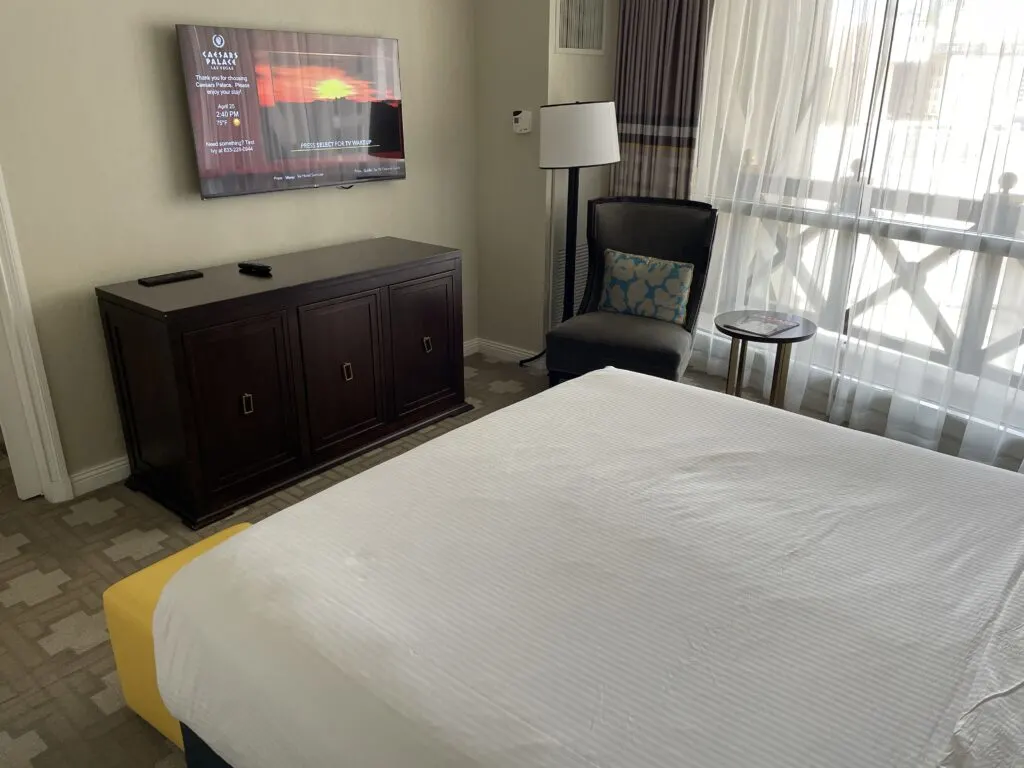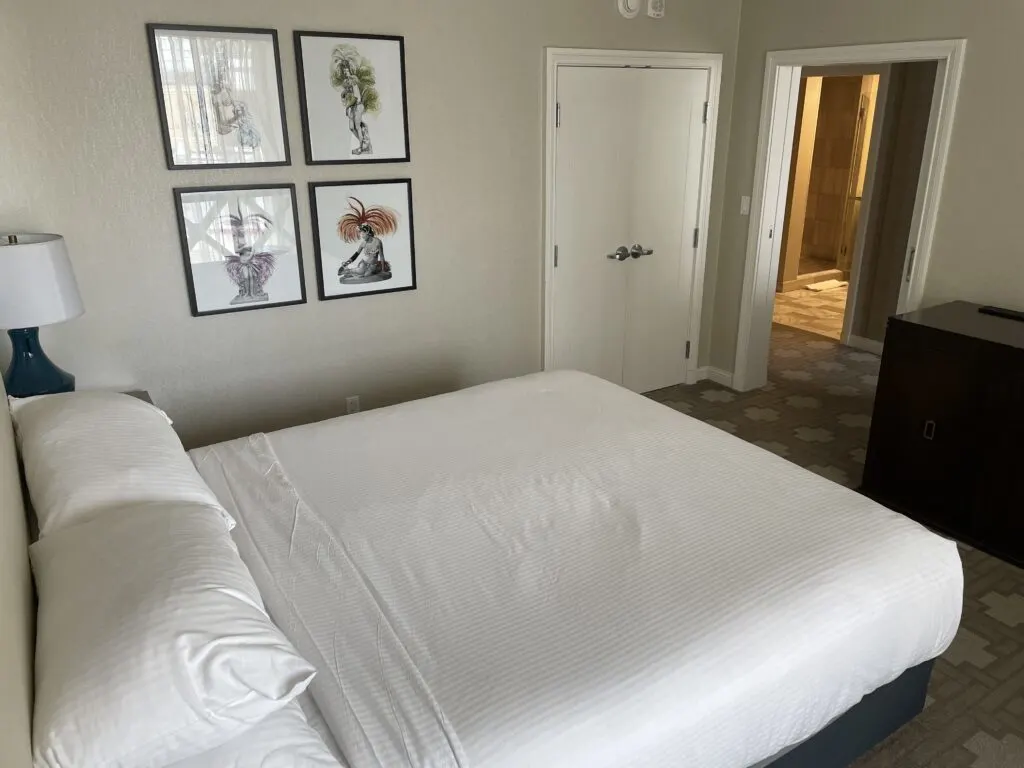 In the room was a large closet with a safe, hangers, iron, and ironing board.
What's Not To Like?
Lack of a Personal Fridge: Few things are more disappointing than walking into your room with a pack of CVS-purchased beers, only to find there isn't an empty fridge for you to use. Especially in a 1-bedroom suite like this that can be used to entertain, empty fridge space should come standard.
Only 1 Bathroom: Unlike other 1-bedroom suites, like this Scenic Suite at Delano that I recently stayed at, the Julius Studio only had 1 bathroom just off the living area. If you'd like the convenience of a second bathroom in the bedroom, this may not be the room for you.
A Couple Dings: Look, this was a clean room, but when I review rooms I look high and low for dings, stains, scratches, and dusty surfaces. It took me a while, but I found a couple of spots that need to be touched.
Essentially, there were some scuffed-up baseboards and a mystery stain on the wall. Don't let it throw you for a loop though, I was impressed with the general condition of the suite overall.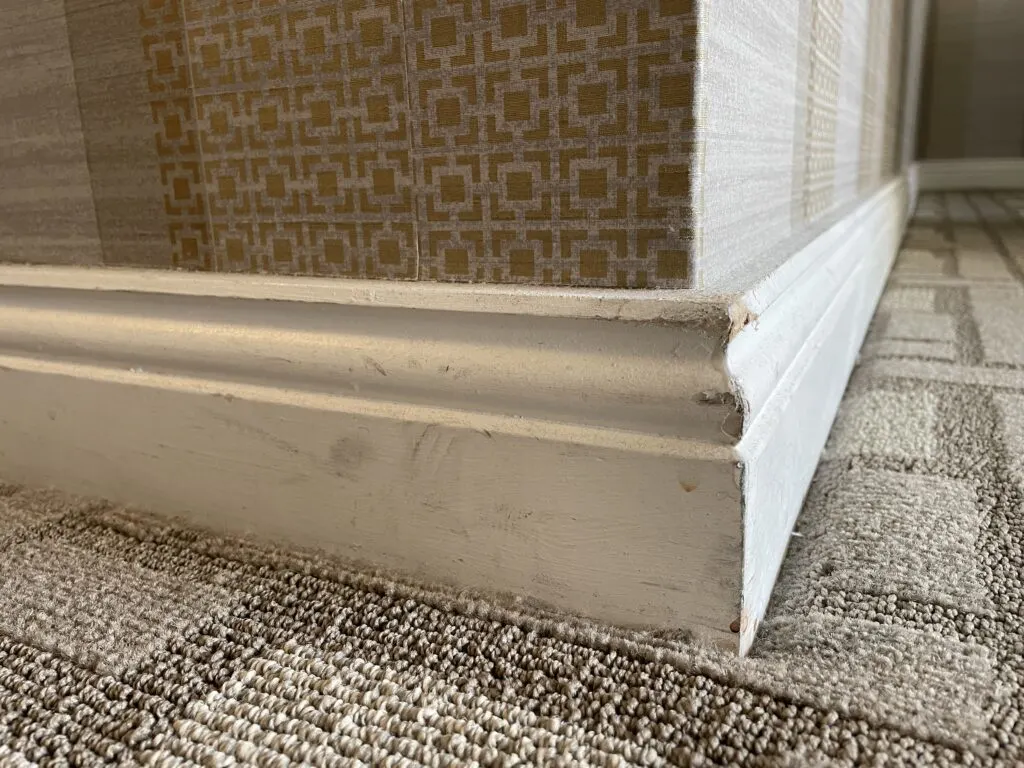 Caesars Palace Resort Highlights
Garden of the Gods Pool: Easily ranking as one of the best pool complexes in Las Vegas, Caesars Palace's Garden of the Gods Oasis offers 8 separate pools spread over 5-acres. A unique touch, swim-up blackjack is offered in their Fortuna Pool.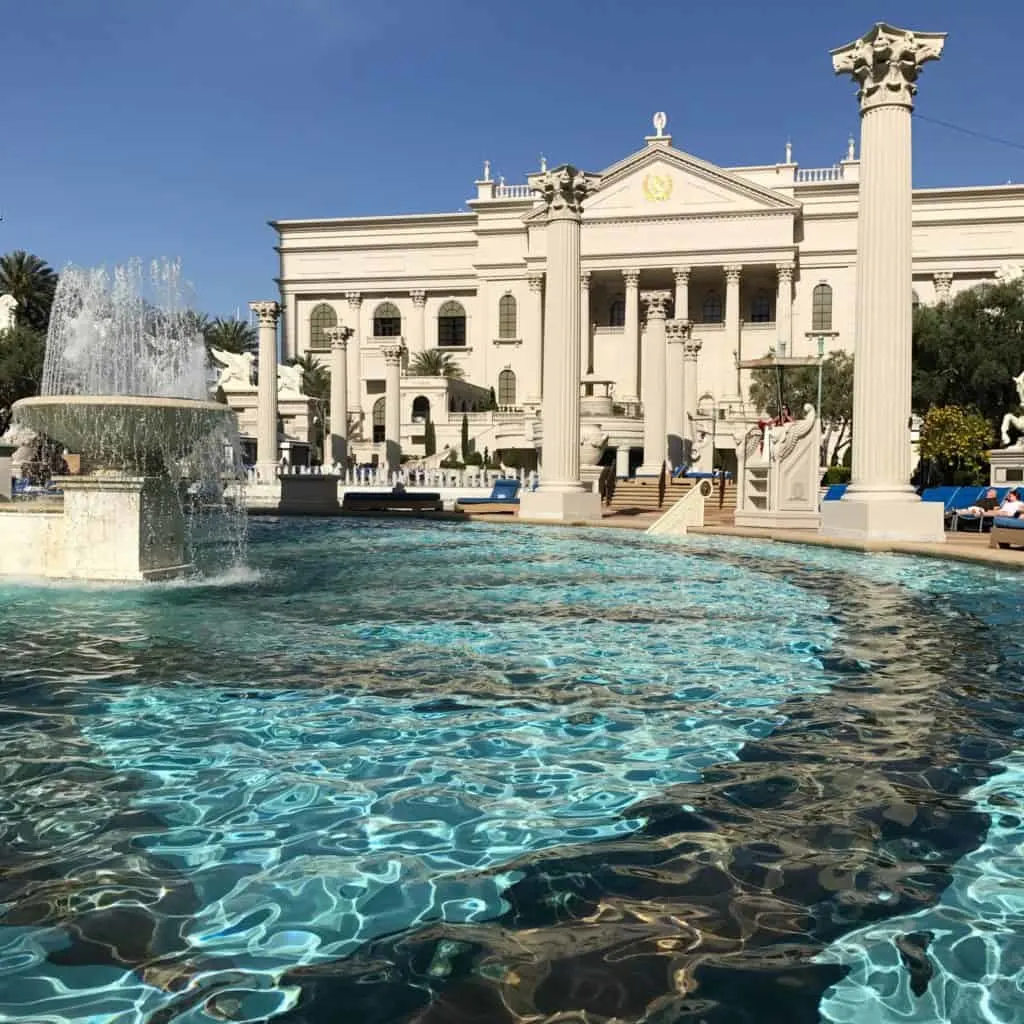 Absinthe: A variety show with a heavy dose of raunchy comedy, many view Absinthe as one of the best shows in all of Las Vegas.
Cigar Lounges: While cigar lounges in Vegas can be difficult to come by, Caesars Palace is home to 2. The first, Montecristo is located just off the casino floor and boasts a large walk-in humidor, craft cocktails, and even bartop gaming.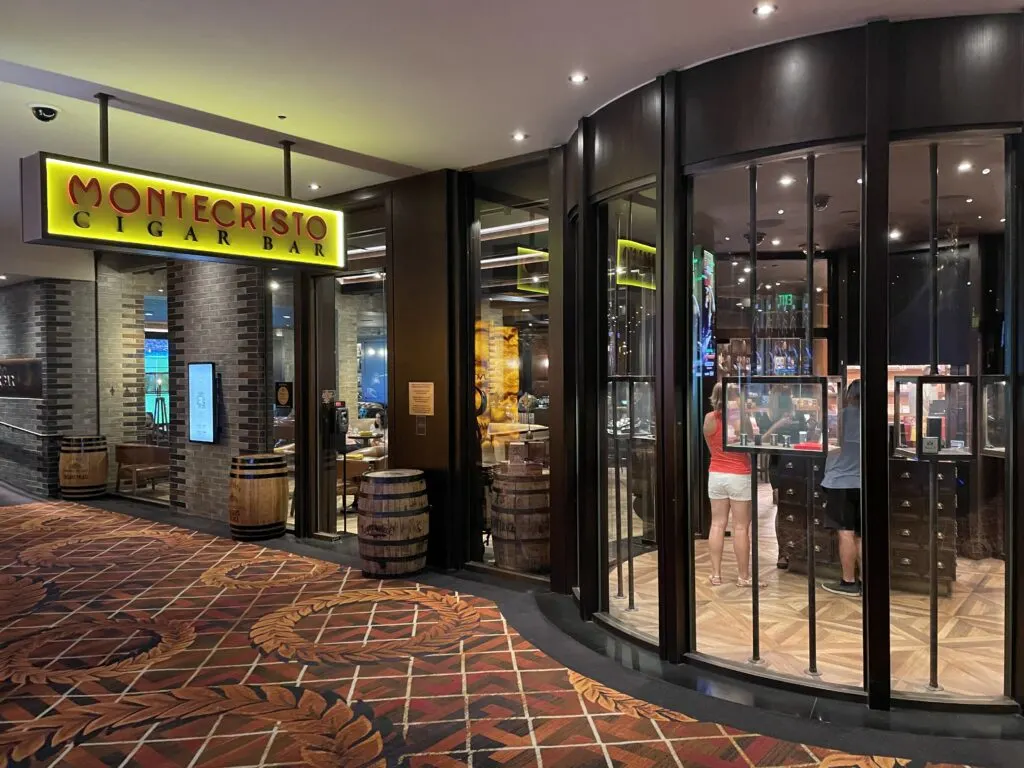 The second, Casa Fuente can be found in the Forum Shops.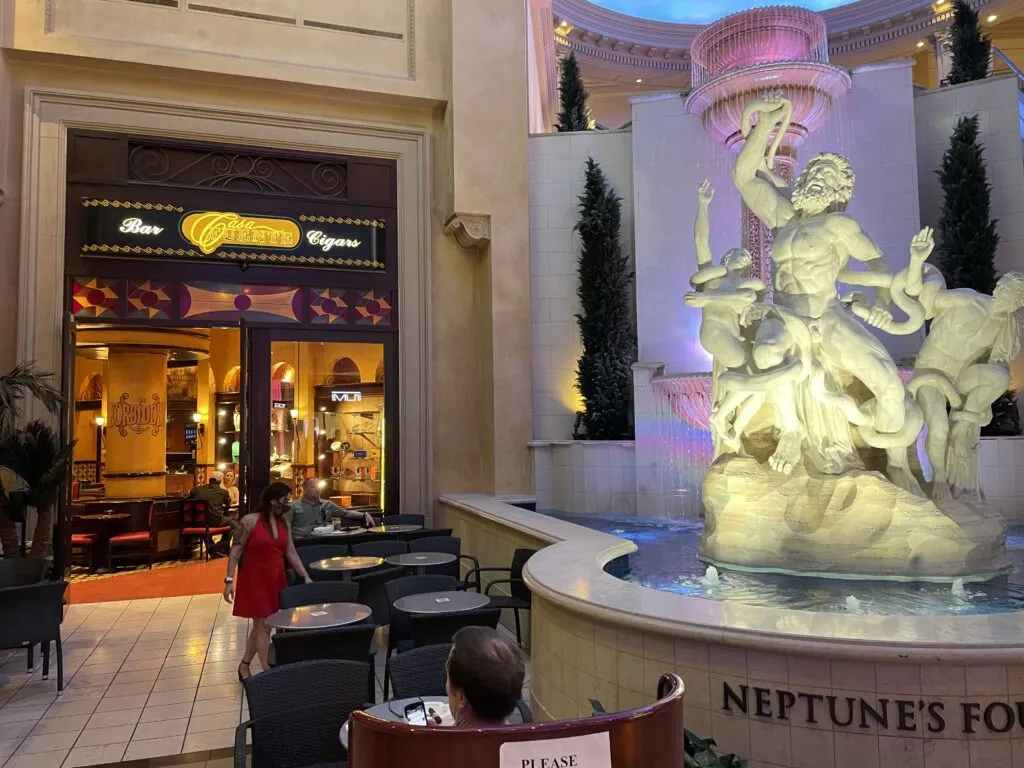 Forum Shops: Speaking of the Forum Shops, they are stunning. Even if you're not a shopping person, you owe yourself a stroll through the themed mall.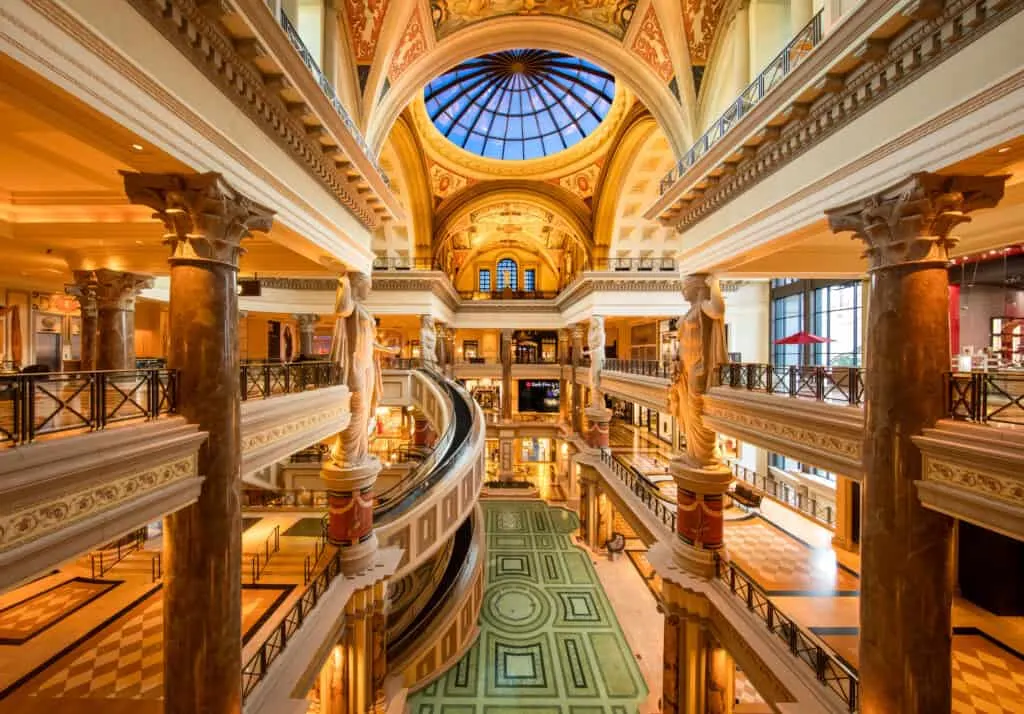 Bacchanal Buffet: Among the dwindling number of buffets open in Las Vegas, Bacchanal at Caesars Palace ranks among the best options in town. If you plan on stopping in, ensure you snag reservations early online as it's a popular spot.
Related: See our Bacchanal Buffet Review!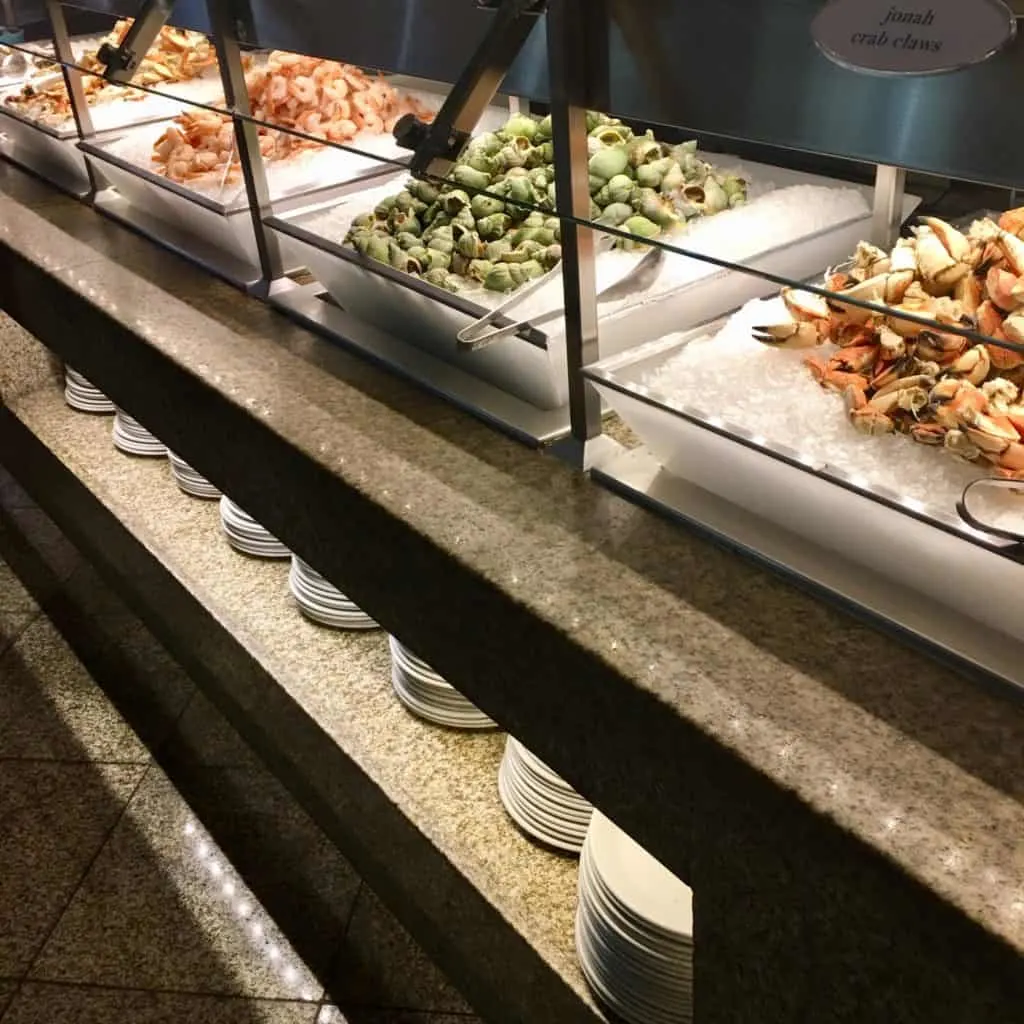 Location, Location, Location: Caesars Palace is located right in the middle of the Strip, and is within walking distance of numerous resorts, attractions, bars, and restaurants. If you want to be in the middle of the action, it's tough to go wrong with Caesars.
Was the Julius Studio Suite Worth the Money?
I'm firmly on the fence, here, with a lean toward "yes".
On one hand, this was a very nice room, at a fantastic resort that boasts a great location.
While there were a few dings, I left with a positive impression of the suite's overall quality, cleanliness, and decor. The room was comfortable and quiet.
On the other hand, I usually rent a 1 bedroom suite like this if I plan to have people over to pre-game before heading out for the night or to watch a game we all have a vested interest in. For those purposes, a second bathroom, and empty fridge space are important amenities that commonly come standard with other similarly priced suites out there.
While I won't rule out booking the Julius Studio Suite at Caesars Palace again, I'll likely shop around for suites that check those specific boxes before pulling the trigger.
If those specific items arent important to you, and you like what you see in the pictures, I'd encourage you to book with confidence as the suite was well worth the $262.98 I paid.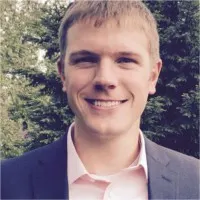 I'm a former software salesman turned Vegas aficionado. While the craps table is my preferred habitat, I pull myself away to explore new attractions, shows, restaurants, and outdoor activities around Las Vegas with the intent of sharing my experiences.
Ultimately, I just want to help folks plan a better trip and save a few bucks in the process.