One of two attractions in Las Vegas that showcase real human bodies, Real Bodies at Horseshoe boasts over 200 partial, and 20 whole-body specimens for visitors to explore.
Real Bodies leverages these specimens to educate visitors on bodily structures and functions that include the:
Respiratory System
Digestive System
Circulatory System
Muscular & Skeletal System
Neurological System
Reproductive System
Medicine & Surgery
Death & What Happens After
While I personally have visited Bodies… The Exhibition at Luxor, a similar attraction to this, twice over the years, I had yet to explore Real Bodies.
As I was already in the area visiting both The Lock Speakeasy and Twilight Zone Mini Golf, I figured it was time to change that.
Below, I'll dive into my experience to help you determine if Real Bodies at Horseshoe could be a good fit for your itinerary.
In my case, I was in the neighborhood and paid full price for my ticket at the counter, only to find out later that I could've bought the same ticket on Vegas.com for under $17…
You live and learn, I suppose.
My Experience at Real Bodies at Horseshoe
Let me begin by saying that throughout the attraction, Real Bodies did a great job of displaying specimens alongside information in a compelling, entertaining, and educational way. Every time I turned the corner there was a new, engaging visual to digest.
With so much to see, it would be impossible for me to show you everything, so I thought I would share some of my favorite aspects of the attraction.
Real Bodies kicked things off by delving into the history of human preservation, along with an education on bones, joints, and the human skeleton.
Locked in wooden cabinets were a bunch of bones, joints, skulls, and teeth alongside informational placards that contained all sorts of fun facts like how bones can "Withstand up to 400 pounds of force" and that they are "Constantly regenerating themselves" and are "Remade every 10 years".
Did you know babies are born with 300 bones, while adults only have 206? Where do they go!?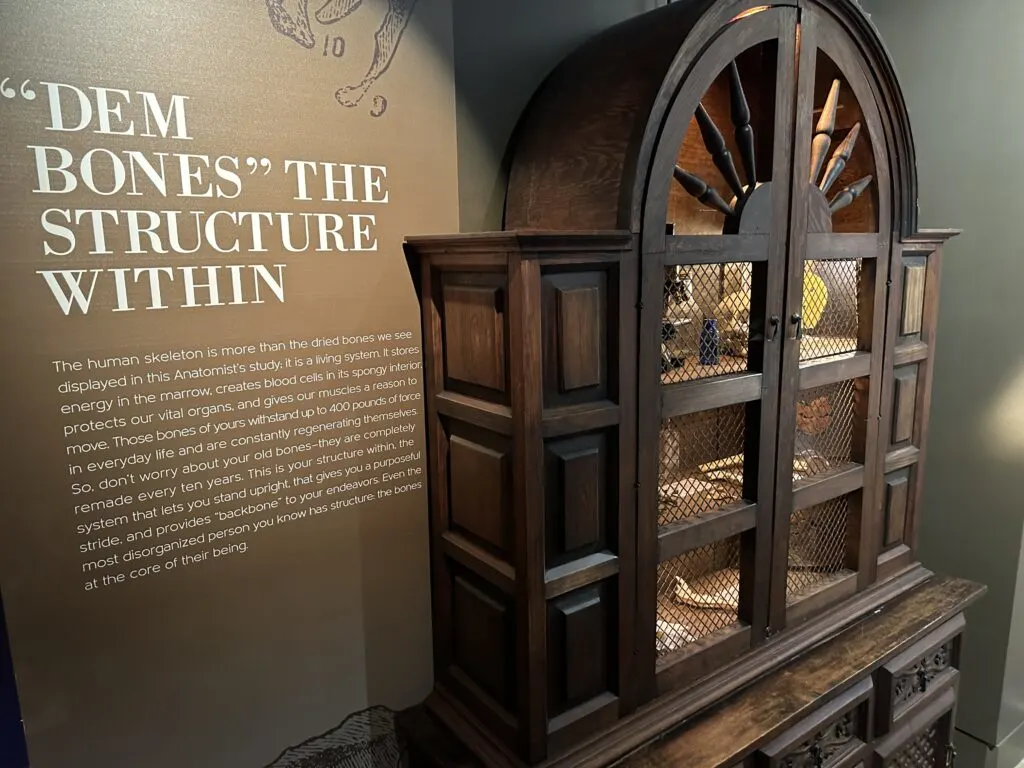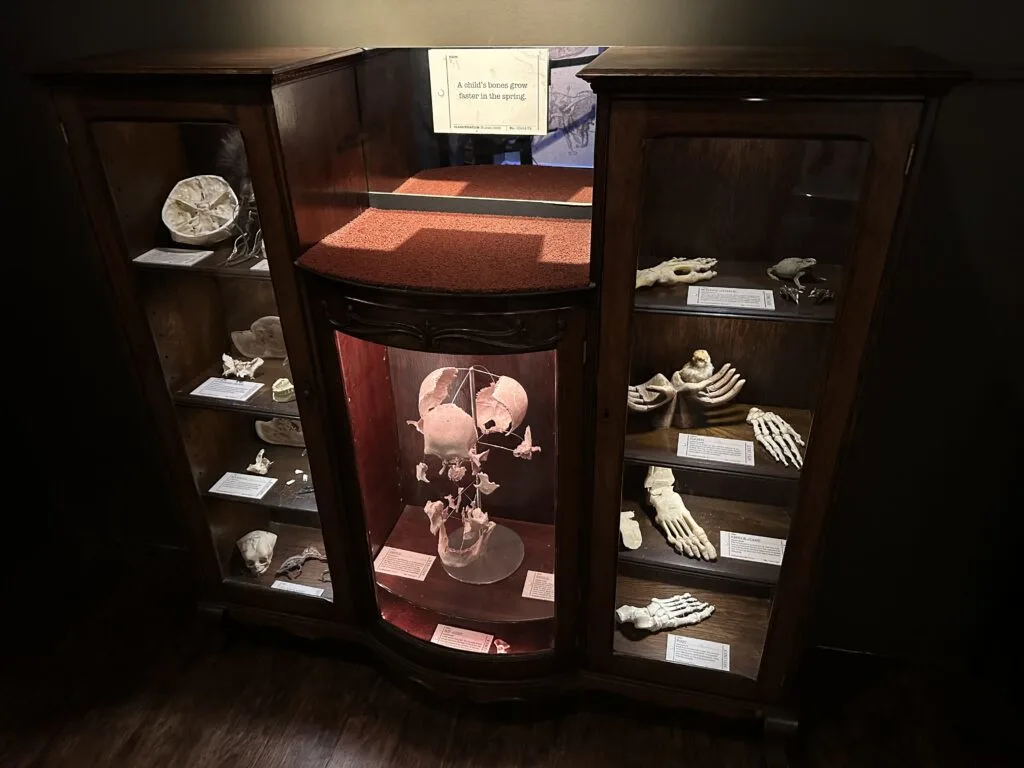 With the basics of what makes the human body rigid covered, Real Bodies shifted focus to the respiratory system.
While various aspects of that system were on display, the highlight was the lungs of a smoker, pictured below, which was able to convince a good number of people to ditch their cigarettes for good.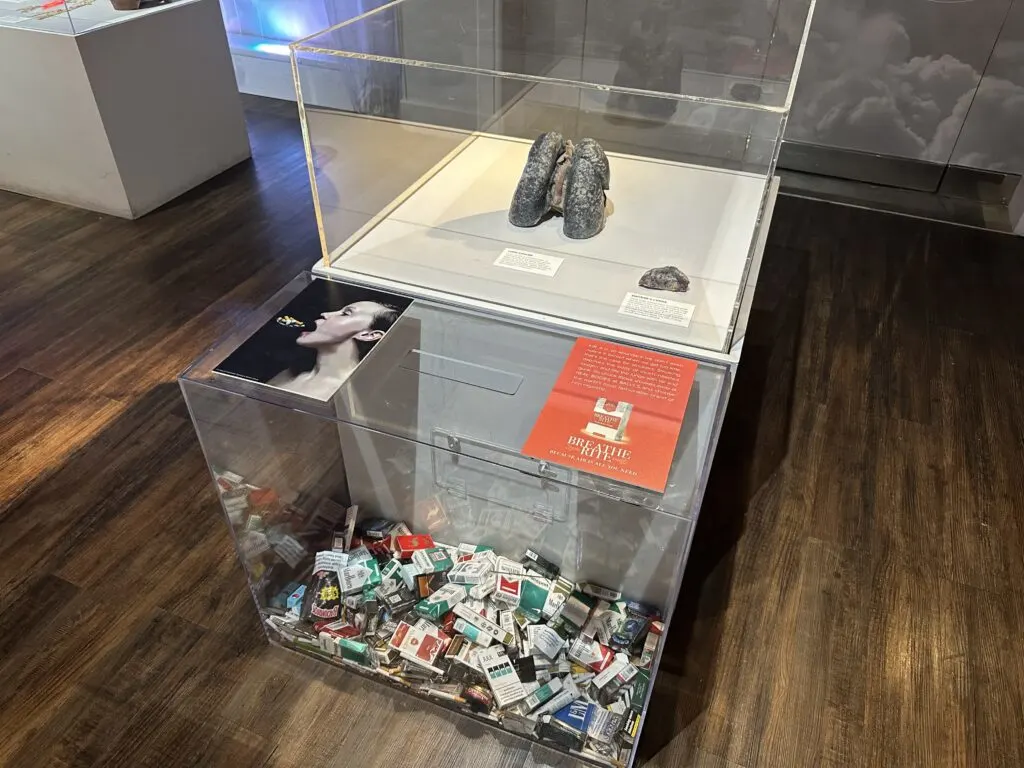 Throughout the entirety of Real Bodies are colorful castings depicting the complexity of blood vessels in various organs and parts of the body which I found to be enthralling – Just check out the complex system of blood vessels that are found in your lungs (below).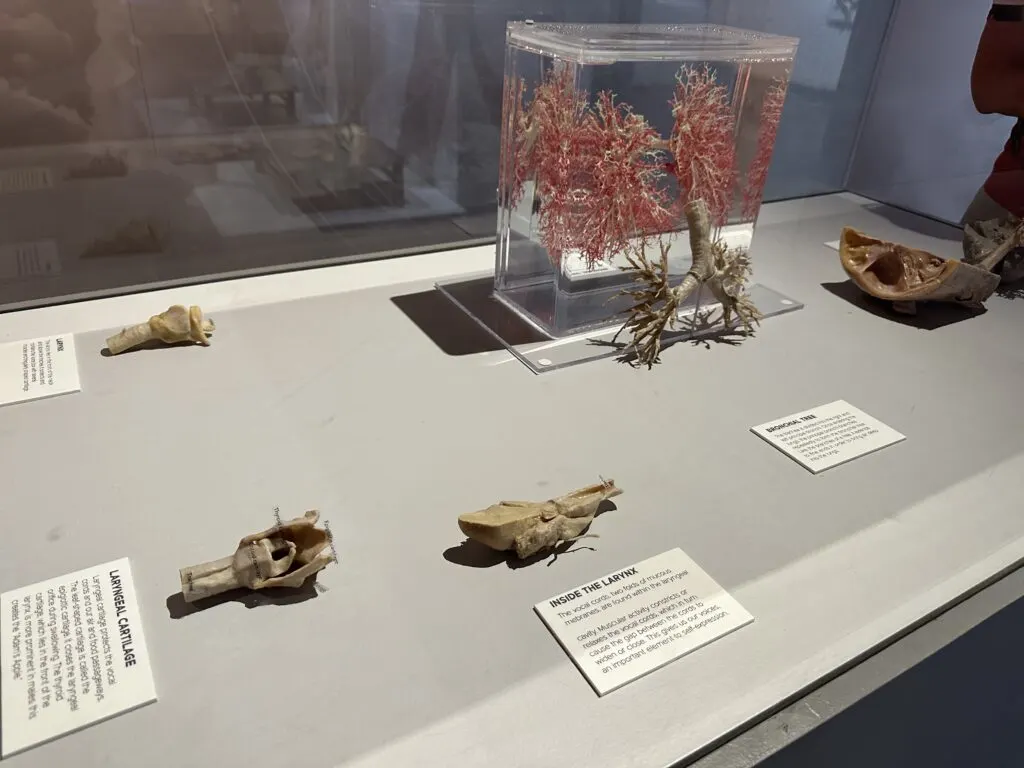 Real Bodies did a nice job of explaining how the respiratory and circulatory systems work together to keep the body oxygenated. Best yet, you didn't need to be a doctor to understand the placards. Even my low-powered brain could make sense of what I was reading.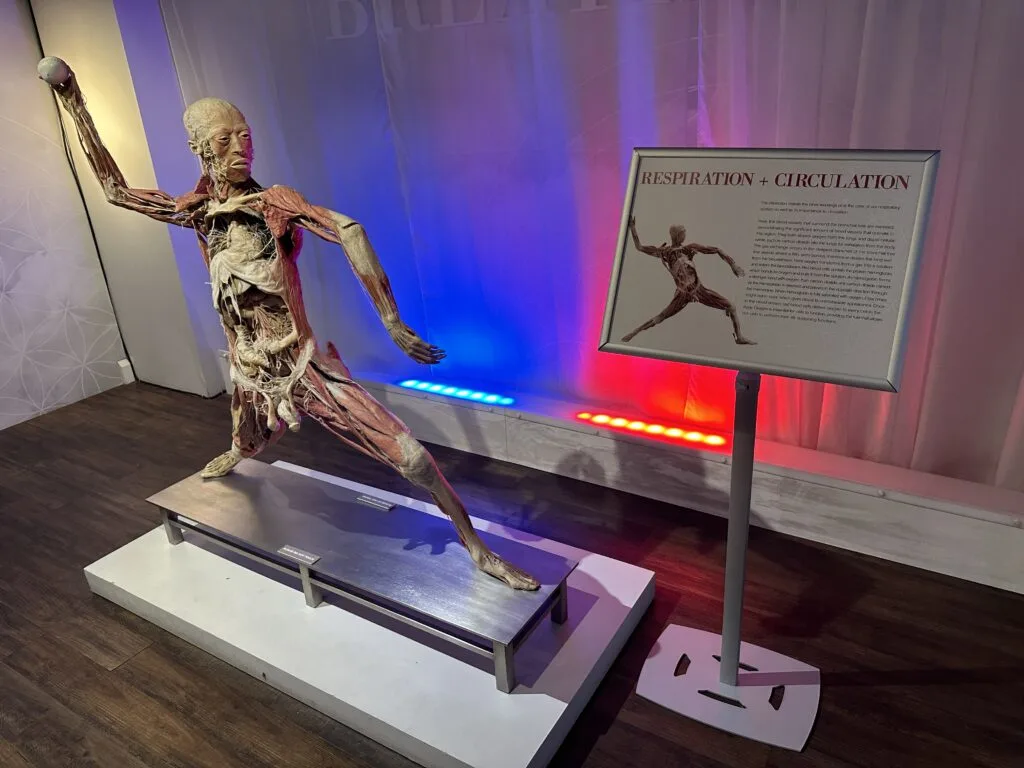 The visuals that best captured my attention were full-body dissections that provided an amazing window into where various internal organs and bones are located and how everything fits together.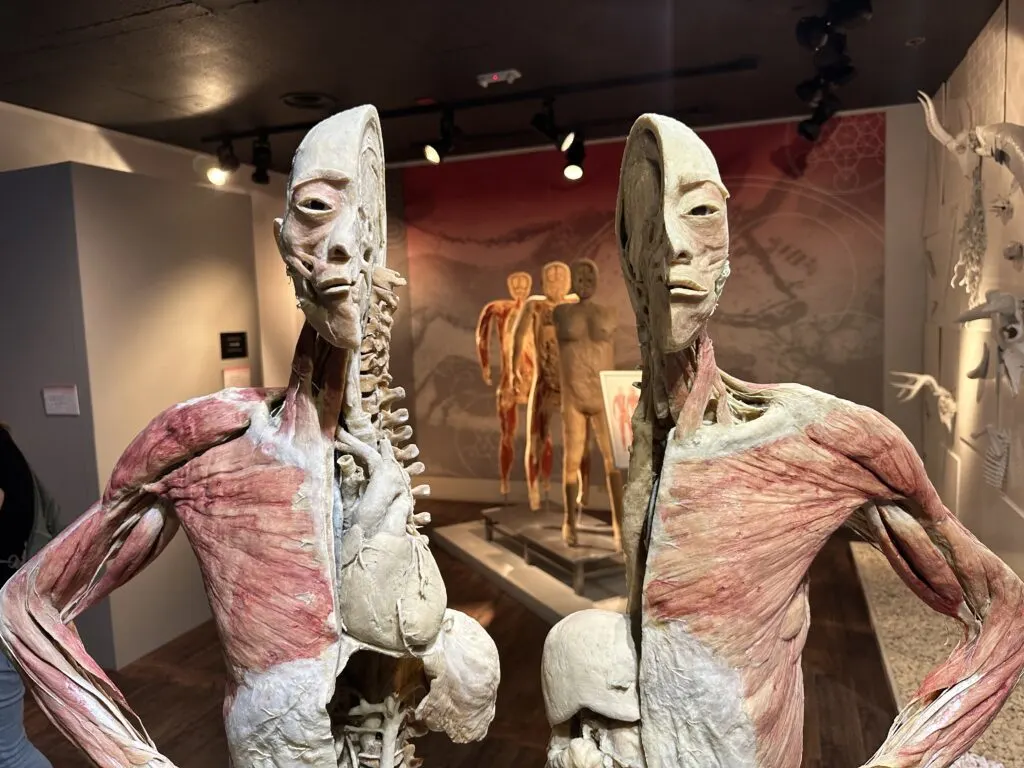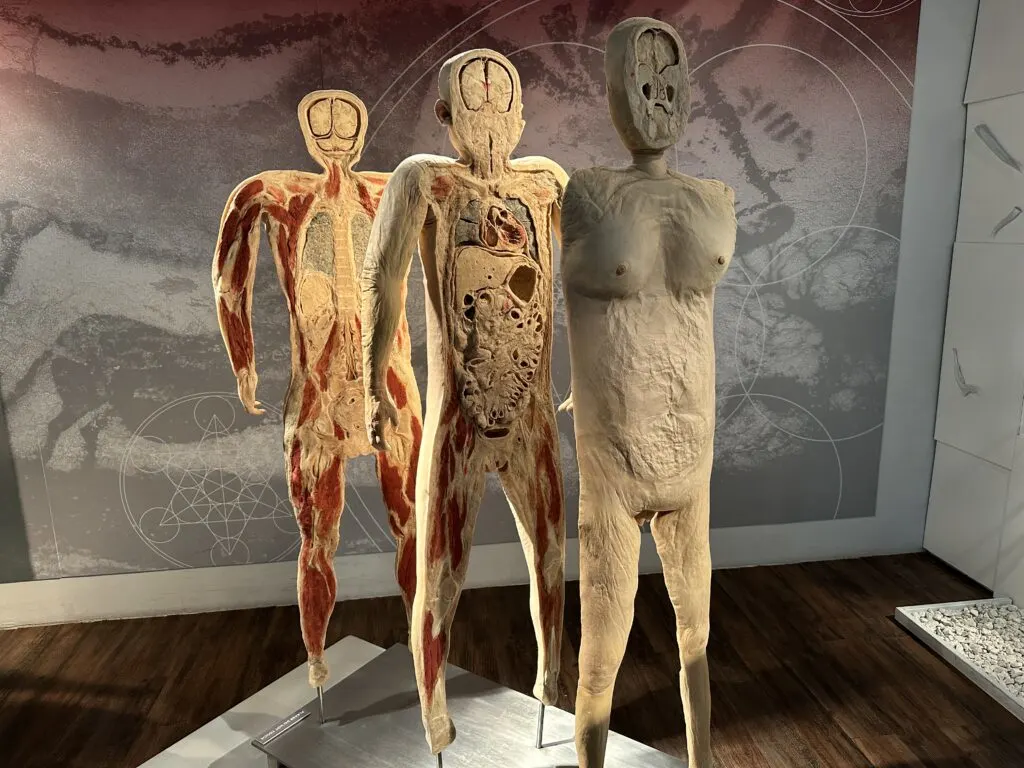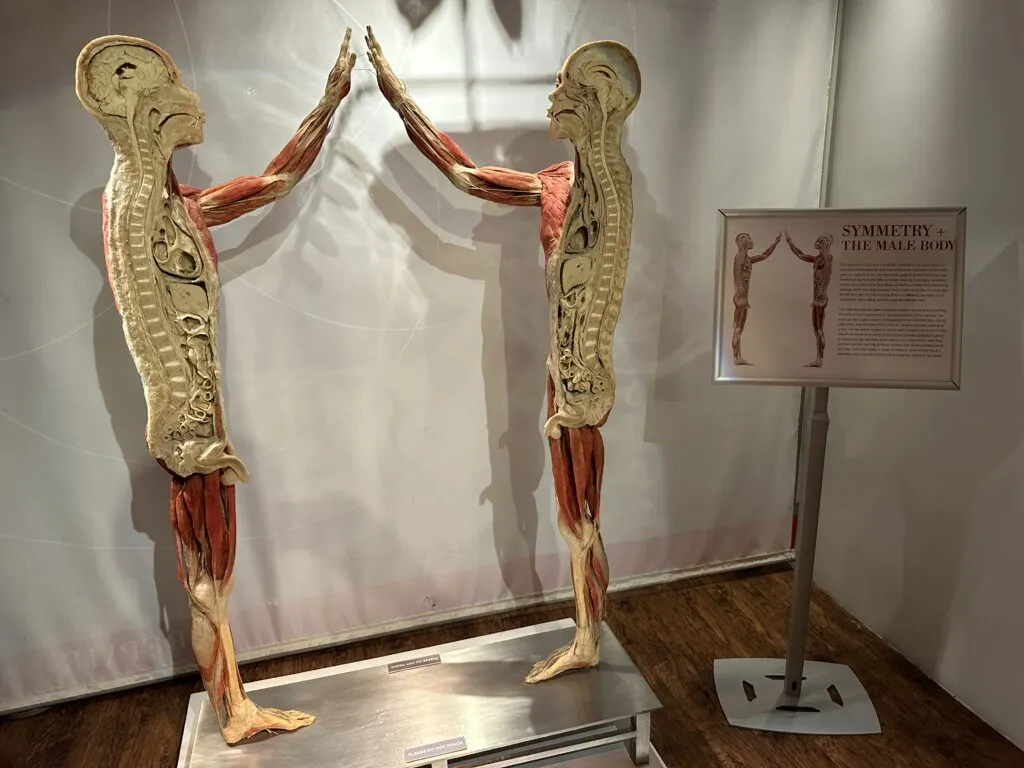 Perhaps TMI, but as a person diagnosed with Ulcerative Colitis (that's fortunately been in remission for a decade +), I appreciated the education Real Bodies provided about the digestive system.
Actually being able to see the internal organs doctors refer to and shove cameras into (ick) is pretty unique.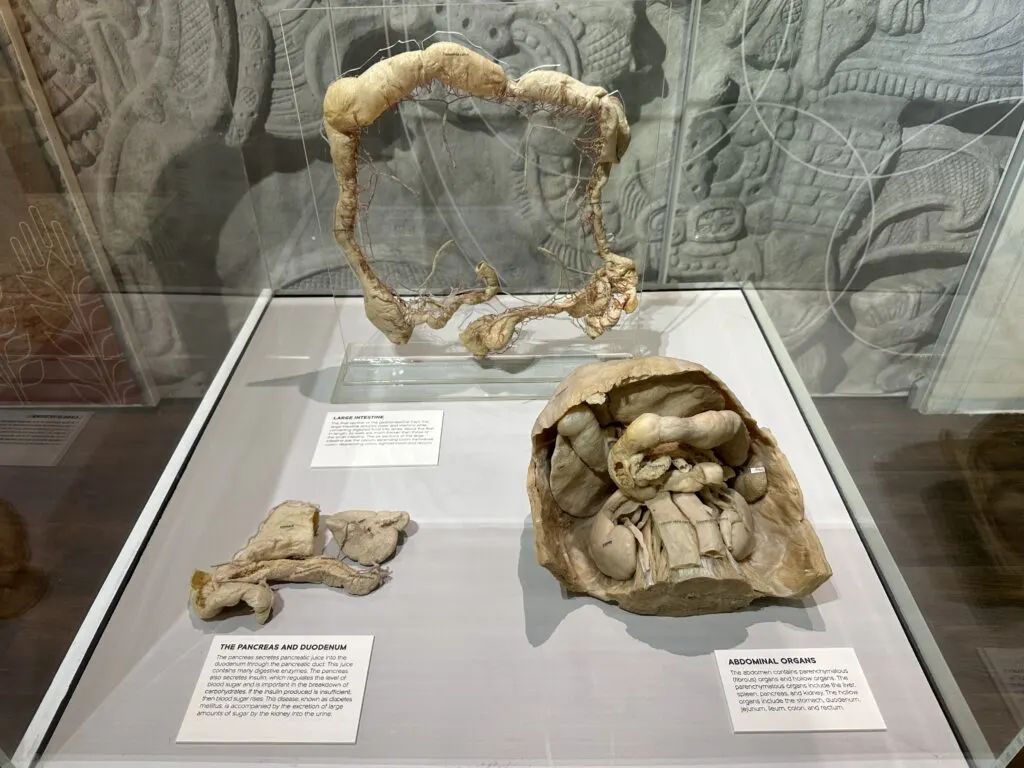 As one of the more complex systems within the body, Real Bodies dedicated a good amount of real estate to the circulatory system, providing some compelling visuals.
Among my favorites were the castings of blood vessels of various organs and appendages. These castings are created by injecting the cadaver with a colored polymer that hardens. The surrounding tissue is then chemically removed, leaving only the colorful mold.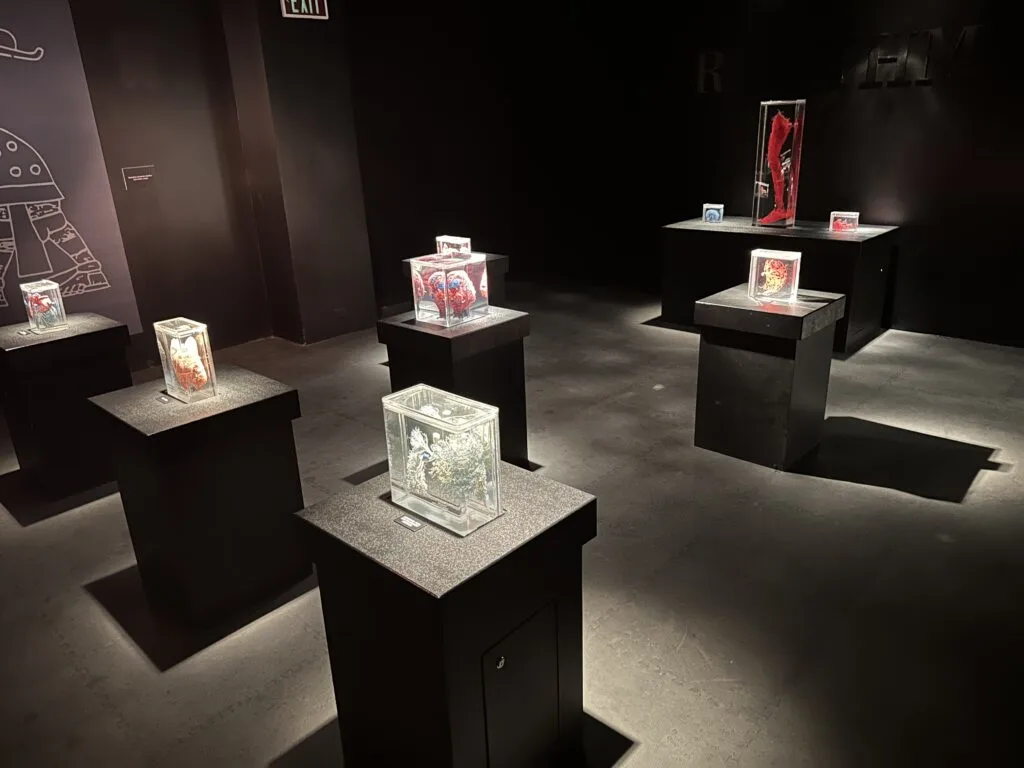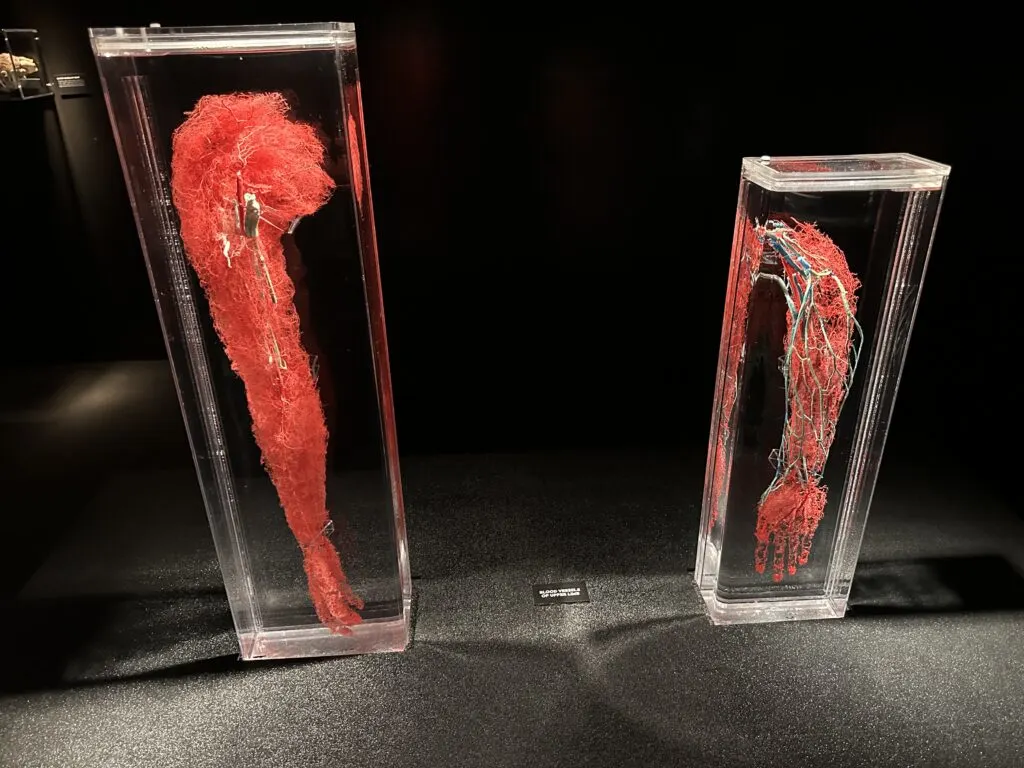 A number of whole-body specimens "in action" were displayed in the exhibit dedicated to muscles and movement. Alongside each, was an informational placard that provided insight into how muscles move people while also protecting organs.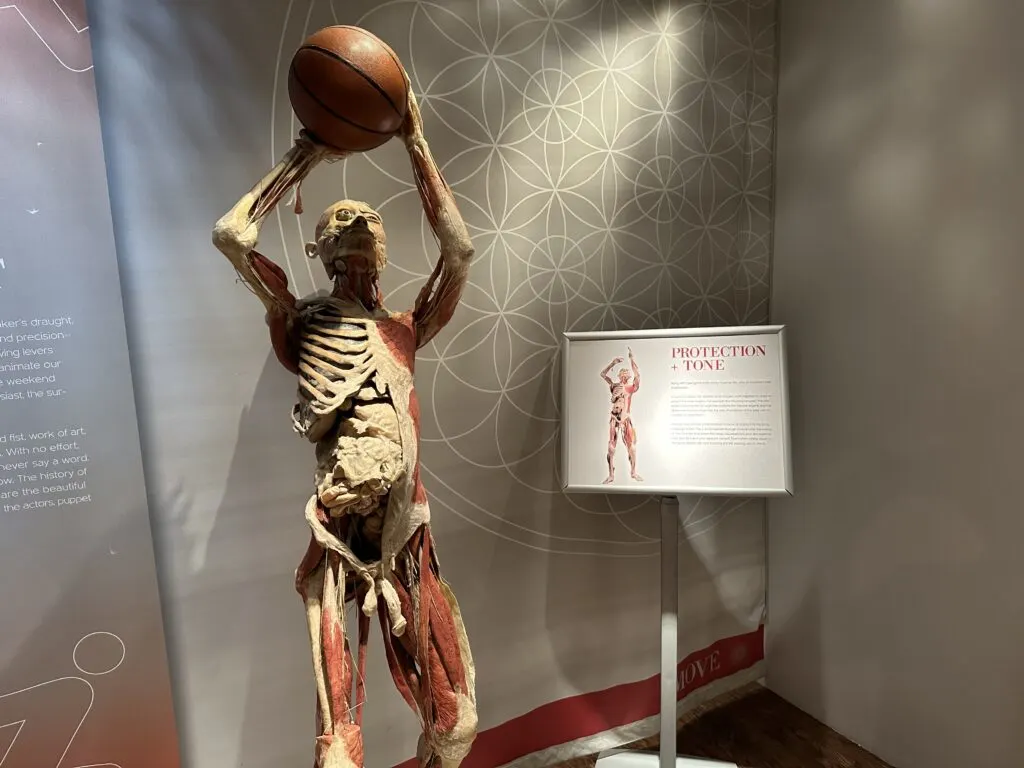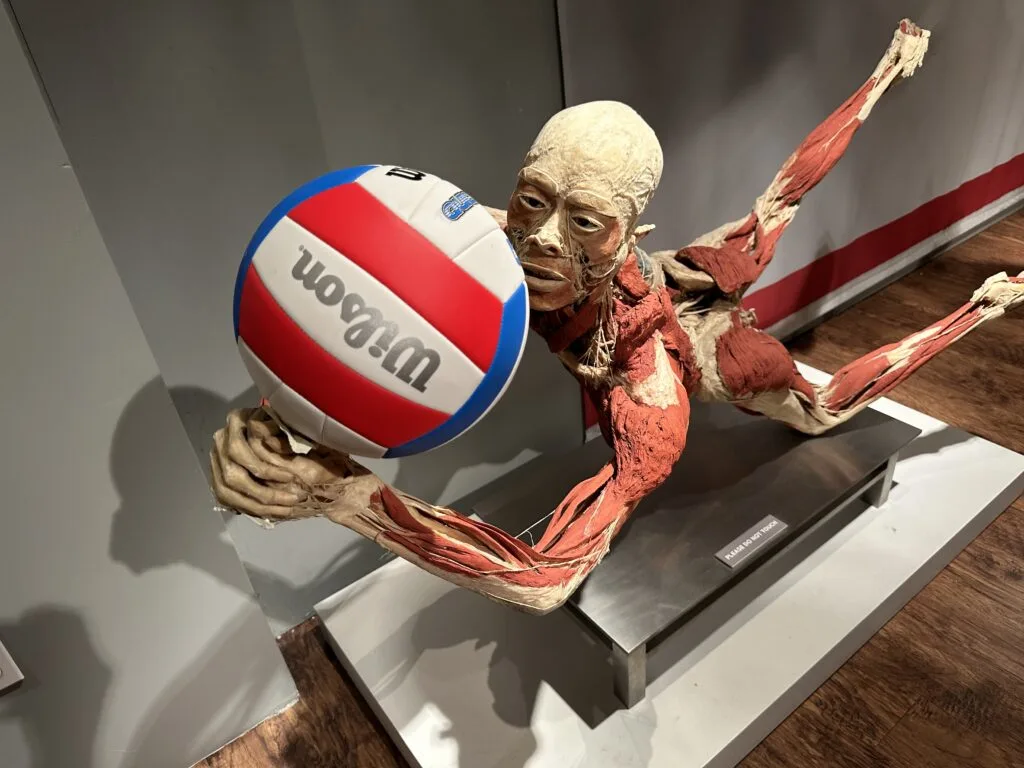 Obviously, anytime you can see an actual human brain is a unique experience.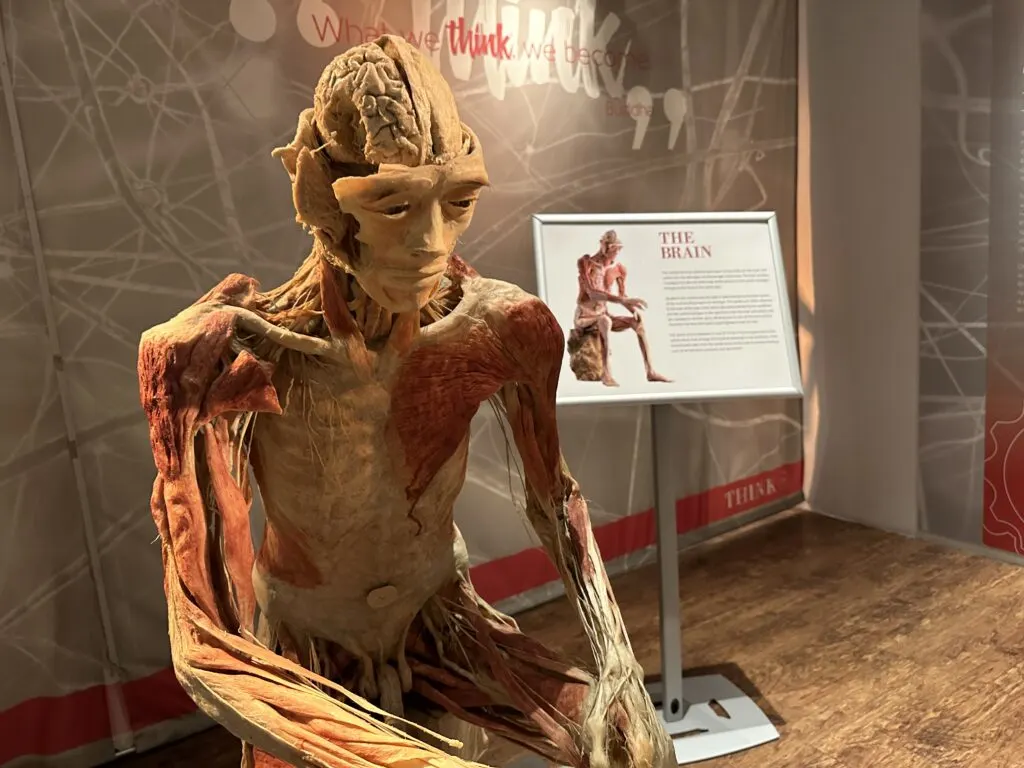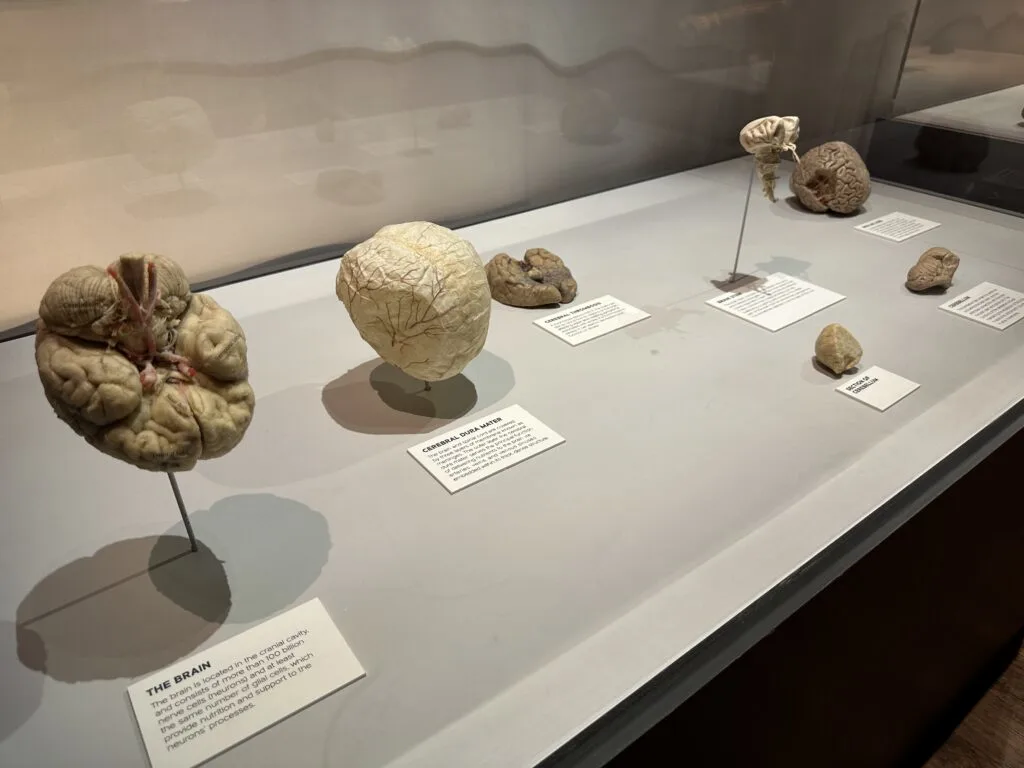 The neurological exhibit also did a nice job of showing how the brain and nerves send signals to muscles to control the movement of body parts.
We're clearly comprised of some pretty complex systems.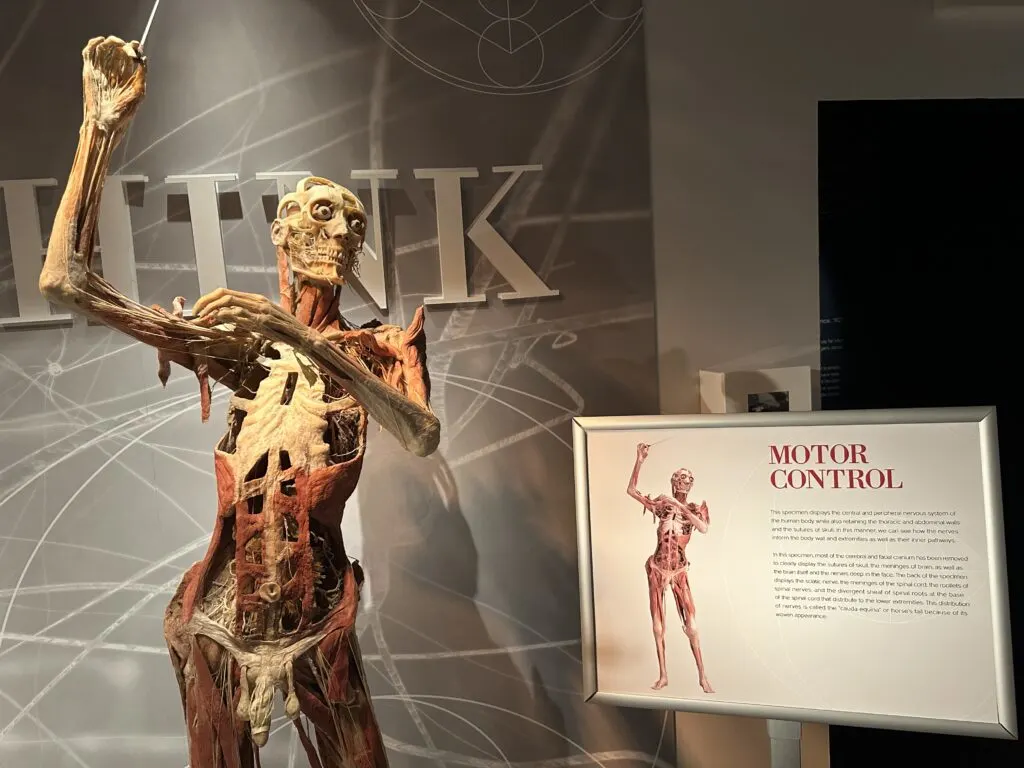 A noteworthy portion of the attraction was an exhibit dedicated to the afterlife, funeral rituals, and what happens to our physical remains after death – Something in which we all ponder.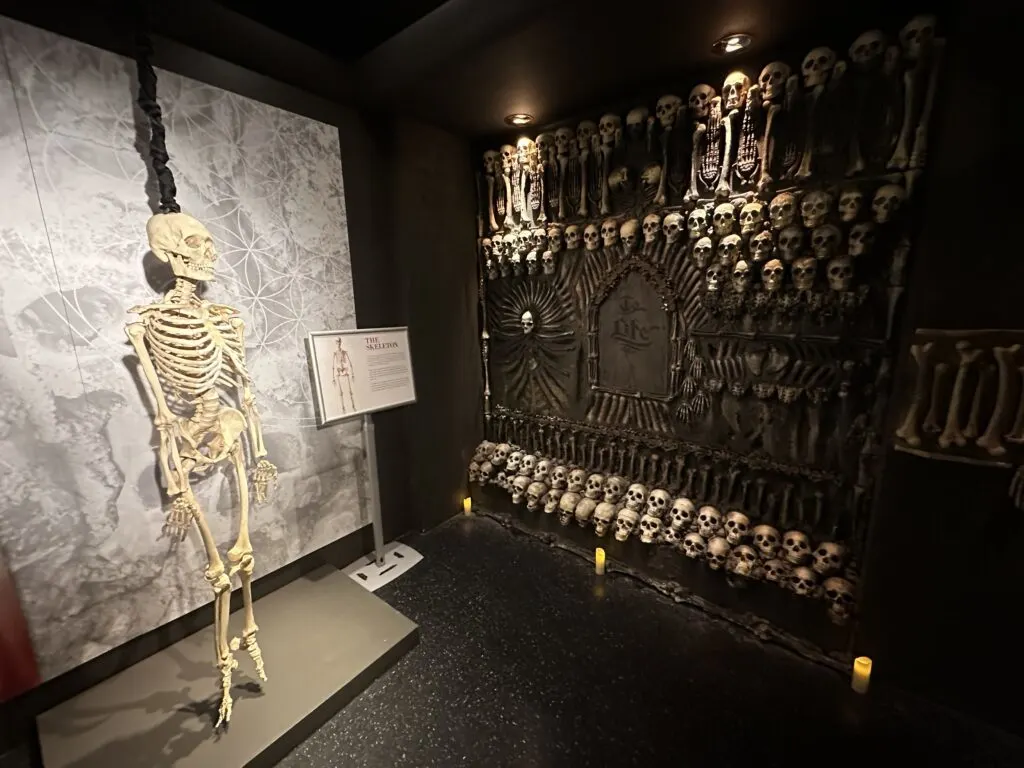 One of the last stops at Real Bodies ranked as one of the more interesting – Reproduction systems, love, and fetal development.
As you'd expect, the exhibit covered the body parts and systems that make reproduction possible, but the most interesting specimens to observe were the collection of fetuses at various stages of development.
There was also education on "The Evolution of Love", that offered an opportunity for guests to add a lock to a giant heart to cement their relationship.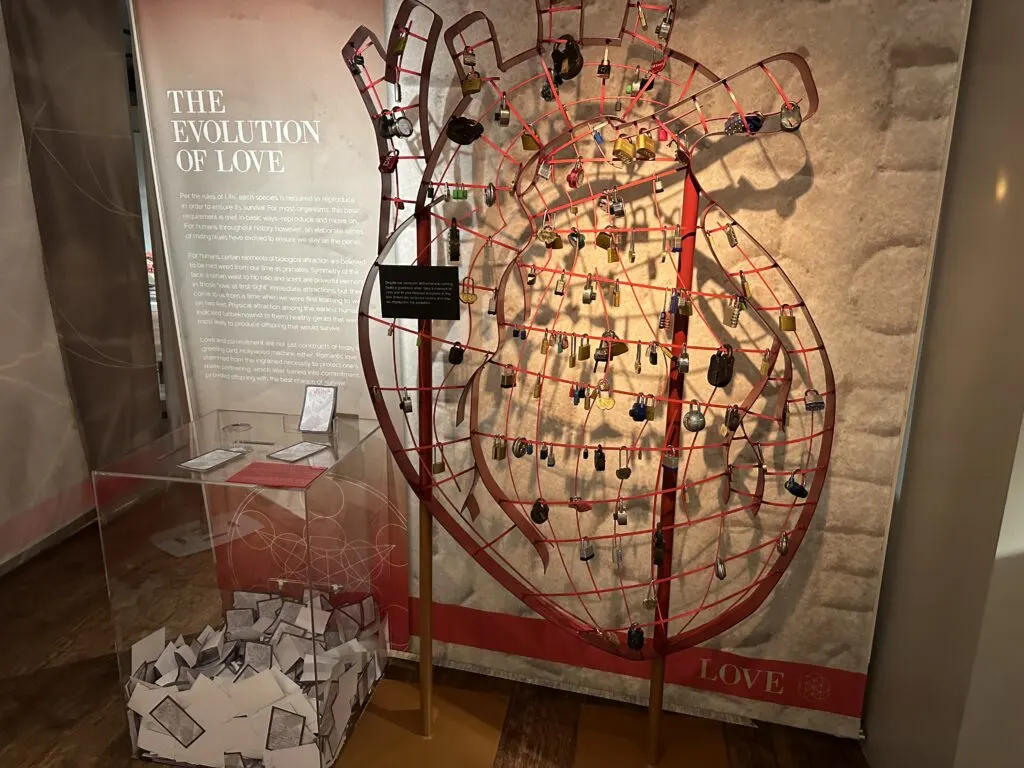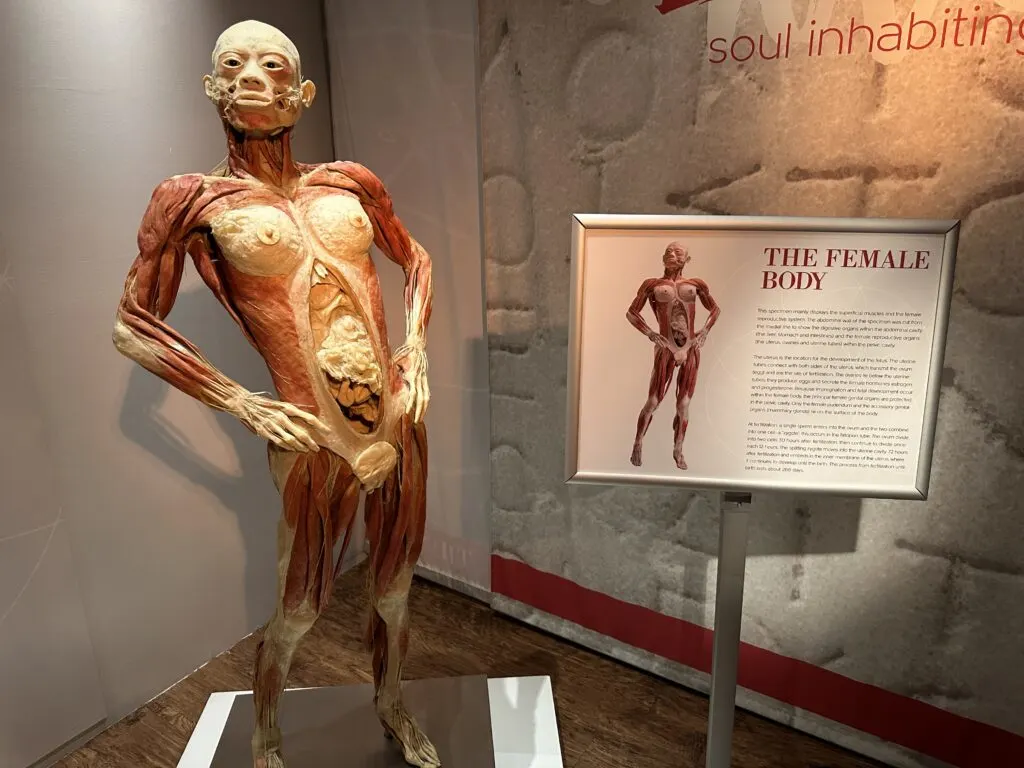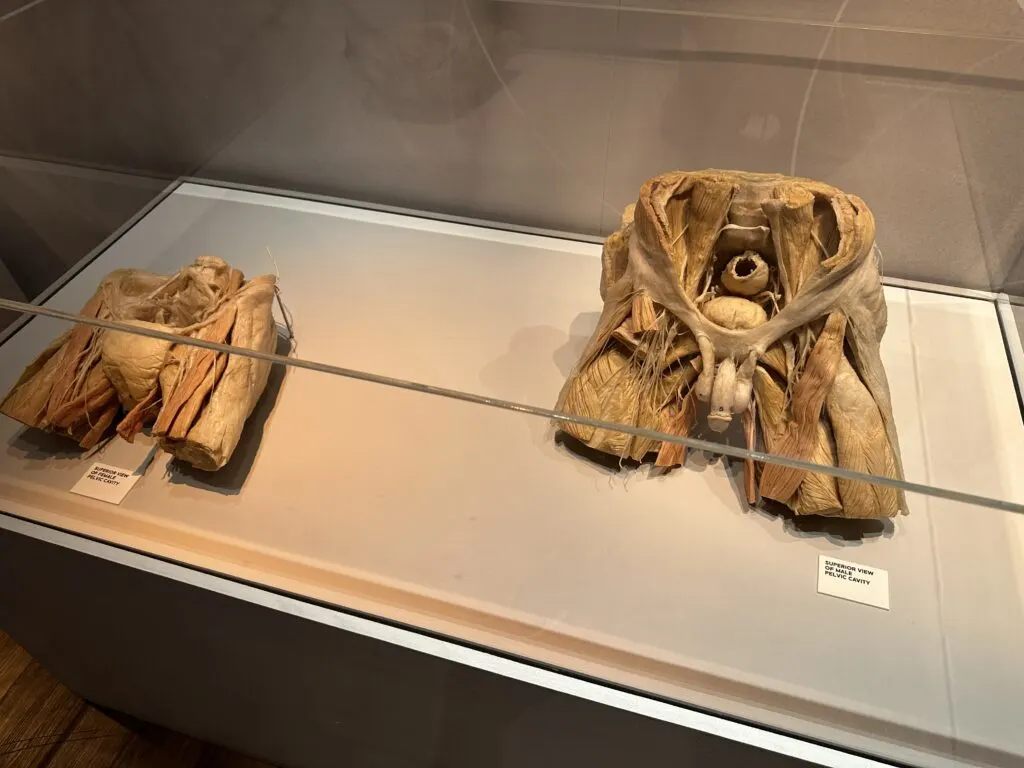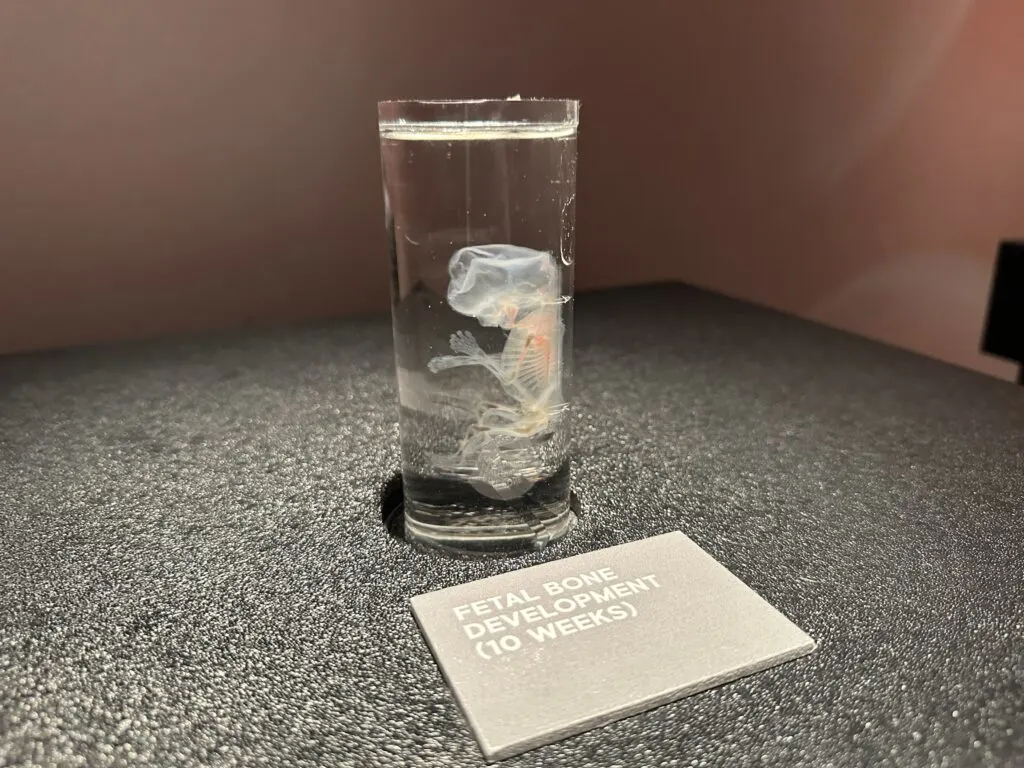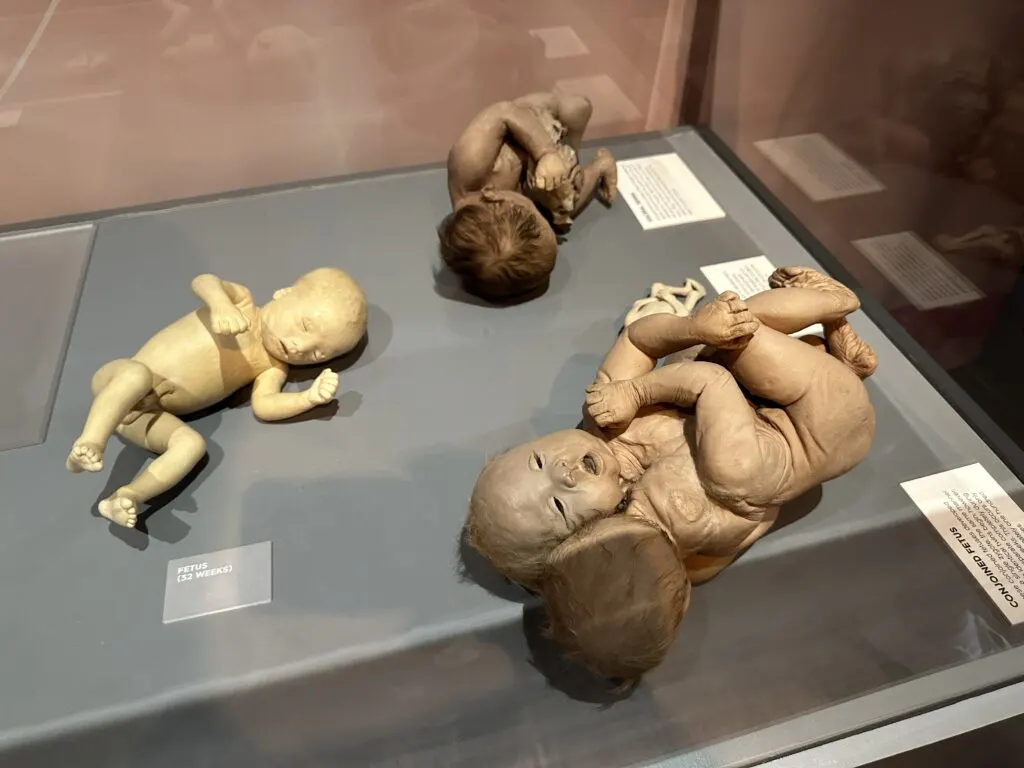 One thing I kept pondering as I made my way through the exhibits is where the bodies come from, and can only imagine others have the same question.
I poked around Real Bodies' website and discovered:
"The specimens are all unclaimed bodies that have been donated by the relevant authorities to medical universities in China. The specimens featured in the exhibition were donated legally, were never prisoners of any kind, showed no signs of trauma or injury, were free of infectious disease and died of natural causes."

Real Bodies Vegas FAQ Page
While the bodies were "donated legally" I couldn't help but cringe at the fact these people never signed up to be intimately featured in a Las Vegas attraction…
Is Real Bodies at Horseshoe Worth the Money?
A lot of descriptors can be used to describe Real Bodies at Horseshoe – Words like "Unique", "Macabre", "Interesting", "Engaging", "Entertaining", and "Educational" all come to mind.
To be honest, it was surreal to be so close to real human cadavers, and I felt a tad guilty about gawking at them for my own entertainment.
At the same time, the displays are incredibly informative, and certain exhibits, like the blackened lungs of a smoker, are sure to make a positive impact on the lives of at least a few visitors.
I personally found Real Bodies to be well worth the $29.95 I paid, although I wish I would've scored the deep discount offered on Vegas.com.
The perfect itinerary item for those that enjoy educational attractions or for families seeking kid-friendly activities, I recommend booking Real Bodies with confidence.
I'm a former software salesman turned Vegas aficionado. While the craps table is my preferred habitat, I pull myself away to explore new attractions, shows, restaurants, and outdoor activities around Las Vegas with the intent of sharing my experiences.
Ultimately, I just want to help folks plan a better trip and save a few bucks in the process.