While summers in Las Vegas can be sweltering and downright oppressive, the winters can be startlingly chilly. Many first-time visitors don't realize that low temperatures frequently dip into the 40's and 30's while high temperatures only reach the 50's and 60's.
Although the weather may not be the balmy oasis you desired, one thing is certain: There are plenty of unique things to do in Vegas during the winter, both indoors and out. We'll hit on some of the more unique and popular activities below!
Related: What time of the year is Vegas cheapest visit? Hint: Winter.
Las Vegas Winter Activities
Ice Skating at Cosmopolitan: Cosmopolitan transforms its Boulevard Pool, located on the rooftop overlooking the Strip, into a 4,200 square-foot ice skating rink every winter. Guests are able to rent skates for a fee and take in stunning views of the Strip while enjoying one of the more unique things to do in Vegas during the winter.
Bellagio Conservatory Holiday Display: While Bellagio's conservatory is always a sight to see, the display assumes a holiday identity during the winter months. Get into the Christmas spirit by walking through ornaments, lights, and thousands of flowers in addition to other seasonal design elements arranged in a way that is sure to exceed your expectations. The Bellagio Conservatory's holiday display usually debuts in early December.
Fountains of Bellagio: After you check out the Conservatory, make a pit stop at the Fountains of Bellagio. A can't miss free show, the always elegant fountains dance to classic holiday songs like Santa Baby, Carol of the Bells, and It's Beginning to Look a lot Like Christmas in December and January. See Bellagio fountain showtimes.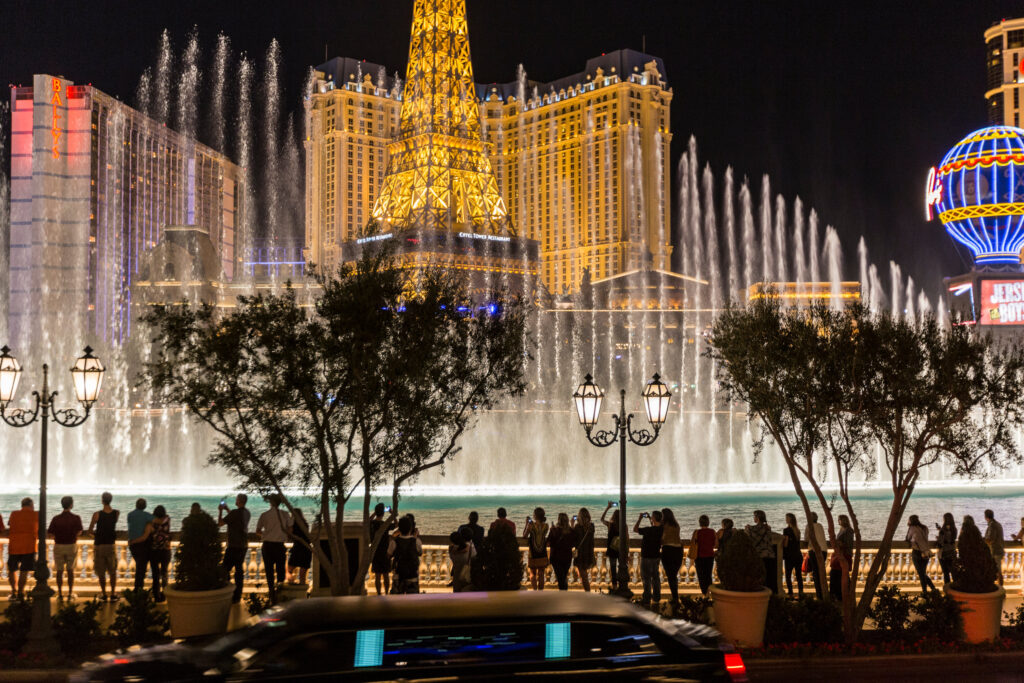 See Also: A complete list of 90+ free things to do in Las Vegas.
The Park Transforms to a Winter Paradise: The pedestrian mall situated between New York New York and Park MGM is a must-visit in the winter. Featuring a 60-foot tall holiday tree decorated with 3,000 ornaments and over 13,000 lights. Additionally, guests can walk through 16-foot tall "ornament tunnels" (pictured below), and even skate at The Park's ice skating rink.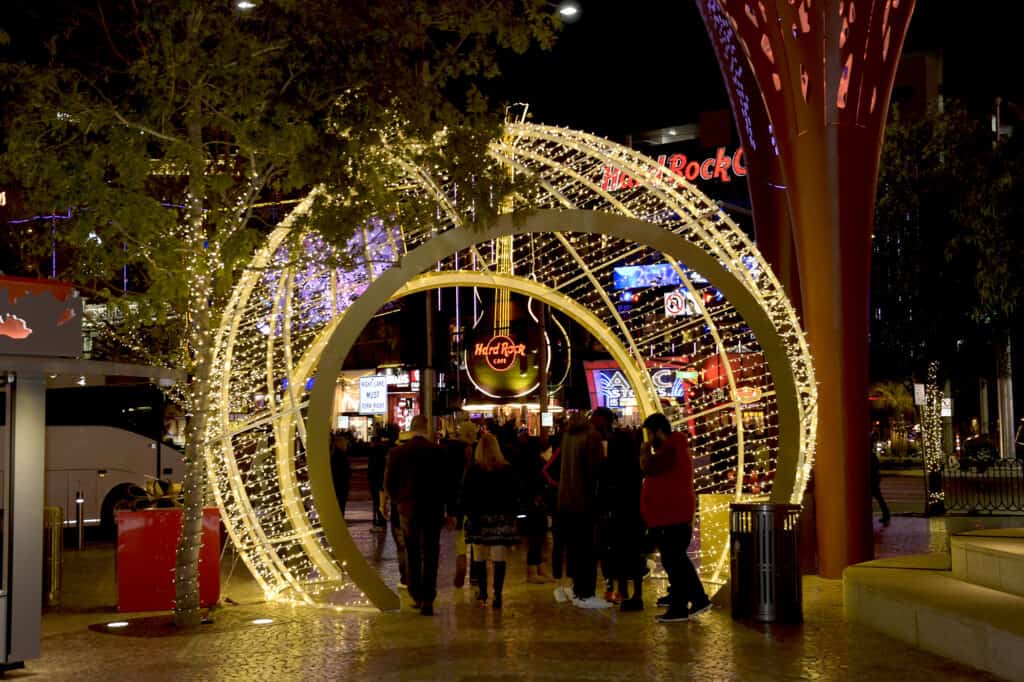 Walk Winter PARQ: The LINQ Promenade dresses up for the holidays annually and features a 35 foot Christmas tree, 2,000 synchronized lights, and live entertainment.
After walking the holiday display, take a spin on the High Roller Observation Wheel. While the weather may be chilly outside, you'll find warmth and one hell of a view from one of the High Roller's 28 pods. We suggest booking your ride in advance, which will allow you to skip the ticket line at the attraction and save a few bucks.
Mystic Falls Holiday Display: While not as high profile as Bellagio's Conservatory, Mystic Falls Park at Sam's Town decorates their naturally lit indoor park for the holidays as part of their Winter Wonderland display. In addition to one of the more impressive Christmas light displays, they also feature a holiday-inspired Sunset Stampede laser light show (more on that here). Even Santa makes an appearance for the little ones at select times which are communicated by Sam's Town's Facebook page.
Aria's Winter Wonderland Display: A holiday display featuring a "Sugar Palace" and in addition to a 17-foot tall Christmas Tree, Aria's Winter Wonderland is made of gingerbread and is the creation of the pastry team. The display will be open to the public until January 5th.
Wynn's Winter Wonderland: Inspired by the novel Gulliver's Travels, Wynn transforms their atrium into a whimsical winter village. There is nothing that Wynn does less than 100%, and this holiday attraction is no exception. Free to the public, Wynn's Winter Wonderland should be near the top of your winter to-do list in Vegas.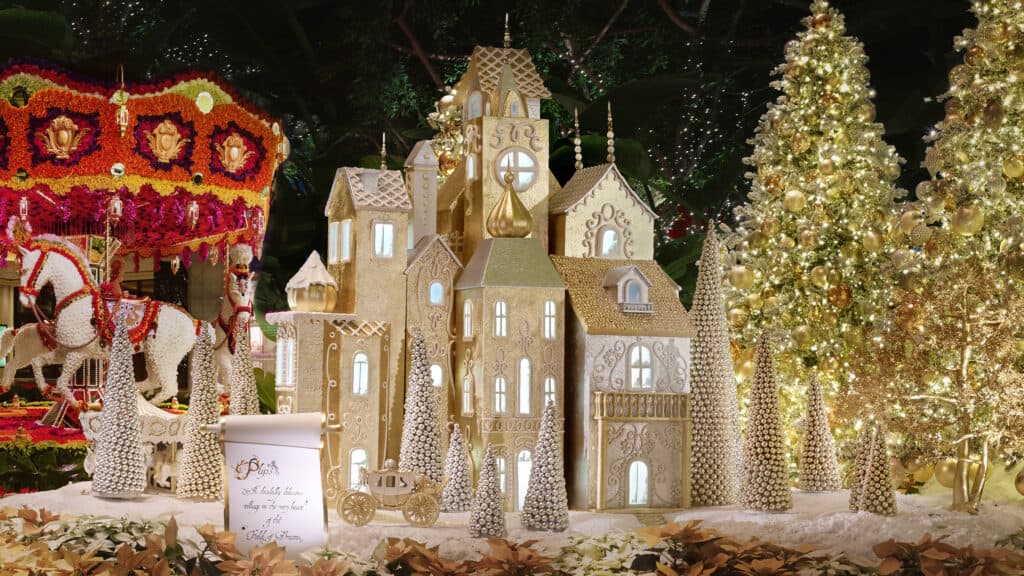 Ethel M's Chocolate Factory Holiday Display: During the colder winter months of November through January, Ethel M's Chocolate factory invites guests to tour their 3-acre cactus garden which they illuminate with over a million Christmas lights. After you stroll through their festive holiday display, pop in for a chocolate factory tour. Ethel M reservations can be made here.
Enchant at the Las Vegas Ballpark: Running from November 26th through January 2nd, Enchant calls the Las Vegas Ballpark (it's a ways from resorts on the Strip, FYI) and offers ice skating, a lit maze, and of course, Santa! The "Enchant Market" is populated with vendors selling holiday-themed treats and decor. Tickets start at $20 for adults and $19 for kids but are more expensive during peak times.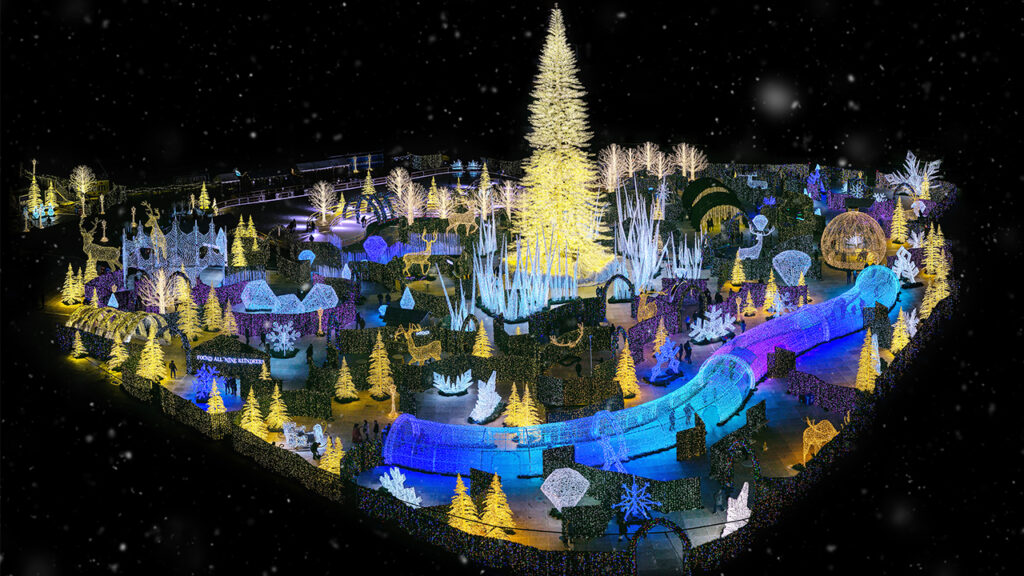 Fremont Street Experience Holiday Tree: Attend the lighting ceremony for Fremont's 50 foot tall Christmas tree which typically occurs in early December or stop by anytime thereafter to admire it.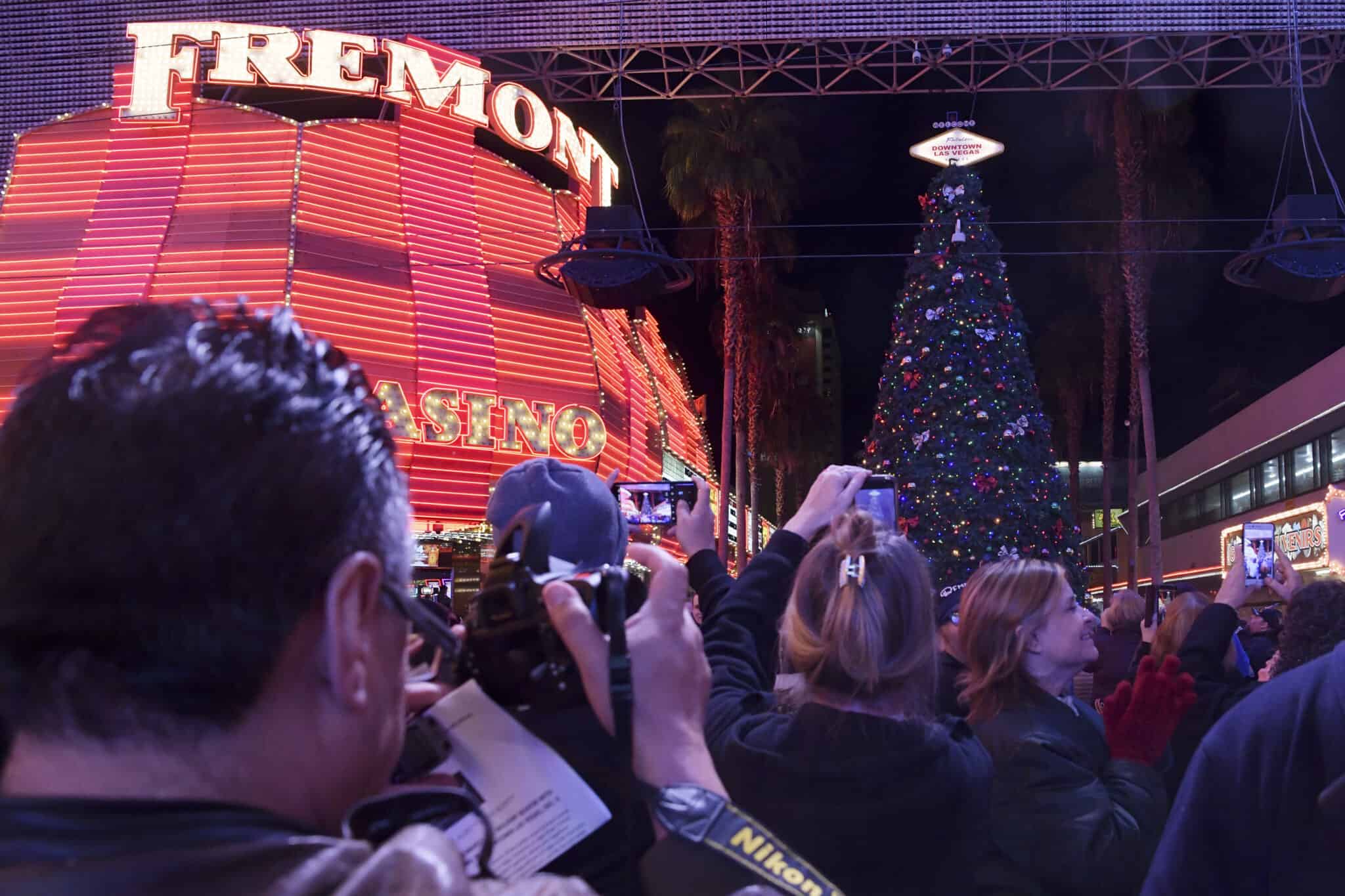 Glittering Lights at the Las Vegas Motor Speedway: Drive through millions of Christmas lights at the Las Vegas Motor Speedway as part of their enormous holiday display which starts on November 26th and runs through January 2nd. Tickets per car start at $25 on weekdays and $35 on weekends and the dazzling route is 2.5 miles long. If you don't mind riding with others, tickets to ride in their open-air "Santa Tram" start at $20.
Las Vegas Festival of Lights: From November 24th to January 9th guests can stroll through Craig Ranch Park which will be illuminated with millions of holiday lights synchronized to holiday music. In addition to lights, the Festival of Lights will also have rides, food, and even contactless visits with Santa. Admission is $15 per person and Santa photos will set you back $14. Craig Ranch Park is about a 15-minute drive or $10 – $15 Uber from center Strip properties.
Blitzen's Antler Attic Pop-Up Bar: Located 15-20 minutes from resorts on the Strip, Blitzen's Antler Attic can be found in Tivoli Villiage. In addition to serving Christmas Themed cocktails like "Blitzen Brew", "Drunk Dancer", and "Red Nosed Best", the experience uniquely allows you to paint your own ornament.
Tickets start at $20 per person and include all supplies needed for ornament decoration, access to their "Winter Wonderland", and access to a free-play arcade.
See Scuba Santa at Silverton: Typically, mermaids entertain the crowds in Silverton's 117,000-gallon fish tank, but Santa commonly makes an appearance over the holidays. We'll be sure to update with specific times & dates for Santa appearances once they're made available by Silverton.
Shopping: Las Vegas offers a number of intriguing shopping options, some on the luxurious side, that could be the perfect activity on a cold winter day. Even non-shoppers will enjoy strolling Crystals, Forum Shops, Grand Canal Shoppes, or Wynn's Plaza Shops. Check here for a full breakdown of shopping malls on the Strip!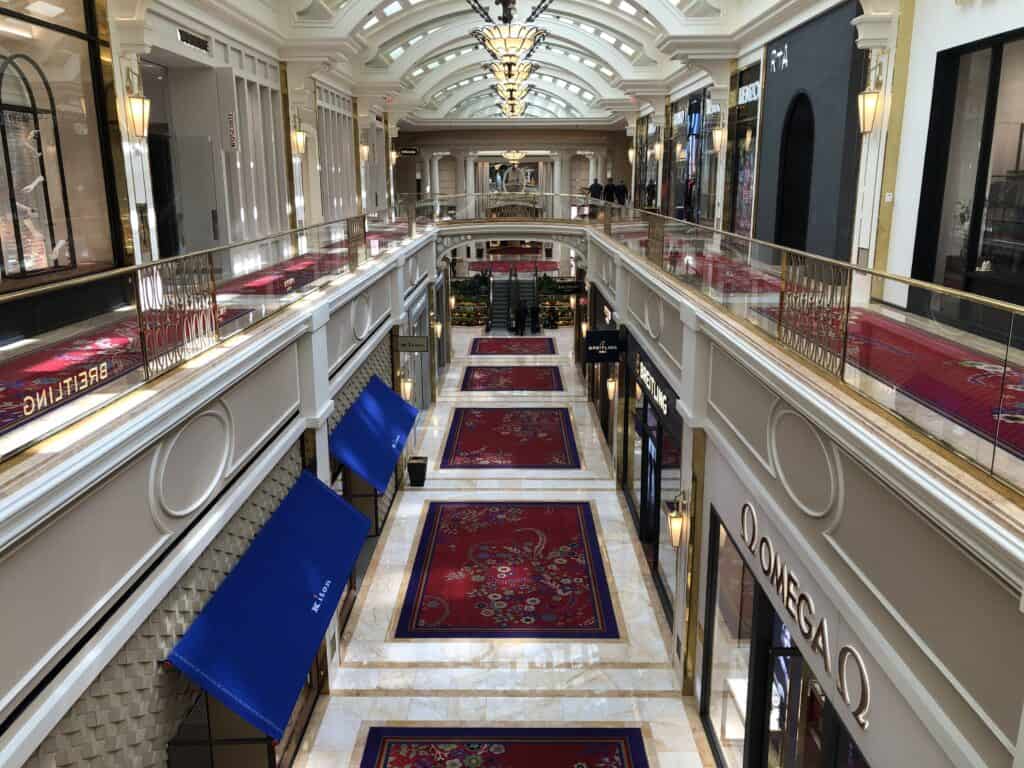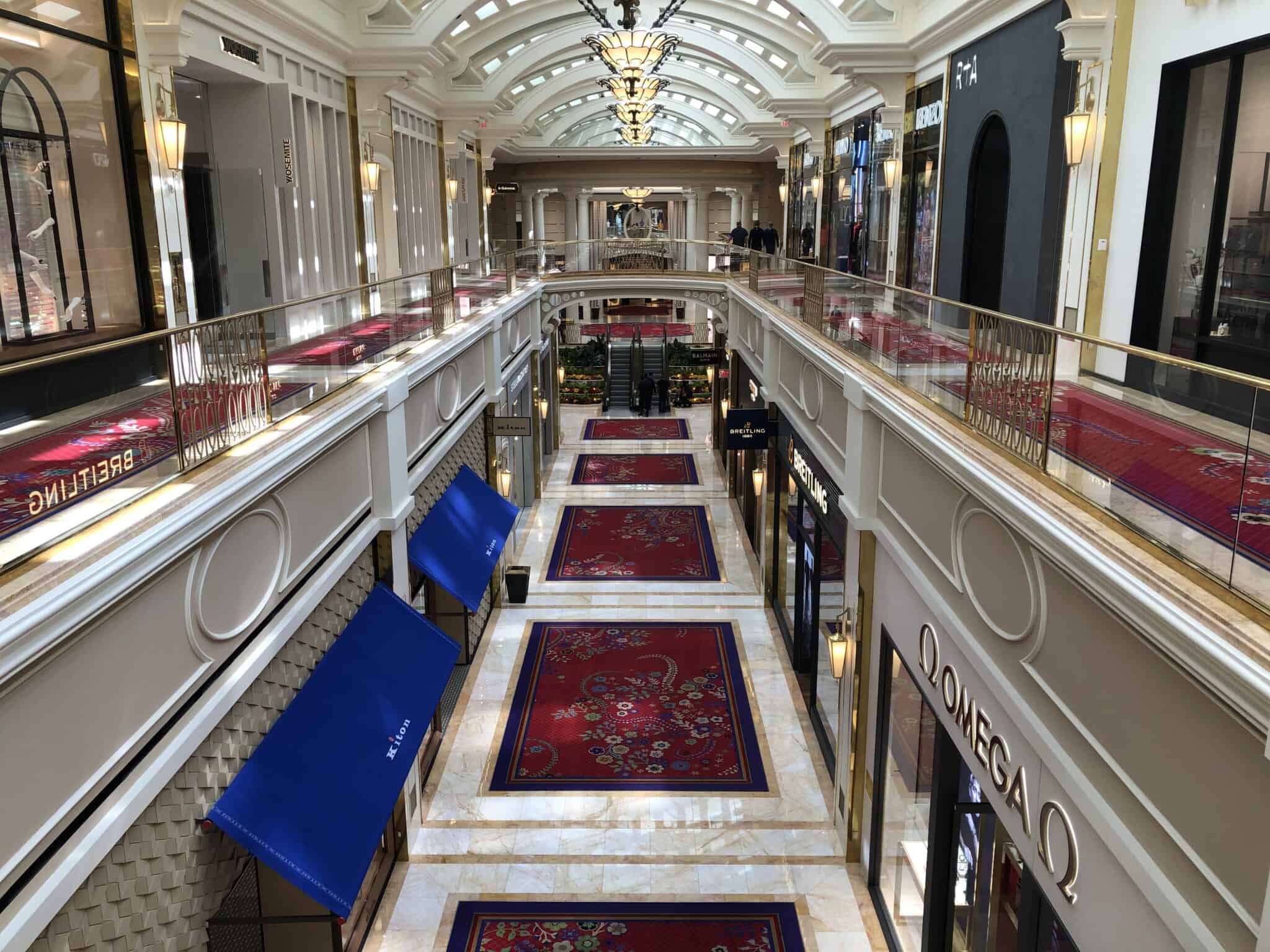 See a Show: Vegas is the city of entertainment and there is so much to do indoors besides gambling. Shows in Vegas range from comedy performances to daring acrobatic displays. Our favorite hands down though is Absinthe at Caesars Palace, a raunchy comedy that will have you rolling. We created a guide to help you explore Las Vegas shows by genre, here.
Take Advantage of the Outdoors: According to survey data from the Las Vegas Convention and Visitor's Authority, outdoor destinations around Vegas like Death Valley, the Hoover Dam, Valley of Fire National Park, Bryce Canyon, the Grand Canyon, and more are the most popular day trips for Vegas visitors. The winter months are a great time to visit these outdoor wonders to avoid the heat.
Warm Outdoor Displays: Both the Mirage Volcano and the Praying Mantis at the Container park put on a show with fire as the main draw. Both shows, which are free, offer enough power to warm you up on a cold night.
Go Swimming: Yes, that's right. Pack your suit. Every once in a while you will get surprised with an unseasonably warm day and you will want to take advantage. We put together an annual list of Las Vegas pools that stay open during the winter to guests. Atop the list of options is Circa's Stadium Swim rooftop pool deck downtown. The pool, which doubles as a sports viewing amphitheater is heated to 80+ degrees 365 days per year.
Access for non-guests costs $20 or more depending on the day, and it's worth it.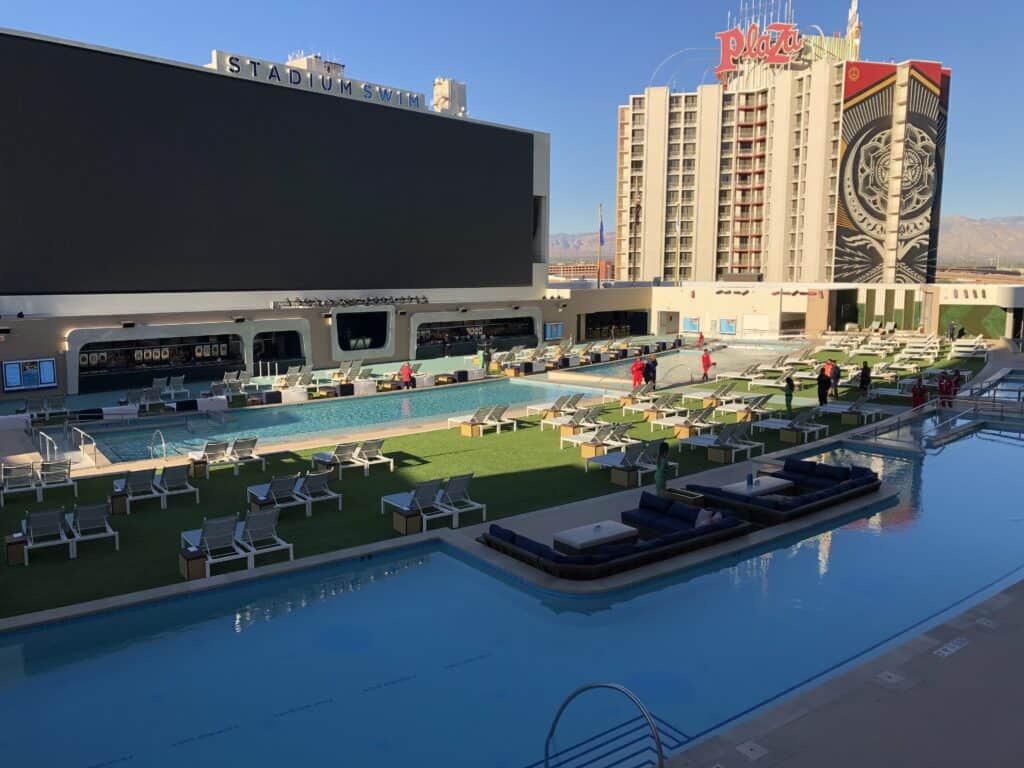 Hopefully, we were able to help you find a unique thing to do in Vegas this Winter! From ice skating to holiday displays, Las Vegas has plenty of winter activities to keep you busy.
See Also: Buy the exact scents Las Vegas casinos use for your home! Here's how.
I'm a former software salesman turned Vegas aficionado. While the craps table is my preferred habitat, I pull myself away to explore new attractions, shows, restaurants, and outdoor activities around Las Vegas with the intent of sharing my experiences.
Ultimately, I just want to help folks plan a better trip and save a few bucks in the process.