In Las Vegas, I usually try to sniff out complimentary room offers based on my play in various rewards programs.
As a low/medium roller, complimentary rooms at low and mid-tier properties within the MGM and Caesars portfolios are easy to come by, but deep deals at upper-echelon properties tend to be more elusive.
I recently logged into MGM Rewards and saw that I could score a room at Bellagio for free (minus resort fees), and jumped all over the opportunity.
Specifically, I was able to book a Premier King Room, which has been recently renovated and is a small step above Bellagio's baseline Resort King Room.
Below, I'll recap my Bellagio experience with plenty of pictures to help you determine if the room could be a good fit!
Bellagio Check-In Experience
The seamless mobile check-in process at MGM Resorts properties is a perk that I've grown to love.
The night before my stay, I was asked to check-in early via the app so that I could be alerted when my room was ready the next day.
Although Bellagio's standard check-in time is 3 pm, I received an email at around noon letting me know my room was ready, and that it could be accessed via the room key in my mobile app.
With that digital room key, I was able to walk right up to my room without waiting in line or interacting with a person.
I appreciate that MGM properties routinely grant you access to your hotel room before the standard check-in time, even if you didn't pre-pay for that perk.
Now, if you don't pay for early check-in it isn't guaranteed, but I get into my room early more often than not.
During a previous trip, I even got into my Corner Suite at Luxor at 7 am!
Anyway, onto the room!
Inside Bellagio's Premier King Room
On the way up to my room, I always like to scope out common areas like elevator lobbies and hotel hallways. Their condition tends to hint at what you can expect in your room.
As you'd imagine, Bellagio's were gorgeous and in fantastic shape.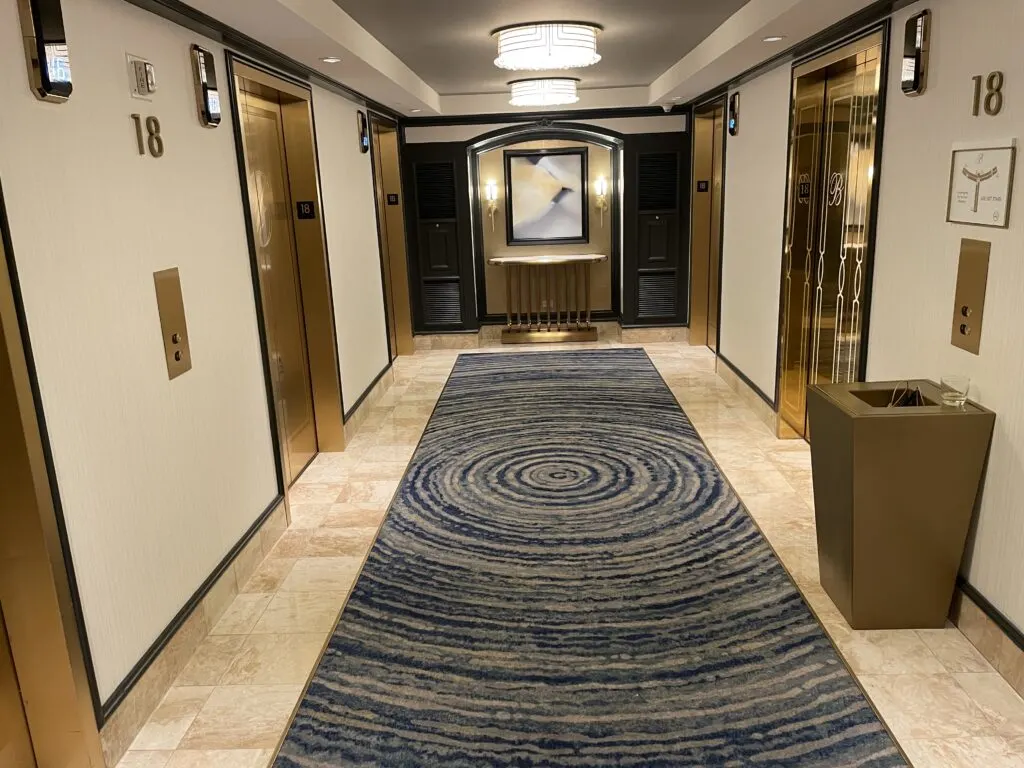 The room itself felt fresh and modern. The decorative accent wall and woodwork behind, surrounding, and above the king bed made it feel like the focal point of the room and was aesthetically appealing.
Flanking the bed, both nightstands offer USB charge ports in addition to traditional outlets.
One perk that sets the Premier King room type apart from the standard Resort King room at Bellagio is the enhanced living area, which offered a swanky-looking couch and a small table.
There was also a separate table, which had a chair and a padded stool/ottoman next to it.
While this isn't a particularly large room (at a respectable 510 square feet), it's one that gives you the option to host another couple for a few cocktails before hitting the town. Alternatively, the room would serve as a great home base to watch the big game you just bet on.
The TV was mounted in the middle of another decorative wall above a modern, stylish TV stand.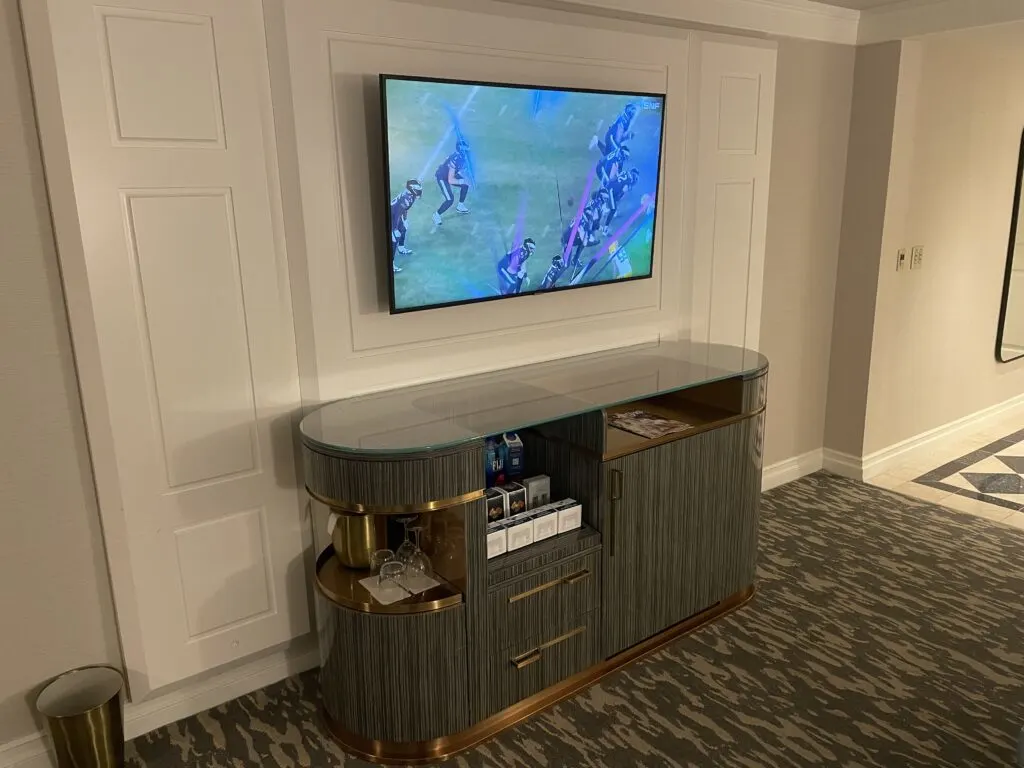 Inside the TV stand was the mini-bar, which was stocked with both food and cold drinks.
Hilariously, there was a "personal shelf" in the fridge… but only enough space to lay 2 bottles of beer on their side. Cute.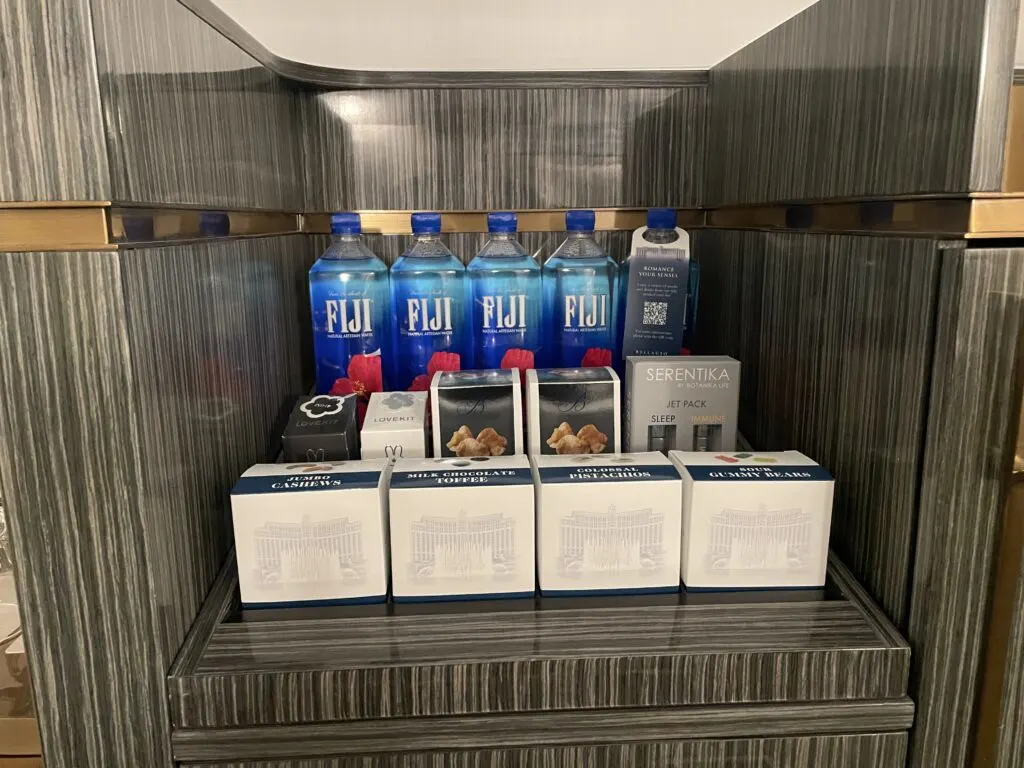 There was a closet just outside the bathroom that was equipped with a safe, 2 robes, and an iron/ironing board.
Additional "bells & whistles" offered in Bellagio's room included a bedside clock with wireless and USB charge ports and drapery controls on the wall beside the bed.
The bathroom was a stone-cold stunner.
Immediately grabbing your attention is the illuminated mirror, which sits above a marble dual vanity sink.
The shower is cavernous, extending the length of the bathroom and the water pressure was absurdly good.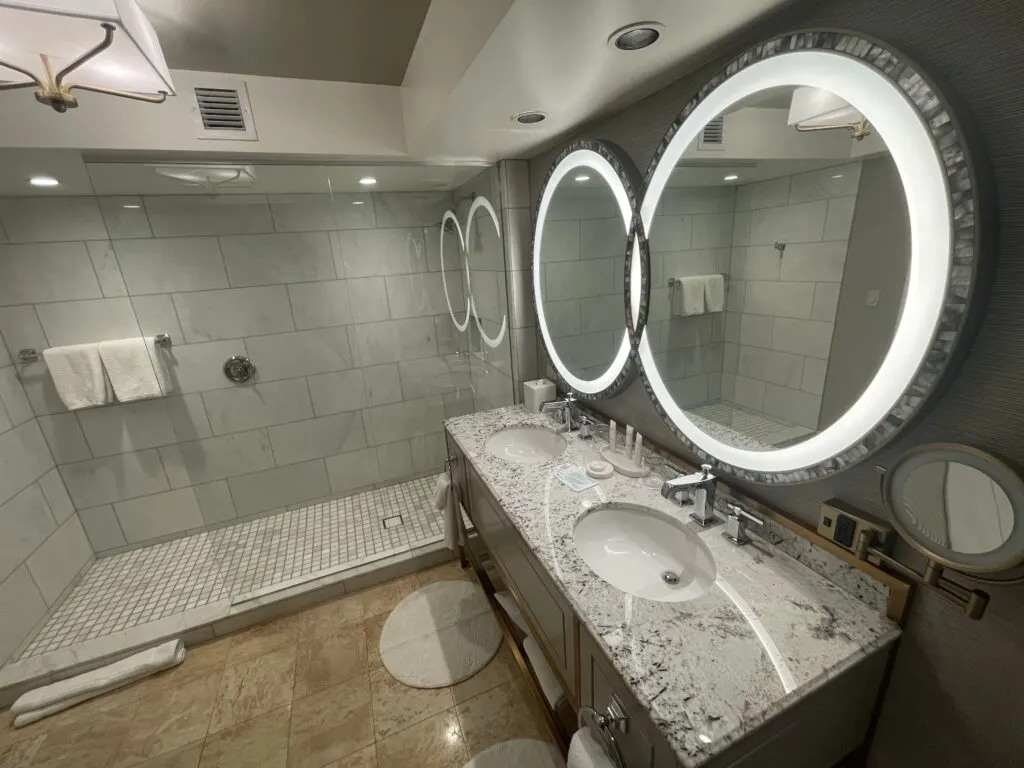 I'll never understand the "toilet phone" concept… but it's there if you need it.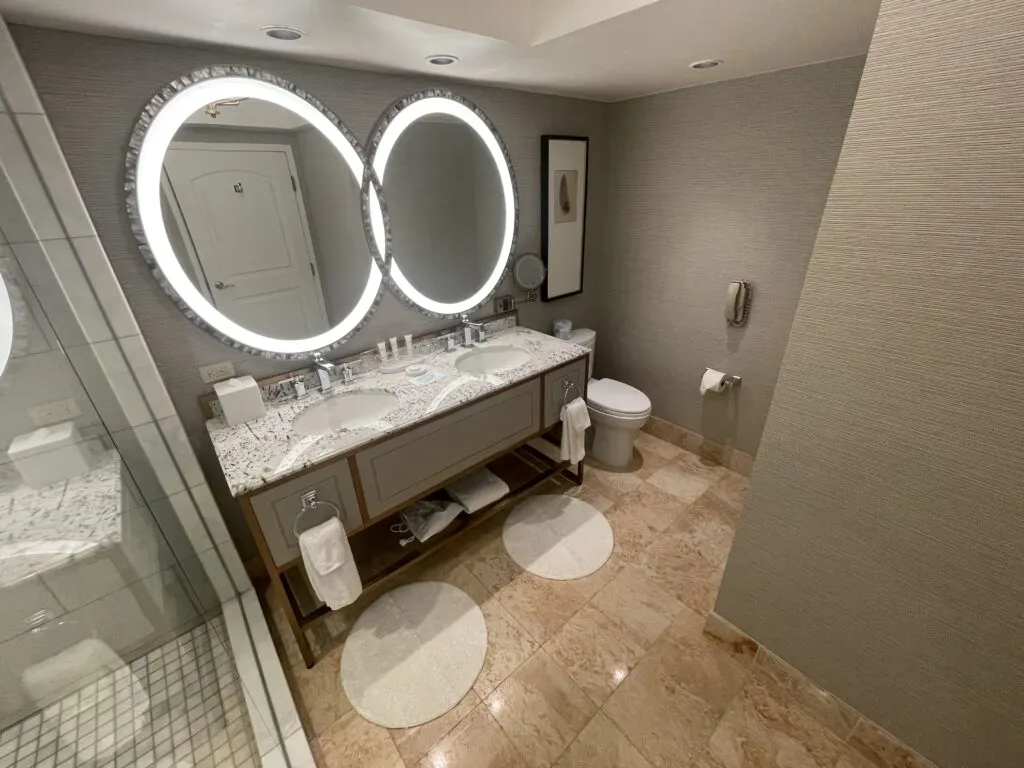 What's Not To Like?
There was very little that wasn't to like. This was a clean, high-quality, and modern feeling room. I was impressed.
With that being said, I always chuckle and shake my head when there are one or two grimy reminders of yesteryear in an otherwise fresh room.
In this case, a light switch and one of the drape controllers were clearly yellowed originals… Why not just swap those bad boys out for fresh ones (like the drapes controller near the bed was)? While they didn't negatively affect my stay, they stick out like a sore thumb.
While the room was in great shape otherwise, there were some baseboard scuffs, although that was the only cleaning/maintenance deficiency I could find, which is pretty impressive.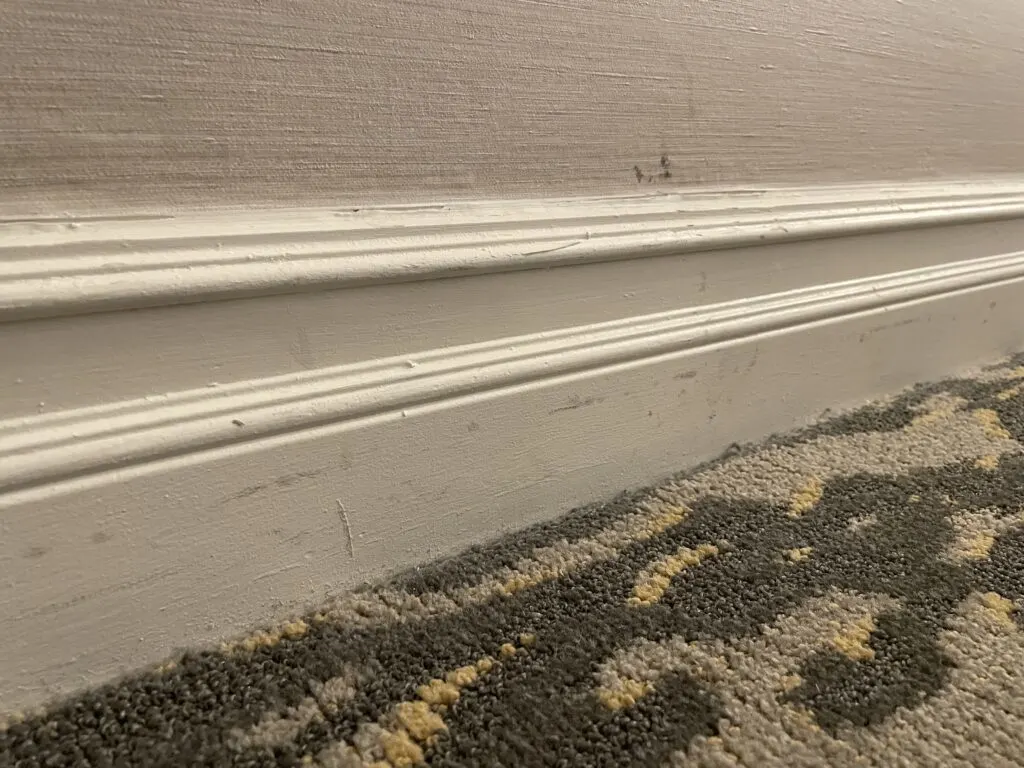 Bellagio Resort Pros & Cons
Outside of the room, Bellagio as a resort offers some pretty distinct pros & cons.
Pros include:
Free Attractions: Some of my favorite free Las Vegas activities call Bellagio home. The Fountains of Bellagio out front are spectacular, and their seasonal conservatory display was impressive as always.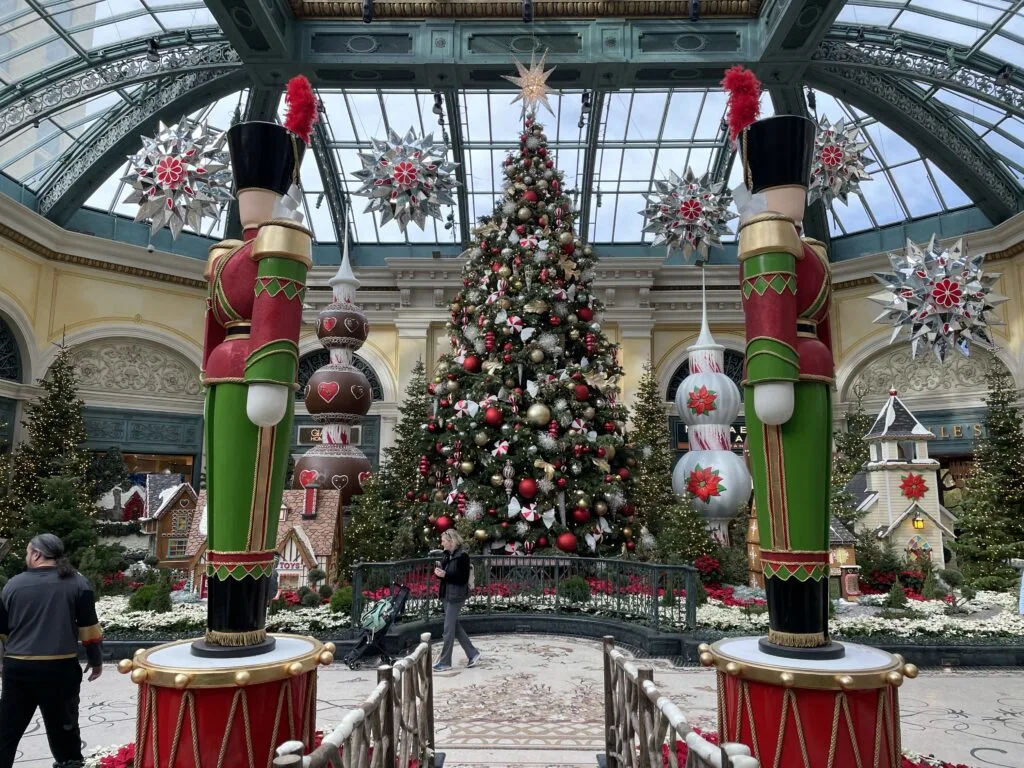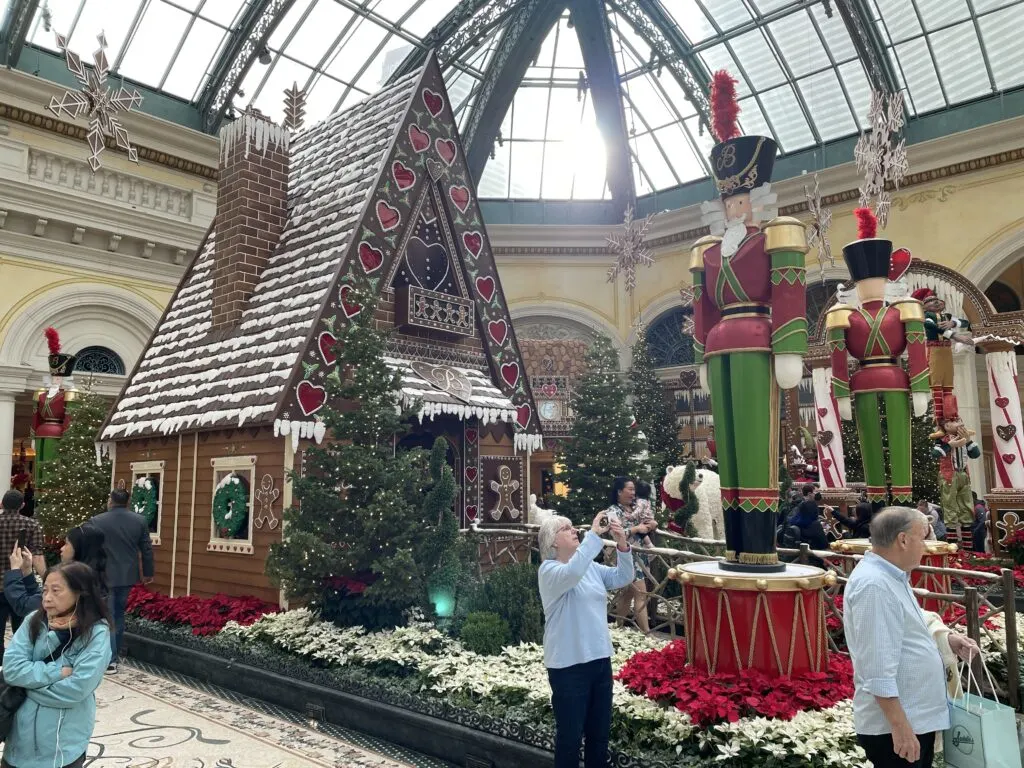 Location: Bellagio is located smack dab in the middle of the Las Vegas Strip and is within close proximity of numerous resorts.
Fine Dining: As an upscale resort Bellagio is home to a variety of high-end dining options, many of which overlook the Fountains of Bellagio. With restaurants that span a diverse set of culinary influences from around the world, those looking for a nice meal are sure to find something that'll work.
A Luxurious Property: Bellagio is simply a beautiful property that has been impressively maintained. You're surrounded by luxury whether you're in the hotel or wandering the casino floor. It's the type of place that makes you feel like "a somebody".
Cons (from an admittedly frugal person) include:
Expensive Table Games: As a craps player, it was painful to walk by and never see a table minimum of less than $25. I played once, got lit up, and then had to flee to find a cheaper option nearby.
Expensive Food: Look, Bellagio isn't exactly trying to cater to low rollers like myself, so I get it, but there are essentially no cheap eats on the premises. The cheapest food option is Snacks, which offers a number of items like burgers, chicken fingers, etc. for around $15 – $20. Not terrible, but it's something for the budget conscious among us to be aware of.
The Verdict: Is Bellagio's Premier King Room Worth the Money?
While it isn't a room I'd always splurge on (I'm too cheap), it's definitely one I'd consider for a special occasion or date night. Obviously, if it's complimentary based on my casino play, I'd jump on it any day of the week.
I was impressed by the room and found it to be absurdly comfortable. It had a classy vibe, was in great shape, and had some unique amenities. Bellagio's Premier King is a genuinely nice room.
In the bedroom, I thought the woodwork behind the TV and Bed was an aesthetically pleasing touch, and the additional seating provided in the living area made the room more functional for folks that enjoy hanging out in the room.
I thought the bathroom was a stunner. The illuminated dual vanity mirror was pretty darn cool, and the shower was among the biggest I've seen in Vegas.
Aside from a few scuff marks, the room was clean and expertly maintained.
If you're on the fence about the room, I'd encourage you to book it. Bellagio's Premier King is among the nicest baseline room options in Las Vegas.
I'm a former software salesman turned Vegas aficionado. While the craps table is my preferred habitat, I pull myself away to explore new attractions, shows, restaurants, and outdoor activities around Las Vegas with the intent of sharing my experiences.
Ultimately, I just want to help folks plan a better trip and save a few bucks in the process.