Over 38 million people visited Las Vegas in 2022, and according to a visitor profile survey conducted by the Las Vegas Convention and Visitor's Authority, only 14% of them rented a car.
The truth is, most people find renting a car in Las Vegas to be unnecessary as many attractions are close enough to walk, and cheap transportation options exist for those that are not.
So, should you rent a car in Las Vegas? It depends on your situation and trip objectives.
Let's dive into the pros and cons of renting a car in Vegas to determine if it's the right choice.
Pros of Renting a Car in Vegas
A car provides freedom
The most common reason to rent a car in Vegas is the desire for freedom to go where you want, when you want, without needing to crowd into a bus or make small talk with an Uber driver.
Additionally, if you plan to visit off-Strip casinos/attractions, or plan to go back and forth from downtown to the Strip frequently, a rental car could be more cost-effective than other forms of transportation.
Day trips are possible
Among the best reasons to rent a car in Vegas is to explore the natural sites that surround the city within day-trip range.
If you're planning to visit Seven Magic Mountains, the Hoover Dam, Lake Mead, Red Rock Canyon, Valley of Fire State Park, or even the Grand Canyon, renting a car could be a great option.
If you need some itinerary inspiration, here are the top day trips just outside Las Vegas.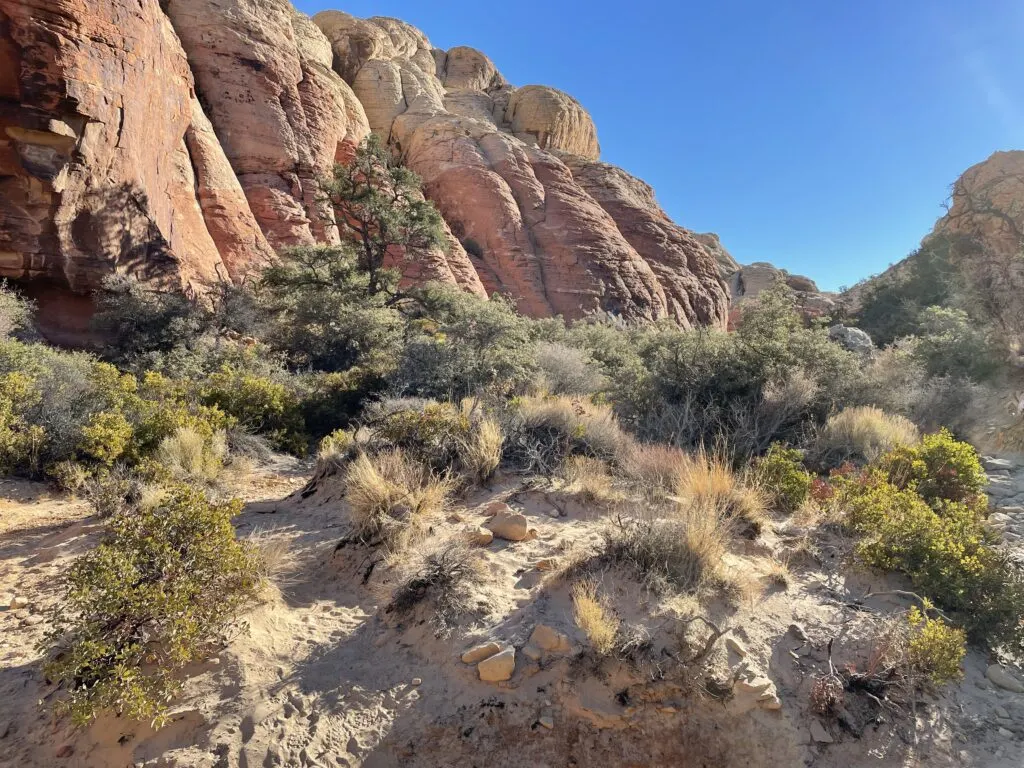 It'll allow you to explore Vegas like a local
If you're hoping to visit a restaurant, museum, or other attraction away from tourist centers, renting a car could be a good call.
Branching out from the Strip and Fremont Street can help you find cheaper food, drink, and casinos off the beaten path where slots are a touch looser.
See also: I put together a list of happy hour deals on the Strip and drink deals on Fremont Street. Check them out!
Cons of Renting a Car in Vegas
Getting your rental car is a hassle
Unfortunately, the airport rental car center isn't located right in the terminal. Instead, rental car customers need to de-plane, grab any checked bags, and then stand in line for a shuttle bus, which will take you to the rental car center. Once there, you'll get to wait in line again to be assigned a vehicle.
In my experience, the whole shuttle process amounted to 30 – 40 minutes of wasted time.
Parking isn't cheap
While there are still a few resorts on the Strip that offer free parking, many have opted to start charging a daily rate. Check with your hotel, but if yours charges, you'll be able to save some money by skipping the rental car.
Parking is inconvenient
In addition to some resorts charging for parking, walking from the ramp to the casino can be quite a haul. Comparatively, Uber, Lyft, or even Taxis drop you off right at the casino entrance. No long treks are required.
It can also be difficult (and stressful) to find the entrance to self-parking ramps at a number of casinos if you're unfamiliar with the area.
Traffic can be a nightmare
Driving in Las Vegas can be a challenge due to the insane amount of traffic that can be present. If you don't do well in high-stress driving situations then renting a car in Vegas may not be right for you.
Other types of transport are cheap
If you don't plan to venture too far off the beaten path, there isn't much of a reason to rent a car as numerous inexpensive transportation options exist. Uber and Lyft can shuttle you from one Strip resort to another for around $10-$15 and from the Strip to downtown for $15-$20.
Additionally, Las Vegas offers the "Deuce" bus route that goes up and down the Strip and connects to Downtown. The Deuce is easily the cheapest way to get around Vegas as an all-day pass will only set you back $8.
Check here for a full rundown of transportation options in Vegas, and here for your options for getting to and from the airport in Vegas.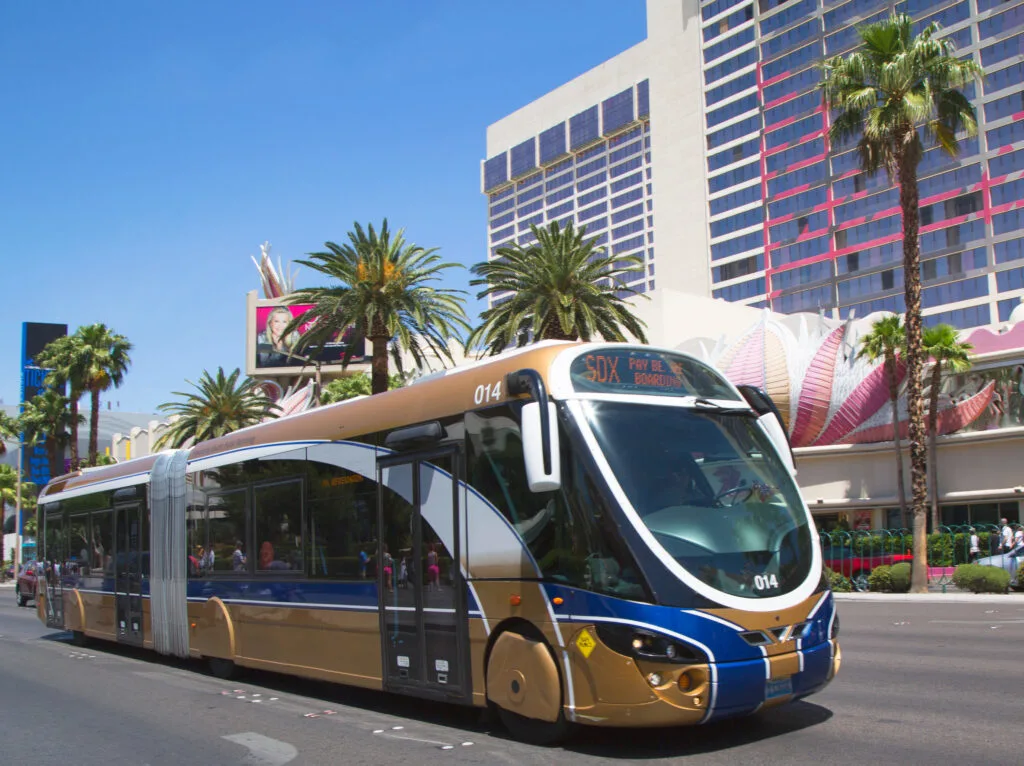 Most of Vegas is walkable
Oftentimes, first-timers rent a car thinking it'll be needed, only to leave it in the parking garage the whole trip.
If you're staying on the Strip, you'll be able to walk or employ a cheap Uber to get from place to place. Even employing ride share to make longer trips here and there is likely cheaper than renting a car.
Intoxicants
In Vegas, the booze flows like wine. If you plan to partake, it only makes sense to rid yourself of the headache of a rental car.
It's more expensive
For those planning to stay close to "touristy" areas of Las Vegas renting a car ends up being more expensive than simply leveraging other transportation options as needed.
Tips for Renting a Car in Vegas
If you deem a rental car in Vegas necessary, check the following tips to gauge if they can be of use!
Book From a non-airport location: While lacking the convenience of an airport pickup, "neighborhood" or "city" car rental hubs tend to offer lower rates than you'd find if opting to pick up at the airport. Those lower rates oftentimes justify the hassle and cost of taking an Uber or Lyft to chase your car down.
Give Turo a shot: If you need a car for just one day, use an app like Turo, a peer-to-peer rental service. Adding to the convenience, many providers will deliver your car directly to your hotel. Unique vehicles are also available via Turo that aren't through traditional car rental agencies. I once rented a Tesla Model S for a day trip to the Hoover Dam and the experience was much more memorable than if I had rented a Camry.
Reserve early, and always be re-booking: Reserve a rental car in advance and check back often to gauge if prices have dropped. Because most car rental reservations are cancellable, you'll be able to cancel and re-book to take advantage of any drop in price. Warning: Taking the cheaper "non-refundable" rate upfront could end up costing you more in the long run.
Don't book at the hotel at the last minute: Car rental prices are commonly cheaper when booked in advance for pickup at the airport or even at your resort. Trying to snag a one-day rental for a day trip at your resort's car rental counter is likely to leave you with sticker shock.
Don't be scared of that EV: I recently rented a Tesla Model 3 in Las Vegas to gauge how much of a hassle an electric vehicle would be vs. a traditional gas car. It was honestly a seamless experience.
While most hotels offer EV charging in their ramps, I used and abused the Tesla Supercharger behind LINQ which was both easy to use and fast.
If you've never driven an EV before, treat your trip to Vegas like a test drive. I loved my experience so much that I came home and ordered a Tesla Model Y. No joke.
Related: Cheapest Way To Rent a Car in Vegas!
So, Should You Rent a Car in Las Vegas?
It all depends on if the pros outweigh the cons.
If you hope to take a day trip or two away from Las Vegas, a rental car likely makes sense.
If, on the other hand, you're planning to stick close to the Strip and Fremont Street, I'd recommend skipping the car rental and relying on other transportation options as needed.
There's a reason so many people rent a car on their first trip to Vegas, and then never again.
Related Articles:
Feature Image: ©bialasiewicz/123RF.COM
I'm a former software salesman turned Vegas aficionado. While the craps table is my preferred habitat, I pull myself away to explore new attractions, shows, restaurants, and outdoor activities around Las Vegas with the intent of sharing my experiences.
Ultimately, I just want to help folks plan a better trip and save a few bucks in the process.