Las Vegas is home to some of the largest, most elaborate, resorts in the entire world. In addition to thousands of rooms, Las Vegas hotels commonly offer impressive pool complexes, top tier dining options, the biggest buffets around, and world class entertainment.
But what are the biggest hotels in Las Vegas? Not surprisingly, the largest hotels in the city all call the Strip their home. Join us, as we countdown the 11 biggest hotels by room count in Las Vegas.
See Also: Free Activities in Las Vegas – A complete list!
11. Mandalay Bay – 3,209 Rooms: Anchoring the south end of the Las Vegas Strip Mandalay Bay lays claim to the 5th largest convention center in North America boasting over 2,000,000 square feet of space. In addition to thousands of hotel rooms, Mandalay Bay is also home to a sprawling 11 acre pool complex which is made up of a lazy river, 1.6 million gallon wave pool, a jogging track, and 2,700 tons of sand.
10. Flamingo – 3,460 Rooms: Originally opened in 1946 by mobster Bugsy Siegel, Flamingo is not only massive in size, but an iconic part of the Las Vegas skyline. Obviously, the center Strip hotel has changed over the years, now offering a 93,000 square foot gaming floor, 2 distinct pool environments, and even an outdoor wildlife habitat which is home to various types of foul to include flamingos. Note that approximately 2/3 of Flamingo's 3,460 rooms have been recently renovated (more on Flamingo room renovations here).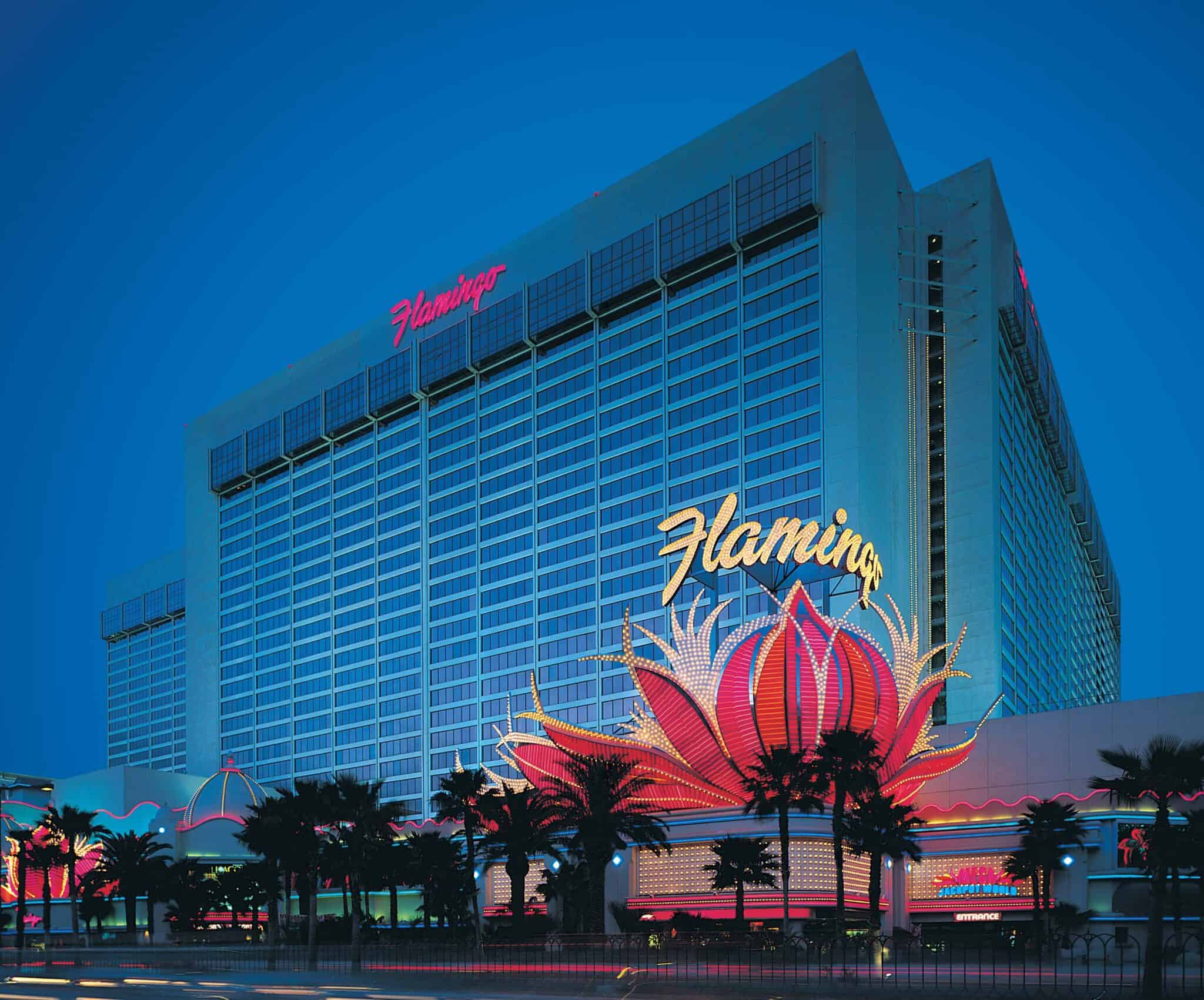 9. Resorts World – 3,506 Rooms: The new kid on the block aims to re-inject some life into the north end of the Las Vegas Strip. Complete with over 40 food & beverage options, a 5.5-acre rooftop pool complex, 117,000 square feet of gaming, a 5,000 seat entertainment venue, and 70,000 square feet of retail, Resorts World packs a punch.
8. Circus Circus – 3,773 Rooms: Known as a "kid-friendly" Las Vegas resort, Circus Circus offers guests access to the Splash Zone water playground complete with several water slides and a splash pad. Additionally, family fun can be found at Circus Circus' Adventuredome indoor theme park, or by checking out one of their free daily circus acts. Parents, don't worry. Circus Circus also offers a full adult casino to include the largest collection of token-operated slot machines in Las Vegas.
7. Bellagio – 3,933 Rooms: A luxurious, center Strip resort, Bellagio opened in October of 1998 and cost $1.6 billion to construct. In addition to its size, Bellagio is also known for its free Fountains of Bellagio performance, seasonal conservatory displays, and its 100,000+ square feet of gaming. Another sizable amenity offered by Bellagio is the pool complex which is comprised of 5 pools, 4 whirlpools, and 50+ cabanas.
6. Caesars Palace – 3,980 Rooms: Sitting on an 85 acre plot of land, and comprised of 5 distinct hotel towers, Caesars is one of the biggest resorts in Las Vegas. In addition to an impressive room count, Caesars Palace is also home to the"Garden of the Gods" pool complex, made up of 7 pools and swim up blackjack. Their upscale Bacchanal Buffet is also one of the best buffets in Las Vegas.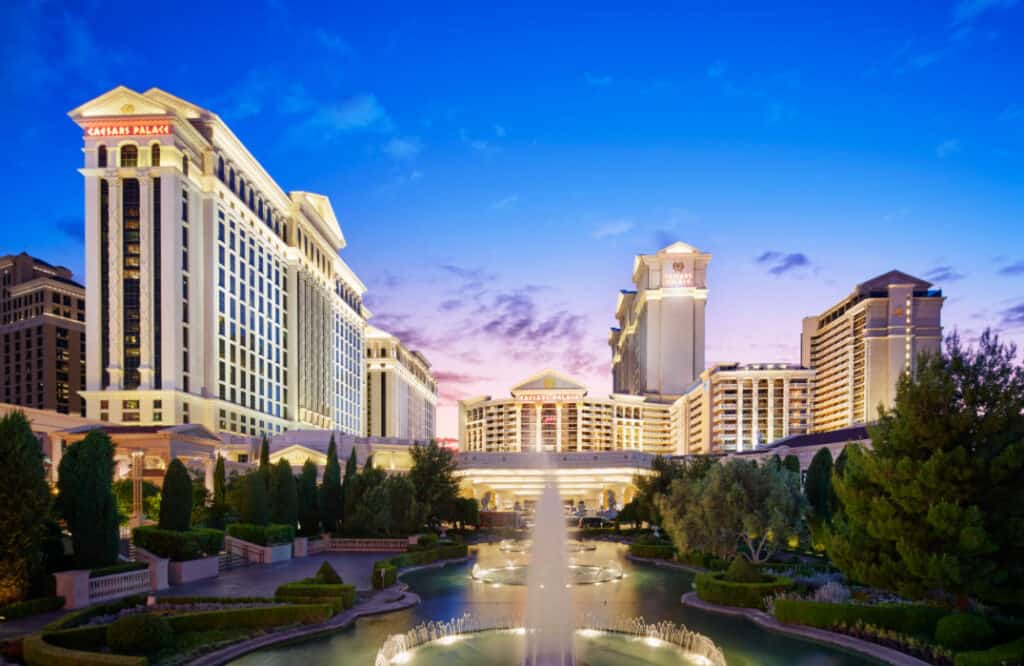 5. Excalibur – 3,981 Rooms: A medieval castle themed property, Excalibur opened in 1990 and cost $290 million to construct. Excalibur also offers guests access to an impressive pool complex complete with 4 heated pools and 2 waterfalls and a sprawling 100,000 square foot casino floor. Known as a budget friendly resort, Excalibur delivers a strong value proposition to frugal tourists with low gaming minimums, cheap eats, and inexpensive entertainment.
4. Aria – 4,004 Rooms: Aria is the largest building in the world with LEED Gold status awarded for environmental sustainability. Aria's expansive, 150,000 square foot gaming floor is home to 145 table games and 1,940 slots. Fine dining options are also plentiful at Aria, with quality options such as Herringbone, Catch, Carbone, and Jean Georges Steakhouse among others.
3. Venetian – 4,028 Rooms: Venetian is among the biggest hotels in Las Vegas, but the size of the property isn't what catches your eye, rather the elaborate theming. From her stunning exterior presence, the open air piazza feel of St. Mark's Square, to the cobblestone streets of the Grand Canal Shoppes, Venetian is successful in transporting guests to another continent.
2. Luxor – 4,400 Rooms: No hotel in Las Vegas is more recognizable to the average Joe than Luxor. The iconic pyramid first opened its doors in 1993 and cost $375 million to construct. Twin 22 story hotel towers were added to the property in 1998 allowing it to claim its position as the second biggest hotel in Vegas. Other notable amenities at Luxor include a sprawling 5-acre pool complex and the HyperX eSports Arena. Luxor is also the largest building in the world to hold LEED Gold status for environmental sustainability.
1. MGM Grand – 5,044 Rooms: The biggest hotel in Vegas by Room count, MGM Grand originally opened in 1993 with a "Wizard of Oz" theme. While that theming has slowly faded, guests are still welcomed by a 45 foot tall bronze lion statue weighing in at 100,000 lbs. A neat historic note about MGM is that they incorporated the Marina Hotel structure (which operated from 1975-1990) into the resort's west wing (wing closest to the Strip) during the MGM Grand's initial construction. Boasting 4 separate 30 story hotel Towers, MGM Grand is a behemoth to behold and, for now, reigns as the biggest in all of Las Vegas.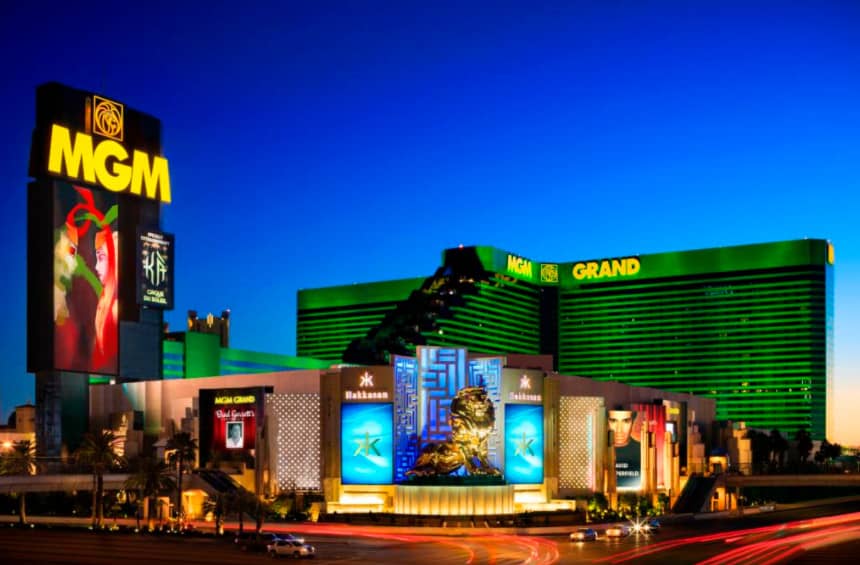 There you have it – The 11 biggest hotels in Las Vegas. In the not too distant future, we're hopeful that The Drew/Fontainebleau project (whatever they're calling it nowadays) will be completed as its projected 3,780 rooms would place it firmly on this list.