As one of the more romantic activities one can partake in while in Vegas, the gondola rides at Venetian tend to be pretty popular. There are two separate rides to choose from.
The first is outdoors and provides stunning views of the exterior of the Venetian property and the north end of the Las Vegas Strip. The other is indoors and runs along the extraordinarily themed canals in the Grand Canal Shoppes.
Whichever path you choose, you can expect your gondolier to serenade you and your guest as they would in Venice, Italy.
Personally, we have a preference for the indoor gondola track as the intricacy of Venetian's indoor theming is truly extraordinary. At night, however, the outdoor ride is difficult to beat with the lights of Vegas beaming.
Related: Need Inspiration? Check out these Activities for Couples in Las Vegas!
How Much Do Gondola Rides at the Venetian Cost?
Optional photo packages start at $32.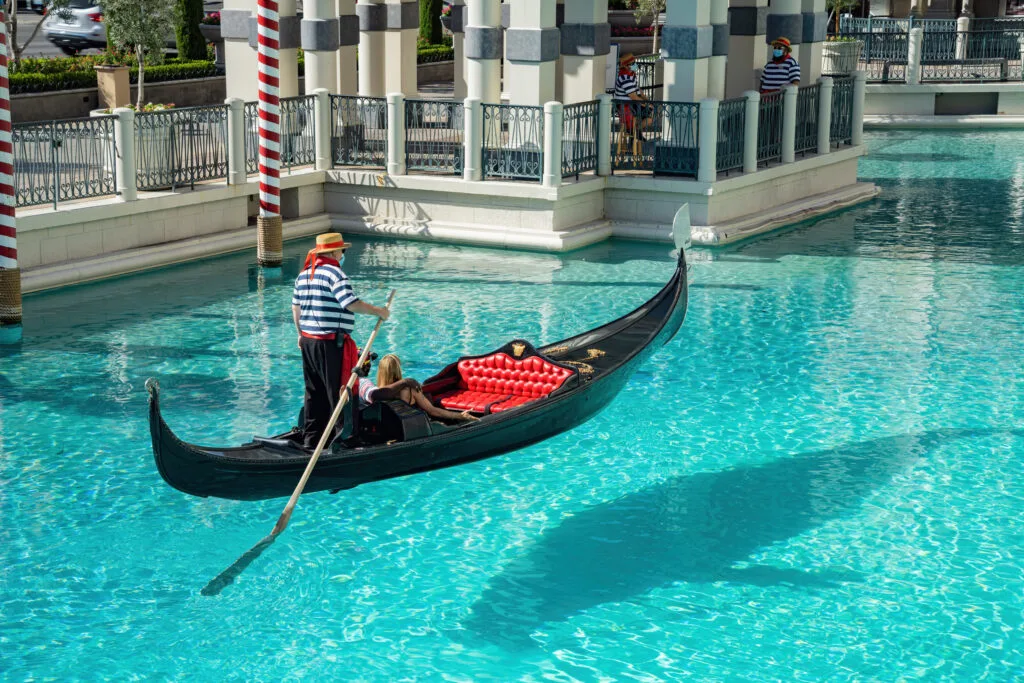 How and Where to Buy Tickets to the Venetian Gondola
There are 2 separate ticket offices where tickets can be purchased. The first is outdoors near the boarding area for the outdoor ride. The indoor ticket office is located near St. Mark's Square and the Waterfall Atrium in the Grand Canal Shoppes.
Both the indoor and outdoor ticketing couters open at 9:30 am.
Venetian Gondola Ride Hours of Operation
Indoor Gondolas run from 10 am – 11 pm Monday – Thursday and Sunday and closing time is extended to midnight on Friday and Saturday.
Outdoor Gondolas run from 10 am – midnight, 7 days per week.
Venetian Gondola Ride Tips and Tricks
Catch the "Gondolier March" daily along the indoor canal at 9:45 am and again at 4:20 pm. Gondoliers march along the indoor canal, at the gondola turn around while singing in unison.
Your Gondolier will likely remind you, but kissing under bridges as you pass underneath is considered to bring good luck. Can't hurt!
Venetian's Gondolas seat 4 people, so if the attraction is busy, it is likely that you will get doubled up with another couple. Note that the gondola is configured so couples are facing each other… The seating arrangement can be a little awkward for some. If it's important to you that you have the gondola to yourself, ensure you reserve a private gondola for $156.
Stick around for the free Streetmosphere show in St. Mark's Square. A team of performers with various talents to include singers and jugglers perform multiple times per day.
Tipping the Gondolier is appreciated. As with any other service, tip based on the experience provided. A $5-$10 tip per couple is plenty.
Whether you are jumping in a gondola at Venetian to propose, or for a romantic date night, we hope you have a great time! Ensure to stick around and explore Venetian in its entirety as it is one of the most elaborate in all of Vegas.
See Also: FREE things to do in Vegas. We lay out your options for free shows, things to do, and sights to see.
Feature Image: ©kitleong/123RF.COM
I'm a former software salesman turned Vegas aficionado. While the craps table is my preferred habitat, I pull myself away to explore new attractions, shows, restaurants, and outdoor activities around Las Vegas with the intent of sharing my experiences.
Ultimately, I just want to help folks plan a better trip and save a few bucks in the process.