Sitting on the land that the legendary Stardust once occupied, Resorts World opened in June of 2021 to great fanfare.
That fanfare was amplified by the fact it took nearly 15 years to complete the project that initially started in 2007. Once a steel carcass baking in the desert sun, Resorts World now offers a sprawling casino, rooftop pool, and numerous dining options.
I've been a regular at Resorts World since visiting on opening night, staying in both their Conrad and Hilton-branded hotel rooms. Both experiences left me impressed.
Given my knowledge of the resort, I thought it would be helpful to share some notable things to do both at Resorts World and nearby.
Things To Do at Resorts World Las Vegas
See a Headliner: If you're looking for a big-name residency in Las Vegas, look no further than the Resorts World Theatre, where names like Carrie Underwood, Katy Perry, Luke Bryan, and Michael Buble take the stage.
See Resorts World's events calendar here.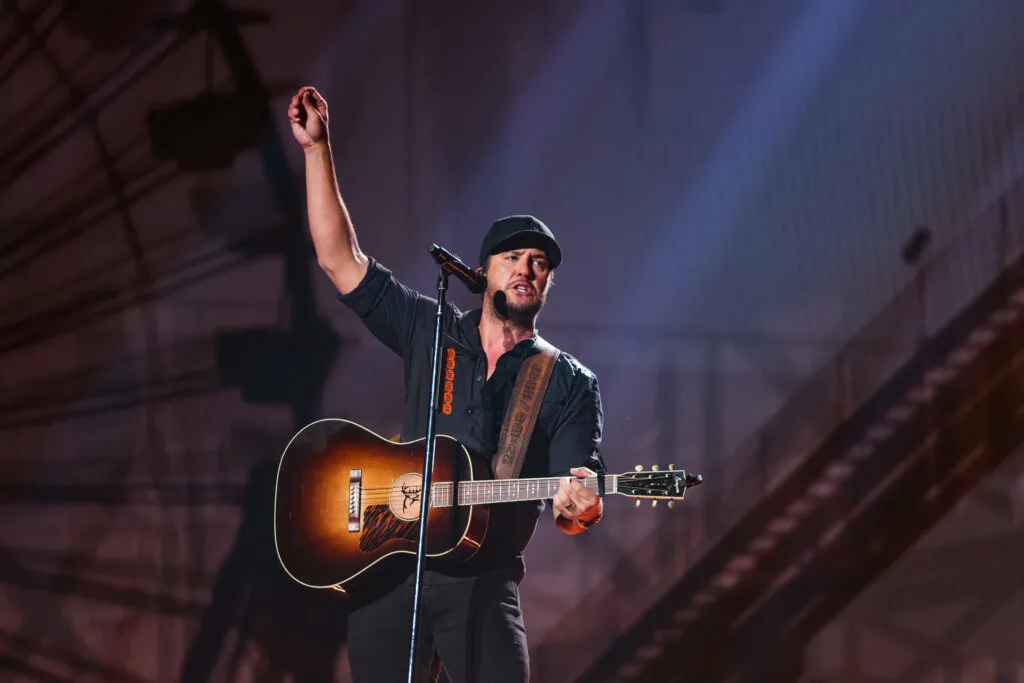 Famous Foods Street Eats: There are food halls, then there's this food hall. Famous Foods has 16 vendors serving up a wide-ranging assortment of cuisine that includes Texas BBQ, burgers, pho, ramen, sushi, fried chicken, treats, and so much more.
The quality is higher than your typical fast-food joint, and the average entree costs $15-$18. Below are a couple of meals I've enjoyed: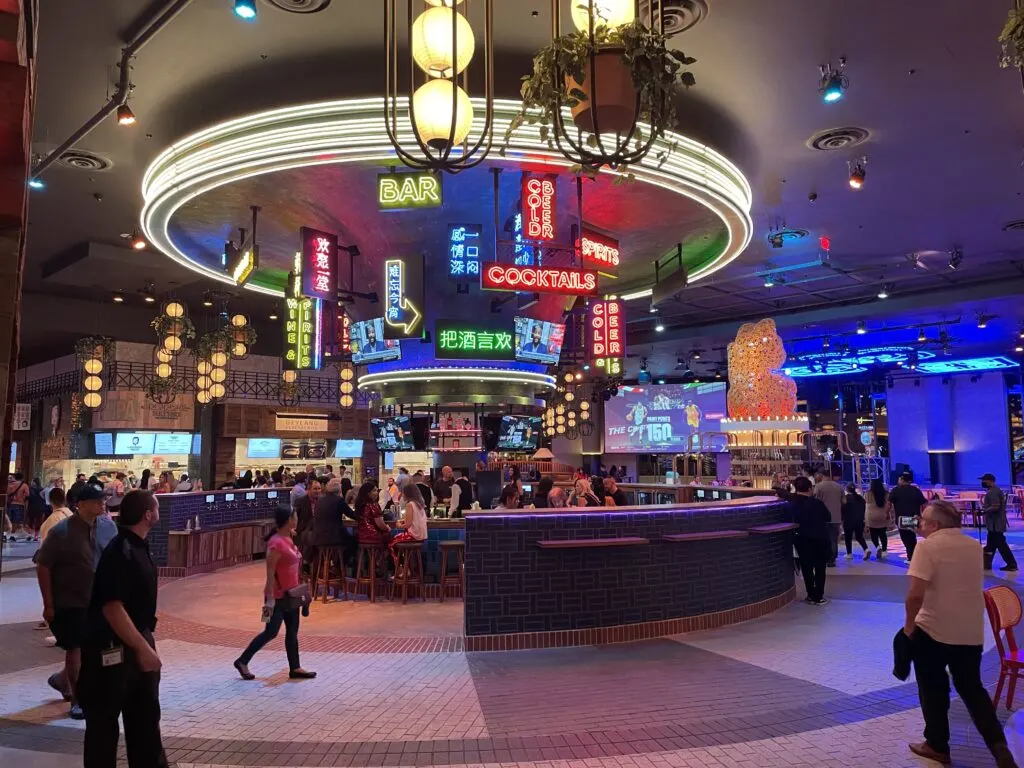 Find a Speakeasy: Among the numerous speakeasies in Vegas, the secret entrance to Resort World's Here Kitty Kitty Vice Den is my favorite.
The clandestine cocktail lounge is hidden behind Fuhu Cha Chaan Teng, which is a functioning restaurant.
The speakeasy door is one of the shelving units on the back wall.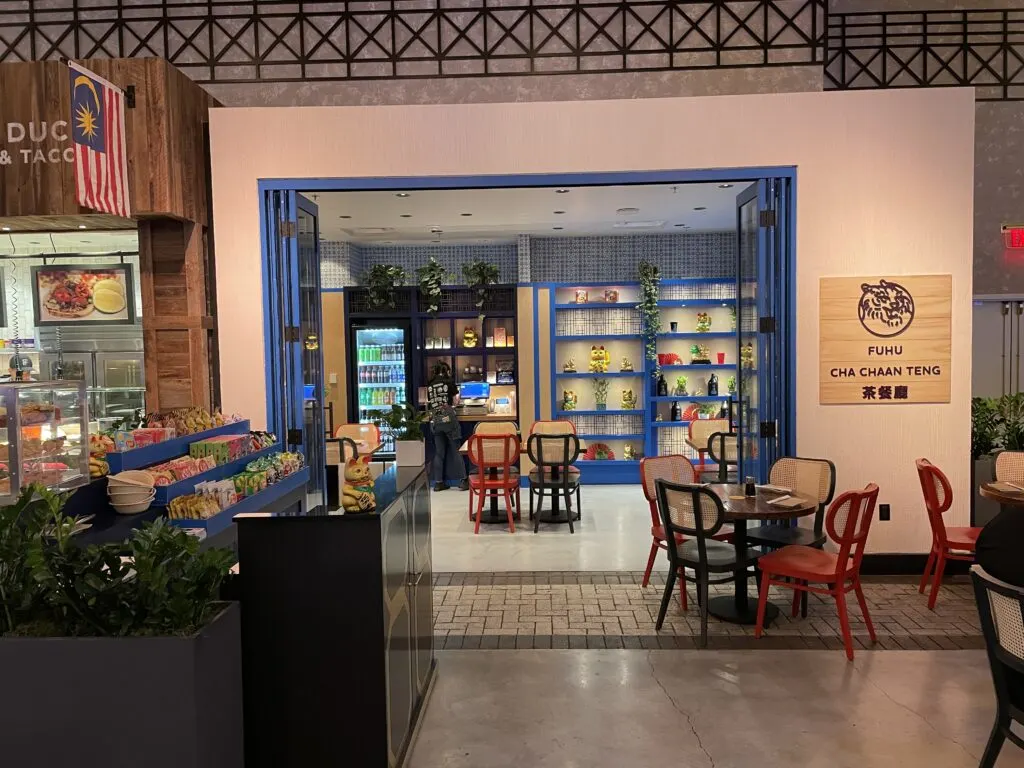 Once inside, you'll find yourself in an intimate lounge that has a totally different vibe than the casino floor you just left.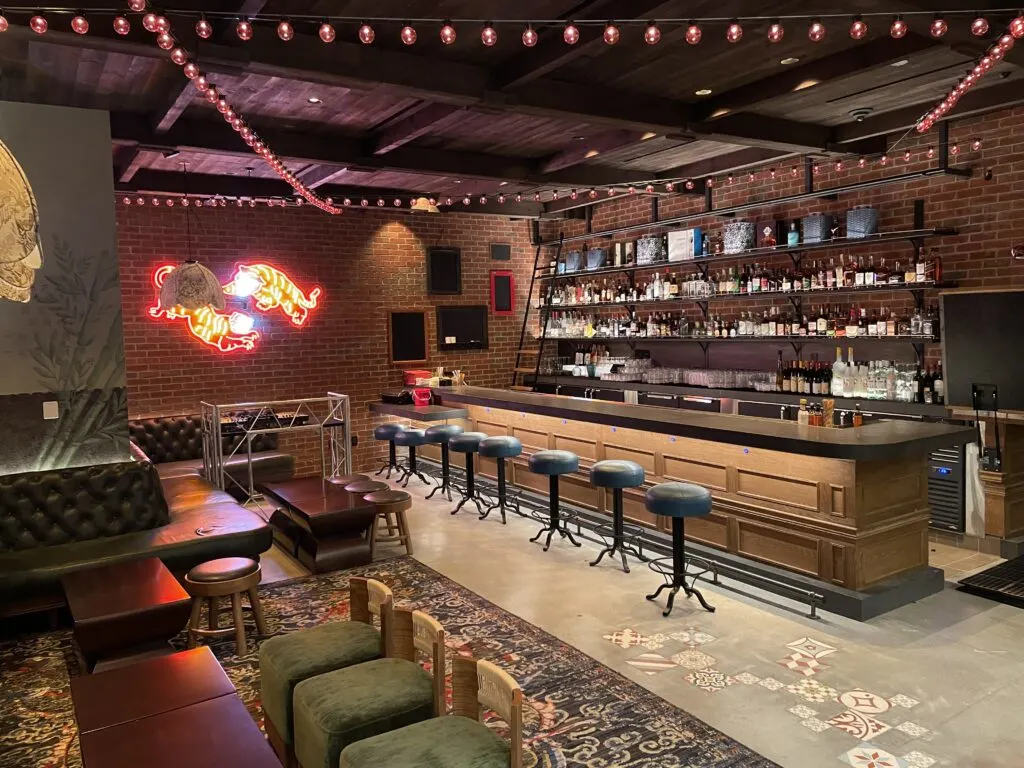 A Drink With a View: While Vegas boats numerous elevated bars, few match the view of the Strip provided by Alle Lounge on 66. Perched… you guessed it… on the 66th floor, Alle offers a selection of cocktails that land in the $25 range. The view is worth it.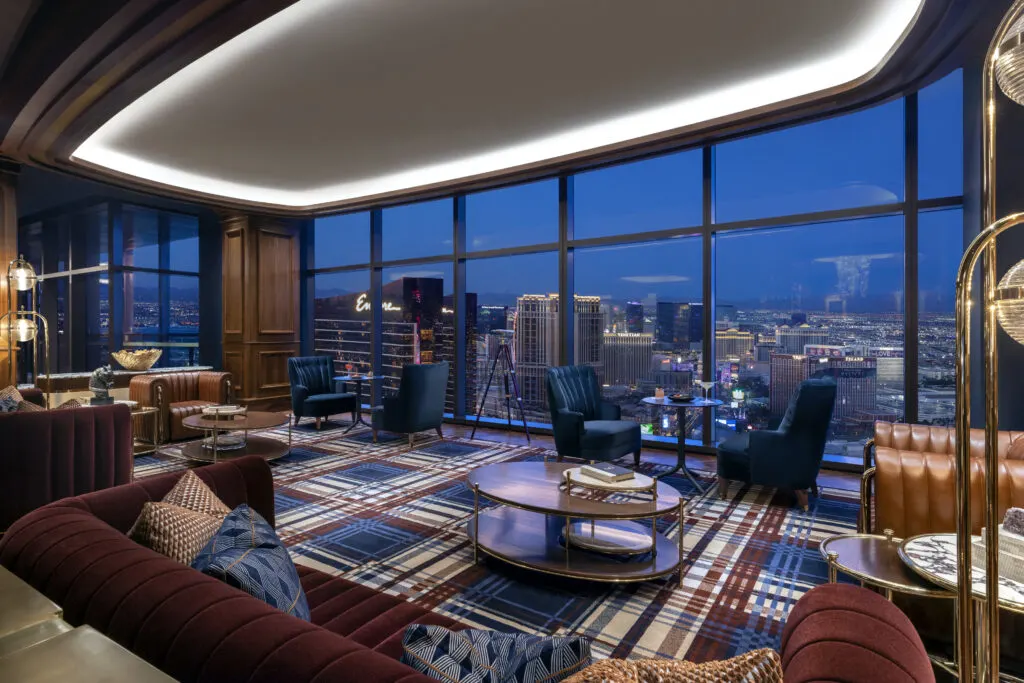 Catch the Big Game: The Dawg House Saloon & Sportsbook is a lively sports bar environment to both bet on and watch the big game.
Ensure you check out Dawg House Saloon's events calendar as well, as live music performances and karaoke are common.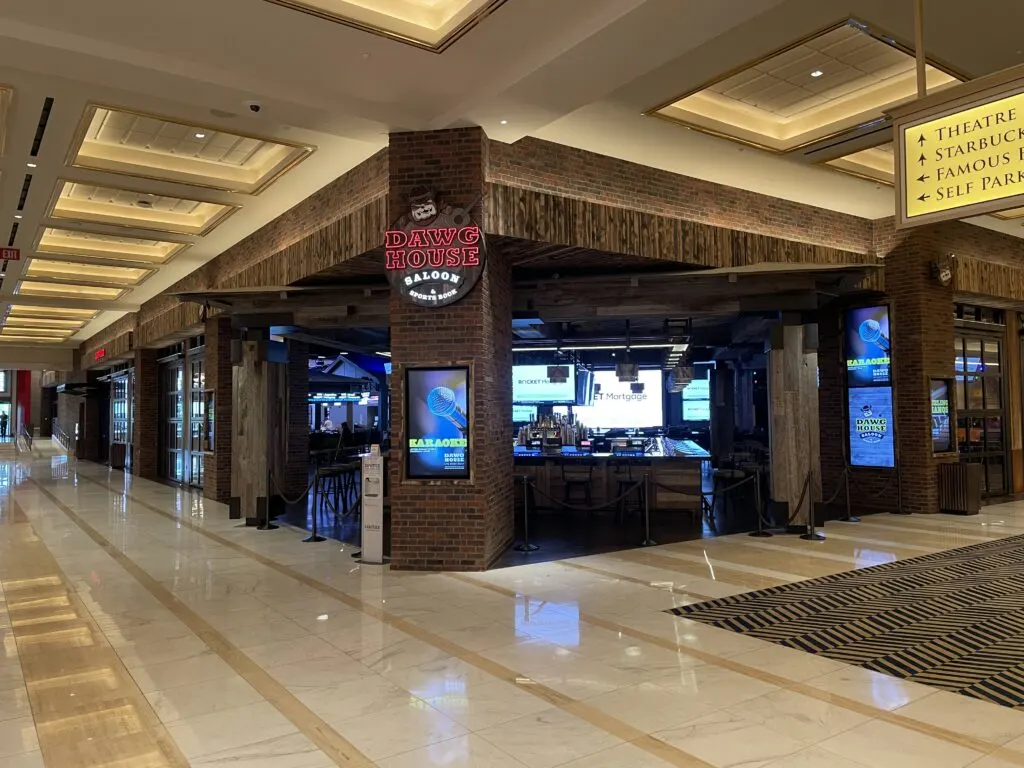 Enjoy the Pool: Point blank – Resorts World's rooftop pool complex ranks among the best pool scenes in Las Vegas.
The sprawling pool deck offers 5 distinct pools that include a kid-friendly option, a main pool, and an infinity pool overlooking the Strip to the south.
For those that don't mind the cold, Resorts World is one of the few resorts in Las Vegas that keep their pools open year-round.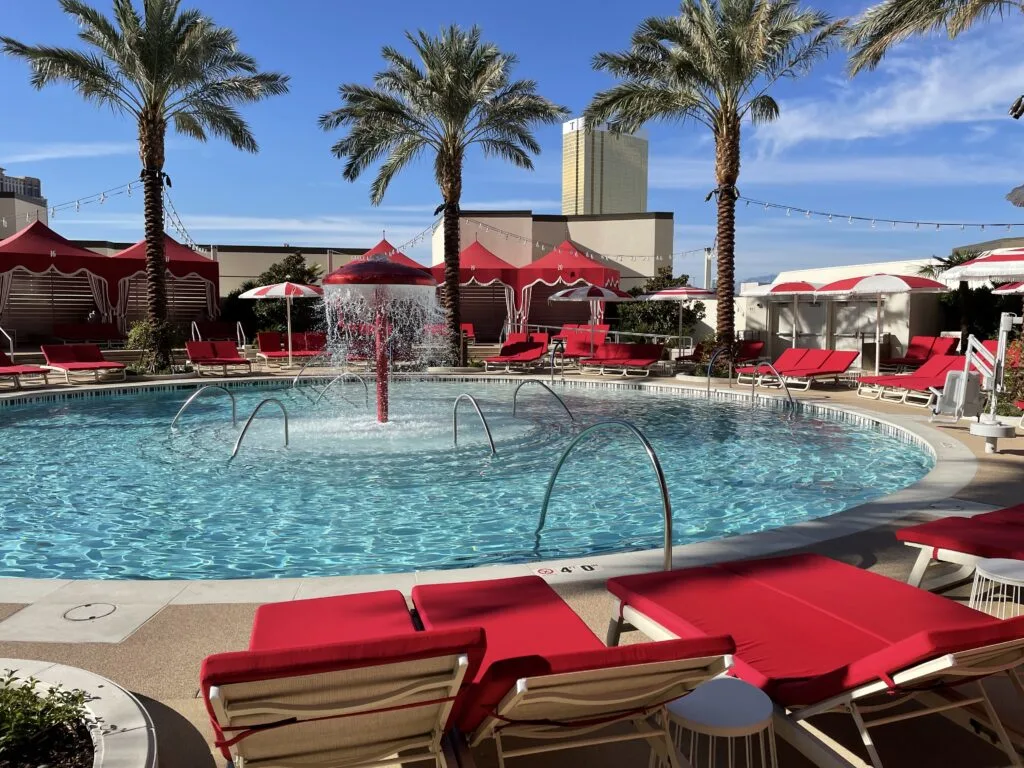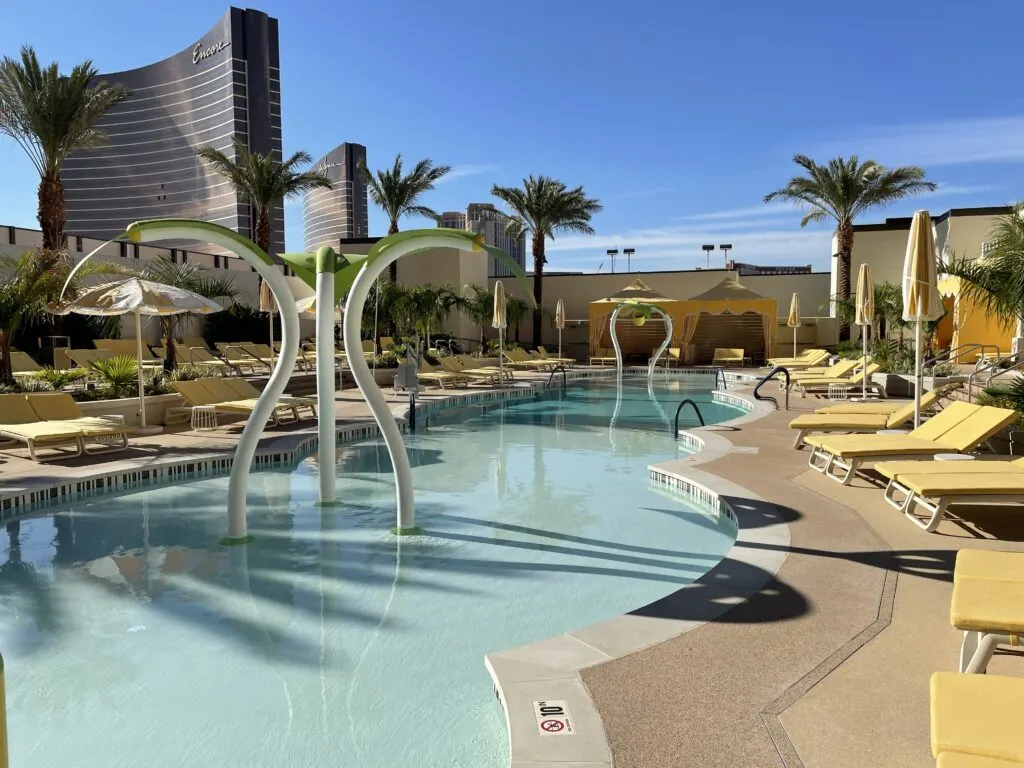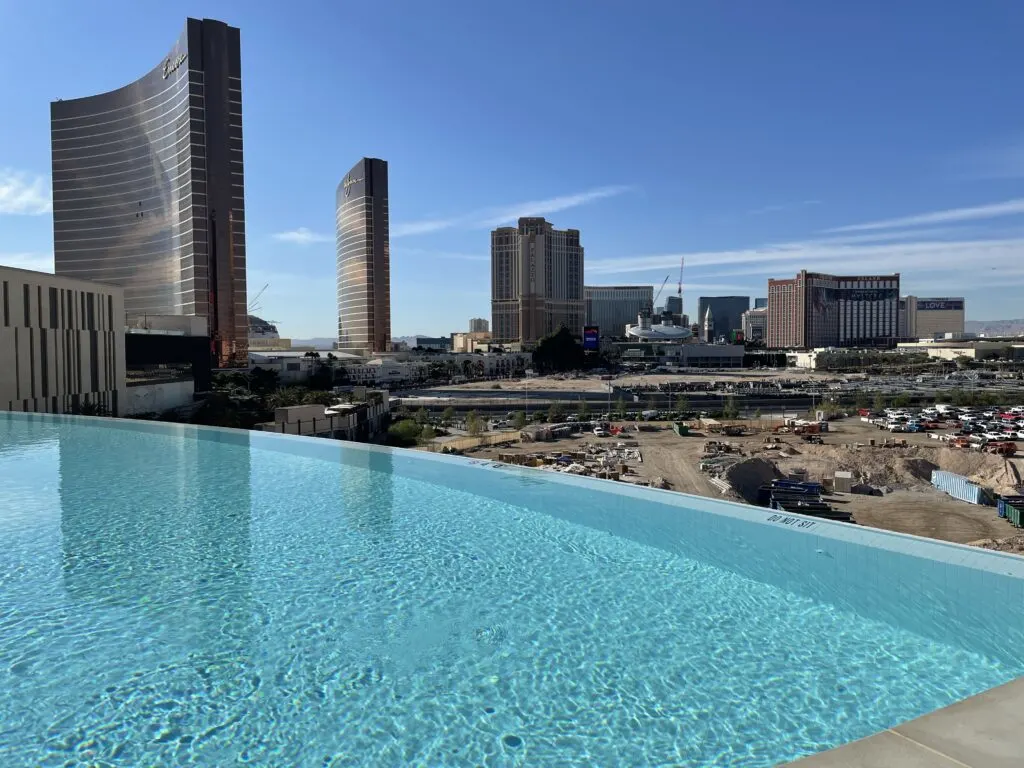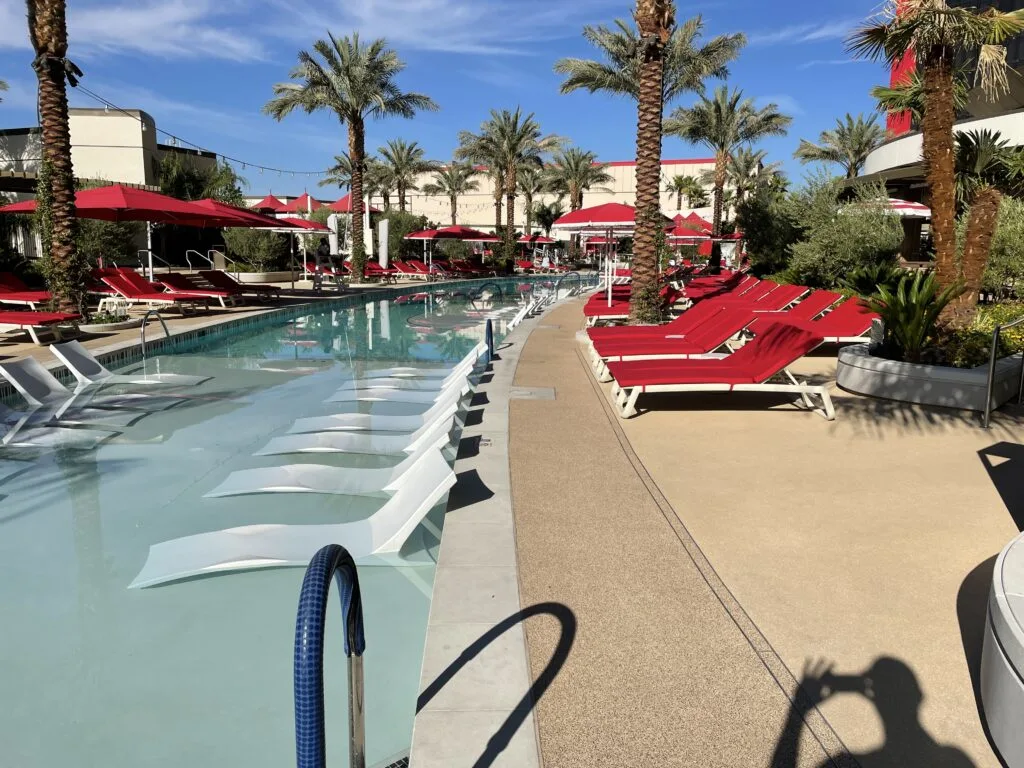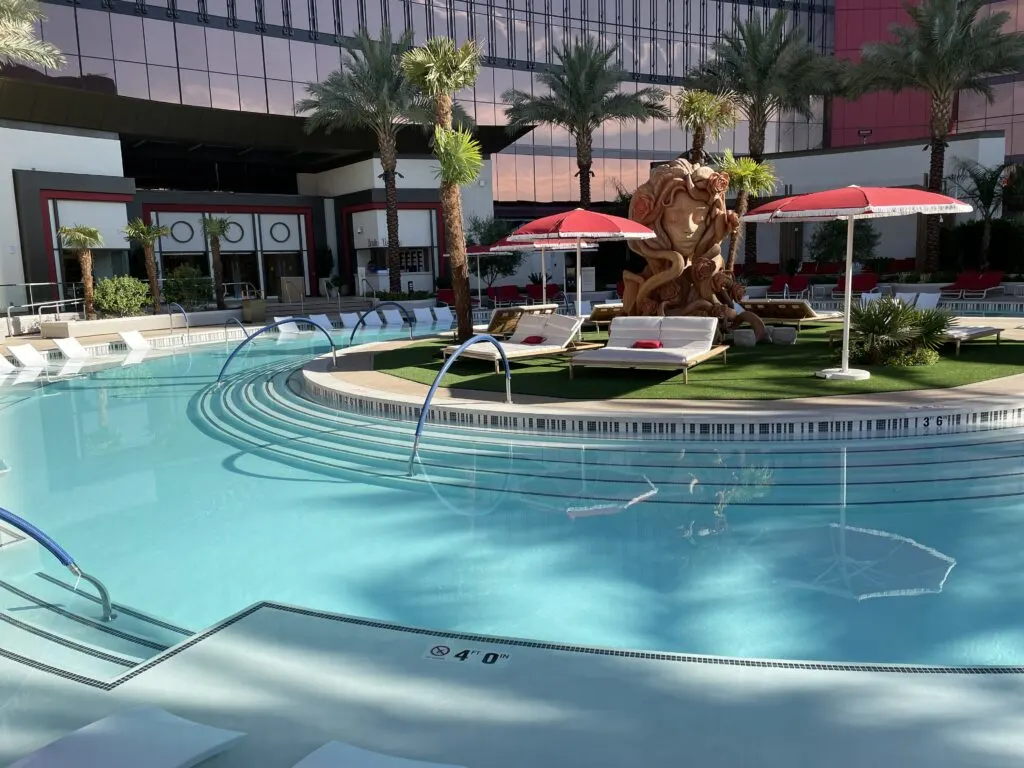 Things To Do Near Resorts World Las Vegas
Resorts World, while a worthwhile destination, is slightly removed from the action on the Strip. While TI and Wynn/Encore are walkable, you'll likely need to spring for an Uber to reach center Strip resorts.
Eat an Authentic Taco: Across the street from Resorts World in an unassuming strip mall is Tacos El Gordo, an authentic taco restaurant that makes your food the moment you order it. It's one of my favorite places to eat cheap on the Strip.
I'm not alone, Tacos El Gordo is absurdly popular. I recommend getting there the moment they open at 10 am to enjoy an early lunch.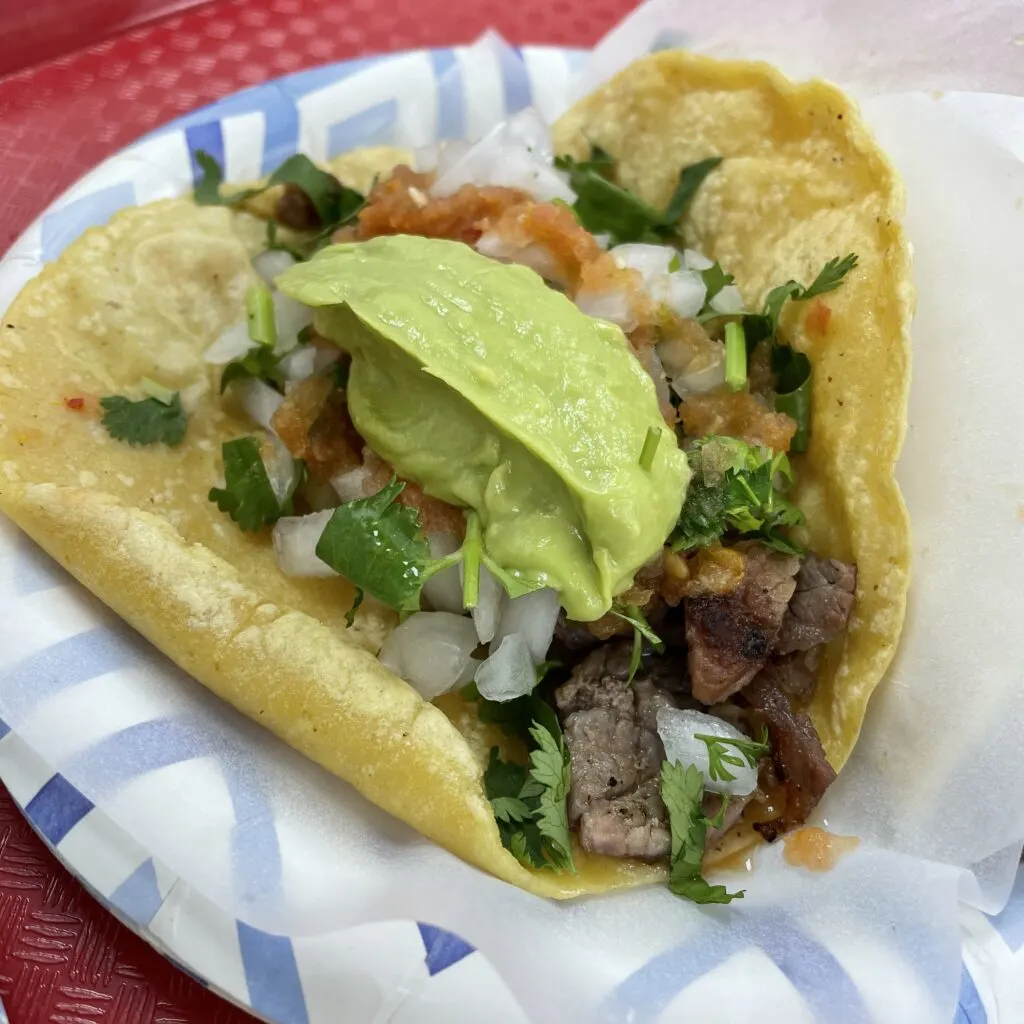 Get Elevated: STRAT is a short ride to the north, and worth a visit if only for their SkyPod and observation deck that provides outrageously good views.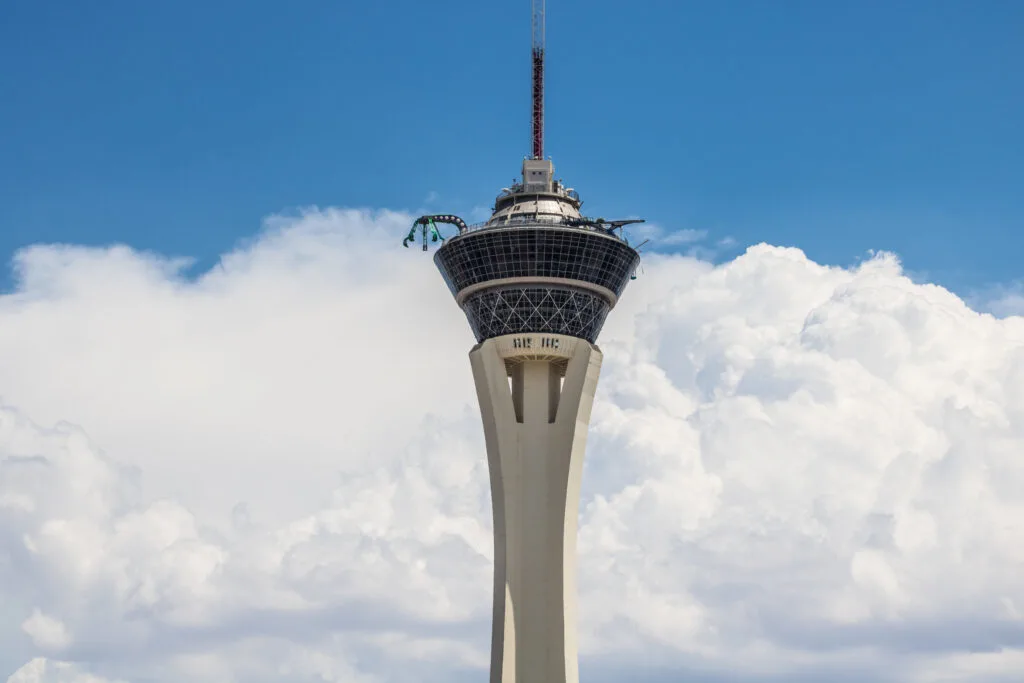 While the observation deck is amazing, I LOVE the 3 rides atop the tower that either dangle you off the edge, or shoot you straight up. Better yet, they're a cheap add-on to your observation deck ticket (usually around $5 each).
You can snag observation deck tickets and add rides for next to nothing in advance here, on Vegas.com.
If you're feeling really daring, STRAT's SkyJump allows you to jump off the tower in a controlled free fall.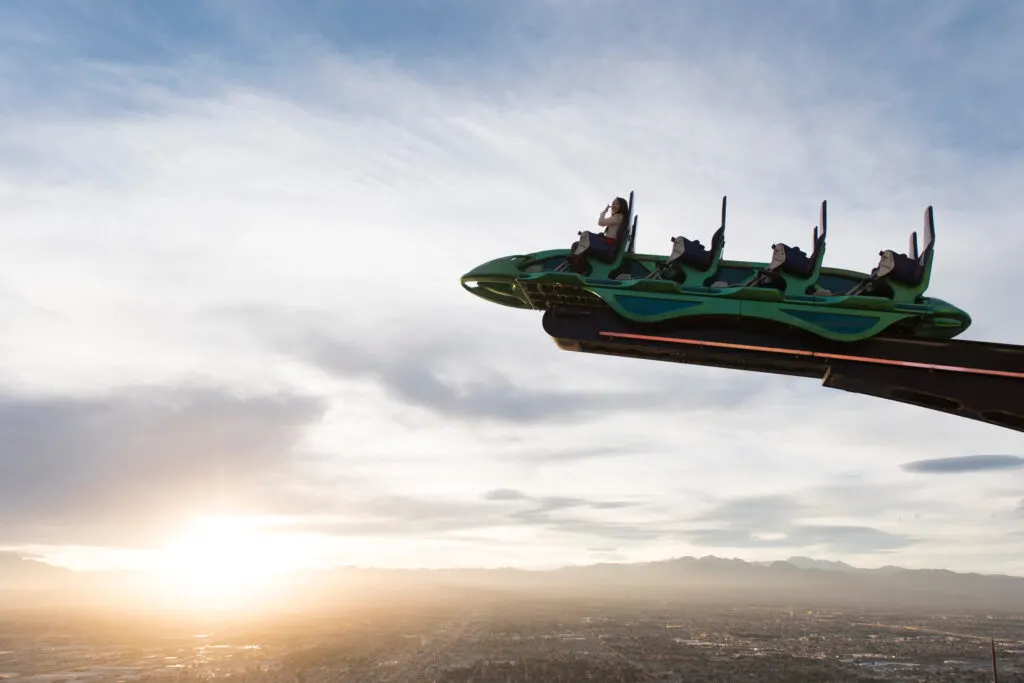 Looking for the perfect date night? Dinner at Top of the World could be the ticket. With a dining room that rotates 360 degrees, you're guaranteed to enjoy the view.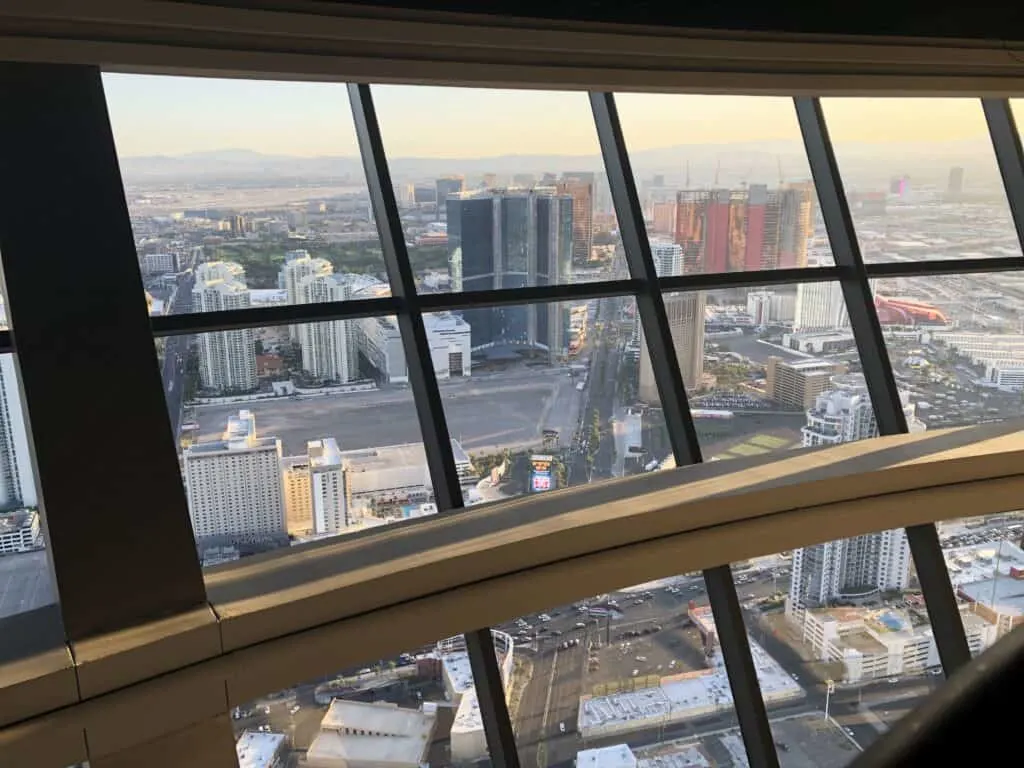 Play Coin Slots: Steps to the north at Circus Circus, you'll find an impressive selection of $1 slots that take and dispense tokens. If you crave that "ting, ting, ting", blackened fingertips, and slot buckets, you don't have to venture far.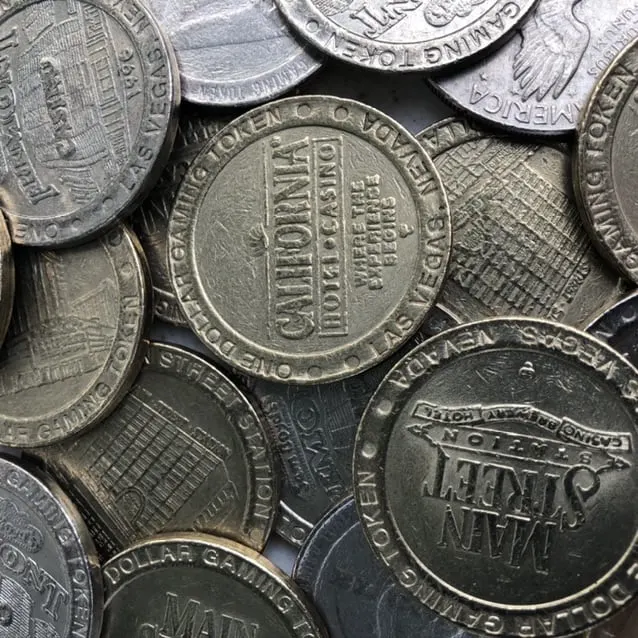 Take the Kids to the Circus: There are also plenty of kid-friendly activities at Circus Circus.
The first is the indoor Adventuredome amusement park which offers an assortment of rides that range from tame to thrilling.
In addition to rides, Circus Circus offers a midway with carnival games and free circus acts daily.
Get Nostalgic: Venture away from the newest resort in Vegas and check out one of the oldest. Sahara is an iconic brand that has been around nearly uninterrupted (minus a brief stint as SLS) since 1952 and is worth a visit.
Inside, you'll find affordable table game limits, Bazaar Meat by Jose Andres, a male revue show, and an intimate dayclub.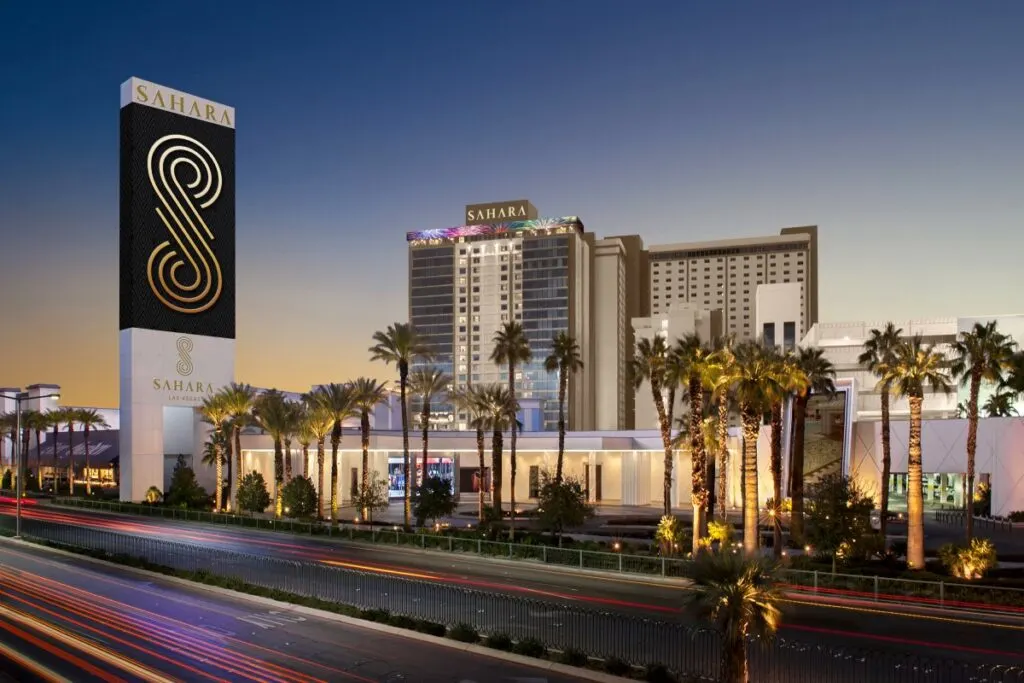 Get Entertained Over Dinner: A "Modern-day supper club", Delilah at Wynn is one of the hottest restaurants in town, boasting numerous celebrity sightings.
Entertainment is "inspired by the earliest showrooms of Las Vegas in the 1950s" and includes live music, DJs, and even a Sunday jazz night.
You'll want to make reservations with Delilah in advance.
Hopefully, I was able to help you find an activity or two that is worthy of your Las Vegas itinerary!
Although the location isn't ideal, there are plenty of "itinerary worthy" activities at Resorts World and at nearby resorts on the north end of the Strip.
See Also: Things To Do at Every Strip Resort.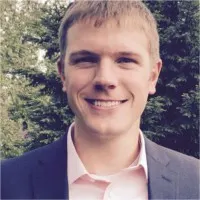 I'm a former software salesman turned Vegas aficionado. While the craps table is my preferred habitat, I pull myself away to explore new attractions, shows, restaurants, and outdoor activities around Las Vegas with the intent of sharing my experiences.
Ultimately, I just want to help folks plan a better trip and save a few bucks in the process.