Wynn and Encore are recognized as being among the most luxurious resorts in Las Vegas and their combined casino floors rank as the largest on the Strip by square footage.
Even if Wynn and Encore's high-end gambling, dining, and shopping options are beyond your budget, the unique and extraordinary elements that constitute the properties make them worthy of a stop.
With that in mind, I wanted to highlight some unique and popular things to do at Wynn and Encore and nearby besides gamble.
See Also: Where to find the loosest slots in Vegas – Leveraging data from the Nevada Gaming Commission.
Things To Do at Wynn/Encore Las Vegas
See Lake of Dreams: Grab a cocktail at Bar Parasol overlooking the free Lake of Dreams show offered nightly every half hour starting at sundown.
The man-made lake, acting as the setting of the show, is accentuated by over 1,500 trees, a 90-foot waterfall, and over 5,500 LED lights.
In addition to Bar Parasol, both Lakeside and SW Steakhouse have patios overlooking Wynn's Lake of Dreams. There is also a free viewing area for those not looking to grab food or drink.
See "Awakening": Awakening is a visual feast for the eyes that follows the story of a hero that saves the world by confronting the forces of both light and darkness. Mixed into the production is a healthy dose of acrobatics, aerial feats, comedy, and illusion.
Tickets start at around $100, and can be priced out with: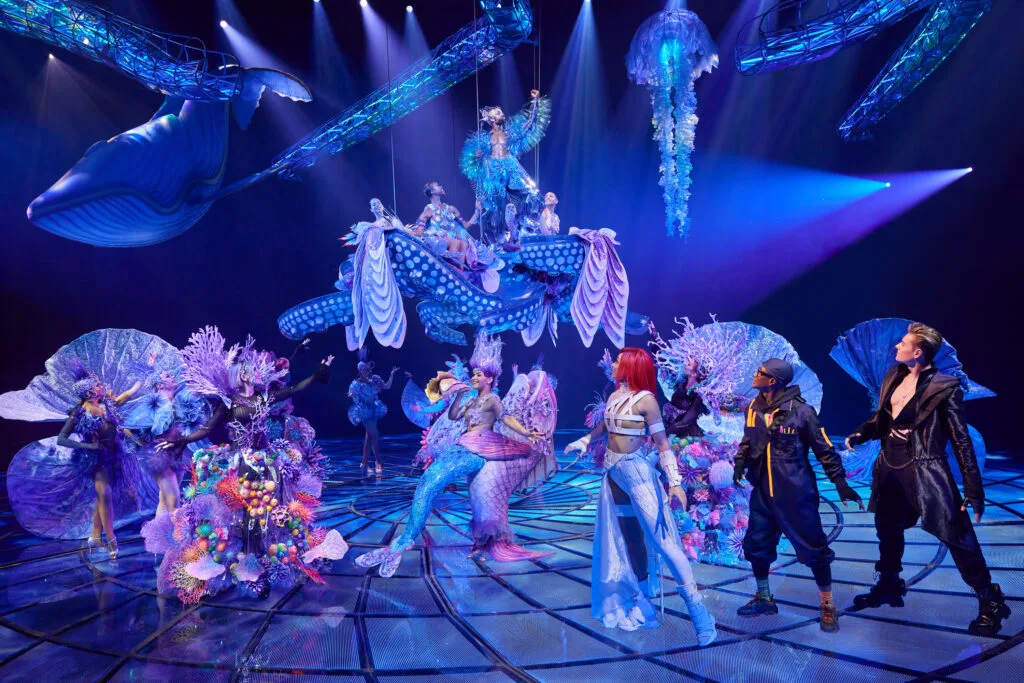 Sing Along with Dueling Pianos: Another free show at Wynn, Eastside Lounge hosts one of the few dueling piano shows in Las Vegas.
Entertainment kicks off nightly at 9:30, with the average handcrafted cocktail costing $18-$20. As an upscale lounge, I recommend dressing the part – Swimwear and tank tops are not permitted.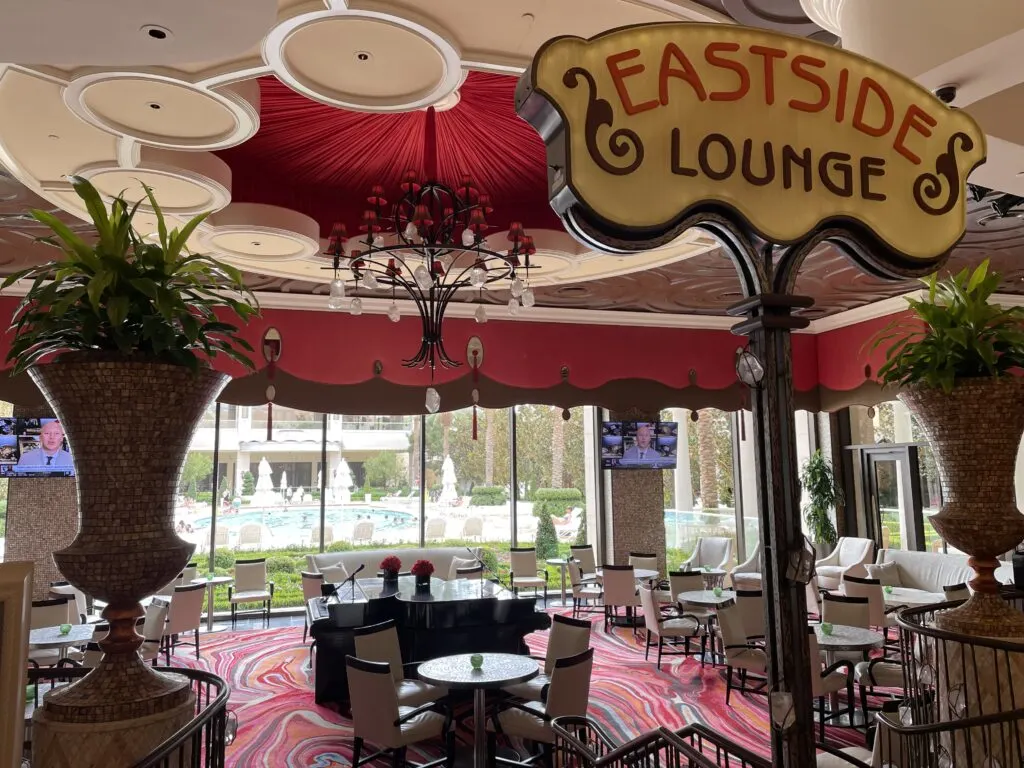 Explore the Conservatory: Among all things to do at Wynn, admiring the conservatory should be at the top of your list.
Enjoy the floral arrangements, plant life, and trees that are difficult to find in the middle of the desert, much less inside a Las Vegas casino. Another free attraction, Wynn's Conservatory makes for a perfect photo opportunity.
Enjoy an Entertaining Dinner: Delilah ranks among the trendiest dinner shows in Las Vegas, supplying what seems to be a neverending stream of celebrity sightings since opening.
Created in the image of Vegas showrooms from the '50s, Delilah entertains over dinner with an assortment of live music. View Delilah's menu here.
High-End Shopping: I detest shopping. I don't enjoy doing it at home, and wouldn't dream of spending my time in Vegas walking around a shopping mall. I promise you, the Wynn Plaza Shops are an exception.
While shoppers will enjoy perusing stores like Breitling, Le Labo, Loewe, and Louis Vuitton, all will enjoy the beauty, luxury, and artistic displays at the Wynn Plaza Shops.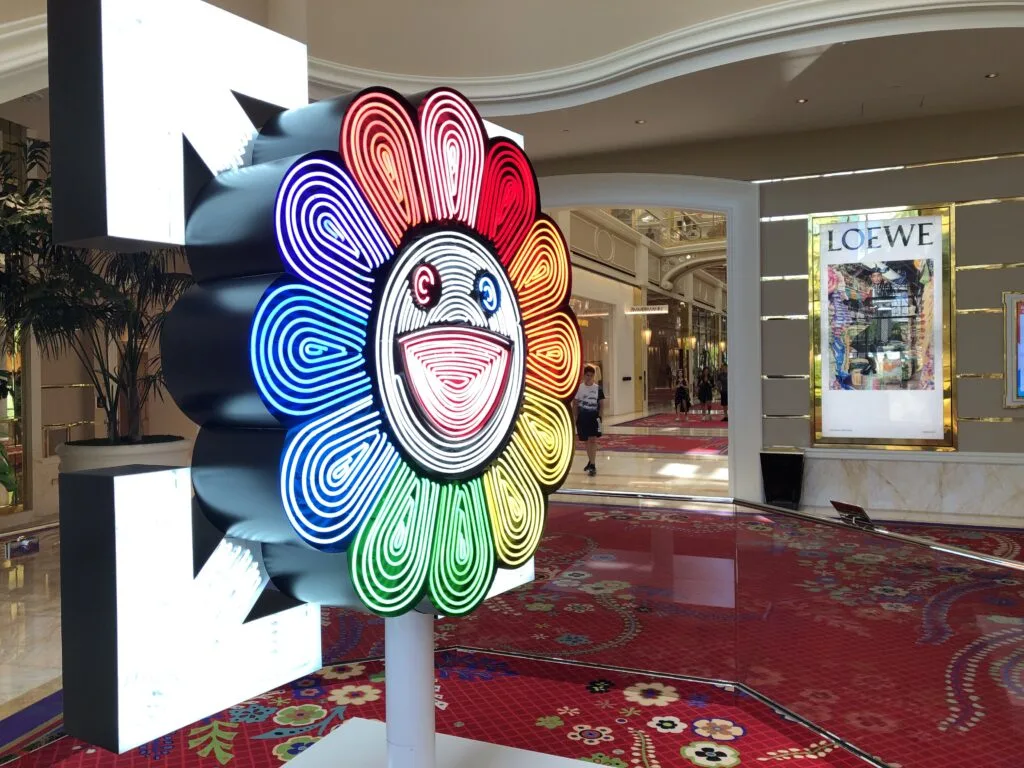 Play an Amazing Golf Course: Wynn's 6,722-yard, par 70 golf course, designed by Tom Fazio offers guests the opportunity to play a high-end round. Forget your clubs? Don't stress it. A set of Callaway loaner clubs is included with any green fee.
The cost to play Wynn's golf course ranges from $250 – $500 depending on what time of the year you're looking to play.
Party at Encore Beach Club: Encore Beach Club ranks among the most popular pool parties on the Strip, exhibiting the luxury that Wynn is known for and hosting well-known performers like Fergie, Marshmello, and more.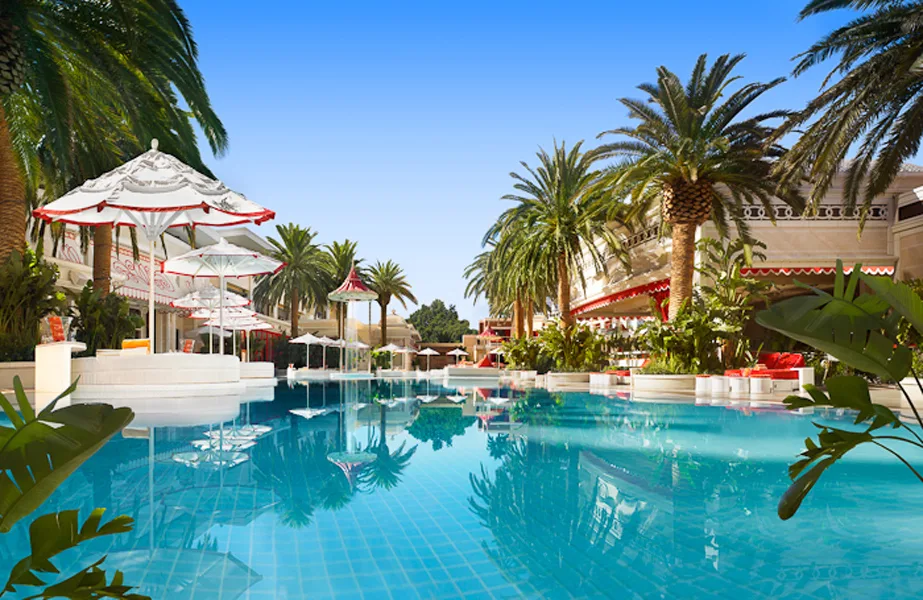 Experience the XS Nightclub: Offering the typical assortment of craft cocktails and bottle service, XS is set at Encore's European pool and features big-name performers like The Chainsmokers, Diplo, and Marshmello.
Ideas For Things To Do Near Wynn and Encore
Explore Venetian: Just south of Wynn, Venetian is intricately themed and stunning to see in person. Ensure you walk through the Grand Canal Shoppes, which give guests the illusion of walking the streets of Venice, Italy. Complete with canals, gondoliers, and even a replica St. Mark's Square, the 160 retail shops are almost an afterthought.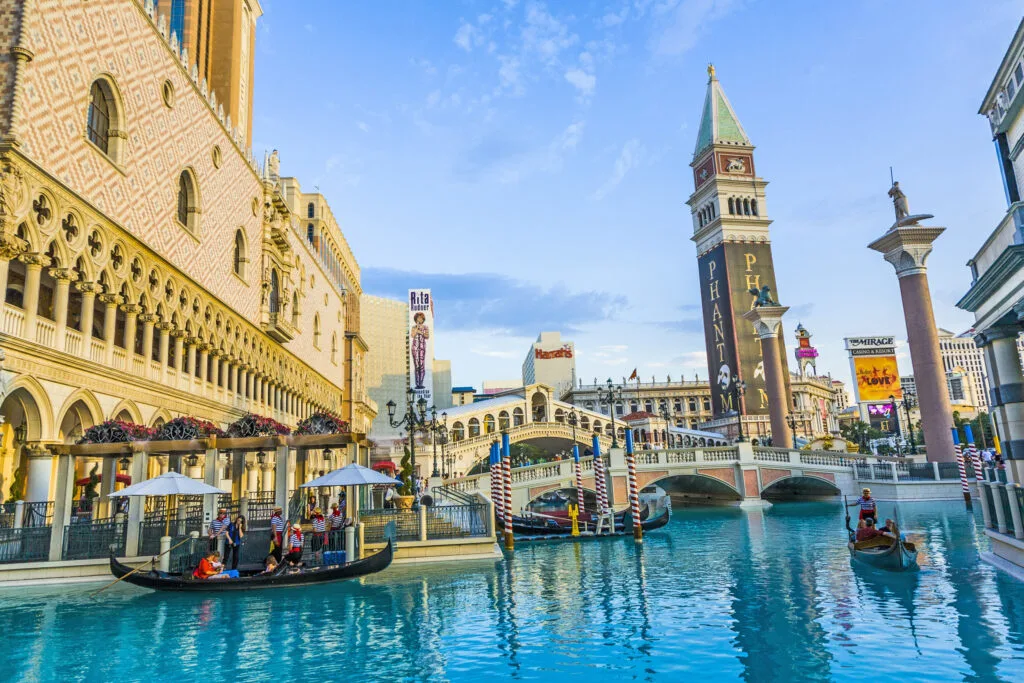 Eat a TON of Sushi: Yama Sushi is a short 5-minute walk north of Encore, across the street from Resorts World. Uniquely, they are among the only restaurants serving all-you-can-eat sushi on the Strip. Eat your fill for lunch or dinner for around $30 before taxes and tip.
See an Eruption: The volcano out front of Mirage is a free attraction and deserves to be at the top of your list of things to do near Wynn and Encore. A powerful, and hot, display, the Mirage Volcano is among the best free things to do in Las Vegas.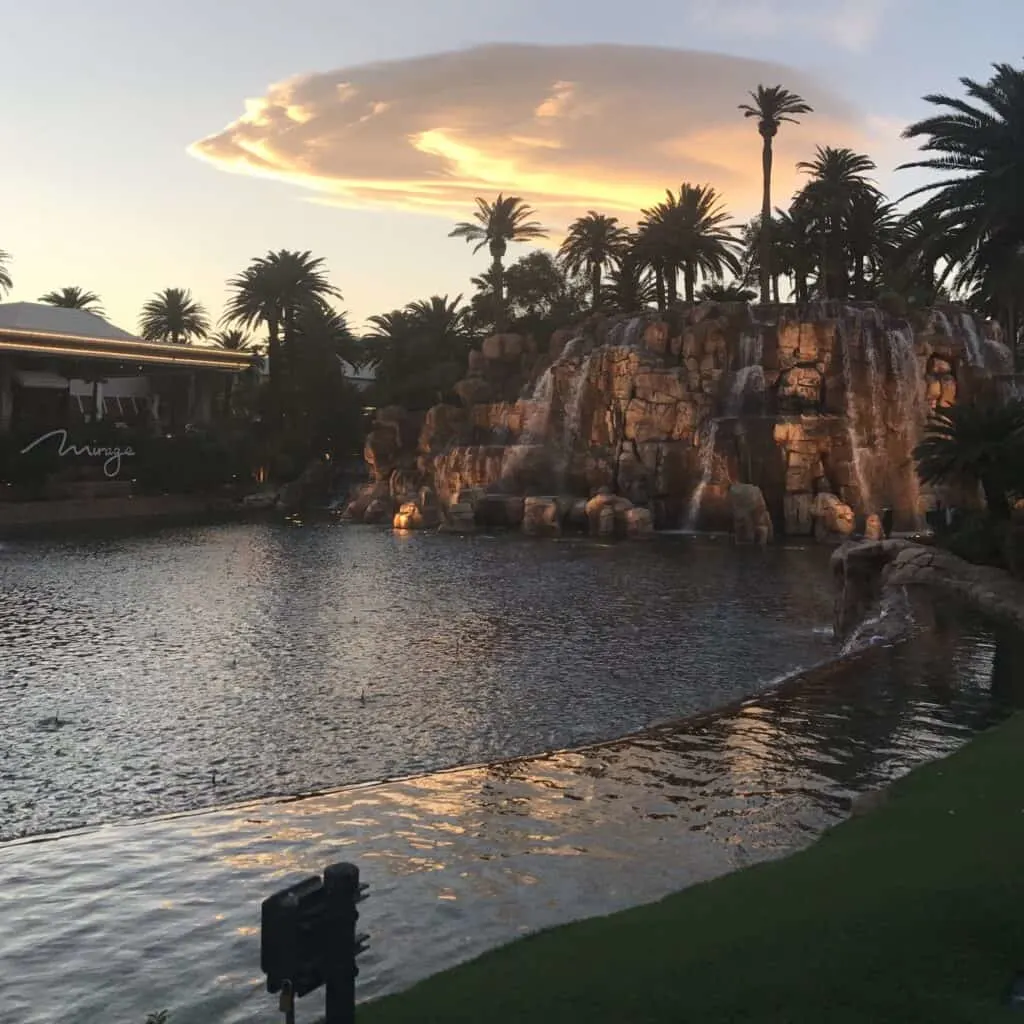 Grab Dinner With a View: I compiled a list of restaurants with a view of the iconic Fountains of Bellagio. While restaurants at Bellagio with a view tend to be spendy, options across the street at Alexxa's, Beer Park, and Mon Ami Gabi come with less sticker shock.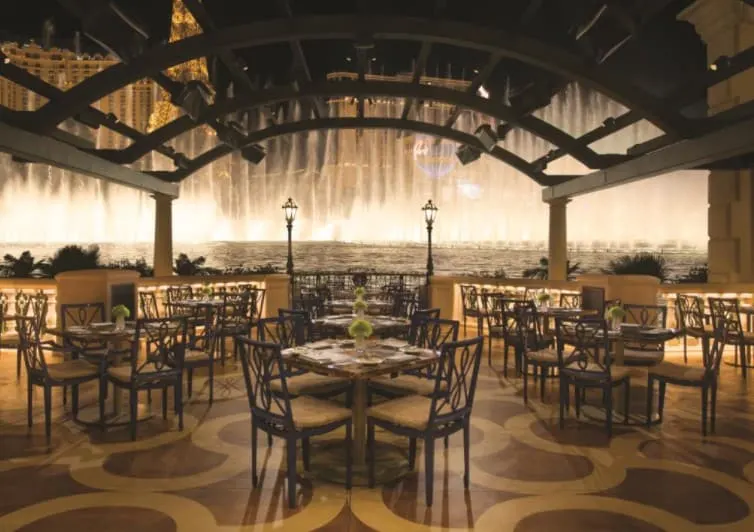 Venture to the Top of STRAT's SkyPod: Take a quick Uber/Lyft to STRAT and take the elevator to the top of their SkyPod. There, you'll be able to enjoy stunning views of Las Vegas, grab a cocktail, and scare yourself silly on one of the 3 rides that will test your fear of heights.
Observation deck tickets and ride passes can be purchased in advance on Vegas.com – Adding rides to your Observation deck ticket costs next to nothing!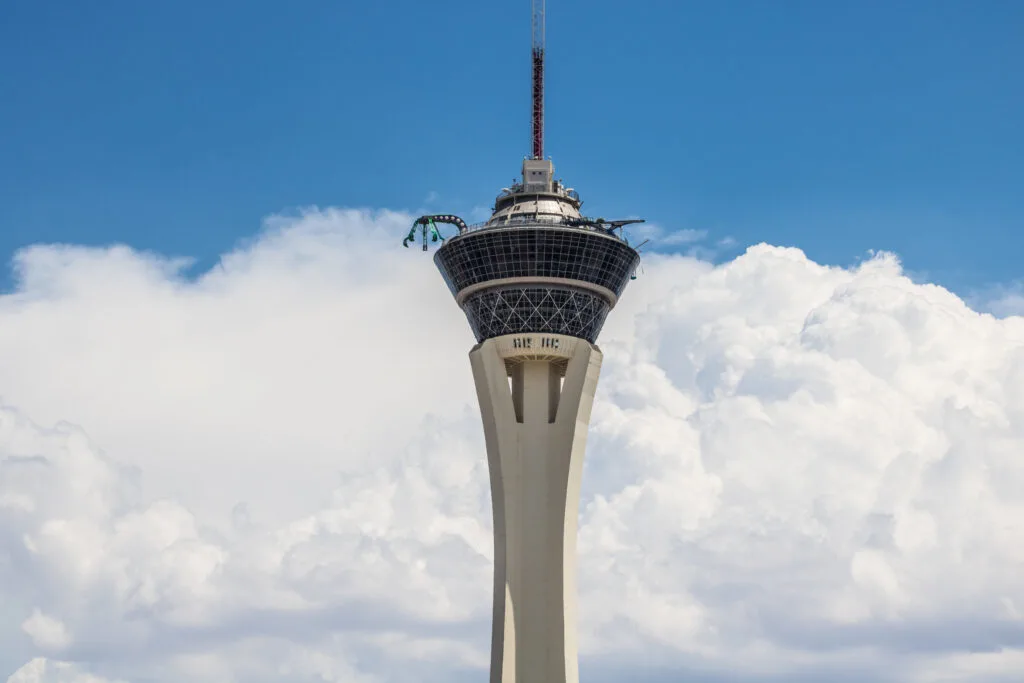 Visit Resorts World: The newest resort in Las Vegas, Resorts World, is a 10-minute walk north of Encore and worth the trip! In addition to a sprawling casino and an abundance of food options, the casino is also home to the Here Kitty Kitty Vice Den Speakeasy, which is disguised by a functioning restaurant called Fuhu Cha Chaan Teng.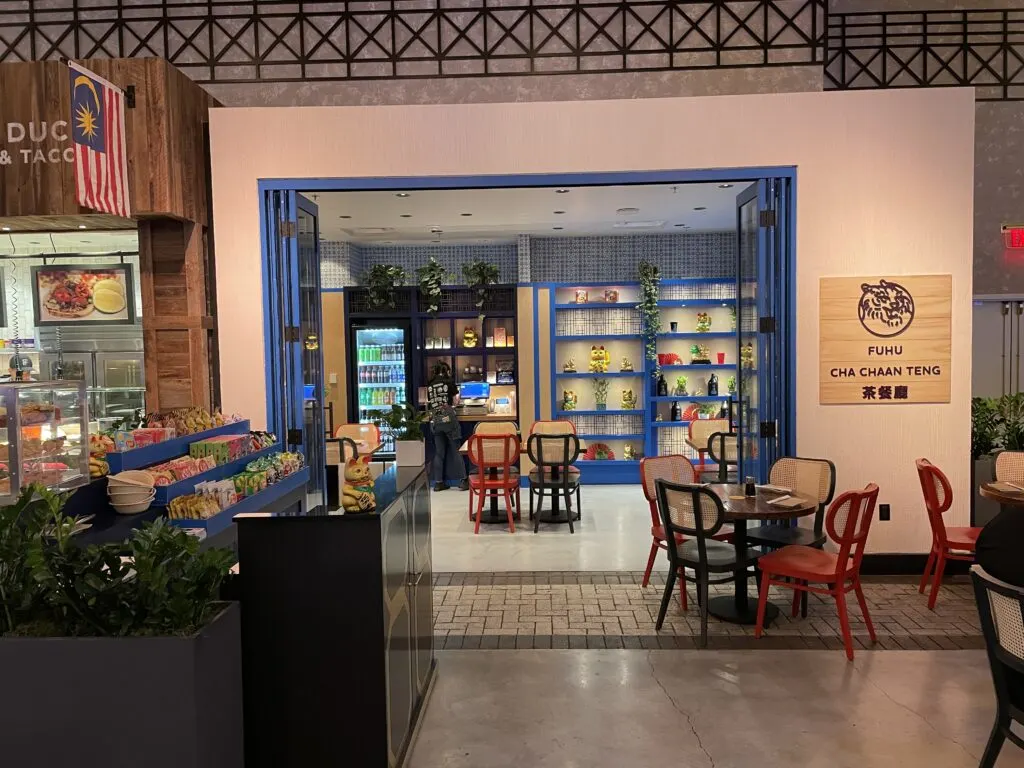 Tacos El Gordo: Also 10 minutes north of Encore by foot, Tacos El Gordo delivers authentic Mexican fare at a price that won't break the bank.
Best yet, your food is made right in front of you after you place your order. It's a popular spot, but don't let the crowds scare you off. Tacos El Gordo is worth the wait.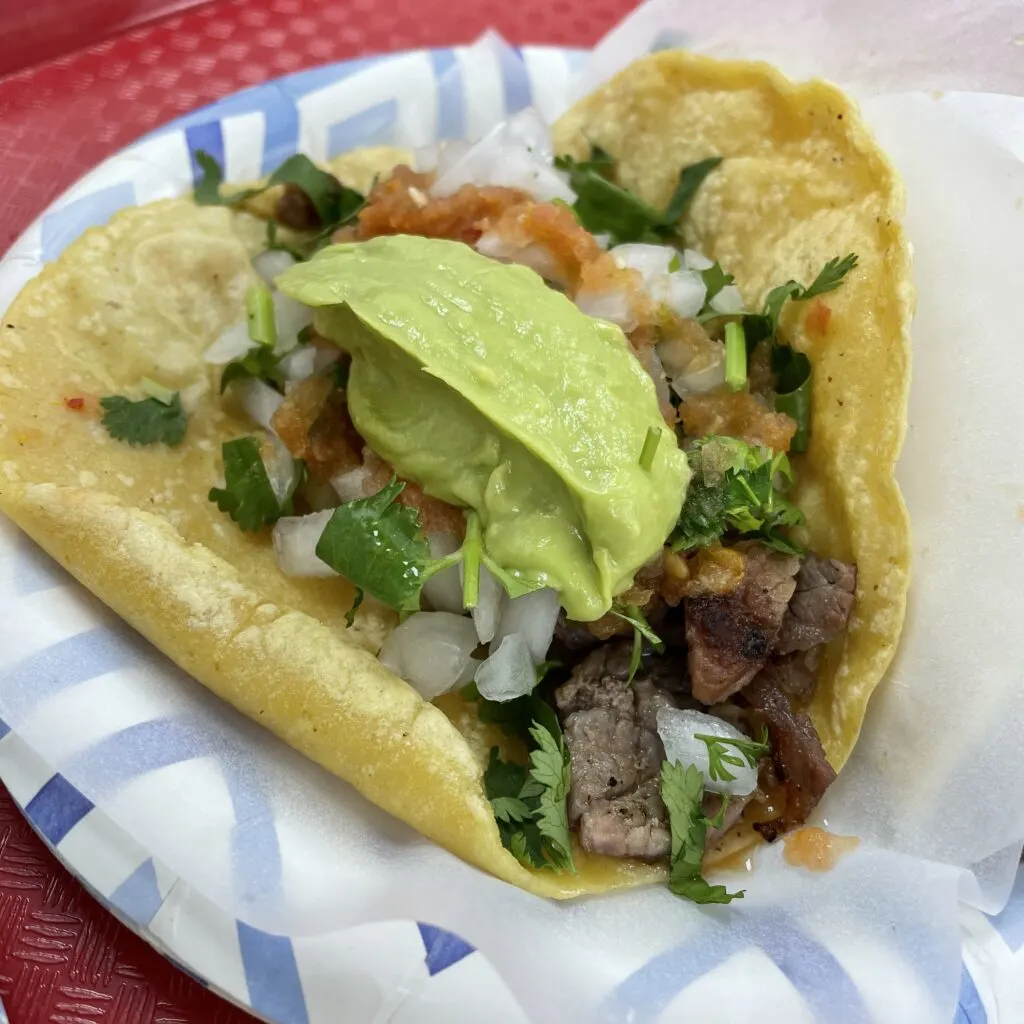 Play Vintage Slots: Real coin slot machines are making their last stand on the Strip at Circus Circus, a short ride away from Wynn & Encore. Located just inside the front entrance is a sizable bank of about twenty $1 token slot games.
Make a stop if you crave that metallic "ting, ting, ting" of yesteryear!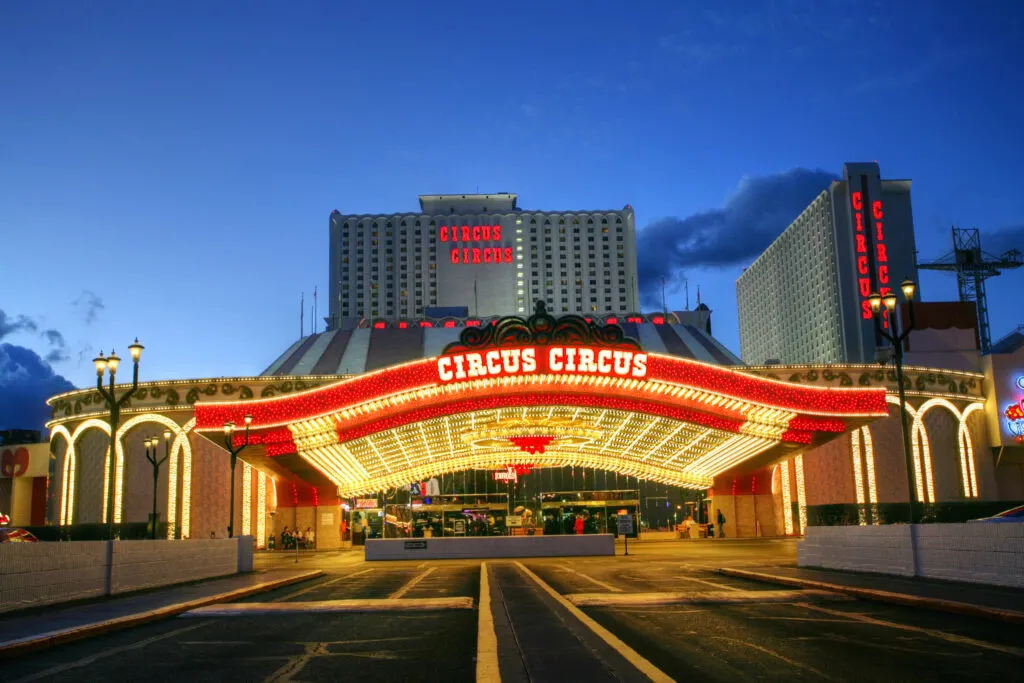 Hopefully, I was able to help you find some things to do at Wynn and Encore to add to your Las Vegas itinerary!
Given its location on the Strip, you will have no trouble staying busy! For additional ideas, check out our breakdown of things to do on the Strip by resort.
See Also: Where to eat cheap on the Strip – Resort by Resort breakdown of your options.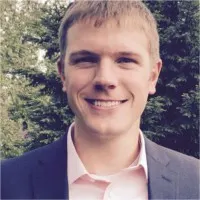 I'm a former software salesman turned Vegas aficionado. While the craps table is my preferred habitat, I pull myself away to explore new attractions, shows, restaurants, and outdoor activities around Las Vegas with the intent of sharing my experiences.
Ultimately, I just want to help folks plan a better trip and save a few bucks in the process.