Situated on the north end of the Las Vegas Strip, Venetian opened its doors in 1999 and was followed by Palazzo in 2007. Together, the two resorts offer over 4,000 guestrooms and are connected via the Grand Canal Shoppes.
In a city that is slowly "de-theming", Venetian still embraces the intricate Italian elements that make it a must-see property.
As is the case with many resorts in Las Vegas, there are so many more things to do at Venetian and Palazzo than gamble.
Below, we'll dive into some notable things to do at Venetian/Palazzo that you may want to consider adding to your Las Vegas itinerary!
Related: Check out our experience staying in a Venetian Luxury King Suite!
Things To Do at Venetian and Palazzo
Walk the Grand Canal Shoppes: Among our favorite things to do at Venetian, walking the Grand Canal Shoppes never gets old.
Sure, there are over 160 shops, restaurants, and bars, but the star of the show is the theming. The Shoppes give guests the feel of walking the streets of Venice, and there is breathtaking scenery around every corner.
Whatever you do, don't forget to snap a selfie in front of the "LOVE" sign. After all, if you don't do that, were you ever even here?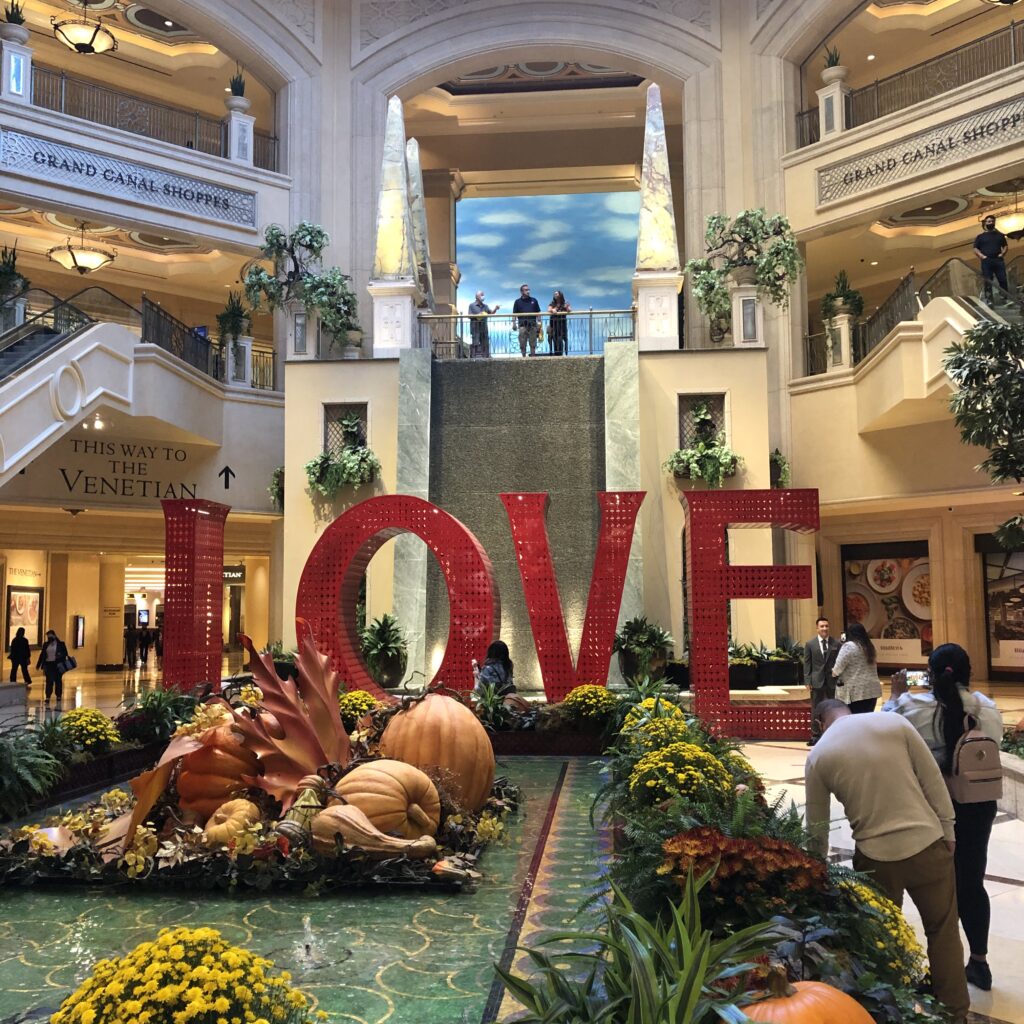 Grab a drink in the Grand Canal Shoppes: In addition to unbeatable scenery, there are also a number of rock-solid happy hour deals scattered about the Shoppes, making it a fun spot to hop from bar to bar.
A quality craft beer is also easy to hunt down in the Grand Canal Shoppes as both Sin City and Trustworthy Brewing Company offer a location for you to imbibe in the mall.
Catch a free show in St. Mark's Square: The focal point of the Grand Canal Shoppes is St. Mark's Square which is a replica of the Italian version. Las Vegas' version of St. Mark's Square offers guests the opportunity to grab a bite to eat under the simulated blue sky, surrounded by the theming elements that make Venetian a must-see attraction in itself.
While there, be sure to check out the 15-minute "Streetmosphere" performance which is free and features vocalists, dancers, and musicians.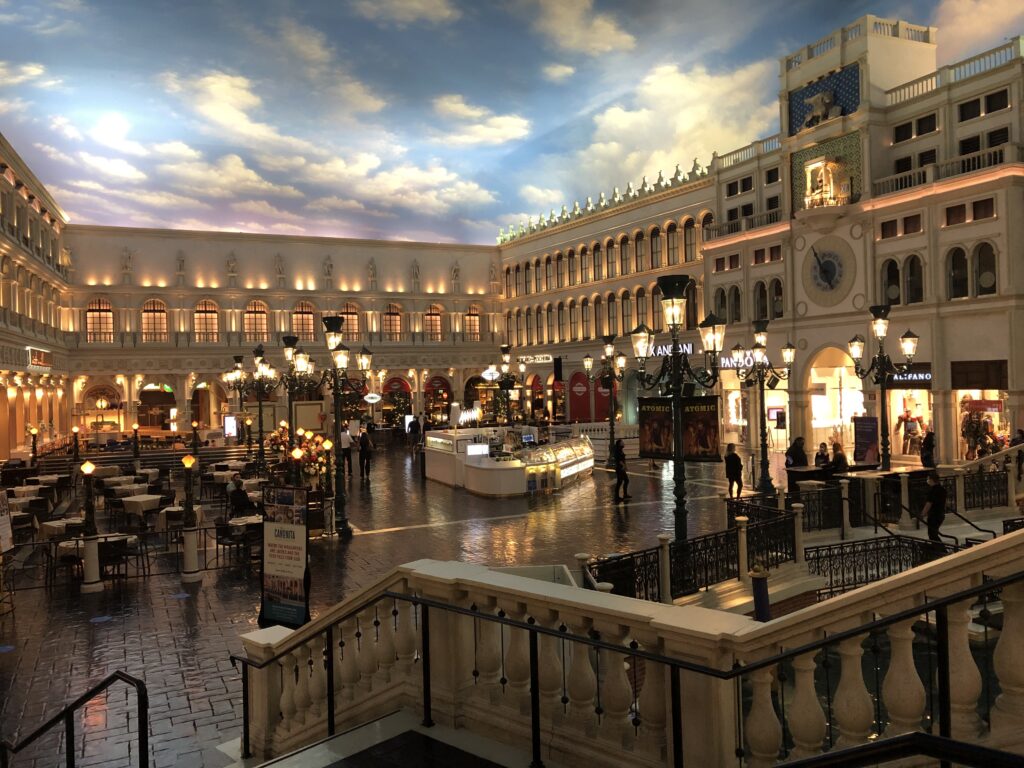 Take a romantic gondola ride: Offering rides both indoors and out, Venetian's gondolas are a favorite activity of couples seeking a romantic escape. Gondoliers serenade guests as they make their way through the canals which draw inspiration from those of Venice, Italy.
More on how to buy Venetian gondola tickets and cost here.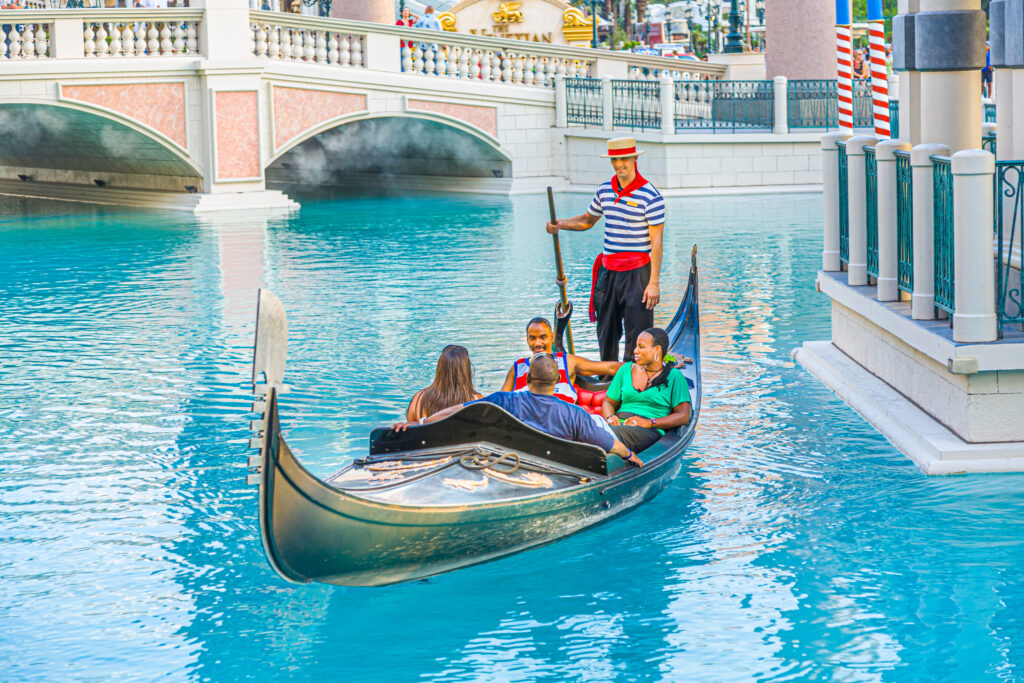 Check out Atomic Saloon: A production created by the same folks that brought you "Absinthe" and "Opium", Atomic Saloon mixes engaging variety show acts with an offensive brand of humor that we, and people like us, delight in.
Described by the show creators as "Blazing Saddles" meets "America's Got Talent" meets "Westworld", Atomic Saloon could be a good option for folks who enjoy crude humor and entertaining acts. Tickets can be booked in advance directly with the show, or with a 3rd party like Vegas.com where you can often save a few bucks.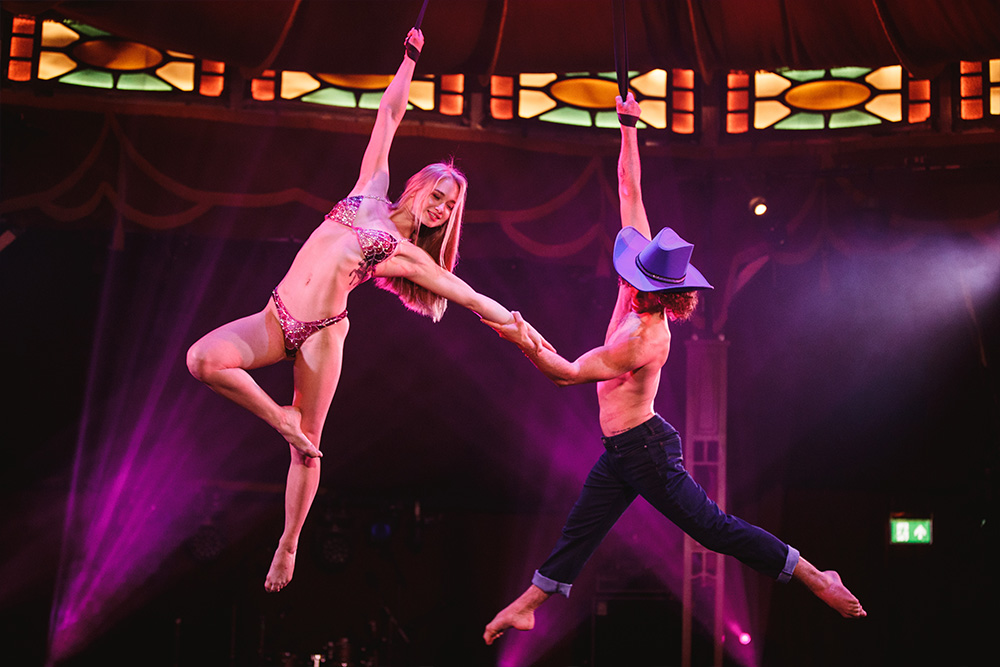 Minus5 Ice Bar: The perfect thing to do at Venetian on a hot summer day – Grab a drink in a bar made entirely of ice. That's right, the bar, walls, chairs, even the cups are made of ice. Forgot your winter gear? Don't worry. Parkas, gloves, hats, etc are provided. You'll be comfortable and will make one heck of a unique memory.
Related: Check out our ideal 3-day Las Vegas itinerary for ideas to add to yours!
Go Rock Climbing: A 40-foot rock wall is part of Venetian's Canyon Ranch Spa that anyone can gain access to. Prices range from $29 for a 25-minute session to $49 for 50-minutes. While the spa also offers traditional amenities like a salt cave, fitness classes, and other wellness services, we chose to focus on the rock wall… because that sounds like more fun. If you're looking for things to do at Venetian/Palazzo with an older kid, this could be an option as youth aged 10 – 17 are able to climb if accompanied by an adult.
Madame Tussauds Wax Museum: Visit and take photos with celebrities and politicians, living and deceased at Madame Tussauds. Popular figures include Steve Aoki, Alan from "The Hangover", and Snoop Dogg, among others.
Sing, or watch, Karaoke: Among the more upscale karaoke bars in Las Vegas, Kamu differentiates itself by offering 40 private suites that all offer their own unique flair. They're freaking awesome. Bottle service and a full food menu are also offered.
Take advantage of the pool: If you are staying at the resort, the pool deck needs to be atop your list of things to do at Venetian. The sprawling deck gives guests access to both Venetian and Palazzo's pools meaning you will always be able to find a sunny spot to recover from the night before and recharge for the night ahead in Las Vegas.
The renovated pool deck is spectacular and individual pools are separated by foliage, making for a more intimate experience than you would expect from a mega-resort. A portion of Venetian and Palazzo's pool deck remains open year-round for those brave enough to swim during the winter.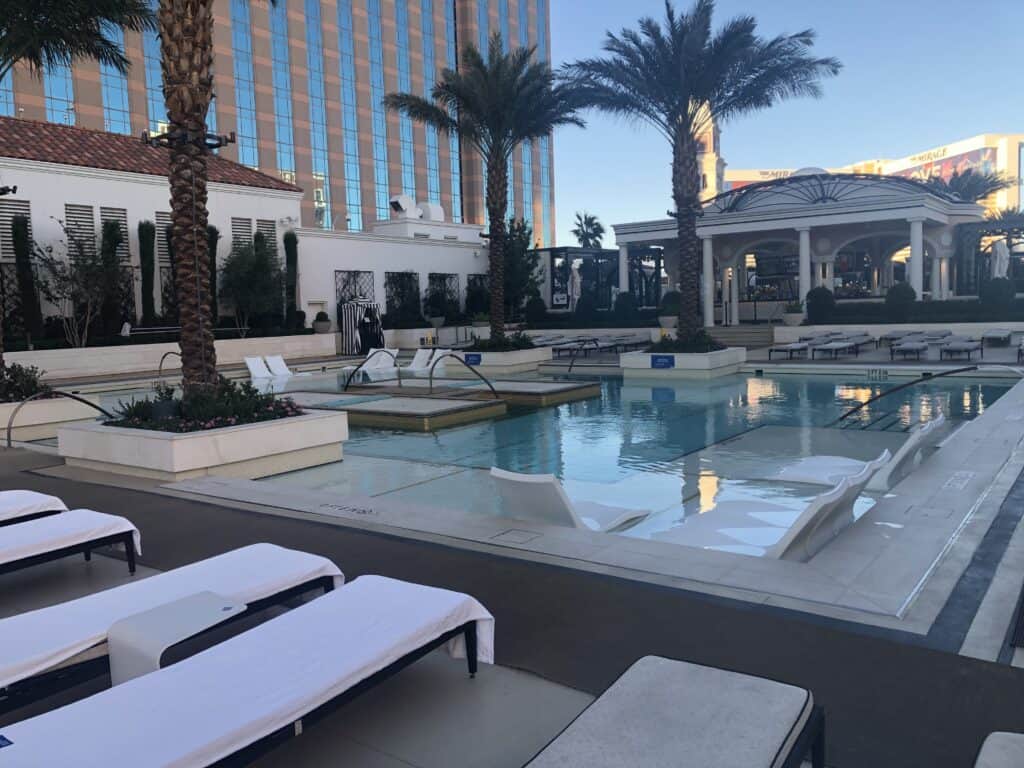 Things To Do Near Venetian and Palazzo
Positioned at the north end of the Las Vegas Strip, there are plenty of things to do nearby Venetian. We recommend checking out the Conservatory and Botanical Gardens at Wynn, which is worth seeing even if you don't plan to gamble at the resort.
While you're at Wynn, ensure you make time to stroll through their beautiful Plaza Shops which boasts numerous upscale tenants.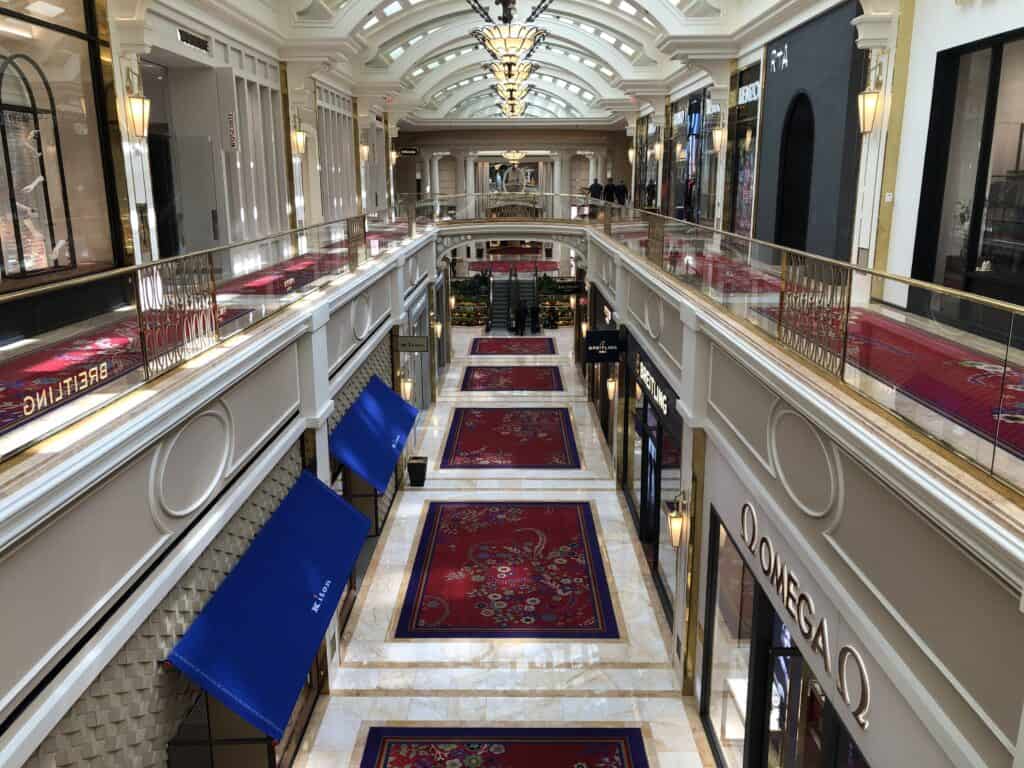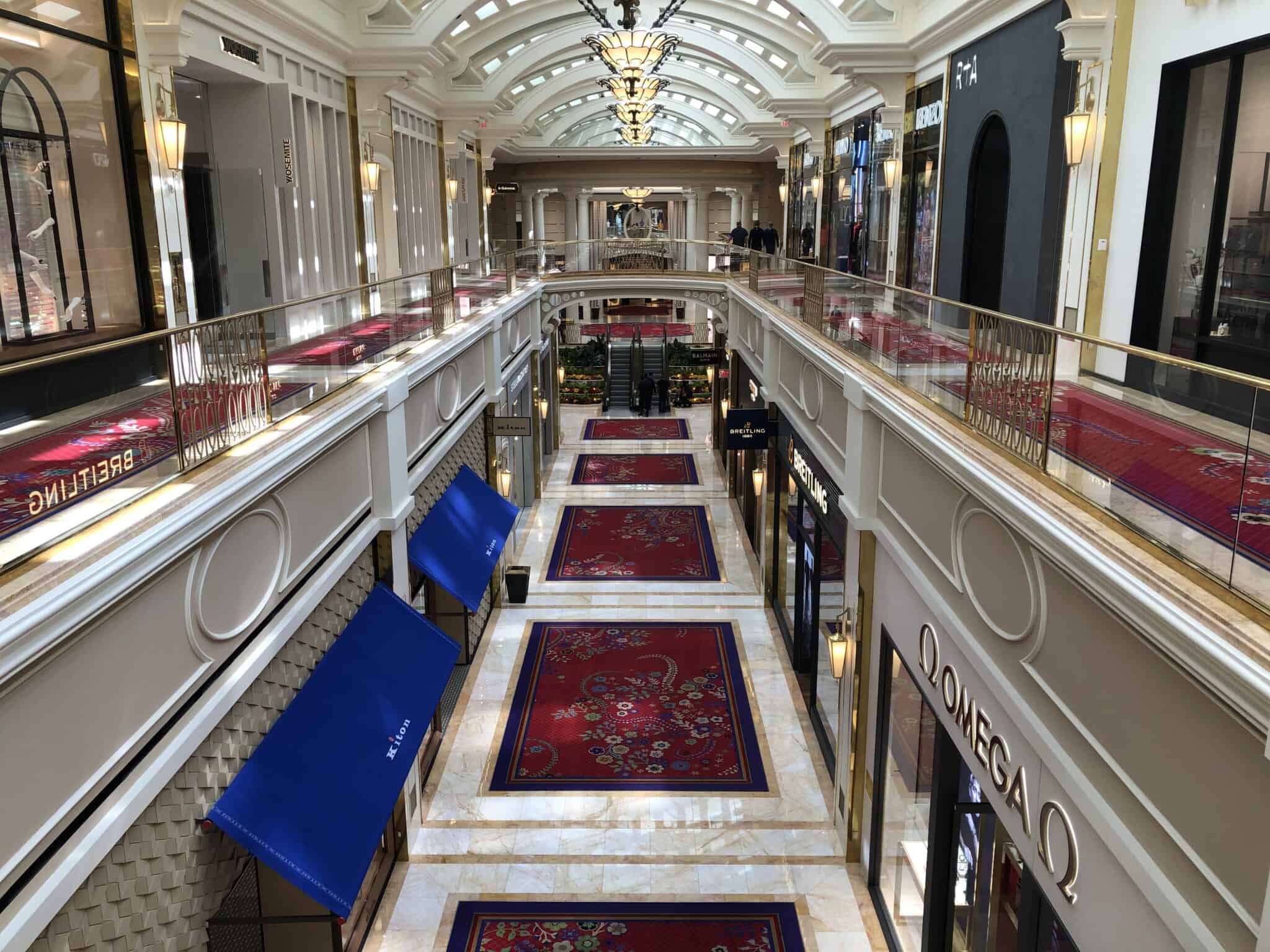 The free volcano show at Mirage is a must-see attraction, as it'll soon be removed as the resort transitions to its new identity as Hard Rock.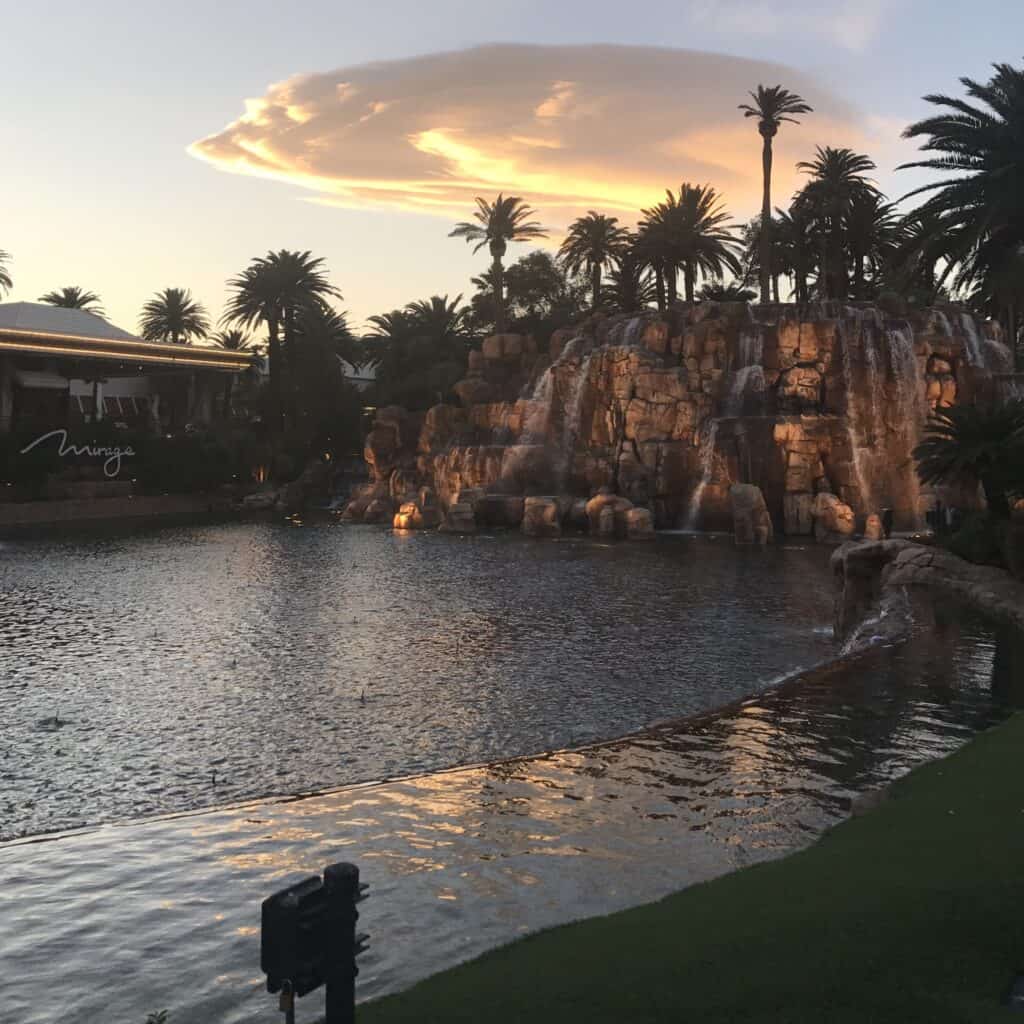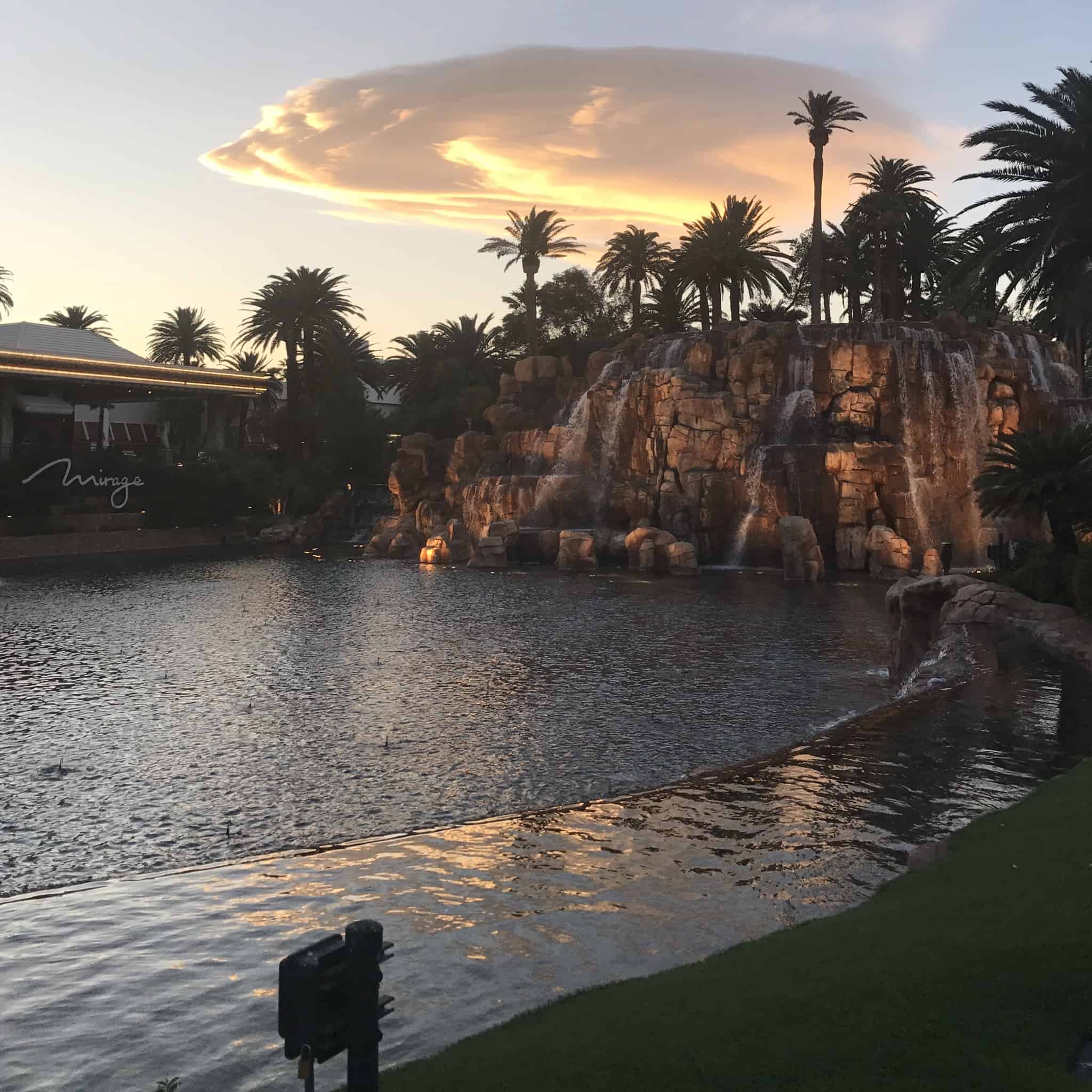 At Caesars Palace, strolling the intricately themed Forum Shops is a must, if only for the scenery.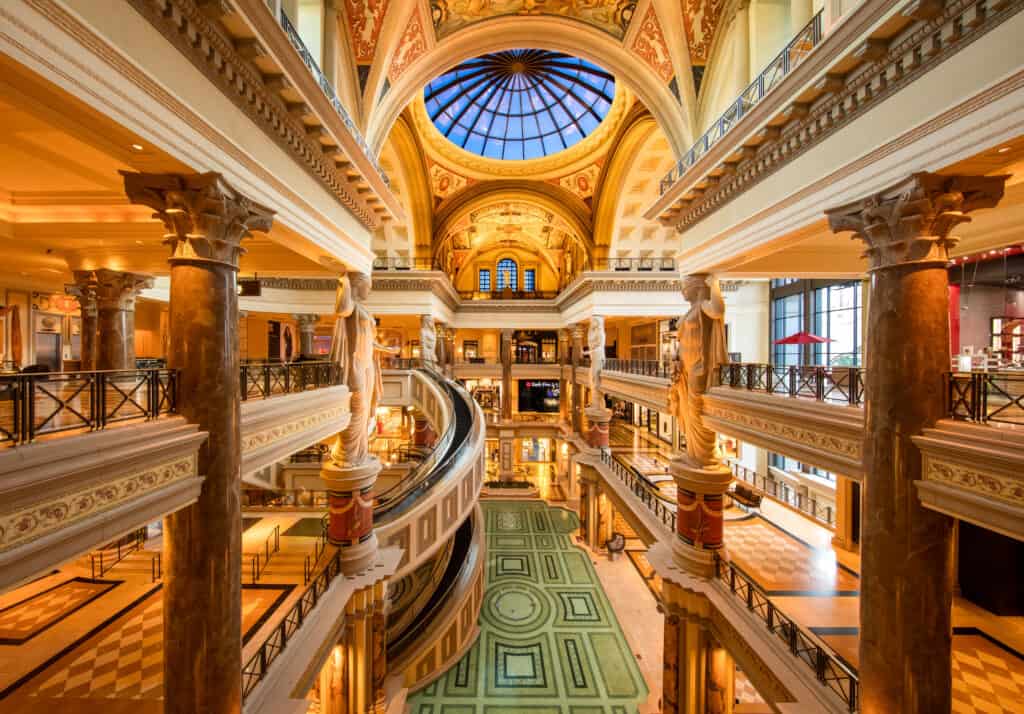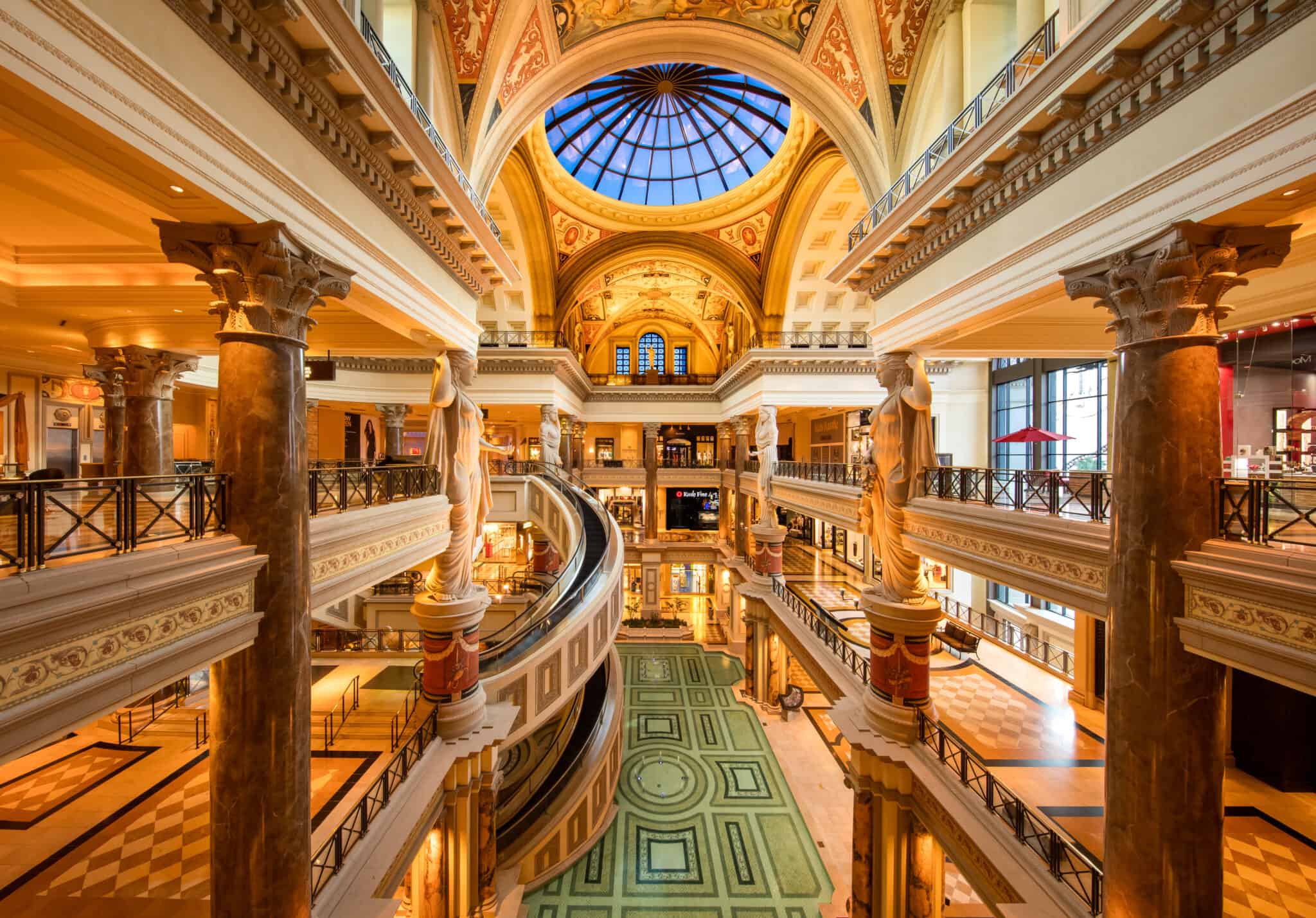 Cigar aficionados will appreciate the fact that Caesars also offers 2 different cigar lounges. The first, Montecristo, is located off the casino floor.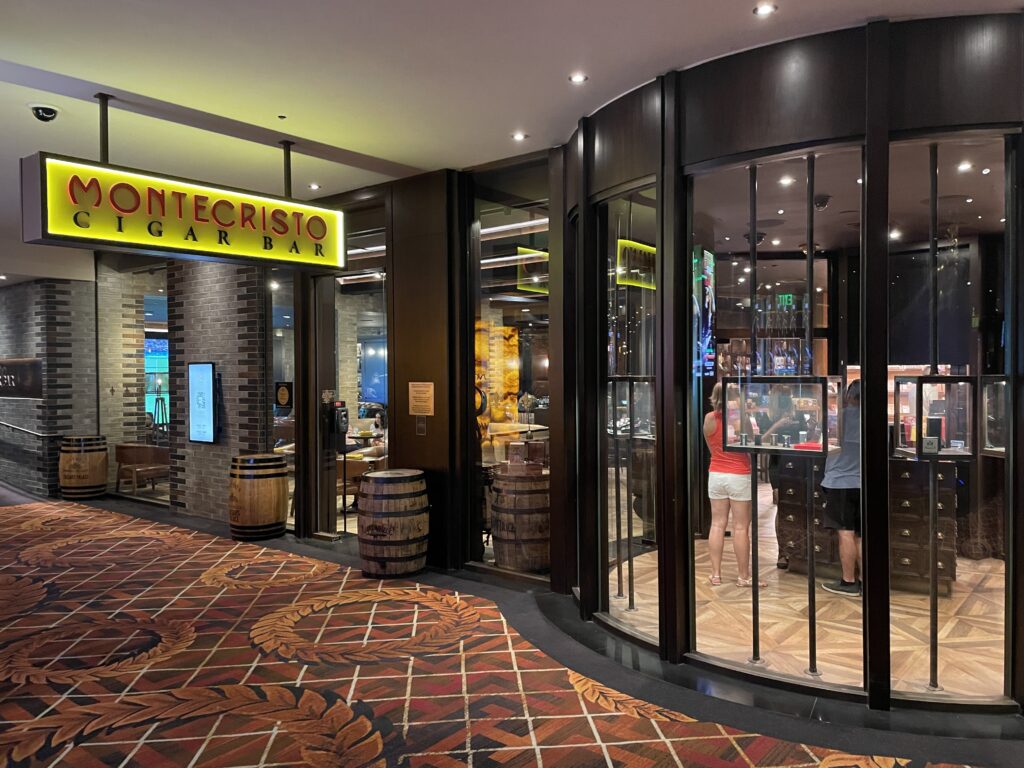 Casa Fuente can be found in the Forum Shops.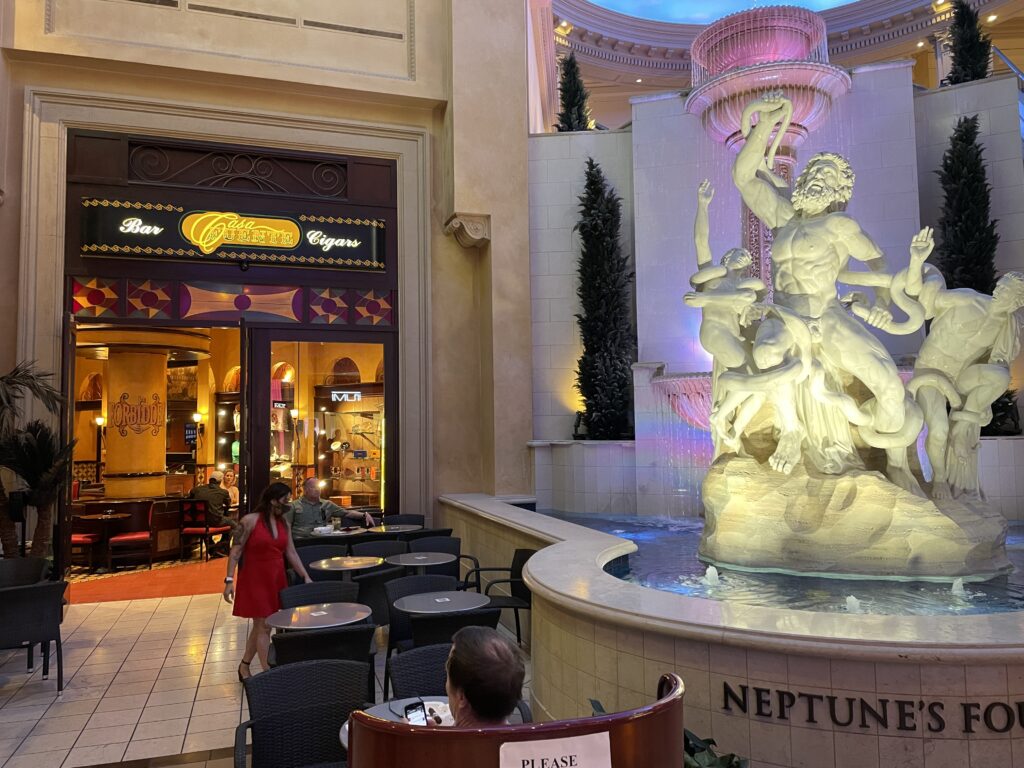 Resorts World is a short walk to the north and is the newest resort on the Strip. Inside, you'll find a sprawling casino floor, a speakeasy bar (shh!), a cocktail lounge on the 66th floor, and numerous dining options.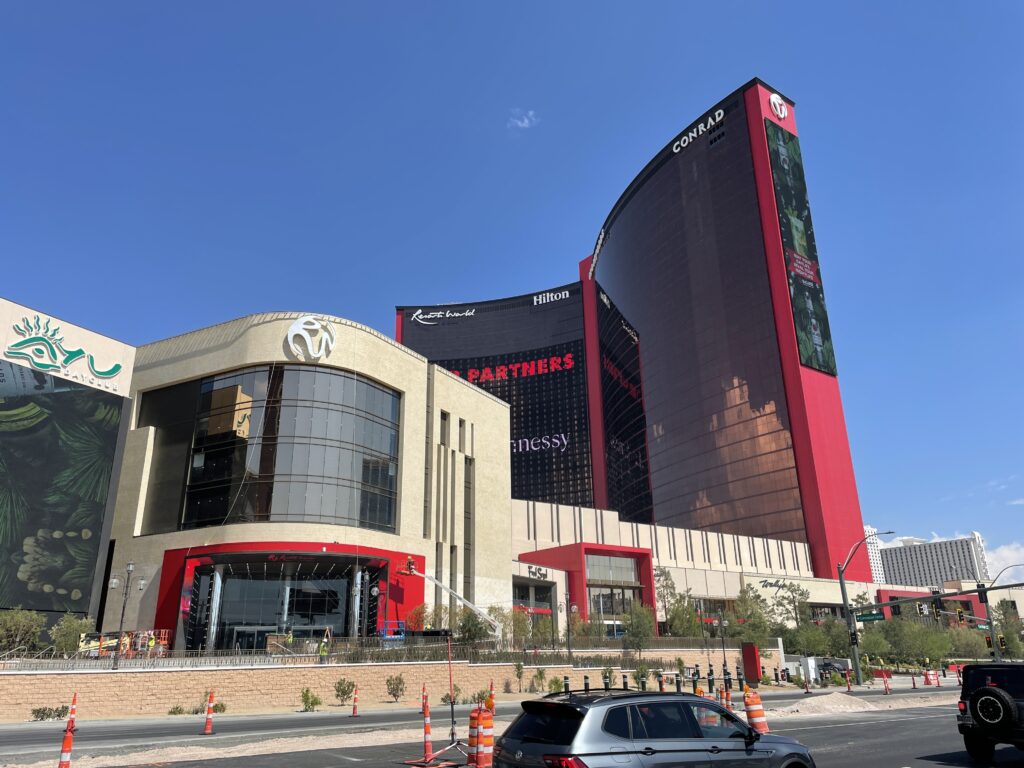 Our favorite aspect of the resort is the Famous Foods Street Eats food court, which offers an impressive variety of high-quality food at grab & go prices ($20 or less).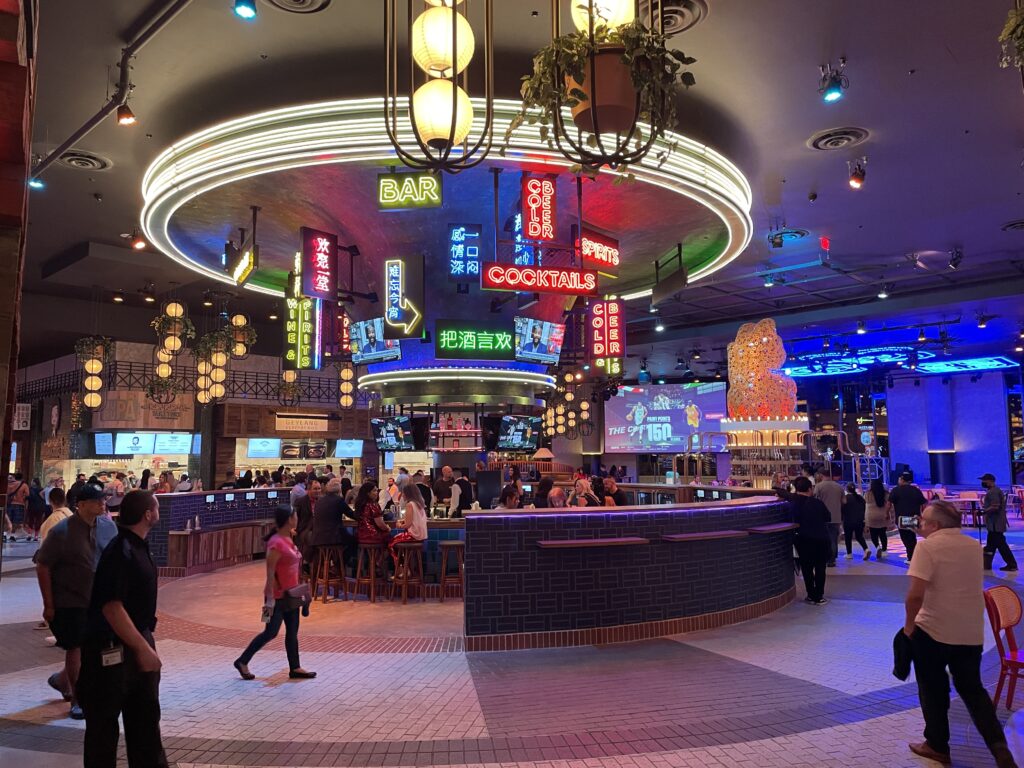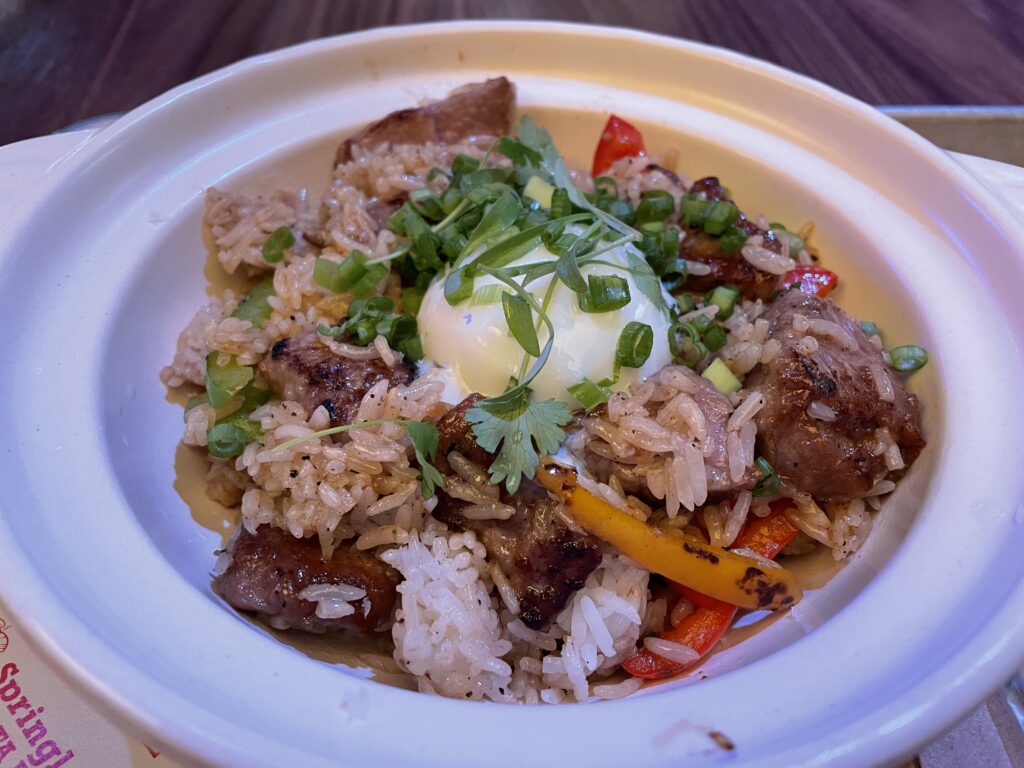 There is an absolute abundance of things to do at Venetian and Palazzo in Las Vegas. Although not listed as its own bullet point, just walking through and exploring the themed resort is among our favorite things to do while in town.
Related: Where to eat cheap on the Strip – A property by property breakdown of options.
Feature Image: ©meinzahn/123RF.COM