Not everyone comes to Vegas in pairs. In fact, a survey conducted by the Las Vegas Convention and Visitor's Authority determined that in 2021, 25% of visitors came to town as part of a group of 3 or more.
Whether you're traveling with family, coworkers, or a group of friends, you're likely looking for some social group activity ideas in Las Vegas that'll appeal to everyone.
Below, I'll share some of my favorite things to do as a group in Las Vegas.
To qualify as one of my top group activities, attractions need to:
Be group-focused – Individual experiences like ziplines are out.
Spur Conversation – Silent activities like seeing a show are out.
Hopefully, you can find a nugget or two that'll fit your itinerary! Let's dive in, shall we?
Related: 2 & 3 Bedroom Suites in Las Vegas and Bunk Bed Rooms & Suites in Las Vegas– Get a room big enough for everyone!
Things To Do With a Group in Las Vegas
Topgolf
You likely have one in your hometown, but that doesn't negate the fact that it's a fantastic group experience.
Tucked behind MGM Grand, Topgolf offers engaging and enjoyable games that golfers and non-golfers alike are sure to enjoy.
In addition to golf, Topgolf serves a full menu, boasts 5 bars (some with video poker), has TVs hanging everywhere, and even makes a 2 level swimming pool available to visitors.
Few group activities in Las Vegas top Topgolf in my opinion. The experience is sure to generate conversation and laughs while getting the competitive juices flowing.
Learn more about Topgolf Las Vegas.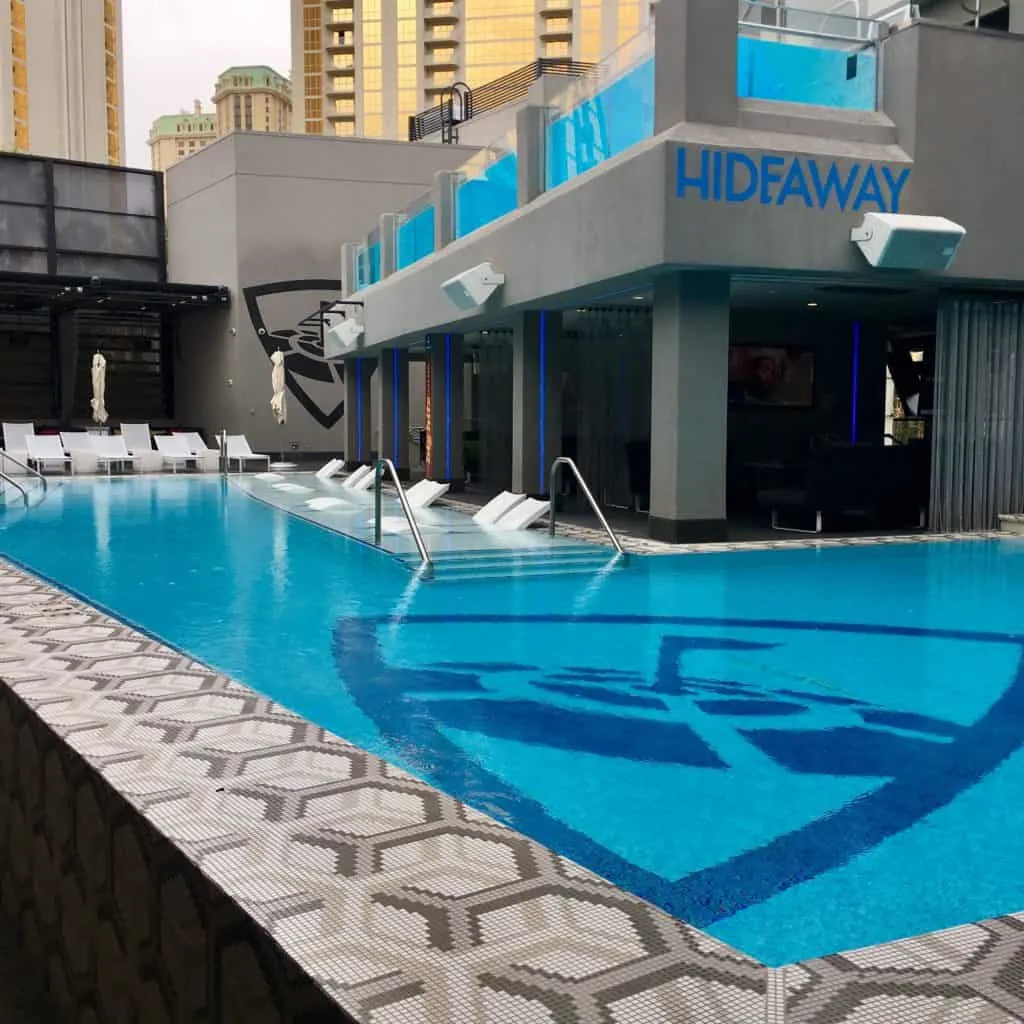 High Roller Observation Wheel
While a gargantuan Ferris wheel may not immediately strike you as a great group activity, High Roller's pods hold up to 40 people, and the attraction even offers a group discount.
Reaching heights of 550 feet above the Strip, the High Roller is sure to generate plenty of chatter amongst the crew throughout the 30-minute revolution.
While a traditional ride on the High Roller is impressive, those looking for a "rowdier" group experience may want to consider upgrading to the Happy Half Hour experience, which offers an open bar for the duration of your ride.
I've personally taken two Happy Half Hour spins and have gotten my money's worth both times. They even offer you a drink for the road!
Tickets can be purchased in advance with the attraction, here, and the group discount is available after you select your date and ride type.
Brooklyn Bowl
Found along the LINQ Promenade, Brooklyn Bowl offers bowling with an edge. Along with traditional bowling, Brooklyn Bowl commonly hosts live music, is home to a number of bars, and has a full menu.
Think of it as a classier, more fun, take on traditional bowling that your team, family, or group is sure to enjoy.
Uniquely, you can take an online 3D tour of the property on Brooklyn Bowl's website.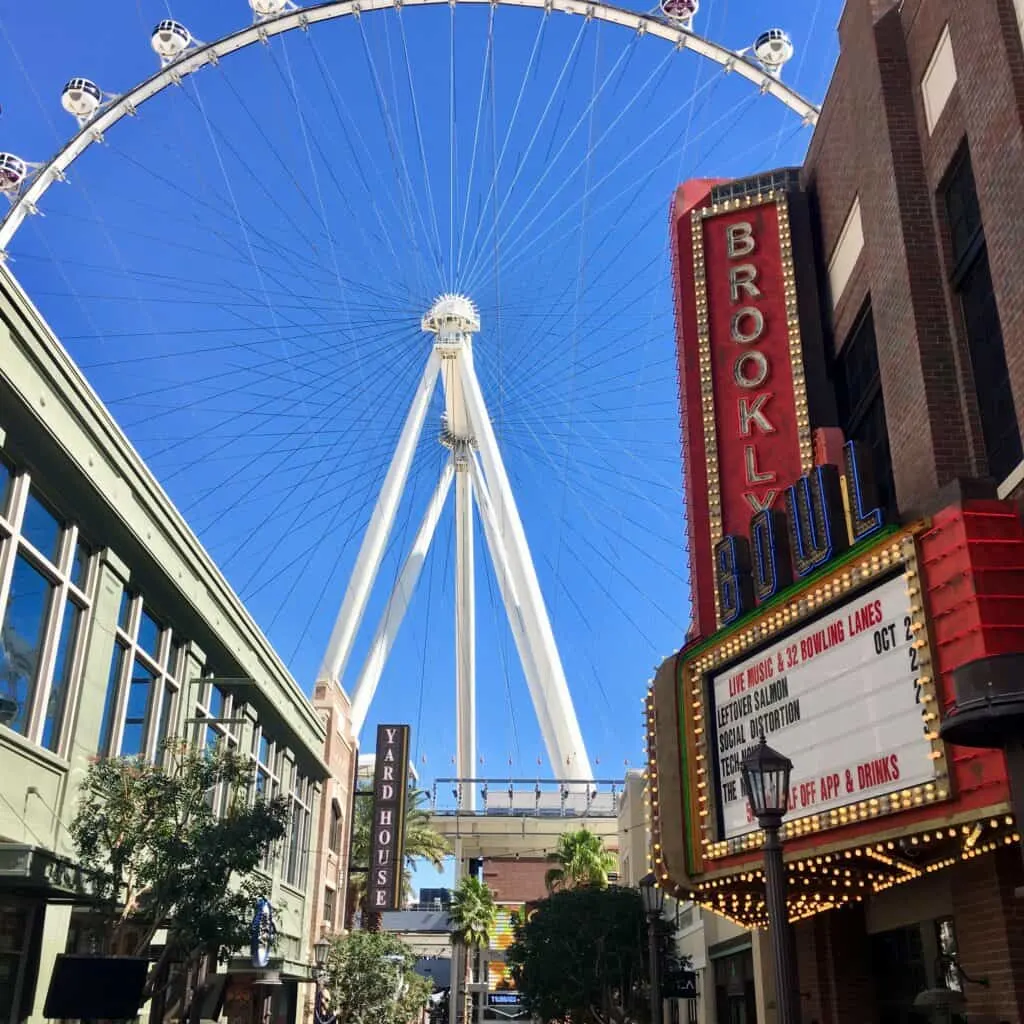 Food Tours
Food tours in Las Vegas provide the opportunity to sit around the table and enjoy conversation over great food and drinks.
Instead of enjoying just one restaurant, food tours typically make multiple stops at restaurants celebrated by foodies as being the best of the best.
While you can view Vegas food tour options here, rest assured there's an option for every time of day, type of cuisine, or location (Strip or Downtown).
Don't waste time researching restaurants for your group – Let an expert guide you instead.
Dine in Complete Darkness
On the topic of food, few meals will provide a more unique group experience in Las Vegas than Blackout: Dining in the Dark.
As the name would suggest, Blackout: Dining in the Dark is a 7-course fine dining experience served in complete darkness, which is said to elevate your other senses.
No cell phones, flashlights, or other light sources. Just darkness.
No doubt, your group will be talking about this for some time.
Reserve your seat at Blackout: Dining in the Dark, here.
Don't worry, the staff is issued night vision goggles to help them navigate the room :).
A Helicopter Tour
Few views of Las Vegas are better than that provided by a helicopter tour of the Strip.
Prices start at around $115 per person, and the flight path takes you from the south end of the Strip to Downtown Las Vegas and back.
If your group wants to see the sights around Las Vegas, helicopter tours from Las Vegas also visit the Grand Canyon, Hoover Dam, and Red Rock Canyon.
Learn more about your options, and price out your flight with Maverick, here.
Related: Maverick Strip Tour Review – Check out my experience!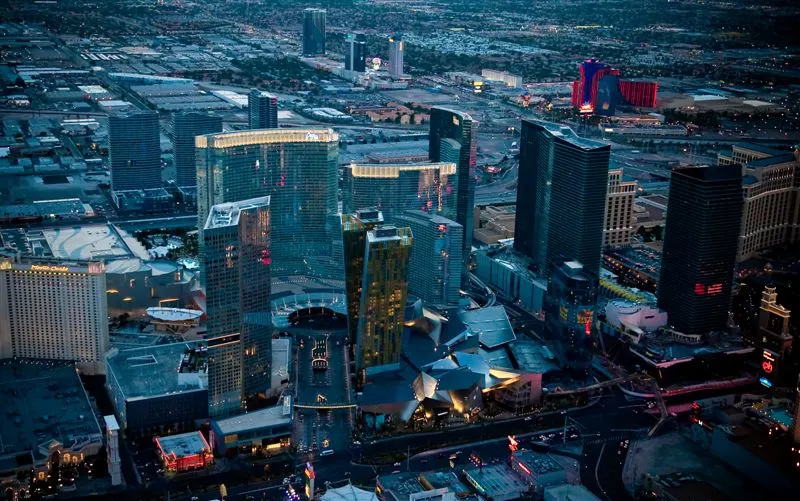 An Escape Room
There are few better ways to bond as a group than by escaping from a prickly situation. The Escape Game, located conveniently in the Forum Shops at Caesars Palace gives your crew that opportunity.
A highly reviewed experience, The Escape Game offers a few unique scenarios that include a prison break, a museum heist, and the exploration of an undersea laboratory among others.
Oftentimes, tickets to The Escape Game are a tad cheaper when booking via Vegas.com.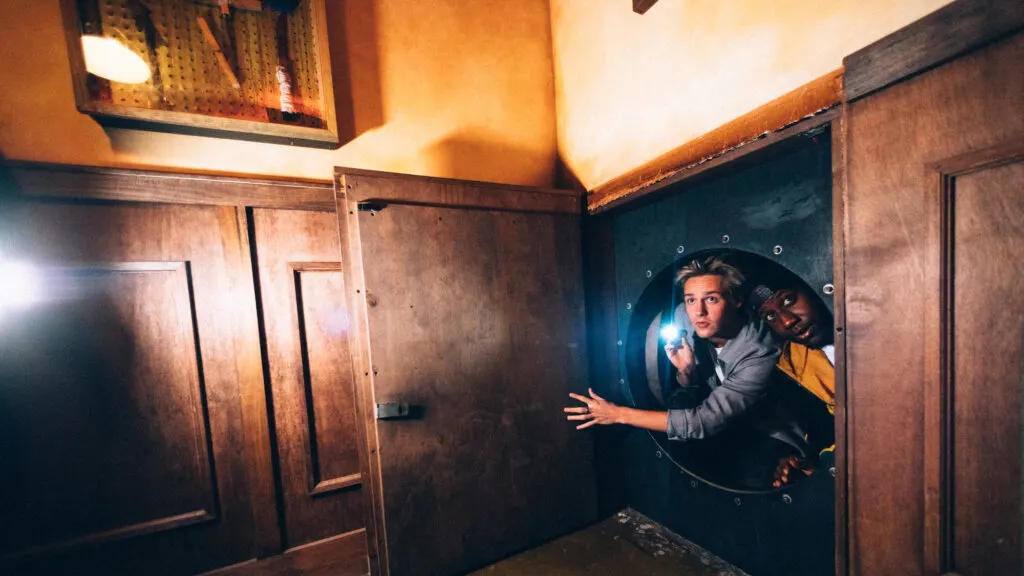 Visit an Elevated Cocktail Lounge
Grabbing drinks with a view of Las Vegas can be the perfect way for groups to start or cap off an evening on the town.
Some of my favorite options include:
Alle Lounge on 66 at Resorts World
Legacy Club at Circa
Foundation Room at Mandalay Bay
Skyfall Lounge at Delano
108 Drinks at STRAT found in their indoor Observation Deck
Beer Park at Paris – Not high, but great views of the Strip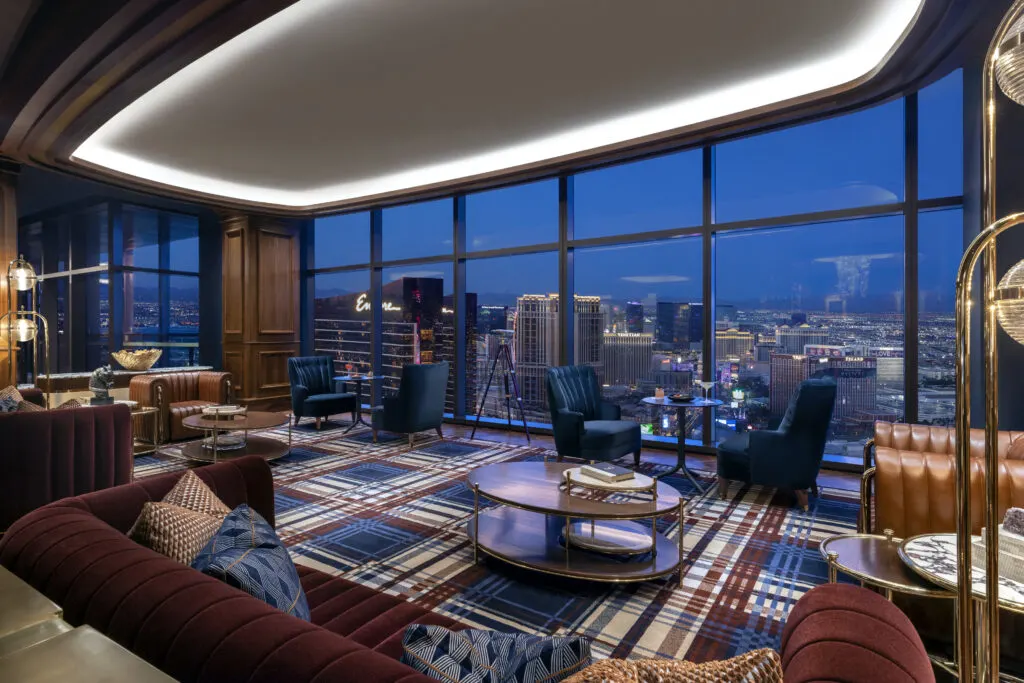 Sneak into a Speakeasy (or 3)
Your group is sure to bond over the unique thrill of finding clandestine cocktail lounges hidden in plain sight.
Las Vegas speakeasies are growing in popularity, but a few of my favorites are found at Cosmopolitan.
There, your group can discover Ghost Donkey, The Ski Lodge, and The Barbershop, three differentiated experiences that have impressed me in the past.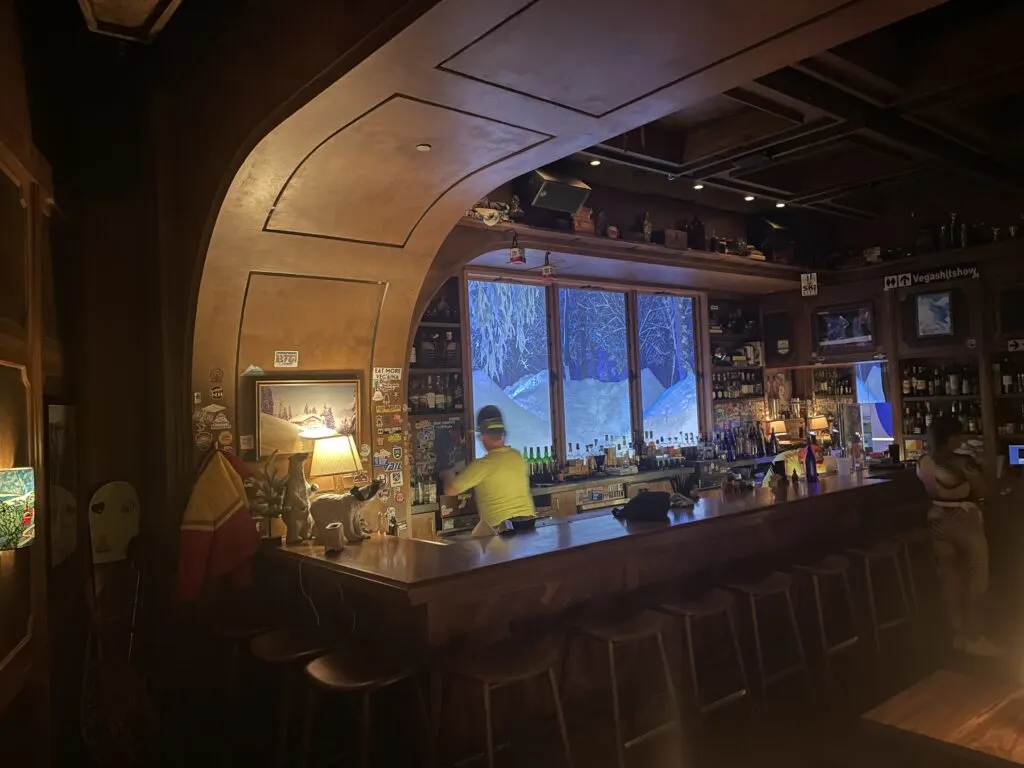 Another go-to for my wife and I is the Here Kitty Kitty Vice Den at Resorts World, which is hidden behind an active restaurant in their Famous Foods Street Eats food hall.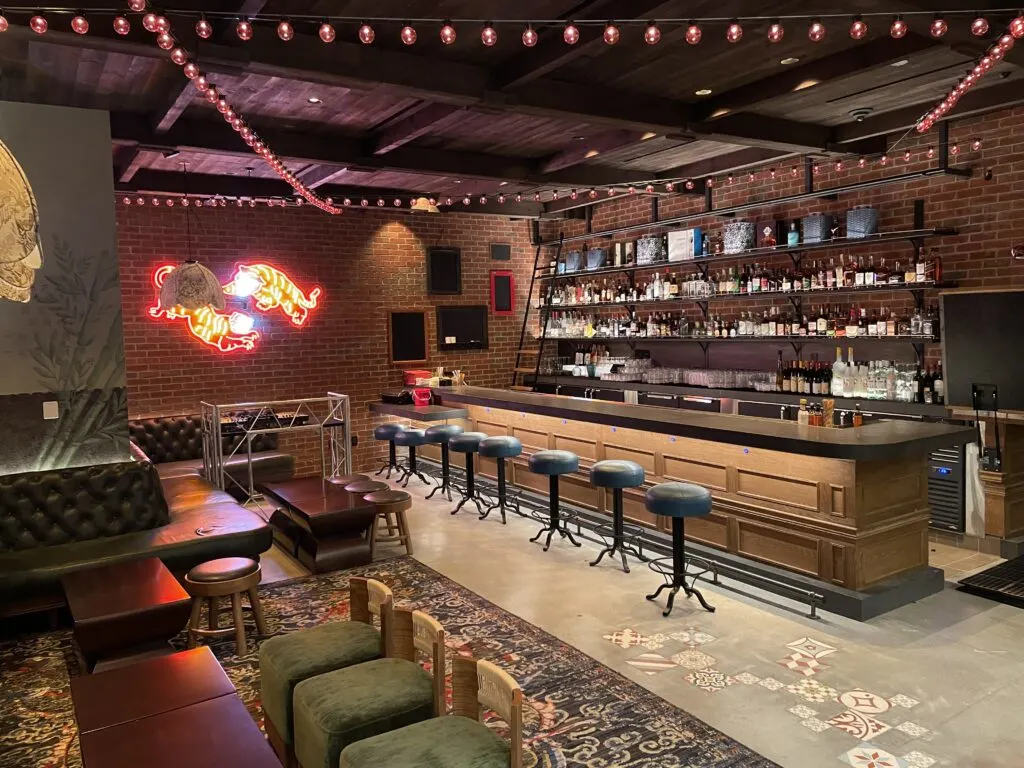 Sing (or watch) Karaoke Together
Several karaoke bars in Las Vegas offer private room rentals that could make for the perfect group activity.
Kamu Ultra Karaoke, which is a luxury experience right on the Strip at Palazzo offers medium, large, and VIP suites that can accommodate groups of 6-40 people.
View packages at Kamu Karaoke, here.
Ninja Karaoke is located in the Las Vegas Arts District (near downtown), and also offers private karaoke rooms for groups that can accommodate 6-80 people.
Explore Omega Mart at Area15
Just off the Strip, Omega Mart is the flagship attraction at the Area15 entertainment complex.
The attraction appears to be a run-of-the-mill supermarket, but there is much more to the story than meets the eye.
First, the products on the shelves at Omega Mart are… strange…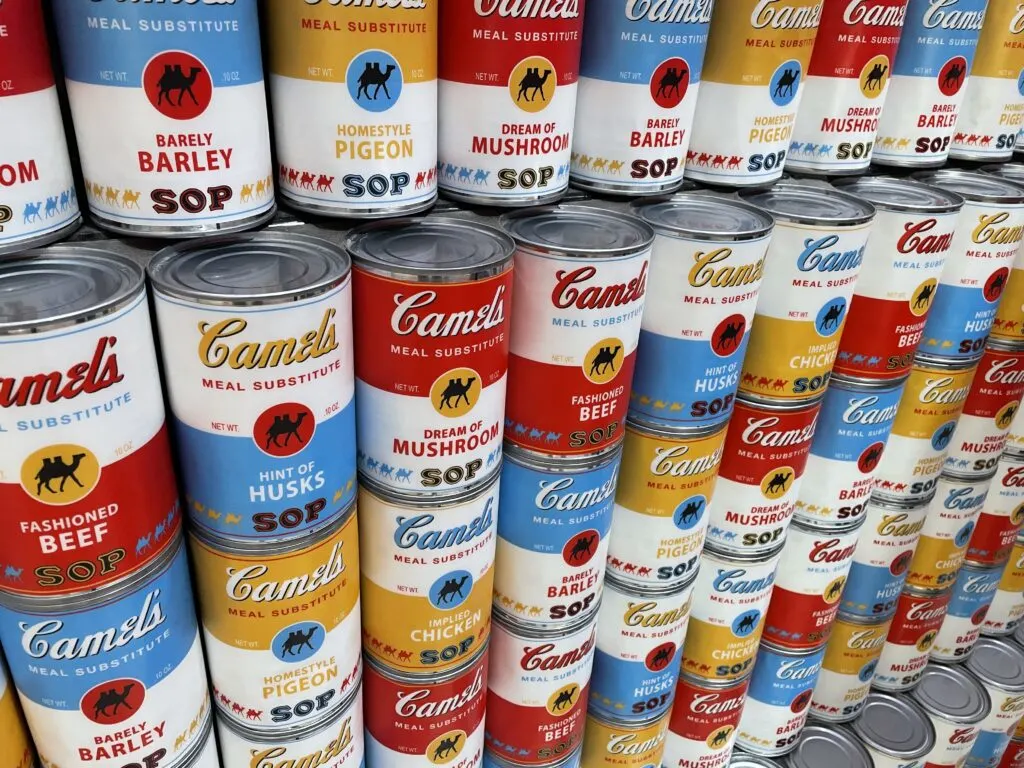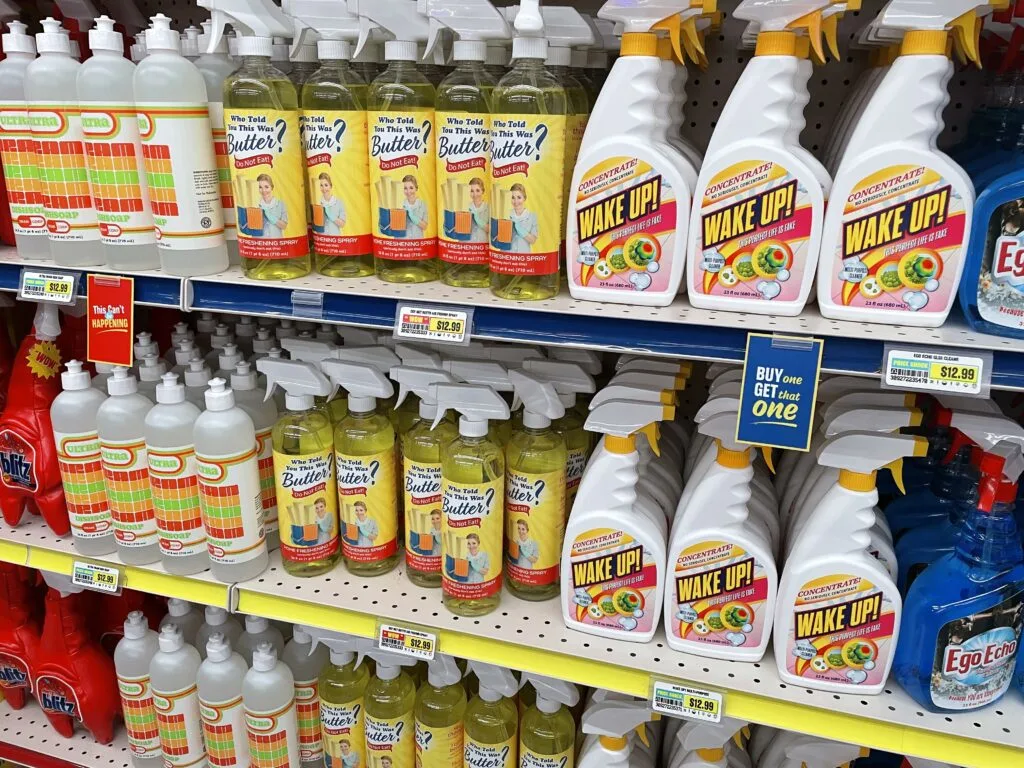 Next, your group will want to seek out the portals to another dimension that are hidden within the store.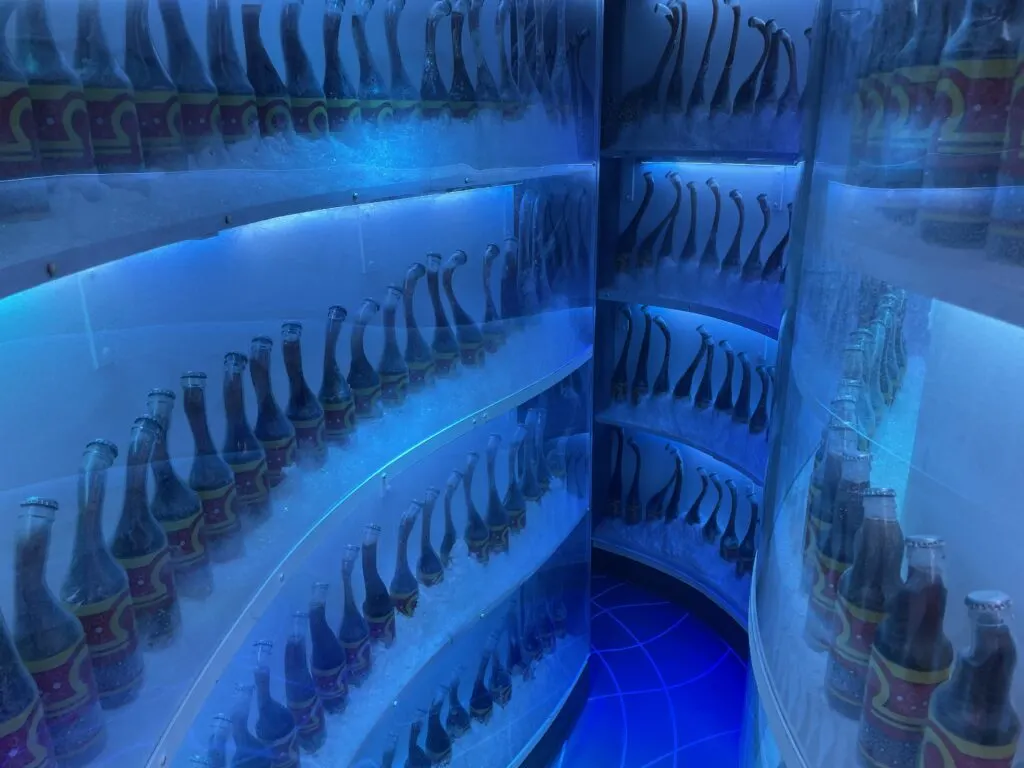 Once you make it through a portal, your group will have a blast exploring the collection of unique rooms, artistic displays, unreal visuals, and even twisting slides.
Here's a sampling of what you'll find behind Omega Mart's retail facade.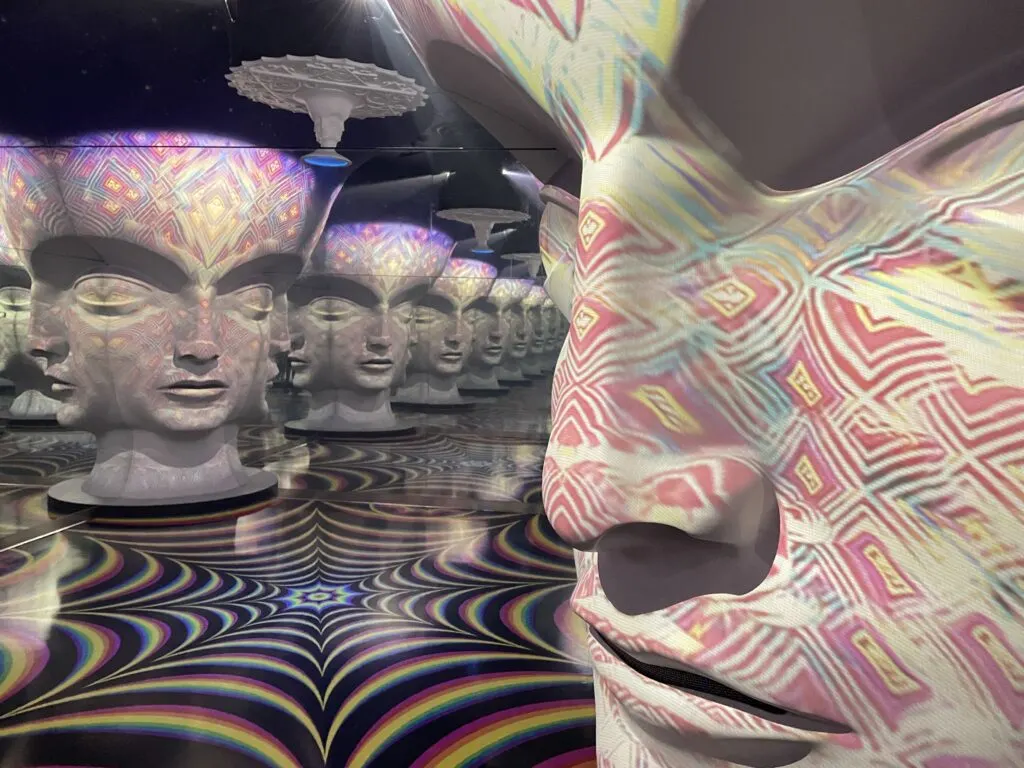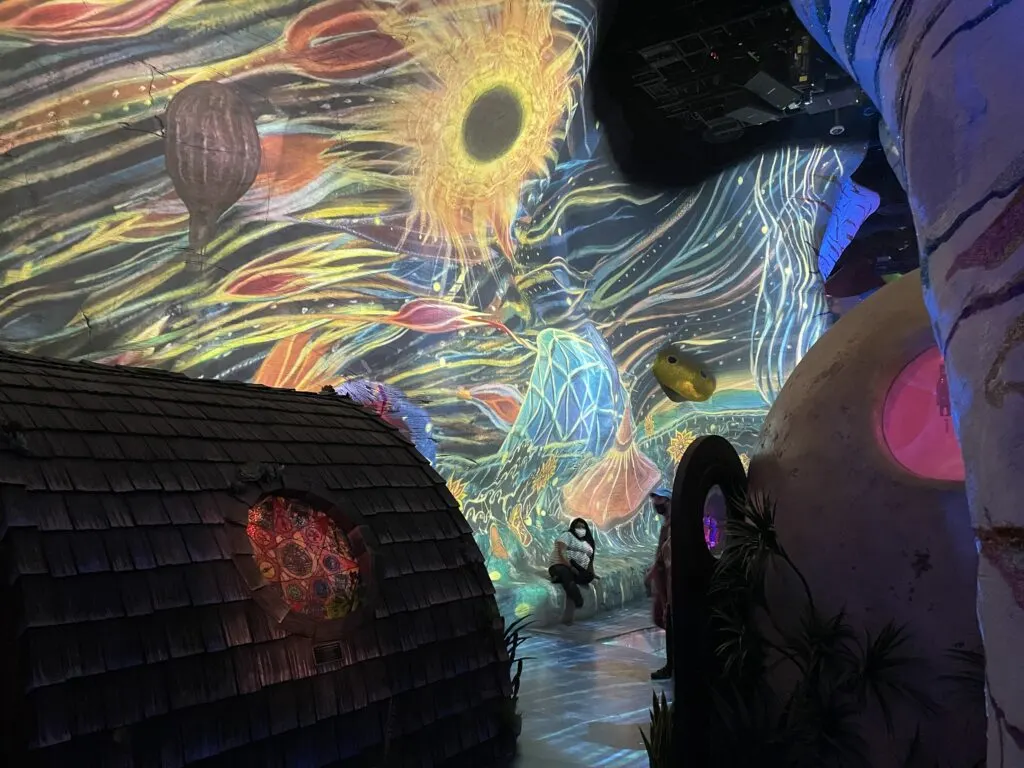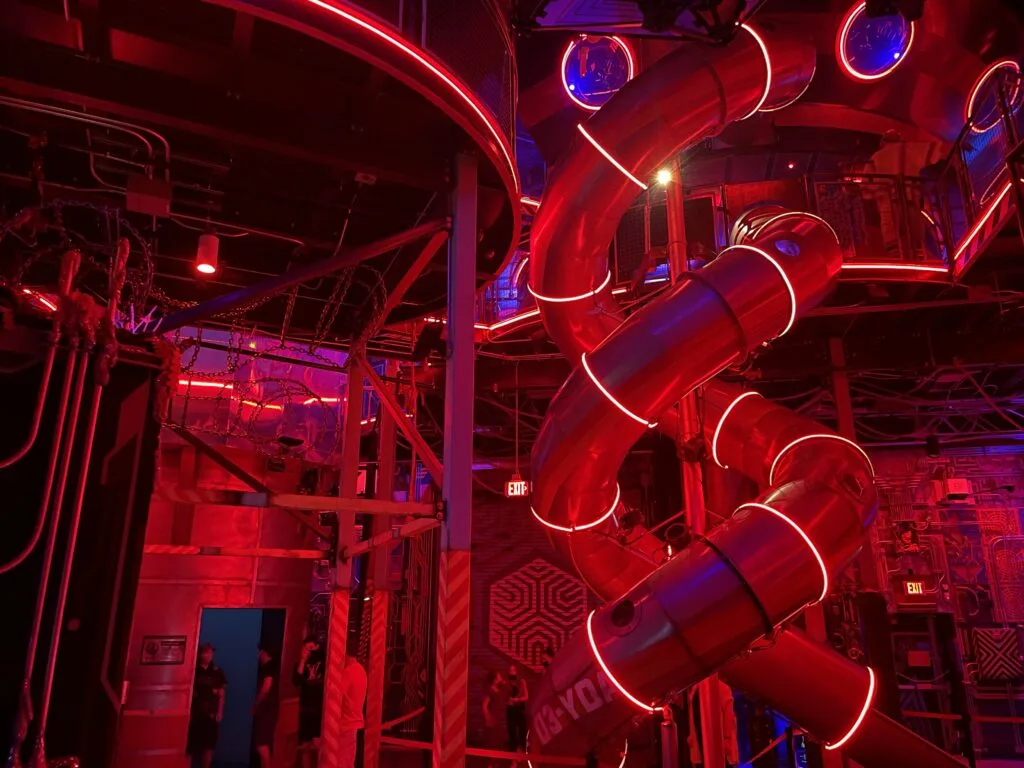 As you navigate the nooks and crannies of Omega Mart, work together to solve the mystery of Dramcorp, Omega Mart's parent company by leveraging the clues that are scattered about.
Tickets can be purchased in advance both with the attraction or with Vegas.com here, where you can often save a few bucks.
Hopefully, I was able to help you identify one or two things to do with a group in Las Vegas that'll work for your crew!
Whether you're traveling with your family, coworkers, or friends, I hope you have a great trip, and make some lasting memories!
See Also: Bachelor Party Ideas and Itinerary Suggestions for a Bachelorette Party in Las Vegas!
Feature Image Credit: ©sid10/123RF.COM
I'm a former software salesman turned Vegas aficionado. While the craps table is my preferred habitat, I pull myself away to explore new attractions, shows, restaurants, and outdoor activities around Las Vegas with the intent of sharing my experiences.
Ultimately, I just want to help folks plan a better trip and save a few bucks in the process.