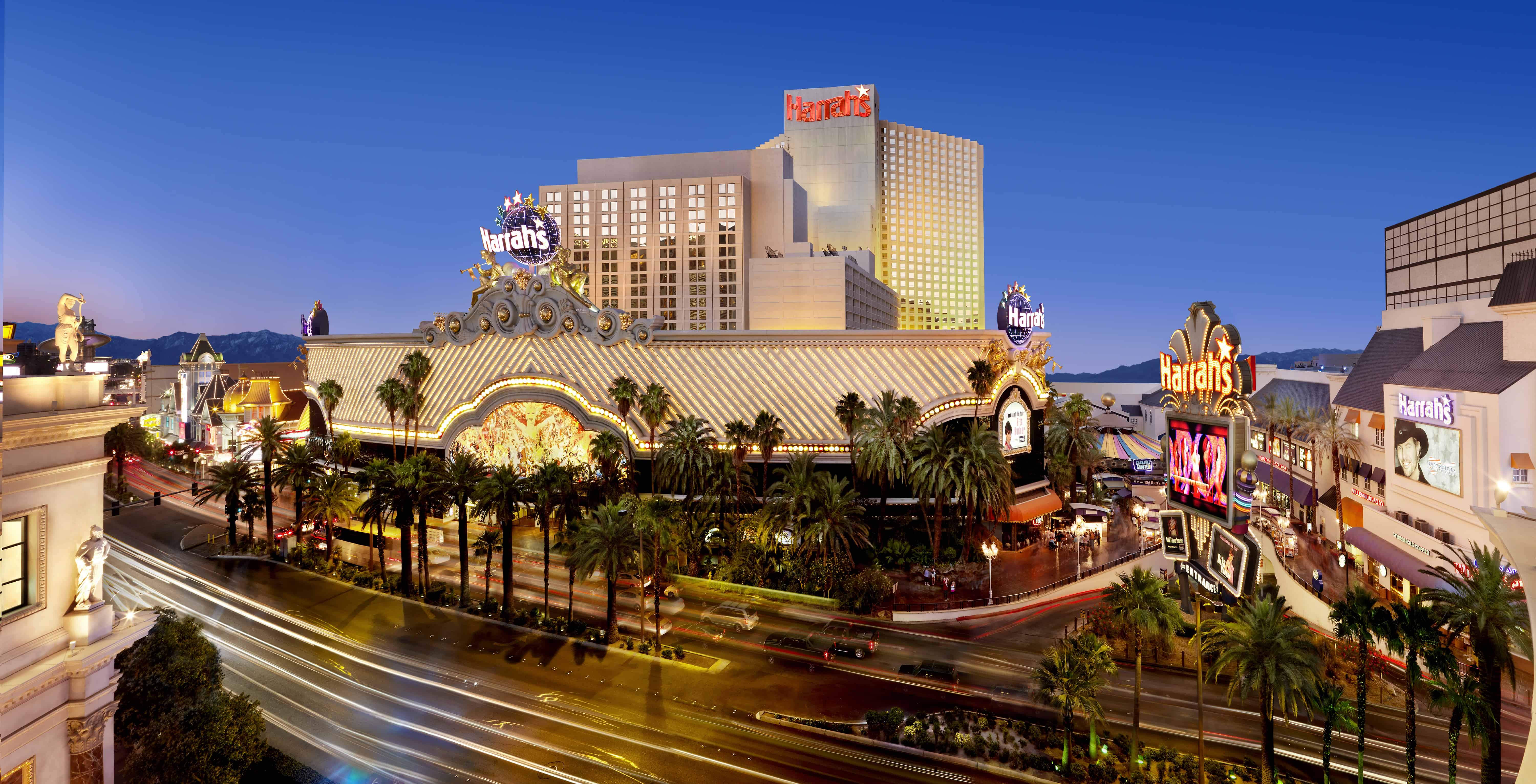 Harrah's, located smack dab in the center of the Las Vegas Strip is a 2,530 room hotel and casino which features a Mardi Gras theme throughout the property. Originally, Harrah's opened as the riverboat themed Holiday Casino which was it's identity until 1992 when the property was re-branded. What do you need to know about Harrah's?
The best room rates are typically found when booking direct with with the property. Even if you have never gambled or stayed, booking direct with Caesars will often be cheaper than 3rd party travel sites.
What is the pool like at Harrah's?
This is a no frills pool experience, and for guests simply seeking relaxation, that may be a relief. There is a large rectangular pool (think an Olympic style pool) and a separate shallow pool meant for lounging. All the comfort amenities you would expect out of a Vegas pool scene are still present, cabanas for rent, poolside bar and food options. You certainly won't be blown away by the pool area, but it serves it's purpose and is typically much calmer than its peers on the Strip.
Are there any shows at Harrah's?
Mac King Comedy Magic Show: (4.5 / 5 Stars on TripAdvisor) a fun show for your whole family, kids are certainly welcome and will love the show! Mac King has been performing magic since the age of 10 and will dazzle with card tricks, goldfish tricks and good, clean humor. Tickets start at $36.95 plus Ticketmaster fees. Honestly, one of the better value shows in Las Vegas.
X Country: (4.5 / 5 Stars on Vegas.Com) Think of it as a topless country concert. If you like country music, topless girls or a combination of the two this could be a good fit for you. Tickets start at $47.94 plus Ticketmaster fees.
Menopause The Musical: (4.5 / 5 Stars on TripAdvisor) a comedy dedicated to the Menopause. What's not to like? I'll admit, the name doesn't necessarily inspire much motivation (for me at least) but men and women of all ages found this to be an absolute riot. Tickets start at $65.13 plus Ticketmaster fees.
Tapeface: (4.9 / 5 Stars on Vegas.Com) A modern day mime and finalist on America's Got Talent, Tape Face will keep you laughing without saying a word. A truly unique take on comedy on the Las Vegas Strip, don't be scared off by the fact it's "different". Tickets start at $66 plus Ticketmaster fees.
Heartbreak Hotel: Coming soon, a show featuring Elvis' greatest hits replacing Tenors of Rock – stay tuned for more info!
Big Elvis: A free show put on by Pete Vallee staring as Big Elvis. I dare you to find a better free show in Las Vegas. Big Elvis performs in the Piano Bar at the front end of the Casino near the Carnival Court entrance. If you are an Elvis fan, this is a can't miss!
What are the notable dining options at Harrah's?
What is the casino like at Harrah's?
The gaming floor is a bit "blah" for lack of a better term. Harrah's casino isn't revolutionary in its outward appearance of gaming offerings. With 1,381 slot machines, 90 table games and live action Keno there is a game for everyone, however.
Given the casino's center Strip location, you can expect $10 minimums at the tables during slow times and more when the place is packed.
Harrah's certainly isn't alone, however, more and more of their table game offerings are moving to less advantageous variants for gamblers such as 6-5 blackjack and "crapless" craps as examples. Keep in mind, our friends at Ellis Island Casino are just a few blocks away off the strip if you are searching for better odds.
How is the Hotel at Harrah's?

Caesars has invested significantly in the Harrah's hotel in recent years renovating 1,622 of the total 2,530 rooms across the property. All renovated rooms at Harrah's are located in the Valley Tower. Although generally cheaper, rooms in the Mardi Gras Tower are not renovated.
Mardi Gras Room: This baseline, unrenovated room comes in variants of 1 King or 2 Queens, Smoking/Non, some with a view of the Strip. Also, included in the 340 sq ft. space is a shower/tub combo, table and chairs and blackout curtains.
Valley Room: This 300 sq ft. newly renovated room features a sleek, modern design, 49 inch TV and rain shower.
Valley Studio Room: 550 sq ft. of newly renovated space featuring one king bed, 300 thread count sheets, desk for getting some work done and modern decor. You will also find a coffee maker in the room – a Vegas rarity.
Suites: Harrah's has suite options ranging from 680 sq ft. up to the exorbitant 1,360 sq ft. Valley Vice Presidential Suite.
*Base room options at Harrah's come in 2 queen / 1 king options as well as smoking vs. non. Pet friendly rooms are an option, as well as rooms with a view of the Strip or High Roller Observation Wheel.
*Hotel check in starts at 4pm and guests are expected to be checked out by 11am.
What are others saying about Harrah's Hotel?
Positive Traveler Review Themes: Convenient location right in the middle of the Strip; Dining options at various price points on site; Self Check in saved time; Newly renovated rooms were fantastic; Monorail access.
Negative Traveler Review Themes: Resort and Parking Fees; Un-renovated rooms dated; Noise seepage from neighboring rooms; Didn't receive the room that was booked.
Price Range:
Harrah's room rates tend to pace with other mid-tier properties on the Las Vegas Strip. Obviously, room rates can fluctuate wildly from day to day based on conventions or events rotating through town, however, you can expect to pay $30-$100 on average for a weeknight stay. Weekends tend to run $80 – $150. A 10% discount is offered to members of the military, first responders, students, teachers and government employees if you book through the Total Rewards website.
The nightly resort fee at Harrah's is $35 + Tax and is charged at the time of check in. Note the resort fees are not assessed to Total Reward members that have achieved Diamond or Seven Stars status. The resort fee at Harrah's covers premium WiFi for up to 2 devices, fitness center access for 2 and local telephone calls.
If self parking at Harrah's, you will be charged $0 for your first 60 minutes, $9 for 1-4 hours and $12 for 4-24 hours.
What are the things I NEED to do at Harrah's?
Take a Photo with Winnie and Buck: The statue hit the casino floor in the late 1990's and was designed by Henry Conversano and artist Mario Chiodo. Winnie, Buck and their dog Chip represents fictional tourists that came to Vegas and hit it big.
Take in a Big Elvis Show: If you are an Elivs fan, check out Big Elvis free at the Piano Bar. You can place song requests, sing along and get a good buzz going.
Get a "Fickle Dip" at Carnival Court: It's off the menu, but made popular by member of the Facebook group Everything Las Vegas. It's a concoction of Captain, Triple Sec, Disaronno, a splash of OJ, lime and topped off with Pineapple Juice. Order it, they'll know what it is.
Is Harrah's in a good location?
Sitting smack dab in the center of the Las Vegas Strip it would be hard to imagine a better spot to be anchored during your next trip. Wedged in between cheap gaming haven Casino Royale to the North and the newly remodeled LINQ and LINQ Promenade to the South and Mirage across the street you will have plenty of dining and gambling options within a few steps.
If you are looking to do Vegas inexpensively, there are also a number of cheap dining options within steps such as Chipotle, McDonalds and White Castle.
Unique Transportation Options at Harrah's:
The Las Vegas Monorail can be employed at the station in the rear of Harrah's property. Just follow the overhead signage. It's a hike, but a solid transportation option if traversing up and down the Strip. Day passes can be purchased in advance here.
Uber and Lyft can be picked up at the valet pick up on the north end of the property.
Our take on the Harrah's Las Vegas property:
While not a Las Vegas property that will dazzle you with "must see" features, Harrah's is a solid hotel option for budget minded travelers looking for center Strip location. While the unrenovated rooms offer a better price point, the renovated rooms have a clean, modern look that aid in shaking the hotel's tired, dated reputation.
The casino floor is massive and offers the full assortment of games you would expect from a Las Vegas casino, however, there is nothing eye popping or memorable about the gaming floor.
Overall, we are of the opinion that there is nothing overly special about the property, but there is also nothing blatantly offensive either. Harrah's offers everything you could want in a Vegas resort from gaming, dining, entertainment and location. A solid value option in the Center of the Las Vegas Strip giving quick access to a number of properties in her vicinity.