Budget-conscious travelers love 4 Queens for being a stalwart champion of value in a city that seems to be moving away from it. With hotel rooms already on the low end of the price spectrum, 4 Queens doubles down by being one of the last remaining Las Vegas resorts without a resort fee.
In addition to being known as a bastion of value for those watching their wallets, the property remains popular due to its vintage feel, location, and activities offered.
Things To Do at 4 Queens
Silver Strike: Among the 3 Las Vegas casinos that offer Silver Strike slot games (El Cortez and Plaza being the others), 4 Queens has the largest selection of machines with 12 in operation on our last visit. For those unaware, Silver Strike slot games kick out a collectible Silver Strike token when the Silver Strike icon aligns with the pay line. Those tokens at 4 Queens carry either a $10 or $40 face value redeemable for cash, but we can't bring ourselves to cash them in.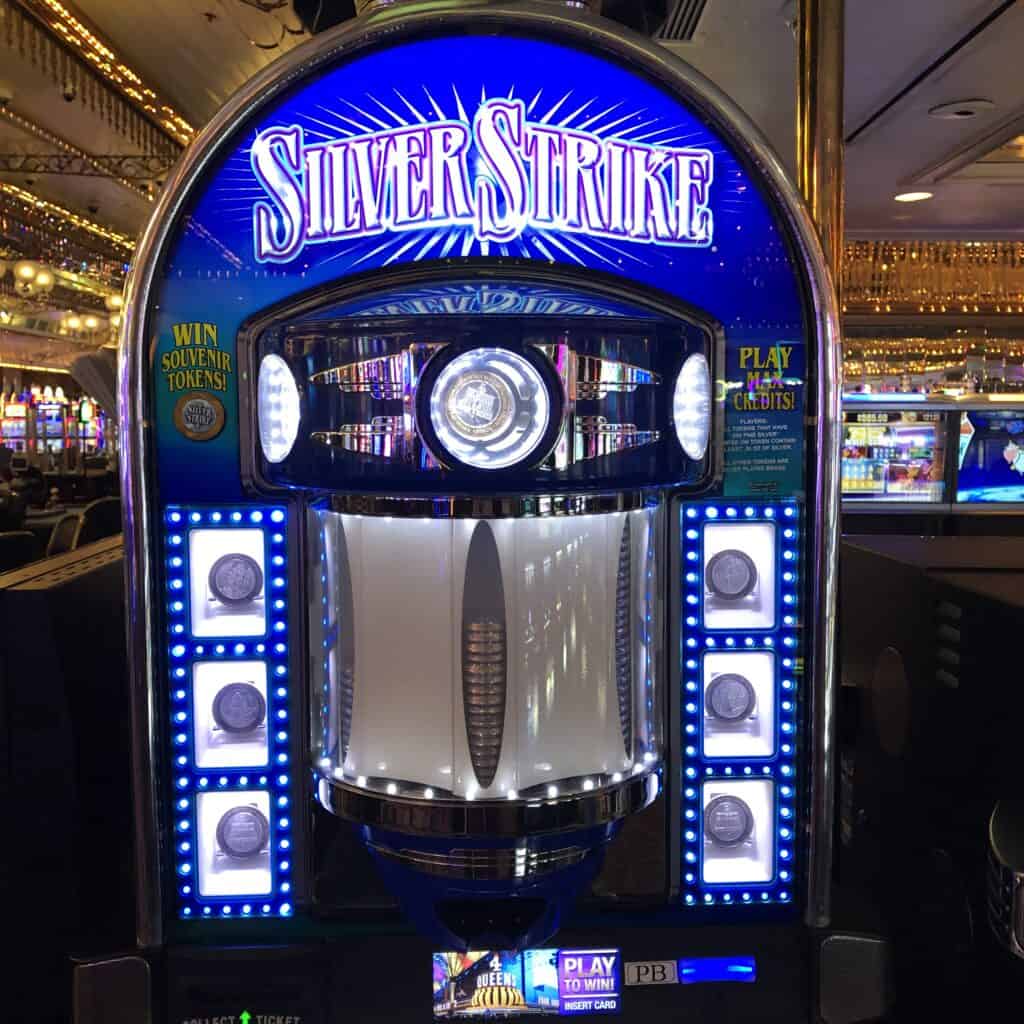 Grab a drink with a view: People watching is among our favorite things to do at 4 Queens, as the collection of humanity on display is akin to a train wreck that is difficult to look away from. 4 Queens' Patio Bar offers guests access to the cocktail of their choice with a view of the crowd milling past. The bar wraps around the exterior of 4 Queens which can offer great views of the 3rd Street live entertainment stage.
Craft brews at reasonable prices: Chicago Brewing Company serves up its lineup of craft beer at palatable prices. While you can score a 14 oz. for $6.50, or a 22 oz. for $7.50, we would recommend starting off with their 9 flavor sampler which runs $10.50 and will educate you on your options. Chicago Brewing also serves up good food at a reasonable price. While you can view the whole menu here, our go-to is their pizzas which cost $12 for a 10″, and $17 for a 16″.
Tip: Swing by for Chicago Brewing's happy hour which runs from 3 – 6 pm Sunday – Thursday (not offered at the gaming bar). Deals include $2 off draft beers and 50% off well drinks.
Grab a bite: In addition to Chicago Brewing, there are a couple of other options at 4 Queens that may be of interest. Hugo's Cellar is among the best dining options in all of downtown Las Vegas when it comes to steak and seafood. Providing an old-school vibe, Hugo's is the perfect date night destination, and ladies are even presented with a complimentary red rose. If you are looking for a great steak, it's difficult to go wrong at Hugo's Cellar. You can expect to pay $60-$70 for a steak, which also comes with a salad prepared tableside.
Magnolia's Veranda is a rock-solid option for those looking for a quality, no-frills meal at a good price. A hearty breakfast can be had for around $10 and most lunch/dinner entrees fall into the $10 – $20 range.
See a comedic magic show: Need a laugh? Check out Mike Hammer's show which is described as
"Comedy with an Edge". Mike leverages his quick wit and audience engagement to keep the show fresh, and legitimately hilarious throughout. With a 4.5/5 rating on TripAdvisor, this show is among the most popular things to do at 4 Queens. Tickets for Mike Hammer can be booked in advance here, which sometimes allows for savings of a few bucks over box office pricing.
Related: Magic shows in Las Vegas – Ranked based on review scores.
Hang out with The King: Elvis pairs with Vegas like meat does with potatoes, and the two will forever be wedded to each other. Among the best Elvis Shows in Vegas, scoring a 4.5/5 review on TripAdvisor is Steve Connolly's "Spirit of the King" show at 4 Queens. Tickets start in the mid-$20s and can be purchased in advance here, or directly with the property.
Related: Elvis fan? Check out Big Elvis' FREE show at Harrah's Piano Bar!
Free slot pulls: Make sure you take advantage of the free slot pull at both 4 Queens and Binion's. Up for grabs are prizes up to $2,500 in cash. What do you have to lose?
Things To Do Near 4 Queens
There is no shortage of activities near 4 Queens given the resort's location in the middle of the Fremont Street Experience. Of course, visitors will want to check Fremont Street's live music calendar which details acts that will be performing on their 3 stages. Ensure you stick around for a few Viva Vision canopy light shows.
4 Queens doesn't have an on-site swimming pool, although guests can access Binion's rooftop option across the street. While the view from atop The Mint's old tower is great, the pool isn't anything special. Both Golden Nugget and Circa offer an extraordinary pool scene that non-guests can access for a small cover charge. If you're a pool person, do it.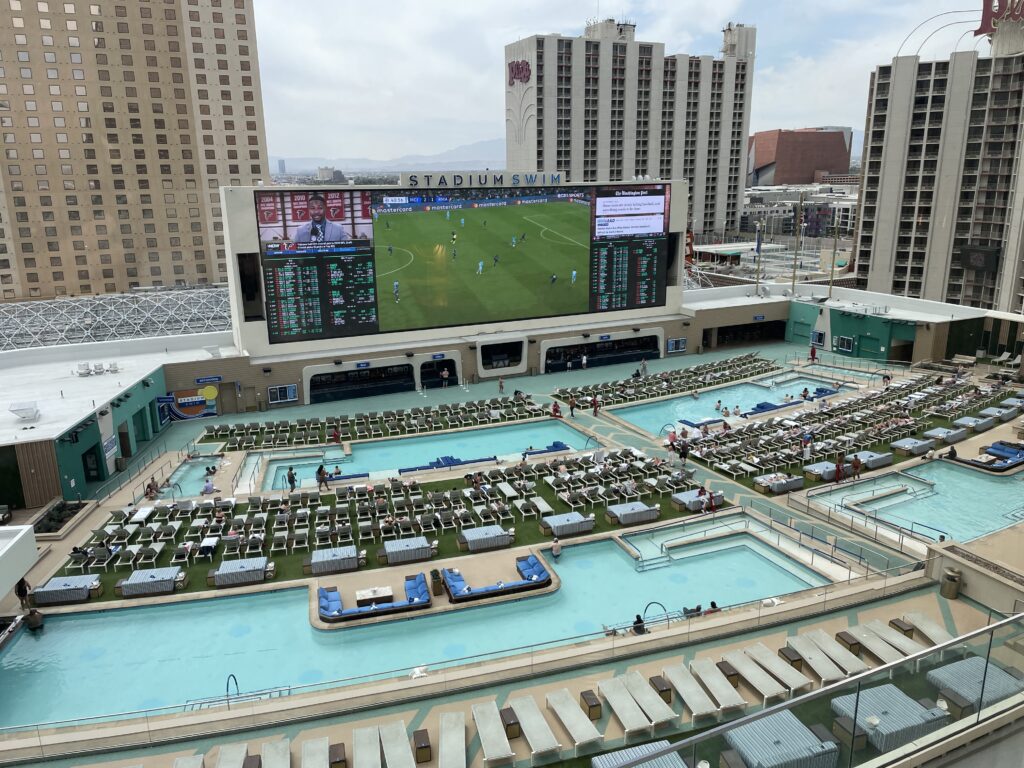 There are also a plethora of cheap drink and happy hour deals surrounding 4 Queens. We threw together a list of downtown Las Vegas happy hour options that we update frequently.
Check out this comprehensive list of things to do on Fremont Street besides gambling here. As you'll see, there is plenty to do near 4 Queens.
As you can tell, finding itinerary items and things to do at 4 Queens won't be a challenging task! Have a great trip, and win big!
Related: A rundown of cheap meal options on Fremont Street.
Featured Image: ©kobby_dagan/123RF.COM