Fremont Hotel and Casino is a Boyd Gaming property and part of the Boyd Rewards loyalty program. The hotel and casino have been a staple of Fremont Street since opening in 1956. At the time, it was the tallest building in Nevada.
While many casinos in Las Vegas have diversified to offer more non-gambling activities, the majority of things to do at Fremont still revolve around games of chance.
Fortunately for hotel guests looking for things to do outside of gambling, there are plenty of activities nearby given Fremont's prime location.
Speaking of that great location, check it out from home! Fremont offers one of the more popular Las Vegas live webcams, which gives you a window to Fremont Street from home!
Things To Do at Fremont Las Vegas
Enjoy some cheap shrimp: Among my favorite things to do at Fremont is snagging an extraordinarily cheap, 99-cent, shrimp cocktail at their Lanai Express.
Full disclosure here… Shrimp snobs are likely to be unimpressed. The shrimp are small, chewy, and in an absolute bath of cocktail sauce, served in a plastic solo cup with tin foil covering the top.
While not a gourmet option with visual appeal, the shrimp cocktail at Fremont can represent a great late-night snack for those that desire protein.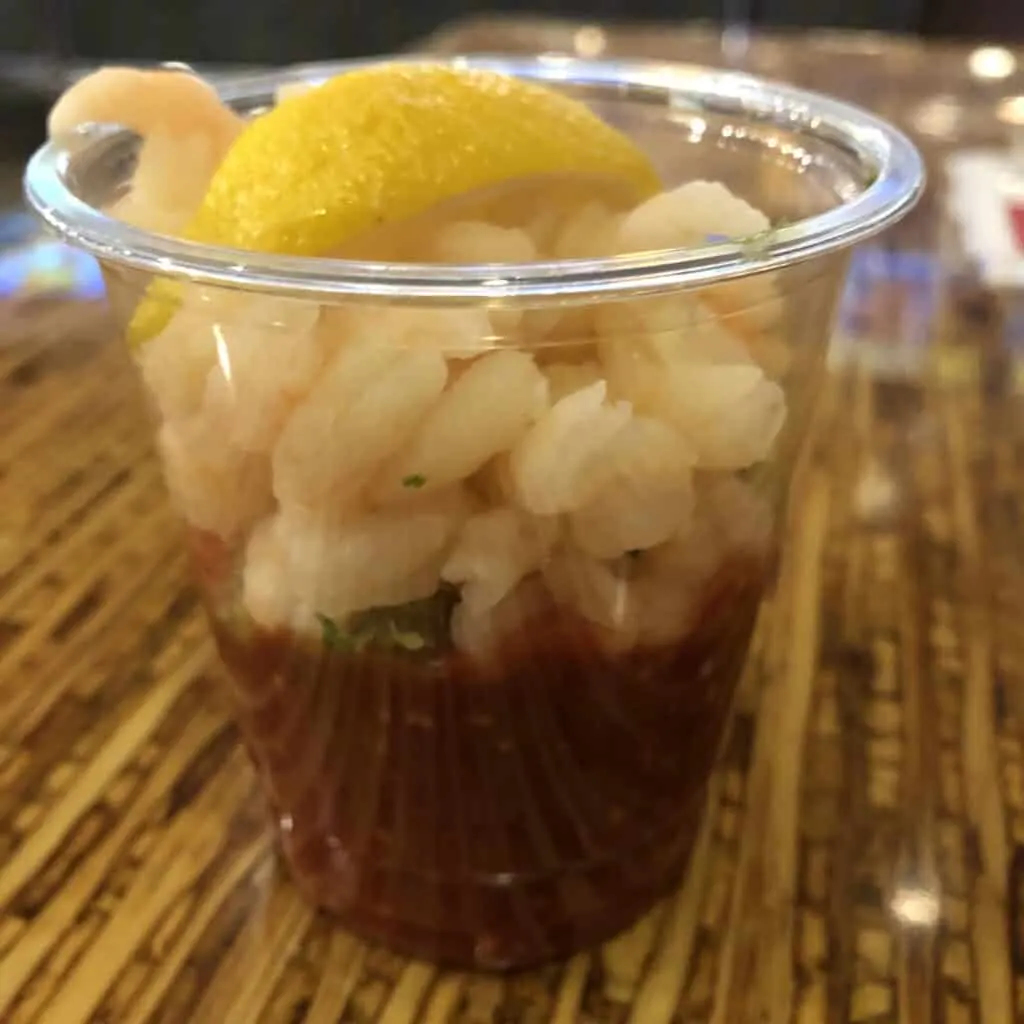 Enjoy Abundant Cheap Eats: Speaking of eating cheap, Fremont recently opened their new food hall with numerous quick and inexpensive options that include Steak n Shake, Huey Magoos, Dunkin', and more.
Play craps: For starters, required minimum bets on craps tend to be lower downtown, often starting at $5 or $10. Playing at Fremont has some distinct advantages, however, if you have a "golden arm".
While cash is the obvious reward for a hot roll, Fremont mixes in some extra perks. Shooters that survive 25-39 rolls earn a hat, 40-59 rolls earn a Dice Club jacket, and 60+ rolls earn membership in the Dice Club.
Catch the game at Filament Bar: I recommend placing your sports bets and then watching the game at Filament, a bar with a … filament lighting theme.
It's a cool spot with a number of TVs and bartenders that are typically happy to flip the channel to your preferred event. Filament also offers bottled Heineken 24 hours/day for a measly $3.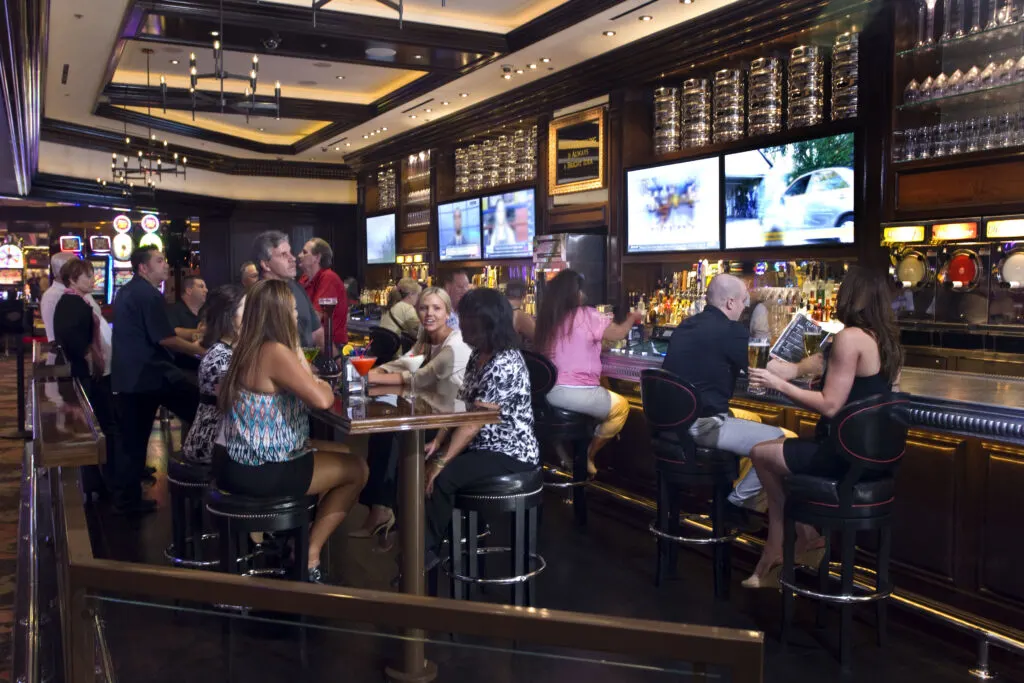 Things To Do Near Fremont Las Vegas
First off, every visitor needs to check Fremont Street Experience's live entertainment calendar to gauge what acts will be playing during your vacation dates. You'll obviously also want to stick around, look up, and enjoy the free Viva Vision canopy light show.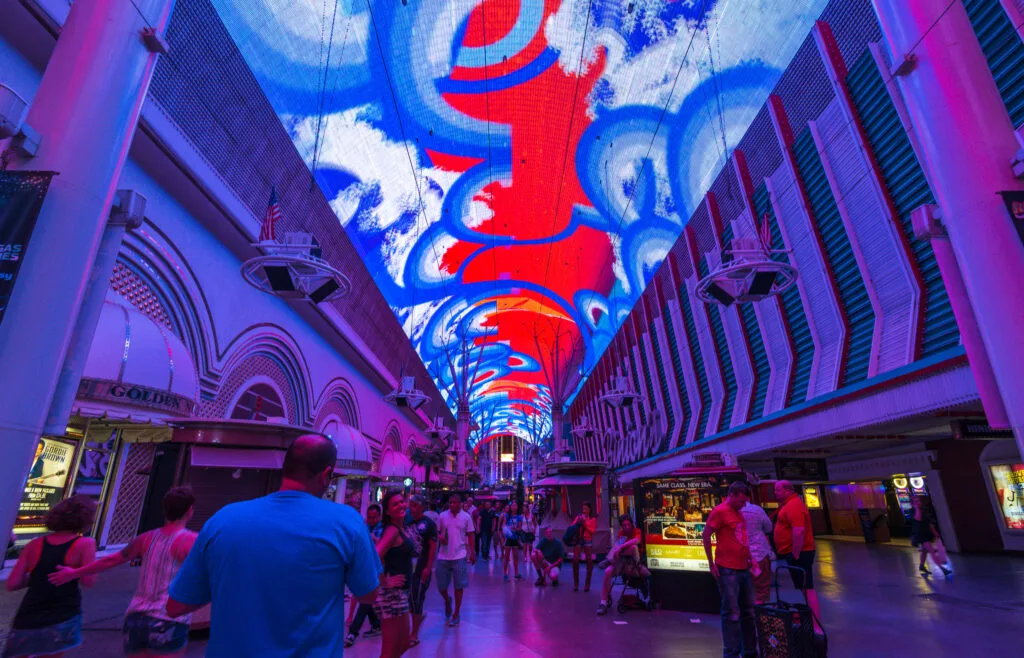 I also suggest stopping at the newest resort downtown, Circa, to see the largest sportsbook in the world, their Stadium Swim rooftop pool, and the restored Vegas Vickie.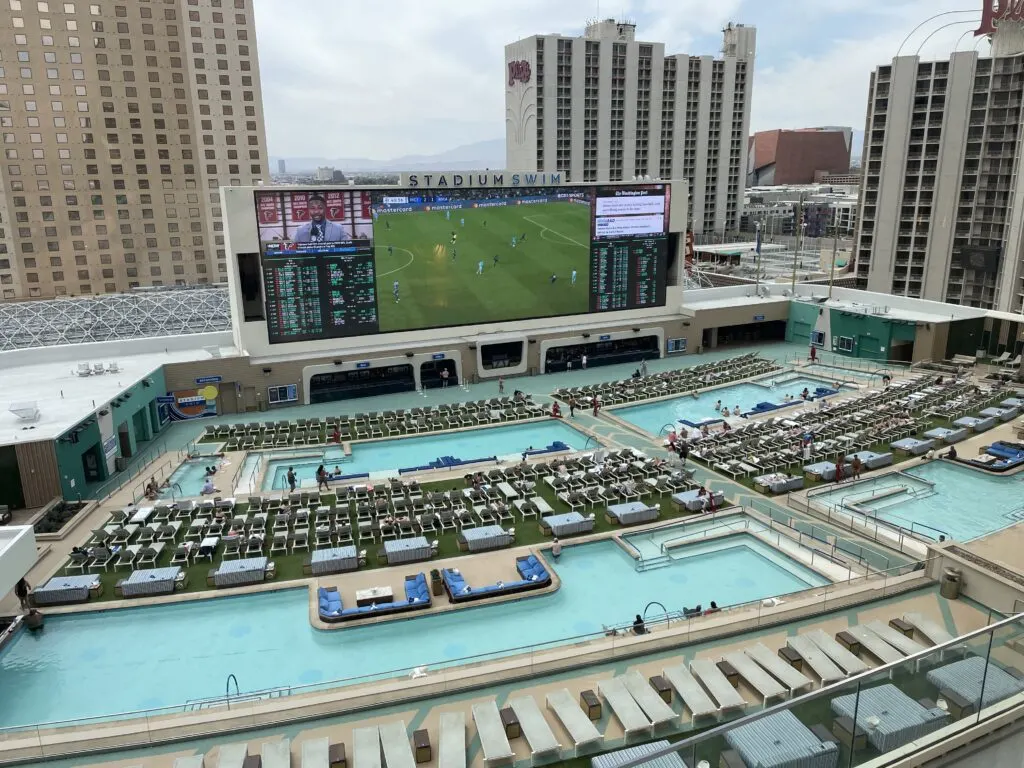 Save up your quarters and head to The D across the street to play the mechanical horse racing game Sigma Derby. The game is an absolute riot and fun to enjoy with a group.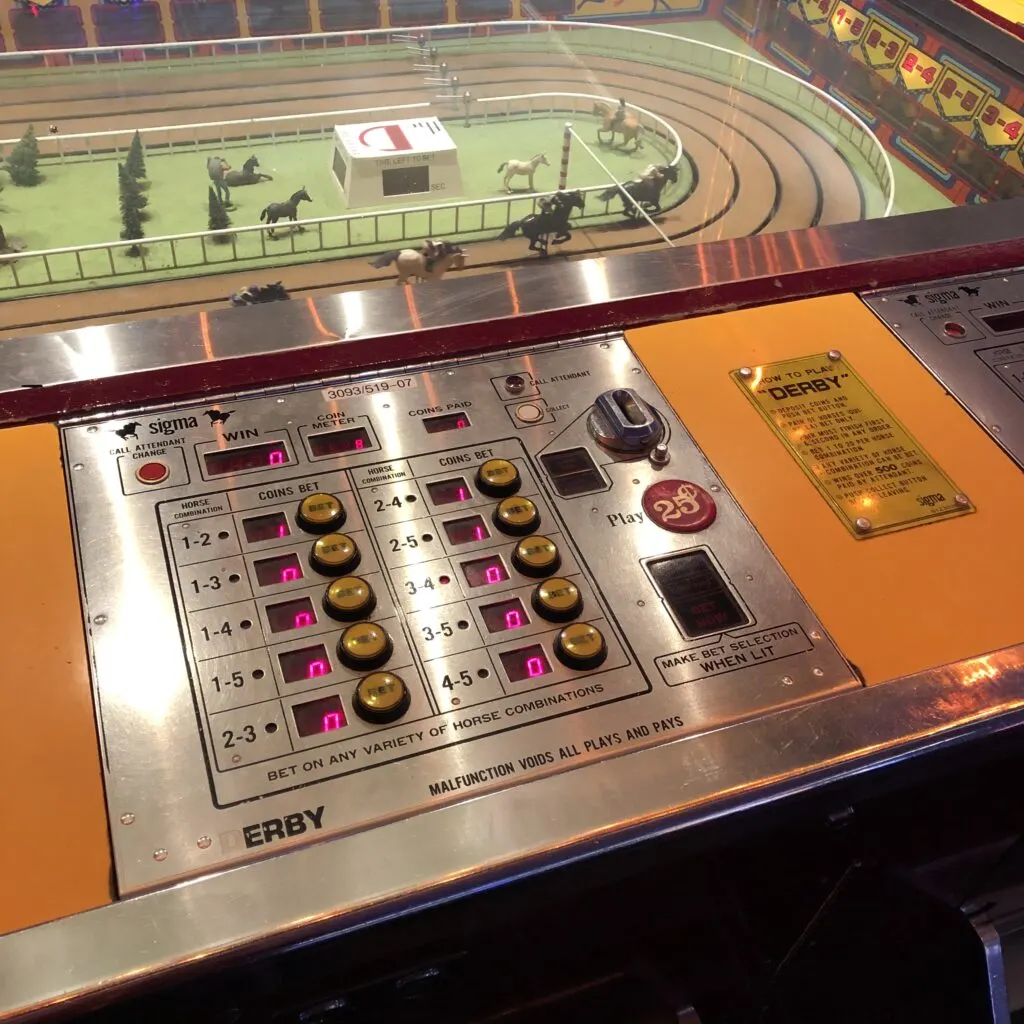 Silver Strike slot games have a cult following due to the collectible tokens they kick out when the "Silver Strike" emblem lines up with the pay line. While Silver Strike games can be found at both El Cortez and Plaza, the largest collection can be played at 4 Queens.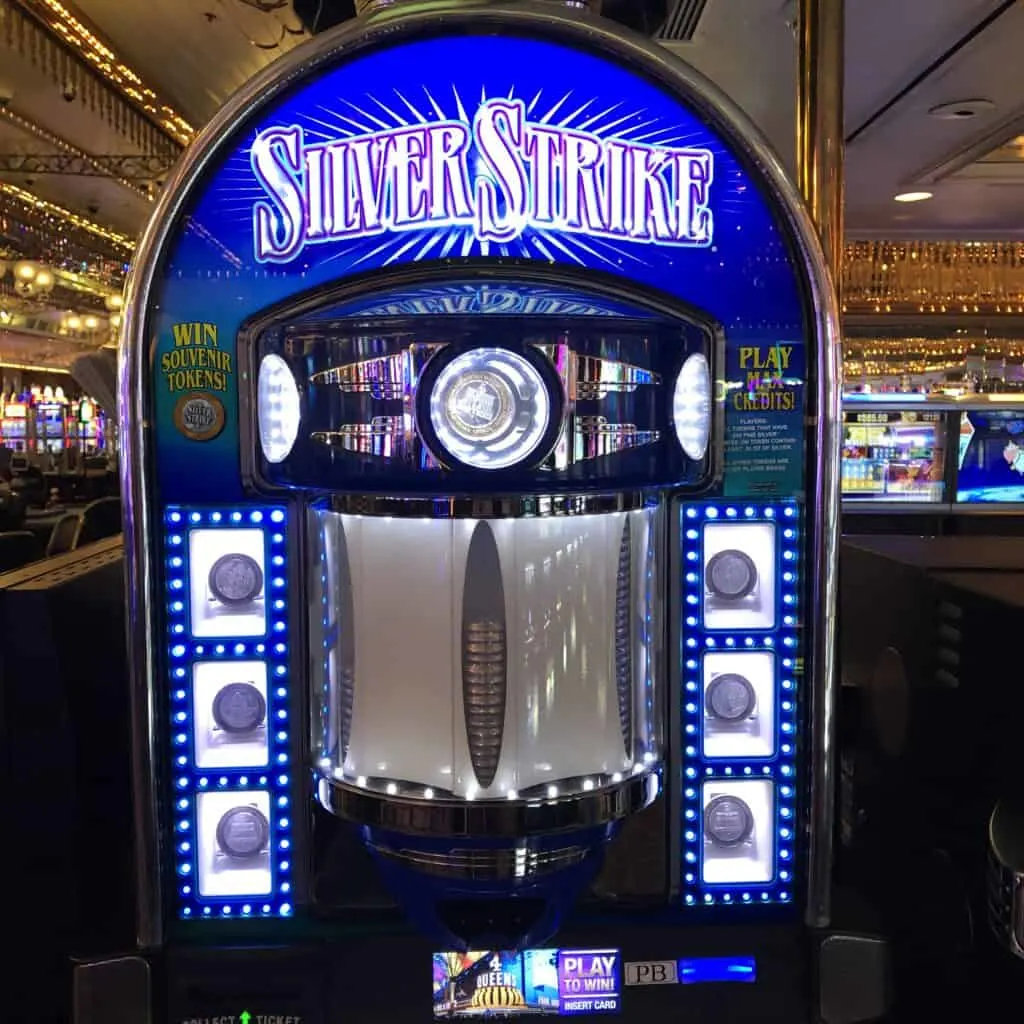 For history geeks that have a blown gambling budget, ensure to check out my compilation of historic things to see on Fremont Street, many of which call Golden Gate home.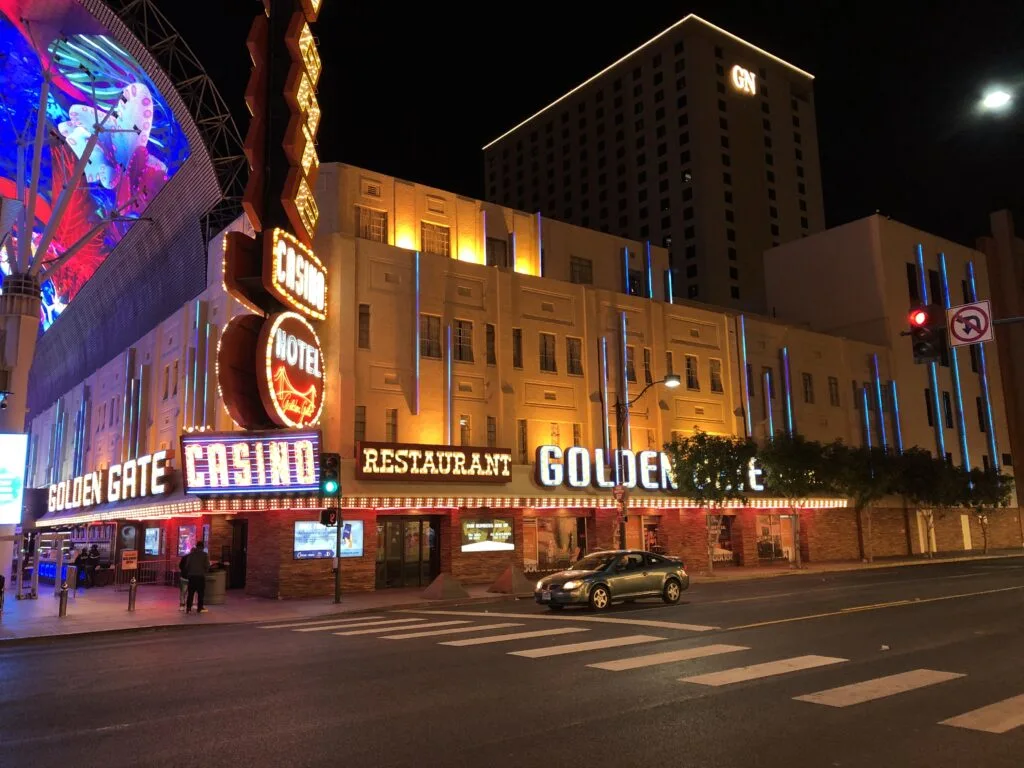 A commonly overlooked gem, the Las Vegas Arts District is a short free shuttle ride away and is comprised of 18 blocks of antique stores, art galleries, breweries, bars, and restaurants.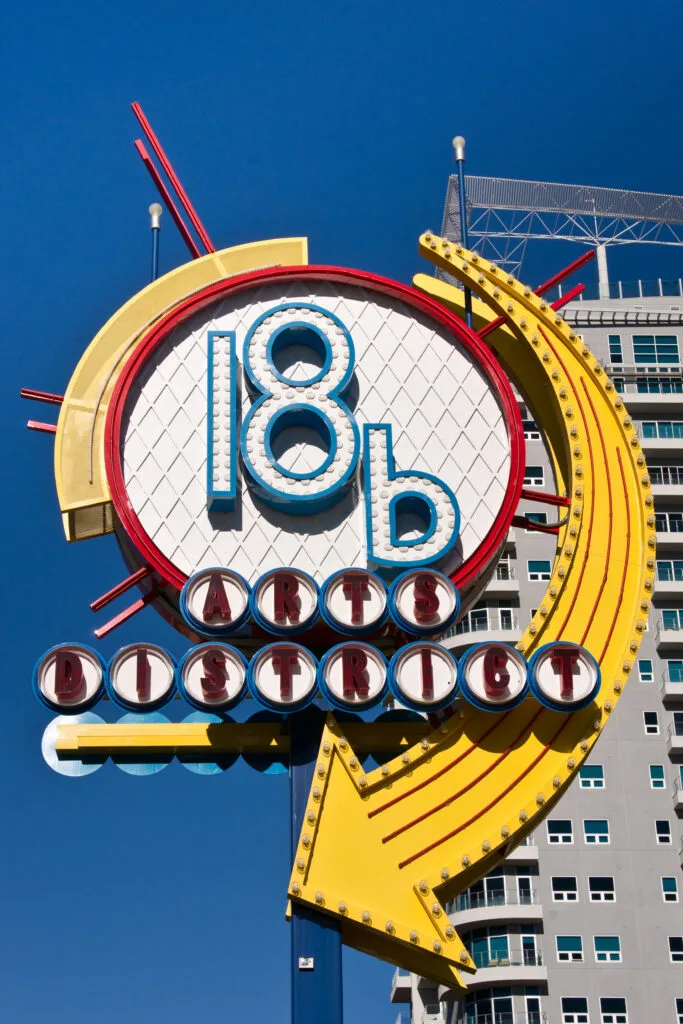 Of course, there are so many more things to do in downtown Las Vegas besides gambling, see them all here!
Even though there aren't a myriad of things to do at Fremont aside from gambling, the resort's location downtown is within walking distance of more than a person could ever fit into a single trip.
Related: Staying downtown Las Vegas? Here's what rooms will give you a quiet night.
Feature Image: ©nito500/123RF.COM
I'm a former software salesman turned Vegas aficionado. While the craps table is my preferred habitat, I pull myself away to explore new attractions, shows, restaurants, and outdoor activities around Las Vegas with the intent of sharing my experiences.
Ultimately, I just want to help folks plan a better trip and save a few bucks in the process.