Are you planning your first trip to Las Vegas, hoping to avoid common rookie mistakes? If so, you're not alone.
According to a survey conducted by the Las Vegas Convention and Visitors Authority, 24% of those visiting Las Vegas in 2022 were first-timers. While it's a tough destination to "do wrong", there are a number of things to avoid in Las Vegas.
Below, I'll dive into my, and other people's poor decisions so that you can avoid the same fate!
Common Mistakes Made By Las Vegas First-Timers
Misjudging distance: Looks are deceiving. Every Vegas newbie makes the mistake of thinking resorts are closer to each other than they are in reality. Plan accordingly, and don't be afraid to take a quick Uber or Lyft from resort to resort on the Strip. The cost will usually be around $15 or less and is worth it when you're tired.
Renting a car: There are obviously exceptions, but a rental car is typically not necessary. Although resorts on the Strip look closer than they are in actuality, Uber and Lyft are cheap and effective.
Plus, if you are anything like me, you'll be drinking. Cars and intoxicants don't mix. Unless you have day trips outside the city planned, a rental car is unnecessary.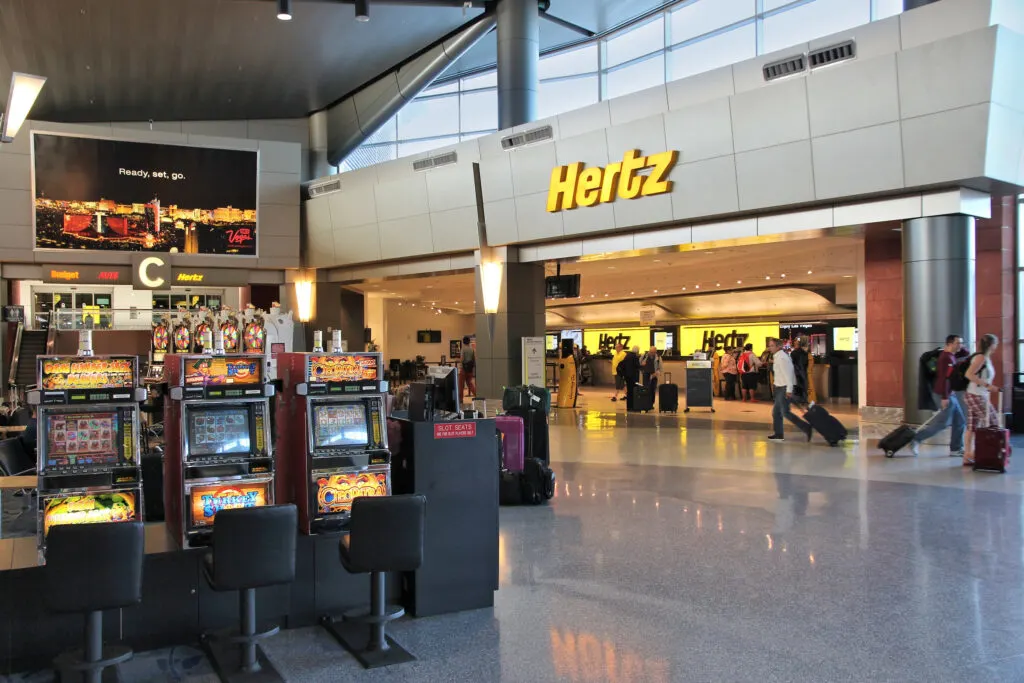 Taking a taxi: Every Vegas veteran has made the rookie mistake of taking a cab. Taxi cabs in Vegas are 25% – 35% more expensive than rideshare options. Additionally, cabs are notorious for taking a longer route than necessary to "earn" an increased fare, a practice known as "long hauling".
Although mandatory flat rates to and from the airport now prevent long hauling on that specific route, rideshare options are still significantly cheaper.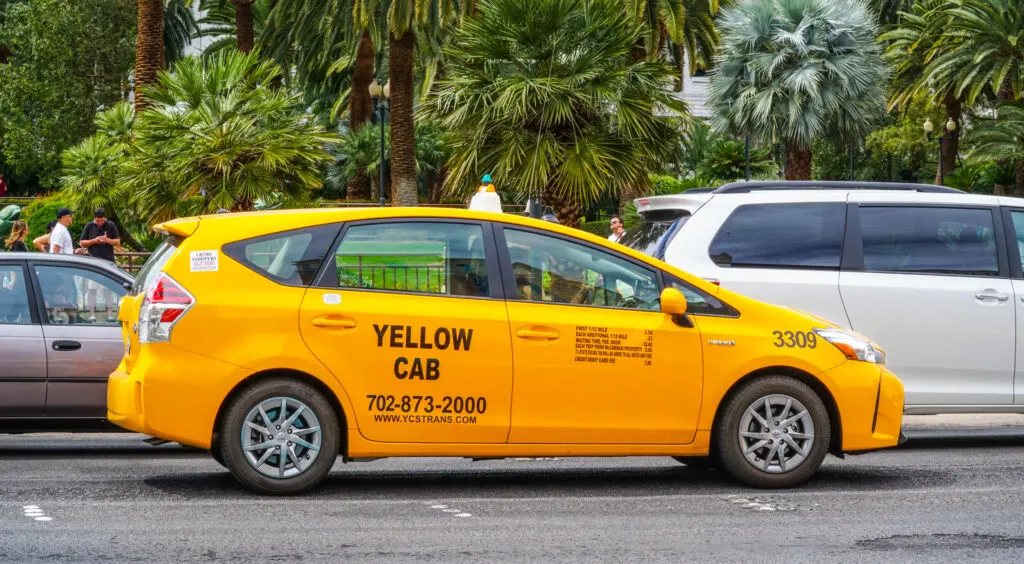 Taking an Airport Shuttle: While I'm on the topic of airport transportation, put airport shuttles on your list of things to avoid in Las Vegas. If you're traveling in a group of 2 or more, Uber/Lyft will almost always be the cheaper, quicker option. Even if you're traveling alone, saving a few measly bucks isn't worth having to sit through multiple other stops on a shared shuttle.
Staying too long: Look, Vegas isn't exactly a relaxing beach trip to Fort Meyers, Florida. All the day drinking, walking, and gambling take a toll. Perhaps the wife and I are more abusive to our bodies than others who may disagree with this "rookie mistake" but our initial 8-night trip necessitated a sober day in the middle to recharge. My sweet spot now tends to be 3-4 nights.
Not bringing comfortable shoes: On the all-too-long 8-night trip mentioned above, I made the mistake of only bringing flip-flops. After walking miles per day, my feet were in rough shape. Bring whatever cutsie shoes you want, but ensure you have something comfortable for when you plan to cover some ground! If I had a dollar for every time I saw someone walking the Strip barefoot, holding high heels in their hands, I'd be rich. You don't want your bare feet touching the Strip, trust me.
Not escaping the city: If you enjoy the outdoors, not exploring popular national parks and natural sites outside of Las Vegas could be a huge misstep.
With numerous outdoor options within day-trip range from Vegas including the Hoover Dam, Valley of Fire, and Red Rock Canyon, escaping the hustle and bustle of the city could be a welcome reprieve.
Related: Instagrammable Spots in Las Vegas!
Paying sky-high ATM fees: Casino ATM fees are absurdly high, often around $10 to access your own money. You don't have to pay that, however. Instead, stop into one of the numerous CVS, Walgreens, or Target locations on the Strip where you'll be charged a more palatable $3ish fee. Here is a full rundown of ATM fees on the Las Vegas Strip so you can find a cheap option near you.
Not booking direct: One of the most common Las Vegas rookie mistakes is booking through 3rd party vs. directly with the property. Simply put, booking directly with resorts in Las Vegas tends to be cheaper than booking with 3rd party Online Travel Agents (OTAs) like Orbitz, Travelocity, etc.
If possible sign up for that casino's loyalty program before booking to score a modest discount. Rooms booked directly can almost always be canceled and refunded if the need arises, which allows you to continue to check rates, cancel, and re-book if prices become more advantageous. Booking directly with properties in Las Vegas also makes an inexpensive, or complimentary room upgrade a more likely occurrence.
Related: Current Las Vegas hotel promotions – Discount codes, deals, and offers by property.
Booking a hotel away from the action: While many resorts like Palace Station, Trump Tower, Circus Circus, Sahara, and STRAT boast their proximity to tourist centers, it's a rookie mistake to stay at one of them on your first trip.
Instead, I recommend booking a room right on the Strip or on Fremont Street for your first time in town and branching out to new properties from there. You deserve to experience Vegas from the center of the action.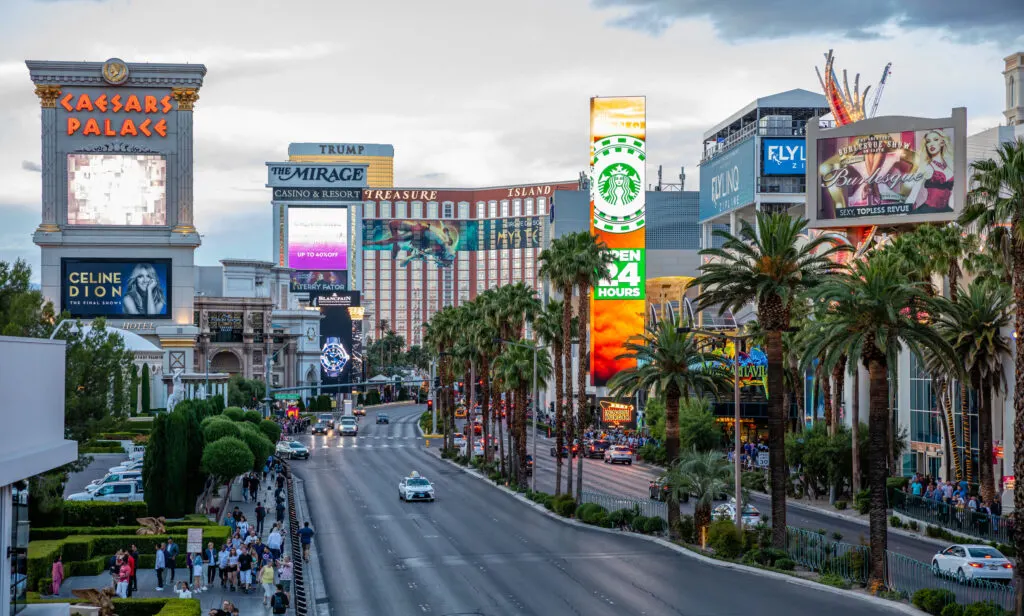 Not signing up for, and using a player's card: Your first stop in Vegas after checking into your hotel should be the loyalty program desk to sign up for a player's card. This should happen before you sit down at your first slot machine.
Casinos use that player's card to track your play and will offer discounts and even complimentary stays in the future based on your spend. Even low rollers can score deep discounts and free rooms on subsequent trips.
Play games with poor odds: Stay away from games like 6:5 blackjack and triple zero roulette which dilute your odds of winning and are common at Strip casinos. Friendlier 3:2 blackjack can be found on the Strip at a higher minimum bet or at resorts downtown or off the Strip.
I usually walk a few blocks behind Horseshoe to Ellis Island, a small casino that deals a cheap 3:2 blackjack game. For the best roulette games, check out the single zero roulette game at Plaza on Fremont Street.
Check that slot denomination before playing: I swear, every first-timer makes this mistake at least once. You plug cash into a slot machine thinking it's a penny denomination, select how many credits you want to play, and hit spin only to realize it's a dollar machine and you are playing $20 or more per spin.
I made that mistake recently and was fortunate to hit a $100 win. Whew.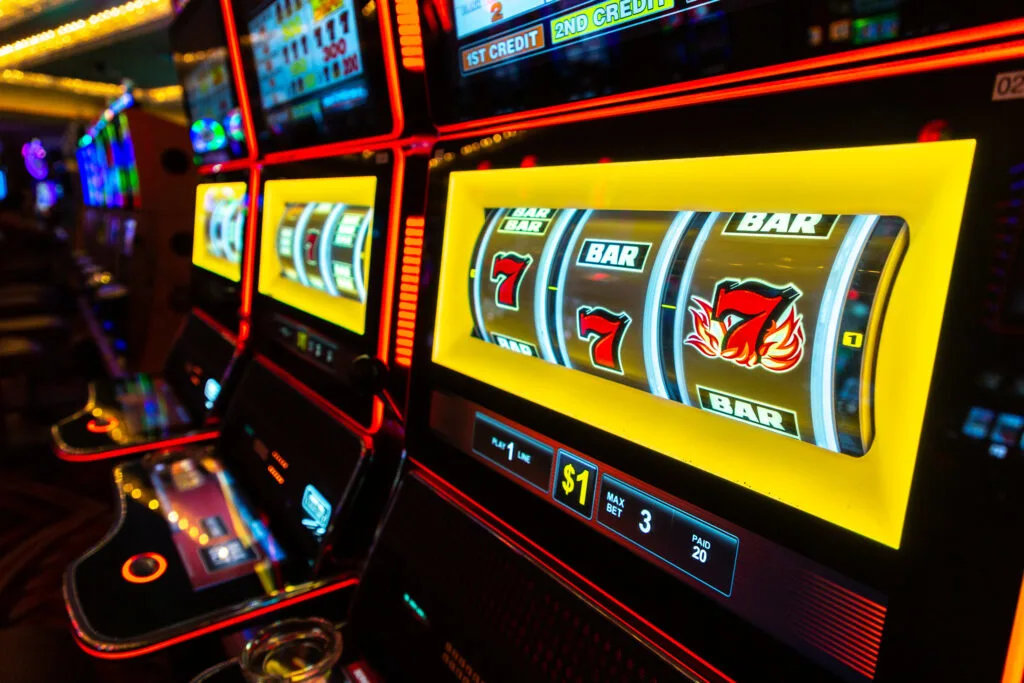 Not taking public transportation: Among the easiest ways to save money in Las Vegas is utilizing the bus to get from place to place. The two most common uses for the bus are from the Strip to Fremont Street, and from the airport to Downtown Las Vegas. Both can save you a fistful of cash when compared to other transportation options.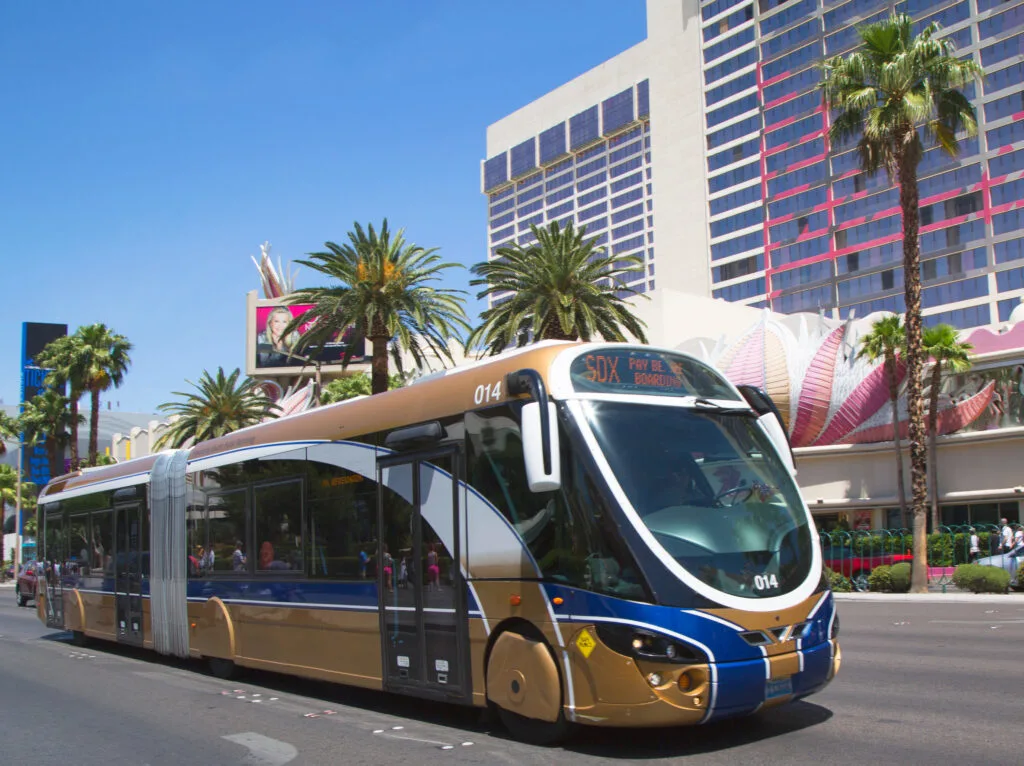 Not gambling away from the Strip: This isn't a hard and fast rule for Vegas rookies, just a suggestion. Even I gamble on the Strip… because it's fun, BUT, it's a fact that the slots are looser, and table games are more player-friendly the further you get from the Strip.
While casinos downtown offer slightly better odds, casinos in Boulder like Sam's Town, Green Valley Ranch, or M Resort have been shown to have the loosest slots in Vegas.
Eating at the wrong buffets: Las Vegas is the buffet capital of the world and they run the gambit from unedible to high-end. A rookie mistake I've made numerous times is eating at mid-tier, blah, extremely mediocre, options on the Strip which typically fall in the $30-$40 range.
Instead, I recommend you spend the extra $15-$20 to enjoy an enhanced experience at Wynn, Bellagio, Caesars Palace, or Cosmopolitan. Buffets that specialize in high-quality, single-serving food options feel more like a high-end restaurant that allows you to try a number of different dishes. You won't feel the need to overindulge to get your money's worth.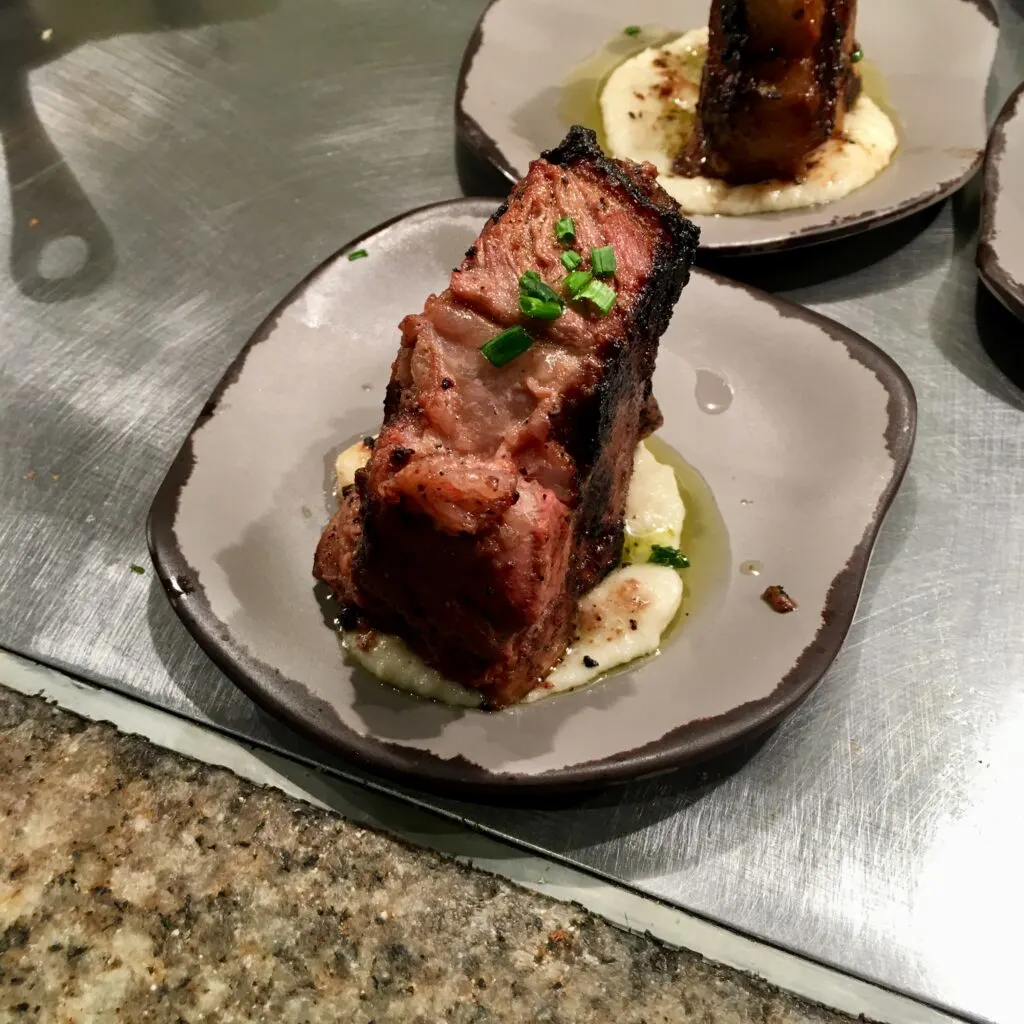 Agreeing to a timeshare presentation: If you're a couple, then you're likely to be approached by timeshare salespeople. Their goal is to entice you to attend a high-pressure sales pitch and property tour in exchange for show tickets, or other carrots.
Not only are timeshares in Vegas a ripoff to begin with, but these presentations are also a waste of time. Just buy the show tickets and skip the dog and pony show.
Engaging with salespeople: You're bound to be approached by salespeople for various products and services including timeshares as you walk the Strip. They usually lead with a question like "How long are you in town for?", or "How long have you been married?".
For the Vegas rookie, ignoring such an inquiry can feel rude, but trust me, you don't want to waste your vacation hearing a pitch. While first-timers may take the bait, you'll learn to blow right past them on subsequent trips.
Getting scammed: Rookies are susceptible to scams in Vegas that regulars are conditioned to watch for. Keep your slot TITO tickets and cell phones within your view, avoid "long hauling" cab drivers, and don't grab CD's or bracelets from peddlers on the street as their intent is to shake you down for cash.
Speaking of shakedowns, don't feel obligated to overtip street performers on the Strip. While tips are their only compensation, they are not legally able to set a price but commonly insist on a $20 tip per photo when a few bucks will do.
Not being prepared to tip: Don't make the mistake of showing up in Vegas without the right denominations to tip property. Everyone from the driver who delivers you to your hotel, to the bellman who stores your bags will expect you to pony up. Here's a guide to tipping in Vegas.
Not having a plan for valuables by the pool: Cell phones specifically are something most people bring out to the pool, but what do you do with it when you want to go into the water? Leave it behind and risk it being stolen? Bring it with you and risk getting it wet?
On my first trip to Vegas, I forgot my iPhone was in my pocket and hopped in the pool realizing mid-air my mistake (this was before phones were waterproof). Ever since, I've brought a simple waterproof case like (on Amazon) this for my phone.
Skipping Fremont Street: Every Vegas newbie would be making an enormous mistake if they didn't visit Downtown Las Vegas at least once during their stay. While the Strip boasts shiny, new, mega-resorts, downtown Las Vegas exhibits that historic neon charm you have seen in the movies.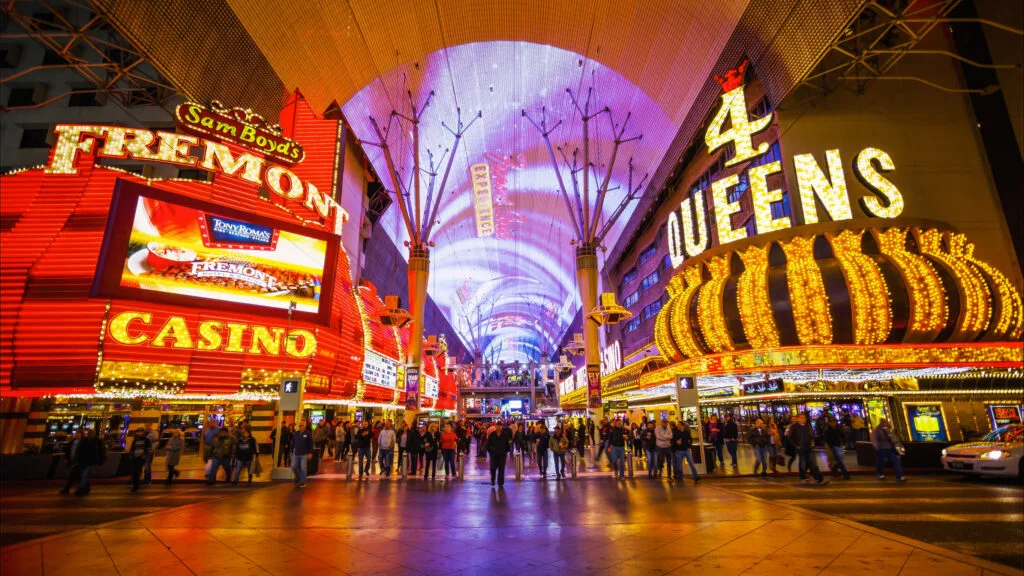 See Also: If you decide to check it out, I recommend reviewing my list of things to do on Fremont Street besides gambling and my favorite historic things to see on Fremont Street!
Staying on Fremont Street if you need sleep: First-timers to Vegas may not be aware that the party on Fremont Street comes with live music on 3 stages, extending until the wee hours of the morning. The vast majority of rooms downtown are exposed to a noise level that will be viewed as unacceptable by light sleepers or those in town for work purposes. If staying on Fremont, ensure you book one of these rooms that are quieter!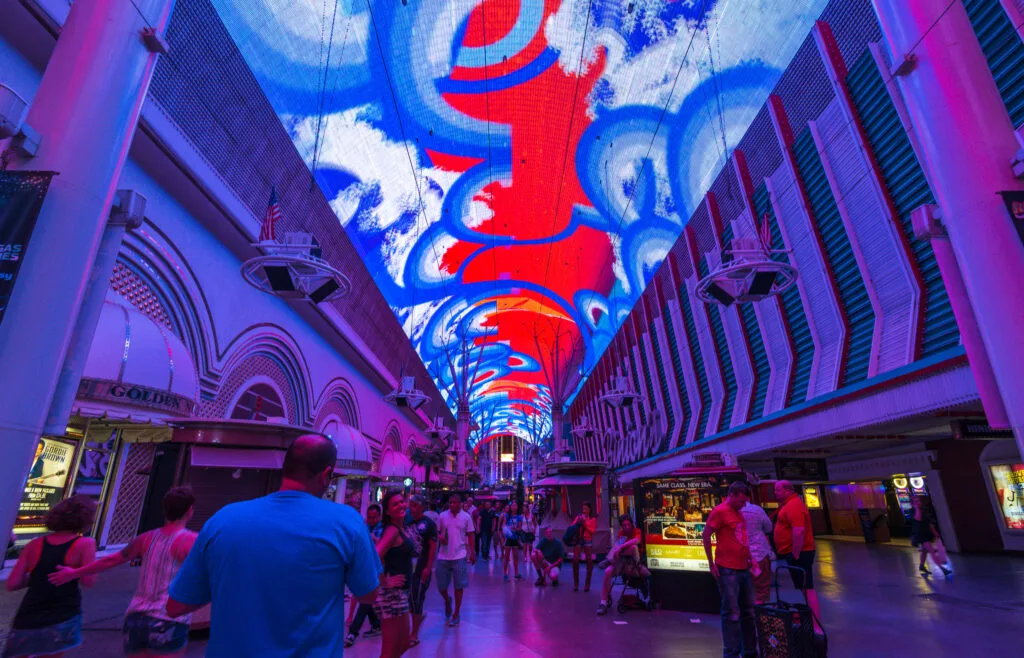 Thinking she's into you: This one is for the guys. Gentlemen, if you're approached by a member of the opposite sex while sitting at the bar or at a slot machine, it's not safe to assume she is speaking to you due to your good looks, charm, and intellect. In fact, it's safe to assume she's a lady of the night.
Taking the red-eye flight home: While an overnight flight allows you to save a few bucks while simultaneously gaining a full "extra day" at the tail end of your trip, I recommend against it. Trust me, there are few things less enjoyable than arriving at the airport for a 1 am flight home when you're sweaty, exhausted, and coming off a chemical buzz. Spend up for a respectable flight time.
Shopping at the hotel gift shop: Did you forget your toothbrush or deodorant? A Vegas rookie would pop down the elevator and pick up those items at the hotel gift shop. Unfortunately, those shops are an absolute ripoff, many using surge pricing to jack prices higher when demand is elevated. Instead, stop in at one of the numerous CVS or Walgreens sprinkled across the Strip to grab the essentials. While you're there, stock up on snacks, drinks, and anything else you need.
Overpaying for shows: Unless you are attending a popular show that commonly sells out, you can typically score discounted same-day deals at outlets like "Tix4Vegas" sprinkled about the Strip. If you prefer planning ahead, I recommend pricing out attractions at 3rd party sites like Vegas.com, which are usually a few bucks cheaper than buying with the box office directly.
Don't overdrink on night one: For me, this is less of a "rookie mistake", and one I still commonly fall into. There is nothing like the excitement of arriving in Vegas. That excitement usually drives me, and others like me, to stay up too late, drink too much, and regret it dearly the next day.
Hopefully, I was able to help steer you away from some of the most common rookie mistakes made by Vegas first-timers. Have a great trip, and win big! Even if a mistake or two is made, I trust you'll have a great time in Sin City!
Related Articles:
Feature Image: ©somchaij/123RF.COM
I'm a former software salesman turned Vegas aficionado. While the craps table is my preferred habitat, I pull myself away to explore new attractions, shows, restaurants, and outdoor activities around Las Vegas with the intent of sharing my experiences.
Ultimately, I just want to help folks plan a better trip and save a few bucks in the process.