We may earn money from the companies and products mentioned in this post.
In a fantastic center Strip location, Bally's is a 2,814 room resort offering something for all tastes. Bally's opened in 1973 as the original MGM Grand Hotel and Casino and would later re-brand to Bally's in 1986. The property is also known for the MGM Grand fire of 1980 which claimed the lives of 87 guests. Today, Bally's is a vibrant stop on the strip known for being budget friendly, in a great location and for the colorful Grand Bazaar Shops that greet you from Las Vegas Boulevard.
The best room rates are typically found when booking direct with the property. Even if you have never gambled or stayed, booking direct with Caesars will often be cheaper than 3rd party travel sites.
What is the pool like at Bally's?
Blu Pool at Bally's serves the purpose of giving you a sunny, tropical feeling spot to hang out with a pool to cool off in. The pool itself certainly is not one of the fanciest or top options in Las Vegas from a design perspective. A somewhat bland experience, the pool deck still offers the amenities you would expect at a Vegas pool experience such as poolside servers and bar as well as cabanas for rent.
One unique as aspect of Bally's pool is that the deep end reaches to 12 feet, a rarity in Las Vegas.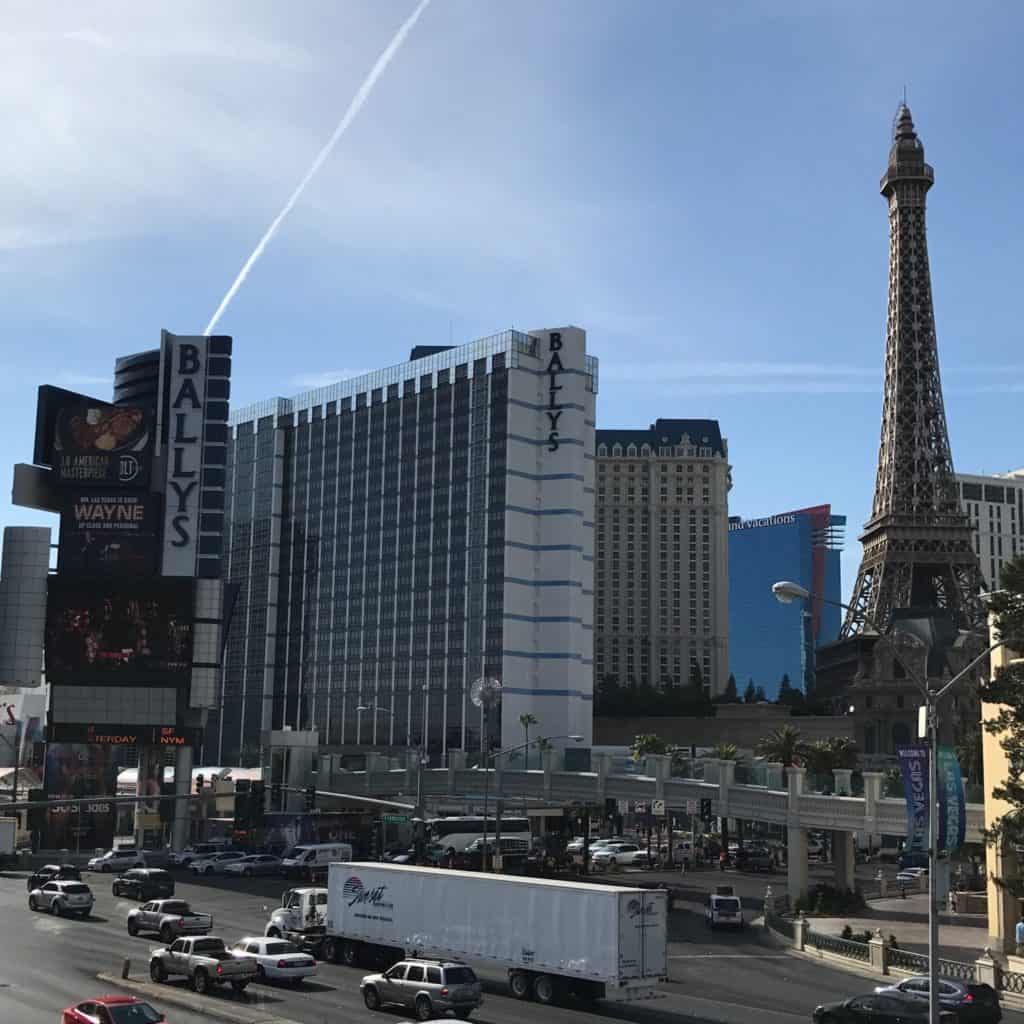 Are there any shows at Bally's?
Paranormal – Mind Reading Magic: (5 / 5 Stars on TripAdvisor) mentalist Frederic Da Silva will dazzle you with his mind reading abilities, able to identify items in your pocket, or even what you are thinking. Tickets start at $51.37 plus Ticketmaster fees.
Wayne Newton: Up Close and Personal: (5 / 5 Stars on TripAdvisor) See Mr. Las Vegas Wayne Newton play his hits in the intimate Windows Showroom at Bally's. The guy has played over 30,000 shows in Vegas, I think he's got it down. Tickets start at $71 plus Ticketmaster fees.
X Rocks: (3.5 / 5 Stars on Vegas.Com) A sexy rock flavored version of X Burlesque, this topless revue has the girls rocking out to the hits. Tickets start at $57 plus Ticketmaster fees.
Miss Behave Gameshow: (5 / 5 Stars on TripAdvisor) a great option for those looking for crowd engagement and raunchy humor, Miss Behave will likely have your abs hurting by the end of the show. Tickets start at $62.99 plus Ticketmaster fees.
Tony N' Tina's Wedding: (4 / 5 Stars on TripAdvisor) enjoy a family syle dinner at Buca Di Beppo and allow this traditional Italian wedding to entertain you and your party. Tickets start at $99 plus Ticketmaster fees.
Solid Gold Soul: (5 / 5 Stars on TripAdvisor) join a group of soul impersonators relive the hits from artists like The Supremes, Ray Charles, Diana Ross and Stevie Wonder. Tickets start at $65.14 plus Ticketmaster fees.
Nitro Circus: Coming in 2019!
What are the notable dining options at Bally's?
Sterling Brunch ($$$$) The #1 brunch option on the Las Vegas Strip bar none, Sterling is only open on Sundays starting at 9:30am. The spread includes endless king crab legs, lobster tails, prime rib, sushi and so much more. The quality is unmatched and the price reflects that at $95 a person. Come hungry.
BLT Steak ($$$)(Menu) Home of Sterling Brunch on Sundays, the rest of the week BLT Steak goes back to its roots as an American style Steakhouse. Entrees average $50 and we recommend hitting the bar for happy hour before your meal which runs from 4-6 and features half price cocktails.
Tequila Taqueria Bar & Grill ($)(Menu) A casual dining experience which predictably serves up authentic Mexican dishes and 37 types of tequila and 10 Mexican beer options. At an average entree price of $20 you cant go wrong.
SEA: The Thai Experience ($$) (Menu) Looking for a value Thai option to break up your craps session? At an average entree price of $15-$25, you can give your seasoned pork meatball or Tom Yum Seafood Basil Soup fix.
Buca di Beppo ($$) (Menu) A good option for groups seeking out a family style Italian meal, however, Buca is a nationwide chain. We would encourage you to be a bit more adventurous with your Vegas meal selection. It is damn good though.
Quick Casual Offerings ($) Bally's also has a food court catering to budget and time conscious guests. Options include Sbarro, LaVazza, Nosh Deli and Nathans Hot dogs. The food court is located down a hallway at the back end of the gaming floor.
What is the casino like at Bally's?
While Bally's offers a large assortment of games spread over it's casino's 70,000 square foot footprint, there is nothing especially impressive about the architecture or scenery.
Given the casino's center Strip location, you can expect $15 minimums at the tables during slow periods and up when the place is packed.
Bally's Race and Sports Book is located in the back end of the property down the hallway you would take to access the Las Vegas Monorail and is a bit of a hike. We would recommend simply downloading the Total Rewards sports betting app and saving the steps.
Overall, the gaming floor, while effective for those looking to risk some cash lacks the buzz, atmosphere and luxury that newer properties in the neighborhood seem to have.
How is the Hotel at Bally's?

In May of 2018, Bally's completed a $125 million dollar renovation which modernized nearly all of their hotel guestrooms. The result has taken a tired, worn down feeling hotel and transformed it into a resort with a fresh, contemporary vibe.
Jubilee Room: This baseline, newly renovated room provides 430 sq. ft. of space, device docking station and a Las Vegas Strip view at a strong value.
Resort Room: Measuring in at 440 sq. ft. the resort room, which is also recently renovated, offers all the amenities of the Jubilee room plus… wait for it… a coffee maker. A rare luxury in a Las Vegas Hotel room!
Suites: Bally's offers newly renovated suites ranging from their 590 sq. ft. Studio Suite to their 3,425 sq. ft. Penthouse Suite.
*Base room options at Bally's come in 2 queen / 1 king options as well as smoking vs. non.
*Hotel check in starts at 4pm and guests are expected to be checked out by 11am.
What are others saying about Bally's Hotel?
Positive Traveler Review Themes: Convenient center Strip location; View from hotel room, Restaurant options on site; Bed quality/softness; Room cleanliness; Quick check in/Self Check in kiosks; Close to Monorail; Close to convenience store (CVS).
Negative Traveler Review Themes: Resort and Parking Fees; Weak WiFi, Rude staff at front desk; Parking a distance from property.
Price Range:
Bally's room rates tend to be similar to other low/mid tier Strip properties. Obviously, room rates can fluctuate wildly from day to day based on conventions or events rotating through town, however, you can expect to pay $40-$100 on average for a weeknight stay. Weekends tend to run $90 – $200. A 10% discount is offered to members of the military, first responders, students, teachers and government employees if you book through the Total Rewards website.
The nightly resort fee at Bally's is $35 + Tax and is charged at the time of check in. Note the resort fees are not assessed to Total Reward members that have achieved Diamond or Seven Stars status. The resort fee at Bally's covers premium WiFi for up to 2 devices, fitness center access for 2 and local telephone calls.
If self parking at Bally's, you will be charged $0 for your first 60 minutes, $9 for 1-4 hours and $12 for 4-24 hours.
What are the things I NEED to do at Bally's?
Twilight Zone Mini Golf: A kid friendly attraction, Bally's puts a Twilight Zone theme on your traditional mini golf experience with décor that comes to life under the black light. If mini golf isn't your forte, there is also an arcade and bowling ally nearby!
Take advantage of the Grand Bazaar Shops: Sure, they have a flea market feel with a growing number of empty storefronts, however, there are some solid quick serve and sit down dining options that are worth a peek.
Is Bally's in a good location?
Bally's is well positioned in the middle of the Las Vegas Strip between Flamingo to the south and Cromwell to the north. At Bally's you will be located right across the street from Bellagio and be within walking distance of most properties on the Strip, in fact, there is even an indoor walkway leading to Paris.
Behind Bally's on Flamingo Rd., you will find the Stage Door Casino which is a gritty bar offering cheap beer and food specials. Keep walking past Stage Door and take a right on Koval to reach the cant miss craft brews at Ellis Island. Ellis also offers more advantageous gambling options than those on the Strip and is worth a stop – you wont find 6:5 blackjack there!
Unique Transportation Options at Harrah's:
The Las Vegas Monorail can be employed at Bally's/Paris stop station in the rear of Bally's property. Just follow the overhead signage. It's a hike, but a solid transportation option if traversing up and down the east side of the Strip or to SLS/Westgate.
Uber and Lyft can be picked up at the north entrance of the property right next to the hotel gift shop and front desk.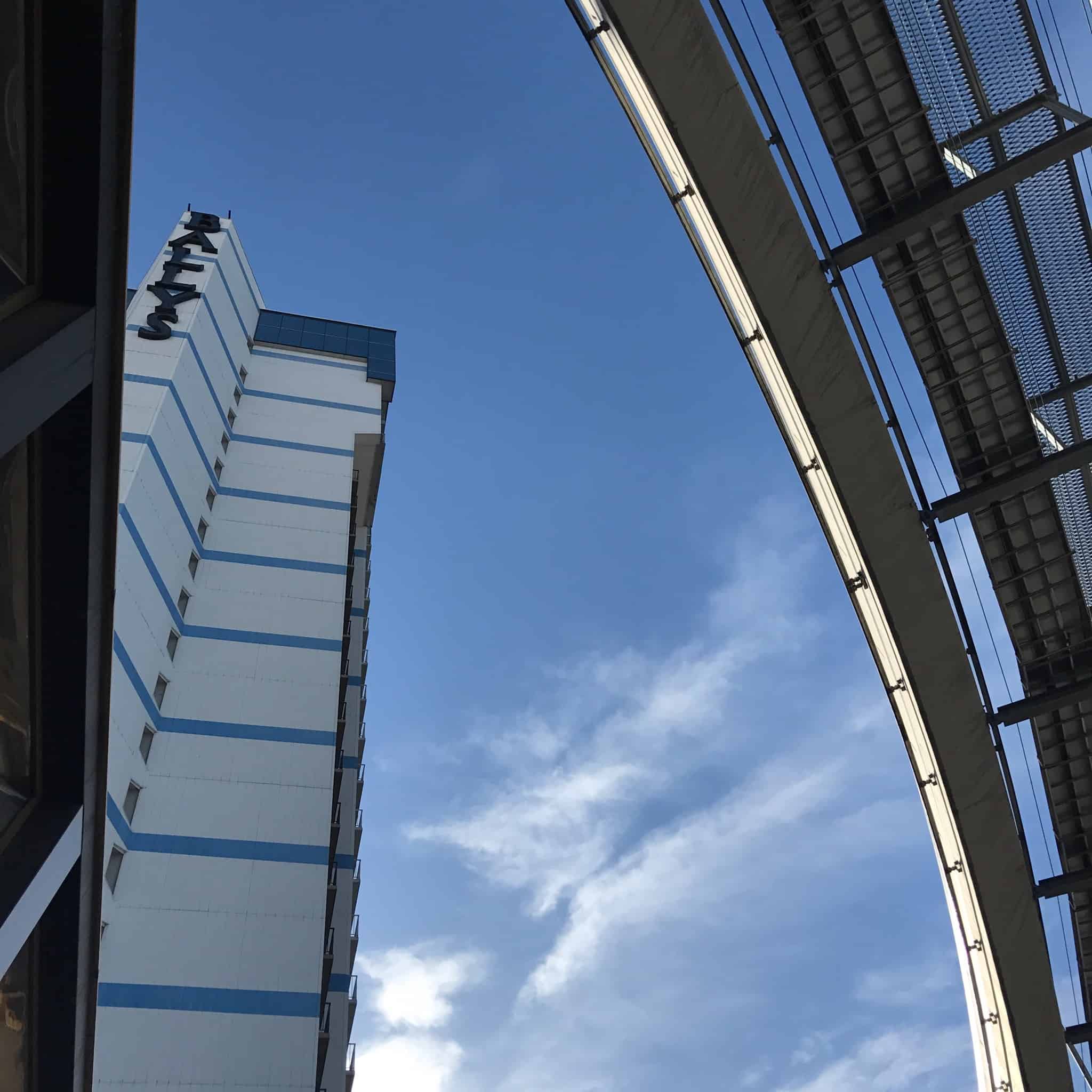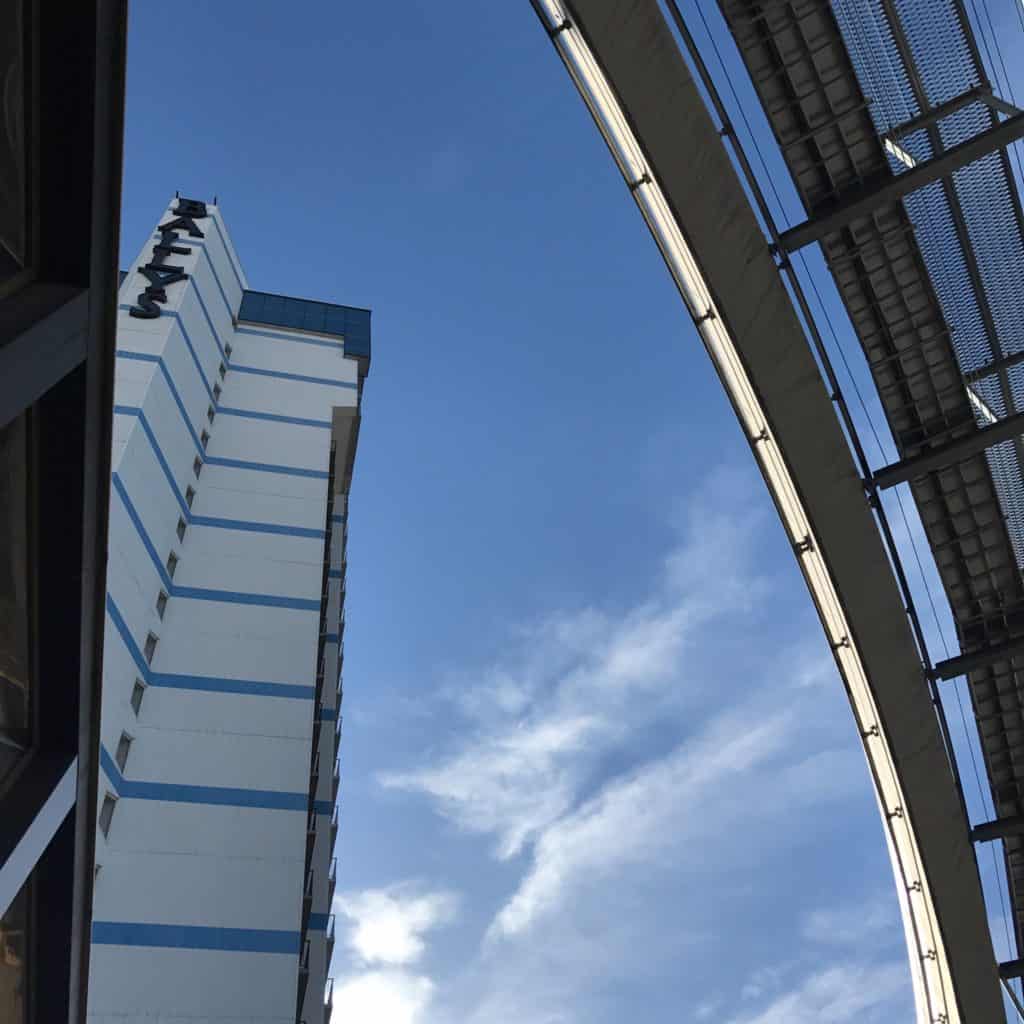 Our take on the Bally's Las Vegas property:
Following renovation of Bally's aging rooms, the property is again a strong mid-Strip Value option for those looking for good location. Although the guestrooms have been modernized, the gaming floor tends to be a bit dull with no real draw or wow factor besides the plethora of gaming options patrons would expect in a Vegas casino.
Aside from rooms and gaming, Bally's offers a complete assortment of entertainment options expected of a major player on the Strip to include unique attractions like Twilight Zone themed mini golf. There is certainly plenty to do and with an abundance of dining options at all price tiers you would never need to leave the property if you weren't inclined to.
Bally's is not a property that will blow you away with luxury and decadence but certainly doesn't disappoint, especially in the hotel following room renovations.