Paris is modeled after the world-famous Hotel de Ville in Paris, France, and is one of the few Las Vegas casino properties that still embraces its theme. The Las Vegas version of the hotel boasts 2,916 guestrooms, a rooftop pool deck, and a casino complete with a painted ceiling that is intended to resemble the sky over Paris.
Stealing the show though are Paris' replica Arc du Triomphe and 50 story replica Eiffel Tower. Built into the replica Eiffel Tower is Paris' Eiffel Tower Restaurant, which provides views of the Strip at an elevation of 100 feet. Additionally, guests can travel to the 46th-floor viewing deck which offers a unique aerial perspective of Las Vegas and especially the neighboring Fountains of Bellagio.
See Also: What is the $20 sandwich trick? Should you give it a shot to score an upgraded room?
Recently, Caesars Entertainment undertook a $1.7 million renovation project which added 300 color washing lights and 800 strobe lights to the exterior of the 1/2 scale model Eiffel Tower to create a free light show right on the Las Vegas Strip. The new show was unveiled in February of 2018 and depicts the colors of the French flag – Blue, Red, and White.
The show is intended to resemble the light show put on by the real Eiffel Tower in Paris, and was created with help from Vision Sign Inc.
Paris Eiffel Tower Light Show Times
The Eiffel Tower light show is currently scheduled to run every half hour from sunset to midnight, 7 days a week, 365 days a year.
Tips for viewing Paris' Eiffel Tower Light Show
Grab a drink at Beer Park after dark, which is located on the rooftop of Paris overlooking the Strip and the Fountains of Bellagio. The rooftop perch also offers great views of Paris' light show. People watching, water shows, light shows, and beer bundled together- Not a bad way to spend an evening.
The best spot to get a full tower view of the light show at Paris is from the sidewalk in front of the Bellagio Fountains across the street. As an added bonus, that is also the best view for the Fountains of Bellagio which feature choreographed dancing fountains. Can't beat a 2-1 free show deal.
As with any other free show in Las Vegas, it tends to be better with a cocktail in hand. Luckily, Las Vegas has loose open container laws and a CVS that sells cold beverages on nearly every corner. Grab a cold beer or canned drink at the CVS located right next to Paris, post up, and enjoy the show.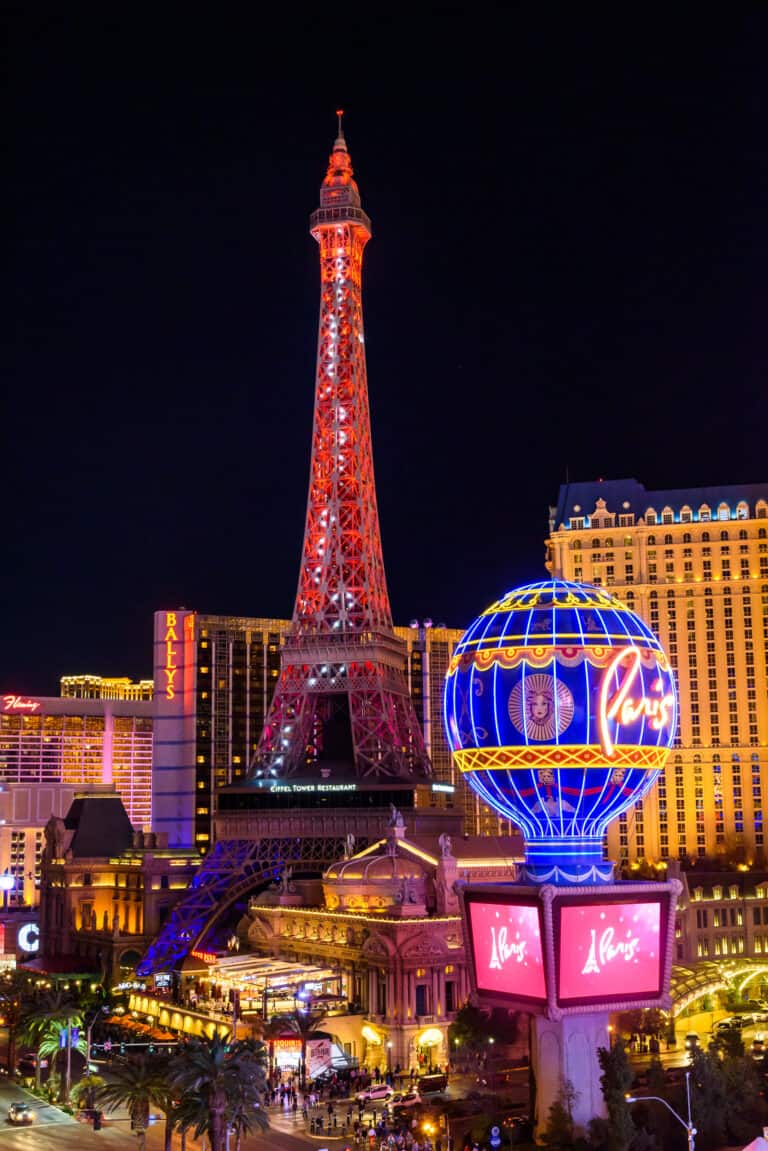 See Also: Where are the loosest slots in Las Vegas? We leverage reporting from the Nevada Gaming Commission to answer the question.