We may earn money from the companies and products mentioned in this post.
Times are changing on Fremont Street as Greg and Derek Stevens continue to transform the landscape that has stood for decades. Fitzgerald's has transitioned to the D, Golden Gate has received a facelift and additional square footage expanding into the former home of La Bayou and Las Vegas Club, Glitter Gulch and Mermaids are meeting the wrecking ball as this is written.
The Las Vegas Club has occupied its current location since 1949, but saw its hotel tower close in 2013. In 2015, the property announced plans for a 13,810 square foot pharmacy that never came to fruition as the lights were turned out for good at midnight on August 19th, 2015.
Mermaids was a property that assumed several identities since its opening in 1956 as the Silver Palace. She also spent time as Carousel Casino, Gambler's Hall of Fame Casino, Sundance West and Sassy Sally's. In 1999, the property morphed into what we knew it as today, the deep-fried Twinkie capitol of the world, Mermaids.
By spring of 2016, the Stevens Brothers owned the block and shortly thereafter announced the closing and demolition of the Las Vegas Club, Mermaids and Glitter Gulch to build a new casino and hotel. The change has Las Vegas enthusiasts, myself included, feeling a bit nostalgic, and some are downright outraged at the departure of more historic Las Vegas properties.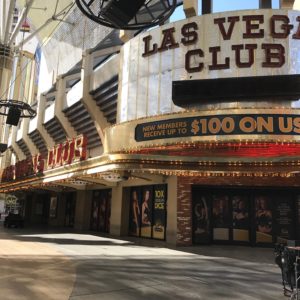 I get it. I think we all do. We saw Stardust fall for a stalled Echelon project, we saw Riviera turned to parking spaces. As Vegas fanatics, we don't like seeing the places we made memories at disappear. But downtown Vegas needed a facelift to avoid falling into the cracks never to rise. While it's disappointing to lose a couple unique slot rooms in Mermaids and La Bayou, Las Vegas Club won't be missed. Not in the condition she was in at the end. The Vegas Club deserved to be put out of that miserable, embarrassing existence.
I might catch some internet hate here but Derek and Greg Stevens are not the enemy. They are quite the opposite. In my opinion they are the saviors of Downtown Las Vegas. Their revamped properties drive additional foot traffic to old classics like Binion's, Plaza and El Cortez and the new casino/hotel on the site of Las Vegas Club will only help improve the business climate. After all, we don't despise or vilify other Vegas change agents like Steve Wynn, Benny Binion, Kirk Kerkorian or Jay Sarno right?
I think we can all embrace and remember what we're losing while feeling excitement to see what is created on the cleared canvas that is 18 Fremont. We can look forward to opening night to see how the Stevens brothers incorporated the former properties signage and nostalgic features. Will Vegas Vickie find a new home outside of the new casino? How will the old Las Vegas Club signing fit into the new décor, if at all? And will we have any reminders of the Girls of Glitter Gulch?
As for the Stevens brothers, you don't hear much about Greg who is an engineer by trade, but Derek makes enough noise for both of them with his public relations stunts, casino floor presence, flamboyant jackets and larger than life persona. He's a guy with the vision to re-invent our favorite part of Las Vegas without completely casting away the history that it represents – Just look to the work done at Golden Gate if you need reassurance.
I love the past but am choosing to trust their vision for Fremont Street's future. I think you should too.
Check out our piece on why Circus Circus could be the next Las Vegas Implosion.